Choose the wrong website builder, and you'll be wasting your time and money on a platform that can't deliver what you need
instead of spending them on more practice time and new gear for your team. You need a website builder that offers an intuitive interface, the ability to update fans on your latest wins, and the functionality to create a manageable fan forum to encourage discussion and community engagement. To help you make the right choice for your team,
I've tested dozens of website builders and created the following shortlist
. Each website builder has its pros and cons, so keep reading to find the website builder that is suited to the unique needs of your team.
What We Look For in the Best Website Builders for Sports Teams
My teammate has recently done an extensive
comparison of the best website builders
on the market. While all performed well, being "best" doesn't make it right for
your
needs. Every website builder that made my list offers the following features:
Ease of Use – Beginner-friendly and intuitive.
Event Calendar – Lets you show a calendar so you can keep your fans updated on your latest fixtures and upcoming events.
Fundraising Capabilities – Offers e-commerce and donation capabilities to help fund the day-to-day running of your sports team.
Fan Forum – Facilitates discussion and increase community engagement with a dedicated fan forum.
Multimedia Integration – Allows you to post matchday images and video highlights on your website.
Social Media Sharing Buttons – Provides social media sharing buttons to encourage website visitors to share your content and fundraising campaigns.
Want your website to look better than your rival team's site? Squarespace could be the website builder for you.
Squarespace's award-winning templates are
aesthetically a step above the other website builders
on the list.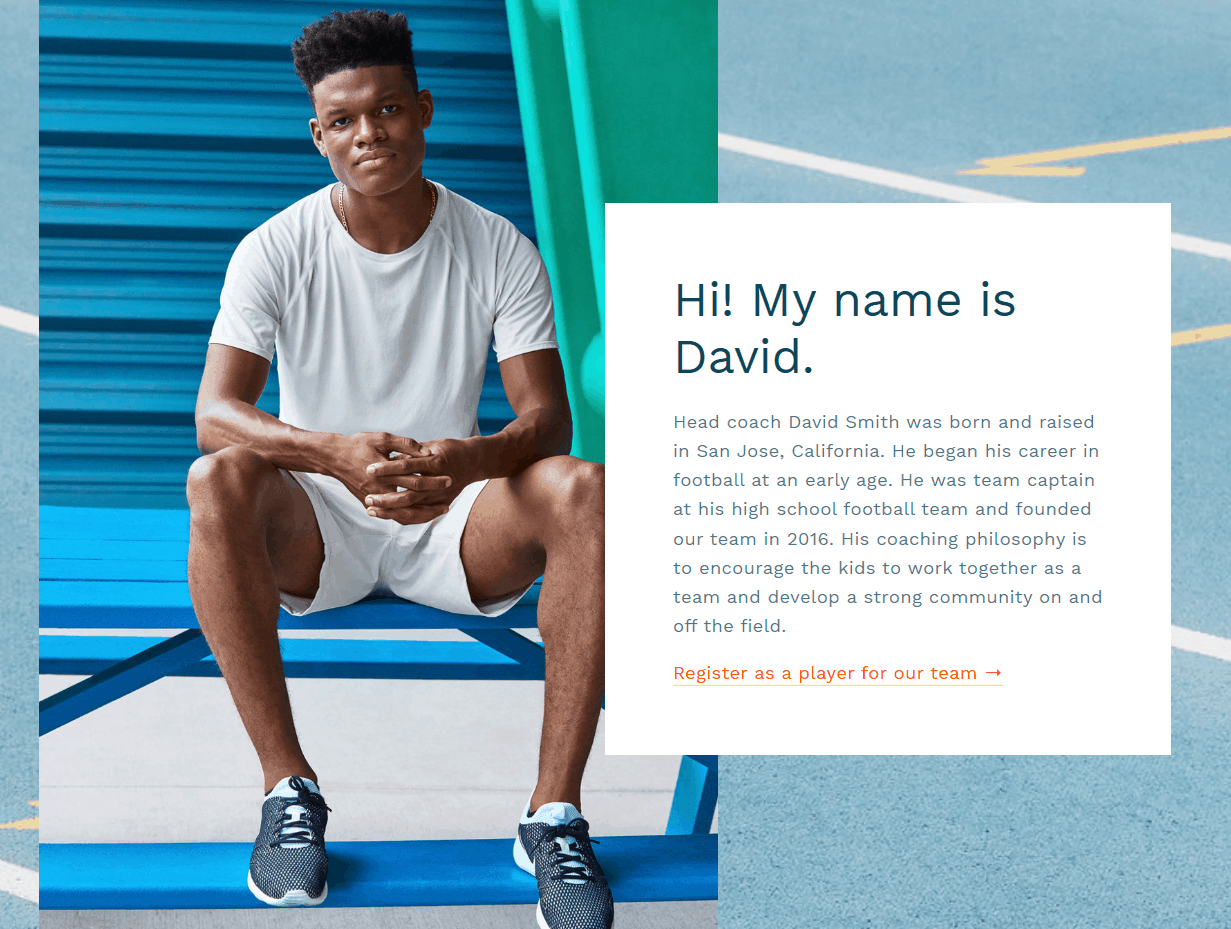 The Squarespace editor is drag-and-drop, so customizing your pages is an easy and straightforward process. Simply click on the content block you want to edit and use the menu to make your changes.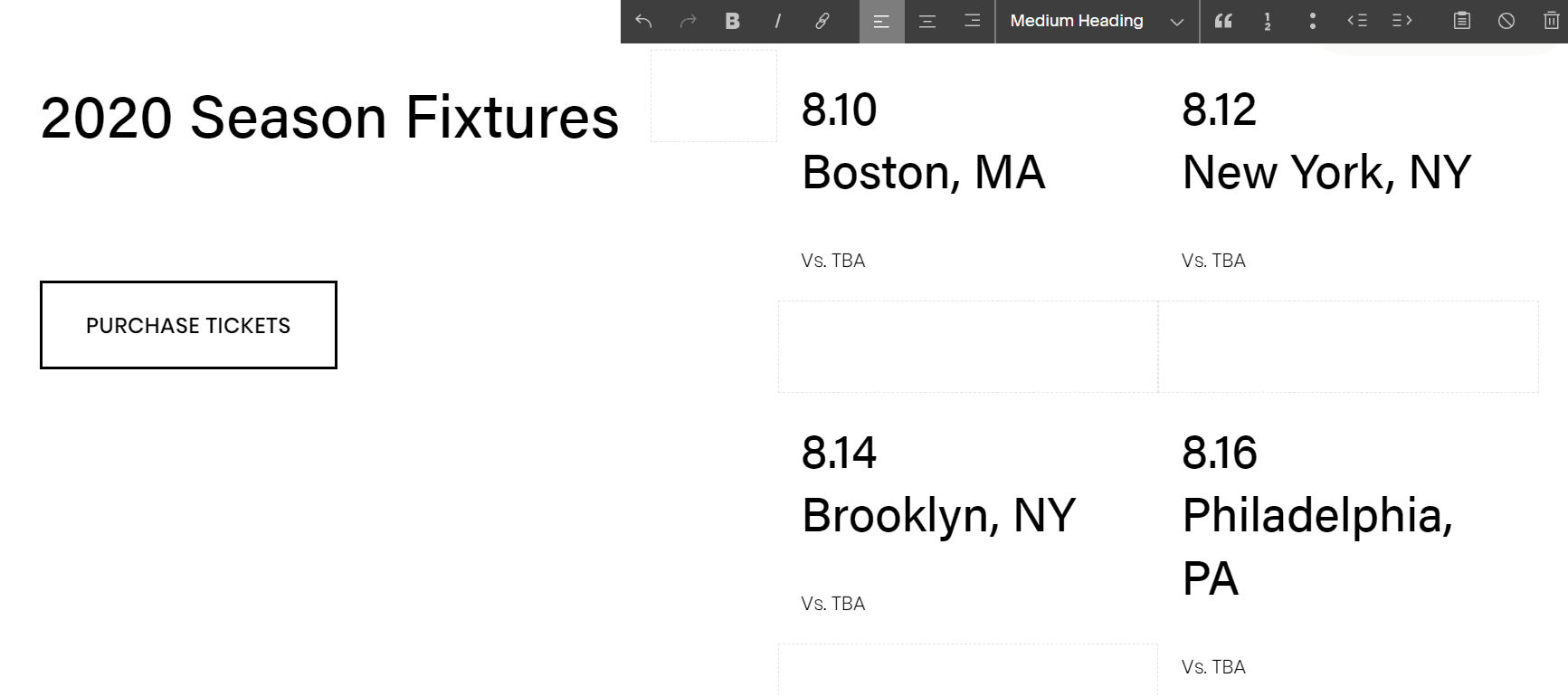 If you want to seek out new corporate sponsorship for your team, the professional quality of Squarespace's templates can lend your team some extra credibility. Just keep in mind that it isn't a free website builder. You can make use of
Squarespace's free 14-day trial
to build your site, but when you want to publish, you'll need to pay for a premium plan. Also, Squarespace lacks the design freedom of other builders, such as Wix or WordPress.com. So while pages are easy to customize, there are some limitations. Squarespace's key features include:
Built-In Donation Options – You can receive fundraising contributions from your supporters through PayPal and Stripe.
Live Preview – You can see exactly how your pages will look while you build your website.
To learn more, read our
expert Squarespace review
.
| | |
| --- | --- |
| Free plan? | No, 14-day free trial. |
| Free domain name? | 1 year with all plans. |
| Mobile-responsive templates?        | All templates are mobile-responsive. |
With
almost 40 sports and fitness templates to choose from
, you'll find more relevant designs on Wix than any other website builder. Once you decide on a template, the process for creating your website is hassle-free using the intuitive drag-and-drop editor.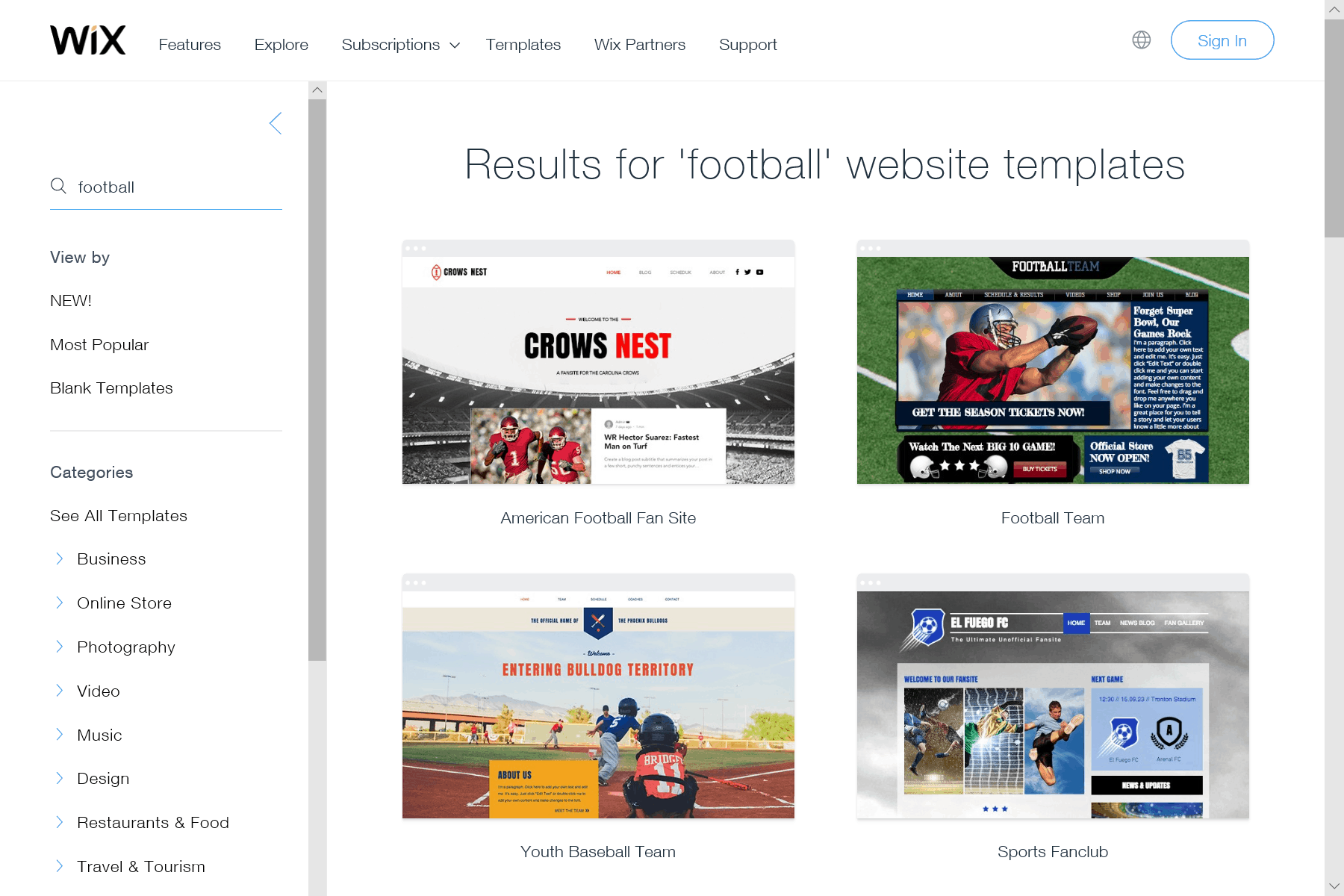 You'll find apps for just about every function you need on the Wix app market. For example, you can include a fan forum with the Wix Forum app, add a match schedule with the Events Calendar, and integrate your social media feeds with the Social Media Stream app – all included on Wix's free plan.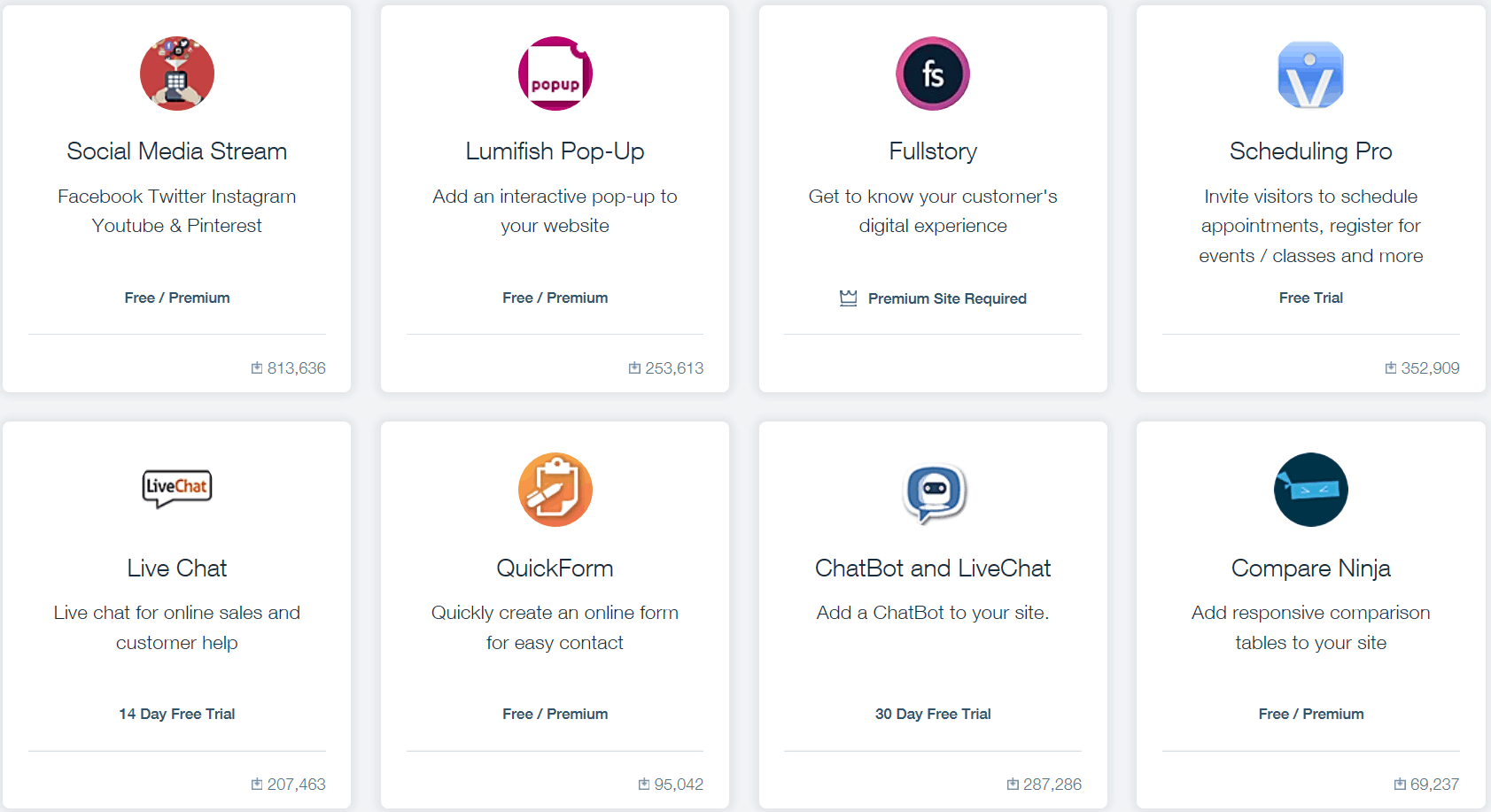 With a premium plan, you can sell team merchandise and accept donations through your website. You also get more storage space and bandwidth, and you can remove the Wix branding. A disadvantage of the Wix templates is that they are mobile-friendly but not mobile-responsive. You'll need to check the mobile editor's view of your site to make sure that your pages look great for both mobile and desktop users. Wix's key features include:
Wix Mobile App – Manage new player registrations, upload game highlights, and chat with your website visitors on your mobile.
Wix ADI (Artificial Design Intelligence) – Use Wix's smart assistant builds your website for you based on your answers to a few questions about your needs. That's a freat option
AI-Powered Logo Maker – Create a customized logo for your sports team by simply answering a few questions and using the intuitive logo editor. (Learn more about this in our in-depth Wix Logo Maker review).
Discover other useful features in our
full Wix review
.
| | |
| --- | --- |
| Free plan? | Yes. |
| Free domain name? | 1 year with all paid plans. |
| Mobile-responsive templates?        | No, but all of the templates are mobile-friendly. |
With seven templates designed specifically for sports teams, building your website with Site123 is a simple and straightforward process. The website editor is limited in terms of customization compared with other drag-and-drop builders, but
if you want to get a professional-looking sports team website up and running quickly, look no further than Site123.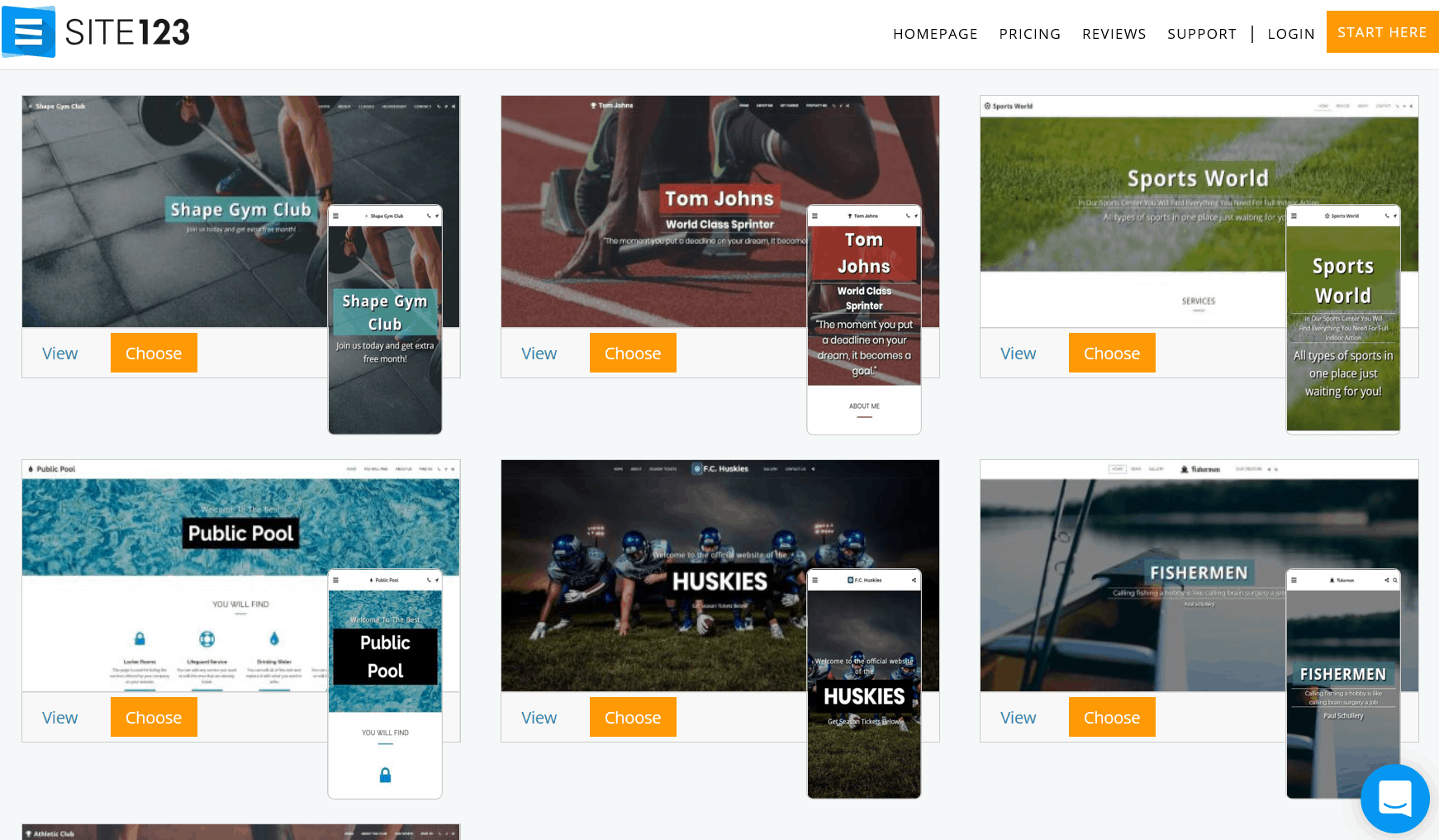 All Site123 templates are mobile-responsive. This means your supporters can easily access your site on their smartphones and tablets. Just keep in mind that Site123 is not the best choice for fundraising or selling club merchandise, as its e-commerce features are quite limited. Site123's key features include:
Simple and Clutter-Free Editor – The simple content block-based editor helps you create a professional-looking website for your sports team in a fast, straightforward, and self-explanatory way, despite not having drag-and-drop functionality.
Buttons to Receive Donations – Receive donations from your fans by including a call-to-action (CTA) button on your webpages, even with the free basic plan. Just be aware that this feature won't facilitate payment through your website, so you will need to connect to a third-party payment processor, such as PayPal.
Tockify Event Calendar – Keep fans updated on your upcoming games with an intuitive event calendar.
Learn more in our
expert Site123 review
.
| | |
| --- | --- |
| Free plan? | Yes, though very limited. |
| Free domain name? | 1 year with all paid plans. |
| Mobile-responsive templates?        | All templates are mobile-responsive. |
Weebly has an integration with DonorBox, a popular fundraising platform, that makes it a top choice if you're trying to collect donations for your next away game or some new equipment for your team. With
Weebly's free plan
, you can create a professional-looking website using the intuitive page editor. Simply drag and drop elements onto the page – what you see in the editor is exactly what your visitors will see once you publish your site. In addition to Weebly's fundraising features, you can use the "embed code" function to display YouTube videos and share matchday highlights with fans.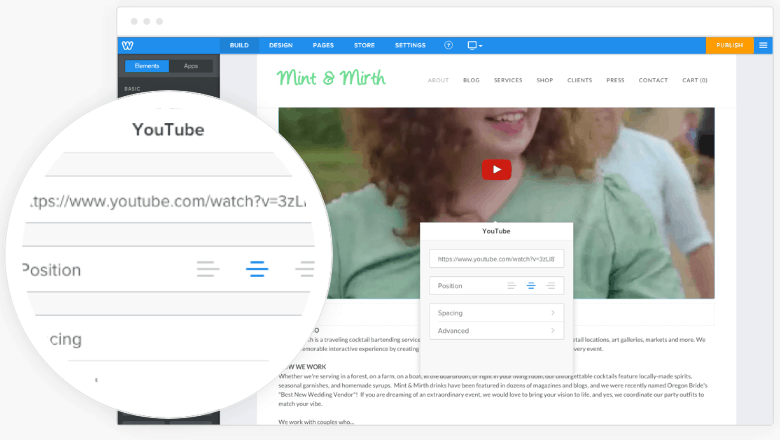 Weebly offers the App Center as an additional benefit. Here, you have the opportunity to choose from a diverse selection of over 370 apps. These apps can be used to improve your website's functionality in various ways. For instance, you can incorporate features like "meet the team" cards, integrate live social media feeds to keep your fans informed about game scores, and even showcase an events calendar for displaying upcoming matches.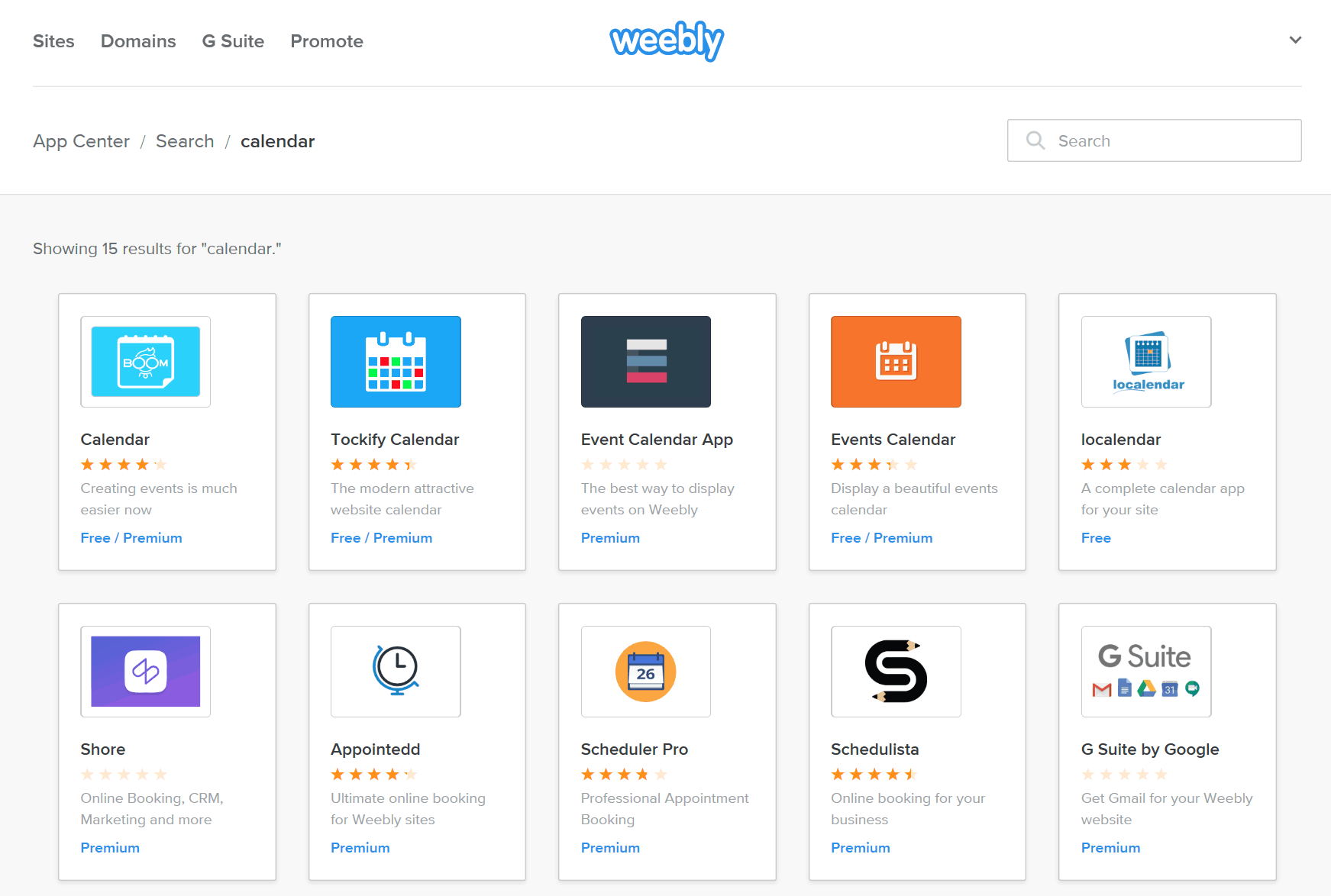 It's worth mentioning one drawback: Weebly has recently decreased the number of themes available for starting your website. If you're looking to save time by beginning with a sports team template, you might find Wix or Site123 to be better options. Weebly's key features include:
Advanced E-commerce Fundraising Options – All plans offer shopping cart integration, inventory management, and secure payment verification to help you generate funds for your sports team.
Leading Mobile App – The Weebly mobile app is one of the best around. Edit your site, upload match highlights, and add new games to your event calendar – all from a smartphone or tablet.
Go to our
full Weebly review
 to learn about other useful features the platform offers.
| | |
| --- | --- |
| Free plan? | Yes. |
| Free domain name? | 1 year with the Professional plan and higher. |
| Mobile-responsive templates?        | All templates are mobile-responsive. |
With WordPress.com, you can install plugins like SportsPress, for example, in just a few clicks. SportsPress enables you to add automated league tables, fixtures, results, and player profiles to your website.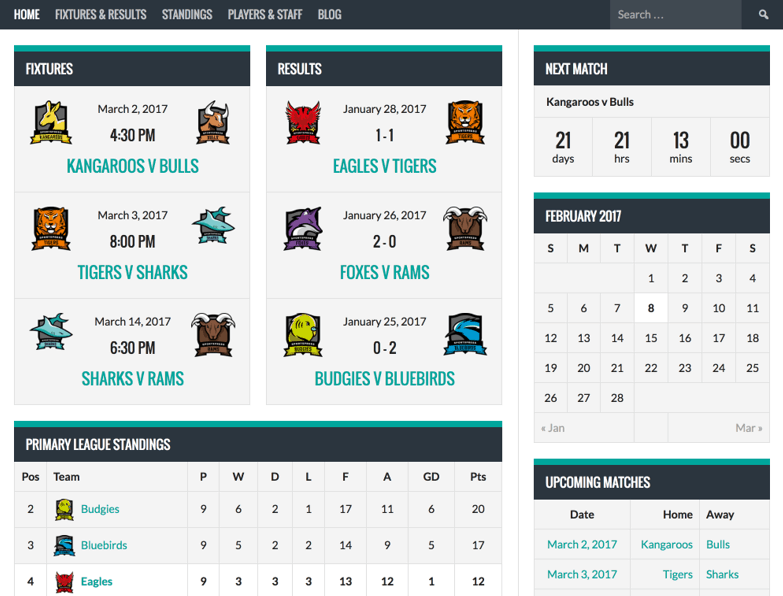 While WordPress.com offers advanced functionality, it does have a more complicated interface when compared with drag-and-drop website builders.
If you don't have the time or patience to handle the steeper learning curve, you might find a more straightforward website builder, like the first few on this list, a better option. WordPress.com's key features include:
Hundreds of Themes – Choose from a huge selection of themes to help you get started creating your sports team website.
Built-in Social Sharing – Automatically share upcoming games with your social media fans.
Multimedia Integration – Easily upload or embed your matchday highlights and images.
Read our
expert WordPress.com review
for tips and tricks on how to get the most out of the platform.
| | |
| --- | --- |
| Free plan? | Yes. |
| Free domain name? | 1 year with all paid plans. |
| Mobile-responsive templates?        | Most templates are mobile-responsive. |
If you think you might struggle with the complexity of WordPress.com or Squarespace, you'll find SimpleSite a great option. SimpleSite's user-friendly interface makes it a joy to use. Select from a range of themes and set up your sports team's website quickly, and leave more time for extra training. All of the available themes are mobile-responsive, so your website visitors can easily view and engage with your website no matter what device they are using.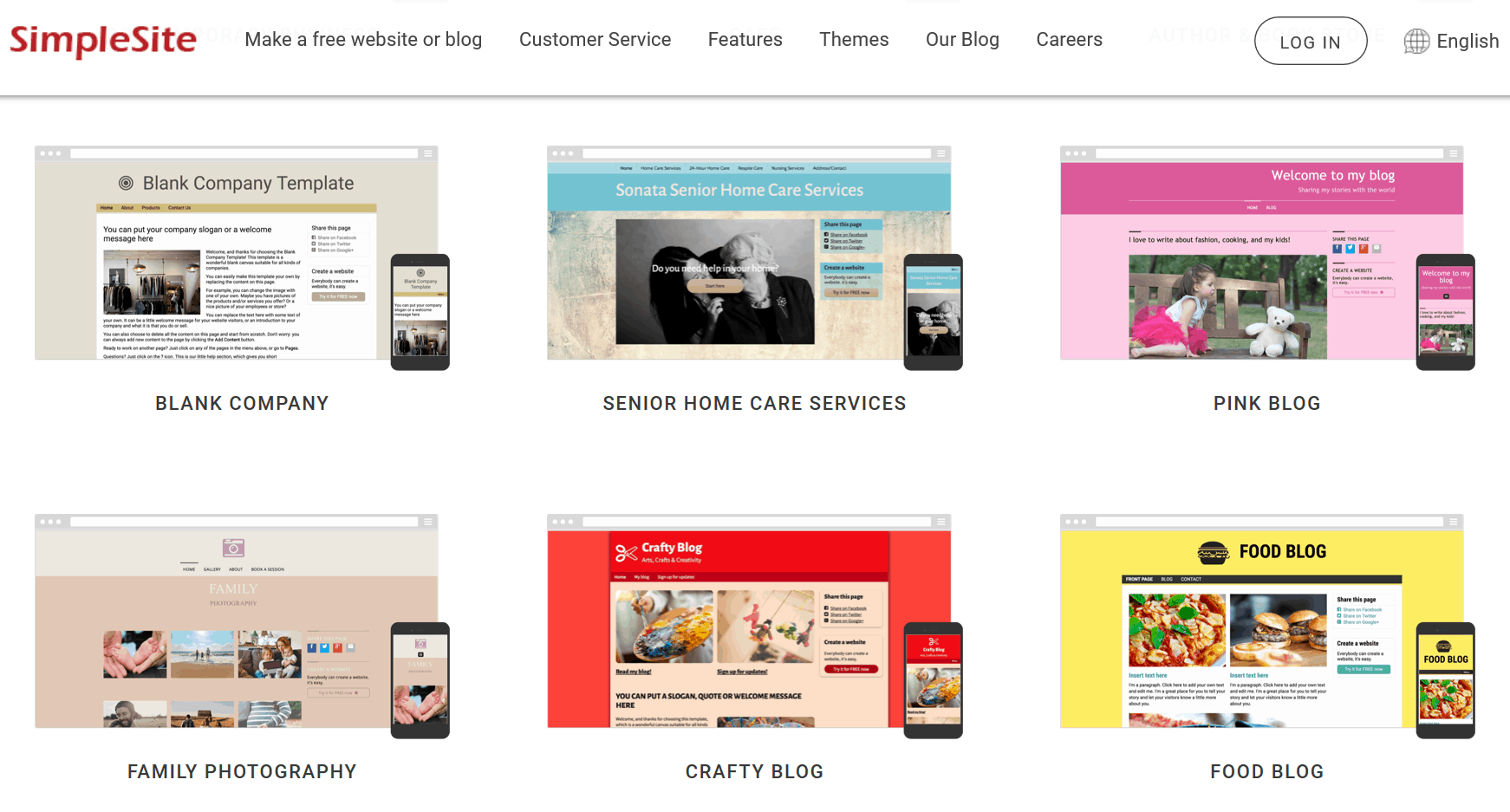 The drawback of SimpleSite is that it doesn't allow you to add social media feeds and you'll require a Pro or E-commerce plan to upload multimedia content on your site. Therefore, if you're looking to share video clips of your games, you might be better off choosing a different website builder. SimpleSite's key features include:
Straightforward Customization – Easily change your color scheme to match team colors and customize the appearance of pages in the editor.
Beginner-Friendly – Due to its basic editor, SimpleSite is the easiest website builder to create a website without any technical knowledge or experience.
E-commerce Functionality on the Free Plan – Sell up to five products from the built-in store. If you have more team merchandise products, you'll need to upgrade to the E-commerce plan.
Want to learn more? Read our
in-depth SimpleSite review
.
| | |
| --- | --- |
| Free plan? | Yes. |
| Free domain name? | For life of all paid plans. |
| Mobile-responsive templates?        | All templates are mobile-responsive. |
Final Thoughts on the Best Website Builder for Sports Teams
Whether you want to keep your supporters and team members updated on fixtures, attract new fans, or use your website to sell team merchandise, the above website builders make creating your website an enjoyable experience. However, the builder that is right for you depends on your priorities and the functions you need your website to perform:
If you are looking for a great all-rounder that gives you plenty of room to grow and add functions to your website when you need them, Wix is the ideal solution.
If you want a basic website to share upcoming matches and engage with your community, Site123 has everything you need.
If you want to use your sports team website for fundraising, I highly recommend a premium plan from Weebly.
The table below details the unique strengths of each website builder to help you make the right decision and choose a vendor that is perfect for you.
| | | |
| --- | --- | --- |
| Builder | Standout Feature | Free Fundraising? |
| Squarespace | Professional quality templates to increase your credibility online. An ideal solution if you want to seek out new sponsorship opportunities. | ✖ |
| Wix | Intuitive drag-and-drop editor with great social media integration and fundraising capabilities. | ✖ |
| Site123 | The fastest way to create a website. A range of templates designed specifically for team sports. | ✔  but only for offline transactions. |
| Weebly | Easy-to-use website builder with great fundraising functions if you upgrade to the Professional or Business  plan. | ✖ |
| WordPress.com | Advanced customization with an incredible plugin library to expand your website as you grow your club. | ✖ |
| SimpleSite | The simplest way to create a basic website with all the essential functions you need. | ✔ |
FAQ
Which website builder has the best free plan? 
In addition to having sports-themed templates, Wix offers a generous free plan that gives you access to plenty of useful tools, ranging from calendars to social media and forum apps.That said, if you plan on selling merchandise, SimpleSite's free plan 

allows you to sell up to five products from the built-in store. Naturally, you get more functionality on paid plans, but you can still save money by using our

website builder coupons

. 
Does Squarespace have good templates for sports?
Squarespace's sleek and professional designs will help you out ​​if you want to earn your team some extra credibility. Its drag-and-drop editor makes it easy to customize templates, and you can see exactly how your pages will look while you build your website, thanks to the live preview option.To learn more about the platform's features, check out our expert Squarespace review

.
Which is better for sports, Weebly or SITE123?
If you need to get your team website up and running quickly, SITE123 is an excellent choice. You get sports-specific templates and lots of useful features, such as event calendars and donation buttons. However, when it comes to fundraising options, Weebly is a better choice. All Weebly plans

 offer shopping cart integration, inventory management, and secure payment verification to help you fund your sports team.
What makes a good sports website?
A good sports website should have a professional and polished look that will attract regular visitors and potential sponsors. It should also have powerful features to help you connect with your fans and keep them informed about upcoming events. If the platforms on this list don't quite cut it for you, be sure to check out our
top website builder recommendations
for more inspiration.