You don't want to pick a website builder that seems easy to use, only to find yourself stuck with corny stock images or a website design that belongs in the 90s.
A quality website builder gives you professional, good-looking templates – plus additional features that might come in handy, such as a blogging platform to publish your articles and guides, or local SEO tools so clients in the area can easily find you on Google. With this in mind,
I tried over a dozen popular website builders to find the best ones for therapists.
Following extensive tests, these were the builders that made the cut.
Short on Time? Here Are the Best Website Builders for Therapists in May 2023:
Wix – Over 800 professional templates, including some designed specifically for therapists.
Squarespace – Excellent built-in features for therapists, such as appointment booking and blogging.
Hostinger Website Builder – Beginner-friendly builder with helpful AI tools take your therapy practice online in no time.
What We Look For in the Best Website Builders for Therapists
To bring you a list of the best website builders for therapist websites, I tested builders on these essential features.
Professional templates: These site builders offer a variety of well-designed templates to make your site look both attractive and credible. Whether you work with kids, married couples, or high-power execs, you'll be able to create a website that speaks to your potential clients.
Ease of use: All the builders on my list are easy to use. Never built a website before? Your visitors will never be able to tell.
Advanced contact features: The builders I recommend give your new and existing clients easy ways to contact you through your website, whether it's through a contact form, via live chat, or even through a calendar that lets them book appointments directly. You choose the options that work best for you.
Local SEO tools: These builders offer SEO features to help you get found on search engines by the people that actually matter. If you're not even sure what SEO is, don't worry – they also have helpful guides and tutorials to walk you through the process.
Blogging features: Thinking of writing a blog? These builders will all give you a platform to publish your articles – or your random thoughts, if that's how you roll.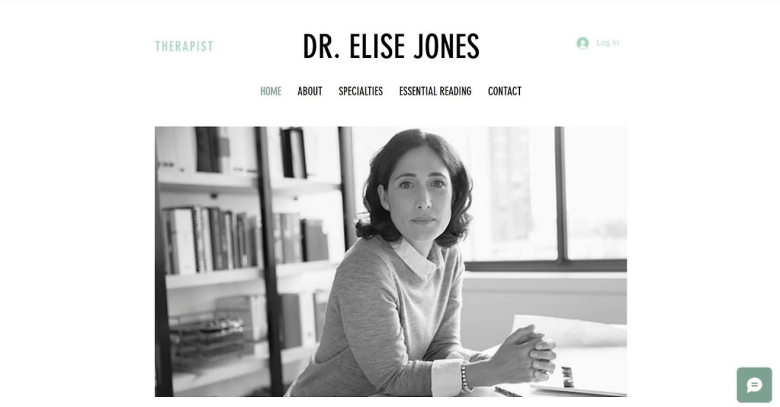 Wix offers more than 800 website templates for you to choose from. That is pretty impressive, but what really makes Wix stand out as an excellent choice for a therapy practice website is that
the template gallery includes
eight templates designed especially for therapists
,
counselors, and psychotherapists.
These templates are already populated with sections for your bio, contact information, published research, and more, saving you a lot of time.
There's also a library of thousands of free stock photos,
so if you don't have your own images, you should have no problem finding the perfect ones for your site. The one catch to Wix's templates is that once you choose, there's no going back – Wix won't let you switch to a different template if you change your mind. However,
the templates are fully customizable through the simple drag-and-drop editor,
so you can change them around if you need to.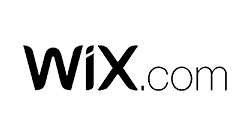 Save up to 33 % on your Wix plan!
Limited-time offer - Don't miss it!
Your Wix with your first % on 31/05/2023!
3901 users used this coupon!
Features
Huge App Market. Don't think Wix is all about looks. The App Market includes just about any tool you need to enhance your website – from simple contact forms to social media integration. Adding new features to your site is as easy as finding and downloading the right app.
Wix Bookings. This app allows clients to easily check your schedule, make appointments, and pay for them online. You'll have to pay a small monthly fee to use it, but it's worth every penny.
Wix SEO Wiz. If you want your site to rank higher on Google search results, all you have to do is answer a few questions about your business and Wix SEO Wiz will give you a personalized SEO plan that's easy to follow and implement.
Site Booster. Also available through the App Market, this tool can help you improve your local SEO by listing your site on business directories.
For more pro tips, head to
our expert Wix review
.
Number of Templates
800+; 8 specifically for counselors and therapists
Free Plan?
Yes, 14-day money-back guarantee for paid plans
What You Get If You Upgrade

More storage and bandwidth
Removal of Wix branding
Option to connect a custom domain
Free domain for one year

Starting Price

$

16.00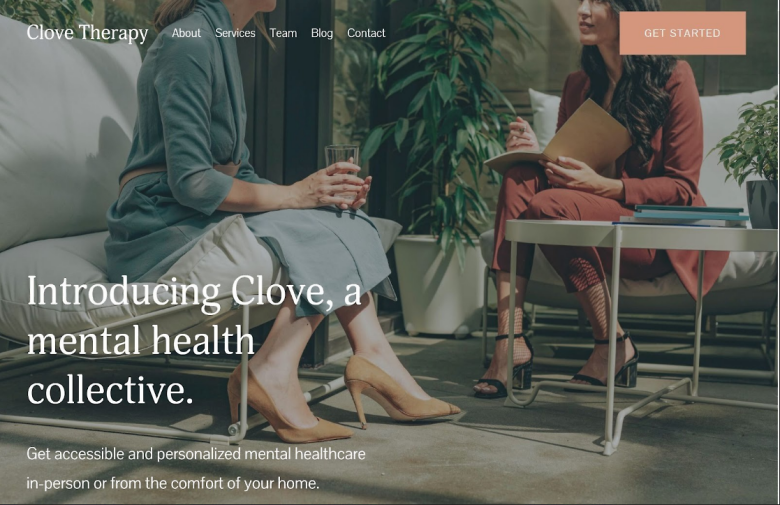 Squarespace offers 140+ site templates, and they're all mobile-responsive –
meaning they will automatically look good on mobile devices, without you having to make any adjustments.
There are just a few
templates designed specifically for therapists and counselors
, but this isn't really a problem. I'd suggest starting out with a template from the Professional Services, Health and Wellness, or Local Business category and customizing it to suit your needs. With Squarespace, the content on your site is arranged in "blocks" – editable sections that you can customize with basic text and images, or interesting features like form fields and clickable buttons.
The editor is very easy to use – just drag and drop the blocks to wherever you want them on the page
. The one thing I don't like about Squarespace is that it doesn't give you as much freedom as Wix. While Wix lets you do literally anything, Squarespace confines you to a set grid. That said, I have colleagues who actually see this as a plus – less creative freedom means fewer things can go wrong. To each their own, I guess.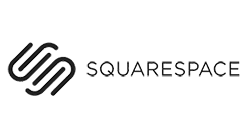 Save up to 30 % on your Squarespace plan today!
Plus get a free domain for one year!
1031 users used this coupon!
Features
Appointment scheduling. Squarespace gives you two options to allow clients to book and pay for appointments online: the built-in Squarespace Scheduling tool or Acuity Scheduling integration. Squarespace Scheduling even lets you enable HIPAA features on its top-tier plan.
Map blocks. You can embed Google Maps on your site, so your clients can easily find your clinic.
Events calendar. This lets you highlight group therapy sessions or even special events where you're the guest speaker.
Blogging. Squarespace has excellent blogging and podcasting features, including integrations with Apple News and Apple Podcasts. To start writing, just add the "Blog" page type to your website and you're good to go.
Read our
in-depth Squarespace review
 to learn more.
Number of Templates
140+, with a few designed for therapists and counselors
Free Plan?
No, but there's a 14-day free trial (no credit card required) and a 14-day money-back guarantee
What You Get If You Pay

Unlimited bandwidth and storage
Option to connect custom domain
Free domain for one year
24/7 customer support

Starting Price

$

16.00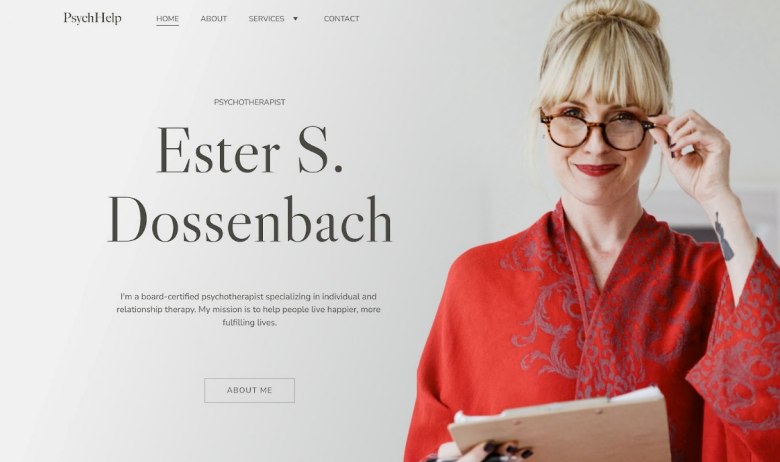 Hostinger Website Builder may have only a few templates that are intended for therapist websites, but you'll find dozens more responsive templates in the Services category that would make a good starting point. Where Hostinger Webiste Builder really stands out is in its provision of
AI tools to help with website design, content, and branding
. If you can't find a ready-made template you like, simply answer a few questions and get Hostinger Website Builder's AI builder to generate one for you.
Hostinger Website Builder's user-friendly interface and drag-and-drop editor make creating an attractive and functional site stress free
, though you won't have the same level of creative freedom as with Wix. You can add or delete pages and sections, drop elements where you want, and customize and link call-to-action buttons to sections, pages, your phone number, or an email address. I was impressed by how easy it is to
add a map (so customers can find your office), a personalized contact form, or a newsletter to your site
. You can also create a blog to share helpful tips and advice, establish your trustworthiness, and build rapport with potential clients.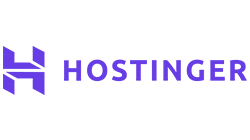 Save up to 75 % on your Hostinger Website Builder plan today!
Limited-time offer - Don't miss it!
65 users used this coupon!
Features
Help with content. You can turn to Hostinger Website Builder's AI writer for help with website copy. This content-generating tool will draft SEO-optimized content tailored for mental health clinicians and your individual brand. While you'll probably have to edit the copy yourself, you'll still save time and effort.
Heatmap analysis. The website heatmap is one of Hostinger Website Builder's coolest smart tools. It gives you a clear picture of how visitors are likely to interact with your site and what content will most attract them. You can use this information to improve the user experience before you publish or anytime you update your site.
Booking and payments. With Hostinger Website Builder's built-in booking tool (available on the Business plan), clients can quickly check your availability and book a therapy session. They can even choose from 20+ popular payment options, including PayPal and all major credit cards.
Personalized privacy policy. An online privacy policy is essential for any healthcare professional's website. With Hostinger Website Builder's free privacy policy generator, you can reassure your clients that their personal data is completely secure.
Our expert Hostinger Website Builder review
has more details.
Number of Templates
140+, a few designed for therapists and counselors
Free Plan?
No, but there's a 30-day money-back guarantee
What You Get If You Pay

Unlimited bandwidth and storage
Option to connect custom domain
Free domain for one year
24/7 customer support

Starting Price

$

2.79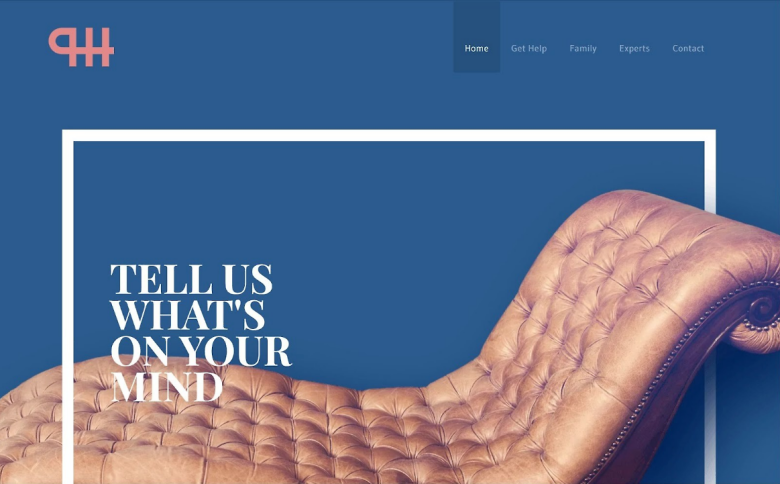 If you're considering IONOS for your therapy website, I recommend using its more advanced
MyWebsite Creator builder for its great template selection, customization, features, and functionality
. You can browse
dozens of templates for healthcare professionals
that come pre-loaded with all the sections and pages a therapist needs, such as services, professional qualifications, and client testimonials. You can add business widgets that
allow customers to book appointments online and pay with a range of options, including PayPal, direct debit, and more
. When you add a contact form to your website and connect it to your email address, IONOS will automatically notify you when a potential client inquires about your therapy services. To learn if IONOS is right for your therapy website, you'll have to create an account and enter payment details, though you won't be charged for 30 days. That should give you ample time to test the builder. If you ultimately decide it's not for you, you can cancel your account before you're charged.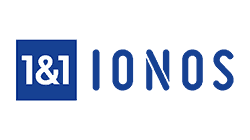 Save up to 80 % on your 1&1 IONOS Website Builder plan!
Limited-time offer - Don't miss it!
43 users used this coupon!
Features
IONOS rankingCoach. This SEO optimization tool gives you an individualized action plan for improving your website's search engine ranking. Weekly reports provide actionable insights, including competitor analysis.
Professional email. Every IONOS plan comes with a professional business email that matches your domain, which can help establish your credibility.
List Local. This tool helps you connect with potential clients by promoting your therapy practice in 25 online business directories. Automatic emails alert you to the latest client reviews and social media posts.
Privacy/cookie transparency. Simply add the Usercentrics app to reassure potential clients that they have full control over the privacy of their data. It can put them at ease and ensure your website is compliant with global privacy standards.
Learn more in our in-depth IONOS review
.
Number of Templates
400+, with over 40 designed for health services
Free Plan?
No, but there's a 30-day money-back guarantee
What You Get If You Pay

Option to connect custom domain
Free professional email
Free domain for one year
Personal support consultant (during business hours)

Starting Price

$

1.00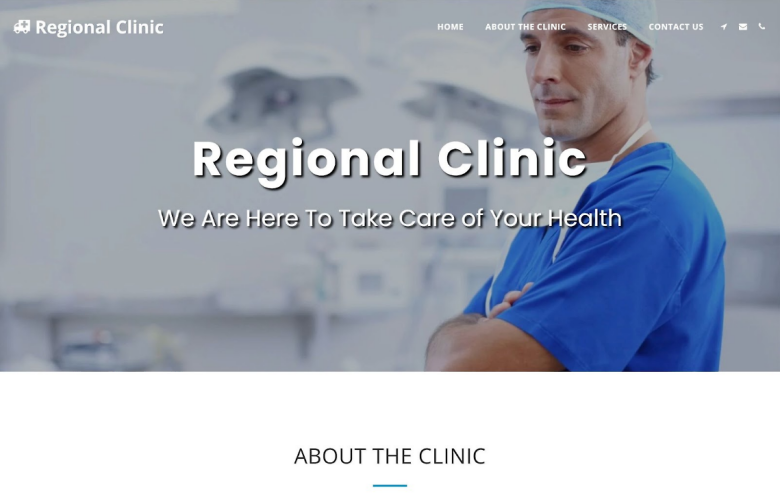 If the idea of building your own website stresses you out – even just a little – SITE123 could be the perfect solution for you
. With an intuitive, uncluttered editor and all the support you need, site building doesn't get much simpler than this.
SITE123 doesn't offer any templates specifically for therapy practice sites, but there are dozens of options available for professionals and local businesses.
Many of these templates include the pages you probably need for your counseling site and since you can customize them however you like, the lack of therapy-specific templates shouldn't be a problem. For example, the
Regional Clinic
template (shown above) comes with About, Services, and Contact pages. You can easily add new pages, too – for instance, if you'd like to display your licensing and certifications or upload an image gallery of your clinic.
Features
Mobile-responsive templates.Your site visitors will have no problem viewing your content on-the-go because all of SITE123's templates are mobile-responsive. Additionally, when you are on-the-go, you can conveniently edit or update your site from anywhere using SITE123's handy mobile app.
Custom contact forms. You can easily create and customize contact forms to collect all the information you need when a potential new client reaches out to you.
Built-in timeline. This feature allows you to display your education, CV, licensing and certifications, and work history on a visual timeline that highlights your biggest achievements.
Extensive support. SITE123 offers step-by-step guidance (including video tutorials) and 24/7 live chat. If you have any questions while you're working on your site, there's always someone to answer.
Read our
expert SITE123 review
 to find out more.
Number of Templates
180+, including a couple for the health services industry
Free Plan?
Yes, plus a 14-day money-back guarantee for paid plans
What You Get If You Upgrade

More storage and bandwidth
Removal of SITE123 branding
Option to connect a custom domain
Free domain for one year
Access to App Market

Starting Price

$

12.80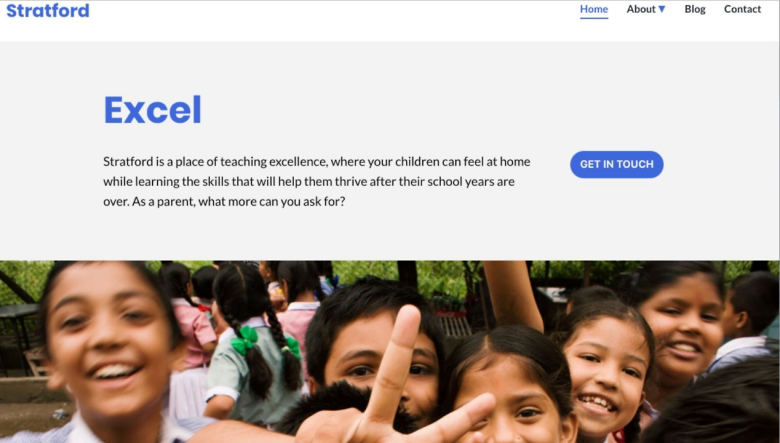 The WordPress.com interface is slightly more complex than the other site builders on this list, but in exchange,
you get the freedom to make your website do just about anything
. There are 100+ themes available, but
the Local Business themes are probably your best bet.
Stratford
, for instance (shown above), comes with a long-form home page with blocks for appointment booking and services – great to prominently display your areas of specialty.
On the Business plan or above, you get access to WordPress plugins, which means you can choose from thousands of different functions to add to your site. 
If you're looking for a website builder that will scale with your practice, WordPress.com is it.
Features
Blogging. If you plan to make your blog the main focus of your website, you can't go wrong with WordPress.com. There is a bit of a learning curve, but it's a small price to pay for the ultimate blogging platform.
Booking Calendar. Available as a WordPress plugin, this feature lets your clients schedule appointments, and pay for them online.
Ultimate Member. Also a WordPress plugin, Ultimate Member gives you the option to open a private membership area for clients on your site.
Yoast SEO Plugin. This is one of the strongest SEO tools out there, complete with a step-by-step guide for optimizing your website for search engines.
Get more tips in our
detailed WordPress.com review
.
Number of Templates
100+, plus thousands of third-party options
Free Plan?
Yes, 30-day money-back guarantee for paid plans
What You Get If You Upgrade

Upgraded storage and bandwidth
Removal of WordPress.com branding
Option to connect a custom domain
Free domain for one year
Premium themes
Email and live chat support

Starting Price

$

4.00
How to Build a Therapy Practice Website
A therapy practice website is more than just an information hub. It's a way for potential clients to see what you have to offer. Thanks to website builders, it's really easy to get your website up and running – just follow my step-by-step guide: 1.
Choose a website builder.
All of the website builders on this list are intuitive, easy to use, and cost-effective. 2.
Select a template.
Your website needs to look inviting, friendly, and professional, so you you'll want to pick a template to match. That's why I recommend Wix. It not only has 800+ fully customizable templates, but it offers
eight templates designed for therapists
 and counselors. 3.
Optimize your SEO.
This helps potential clients in your local area find your website and, ideally, book an appointment. A great way to optimize your SEO is to add a blog to your website and write posts about your practice. 4.
Connect a domain name.
Finally, you'll need a custom domain name to give your website legitimacy. Most of our website builders offer free domain names with certain plans, or you can purchase your own and connect it in just a few clicks.
So, Which Is the Best Website Builder for Psychotherapists?
Here are my final recommendations:
If you want the quickest path to a great counseling website without missing out on any essential features, try Wix
. It's the site builder with the most therapy-specific templates, and you'll get tons of added functionality through the App Market.
Alternatively, Squarespace might be even easier to use, because it comes with a lot of the tools you need for a therpy practice built-in
. You don't have to look for or install any apps to collect forms from visitors or set up a booking system through your site. Or, if you want help with website design and content,
Hostinger may be your best option
. Its intelligent tools can not only draft content, they can also enhance images and help optimize your site for SEO. Before you make your final decision, use this brief summary table to decide which site builder to try out first.
Free Plan
Best Feature
Best For
Starting Price
Wix

✔

Full-featured, versatile, and easy-to-use builder
Template selection, creative control, and apps for enhanced features

$

16.00

Squarespace

✘

Top template designs with functionality to match
Stylish websites with built-in essential features

$

16.00

Hostinger Website Builder

✘

Best AI tools for design, SEO, and more
Easier website creation and help with content

$

2.79

IONOS

✘

Straightforward, affordable drag-and-drop builder
Simple websites with solid business features

$

1.00

SITE123

✔

Intuitive, user-friendly website building
Getting a professional site online fast

$

12.80

WordPress.com

✔

A widget or plugin for any feature or function
Flexibility and customization, though time and skill required

$

4.00
FAQ
What should you include on a website for therapists?
If you want to make a professional looking site for your therapy practice, website builders like Wix and Squarespace have excellent templates. These are specifically designed so that all you have to do is insert your information into the placeholders. You should include your qualifications and licenses, as well as provide a way for potential clients to get in contact with you and schedule an appointment.
How much will it cost to build a website for my practice?
Creating a beautiful and functional website doesn't have to cost a lot of money. Some of the options on this list have free options or free trials that will allow you to try out the builder before making a commitment. Wix offers a generous free plan and the most templates for therapist websites. Squarespace offers good overall value and templates with professional features built in.
What is the best website builder for small businesses?
This is a tough question to answer, because the best option for you will depend on the features that you value the most highly. Luckily for you, we've put together a list of all of the top website builders in 2023, and compared them on a variety of different factors. This will help you confidently choose the right builder for your business's needs. 
How can I promote my therapy practice?
Every builder on this list offers SEO and marketing tools you can use to drive traffic to your website and reach more potential clients. You'll also want to use social media to increase your practice's visibility. Regularly posting informative blog content is another way to connect with potential clients. Once you bring visitors to your site, offering a free consultation or discount for new clients can close the deal.