While all the builders on my list will get the job done, my personal favorite is Squarespace. It has the best-looking templates around, and all the tools you could possibly need to build your website, integrated straight into its editor (so you don't have to look for them elsewhere). You can take advantage of
Squarespace's 30% discount on annual plans
to save on your subscription.
Don't make the mistake of building your site with the platform that hosts your podcast. It may sound tempting, but
the website builders that come with many podcast hosting services generally only offer basic, generic websites.
I'll explain in a moment what I mean by that, but the solution is quite intuitive – to build a good website for your podcast, you'll probably want to use a website builder.
However, you need to choose your builder carefully.
I've tested a couple major site builders
, as well as a couple of niche options for podcasters, to find the best options for your podcast website. Read on to check out what I learned.
Short on time? These are our top choices for a website builder for podcasts in 2023:
Squarespace – lets you host your podcast directly on your site, and offers gorgeous templates for you to choose from and customize however you like.
Wix – with the free Wix Podcast Player, visitors can listen to your podcast right on your website. Wix is also very easy to use, and offers you a lot of design freedom.
Why a Podcast Host May Not Be Enough for You
If you settle for the basic setup of a podcast host alone, you won't get access to many important features, such as:
Professionally designed website templates that you can customize to make your site look unique
SEO tools to help your podcast get discovered on Google and podcast directories
Marketing tools like newsletters and social media integration to stay in touch with your listeners
The ability to connect a custom domain name
Easy monetization options, such as donation buttons and Google Adsense integration
Read on for a closer look at two options for building a site for your podcast.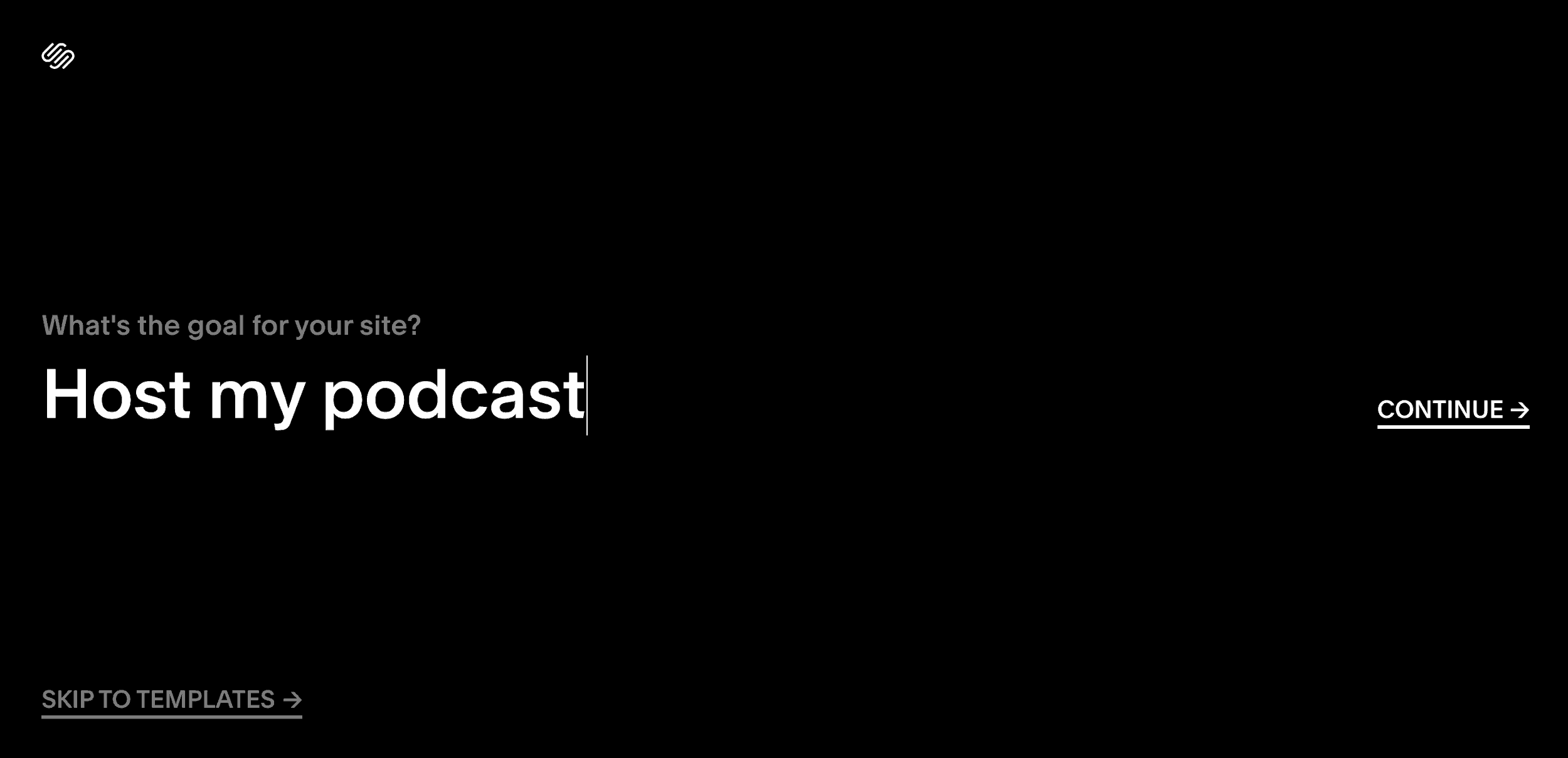 Squarespace's biggest benefit is that you can host your podcast episodes right on your site – no external host necessary.
All plans give you unlimited storage space and bandwidth, so you don't have to worry about running out of resources once your podcast gains popularity. You can choose one of Squarespace's six recommended templates for podcasters or start with any other template and customize it to suit your needs.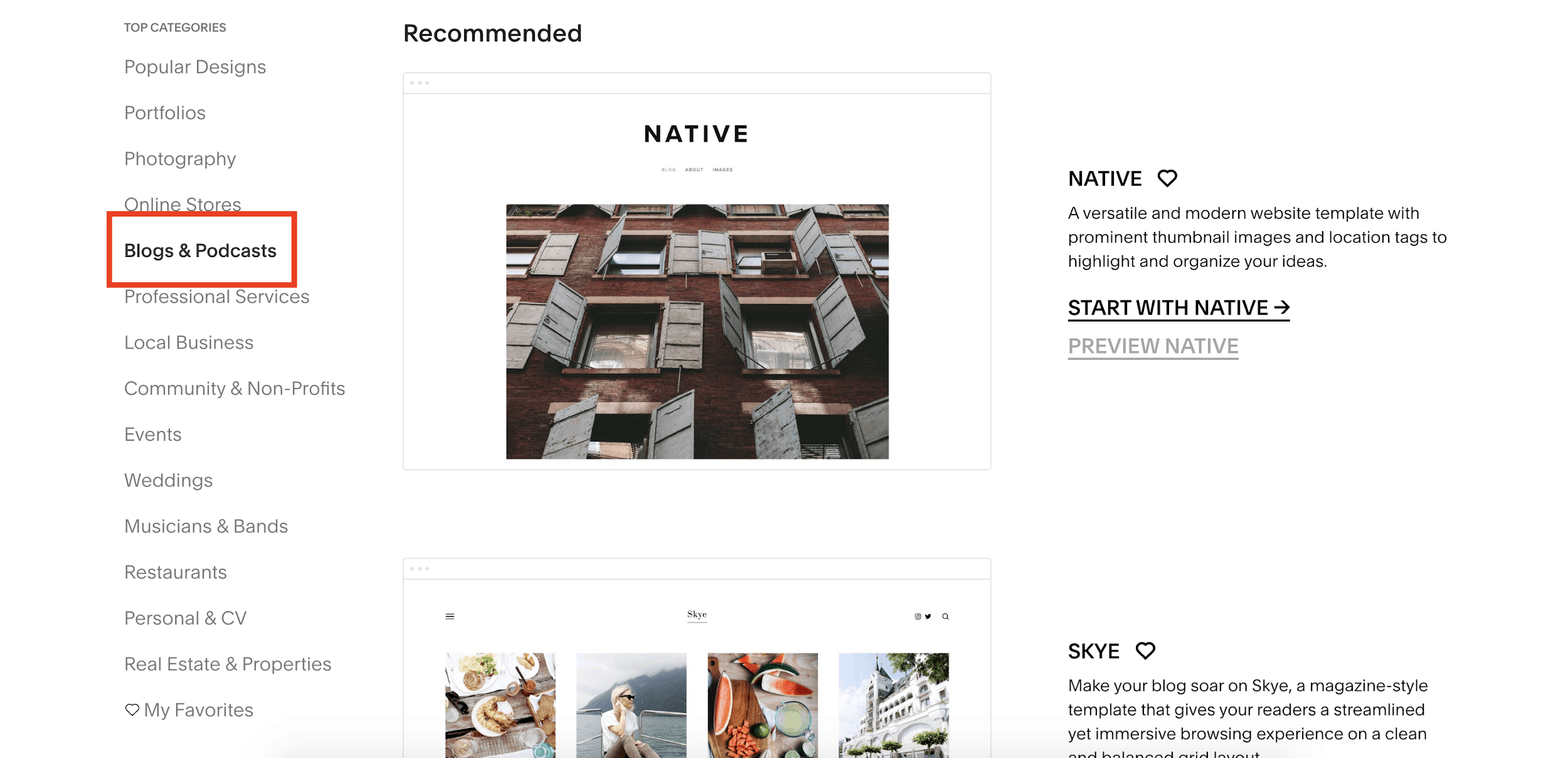 To host your podcast, all you have to do is create a Blog Page (some templates have one built in), head to
Blog Settings
, and turn on
Podcasting
.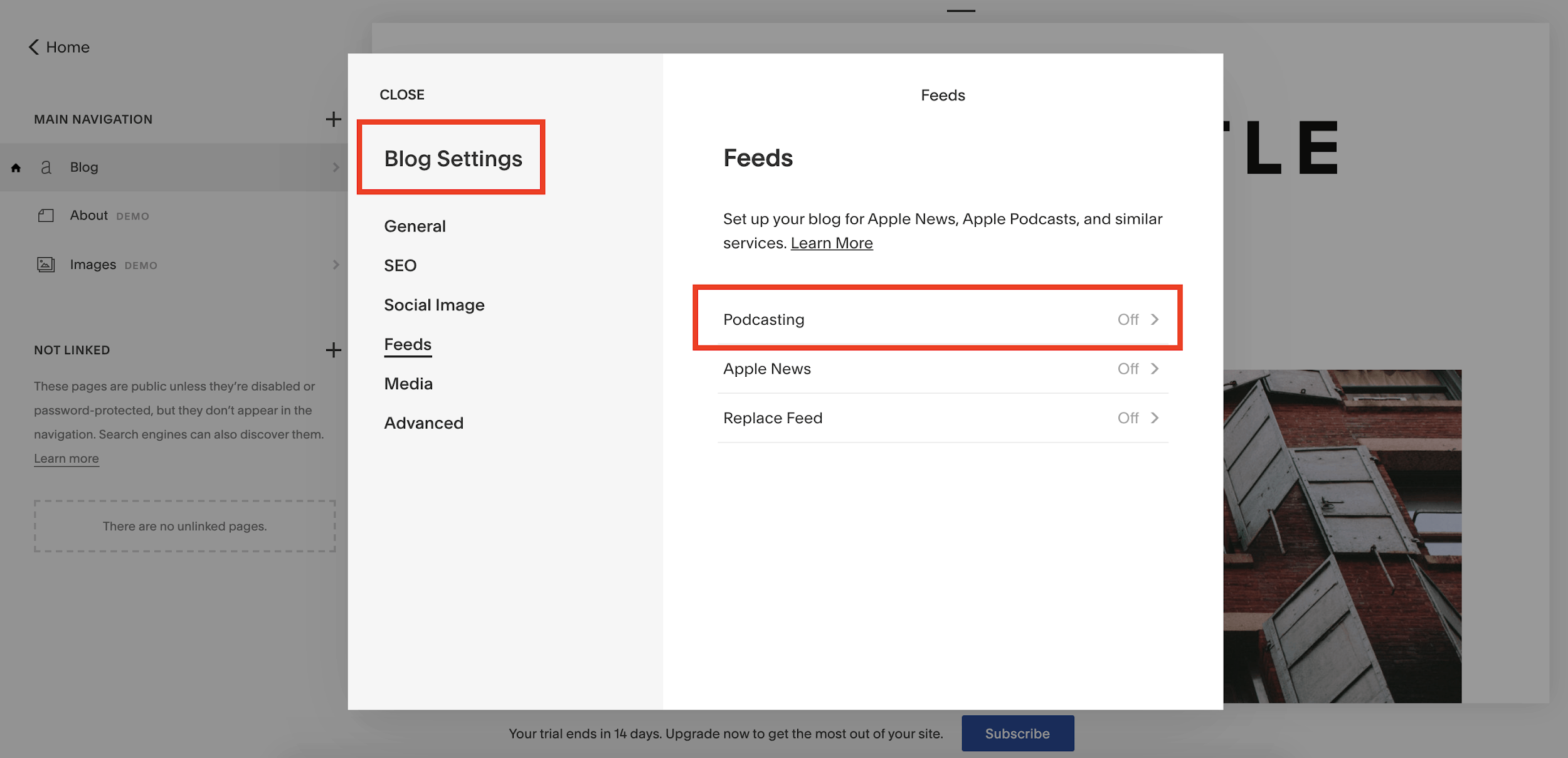 Here are some of the other cool things you can do with Squarespace:
Connect multiple podcasts to the same website
Distribute your RSS feed to podcast directories like Apple Podcasts, Google Play, Spotify, and Stitcher
Track unique feed subscribers with built-in RSS analytics, or add third-party analytics to track more detailed episode listens and downloads
Link to your social media accounts to grow your audience
Add a PayPal button to collect donations
Integrate your site with Google Adsense to make a little extra cash
One small downside is that Squarespace does not support video episodes. You can, of course, embed videos in any blog post, but they will not be included in your podcast feed. Another thing to keep in mind is that Squarespace has no free plan. However,
Squarespace's 14-day free trial
is a great option if you want try out the editor. Unless you plan to sell merchandise online, the cheapest plan (Personal) will give you everything you need for a great podcast site. And if you're a student podcaster, you can get 50% off by signing up with an academic email address. Discover all the pros and cons in our
expert Squarespace review
.
| | |
| --- | --- |
| Free plan available? | No, but there's a 14-day free trial |
| Connect custom domain? | Yes, with any plan (and domain is free for the first year) |
| Money-back guarantee? | Yes, 14 days |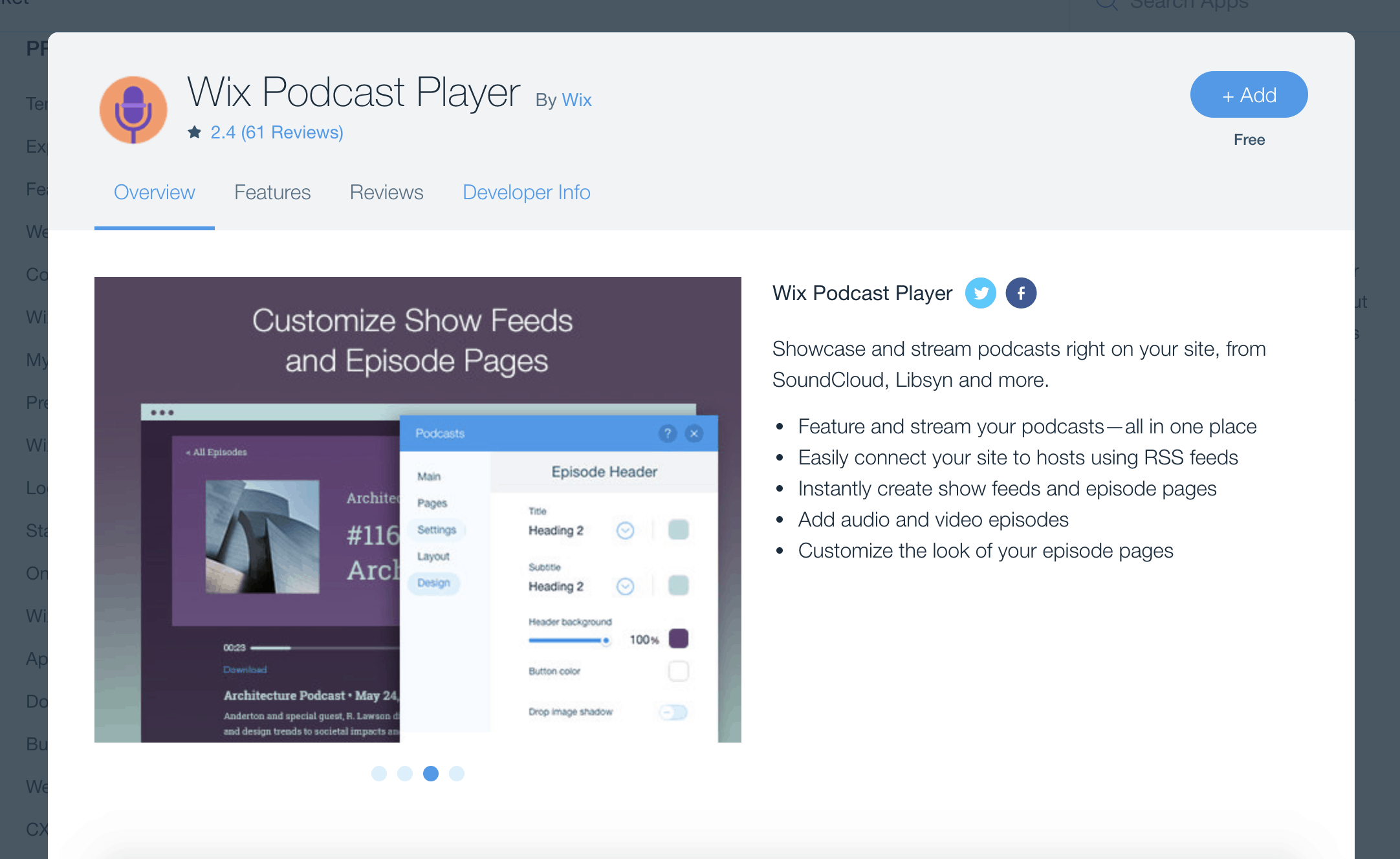 Unlike Squarespace, Wix does not offer direct podcast hosting. But you can definitely
use Wix to create a great podcast website
, including seamless episode streaming and great features for listener engagement. You'll just need an external host for your podcast episodes.
Why use Wix if you'll still need an external host? Basically, you'll get the best of both worlds:
The awesome features of Wix, like podcast-friendly website templates, design flexibility, and strong SEO and marketing capabilities
The specialized features of a podcast host, like easy monetization and more detailed analytics
With that in mind,
the easiest way to set up your Wix podcast website is to use the Wix Podcast Player app
. Just install the podcast player through the Wix App Market and connect it to wherever your episodes are hosted (
click here to jump to my list of recommended hosts
).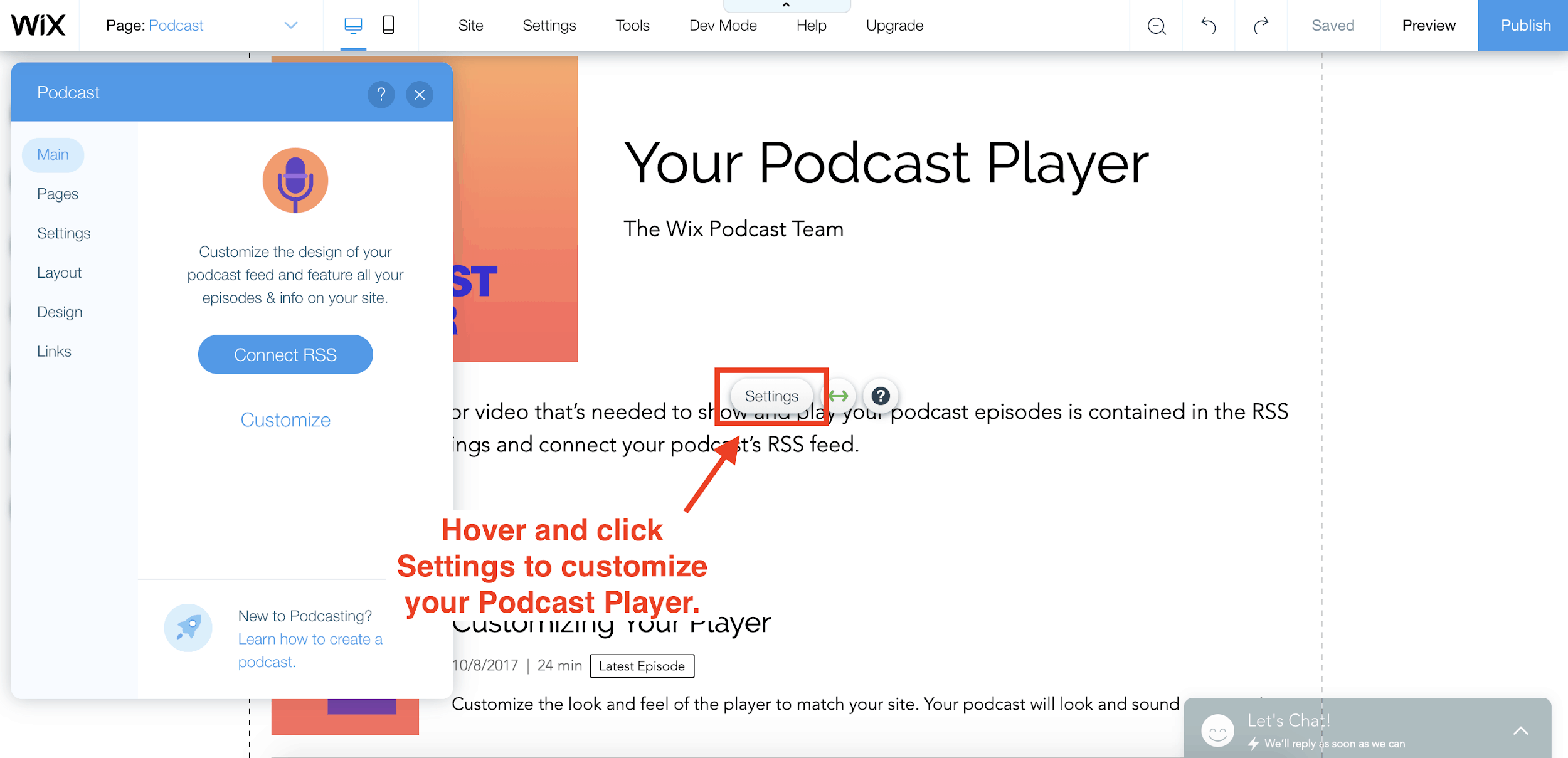 Wix Podcast Player lets you customize the layout of your episode pages, allow or disallow episode downloads, and add subscription buttons for RSS, Apple Podcasts, Google Podcasts, Spotify, Stitcher, and Soundcloud. The best thing about this Wix app is that it does the tedious work for you. Once you've connected your podcast's RSS feed,
Wix Podcast Player automatically creates a unique page for each new podcast episode
. Unfortunately, though, your episode notes will not be automatically displayed. To share them, you'll have to either upload that file to each episode page, or redirect listeners to your original hosting platform. Wondering what else can you do with Wix?
Connect more than one podcast to the same website
Upload HD video, which is great for behind-the-scenes looks or video interviews
Create a mailing list and send newsletters to your audience
Link to all your social media platforms
Use the Wix Forums app to create a listener community
Create an events calendar to display upcoming content releases, interviews, and live shows
Add a PayPal button to accept donations or use the free Google Adsense app to display ads on your site
Create a members-only area for premium content
Although Wix offers a free plan, I'd recommend upgrading not only for the higher storage and bandwidth, but also for the custom domain. With most paid plans, you'll get the Site Booster App to improve your site's SEO and help listeners find you online. Read our
full Wix review
 to learn about other apps and features.
| | |
| --- | --- |
| Free plan available? | Yes |
| Connect custom domain? | Yes, with any paid plan (and domain is free for the first year) |
| Money-back guarantee? | Yes, 14 days |
Option #3: Use a Dedicated Podcast Website Builder
With dedicated podcast website builders, like Podpage or Podcastpage.io (I know, they sound super similar), you get less features and less customization options.
But you can benefit from podcast-centric templates and some quirky features that only podcasters will appreciate.
Podcastpage.io, for example, lets you create a branded audio player for your site. While Podpage allows your listeners to leave voicemail contributions. You can then download the audio to use in your podcasts, which is an ideal way to drive engagement with your listeners.
Both of these dedicated website builders also:
Work with all podcast hosts, so your RSS feed will always update automatically when you release a new episode –

they even auto-generate episode pages

Come with built-in SEO features designed for podcasts

Feature all the podcast subscribe buttons you could want

Allow you to

embed an audio player from your favorite podcast host

Add videos and transcripts to your episode pages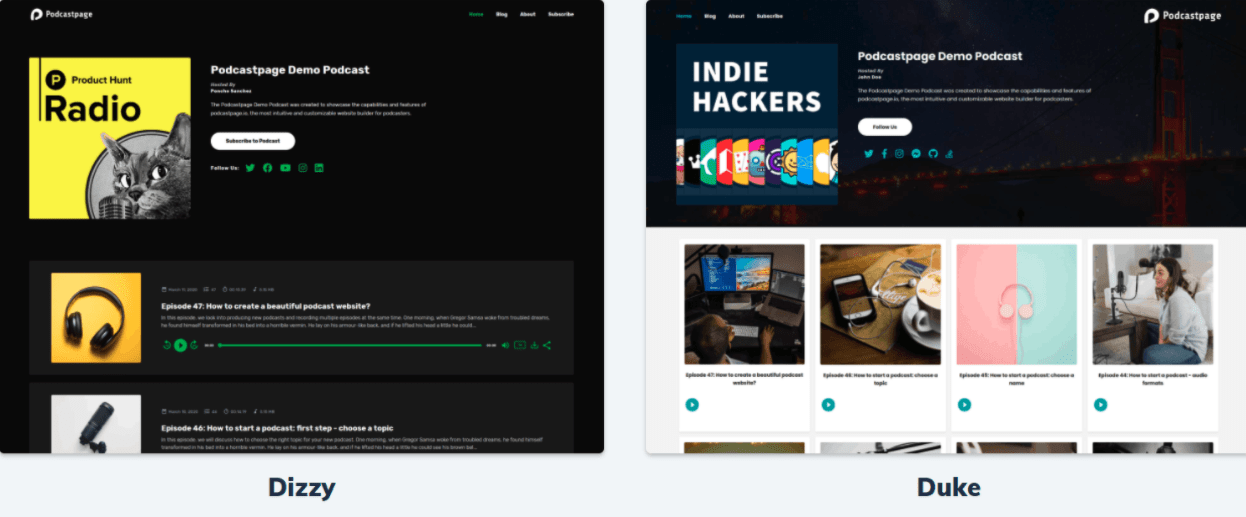 However, on the down side, both of these website builders offer limited customization options and their editors can be tricky to use too. When compared to what the likes of Wix has to offer, their marketing features aren't great either.
This option won't work for businesses, ambitious podcasters, or anyone who wants to create an impressive blog to go alongside their podcast content.
If you fall into any of these categories, you're better off with an all-round website builder, like Wix or Squarespace.
While these dedicated podcast tools do have some nifty, niche features, they lack some basic core functionality. They don't offer many third-party integrations or apps either. So if you wanted to add a store or other advanced functionality to your site in the future, you could run into trouble. 
Podpage and Podcastpage.io will work for small and simple websites. I
f you don't have a lot of time to spend on your site and are looking for a straightforward solution, try them out.
If you primarily use Apple Podcasts, Podpage would be a particularly good choice. Its paid plan offers some unique features for Apple Podcast users. For example, you can use a native display banner to drive iOS users directly to your latest episode or automatically import listener reviews to your website.
But Podcastpage.io could work if you want to create a couple of podcast websites.
| | |
| --- | --- |
| Free plan available? | Podpage has a free plan, while Podcastpage.io only offers a 14-day free trial |
| Connect custom domain? | Yes – when you sign up to a paid plan |
| Money-back guarantee? | No |
So Which Option Is Right for Your Podcast Site?
Choosing between an all-purpose website builder like Squarespace and Wix, or using a dedicated podcast option like Podpage or Podcastpage.io, ultimately comes down to your personal preference regarding convenience vs. control:
If you want the most convenient, all-in-one solution,go with Squarespace. Because you can host episodes and build your website in the same place, you'll get a more streamlined experience with fewer subscriptions to keep track of.
If you want more control, both over your website and your podcast, Wix is the better choice. You'll be able to create a website with features like listener forums and members-only areas for premium subscribers. At the same time, you can monetize your podcast, download detailed analytics, and get more specialized support from your podcast host.
If you're a modest podcaster, a dedicated option – like Podpage or Podcastpage.io – will let you take a hands-off approach to your website. You can create a simple website, which automatically updates every time you release a new episode.
Before you go, check this final recap to help you choose the right option for you.
| | | |
| --- | --- | --- |
| | Biggest Pro | Biggest Con |
| Option #1: Squarespace | Build a beautiful website and host your podcast in the same place, with easy distribution to all major podcast directories. | You won't get specialized podcast features like built-in monetization or advanced listener analytics. |
| Options #2: Wix + External Host | Create a fully featured website with listener forums and auto-generated episode pages, plus advertising and analytics from your podcast host. | You'll have to manage multiple accounts at once, which is inconvenient and can take up more of your time. |
| Option #3: A Dedicated Podcast Website Builder | Your content will always be pulled through automatically and you'll gain access to some niche features and templates. | You'll miss out on a lot of customization options, marketing features, and advanced functionality – like e-commerce stores. |
FAQ
What is the best podcast hosting site? 
Podcast hosting sites are designed specifically around the subscriber experience. The best option will really depend on the individual features that you are looking for (e.g., live streaming, subscription paywall, etc.). However, if you are also planning to have a website, Squarespace lets you host your podcast in the same place. You can decide if this is a good option for you with Squarespace's 14-day free trial, if you decide it is, make sure you take advantage of our Squarespace coupons, which are updated daily. 
Do I need a website for my podcast? 
Technically, you do not need a website to host and publish your podcast. However, you may find that this is a good way to continue to share your content and grow your audience. Both Squarespace and Wix offer great features to help you market your podcast and connect with listeners. You can also check out our list of the top website builders for more options. 
Is it free to create a podcast? 
You can create, host, and market your podcast without paying a penny. Many of the hosting options listed above can be accessed for free. However, having a website is also a good way to promote your podcast, without having to spend much (or any) money. To make sure you always get the best deals on the top website builders, check out our coupon page.