Don't make the mistake of building your site with the platform that hosts your podcast. It may sound tempting, but the website builders that come with many podcast hosting services only offer basic, generic websites.
I'll explain in a moment what I mean by that, but the solution is quite intuitive – to build a good website for your podcast, use a website builder.
However, you need to choose your builder carefully. I've tested all the major site builders to find the best options for a podcast website. Read on to see what I learned.
Why a Podcast Host May Not Be Enough for You
If you settle for the basic setup of a podcast host alone, you won't get access to many important features, such as:
Professionally designed website templates that you can customize to make your site look unique
SEO tools to help your podcast get discovered on Google and podcast directories
Marketing tools like newsletters and social media integration to stay in touch with your listeners
The ability to connect a custom domain name
Easy monetization options, such as donation buttons and Google Adsense integration
Short on time? These are our top choices for a website builder for podcasts
Squarespace – lets you host your podcast directly on your site, and offers gorgeous templates for you to choose from and customize however you like.
Wix – with the free Wix Podcast Player, visitors can listen to your podcast right on your website. Wix is also very easy to use, and offers you a lot of design freedom.
If you just need a hosting platform for your podcast, jump down to see our recommendations. If you want to build a website, read on for a closer look at these two options.
Option #1: Host Your Podcast on Your Own Squarespace Site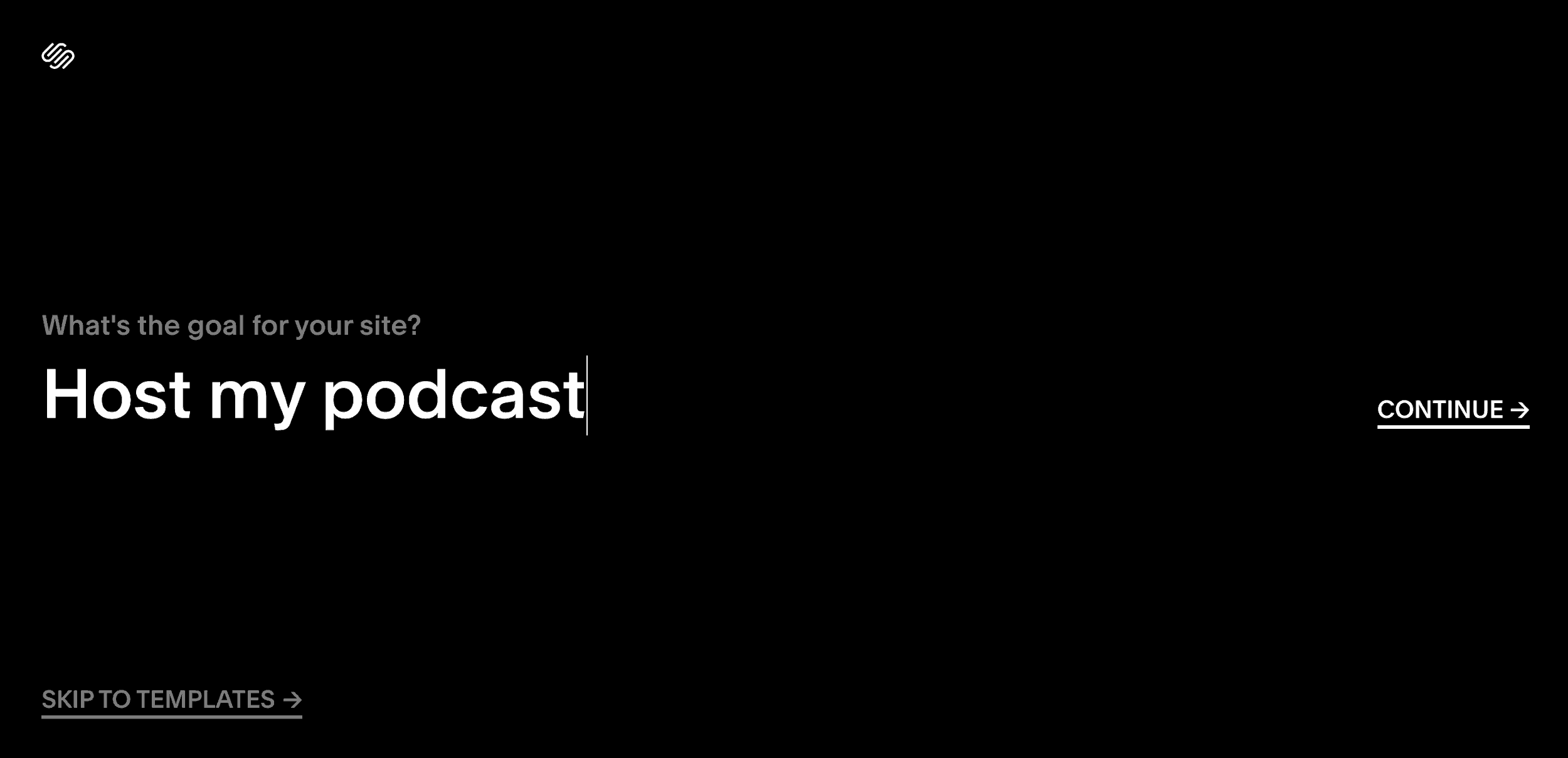 Squarespace's biggest benefit is that you can host your podcast episodes right on your site – no external host necessary. All plans give you unlimited storage space and bandwidth, so you don't have to worry about running out of resources once your podcast gains popularity.
You can choose one of Squarespace's six recommended templates for podcasters or start with any other template and customize it to suit your needs.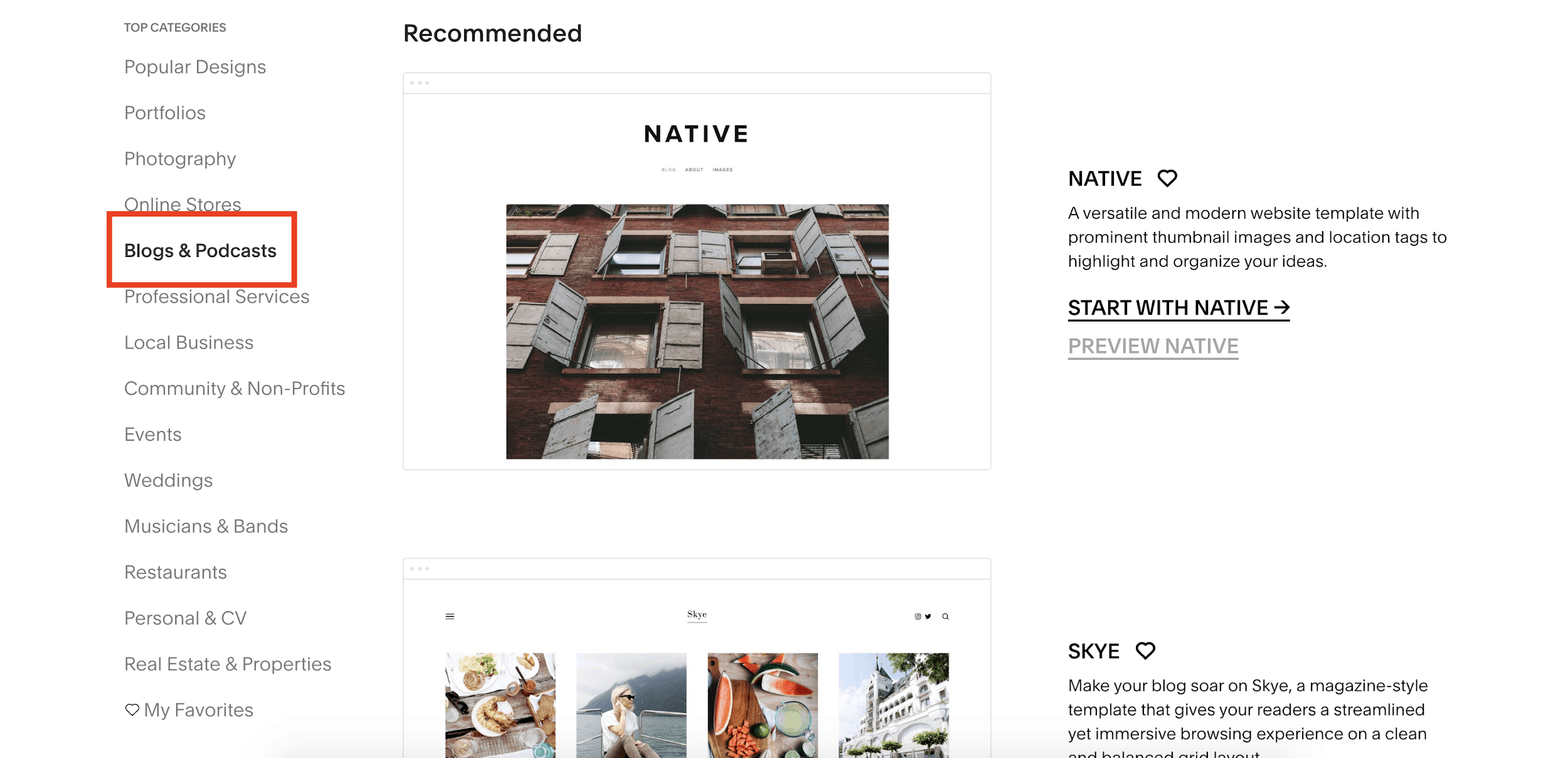 To host your podcast, all you have to do is create a Blog Page (some templates have one built in), head to Blog Settings, and turn on Podcasting.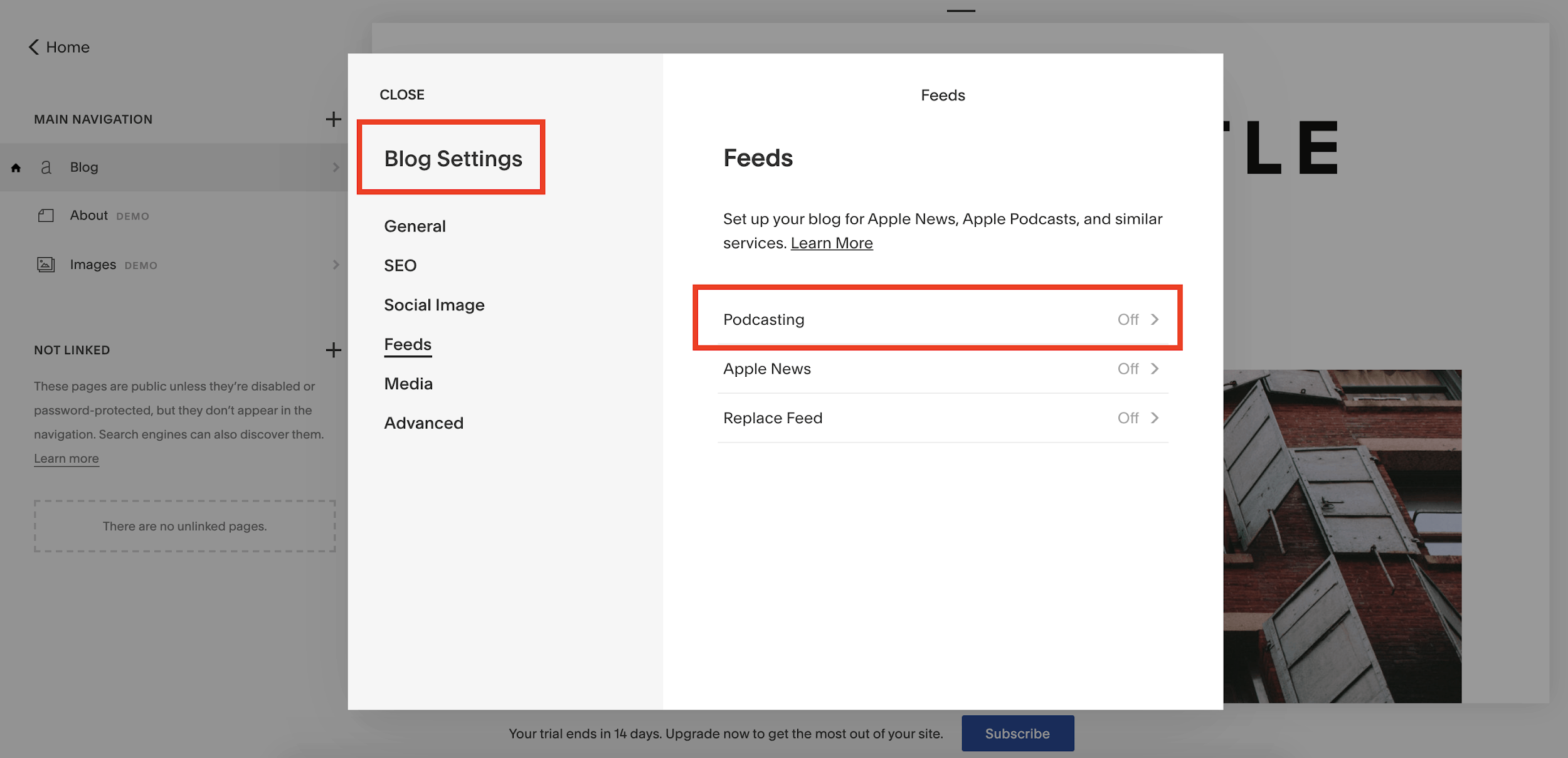 Here are some of the other cool things you can do with Squarespace:
Connect multiple podcasts to the same website
Distribute your RSS feed to podcast directories like Apple Podcasts, Google Play, Spotify, and Stitcher
Track unique feed subscribers with built-in RSS analytics, or add third-party analytics to track more detailed episode listens and downloads
Link to your social media accounts to grow your audience
Add a PayPal button to collect donations
Integrate your site with Google Adsense to make a little extra cash
In addition, Squarespace gives you all the benefits of a full-fledged website builder: beautiful mobile-responsive templates, endless options for personalization, built-in SEO tools, and even e-commerce features if you're thinking of selling merchandise or digital items online.
One small downside is that Squarespace does not support video episodes. You can, of course, embed videos in any blog post, but they will not be included in your podcast feed.
Another thing to keep in mind is that Squarespace has no free plan. However, Squarespace's 14-day free trial is a great option if you want try out the editor. Unless you plan to sell merchandise online, the cheapest plan (Personal) will give you everything you need for a great podcast site. And if you're a student podcaster, you can get 50% off by signing up with an academic email address.
Discover all the pros and cons in our expert Squarespace review.
| | |
| --- | --- |
| Free plan available? | No, but there's a 14-day free trial |
| Connect custom domain? | Yes, with any plan (and domain is free for the first year) |
| Money-back guarantee? | Yes, 14 days |
Option #2: Build Your Site with Wix and Use Wix Podcast Player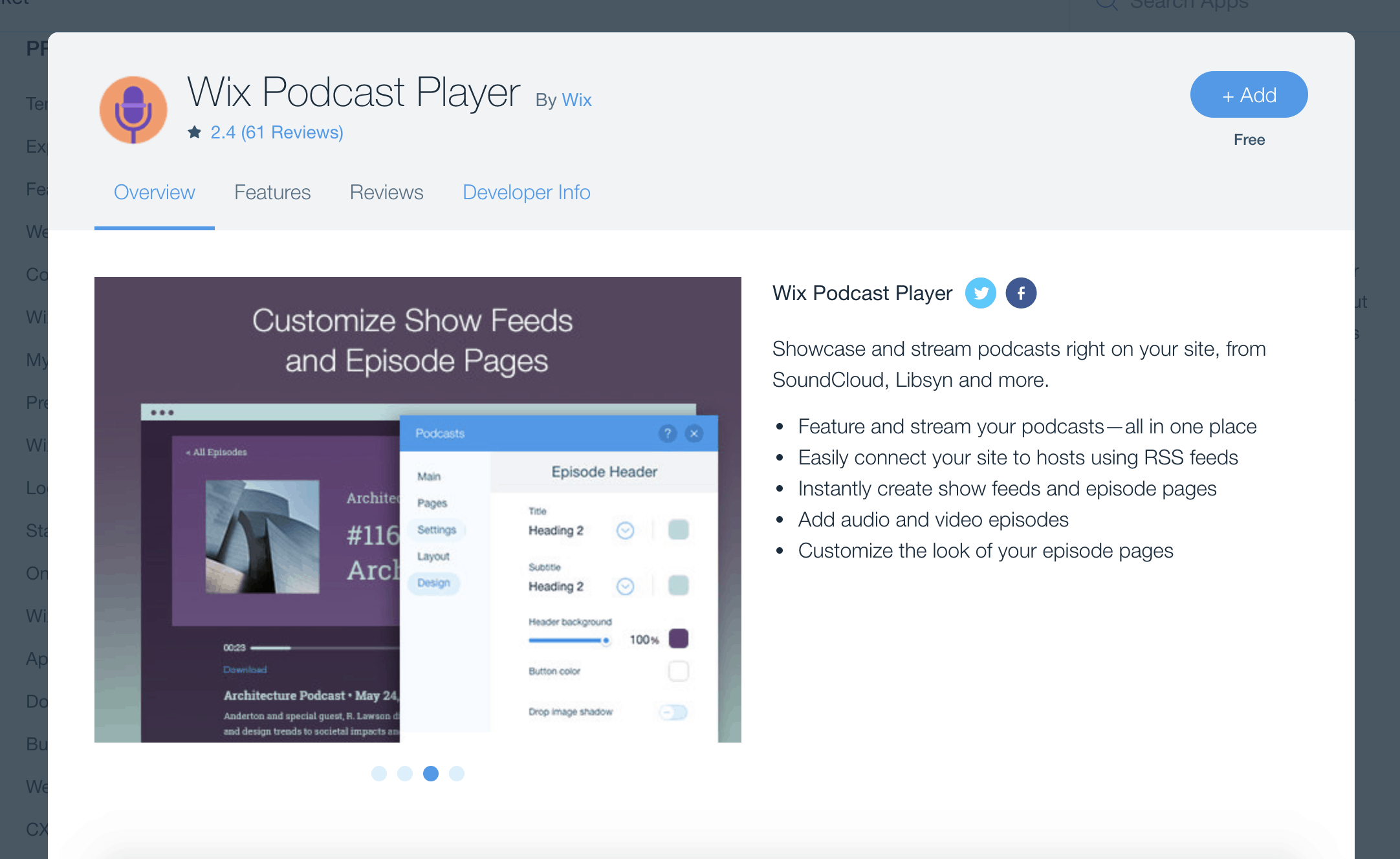 Unlike Squarespace, Wix does not offer direct podcast hosting. But you can definitely use Wix to create a great podcast website, including seamless episode streaming and great features for listener engagement. You'll just need an external host for your podcast episodes.
Why use Wix if you'll still need an external host? Basically, you'll get the best of both worlds:
The awesome features of Wix, like podcast-friendly website templates, design flexibility, and strong SEO and marketing capabilities
The specialized features of a podcast host, like easy monetization and more detailed analytics
With that in mind, the easiest way to set up your Wix podcast website is to use the Wix Podcast Player app. Just install the podcast player through the Wix App Market and connect it to wherever your episodes are hosted (click here to jump to my list of recommended hosts).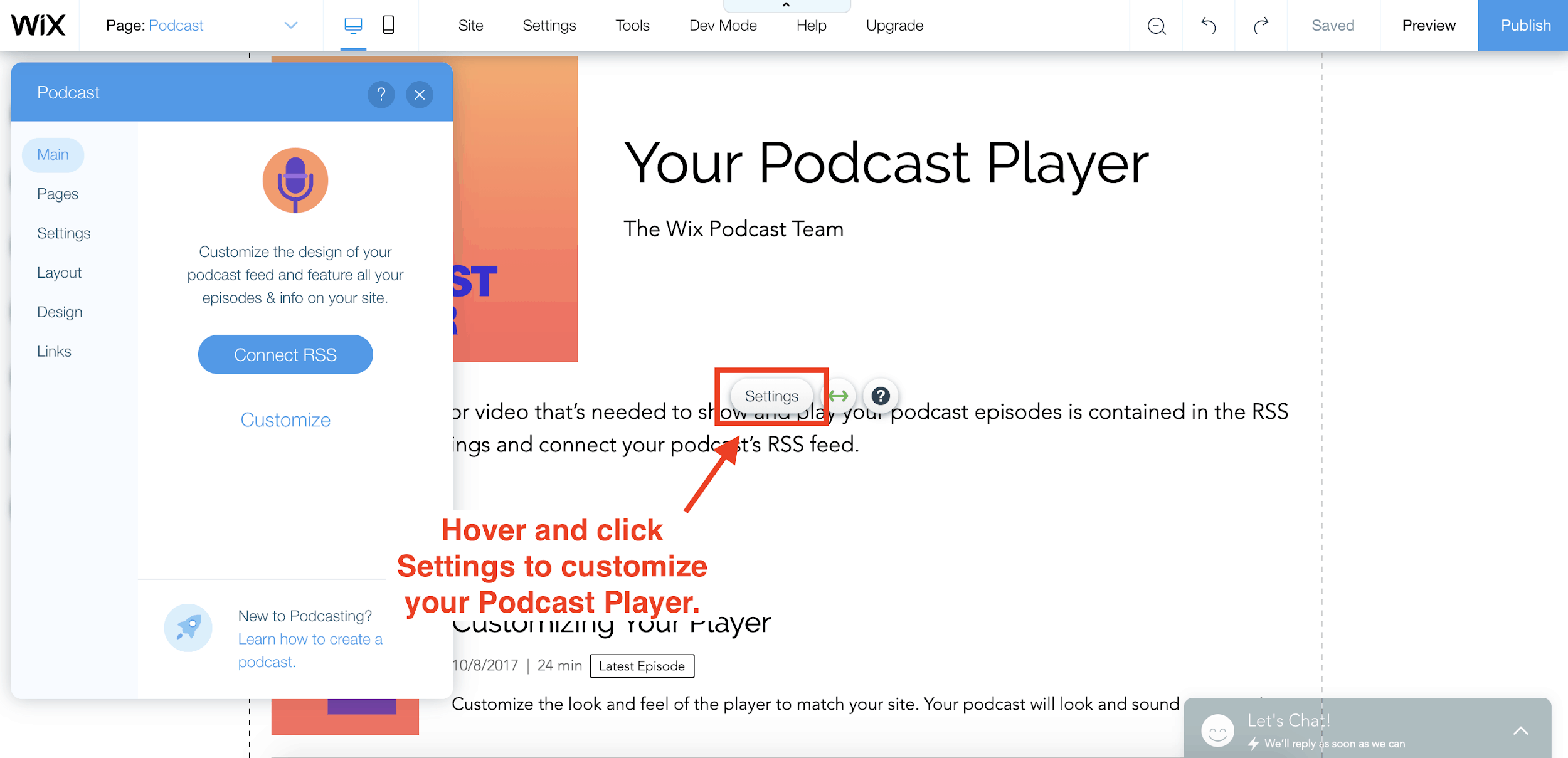 Wix Podcast Player lets you customize the layout of your episode pages, allow or disallow episode downloads, and add subscription buttons for RSS, Apple Podcasts, Google Podcasts, Spotify, Stitcher, and Soundcloud.
The best thing about this Wix app is that it does the tedious work for you. Once you've connected your podcast's RSS feed, Wix Podcast Player automatically creates a unique page for each new podcast episode. Unfortunately, though, your episode notes will not be automatically displayed. To share them, you'll have to either upload that file to each episode page, or redirect listeners to your original hosting platform.
Wondering what else can you do with Wix?
Connect more than one podcast to the same website
Upload HD video, which is great for behind-the-scenes looks or video interviews
Create a mailing list and send newsletters to your audience
Link to all your social media platforms
Use the Wix Forums app to create a listener community
Create an events calendar to display upcoming content releases, interviews, and live shows
Add a PayPal button to accept donations or use the free Google Adsense app to display ads on your site
Create a members-only area for premium content
Although Wix offers a free plan, I'd recommend upgrading not only for the higher storage and bandwidth, but also for the custom domain. With most paid plans, you'll get the Site Booster App to improve your site's SEO and help listeners find you online.
Read our full Wix review to learn about other apps and features.
| | |
| --- | --- |
| Free plan available? | Yes |
| Connect custom domain? | Yes, with any paid plan (and domain is free for the first year) |
| Money-back guarantee? | Yes, 14 days |
8 Best Podcast Hosts
If you decide to build your podcast site with Wix, you'll need a great podcast host to match. With any of the hosts on this list, you can easily connect your RSS feed to the Wix Podcast Player or even directly embed an episode player on any page of your Wix site.
Podbean's best features include the Patron Program, which allows you to hide premium content behind a subscription paywall, and the Podbean Advertising Marketplace, which helps you monetize your show through sponsors and advertisers. Through the Podbean app, you can also record, edit, and publish episodes directly from your mobile device.
Spreaker is different from the other podcast hosts on this list for one big reason: live streaming. With the Spreaker Studio app (available for both iOS and Android), you can stream and record a live episode on the go. Your listeners can even chat with you in real time.
Another plus? You can host multiple podcast channels from the same account, monetize your show through Spreaker advertising, and get detailed analytics on listener behavior.
If you're interested in sharing your podcast on social media (and digging deep into listener analytics), Simplecast is one of the best podcast hosts out there. Through its Recast tool, you can share 90-second snippets on social media, which your listeners can reshare.
As your audience grows, if you have one of the more expensive plans, you can track everything through uniquely detailed analytics like customized listener reports and minute-by-minute episode comparisons. You'll also get unlimited storage space with every plan.
Compared to the other podcast hosts on this list, Buzzsprout has a unique take on listener statistics. Rather than focus on RSS subscribers alone, this platform uses a (secret) algorithm to predict an episode's total number of plays within the first 90 days of publishing.
With Buzzsprout statistics, you can also see which episodes are streamed the most, so you can know what type of content your audience likes best.
Libsyn's interface feels a little more bare-bones than the other podcast hosts on this list, but it's one of the oldest podcast hosts around, with a passionate and active user base. That means you can get great support through community forums and experienced power users.
Libsyn also takes a more à la carte approach, letting you choose the add-ons you want (for an additional fee). Branded mobile apps, episode and listener statistics, and advertising are only available on the more expensive plans, and all cost extra.
Transistor's hosting services are fairly similar to other platforms, but it really stands out for its unlimited show feature. While many other providers offer anywhere from two to five shows (usually reserved for the highest subscriptions), Transistor offers unlimited shows on the same account, even with the cheapest plan.
You can also host both public and private podcasts from the same account, with one of the higher priced plans. With unlimited storage and bandwidth, you won't have to worry about data restrictions.
Captivate's podcast player doesn't just stream your episodes. You can also add a linked call to action (CTA), directing your listeners to donate, check out your other content, or join your subscription list – all directly from the podcast player.
Unlike other podcast hosts, Captivate gives all users the same access and the same core features. The only difference between the plans is the monthly download limit.
Castos is noteworthy for two big reasons: automatic republishing on YouTube and automatic episode transcriptions. These are helpful tools because you can easily reach a wider audience and provide useful downloadables for listeners, without having to manually upload and transcribe your episodes.
So Which Option Is Right for Your Podcast Site?
Choosing between Squarespace and Wix ultimately comes down to your personal preference regarding convenience vs. control:
If you want the most convenient, all-in-one solution,go with Squarespace. Because you can host episodes and build your website in the same place, you'll get a more streamlined experience with fewer subscriptions to keep track of.
If you want more control, both over your website and your podcast, Wix is the better choice. You'll be able to create a website with features like listener forums and members-only areas for premium subscribers. At the same time, you can monetize your podcast, download detailed analytics, and get more specialized support from your podcast host.
Before you go, check this final recap to help you choose the right option for you.
| | | |
| --- | --- | --- |
| | Biggest Pro | Biggest Con |
| Option #1: Squarespace | Build a beautiful website and host your podcast in the same place, with easy distribution to all major podcast directories. | You won't get specialized podcast features like built-in monetization or advanced listener analytics. |
| Options #2: Wix + External Host | Create a fully featured website with listener forums and auto-generated episode pages, plus advertising and analytics from your podcast host. | You'll have to manage multiple accounts at once, which is inconvenient and can take up more of your time. |