While all the builders on my list will get the job done, my personal favorite is Squarespace. It has the best-looking templates around, and all the tools you could possibly need to build your website, integrated straight into its editor (so you don't have to look for them elsewhere). You can take advantage of
Squarespace's 30% discount on annual plans
to save on your subscription.
There are countless life coaching websites online, but most look outdated, amateurish, or fail to leave an impression. In order to stand out,
you need a website builder that comes with both well-designed templates and powerful marketing tools – so you can attract the perfect clients.
SEO tools will help people find you, social media integration can extend your reach, and a powerful blogging platform will encourage engagement by letting visitors subscribe, leave comments, and share posts. You can also display client testimonials to build credibility.
Some website builders do all this much better than others.
I spent hours testing out the top website builders on the market, and narrowed the list down to just five.
In a Hurry? These Are the Best Website Builders for Life Coaches
Wix – 35 templates in the Coaching & Consulting category
Squarespace – Easy-to-use editor + SEO, blogging, social media, and email marketing tools
SITE123 – The quickest and simplest way to build your life coaching website
What We Look For in the Best Website Builders for Life Coaches
Ease of Use – With the website builders on this list, you'll have a fully functional website in no time, even if you don't have any experience.
Customization – You have a unique brand, and your website should reflect that. A good builder allows you to customize page elements (images, colors, layout) to give your website its own unique look and feel.
SEO Tools – The builders on this list give you SEO tools to drive the right kind of traffic to your website.
Social Media Features – These builders will let you connect your social media accounts to your website to automatically publish content (such as blog posts) across different platforms.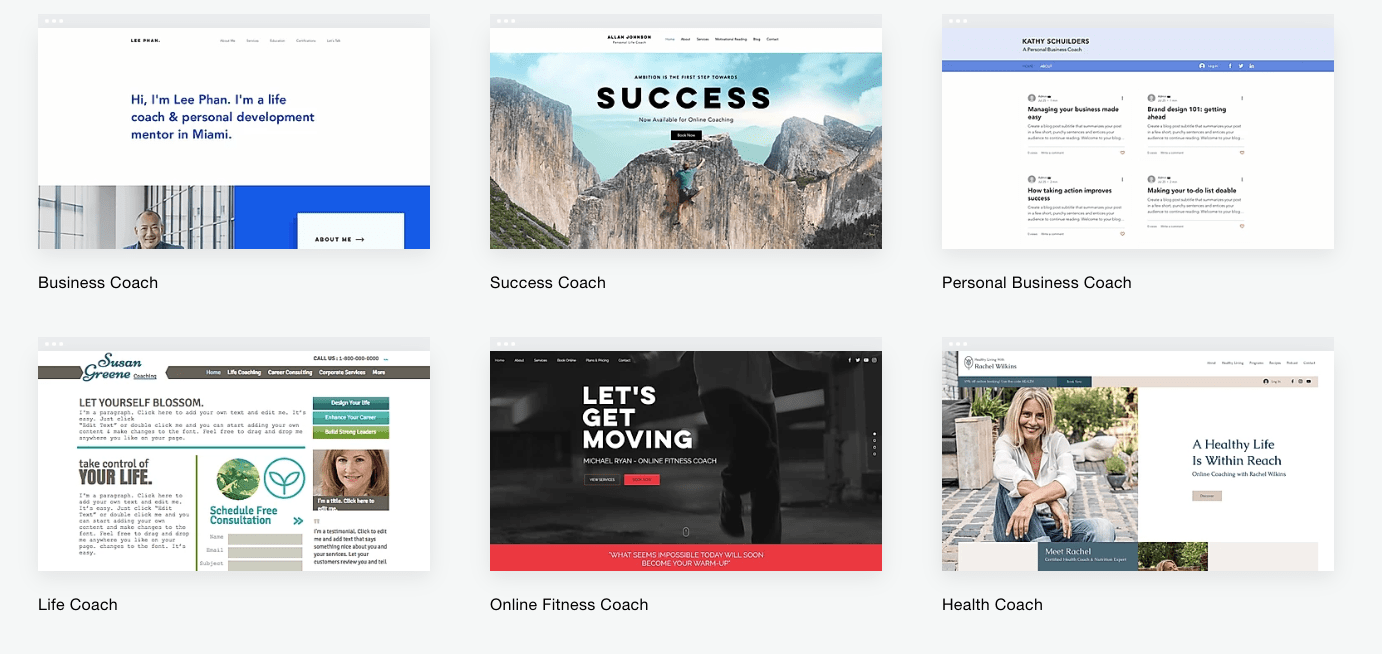 Wix offers 900+ free templates with an entire category for consulting and coaching websites.
 With that much variety, you're bound to find a template that matches the brand and image you want to project. Wix gives you enormous flexibility when it comes to customizing your pages, so you can change everything from your page layouts to fonts, colors, images, and menus. You can easily add or delete pages, and while some editors restrict where you can place design elements like images, buttons, and text, Wix's editor gives you complete freedom here. In other words,
if you build your website with one of Wix's templates, you can still end up with a unique website.
Here are a few of the many features Wix has to offer:
Wix ADI (Artificial Design Intelligence) – When you answer a few questions about your business and what you're trying to accomplish, Wix ADI will suggest layouts for your website.
Interactive blog – Get your blog up and running quickly with the Wix Blog app. Update it, respond to comments, and share posts from your computer or any mobile device. The Wix Blog app also allows visitors to sign up through social media accounts like Facebook, and you can drive traffic to your post using Wix's advanced SEO settings.
Testimonials – Wix's built-in Testimonials feature makes it easy to collect recommendations from satisfied clients and boost your credibility. In a few steps, you can set up a custom form that gathers all the information you need (first name, last name, company, etc.).  Also, clients can easily upload photos of themselves that will appear alongside their testimonials.
Newsletters – Emailing a regular newsletter to prospects and clients is a great way to get new or repeat business. It keeps your name top-of-mind with your audience, so when they need a life coach, they'll think of you. Wix makes it easy to generate a newsletter and gather signups from your website.
Pro Tip: While most website builders offer free plans, they come with a hidden price – ads on every page. Before launching your website, upgrade to a paid plan that gets rid of ads and connects the site to your custom domain name. Ads look unprofessional and will probably cost you business.
Wix offers both free and paid plans. Before taking the leap, read our
expert Wix review
to find out everything you need to know about each plan.
Templates
900+ with 35 in the Coaching & Consulting category
Starting price

$

0

Testimonials feature

✔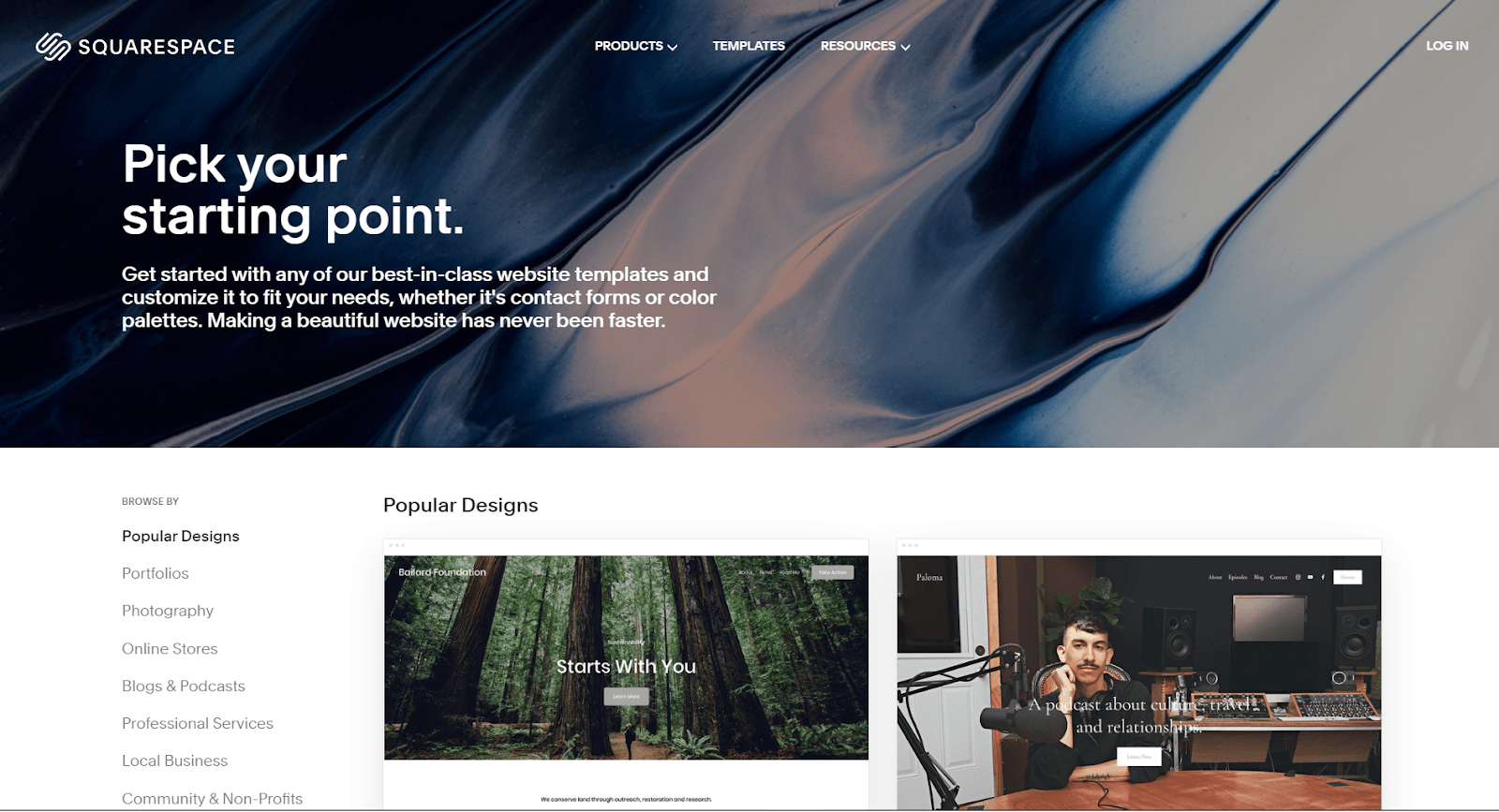 Squarespace has over 100 templates that will give your website a professional look and feel.
With the simple drag-and-drop editor, you'll be able to build your online presence quickly. Add or remove any section or element to fully personalize your site, and switch to a different template whenever you want. You'll also get access to blogging capabilities, e-commerce features, and social media integrations that connect your website to over 30 different social media apps. And unlike most other web builders, which require you to add these extra tools from an "app market," all these features (which Squarespace calls "integrations") come standard with your subscription. Of the many integrations Squarespace offers, I was really impressed with its built-in email marketing tools.
You can manage every aspect of your email marketing campaigns directly from your Squarespace account.
That includes everything from collecting visitor email addresses to scheduling mailings.
Here's a few other Squarespace integrations your life coaching site could benefit from:
Video and Audio Blocks – Help visitors get to know you by uploading your own podcasts episodes, guided breathing sessions, or short video tips.
Cover Pages – The Cover Page tool lets you communicate information on a stand-alone page with a single purpose, such as registering for an event, viewing a video, or downloading an ebook.
Social Media Integration – Auto-post your website content to your social media accounts to boost engagement and keep visitors coming back.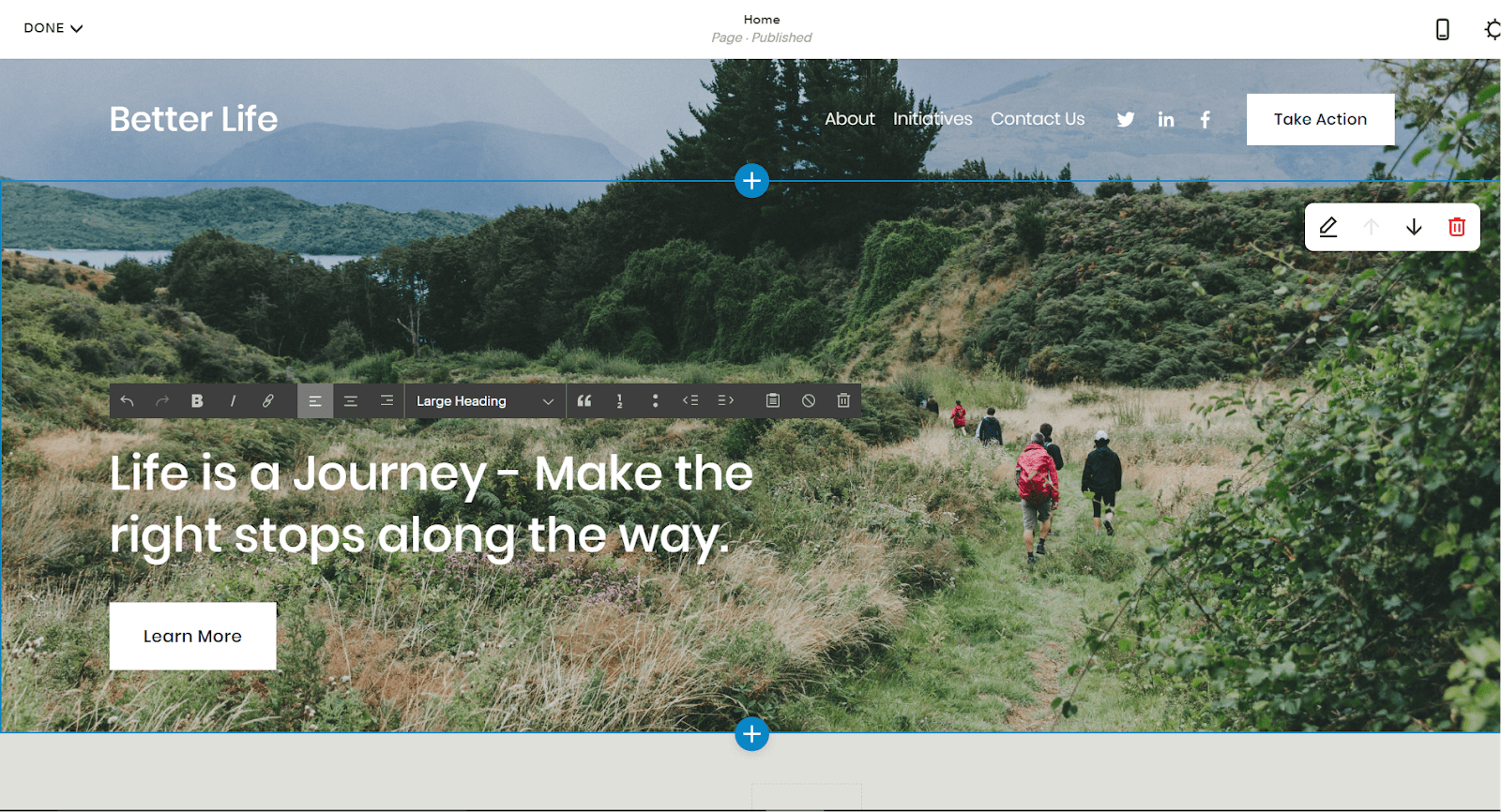 Head over to our
full Squarespace review
for everything you need to know.
Templates
100+
Starting price

$

16.00

Testimonials feature
Yes, but less straightforward than other builders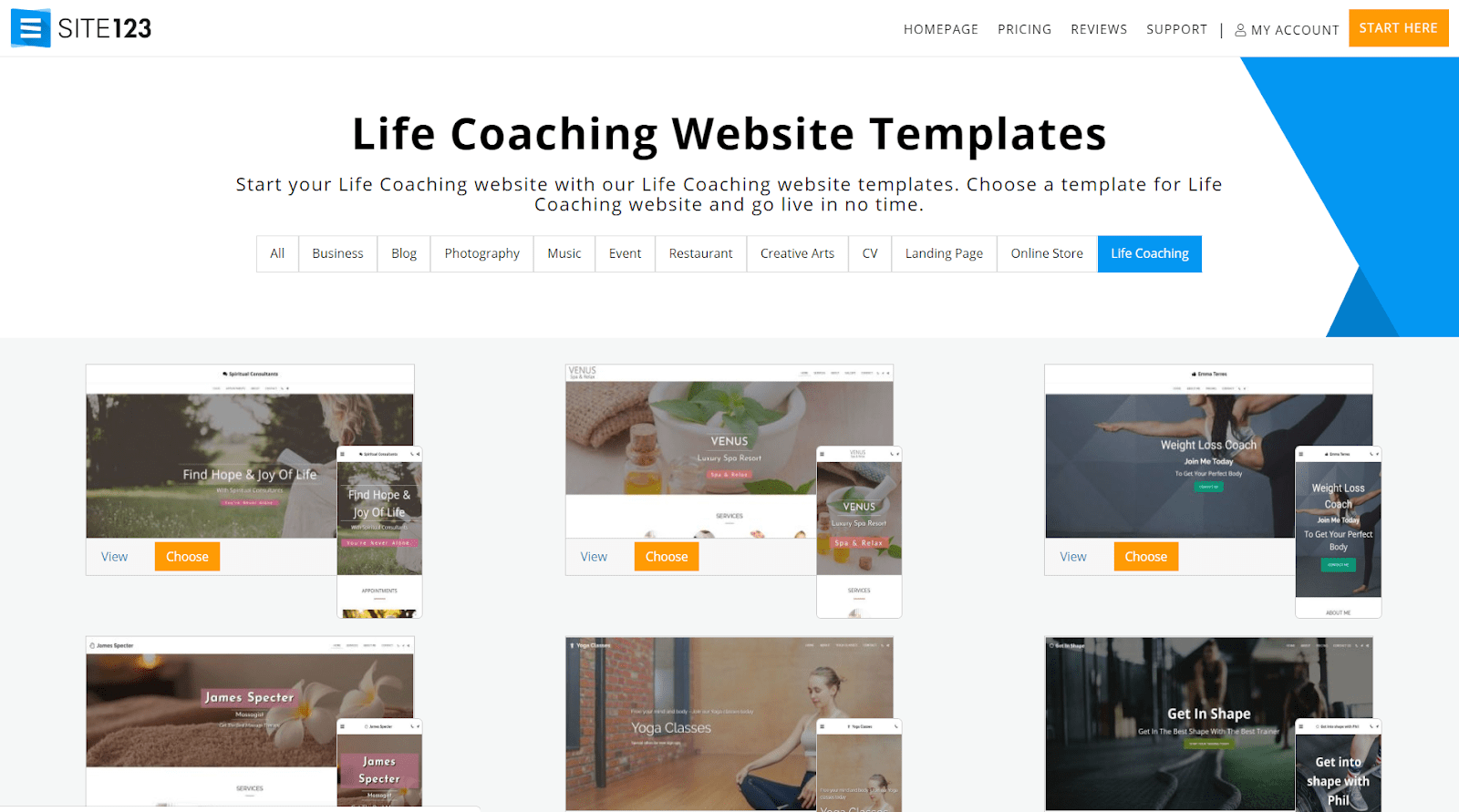 SITE123 claims to be the easiest free website builder, and I can't argue with that.
I was able to put together a functional site in a matter of minutes.
SITE123 offers a number of templates specifically designed for life coaches, and each one includes responsive, mobile-friendly design so your website will look great on any device without special editing for smartphones and tablets. The editor lets you build your site based on content blocks, which means that page elements (buttons, text, images) snap to a grid, rather than allowing complete freeform placement like Wix does. Honestly? This isn't really a bad thing –
it keeps your content perfectly aligned to prevent you from messing up the design.
Now, if you're test driving the free version, it may feel like you're extremely limited when it comes to customizing color schemes, fonts, and other important elements, but
once you upgrade to the paid version, you'll be free to change all those things.
SITE123 also has an app market with 12 categories, offering everything you'll need to market your coaching services, from SEO and other marketing tools to social media integrations.
You'll also find the following useful:
Online Booking – Allow your visitors to book consultations, appointments, and coaching sessions.
Event Promotion – Announce speaking engagements. You can even sell tickets through your site.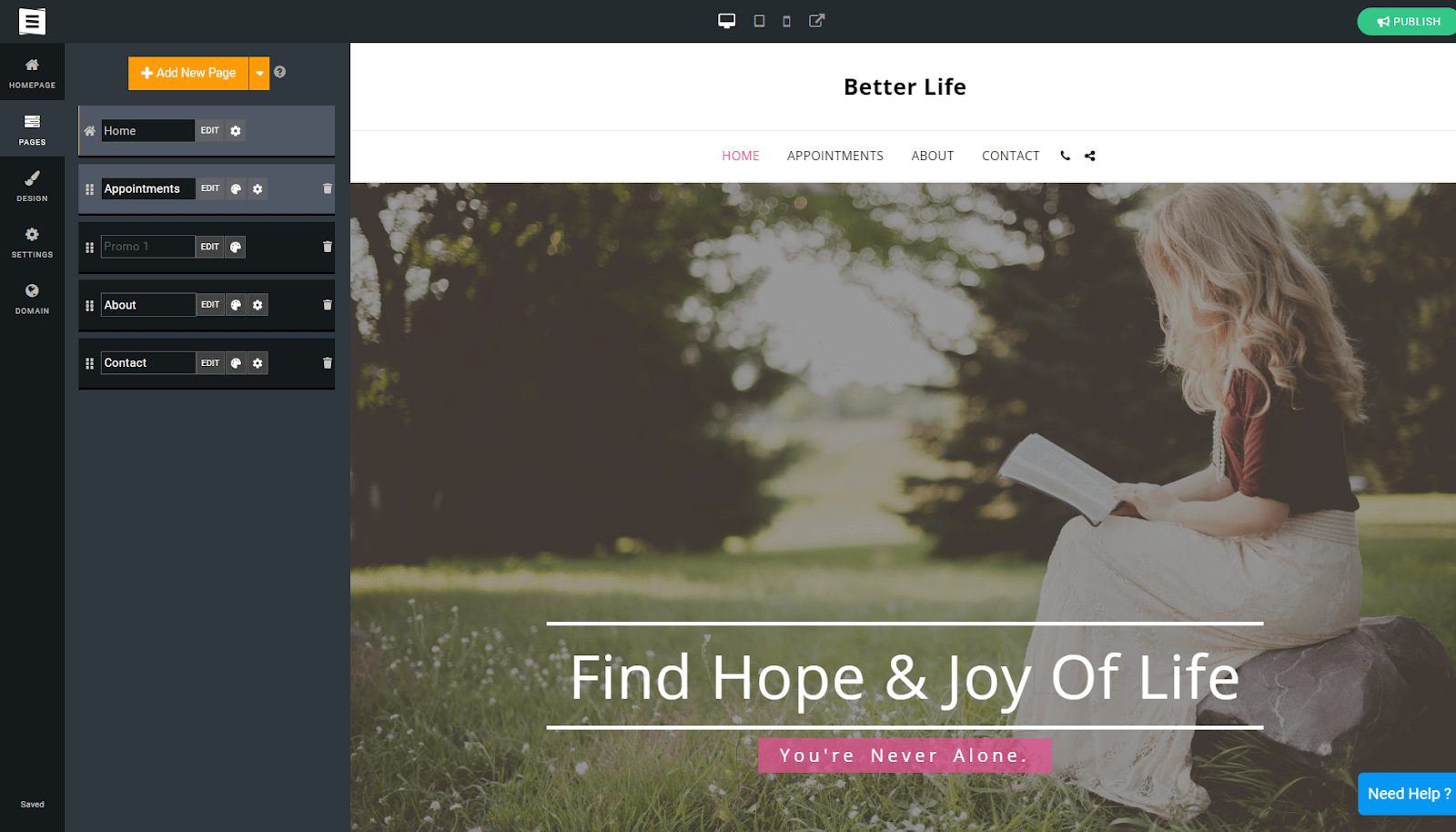 SITE123 has a ton of features and tools that are perfect for life coaches – read our expert's
full SITE123 review
to learn more about them.
Templates
100+
Starting price

$

0

Testimonials feature

✔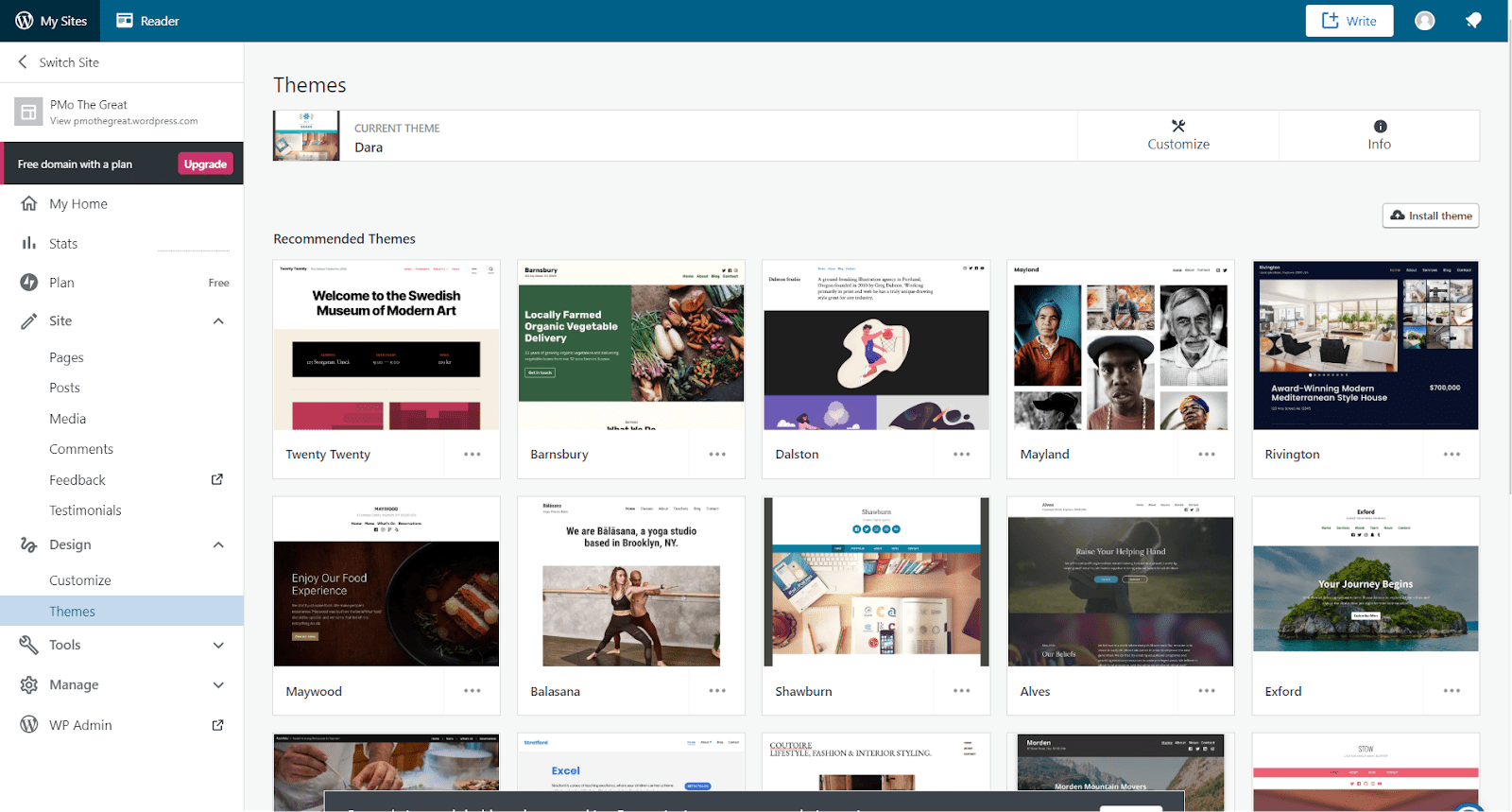 WordPress.com has the most comprehensive builder on this list, and it's
packed with over 300 themes – although some are only available at the business-level package or higher.
You might find WordPress.com's editor to be a bit complicated compared to others on this list, but it's worth the extra effort for the flexibility and functionality it provides. The Business plan and above will allow you to install third-party themes,
so although you won't find any built-in website templates specifically designed for life coaches, you can find a ton of them on third-party resources like ThemeForest.
Here's a look at some other useful features:
Blogging features – WordPress began as a blogging platform, so as you might expect, it features top-notch blogging tools
Mobile and desktop apps – Manage and update your website on-the-go from any device.
Learn more about WordPress.com's features in our
full WordPress.com review
.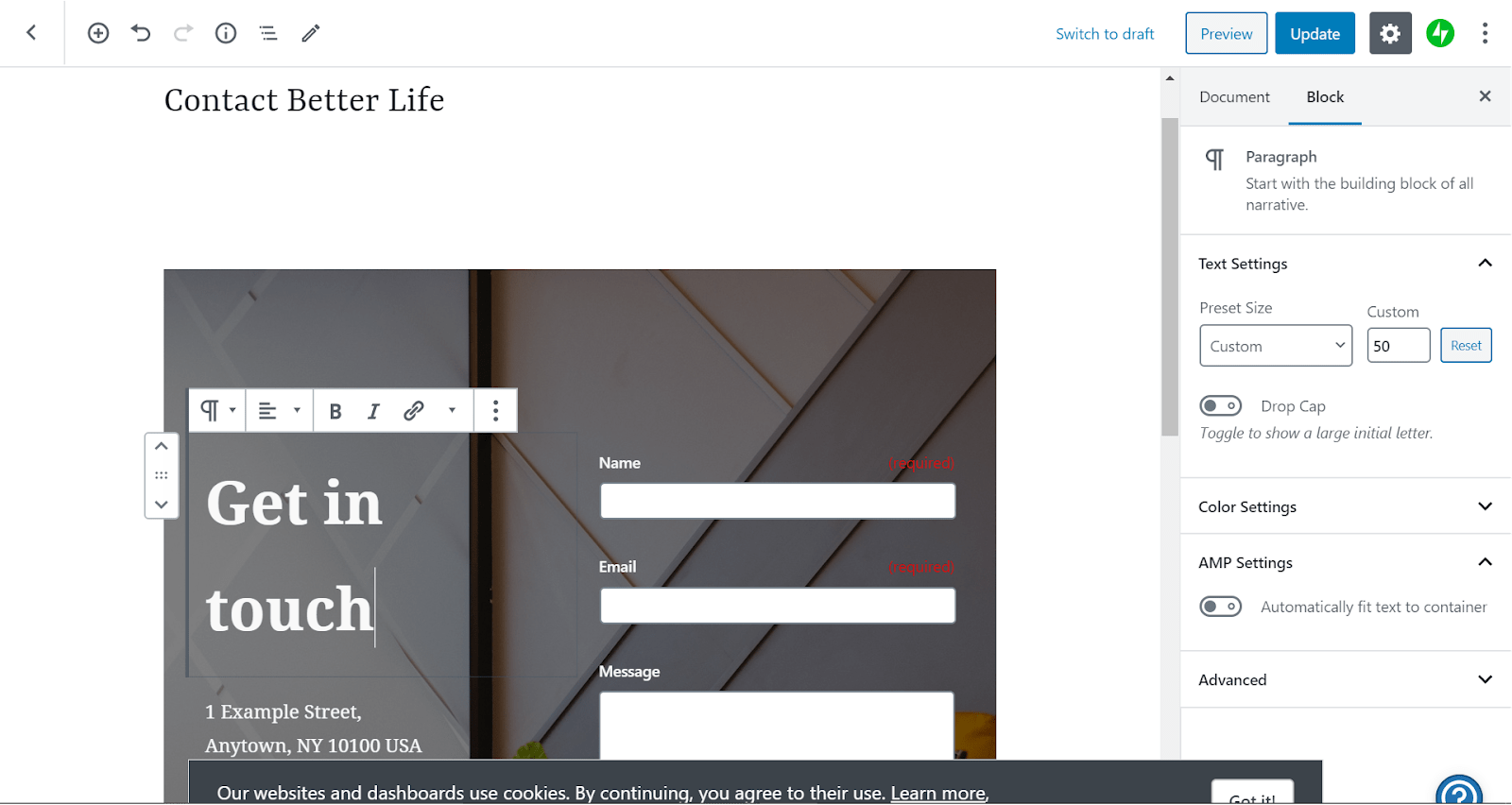 WordPress.com's contact form functionality
Themes
200+ and upload from third-parties
Starting price

$

8.00

Testimonials feature

✔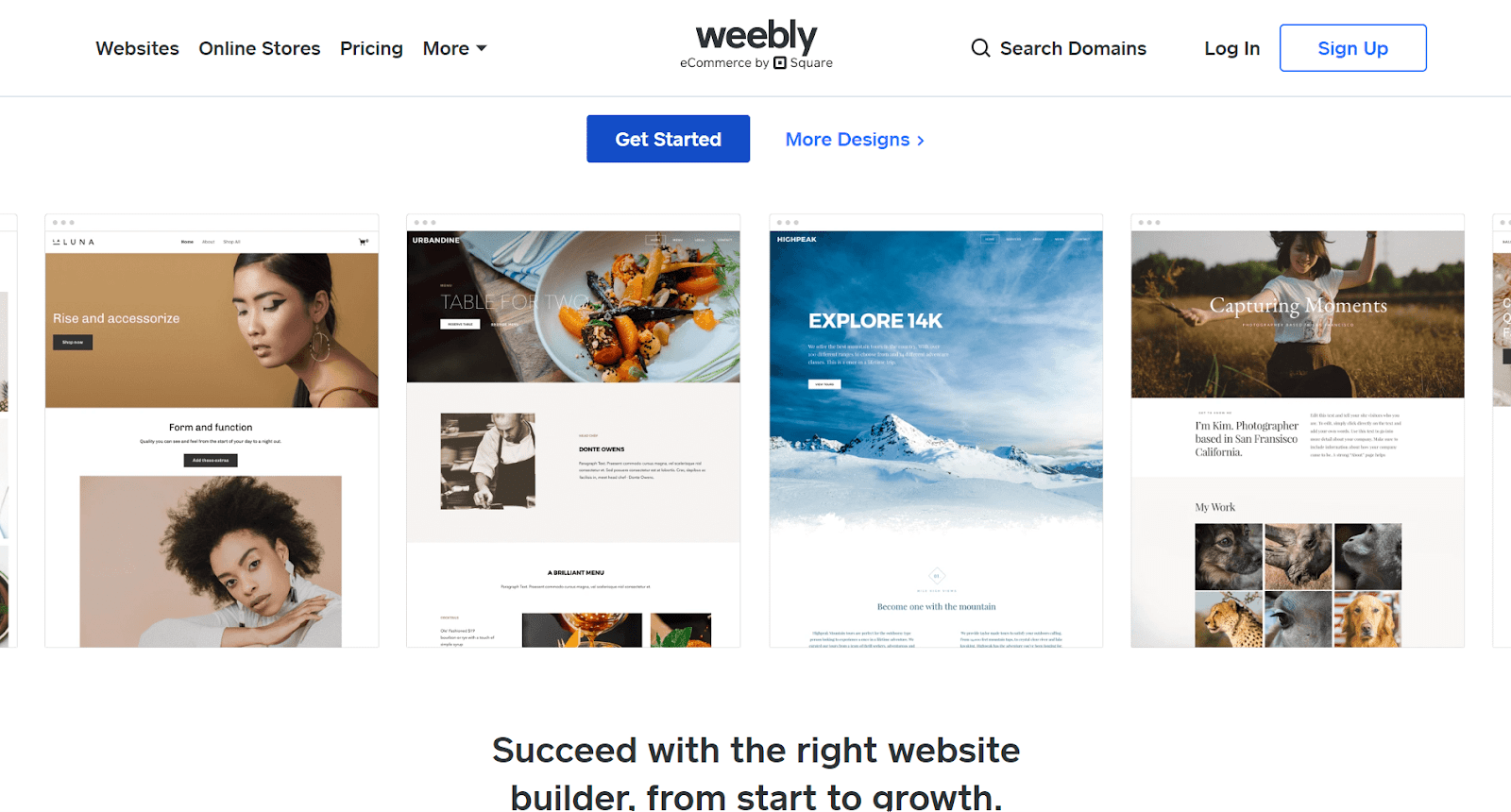 One of the great things about Weebly is that some of its e-commerce capabilities are available on all plans, including the free plan
(although free e-commerce isn't available in every country, so double check if you're outside the US). That means you can easily collect online payments for your downloadable eBook, sell tickets to your next event, or collect payment for your online coaching session. You'll find plenty of free themes to get you started, and although you won't find any themes specifically designed for life coaches, you can easily edit existing themes.
Weebly's drag-and-drop builder is straightforward and intuitive, so it won't take long to take your website live.
Here are a few additional perks you get from Weebly:
Mobile-responsive website – Each template is optimized for viewing from any device.
Weebly App Center – Check out third party apps like the Price Chart app, which makes it easy to display and update pricing, or the Testimonial Builder app, which promotes positive client feedback and makes sure it gets indexed by Google.
Upload videos – Video is a great way to connect with your audience and give them a sense of who you are and what you do. You can embed your YouTube and Vimeo videos on your website, or you can also upload videos directly through Weebly's editor.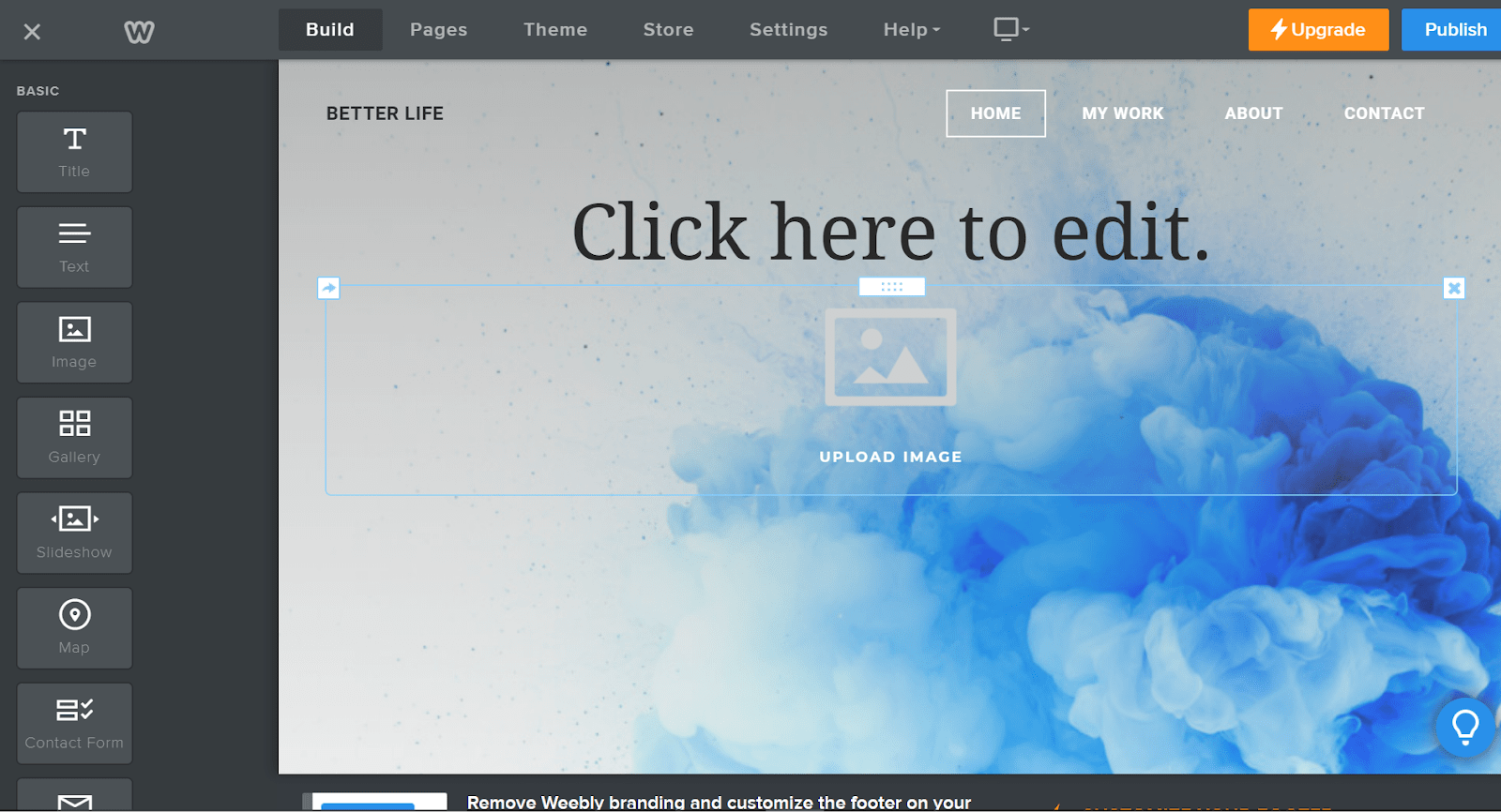 Still curious? Head over to our
expert Weebly review
for more details.
Themes
60+ and use third party themes
Starting price

$

0

Testimonials feature

✔
So Many Options. Which to Choose?
You can build a beautiful, functional website with any of the builders on this list – one that sets you apart from the competition and turns your visitors into paying clients. However, if having too many options feels overwhelming, let's narrow it down to one simple question:
Do you want the freedom to customize every detail of your website, or do you want to get up and running fast?
Want to compare all five builders side-by-side? Take a look at this comparison table.
| | | | |
| --- | --- | --- | --- |
| | Templates for Life Coaches | Standout Feature | |
| Wix | Yes | Hundreds of free apps and templates – you'll even find a category specifically for coaches and consultants. | |
| Squarespace | No | High quality templates and features. | |
| SITE123 | No | The most straightforward editor on this list – you could have a fully functional website in minutes. | |
| WordPress.com | Yes, from third-party sites | Comprehensive builder with hardly any limits | |
| Weebly | No | Easily set up an online payment portal for your life coaching services. | |
FAQ
Which website builder has the best templates for life coaches?
Without a doubt, Wix gives you the most options for well-designed templates for life coaches. In fact, there are three pages full of options for consulting and coaching businesses. 
There are a few templates created specifically for life coaches (there's one aptly called "Life Coach"), but you can choose almost any of them and customize it for your own needs. The "Success Coach" template has a beautiful minimalistic design and already comes with features you'll need, like a blog, contact form, live chat, and a services page.
How to build a website for life coaches?
To begin, you'll want to choose a simple yet memorable title and domain name for your website. Using your own name is a safe bet.
After signing up with one of the website builders above and choosing a template, there are a few things you want to consider adding to your site:
-An 'About Me' page
-At least one contact form
-A page describing the services or programs you offer
-A blog for life coaching tips
-Short video clips of your motivational speeches
-A section for testimonials from past clients
-A newsletter signup popup
Once you've decided which pages and sections work for you, hit publish, and your life coaching website is ready to go!
Can you build a free website with Wix?
Of course! Starting a free website with Wix is as simple as signing up. 
Wix lets you choose any template even on a free plan, so you're not limited on how your site can look. However, it's important to keep in mind that a free account does come with some other limitations.
You're capped at 500MB each for storage and bandwidth, there will be Wix ads displayed on your website, and your website domain will look something like lifecoachwebsite.wix.com. If you want to make your site appear more professional, it's worth investing in a paid plan. It's also useful to have more storage space if you plan on uploading a lot of images or motivational videos.