While all the builders on my list will get the job done, my personal favorite is Squarespace. It has the best-looking templates around, and all the tools you could possibly need to build your website, integrated straight into its editor (so you don't have to look for them elsewhere). You can take advantage of
Squarespace's 30% discount on annual plans
 to save on your subscription.
All website builders market themselves as being the best, but only a few of them can give you the tools you need to showcase your construction company's expertise.
To create an effective website, you'll probably want a page listing your construction services, and a contact form that makes it easier for potential clients to reach you. You might want to display before-and-after videos and photos of your past jobs, and you might even consider writing a blog with home improvement tips (so visitors can tell you know what you're doing).
The right website builder should help you do all of the above, while still being easy to use. After trying out more than a dozen popular options, I found five builders that do just that. Which one is best for your construction company? Let's find out.
Short on Time? Here Are the Best Website Builders for Construction Companies in 2022:
Wix – 900+ Professional, fully customizable templates, including one designed specifically for construction company websites
Squarespace – Lots of built-in features that can extend the functionality of your site and help clients get in touch
Site123 – A super easy-to-use website builder, ideal if your priority is to get your construction company online quickly
What We Look For in the Best Website Builders for Construction Companies
While testing website builders for you, I focused on the features you really need:
Time-saving and easy to use: I know you love building things, but you probably prefer to focus your time and creativity on your clients' projects, not on building websites.
Professional, customizable templates: These builders offer mobile-friendly templates that you can customize based on your specific needs.
Scalable and flexible: If your website needs more storage space as your company grows, you can easily upgrade your plan.
Additional relevant features: These builders have extra features your construction company website could need, such as galleries, contact forms, maps, scheduling tools, SEO tools, and more.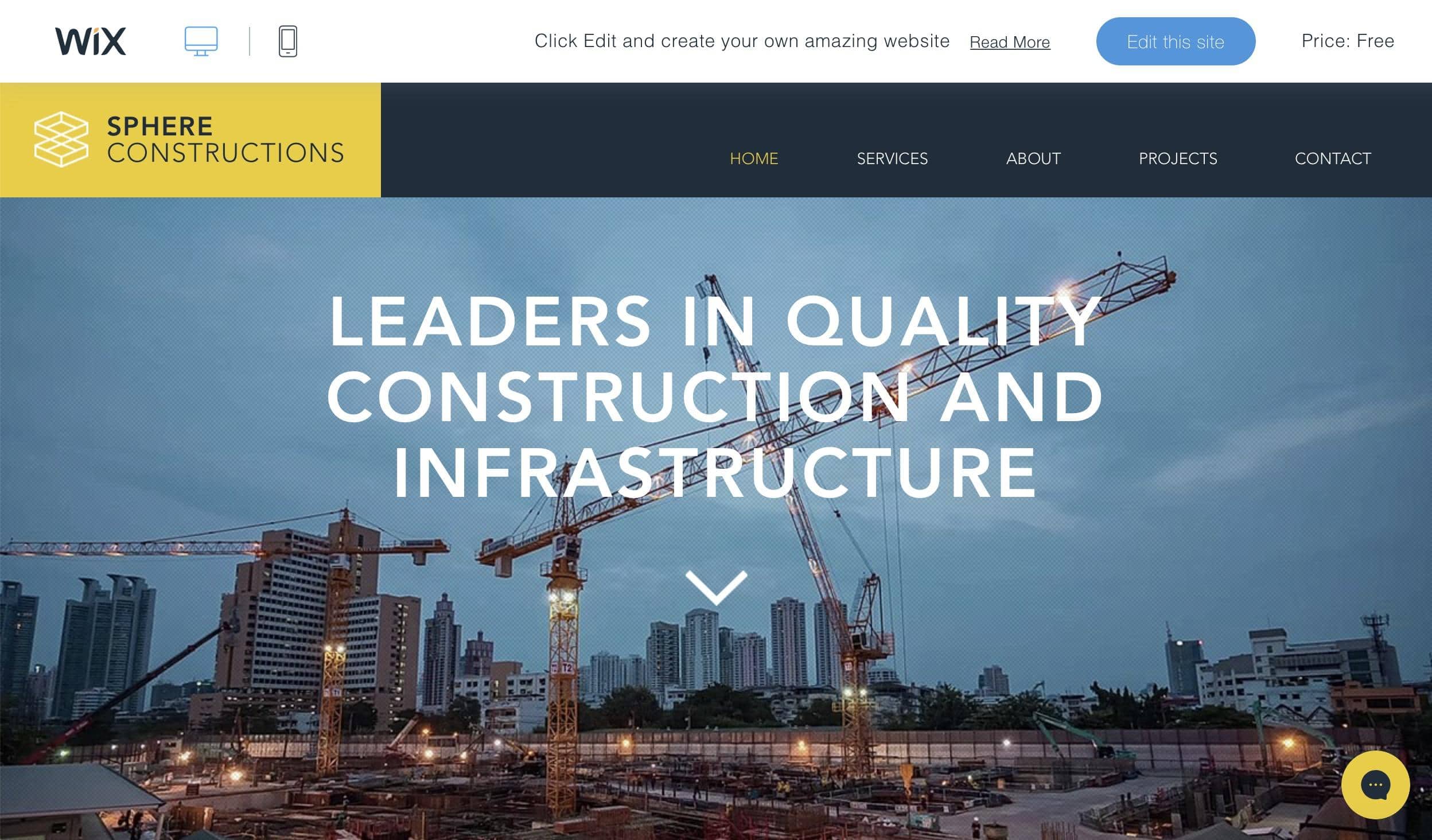 Wix has a drag-and-drop editor that's very easy to use, even if you have no previous website building experience.
With over 900 templates, including one designed specifically for construction companies, you can create a distinctive website that perfectly suits your brand.
Wix templates are fully customizable, so you can change everything from the position of different page elements to colors, fonts, and more.
Or, if you're in a real hurry, you can use Wix ADI (Artificial Design Intelligence) to create a website in minutes, based on your answers to a few questions. Then, you can import your own text and images, and you're good to go.
Features
Galleries. You'll find several gallery apps in the Wix App Market, many of which are free to use. Galleries are where you can create visual storyboards using photographs of your past construction jobs. Wix Pro Gallery, Wix Photo Albums, and Gallery by POWr are some of the best options.
Wix SEO Wiz. This free tool helps you improve your website's SEO so you can rank high on search engines, get more organic traffic, and gain more clients.
Wix Bookings. This app makes it easy for your potential clients to book meetings with your team.
Contact forms. The Wix App Market offers plenty of free contact forms, so your potential clients can get in touch with you quickly and easily. Two that I like are Wix Forms and 123FormBuilder.
Be sure to check out our full Wix review for even more information.
| | |
| --- | --- |
| Easy to Use? | Yes |
| Free plan? | Yes |
| Basic paid plan's benefits | Combo plan – 3 GB storage, no ads, free custom domain for one year, and 30 video minutes. |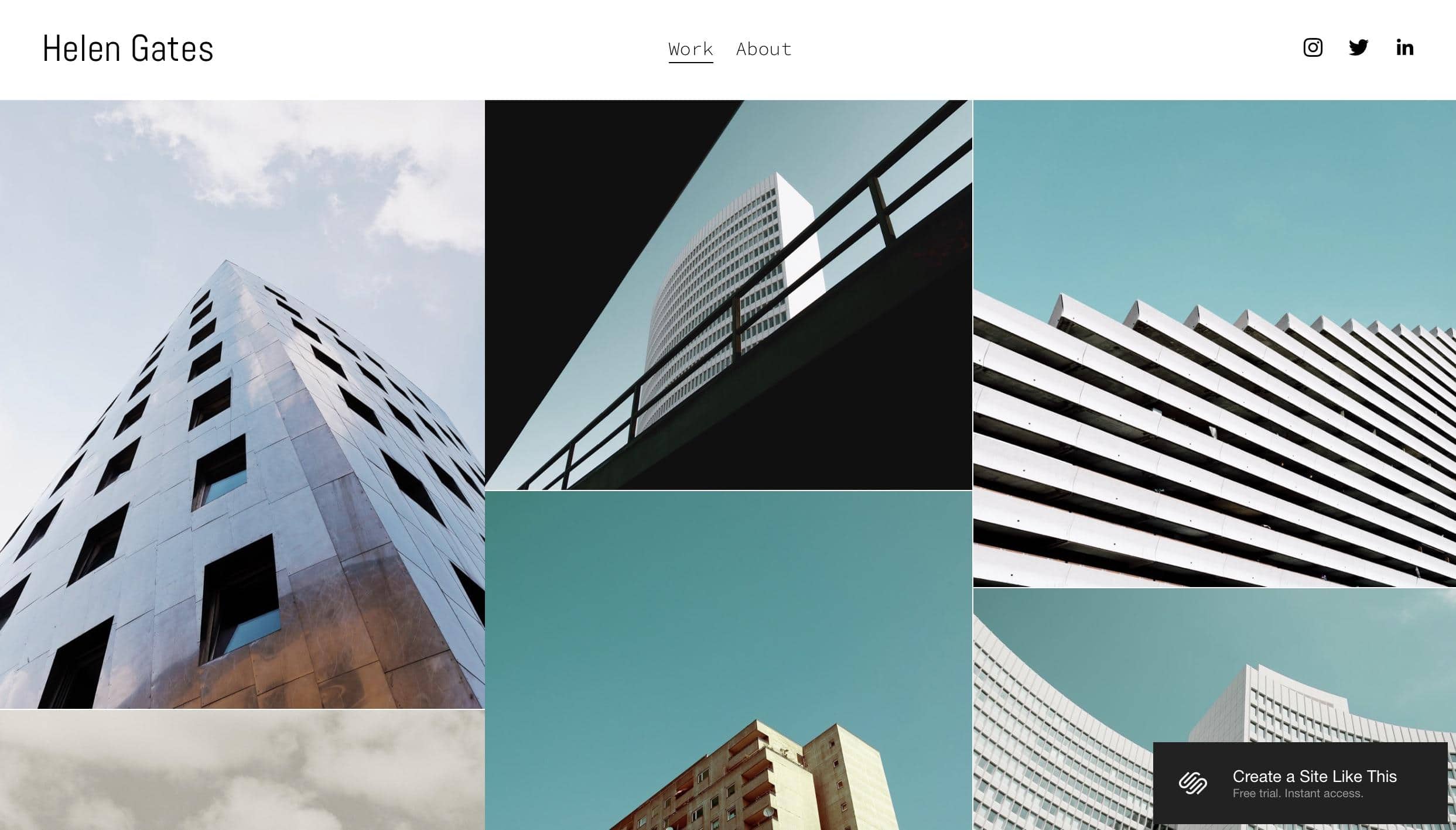 Squarespace is known for its clean, mobile-friendly professional templates, which can make your construction company website stand out. It also has an easy-to-use editor, built-in SEO functions so you rank higher on search engines, and features like Gallery Pages and Gallery Blocks for your photos.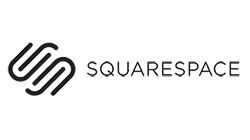 Save up to 30 % on your Squarespace plan today!
Plus get a free domain for one year!
1031 users used this coupon!
Features
Acuity Scheduling Integration. You can make it easier for your potential clients to schedule introductory meetings by sharing your available hours. And to go the extra mile, you can send customized meeting confirmations and reminders.
Multiple contributors. Save time by adding one or more of your employees as site contributors so they can perform content updates. You can customize their permissions to give them selective editing access.
Maps. You can add a Map Block to your page so clients can easily find your offices.
Read our full Squarespace review for some useful tips on how to get even more from this platform.
| | |
| --- | --- |
| Easy to Use? | Yes |
| Free plan? | No, but there is a 14-day free trial |
| Basic paid plan's benefits | Personal plan – Unlimited storage and bandwidth, free custom domain for a year, lots of templates and features, two website contributors, and more. |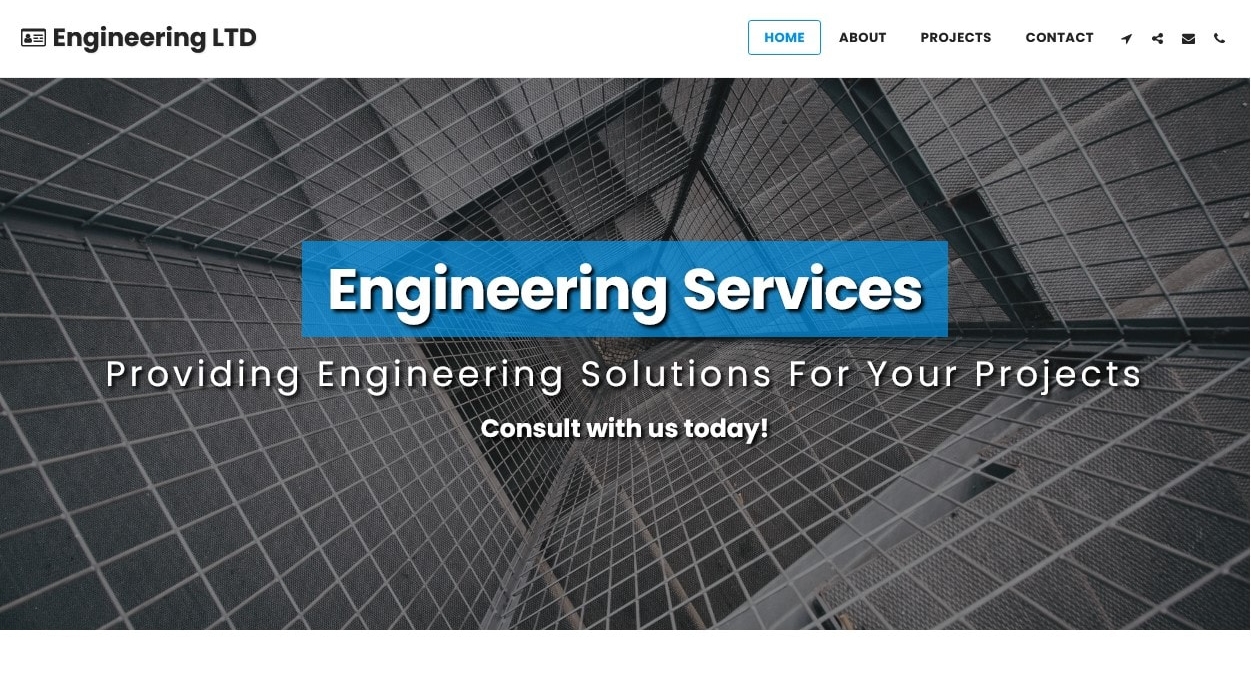 SITE123 is a super easy-to-use website builder with a straightforward editor that can get you online in minutes. It doesn't have a drag-and-drop editor like Wix, but it's actually simpler to navigate. Once you've chosen a template, you pick a layout and add your content in pre-made blocks that fit perfectly on the page.
SITE123's layouts are all mobile responsive, so no matter which device visitors use to view your site, it will always look professional. This is also great for search engines, because Google loves mobile-responsive websites.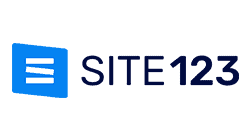 Get 44 % off your SITE123 plan today!
Save 44 % when you sign up for SITE123's annual plan
579 users used this coupon!
Features
Slideshows. You can mix photos and videos of your construction projects in the same slideshow or gallery, or choose to arrange them in separate galleries. You can also group your images into different categories to highlight different projects.
Timeline page. If you have a long-term construction project, you can use this visual timeline to share your daily (or weekly) progress.
Schedule Booking. Allow your website visitors to book an introductory meeting on your calendar quickly and easily.
For a more in-depth look at this website builder, check out our full SITE123 review.
| | |
| --- | --- |
| Easy to Use? | Yes |
| Free plan? | Yes |
| Basic paid plan's benefits | Premium plan – 10 GB storage, 5 GB bandwidth, free custom domain for a year, and no SITE123 branding. |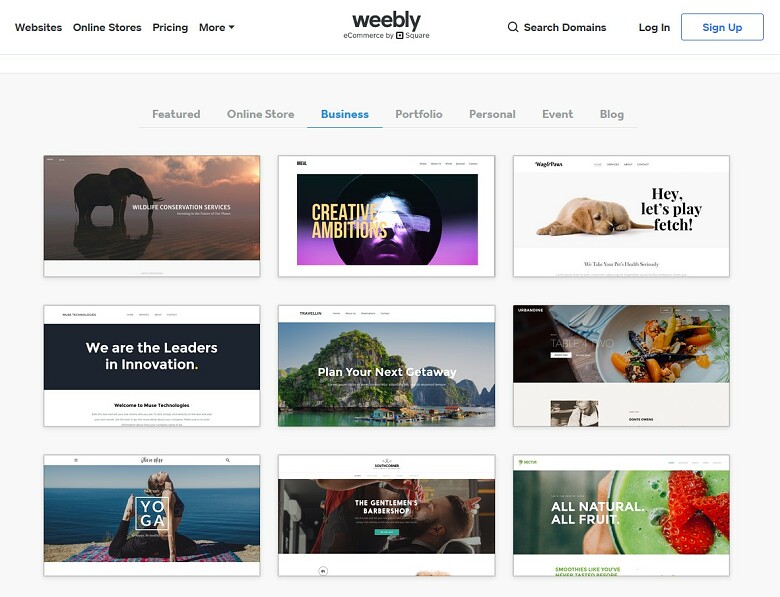 Weebly's drag-and-drop editor makes it easy to build a website using one of the customizable, mobile-responsive themes. In addition, with Weebly's mobile app, you can manage your website from any device. You can even respond to messages from potential clients while you're at the job site.
Features
Embeded videos. Weebly supports YouTube and Vimeo hosted content, so you can embed videos of your construction projects without wasting your site's precious storage space.
Weebly Blogs. Weebly's blogging platform is easy to use, and the sharing and scheduling features allow you to schedule publication times for blog posts and automatically share them on Facebook and Twitter. For instance, you can publish blog posts with basic home improvement tips and advice, and use the opportunity to insert SEO keywords that can get you recognized in your service area.
Contact forms and Maps. Weebly's contact tools make it easy for your clients to reach out, whether they're sending you a message online or stopping by your office.
Read our in-depth Weebly review to get even more information.
| | |
| --- | --- |
| Easy to Use? | Yes |
| Free plan? | Yes |
| Basic paid plan benefits | Professional plan – Unlimited storage, no ads, and a free custom domain for the first year. |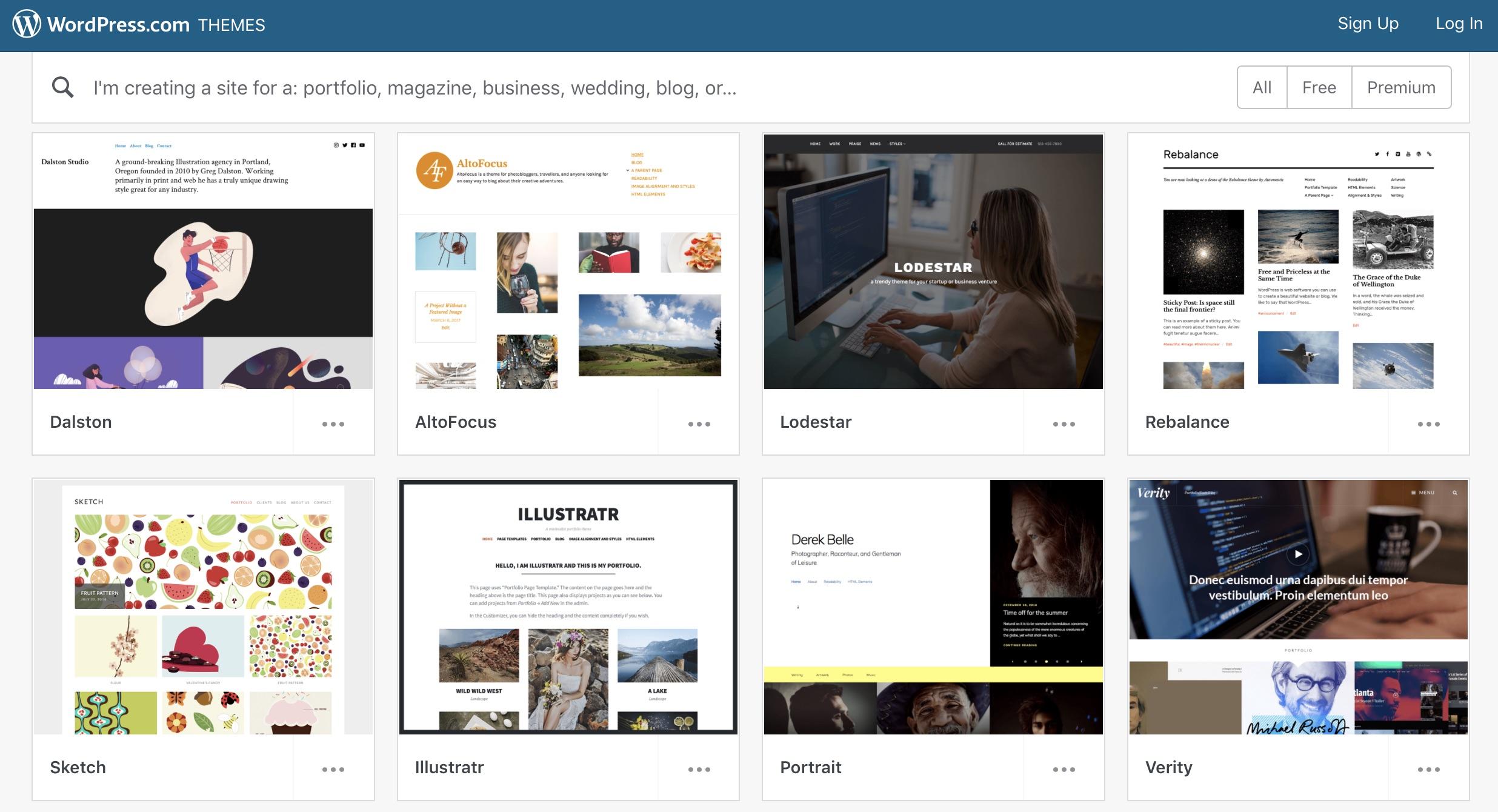 The power of WordPress.com lies in its flexibility. It has a library with hundreds of fully customizable themes, so you can make your website reflect your company accurately. With the Business plan and up, you can also upload themes from a third-party marketplace like ThemeForest.
The WordPress.com editor can seem complicated at first, as you explore all of the available features, but if you get stuck, there are a lot of tutorials and Community Support Forums.
Features
Flexible Galleries. You can choose from many different free gallery options for your construction photos. For example, Gallery Block and the Gallery Widget will let you create responsive image layouts and preview your changes before they go live.
Embeded videos. You can easily embed videos from hosting sites like YouTube and Vimeo. WordPress.com lets you adjust the video alignment and size, and even add a caption.
Free portfolio themes. These themes let you display your construction projects in their best light, so you don't have to put a lot of work into creating a portfolio page.
Read our expert WordPress.com review for a full explanation and more handy tips.
| | |
| --- | --- |
| Easy to Use? | Slightly more complex than drag-and-drop site builders |
| Free plan? | Yes |
| Basic paid plan's benefits | Personal plan – 6 GB storage, free custom domain for a year, no ads. |
Which Builder Is the Best for Your Construction Company?
These are my final recommendations:
If you care most about personalizing your site to show the uniqueness of your company, then Wix is a great choice because it gives you over 900 professional templates and full creative freedom.
If you want a straightforward website builder that will get your website live in minutes, Site123 is worth a try.
If you want a professional-looking website to display all your construction photos and videos in their highest quality, Squarespace is a good place to begin.
Or, if you want a website that will scale with your company, WordPress.com could be your best bet.
Take a look at the comparison table below to narrow things down even more.
| | |
| --- | --- |
| | STANDOUT FEATURE |
| Wix | Free apps and over 900 free templates, some of which are construction-specific |
| Squarespace | Display very high-quality photos and videos |
| Site123 | Very straightforward builder that can give you a mobile-responsive website in minutes |
| Weebly | Free, mobile-friendly templates. |
| WordPress.com | Lots of free storage space for your construction photos and videos |
FAQ
What is the best website builder for a small construction company? It depends on your priorities. If you want to create a truly distinctive website to suit your brand, Wix gives you the largest selection of templates and the most freedom to customize your site. Alternatively SITE123 has a super intuitive builder that makes it easier to get online quickly. Or, if neither of these options suits your needs, you can always check our list of the best website builders in 2022 for more options.Can I build a free website for my construction company?Absolutely. Lots of website builders have free plans that you can use to create a fully functional website. Wix, for example, gives you access to all 900 templates, even on the free plan. That said, not all builders are equally generous in terms of storage space, bandwidth, or the apps you can add to your site. To find the best options, head over to our top 10 free website builders in 2022. Or, if you ultimately decide to opt for a paid plan, don't forget to check out our coupons page to get the best possible deal on your favorite builder.What does a good construction company website include? The most effective construction company websites have a clean, professional look, and do a great job at showcasing the company's previous work. You should also make it easy for potential clients to get in touch or schedule an initial meeting.Is Wix good for a construction company? Wix is one of the easiest to use builders out there, and the only builder I found that offers templates specifically designed for construction companies. It's not just about looks, either. Wix has a massive App Market that can help you extend the functionality of your site with things like gorgeous galleries, forms, booking, and more. Find out more in our expert Wix review.