While all the builders on my list will get the job done, my personal favorite is Squarespace. It has the best-looking templates around, and all the tools you could possibly need to build your website, integrated straight into its editor (so you don't have to look for them elsewhere). You can take advantage of
Squarespace's 30% discount on annual plans
to save on your subscription.
Not every website builder can give you what you need to make your cleaning business' website stand out.
You're looking for a website builder that's easy to use, comes with a selection of great templates for cleaning companies, and has free or affordable plans. Your website builder should also include the right features that fit your business needs, like contact forms and other tools that help to expand your client base, receive feedback from existing clients, and allow them to schedule and book your services instantly.
I've tested the major website builders on the market in order to find out which ones can provide you with all the tools for your cleaning business website. You'll find a summary of my favorite options on this list.
Wix offers more than 40 templates under the "Services and Maintenance" category, many of which you can use for your cleaning services website. What's also great about Wix is that it offers one of the largest selections of templates on this list, with over 900 to choose from. You can use the easy drag-and-drop editor to customize your site however you like.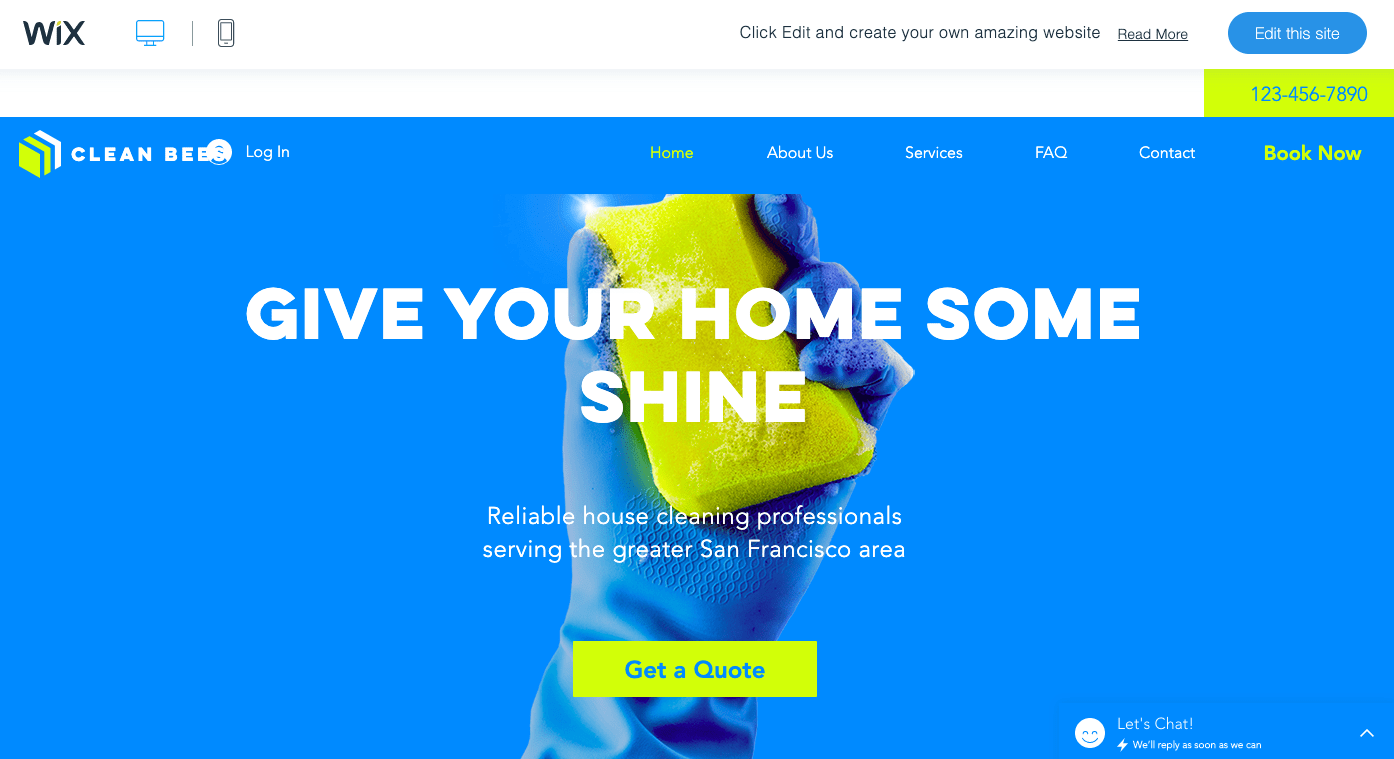 Wix's online booking and scheduling system allows you to input your availability so that clients can book your services and pay securely online all in a few steps. You can add your staff's schedules to allow clients to book a specific team.
Another feature I like is the contact forms. You can add any fields you need to make it easy for clients to get in touch. For a full list of features, read our in-depth Wix review.
There's a free plan to get you started, but if you're looking for additional features like accepting payments online, then you can easily upgrade your account. The paid plans also give you more storage space and remove the Wix branding from your site.
Squarespace's templates are very clean and minimalistic. While there's no "cleaning services" category, I recommend starting with one of the templates in the "Local Businesses" category, since they already come with booking buttons.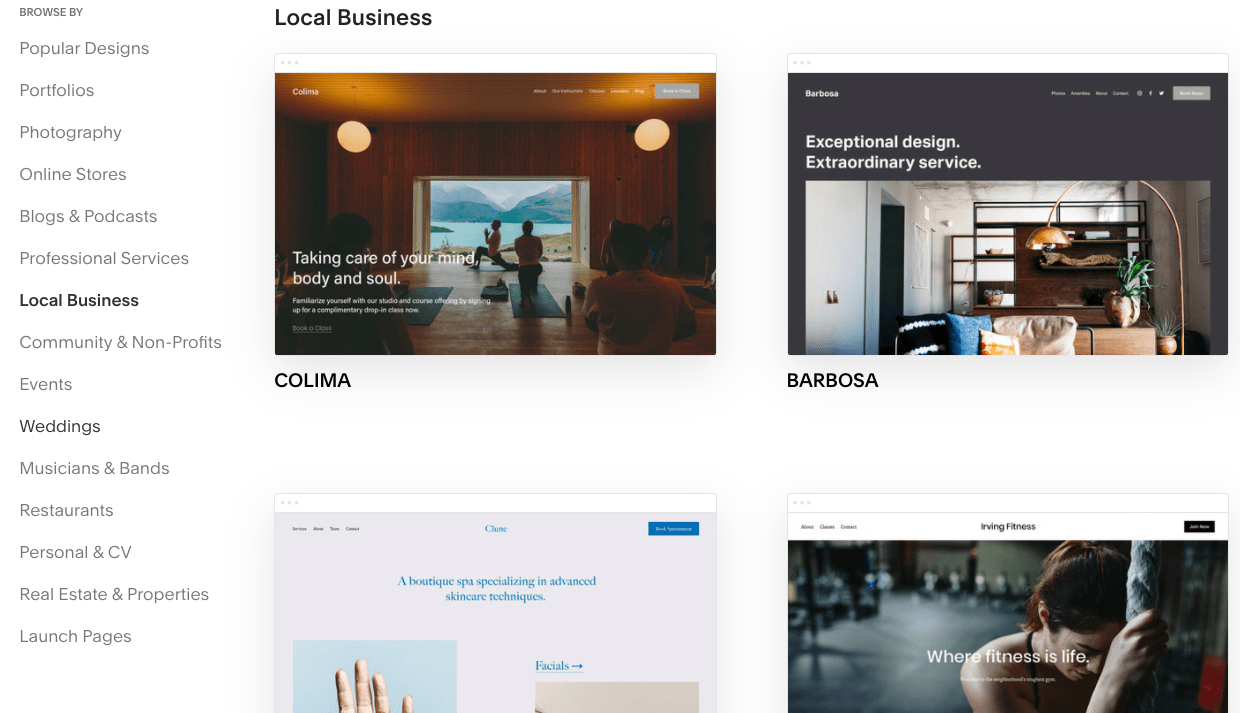 Squarespace offers a ton of options for third-party integrations, some of which include Google Analytics, Dropbox image sync, and FreshBooks to manage your accounting. Squarespace has a built-in email marketing tool that lets you build your own campaign. If you have a pre-existing mailing list, you can easily import it and send out emails, all on the same platform. There are also social media and SEO tools available, to help your website reach its target audience.
Although Squarespace doesn't offer a free plan, there is a 14-day free trial. After that, you can choose whichever plan best suits your business needs. The plans are also pretty affordable, as our expert found while testing Squarespace. If you want to accept payments on your website, you'll need to upgrade to the Business plan or higher.
SITE123 has a super easy-to-use website editor, and over 200 templates to choose from. While it doesn't have modern-looking templates like Squarespace or Wix, it does let you customize your site with ease. From choosing your template to personalizing and later launching your website, this entire process can all be done in about an hour.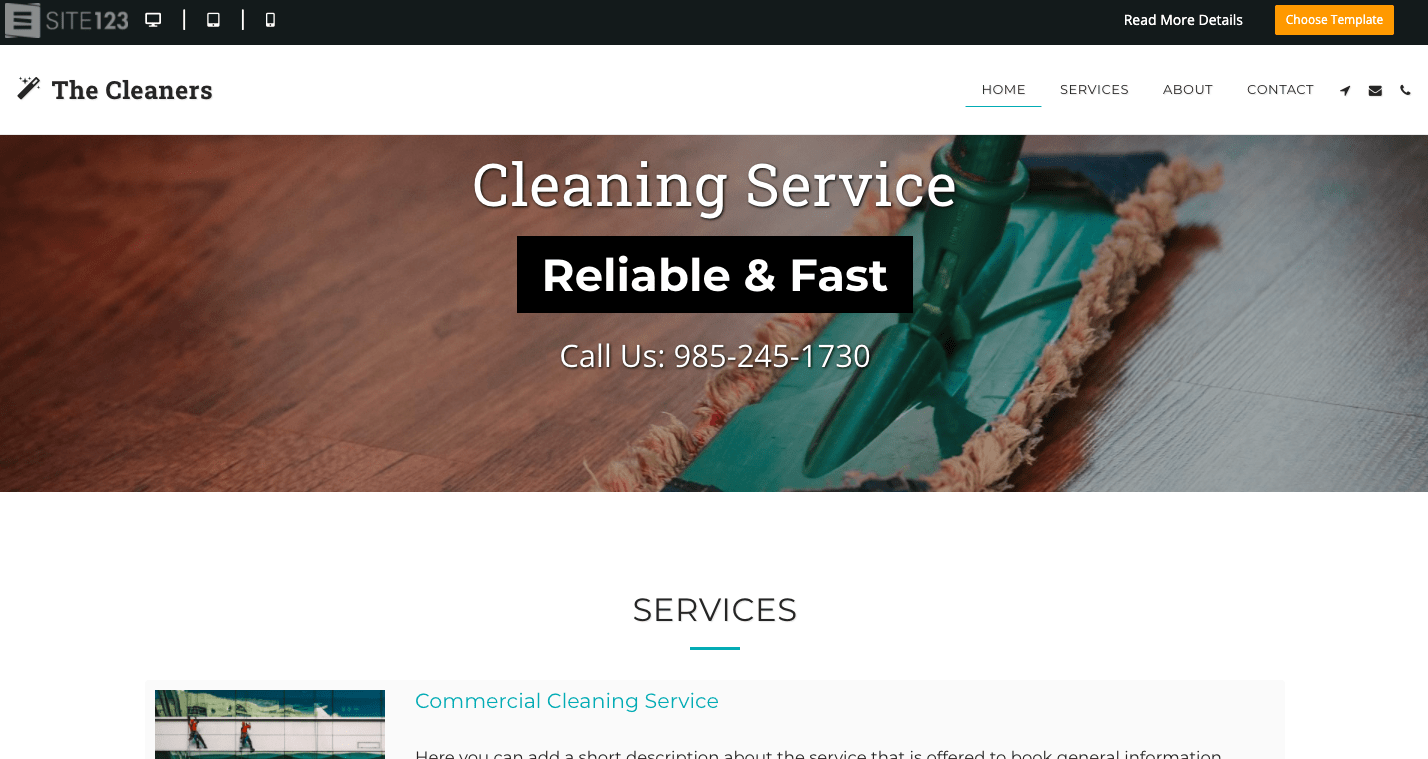 To edit your site, you can point and click on an element to change its positioning, or add new sections from the menu. There's virtually no learning curve with this site editor, so it's suitable for beginners.
SITE123 comes with a great form builder feature so that you can create the exact form you need complete with options to customize different fields, auto-reply emails, and automated scripts when a client sends a message. If you're debating whether this site builder is a good fit for your business needs, read our expert SITE123 review to find out more.
There is a free plan, but you'll have to upgrade to connect a custom domain, remove ads, and access some other advanced features.
WordPress.com offers a lot more ways to customize your website after you become familiar with it. It doesn't have a simple drag-and-drop editor like the other builders on this list, but it is fairly easy to navigate.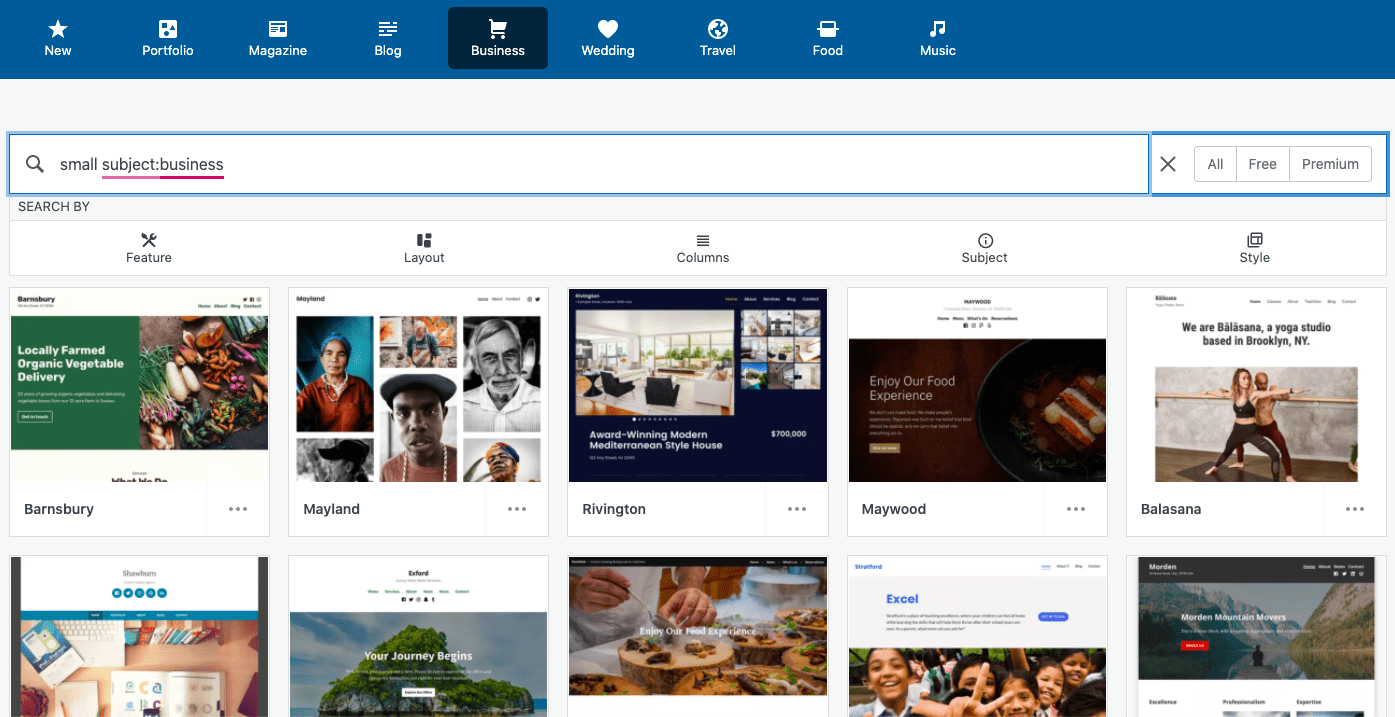 I would recommend that you start with a business theme, since many of them include the features you'll need, like a services page, CTA buttons, and built-in social icons.
You'll need a Business plan to add third-party templates and plugins, but if you want a more simple site then you can use WordPress.com's free plan for as long as you want. To get more information about the free plan versus the business plan, read our full expert review.
If you don't find a theme that you like, you can purchase third-party templates from websites like ThemeForest, bringing you countless possibilities for designs that are specific to your business. You can also install one of the many plugins, like Yoast for SEO, MonsterInsights for analytics, Constant Contact to send out email newsletters, or WooCommerce Bookings for online appointment scheduling.
With Weebly, you'll be able to create a mobile-responsive website that includes handy promotion tools for your business.
You can start with one of the business themes and customize it until you're happy with the design overall. The site editor isn't as intuitive as Wix, but it's still very easy to adjust a theme to your liking.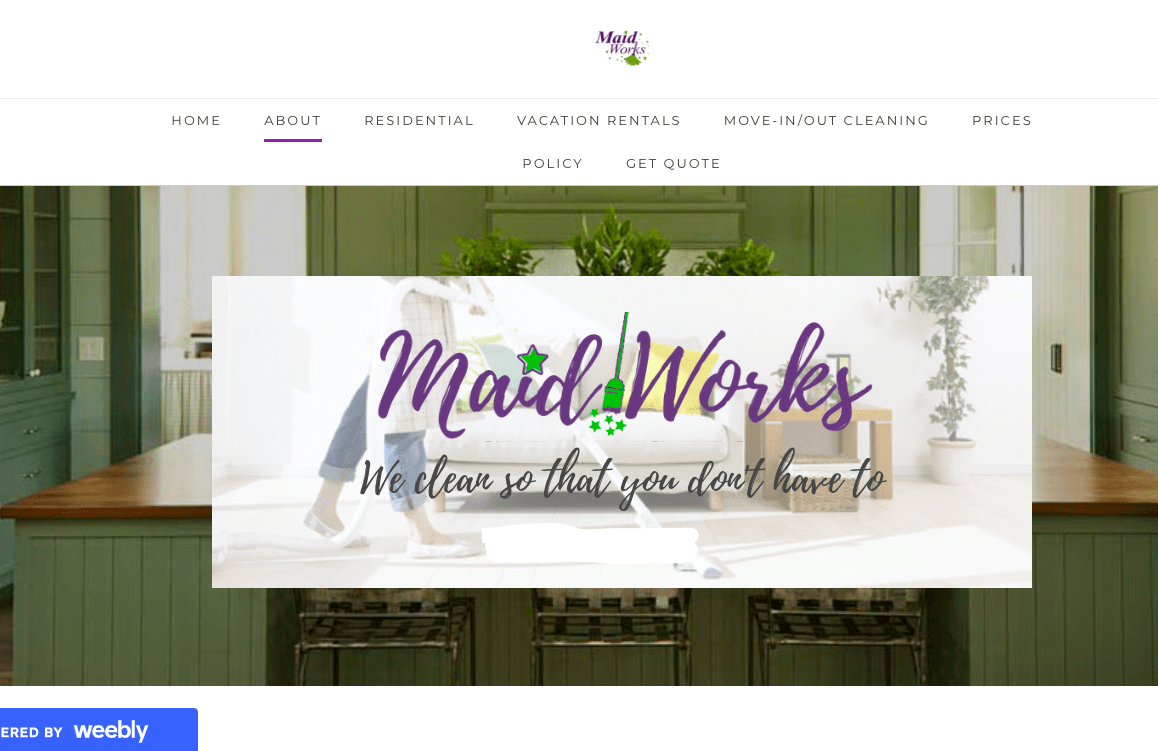 Weebly comes with good tools for you to engage with your clients. You can build an email campaign with Weebly Promote, establish a membership section for your repeat clients, and create custom contact forms with the drag-and-drop form builder. For more information about Weebly's customer engagement tools, read our in-depth review.
You can create a basic website with the Free Plan, but if you'd like to get a custom domain or have access to more features, then you'll need to upgrade your plan.
Which Website Builder Is Best For Your Cleaning Services Site?
Each website builder on this list offers different style templates, features, and tools for cleaning services sites, suitable for both big and small businesses. The best builder for you, however, will depend on your specific business needs. With that being said, after trying these website builders out, I'd recommend going with Wix.
Wix is the only builder that offers specially designed cleaning services templates. This makes it much more convenient, since you won't have to invest a lot of time in customizing a general business template. Not only that, but the booking and scheduling feature makes things easier for your clients, and also makes your business more efficient.
Want a closer comparison? Here's a look at the top features each website builder has to offer:
| | | |
| --- | --- | --- |
| Builder | Standout Feature | |
| Wix | Specially designed cleaning services templates, which include a great online client booking tool | |
| Squarespace | Integrated email marketing and social media tools to promote your business | |
| SITE123 | The straightforward site editor and easy form builder are both great for beginners | |
| WordPress.com | Tons of ways to customize your website with third-party templates and some of the best plugins on the market | |
| Weebly | Wider audience reach with easy-to-use promotion and community engagement features | |
FAQ
Which website builder will help make my cleaning services site stand out?If you want your cleaning services site to stand out, I would recommend going with Wix. It's an excellent website builder that offers the largest variety of templates, and an easy to use drag-and-drop editor, so customizing your site becomes really easy and fun. Squarespace is another great option, since it offers beautiful layouts that are very professional and polished looking. One of the big differences, however, is that Squarespace isn't offered for free, while Wix does offer a free plan.Can you build a cleaning services website for free?You can definitely build a cleaning services site for free, and you have quite a few options to choose from. Wix, our top choice, offers a free plan with many great tools included, like the online booking and scheduling system. SITE123 also offers a free plan, and it's simpler to use than Wix. While it doesn't have as many features, you can use it to get your site online quickly, even if you've never built a website before. You can check out our coupon page to see the best website builder deals that are available right now.Does Wix offer cleaning business templates?Wix offers over 40 different templates under the "Services and Maintenance" category, making it the only website builder on this list to offer such a wide variety of specially designed cleaning services templates. The templates are easily customizable, and the platform as a whole is very user friendly. Wix offers payment tools, the contact forms feature which allows you to get in touch with your clients online, and more. You can read all about Wix's tools, features, and plans in our in-depth expert review.Which website builder is best for small businesses?I found that Wix has the most intuitive site editor, and offers a lot of creative freedom, which makes it the best choice for your small business. Keep in mind that as your business grows, your needs can change, and so having a website builder that is user friendly and offers a lot of features will be very beneficial. To find out more about Wix and other options, check out our list of the top website builders right now.