you
deliver to your audience. That said, choosing the wrong provider can do a lot of harm.
You might publish excellent content on your website, but if visitors can't get to it easily or quickly, search engines will penalize you for it.
 And so will users. Search engines like Google care about one thing only: user experience. The happier your visitors are with your website and content, the higher you will rank in search engine results pages (SERPs), which is why you want a web host with excellent uptime and loading speeds. I've already done the research for you so you don't have to take any risks with your website.
What We Look For in the Best Web Hosts for SEO
If your website is offline often, users who land on it will immediately bounce back to Google. This increases your bounce rate, causing your website to rank lower in SERPs (search engine results pages). Such penalties can take months – and a significant financial investment – to fix. If you were Google, would you send traffic to a website that has 98% uptime or to a site that has 99.9% uptime? Would Google let down even just 2% of their users? I started noticing that websites that rank well were actually hosted on these hosting providers. Regardless if it is simply because these hosts provide fast loading speeds or SEO-specific tools, they have proved to help with boosting SEO. Some standout features include:
SEO tools. You can boost your website's SEO without the help (or the cost) of an expert. You just have to know what you're doing, and you need the right tools for the task. Many of the hosts on my list include effective tools for free.
Excellent loading speeds. It's no secret that Google prioritizes fast-loading websites. Search engines provide the best possible user experience, and no user likes a website that loads slowly.
Data center locations. Having more locations to choose from means that you can host your website closer to your target audience. This, in turn, can boost your site's performance.
Uptime. A minute or two of downtime here and there won't affect your ranking in SERPs, but you still want to be very careful because users will immediately bounce back to Google if your site is offline. This can result in penalties, not to mention lost customers. The hosts on my list have excellent uptime records backed by reliable guarantees.
Free SSL. An SSL certificate encrypts all data on your website and is especially important for online stores that handle sensitive user information. Recently, Google has confirmed that websites without an SSL – whether these are e-commerce platforms or not – rank lower in SERPs.
InterServer offers a single, Standard shared hosting plan with unlimited websites, domains, storage space, bandwidth, and email, all at an affordable cost.
 The provider has an excellent uptime record backed by a 99.9% uptime guarantee, and the Standard package includes several performance-enhancing features to boost your loading speeds.

Although InterServer has just two data centers, both of which are US-based, you can use Cloudflare CDN to improve loading speeds for non-US visitors. InterServer provides a one-click installer for SEO Panel. The panel includes an SEO site auditor, the Moz rank checker, a keyword position checker, and several other features that can help you determine the current SEO profile of your website.
Features:
Visitor stats in cPanel. InterServer's Standard package comes with the cPanel control panel. You can use it to easily manage your account and website, and also to get detailed information about your visitors, the time they spend on your site, their preferred pages, and more.
LiteSpeed technology. LiteSpeed web servers are considerably faster than Apache, which is what most web hosts use. It also comes with LiteSpeed caching, an integrated tool that you can access from cPanel to improve your website's performance.
Uncrowded servers. InterServer utilizes only 50% of available resources per server, which means that neighboring websites won't interfere with your performance during times of peak traffic.
Cheap VPS. If you ever need more resources to support your growing website, you can switch to one of InterServer's highly affordable VPS packages. You can even ask the tech team to perform the transfer for you.
For a full list of features, read
our in-depth InterServer review
.
Hostinger is proof that you don't have to spend a lot of money on web hosting to build an SEO-friendly website.
 Its
three shared hosting plans
 come at an incredibly low price compared to the industry average, and the usual features are all included.
we tested all the top web hosts for performance, and Hostinger actually came out on top.
You can see the full results in
our in-depth Hostinger review
.

For a modest fee, Hostinger's SEO Toolkit evaluates technical SEO issues on your website and provides feedback on the quality of your content. The plugin also generates actionable steps that you can take to improve SEO on each of your website's pages.
Features:
Generous resources. Your resources are limited on the entry-level plan, but if you upgrade to Premium Shared Hosting, you get double the storage space, as well as unlimited websites, email, and bandwidth. You also get peace of mind with weekly automated backups, which are not available on the Single Shared Hosting plan. Plus, the Premium plan is still very cheap.
WordPress optimizations. Hostinger's shared hosting plans come with preinstalled LSCWP (LiteSpeed Cache for WordPress). The plugin is neatly integrated into your dashboard, so it's super easy to boost the performance of your WordPress website.
Data centers on four continents. Hostinger has seven data centers strategically positioned around the world. If your audience is in North America, South America, Europe, or Asia, you can improve your website's performance by choosing the right data center location.
The simplified hPanel. Hostinger's proprietary control panel makes it easier to install your favorite CMS, set up a website, and access your SEO Toolkit.
A2 Hosting's shared hosting plans
 are slightly more expensive than some of the other hosts on my list, but the additional caching and security tools are worth the difference. Also, 
if consistent performance is your main priority for web hosting, then A2 Hosting should be at the top of your list.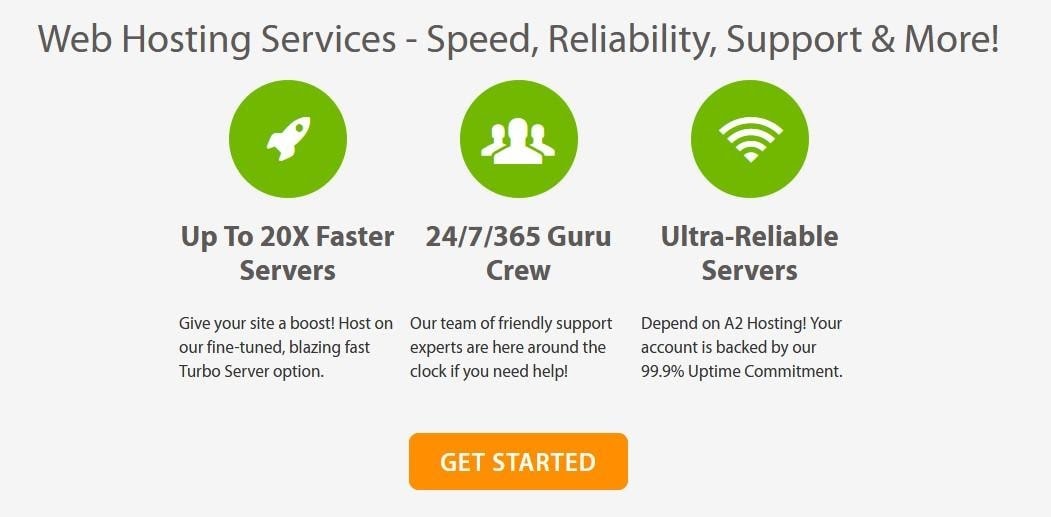 You can start with a low-cost, entry-level plan for a simple site, but if you're building a medium- to high-traffic, SEO-dependent website, I recommend either the
Turbo Boost or the Turbo Max plans
.
Both come with extra computing resources in addition to A2's impressive kit of features.
A2 Hosting doesn't offer any out-of-the-box SEO tools like Hostinger's SEO Toolkit, but you can use its one-click installer to set up useful software like SEO Panel.
Features:
A2 Optimized installations. Whether you want to use WordPress, Drupal, Joomla, PrestaShop, or another popular CMS, the A2 one-click setup can help you quickly install and optimize it. Performance settings are preconfigured, so you can jump straight into building your website.
Turbo servers. A2's Turbo Boost and Turbo Max plans run on optimized web servers with additional resources, fewer users, and built-in caching. According to A2 Hosting, you can expect your website to load 20 times faster on a Turbo server.
Additional resources during traffic spikes. For a small fee, you can buy the Performance Plus add-on and ensure that your website never goes down due to high traffic.
Reinforced DDoS protection. DDoS (distributed denial-of-service) attacks are designed to disrupt a web server by overwhelming it with a flood of traffic. This can result in your website becoming unavailable and, depending on the severity of the attack, could have consequences on your rankings in SERPs. A2 Hosting provides reinforced DDoS protection to stop this from happening.
For a full list of features, read
our in-depth A2 Hosting review
.
HostPapa is a good place to start if this is your first time building and hosting a website.
Its plans are slightly expensive following renewal, but you get a lot of value for your money. For example,
the Starter plan comes with 2 websites
, 100GB of storage, unmetered bandwidth, unlimited email, and plenty of user-friendly features like an SEO-friendly website builder and an easy to follow Quickstart Wizard.

The entire service at HostPapa is built around ease of use.
As soon as you log into your account, the QuickStart Wizard is there to take you through all the steps of setting up your CMS.
In addition, HostPapa's website builder comes with several built-in SEO features.
For example, you can easily change page meta titles and descriptions, create alt text for your images, or add a site plan for search engines.
Features:
Outstanding customer support. If you ever run into trouble, there's 24/7 support. In my experience, HostPapa's tech agents are not the quickest to respond, but they are polite and properly trained to help with most hosting issues.
Text and video tutorials. Even if you know nothing about SEO, it's easy to learn with HostPapa's guides. There's even a tutorial on how to create an SEO-friendly website using HostPapa's proprietary site builder, which is included for free on all plans.
One-on-one training with an expert. Before you get started, you can request a one-on-one call with one of HostPapa's tech experts to cover topics such as account management, building and securing your website, SEO, and more.
Premium servers. HostPapa is primarily aimed at freelancers and small businesses, but there is room for your website to grow. If you need more resources for optimal performance, you can always upgrade to the Business Pro plan and transfer your website to a premium server.
For a full list of features, read
our in-depth HostPapa review
.
SiteGround offers some of the
cheapest managed WordPress hosting plans
 in the industry, so if you plan to build a WordPress website, this provider should be on your shortlist.
Although SiteGround is often seen as a developer-oriented service, there are plenty of benefits for beginners too.
A free domain name is included with some hosting plans from SiteGround
SiteGround's managed WordPress service includes a one-click installation, automated updates, daily backups, and more. In addition, the SG Optimizer plugin instantly configures your WordPress installation for optimal performance on SiteGround's platform. Better speeds are always a plus in terms of SEO.

You'll also find that Site Tools is an easy-to-use control panel with a clean interface. Like with cPanel, you'll be able to view site statistics such as unique visitors, page visits, and more by accessing the Site Statistics tab. In turn, these can guide your SEO and content strategy.
SiteGround also offers specialized tech support for WordPress, which you can't get with most other hosts. To learn more about SiteGround's support, read our expert review
.
Features:
WordPress Starter Wizard. The Wizard is an interactive, step-by-step guide to building your first website. Several professional WordPress themes are included in the package, and you can easily add functionalities like a portfolio, online store, or contact forms during the setup.
Integrated caching. All SiteGround plans run on Apache + Nginx web servers designed for speed. If you opt for either the GrowBig or GoGeek plan, you also have access to SiteGround's SuperCacher, which can drastically improve your site's performance.
Built on GCP. SiteGround has recently partnered with Google Cloud Platform for all of its shared hosting and managed WordPress plans. New clients are hosted on GCP by default, which translates into better performance, stability, and scalability.
Complete account isolation. Using LXC (Linux containers) technology, SiteGround ensures that user accounts are completely isolated from one another, even on the same server. This means that your neighbors can't dig into your allocated resources or spread security breaches to your website.
GoDaddy offers a broad range of services, from web hosting to domain registration, email hosting, a website builder, SEO tools, digital marketing, and more.
If you want to keep things simple by managing all of your website-related services in one place, GoDaddy might be a good solution.
For a monthly fee, you can get GoDaddy's SEO Tools add-on and have the tech team evaluate your website's SEO profile. The team then walks you through changes that you can make to improve your ranking in SERPs. You also get several tools to help you track your progress.

The drawback with GoDaddy is that you won't get a lot of freebies with your hosting. For example, the
entry-level Economy plan
gives you one website and a generous 100GB of storage, but it doesn't include free SSL certificates or any out-of-the-box performance features.
To learn more about GoDaddy, check out our in-depth review
. If you don't mind paying extra for these services, you can easily add them to your plan during checkout.
You can also buy several other products that you won't find with other hosts, such as a complete digital marketing suite.
Features:
Built on AWS. GoDaddy has recently migrated its shared hosting platform to AWS, one of the fastest and most reliable cloud infrastructures in the world. You can expect better website loading speeds and uptime, which is great news for SEO.
Digital marketing package. The suite includes email marketing, social media, and a reputation management tool for Google and Facebook. Keep in mind that while GoDaddy provides an all-in-one dashboard that makes it easier to keep track of your digital marketing channels, you are actually in charge of the marketing campaign.
On-demand resources. If you ever need more resources to handle a traffic spike, you can add CPU and RAM straight from your dashboard without having to upgrade to a more expensive plan.
Simple business hosting. A high-traffic website or e-commerce platform is very likely to outgrow the limitations of shared hosting. GoDaddy's Business hosting solution gives you the power of a VPS, plus a simple proprietary control panel that makes it much easier to manage your server.
Scala Hosting isn't as popular as some of the other hosts on my list, but don't let that scare you: its
managed cloud VPS
 offers a ton of value at a very low cost.
In fact, a VM (virtual machine) equipped with 1 vCPU, 2GB of RAM, and 20GB of SSD storage is cheaper with Scala than most mid-range shared hosting plans from other providers.

With every VPS, Scala Hosting includes a free SEO audit of your website.
The results are sent to you in a report, alongside practical steps for improvement.
More importantly, you get your own, dedicated IP.
In a shared hosting environment, your website shares the same IP address with other accounts on the same server. If a site with the same IP is blacklisted by search engines, so is yours. But this isn't a problem with a VPS because your IP is your own.
Features:
Fully managed VPS. If you've never used a VPS, you might find this type of hosting intimidating, but Scala Hosting's plans are fully managed, which means that most server maintenance tasks are taken care of for you.
The sPanel. All plans come with the in-house sPanel control panel, which is super easy to use. With sPanel, you can quickly configure your VM, launch the Nginx web server for faster loading speeds, create backups, set up your SSL, one-click install your favorite CMS, and more.
Guaranteed resources. Your account is completely isolated from others. No other website can hog your resources, which means that you can expect better loading speeds overall.
Integrated CDN. You'll find Cloudflare CDN preinstalled on your account and ready to go. Use it to protect your website from DDoS attacks and to improve performance for visitors from around the world.
To see Scala Hosting's full list of the features,
check out our in-depth review
.
These Are the Best Web Hosts for SEO, but Which One Is Right for You?
Each of the web hosting services on my list can support an SEO-dependent website. That said, choosing the right plan has more to do with your level of experience and specific needs.
For example, InterServer's Standard plan is an excellent option for websites with a US-based audience.
Its Standard shared hosting plan comes with unlimited resources, and you can always switch to an affordable VPS solution if you need more power.
If you have visitors from around the world, you should check out Hostinger's cheap plans. With a fleet of seven data centers, you can count on outstanding performance.
You also get an SEO-friendly website builder and LiteSpeed caching to boot.
FAQ
1. Does hosting affect SEO?
Yes, web hosting can affect your website's SEO. Although quality, well-optimized content is the most important factor in terms of optimization, choosing the wrong host can have a negative impact on your SEO, especially if it causes your website to load slowly or go offline often. To find a reliable and speedy provider, check out our list of the best web hosting services. You can also check out our list of the best website builders for SEO.
2. What is SEO hosting?
For the most part, "SEO hosting" is a marketing scheme. However, a web host can offer reliable, high-performance hosting, which gives your website a good foundation for SEO. In addition, some providers offer free SEO tools that can help you evaluate and optimize your site.
3. Is Bluehost good for SEO?
Although Bluehost does have a few SEO tools that you can buy as add-ons, I would not recommend it for an SEO-dependent website. For one, Bluehost's performance is average at best (see the full test results in our expert review), and there are no performance-enhancing tools included in most plans. Secondly, Bluehost doesn't offer an uptime guarantee, so there's no way of knowing whether your website will stay online, especially during peak traffic. Also, Bluehost has so far refused to disclose its data center locations, which means that you can't improve your website's performance by choosing a server that is closer to your target audience. For these and a few other reasons, I'd choose Hostinger or InterServer over Bluehost.
4. Is SEO free?
It can be. Search engines are becoming increasingly sophisticated, but you can still optimize your own website if you're willing to learn the right techniques. In addition, web hosts like InterServer and Hostinger give you free SEO tools that can make your life easier. Performance is also important for your website's SEO because a slow-loading site can quickly fall behind in SERPs. The good news is that you don't have to pay a lot to get the best quality hosting. Head over to our coupon page to see the best hosting deals available right now.