I discovered some hidden gems that aren't even in the Wedding category. 
Don't get me wrong, there are lots of great templates in the category Squarespace has dedicated to wedding templates –
 but not all of them would make the perfect choice for your wedding website. 
You want a template that fits the look and theme of your wedding, reflects your vibe as a couple, and includes space for important details like your wedding's location, how to reserve accommodations, a link to your wedding registry, and of course, an RSVP form. These are the ones that made the cut – and a few you probably want to avoid.
I've also included a couple standout wedding templates from Wix
, which offers more customization than Squarespace, and has a free plan.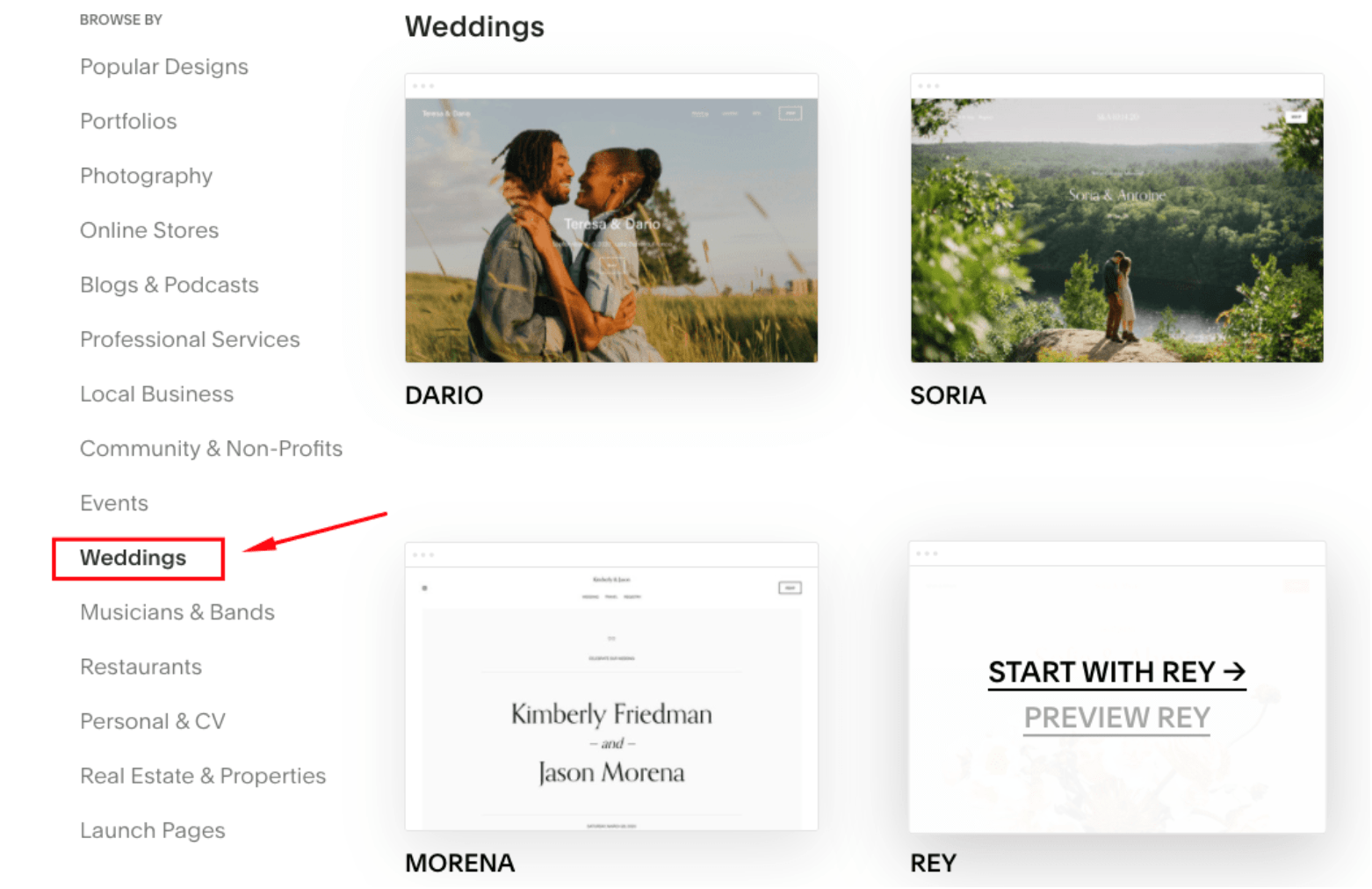 To see all of Squarespace's 
Wedding 
template
s,
go to the Squarespace homepage
. Then, click 
Templates 
at the top of the page, and then 
Weddings 
on the left hand column. At the bottom of the page you can choose to view
Archived 
templates – but that doesn't mean they're outdated. You can still use them to create a beautiful wedding website.
All of Squarespace's websites are mobile-responsive
, so you don't need to worry about how your site will look on different devices. When choosing a template, you can also preview it on mobile or tablet view just to make sure that it looks right.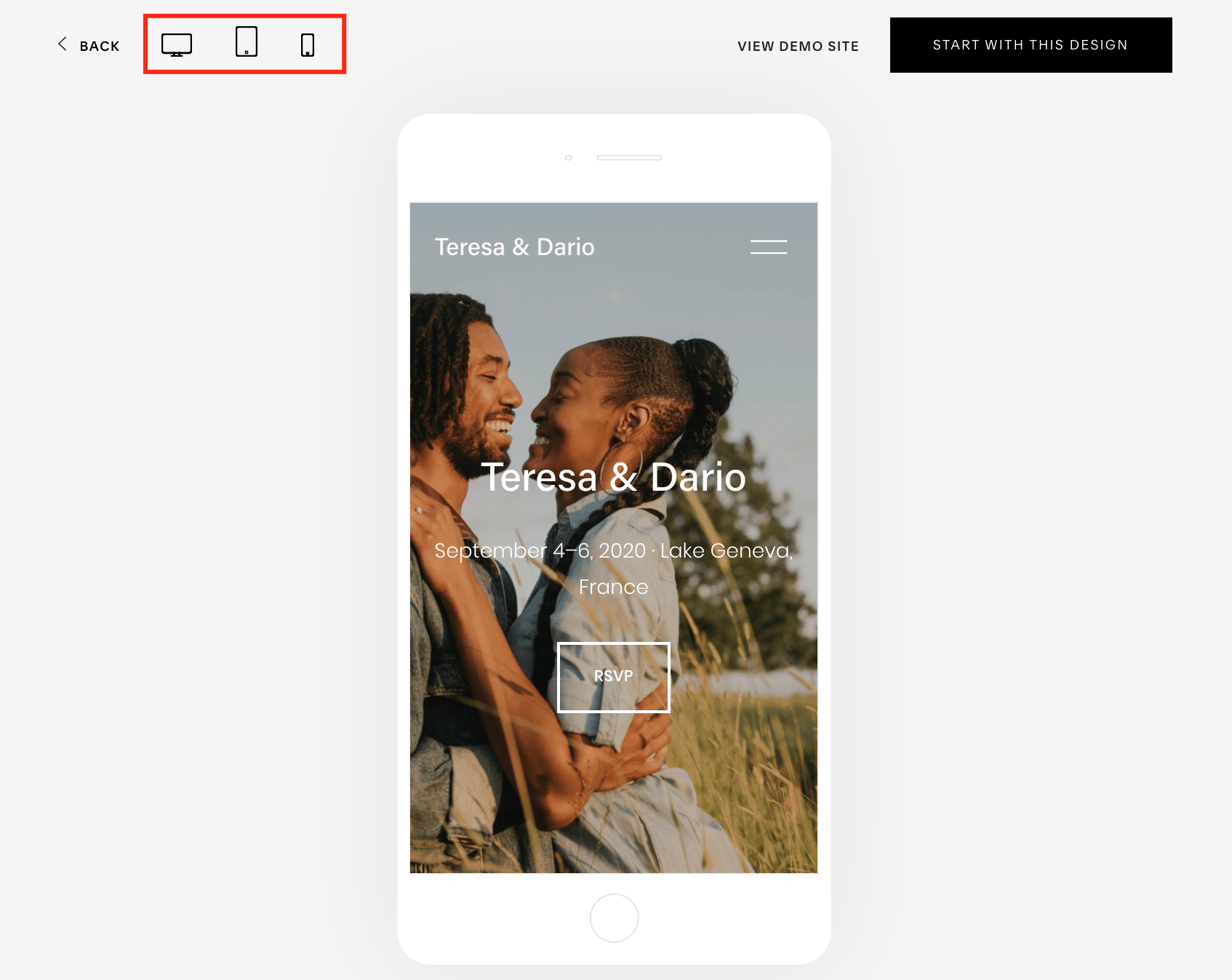 One of the things that make Squarespace great is how much freedom you get to customize your template of choice. You may be close to making a commitment of a lifetime, but you don't have to do the same with your Squarespace template.
If you change your mind or want to try out a new look, Squarespace lets you change the layout of every section of your site, to the point where it's virtually an entirely different template.
However, Squarespace
does
restrict your design edits – like moving around text and images – to a set grid. So if you have a specific idea in mind for your wedding site and want to have complete control over the design, it might be worth checking out Wix, which has
more than two dozen completely customizable templates in the Wedding category
and also
blank templates
 so you can create your own design from scratch. Still, I think you'll find "the one" on this list of recommended wedding templates.
Soria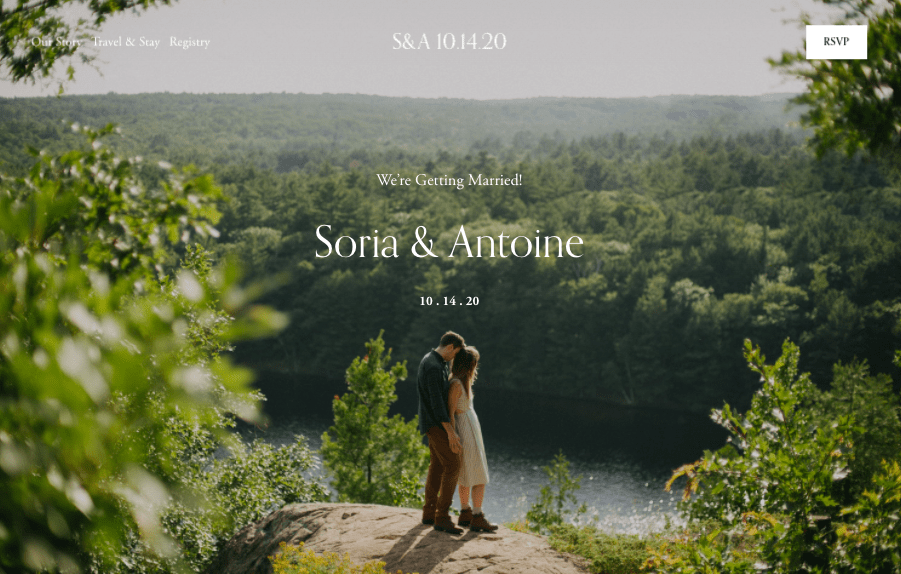 The full-page photo is a great way to make your visitors go "aww" the moment they land on your site. If you want to make it even more fun,
you can replace the background photo with a video to make your wedding website really pop.
Soria
 includes all the different elements you'll need, like a map for the venue location, an RSVP form, links to your wedding registry, and areas to add dates and information regarding your ceremony.

Beyond that, this template also has an
Our Story
 page. Here you can add a photo gallery from your engagement shoot or any snaps that you've taken since you met, sweet quotes from the two of you or friends and family members, and a background story about your relationship.
This template also includes some small details that make all the difference.
 The email link on the footer of the homepage is a good idea if guests want to get in touch to ask further questions. If you've created a hashtag for guests to use when posting pictures of your wedding or the lead up to it, you can integrate that with a link to the Instagram search results.
Dario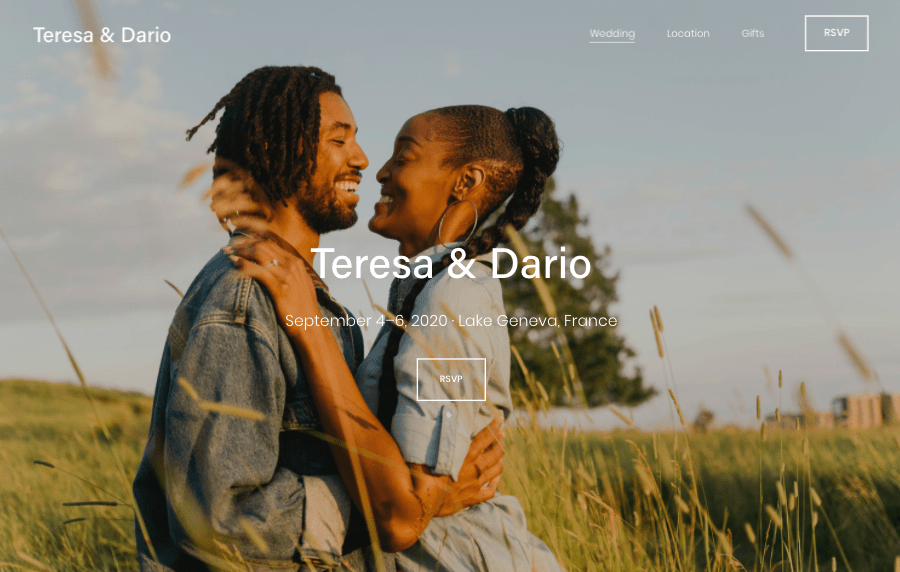 Similar to
Soria
, this template also has a full-screen image that grabs attention. Aesthetically, this template is a little more understated.
It's designed with simple fonts and minimalistic layouts.
You'll find that the homepage includes a little more detail. There's a section where you can add backstories of the two of you and your relationship, plus sections where you can insert the wedding schedule and location details. I like that the
Gifts
 page here is different from a traditional registry. On the template, it suggests giving your guests options on how to give cash gifts, but you can also easily change this to link to an external registry, if you'd prefer.
Finally, this site looks really great on mobile.
 There's a nice balance of photos and text that will make scrolling through your site particularly easy on the eyes.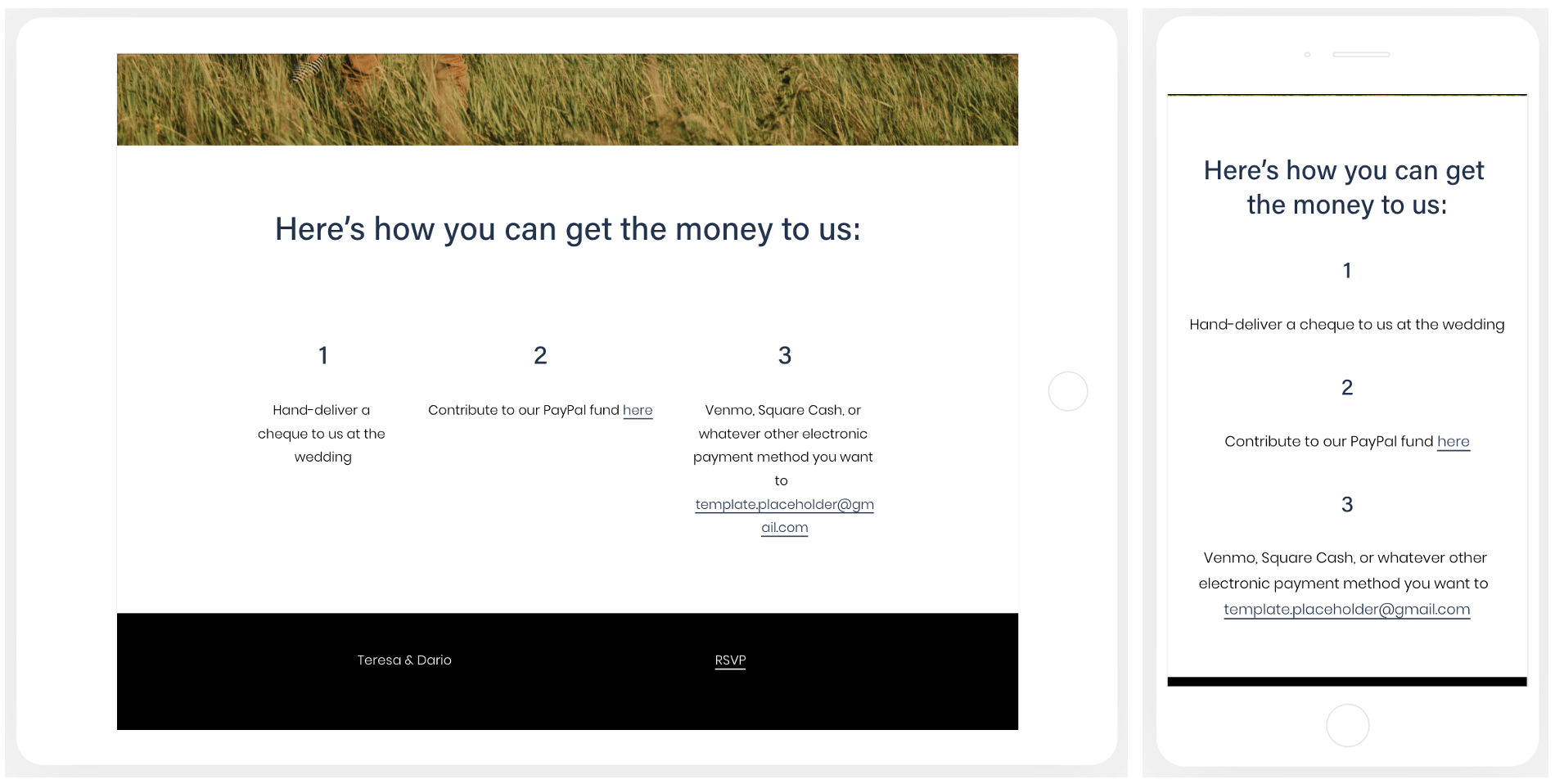 Aubrey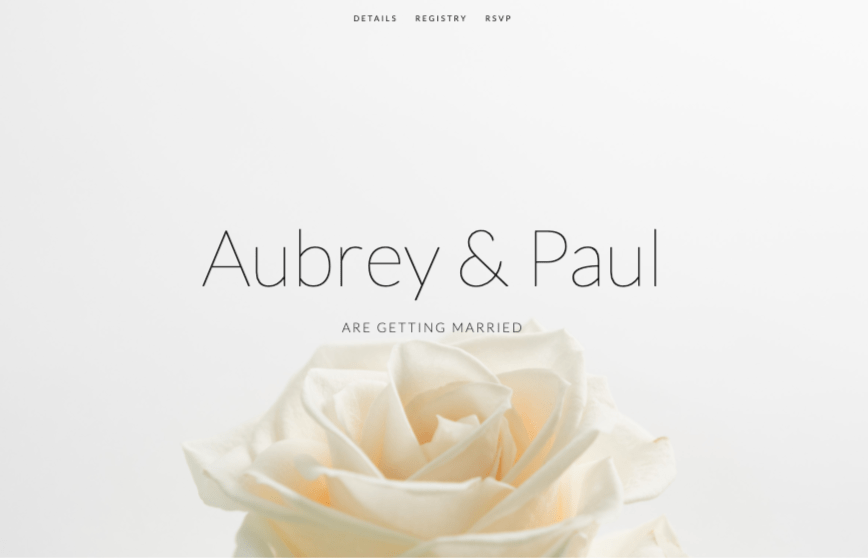 If you long for the days of traditional paper wedding invitations, then this template is for you.
Aubrey
 uses a no-fuss design that still comes off as classy and sentimental. Of course, you don't have to keep the white rose background. You can change the image to whatever you'd like – but if you don't really want to customize it all that much, I won't blame you. The image works. The
Details
 page is set up to look like a classic invitation. You'll find a registry page where you can add clickable logo links to your registries at different stores, and finally, an RSVP form.

This template is elegant and simple.
It would work well if you just want to create a quick and easy website that functions like an invitation, without having to add photos or text about your relationship's backstory.
Sonny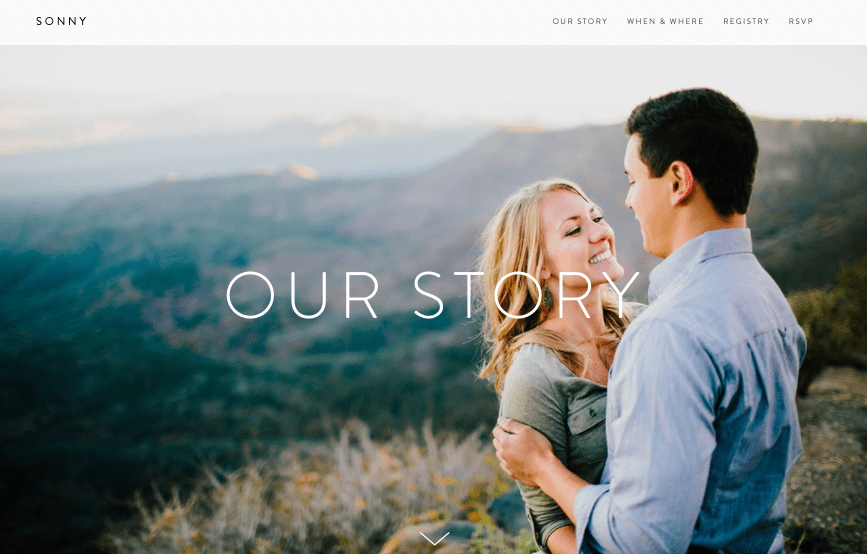 The
Sonny
 template really takes the adage "a picture is worth a thousand words" very seriously.
This template has less text and tons of space to showcase your best photos.
The parallax scrolling feature makes this template look classy. You can really make your photos stand out on this template with its grid-style image gallery. There's also a grid image gallery on the registry page, so guests can see
exactly
 what items you want.

This template isn't very text-heavy, and the only places with text are very straight-to-the-point details about your wedding. You can, of course, add more sections if you'd like, but I think
letting your photos tell your story for you is part of
Sonny
's charm.
Squarespace Wedding Templates You Should Avoid
Like I mentioned earlier,
Squarespace's forte is the way it beautifully displays your images
. To create a wedding website – of all things – without any images seems like a missed opportunity. To me, these templates miss the mark. They're basic, but arguably
too
 basic. They don't really spark any feelings of excitement or sentimentalism, which is hopefully what you
want
 your guests to feel about your upcoming wedding.

We get it: a wedding means white.
But
Morena
 feels like it's beating you over the head with all its empty white space.
In general, I do think these minimalist text-only websites can work for some things, like a personal CV website, for example. However, I wouldn't use it for a wedding. Even the other two pages in this template and the RSVP form are in the same style: black text on a white background. It just seems a little too plain.
And Rey's color scheme seems more appropriate for a baby shower than a wedding.
Aside from the banner image, there are no other sections for photos (unless you add them in as additional content blocks, of course).
Rey
 puts nearly everything on one page: ceremony schedule and location, blurbs about the two of you, a registry with the logos of your chosen stores, and an RSVP button. With enough customizing, these templates can work for your wedding, but
why go through all the effort when you can just start with a different template that looks better from the get-go?
Other Squarespace Templates That Can Work for Your Wedding Website
You don't have to limit yourself to the Wedding category in Squarespace's template catalog.
 If you're willing to put in a little bit of extra time and imagination, you'll find that some other templates can work just as well, if not
better
, than the wedding-specific ones.
These templates have some of the elements any wedding website needs, and you can easily add in the rest yourself.
Wycoff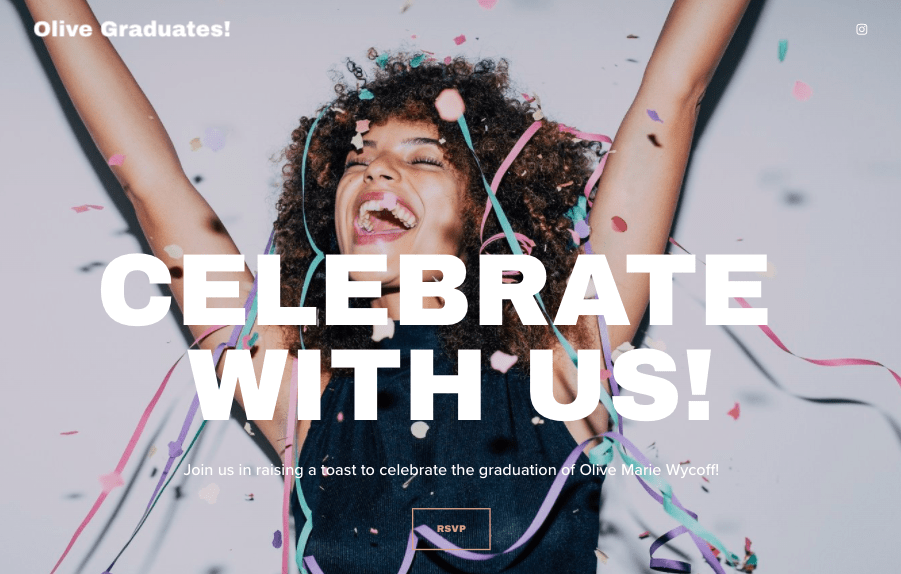 Wycoff
 comes with some of the elements you'll need, like an RSVP form and sections for a few images and text (ideally to provide the location and details about your event).
Since this template is built for events in general, it's missing things like a gift registry or a page for your story – but you can easily customize this template to add extra pages or sections, if you wish.
What I love most about this template is its bold font. For a wedding, it really breaks from tradition with its lack of daintiness or elegance, but maybe that's the kind of celebration you're going for. I can really picture a quirky, hip couple choosing this design. Add your own pictures that evoke the same feelings of joy and excitement, and your guests will be counting down the days to the most fun wedding of the year.
Sonora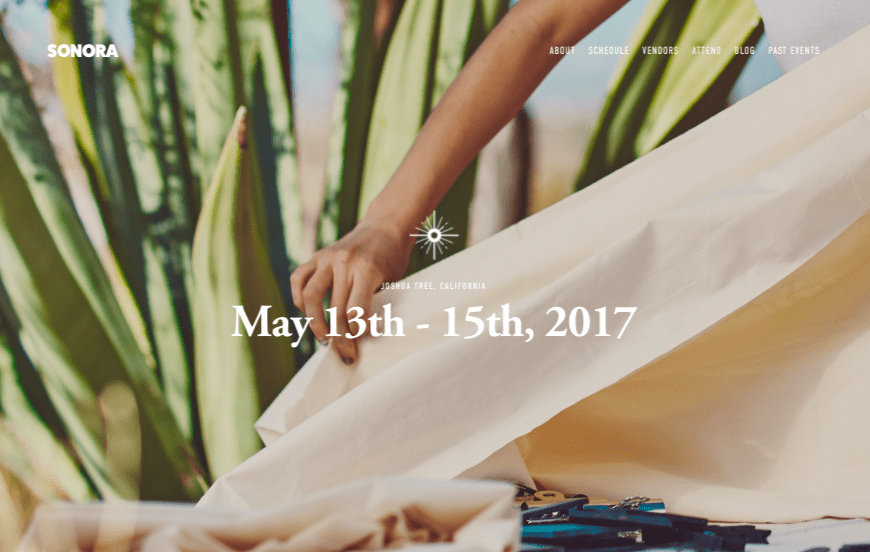 The
Sonora
homepage has a lot of elements you can use, like short text sections where you add ceremony details, a map for your event's location, and a small image gallery. You can delete pages you probably won't need, like the
Blog
 and
Past Events
 pages. The other sections and pages can work well for a wedding with the right tweaks. For example, the
Vendors
 page is a list of icons and descriptions, which can easily be transformed into your gift registry.
Since this template is a little more intricate and has a lot of space for details, I think it would be ideal for destination weddings.
 You can add a schedule of events over a weekend or suggestions for your guests of things to do before or after the wedding celebrations.
Kin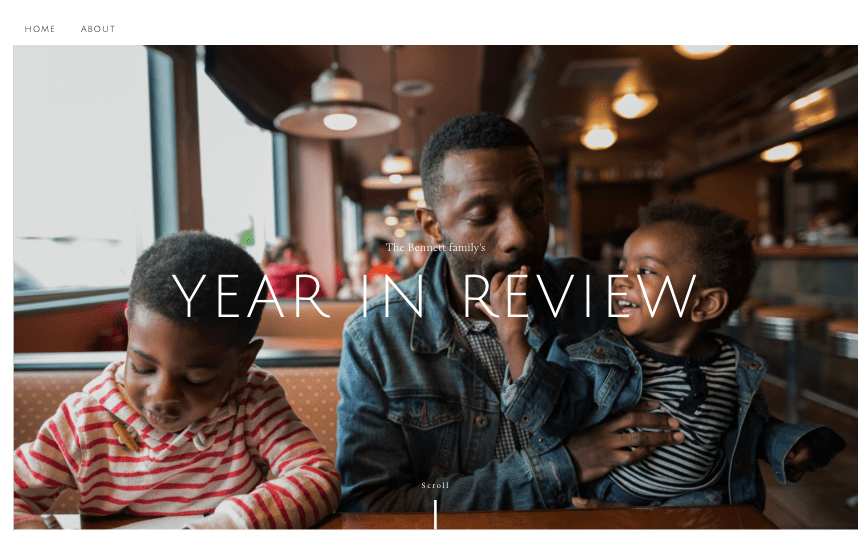 If you
really
 want to get into the story of your relationship over time, then
Kin
 is the ideal template.
 The parallax scrolling here helps turn this website into a beautiful keepsake that you'll still enjoy revisiting even after your wedding. As it is, it's set up to tell your story over a year with a short text snippet and an image from each month. You can narrow this down or change it to show milestones from your relationship, like how you met, your first date, moving in together, your engagement, etc. Since it's not set up for any kind of event, you'll have to add things like an RSVP form, a gift registry, and a separate page for your ceremony details if you don't want it on the homepage.
Wix is a good alternative to Squarespace. In my opinion, these two web builders offer the best variety and most visually appealing templates. So what's the difference? Well,
with Wix you have more room for customization
, and you can
also create a site for free
– something that Squarespace doesn't offer. Just keep in mind that Wix is not mobile responsive, so if you make a lot of personalizations, you may need to spend some time adjusting the mobile or tablet view.
Floral Wedding Invitation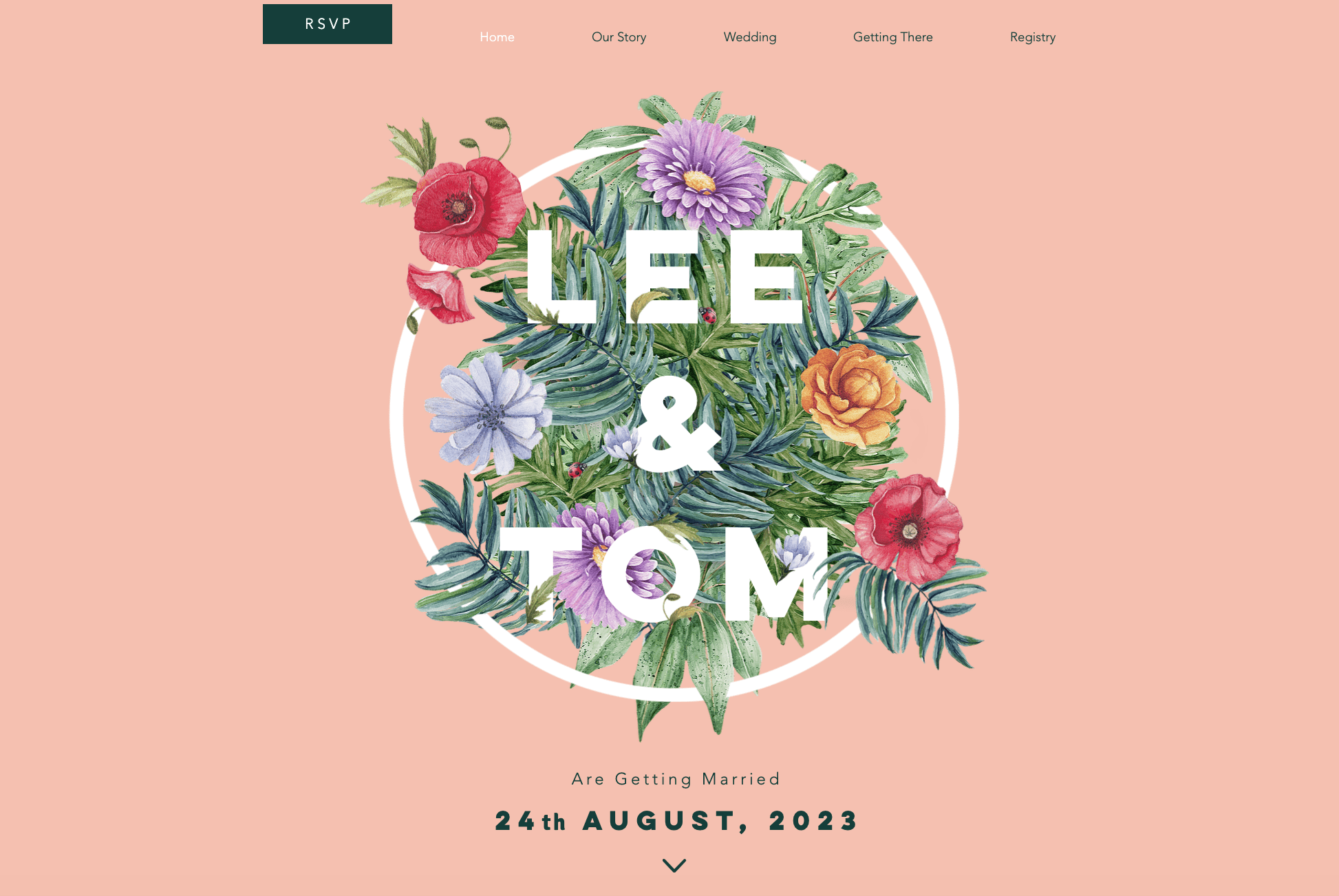 I love the hand-drawn aesthetic of this template. It's pretty and fun without being overly busy or "in your face." Little details keep the template from feeling too boring or minimal. As you scroll down the page, the different sections – Our Story, The Wedding, Registry – are all separated with a different little flower.

Funky Engagement
Here's another one from Wix that I really like. Whereas some wedding templates feel like there's too much reading or scrolling, and you have to spend a lot of time looking for specific information, this one puts all of the important details front and center. If someone wants to, they can navigate further into the site and read about your engagement story or check out your cute photos – but there's no pressure to do so.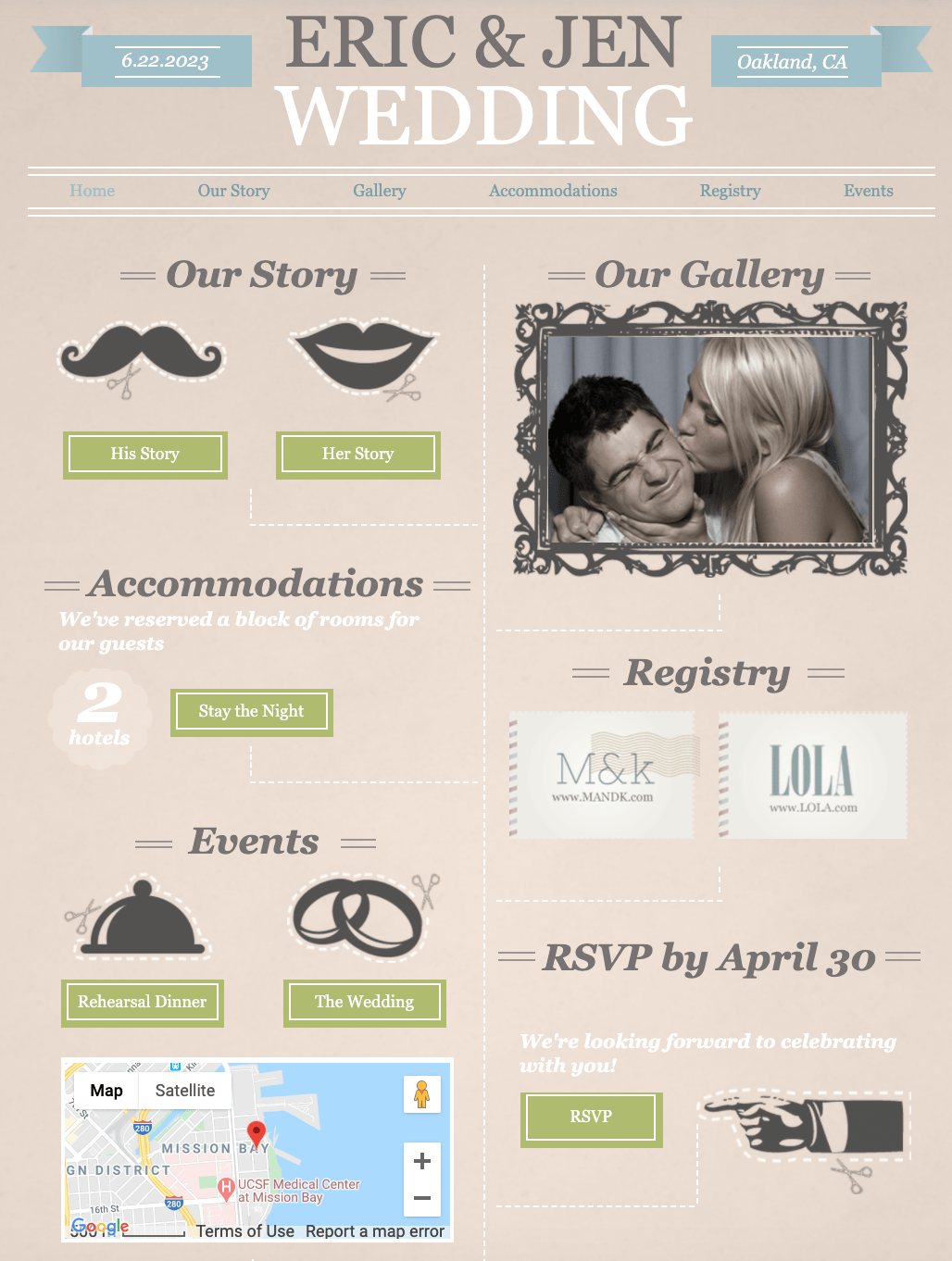 How to Choose the Right Squarespace Template for Your Wedding Site?
It's your wedding, so there's no wrong choice when it comes to templates. Choose anything that appeals to you, but
keep in mind that this website is probably the first impression your guests will have of your wedding. The right one can help set the tone. 
Squarespace offers templates to match every couple and celebration style, whether you prefer a classic, funky, or chic tone. If you decide to alter the direction of your site after initiation, Squarespace facilitates easy customization of templates or seamless transition to an entirely different one. To take things a step further, you can
create a wedding logo (for less than $5)
that you can use both on your website and your printed invitations. This is another opportunity to show off your personality as a couple or give a sense of your wedding theme. When it comes to building a website for your wedding, you can gather inspiration from these templates, or if you need more ideas, browse online to see what other couples have done or ask your wedding party for their input. (That's what they're there for anyway, right?)
FAQ
How much does a Squarespace wedding website cost?
Unfortunately, Squarespace doesn't offer a free version, but that doesn't mean that you'll necessarily need to spend a lot of money designing your wedding website. There is a free 14-day trial available, so you can test drive the web builder before you commit. And to keep your costs as low as possible, make sure that you check out the latest Squarespace coupons we have on offer. If you are particularly price sensitive, you should also check out our article on the best totally free site builders for wedding announcements.
Which free wedding website builder is the best?
If Squarespace's low costs are still a bit more than you'd like to spend on your wedding website, you have plenty of free options to choose from – take a look at our list of the best free website builders for weddings. The right one for you will depend on the design and functionality that you're looking for. Wix has some gorgeous templates and integrated event management. Or, if you're looking for something really simple, SITE123 is incredibly intuitive, and allows you to build your site in multiple languages.
How long does it take to set up a wedding website?
This is where choosing a web builder that has an excellent template selection is really important, which is an area where both Squarespace and Wix really excel. If all you need to do is insert your wedding details – and maybe a photograph or two – you can have your wedding website up and running in less than half an hour. Check out our top website builders for the most intuitive functionality.