I've scoured through its entire library, and found a few templates that actually work very well for this niche.
The right template should look good (obviously), but it should also make your site easy to navigate, help you share what's unique about your services or products, and let clients book appointments online with just a few clicks. With this in mind,
I've put together eight stunning templates that will make your website pop
, whether you're running a fitness center, counseling service, or traditional medical practice. But I've also come across a couple of uninspired templates you might want to avoid. Let's take a look!
Squarespace Templates That Work for Health and Wellness Websites
There are dozens of Squarespace templates you can use to design your health and wellness website. You'll find some of the best ones in the Local Business, Professional Services, and Health and Beauty categories.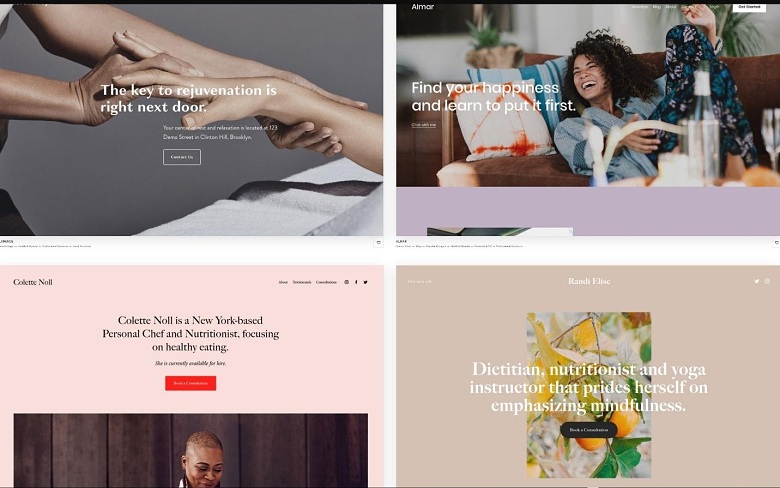 All these templates come with
important content sections your site needs
, plus special features you can add, like promotional pop-ups, as well as email and phone links so clients can get in touch. It's also super easy to add
Squarespace's scheduling and e-commerce tools
to any of its existing templates.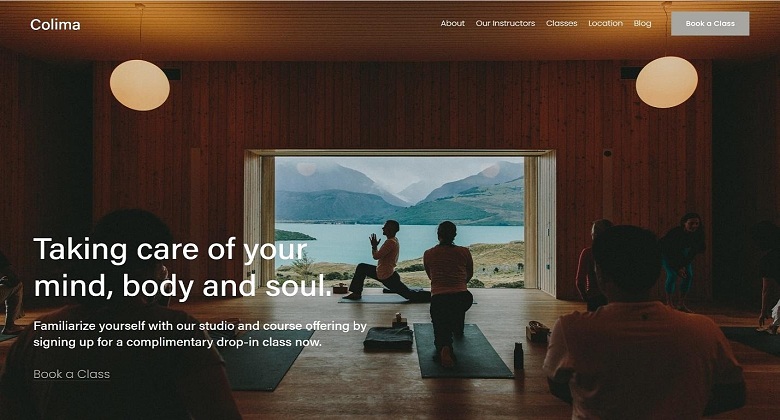 Colima
's visual impact comes from the
beautiful, full-width homepage image
, which is why this template is my top pick for wellness tourism and yoga studios. You'll likely use a different background image for your site (Squarespace offers an extensive gallery!), but you can keep the focus on the mind-body-spirit connection. This will give website visitors a taste of the life-changing experience you offer through your class or retreat. That said,
Colima
isn't just about visuals. It's also
packed with essential features
, including sections to showcase your instructors, share your class schedule, and post updates to a gallery-style blog.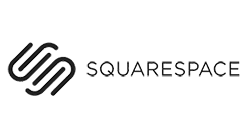 Save up to 30 % on your Squarespace plan today!
Plus get a free domain for one year!
1031 users used this coupon!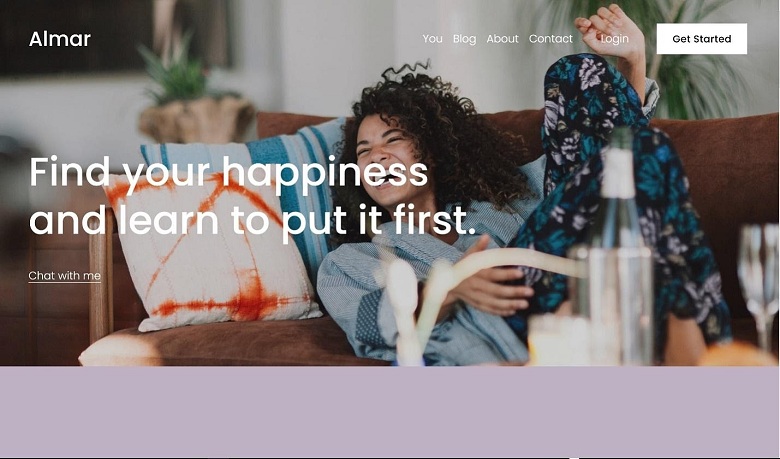 If you're looking for a template for your life coaching business,
Almar
is a great option. Its breezy, colorful design creates an inviting, relaxed atmosphere, and its client-focused copy provides a great starting point for communicating your unique offering and driving engagement. The attractive section pages continue the homepage theme with bright splashes of color and
motivational messaging
. I like the way all the important information, including social media icons, is accessible from the top navigation bar or the footer, both of which are pinned to every page. Plus,
Almar
makes ample space for those oh-so-important client testimonials.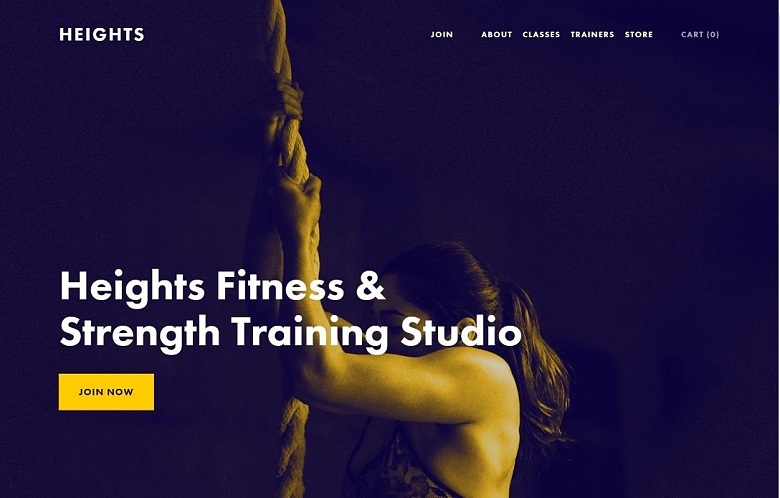 Heights
(a Squarespace 7.0 template) appeals to clients who are passionate about
high-impact exercise and athletics
. Personally, I love its visual impact. But that deep-blue background, bold white header, and close-up of athletic prowess do much more. They also
draw visitors in with a message about the rewards to be had
if they commit to a membership, class, or one-on-one training session. All the section pages – About, Classes, Trainers, and Store – are tied together by the bold font and yellow accent color. To make it your own, all you have to do is upload images of your staff, facilities, and class schedule.
Heights
even
comes with a store page
that you can customize to share details about classes or sell fitness merchandise.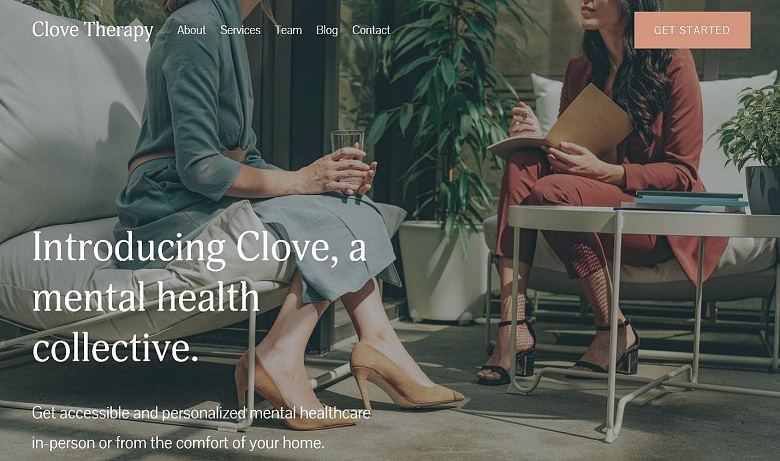 Clove
's soothing, natural color palette – greens, blues, and rust – sets the right tone for a mental healthcare practice with a commitment to cultivating relationships built on mutual trust. This template has all the essential features –
therapist profiles, services, a patient portal, and an insurance form
– that a clinical mental health practice needs. And I'm a big fan of the homepage layout, which has stacked sections that link to each important page.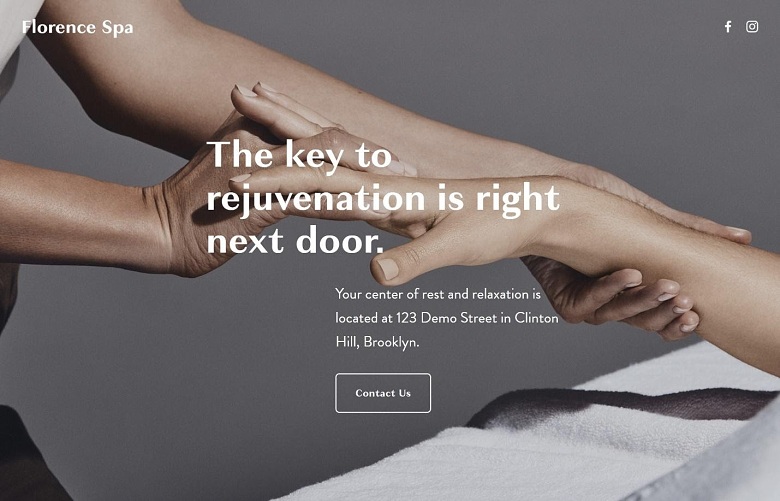 Florence
is a fully-responsive template and my top pick if you're looking to launch a
new spa, massage center, or other wellness business
. The close-up, full bleed image in the header does a lot of work, however, so you'll need something similar to maintain the same kind of visual impact. This one-page template is
ideal for getting the word out about a new business
. But if your business is more established, you can easily add a gallery page to draw visitors in with photos of your beautiful facilities, or dedicated pages for
services and pricing, appointment booking, and customer testimonials
.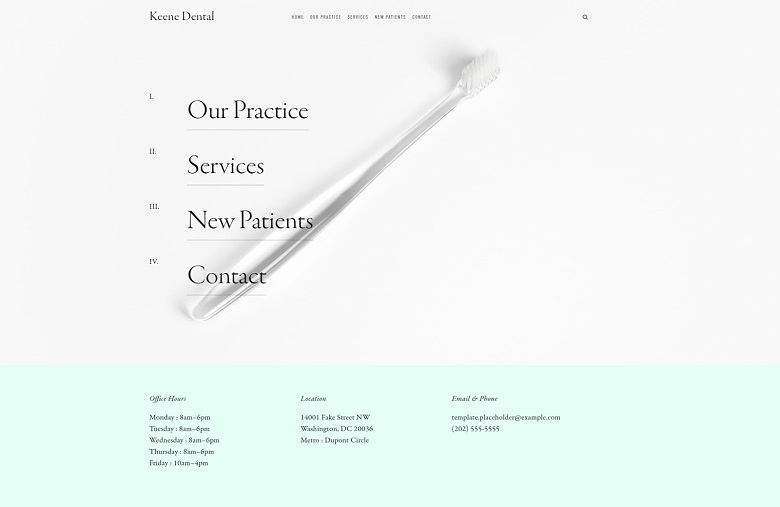 Keene
's clean, professional design makes it ideal for healthcare practitioners, and it gets straight to the point by putting all the important info at the top of the homepage. You can find it among the version 7.0 templates. When visitors land on your site, they'll
see large text links to essential pages
such as care provider bios, services and detailed FAQs, a new patient portal, and a contact form. I also like how every page has a soft green navigation bar and footer for your location and contact information.
There's even a search icon on the top right corner of the homepage.
Health & Wellness Templates That Didn't Make the Cut

Lakshi
may have the features you need for a fitness template, but it lacks the visual punch of other designs and seems uninspired by comparison. Plus, some pages (like the blog) look great on mobile but display poorly on desktop. Another template that just seems to lack that special flair is
idrah
. For one, I'm not crazy about the split homepage. But for me,
idrah
's biggest flaw is that it doesn't seem to have an overarching theme that ties all the pages together.
Other Squarespace Templates for a Health & Wellness Website That Gets Results
While diving into the Squarespace catalog I found some terrific templates that, while not built specifically for health, wellness, or fitness websites, would work really well for this niche with just a few small changes.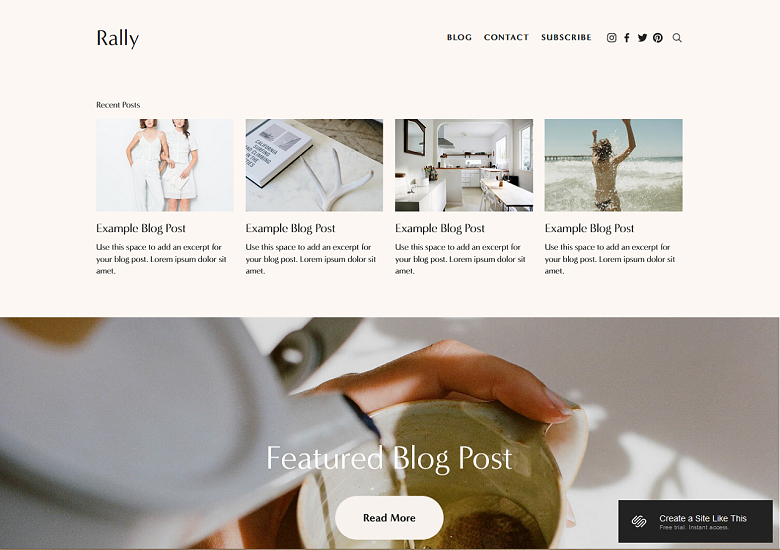 Rally
is designed for blogging, but it would be a great fit for a nutritionist or dietician website. The subtle parallax scrolling effect adds design interest, and its
long, scrolling homepage
lets you interweave text about healthy eating and beautiful banner photographs to create a visually appealing website. It's easy to customize
Rally
by
adding pages for your services and fees
, although I'd keep the harmonious color palette. I also love this template's
search functionality
, which lets visitors browse for different wellness topics, healthy recipes, or dietary tips.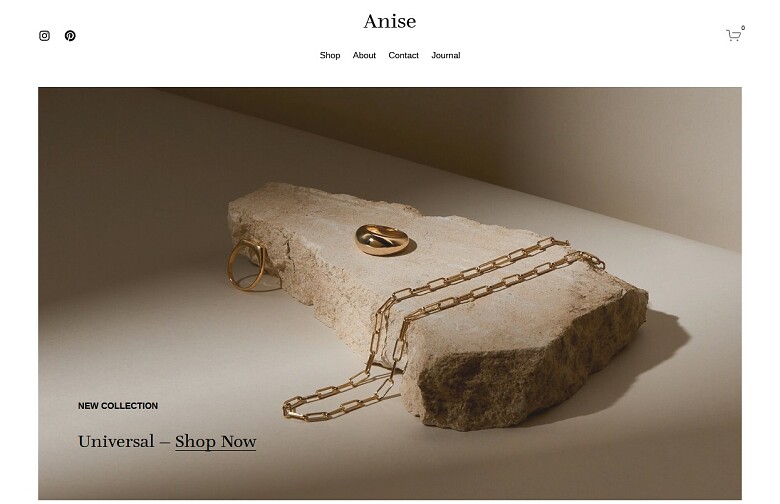 I found
Anise
in the fashion category, but this elegant e-commerce template is tailor-made for a business that wants to showcase its
high-end wellness products
. Everything about this template communicates luxury, from the default color palette to the various page layouts. The
gallery-style store page
lets you artfully display your individual product lines. And other built-in pages let you share the
inspiration behind your products and the history of your wellness brand
.
Choose the Right Squarespace Template for Your Health and Wellness Business
Choosing a template can be tough, but
consider the message you want to communicate
when visitors hit your homepage. While a life coach might focus on nurturing and motivation, a physician should emphasize qualifications and competence. Every health and wellness professional, however, needs a website that makes it easy to manage their schedule, receive payments for products and services, and allow clients to book online appointments. The templates on my list not only look fabulous, but they also have the
tools and features you'll need
to expertly run your business.
FAQ
Do I need a website for my business?
Absolutely. A well-designed website is the best way to connect with prospective customers, especially in the highly competitive wellness field. Whether you're a gym owner, life coach, massage therapist, or even a doctor, having a strong online presence helps potential clients understand what's unique about your services and how they'll benefit from working with you. There are lots of website builders that can help you get your business online quickly and easily, but not all of them will have the features you need. To see our top picks, check out our list of the 10 best website builders in 2023.
Can I sell products on Squarespace?
Yes. You'll need to have a Business plan or above, but you can add a store page to any Squarespace template (and many templates come with one built-in). You'll have to connect a payment processor, like Paypal, Stripe, or Square, but that's easily done. For more info about Squarespace's e-commerce capabilities, read our full Squarespace review.
How much does Squarespace cost?
While Squarespace doesn't offer a free plan, it makes building and managing your own website both easy and affordable. Plus, there's a free 14-day trial – no credit card required. If you want to get started for less money, be sure to check out our latest coupons to get the best deal.
Which is better, Squarespace or Wix?
Both Squarespace and Wix have lots of great-looking templates that you can easily customize to reflect your brand. Wix has 60 templates in the Health and Wellness categories, as well as some great options in the Sports & Fitness category. Squarespace's best templates for health and wellness are spread across various categories like Health, Beauty, and Local Business. They're all modern, stylish, and fully responsive, which means you never have to worry about how your site looks on mobile. To see more about how Squarespace and Wix stack up against each other, read our full comparison.