I've put together eight stunning templates that will make your website pop
, whether you're running a fitness center, counseling service, or traditional medical practice. All templates include essential content sections and optional features, like pop-ups and contact links. It's also super easy to add Squarespace's scheduling and e-commerce tools to any of its existing templates.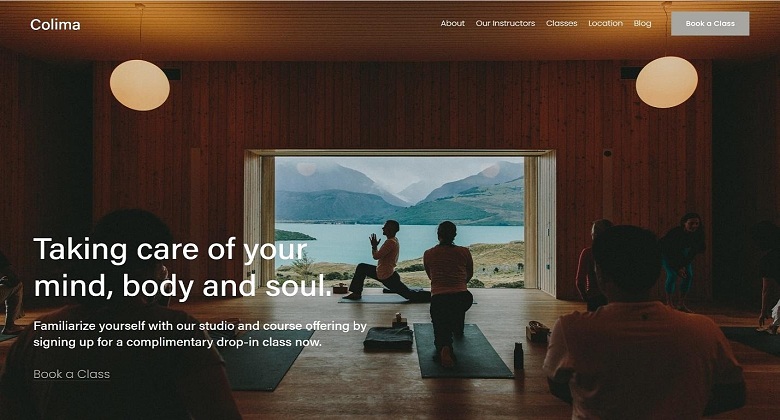 Colima
's visual impact comes from the
beautiful, full-width homepage image
, which is why this template is my top pick for wellness tourism and yoga studios. You'll likely use a different background image for your site (Squarespace offers an extensive gallery!), but you can keep the focus on the mind-body-spirit connection. This will give website visitors a taste of the life-changing experience you offer through your class or retreat. That said,
Colima
isn't just about visuals. It's also
packed with essential features
, including sections to showcase your instructors, share your class schedule, and post updates to a gallery-style blog.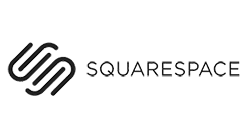 Save up to 30 % on your Squarespace plan today!
Plus get a free domain for one year!
1031 users used this coupon!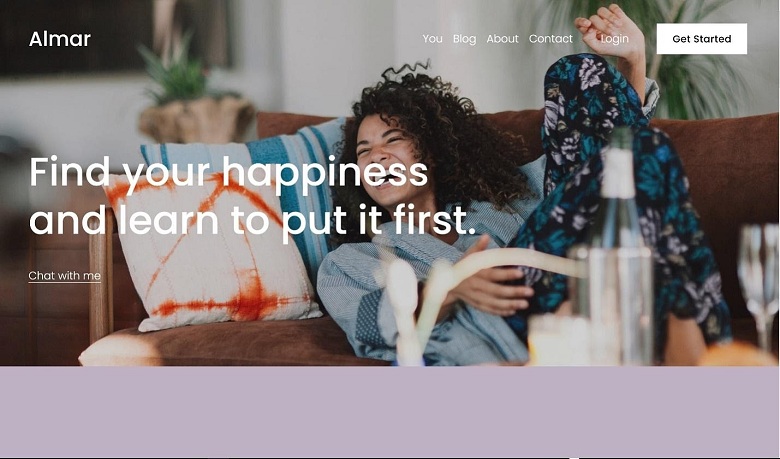 If you're looking for a template for your life coaching business,
Almar
is a great option. Its breezy, colorful design creates an inviting, relaxed atmosphere, and its client-focused copy provides a great starting point for communicating your unique offering and driving engagement. The attractive section pages continue the homepage theme with bright splashes of color and
motivational messaging
. I like the way all the important information, including social media icons, is accessible from the top navigation bar or the footer, both of which are pinned to every page. Plus,
Almar
makes ample space for those oh-so-important client testimonials.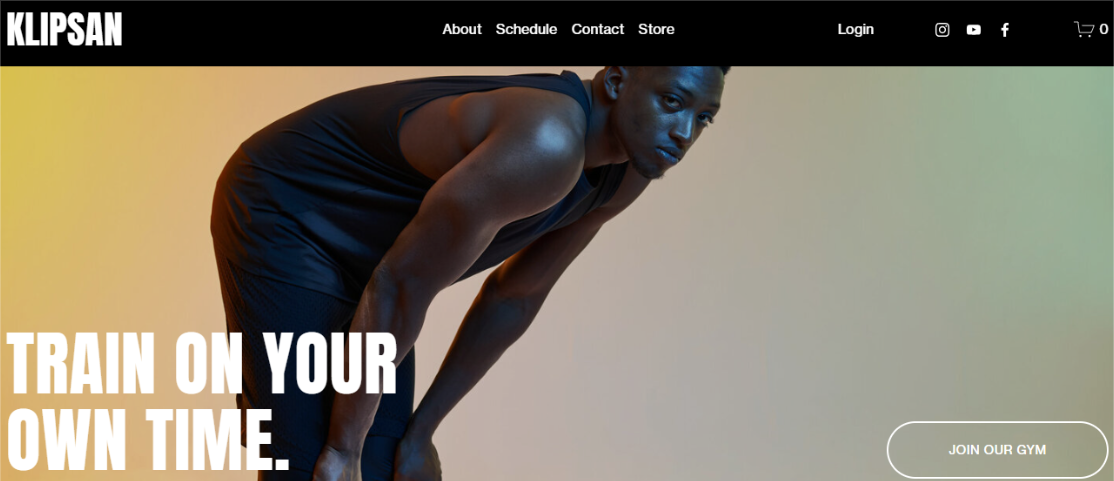 Klipsan
appeals to clients who are passionate about high-impact exercise and athletics.
I love its visual effect, with a black-and-white contrast of the background and font, as well as a close-up of athletic prowess
. The interface looks super clean, and the "join our gym" CTA is well-placed in the bottom right corner. You can easily customize the section pages – About, Schedule, Contact, and Store – by uploading images of your staff, facilities, and class schedule.
Klipsan
even
has a store page
that you can customize to share details about classes or sell fitness merchandise.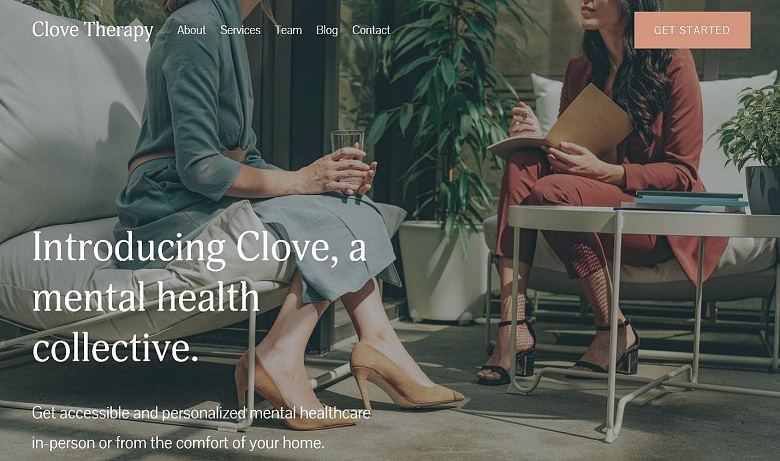 Clove
's soothing, natural color palette – greens, blues, and rust – sets the right tone for a mental healthcare practice with a commitment to cultivating relationships built on mutual trust. This template has all the essential features –
therapist profiles, services, a patient portal, and an insurance form
– that a clinical mental health practice needs. And I'm a big fan of the homepage layout, which has stacked sections that link to each important page.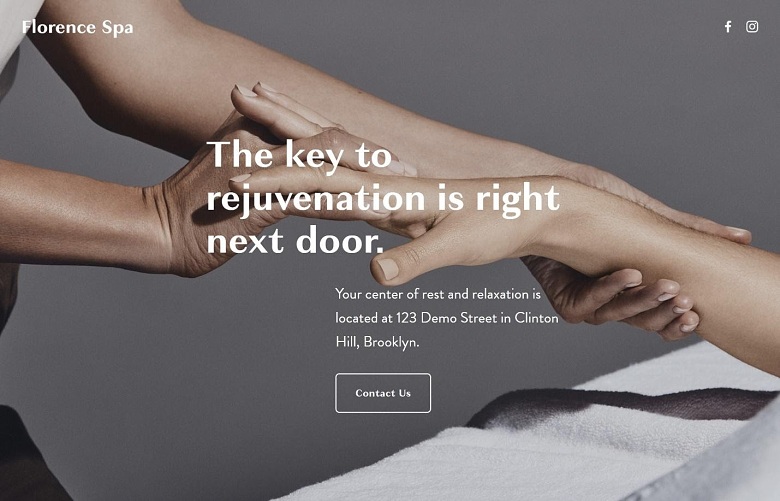 Florence
is a fully responsive template and my top pick if you want to
launch a
new spa, massage center, or other wellness business
. The close-up, full-bleed image in the header is effective, so you'll need something similar to maintain the same kind of visual impact. This one-page template is
ideal for getting the word out about a new business
. But if your business is more established, you can easily add a gallery page to draw visitors in with photos of your beautiful facilities or dedicated pages for
services and pricing, appointment booking, and customer testimonials
.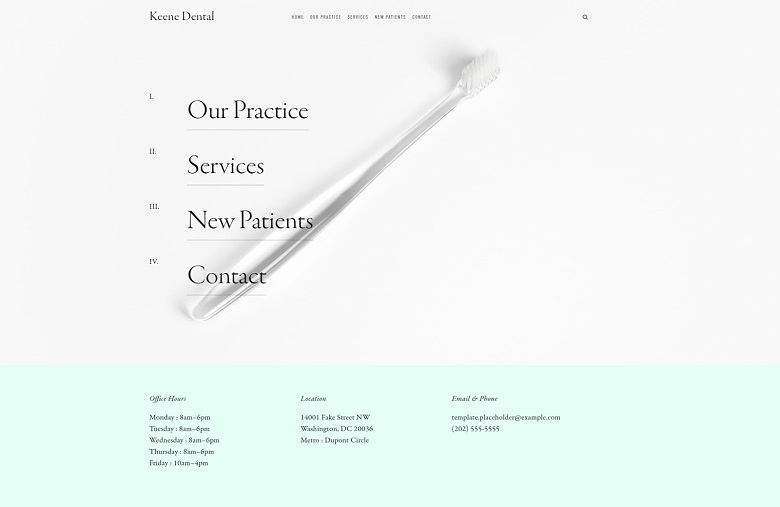 Keene
's clean, professional design makes it ideal for healthcare practitioners, and it gets straight to the point by putting all the important info at the top of the homepage. You can find it among the version 7.0 templates. When visitors land on your site, they'll
see large text links to essential pages
such as care provider bios, services and detailed FAQs, a new patient portal, and a contact form. I also like how every page has a soft green navigation bar and footer for your location and contact information.
There's even a search icon on the top right corner of the homepage.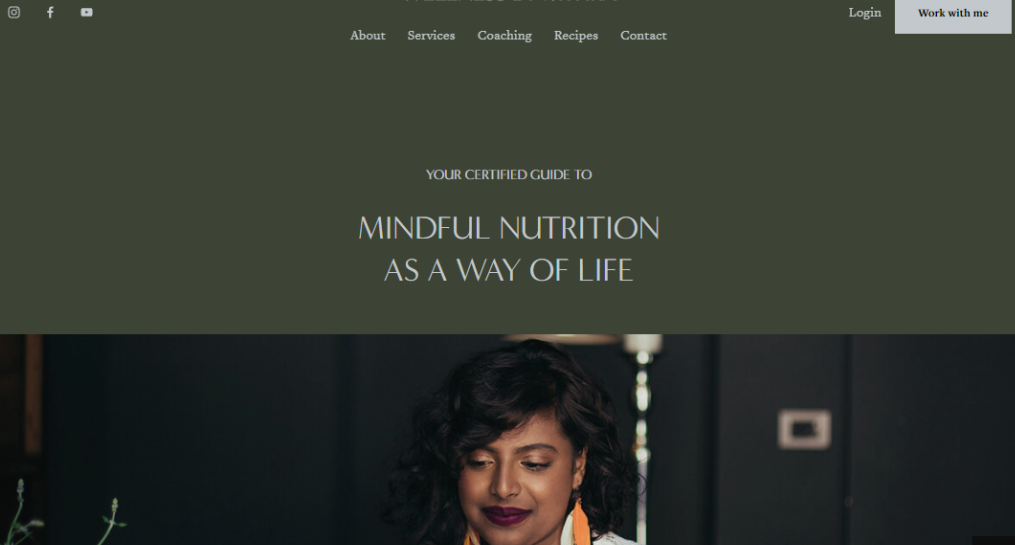 You'll find
Myhra
in the Health & Beauty category, and this template would be an excellent fit for a nutritionist or dietician website. Its
long, scrolling homepage
lets you interweave text about healthy eating and beautiful banner photographs to create a visually appealing website. The final touch is
the signup form
at the end of the homepage, which will help you keep your clients in the loop. You can easily add pages for your services and fees while maintaining a harmonious color palette.
Another standout feature of this template is the blog section
, which you can use to share seasonal recipes and meal plans. Squarespace lets you categorize your posts so readers can quickly find what they want.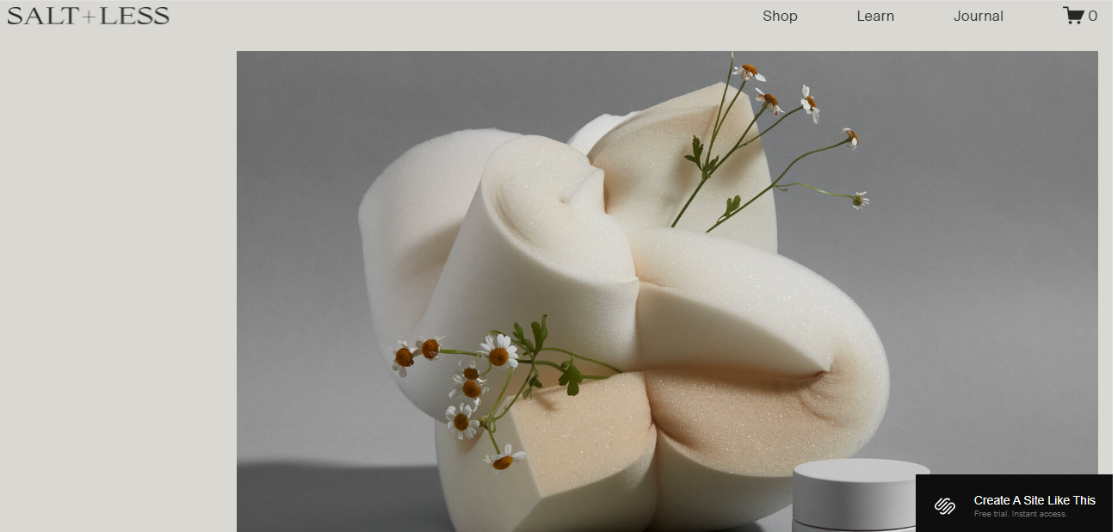 Saltless
is another standout from the Health & Beauty category. This elegant e-commerce template is tailor-made for a business that wants to showcase its high-end wellness products. Everything about this template communicates luxury, from the default color palette to the various page layouts. The
gallery-style store page
lets you artfully display your individual product lines. And other built-in pages let you share the
inspiration behind your products and the history of your wellness brand
.
Didn't Find What You Were Looking For? Check Out These Templates From Our Favorite Site Builders
If you're still undecided about which template to choose for your health and wellness website, here are a few more picks from Wix, SITE123, and Webador that might have what you need.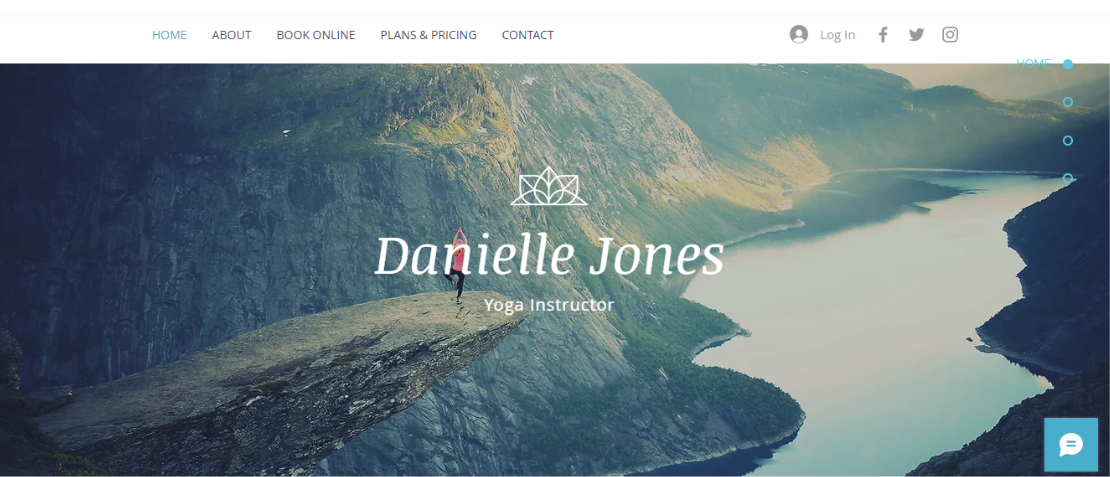 Wix has separate categories for health and wellness, so there are dozens of designs to choose from.
Danielle Jones
(from the Wellness category) immediately draws you in with its
full-screen header image
and a simple, pretty logo. I also love the
unobtrusive yet appealing menu design
with jump links that take you to the different sections of the homepage. Another great thing about this template is its
built-in communication features
. It includes a booking tool, a customizable contact form, and a live chat app. These tools make it easy for prospective clients to contact you and inquire about your services or schedule an appointment.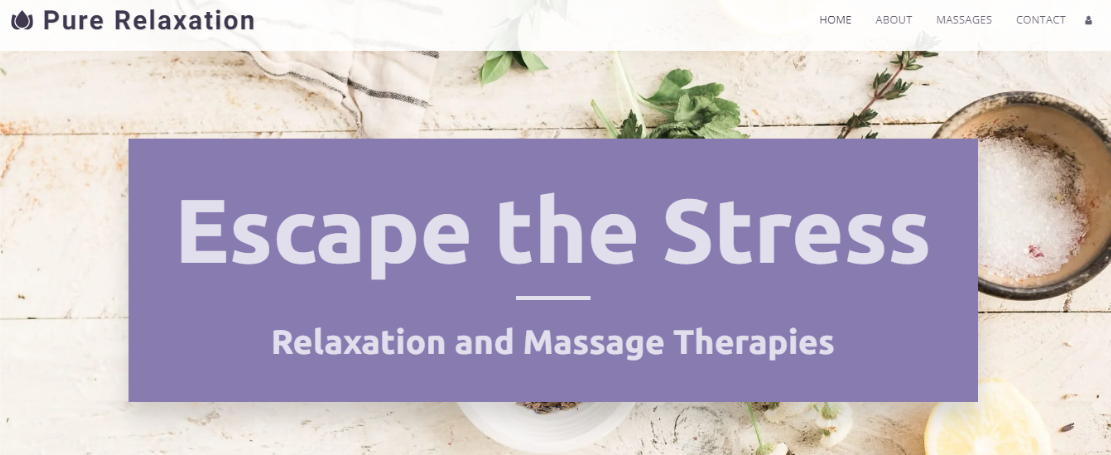 SITE123 doesn't have a special category for health and wellness. Still, you can find designs that would be a great fit in the Business category. This template is for massage therapists, with
a serene color palette and rounded, neat font
contributing to the relaxing feel. That said, you can customize this design to match your wellness business needs by adding your own services and pricing. Also,
if you have a physical location, this template comes with a preinstalled digital map
so visitors can easily find you.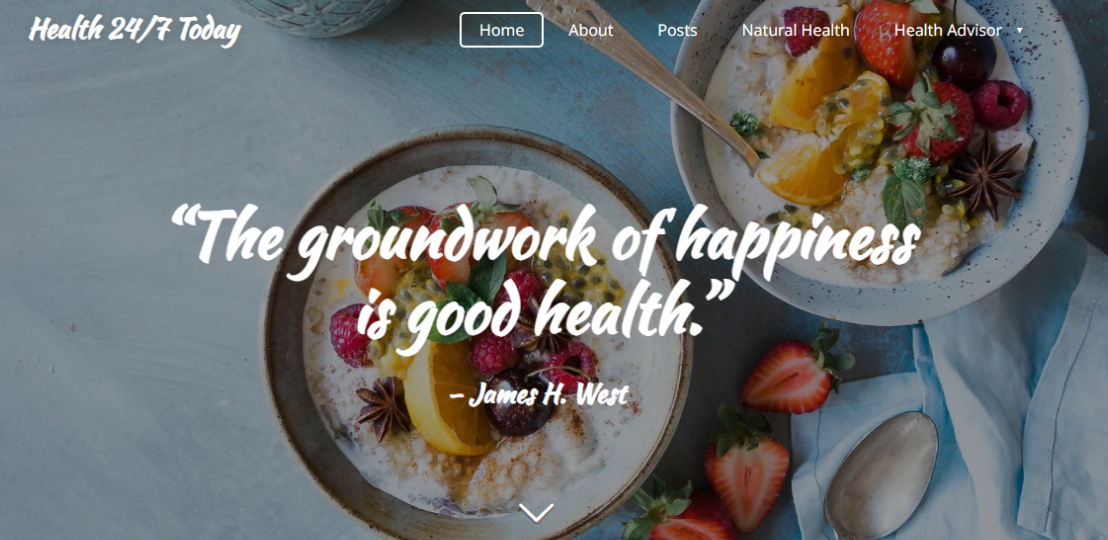 Webador has a few health-oriented templates, and this one works particularly well for a team of health professionals. There's
a dedicated page for showcasing your team members
, which you can customize by adding your own photos, bios, and contact links. I like the font's playfulness
and the favicon design
– it's a good way to keep your style consistent and make your wellness brand more memorable. Also, the blogging section can help increase your online presence, as readers can share your posts about healthy living on social media.
Here Are the Best Squarespace Templates for Health and Wellness Businesses
Choosing a template can be tough, but
consider the message you want to communicate
when visitors hit your homepage. While a life coach might focus on nurturing and motivation, a physician should emphasize qualifications and competence.
All health and wellness experts, regardless, require a website that simplifies their schedule management, enables them to accept payments for goods and services, and lets clients schedule appointments online.
The templates on my list look fabulous and have the
tools and features you'll need to
 run your business like a real pro.
FAQ
Do I need a website for my business?
Absolutely. A well-designed website is the best way to connect with prospective customers, especially in the highly competitive wellness field. Whether you're a gym owner, life coach, massage therapist, or even a doctor, having a strong online presence helps potential clients understand what's unique about your services and how they'll benefit from working with you.
Can I sell products on Squarespace?
Yes. You'll need a Business plan or above, but you can add a store page to any Squarespace template (and many templates come with one built-in). You'll also have to connect a payment processor, like Paypal, Stripe, or Square, but that's easily done.
What is the most versatile template on Squarespace?
Many Squarespace templates include features such as a blog section, a contact page, and a store page. This built-in versatility lets you customize the designs to fit your needs. When choosing a Squarespace template, it's best to focus on its core design and aesthetic – you can easily incorporate additional functionality if needed.
What is the best Squarespace template for SEO?
All Squarespace templates are designed with SEO best practices in mind, such as clean URLs, mobile optimization, and SSL certificates. If you want to improve your rankings, building on these elements with high-quality content and appropriate keyword optimization is essential. If you need help with SEO and other aspects of website creation, check out our step-by-step guide to building a website in 2023.