might not even be in the restaurant category
).
It's important to consider what you want out of your restaurant website
 before you select a template, so you can find one with the elements and features you need. Start by looking for a  template with a built-in menu section and plenty of space for photos of your most popular dishes. You'll also want to make sure the template you select makes your contact and location information easy to find.
I've tested out Squarespace's restaurant templates to bring to you my recommendations for the best ones available.
 I've also made sure to mention the templates you should stay away from, as well as the ones you may be tempted to overlook but have the potential to work well for your restaurant website.
Squarespace Restaurant Website Templates That Make Me Hungry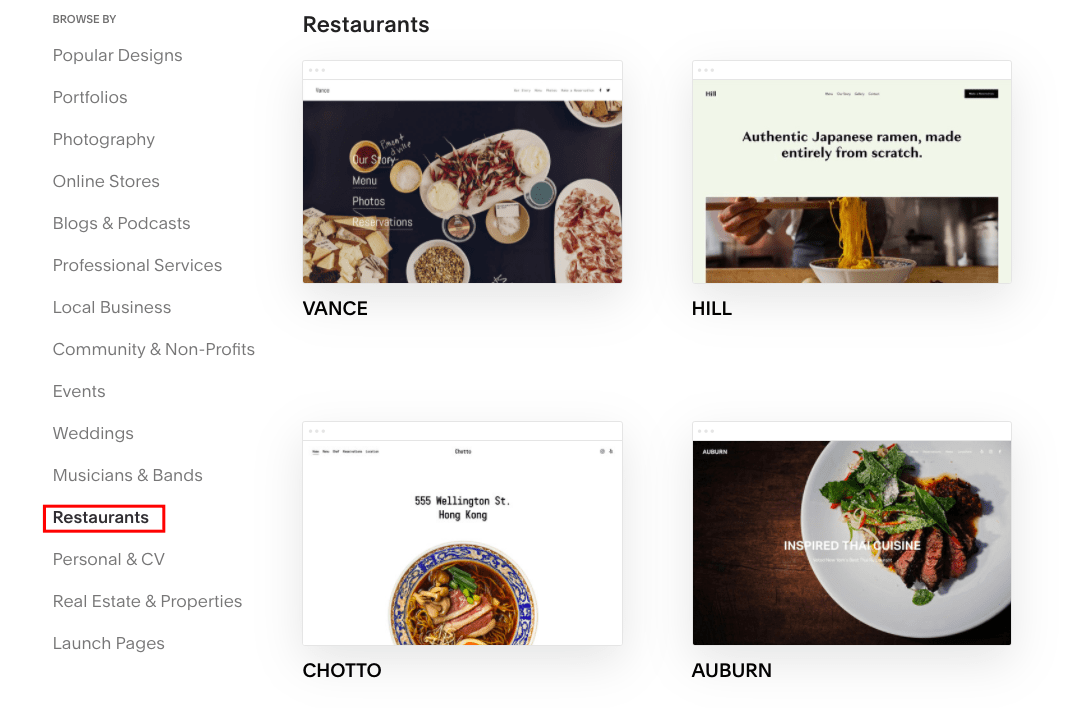 Nearly
all of the templates in Squarespace's restaurant category
 will give you most of the features you'll need for your restaurant website.
Still, some templates are better than others since they're ready-to-go from the start and won't require you to make any major changes.
What's great about Squarespace templates is that they are all mobile-responsive, so you'll never have to worry that your site might not look good on different devices. Another plus is that you can use the easy drag-and-drop editor to make your own adjustments and customizations. (Want to learn more about what Squarespace can do for you?
Read our expert review
.) Here are my top picks for the best restaurant templates you'll find on Squarespace.
Auburn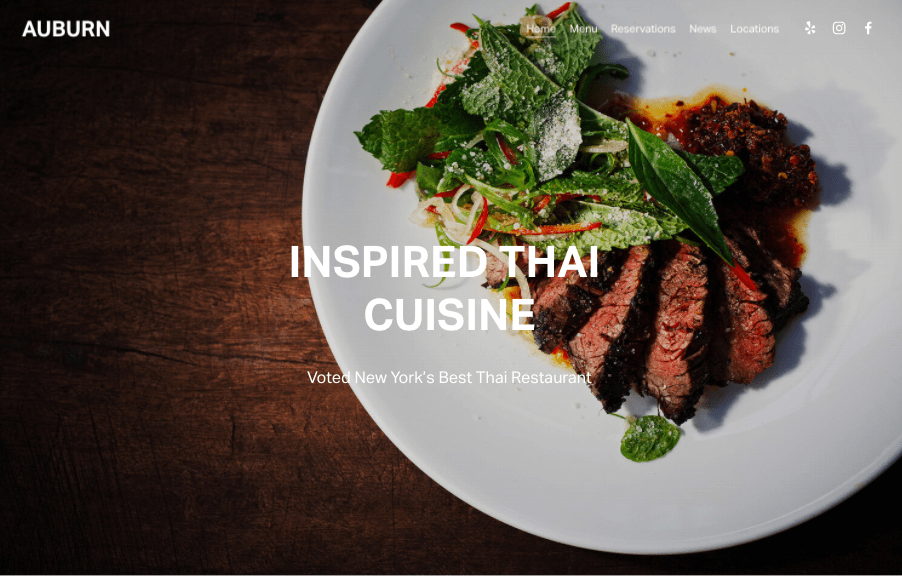 Auburn
uses a full-screen banner image, so you can use your most photogenic dish as the face of your restaurant website.
I like that the
Auburn
template has all the trimmings any restaurant website needs, and more.
 You'll find a menu page, a reservations page, and a section for your restaurant's address. Social media buttons are included, so your site visitors can easily find your social media channels and your reviews on important sites like Yelp. In addition,
Auburn
has a News page, which you can use as a blog to publish stories or updates about your restaurant, the chefs, or upcoming special events.
I also like that the footer at the bottom of every page of your site includes your location, hours, and contact information.
Juniper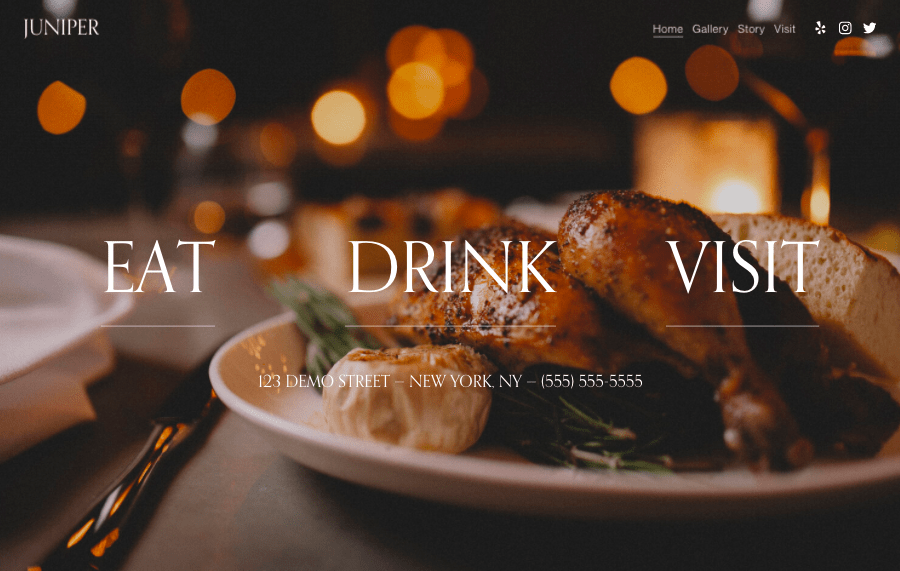 A lot of the features and design elements I like about
Auburn
are also available in
Juniper
. This includes the footer with location and contact details, social links, and the full-screen hero image on the homepage. That being said,
Juniper
is a little more minimalistic
than
Auburn
. The homepage has distinct text links to pages where site visitors can see different menus or make reservations. The existing links are for food and drink menus, but you can easily modify them to fit your needs, such as "Lunch" and "Dinner," for example.
On the menu pages, you can further divide your menus into categories, like entrees and desserts, and even subcategories, like garden, sea, and land.
 There's plenty of space to add images of your dishes to the menu as well. The "Story" page lets you add some background information about your restaurant or your chef and has space for staff names and links to online reviews or mentions of your restaurant in the media.
Atlantic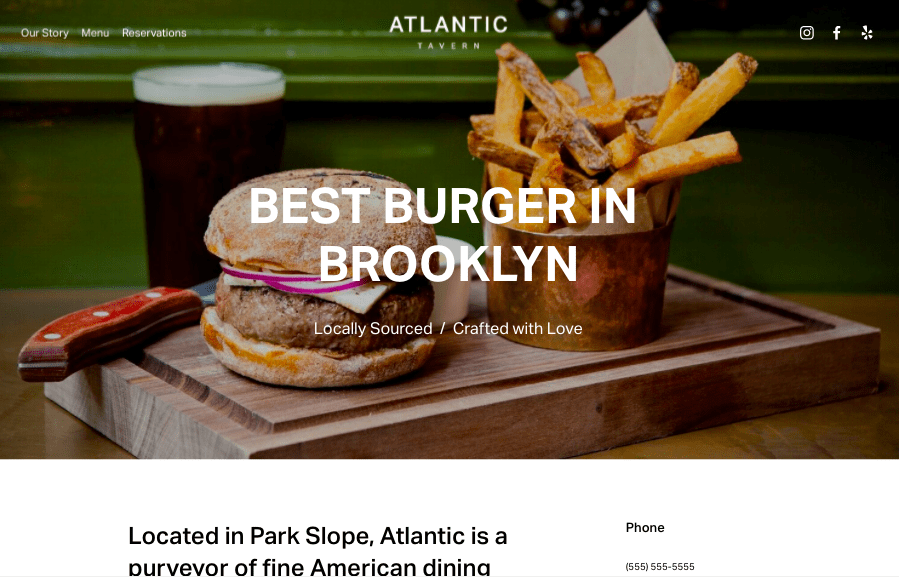 Atlantic
is a simple yet well-designed template that puts almost everything on one page.
Like the other templates I've recommended,
Atlantic
has a full-screen hero image, but what follows is a space to fill in information about your restaurant, a section for your hours of operation, contact details, and location, a slideshow gallery, and multiple menu blocks. You also get dedicated pages for your story, your menu, and online reservations. You can use these pages to provide additional details about your restaurant and your team, or show a longer list of menu items.
The
Atlantic
template is ideal if you want to create a simple one-page website.
Palmer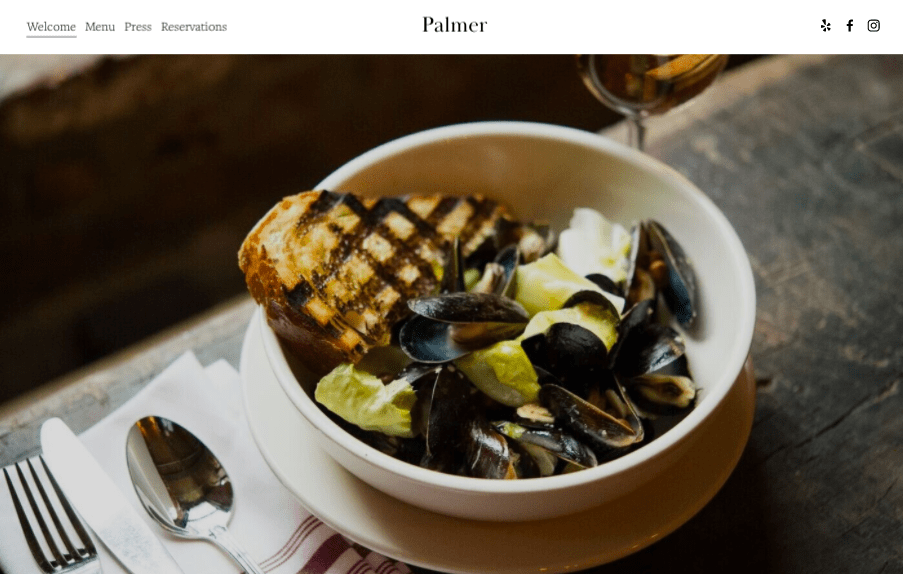 Palmer
comes with more space for images, so if you have a lot of photos of your restaurant or your food, then this template may work well for you.
Unlike the other templates I recommended,
Palmer
has no overlay of text or links on the full-screen image, so your delicious food can speak for itself. This gives your website a more clean-cut look, making
Palmer
ideal for high-end restaurants. Scroll further down the homepage, and you'll find a section for select menu items and a button that takes you to the full menu page. What
Palmer
 has that the other templates don't is a stunning grid-style gallery for you to add enticing images of your restaurant's best dishes.
Another thing that makes this template unique is the section for testimonials
, where you can add quotes from your patrons or from professional reviewers. There's also a map to pinpoint your exact location and a dedicated "Press" page where you can display excerpts from magazines, newspapers, or online reviews.
Pine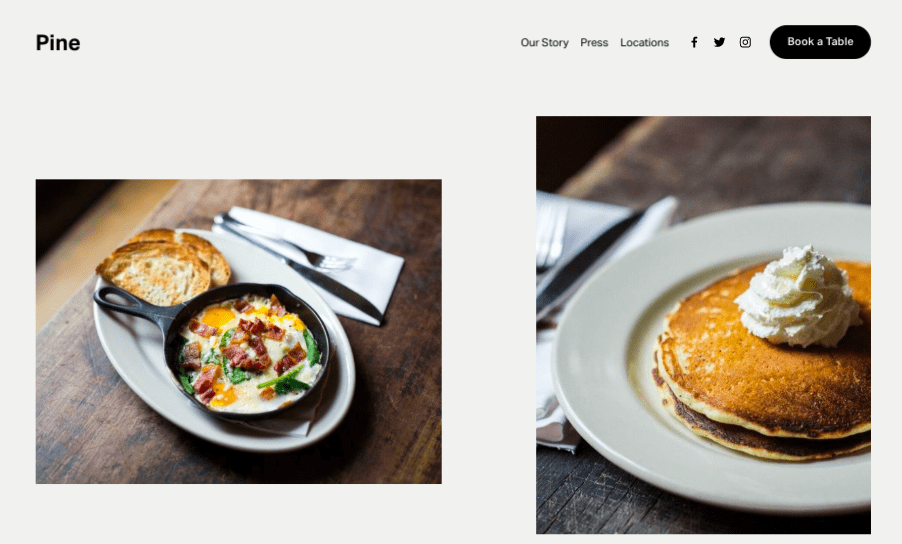 Pine
 includes many of the same elements and features as the
Palmer
 template, but presents them in a more casual design. Instead of a full-screen image, there's space for two photos, and you can, of course, add more if you'd like.
The menu section on the homepage displays your entire menu with clickable categories
, such as breakfast, lunch, dinner, and drinks, so you can show all your offerings on a single page.
Pine
also has sections for reviews or testimonials, as well as a "Press" page. Instead of the map at the bottom of the homepage, there's a separate "Locations" page for it, which even allows you to show multiple maps if you have branches in different locations.
Pine
 is more understated than the other templates on this list and in my opinion, it would be better suited for a casual or family-style restaurant.
Squarespace Restaurant Templates That Might Make You Sick
Ok, that's probably a bit extreme. You can also find the next two templates in the restaurant category on Squarespace, but I don't recommend using them. Whether for the poor design choices, the amount of work you'll have to do to make them a good fit for your restaurant, the lack of essential features, or a combination of all of these factors,
the following templates just don't measure up to the others in their category.
Chotto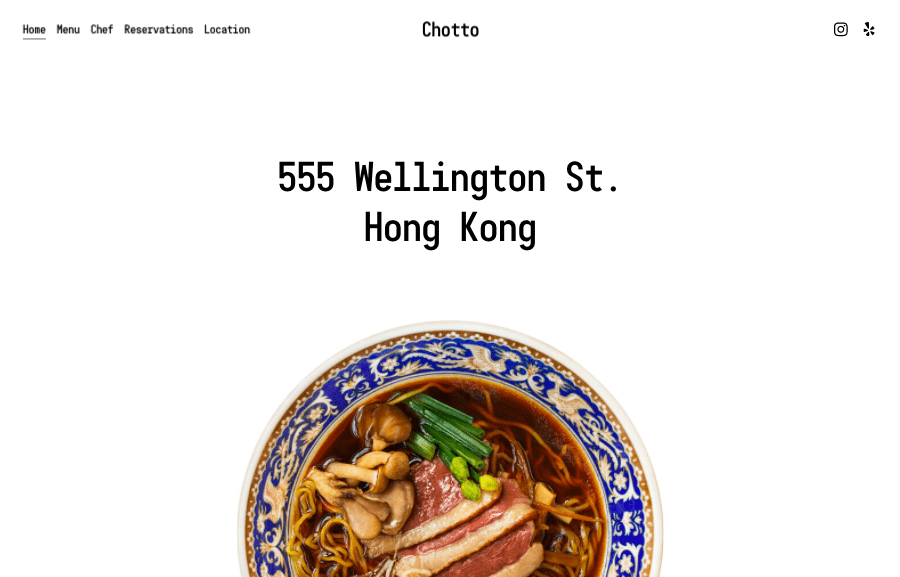 The only thing I like about
Chotto
is the bowl photo used as the sample image. This look, however, can be achieved with any template – all you need is the right image with a transparent background.
The choice of font in this template seems more fitting for a video game than a restaurant website
, and all the blank space feels wasted when you could be using it to draw customers in with photos of your most popular dishes or your welcoming dining room.
Chotto
might be useable if you change the template's default font, fill up some of the blank space on the homepage, and add a few images to the menu page, but
why go through the hassle when there are templates that already have these features built in?
Blend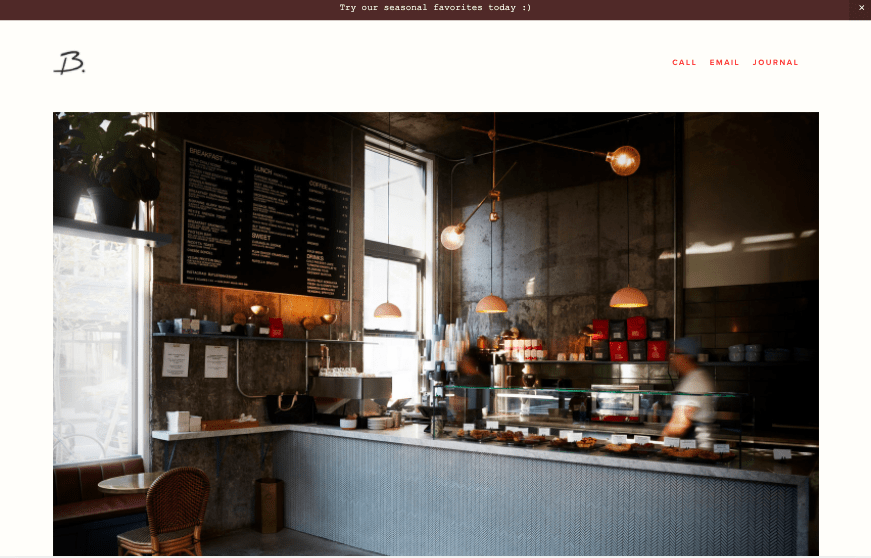 You'll find
Blend
in Squarespace's catalog of templates from earlier versions of the builder, and you'll also find that it suffers from some of the same questionable stylistic choices as
Chotto
.
The selection of different fonts in varying colors here is strange and off-putting.
 The main font is too small to read on a big screen, which is even more problematic for customers viewing your website on a mobile device. There are multiple blocks put together on the homepage, and they don't work together harmoniously. For example, after the main image, there's a very narrow and unnoticeable section for your opening hours, followed by a couple of images in varying sizes, and then a section for details about your restaurant where the text isn't aligned in any sensible way. There's a banner where you can add promotions. The one here says "try our seasonal favorites today," but it's not clickable, so what's the point?
Blend's
 biggest offense is that it has no reservation page or buttons.
 There is a contact form, as well as a place to add your phone number and email address, but that's not enough if you want to run a restaurant efficiently.
Other Squarespace Templates to Chew On
You can use a Squarespace template from any category for your restaurant site, but the ones designed specifically for restaurants are easier to get started with since they already include useful features like the online reservation tool.
That being said, if you're willing to do a little tweaking, then there are some other templates you should consider using.
Suffolk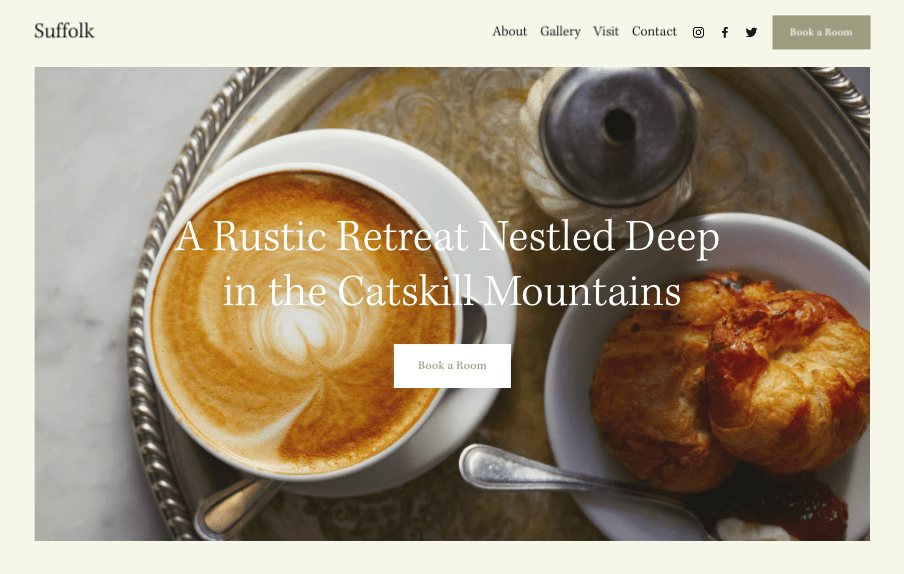 Suffolk is in the Local Businesses template category. At first glance, it looks like it is a food-centered template, but it's more geared toward bed-and-breakfast types of businesses.
There are a lot of elements here that you'll also find in Squarespace's restaurant templates,
 like a page for your location and business hours that also includes a map, a gallery to show off images of your menu items, and social links. Currently, the template is set up with a contact form that's meant for booking rooms, but Squarespace's contact forms are easy to modify so you can make it more restaurant-friendly (or delete it altogether and add the OpenTable block to your site).
Suffolk
requires a few small changes to make it suitable for restaurants
, but you can still start your website relatively quickly with this template.
Troutman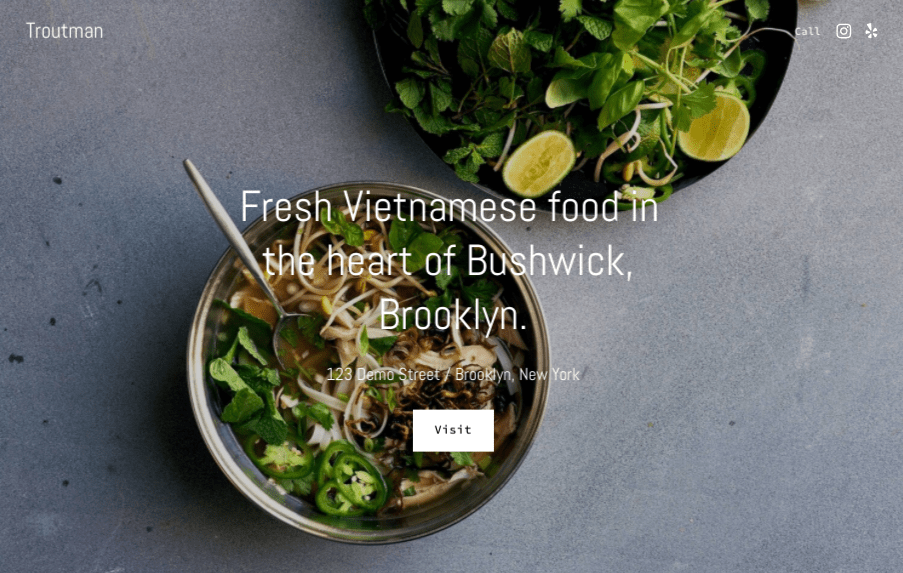 Within its template catalog, Squarespace offers a section titled "Launch Pages." These templates are designed for landing pages rather than full websites.
I'd recommend using the
Troutman
launch page if you have a pop-up restaurant, a special event to promote, or a non-traditional restaurant where your menu changes daily.
Troutman
doesn't come with space for a lot of extra detail, but it does include your most important information. The
Visit
 button goes to Google Maps, so clients can easily find their way to your restaurant. If they're viewing the site on mobile, the
Call
button on the menu makes it easy to phone you with a single click. The social links will bring your visitors to your social media channels, where they can interact with your brand, "like" your photos, and share their favorite menu items.
Troutman
is just an example of a launch page, but there are a few others you can use that have the same functions with different designs (such as
Tantillo, Hemlock, and Maqueda
).
Take Out the Right Template (or Dine In)
A customer's experience with your restaurant will often begin on your website.
 It's where they first browse your menu, explore photos of your best dishes, and hopefully, make a reservation.
The template you choose has an impact on the image you present to your clients, so this isn't a decision that should be made in an instant.
 Consider your restaurant website's specific needs, take note of the features on restaurant websites you admire, and select a template that provides everything you need to start building your website.
FAQ
Is Squarespace good for restaurants?
Squarespace has an amazing selection of restaurant-themed templates that are suitable for all types of catering businesses, from bars and cocktail parlors to health-conscious restaurants and beverage sales. You can modify your site by adding content blocks such as food menus, appointment scheduling forms, contact forms, and calendars. You can also add third-party online ordering systems and online reservation systems, such as Chow Now and Open Table. To read more about what Squarespace has to offer, check out our expert review.
Does Squarespace have free templates?
If you have a Squarespace account, you can pick any template you want from Squarespace's selection of over 60 designs and change it as much as you like, without having to pay anything. However, if you want a customized template built for you, you'll need to pay extra. Squarespace doesn't have a free plan (there is a free trial), but you can still cut down on cost for annual plans with a Squarespace discount or coupon.
Can you change templates in Squarespace?
If you change your mind about the template you initially picked, you can switch to a different template without losing the existing content, but only if you use the version 7.0 of Squarespace. Version 7.1 doesn't allow template switching, but you can still make radical changes to your template's design and entirely change the look of your website if you want, as all Squarespace templates are fully customizable. To compare your options, check out our list of the best website builders in 2023.
Which is better, Wix or Squarespace?
Squarespace is a great web building option, not just for restaurant owners, but for anyone who wants to create a beautiful and professional-looking website. Wix is another popular building option with over 500 templates and intuitive interface that makes the site building process fast and hassle-free. What's particularly appealing about Wix in terms of building a restaurant site is its Wix Restaurants feature, which allows you to create a menu on your site, take online orders and reservations, and receive payments. To make a better comparison, check out our expert review of Wix and our expert review of Squarespace.