Need a quick solution? While all the builders on my list will get the job done, my personal favorite is Squarespace. It has the best-looking templates around, and all the tools you could possibly need to build your website, integrated straight into its editor (so you don't have to look for them elsewhere).
You can take advantage of Squarespace's 30% discount on annual plans to save on your subscription.
You already know how important it is for your website to cater to a mobile audience. Now, you just have to find out which website builders allow you to create the best mobile experience. The only problem is, most of these builders seem to offer the same thing!
Many of them claim to automatically translate your website to mobile devices. But how can you be sure that your mobile website will display correctly? And will it both look attractive and, more importantly, function smoothly as well?
To know how good, or bad, a website builder's mobile-responsiveness features are, you need to test out the builder yourself. Does it let you preview your website on mobile before it goes live? Can you make changes to your mobile website to provide a more tailored experience?
And even if you knew all of this, there would still be numerous other things to consider, such as the website builder's ease of use, features, pricing, and more.
Fortunately for you, we've done most of the work and reviewed dozens of website builders to bring you these top five builders that will help you accommodate a growing mobile audience.
You can also use our responsiveness checker for an unbiased benchmark of whatever builder you're considering.
What We Look For in the Best Builders for Responsive Websites
Mobile responsiveness. All builders will automatically generate some kind of mobile version of your website for you, translating the desktop version to a smaller screen.
Preview. The website builder has to at least provide a preview of what your website will look like on mobile — you don't want to have to be constantly checking changes on your phone.
Mobile app or user interface. The best website builders let you manage your website or account from your own mobile device, so you can easily make changes on the go.
Wix – A Powerful Mobile Phone Editor
Wix is undoubtedly one of the first names that comes to mind when talking about website builders. It's known for its drag-and-drop builder as well as the massive library of templates and apps you can choose from.
Always innovating in the face of changing tech trends, Wix has massively improved its mobile website building capabilities. In the past, you had to create a different mobile website. But now, you can easily switch between the mobile and desktop views of your website.
Features
Mobile editor. Wix's mobile editor allows you to make changes to the mobile version of your website, and you'll get a live preview of what it looks like.
900+ free templates. Wix provides a massive library of over 900 free, mobile-responsive templates that cover almost every niche.
Wix ADI. Wix's Artificial Design Intelligence creates and designs a website for you with simplified editors for both desktop and mobile.
Mobile preview. The Wix Editor allows you to switch between mobile and desktop previews and edit the mobile view live.
My Mobile App. This freemium plugin will turn your website into a mobile app that can be downloaded and installed from the Google Play Store or Apple App store.
Pros
Changes to your mobile website don't apply to your desktop website. This will save you from time-consuming mistakes and having to do lots of reworking.
Wix has one of the largest collections of apps in its App Market, with powerful integrations that can add mobile-specific features as well as e-commerce functionality, blogs, and more.
Wix has a very unique feature that allows you to add a "call" button which will dial the relevant number when the user taps it and is a great tool to drive conversions and get potential customers to connect.
The My Mobile App plugin will allow you to take another big slice of the mobile market that no other builder on this list can: those who prefer to access online services through apps.
Wix has one of the most in-depth mobile editors, with fantastic features such as "quick action bars," menu customization, and more: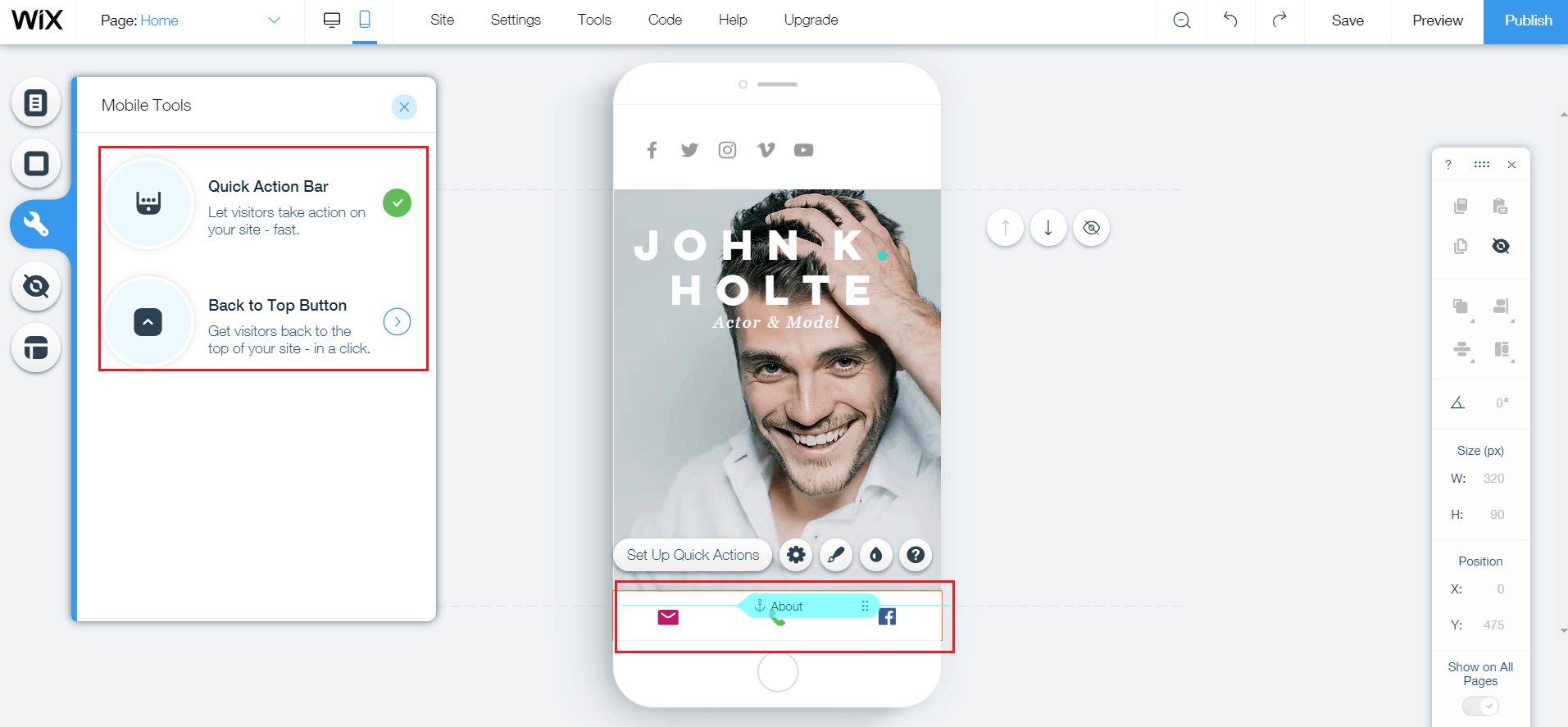 Cons
One thing that affects every Wix user is that you can never change a website's template. If you want another template, you'll need to create a new website from scratch.
Although it's commendable that Wix offers a mobile app in the first place, it doesn't include a mobile website builder.
Wix offers no tablet view.
Use Wix If…
You're an individual or small business who wants good control over your website's design (both desktop and mobile) without having to code.
You want the ability to choose from a huge range of plugins and apps to add advanced functionality to your website.
You have the time and will to sink into the Wix Editor in order to get comfortable using it to extensively customize your website in terms of design and features.
GoDaddy –  A Foolproof Platform
GoDaddy has been one of the most recognizable names in the domain registration and hosting industry for a long time. However, the platform hasn't always had the best track record for mobile-friendly websites. This was one of the main reasons behind the recent overhaul of its GoCentral website builder.
GoDaddy GoCentral is one of the easiest and most intuitive website builders, and its makers have successfully translated this experience to mobile as well.
Features
Mobile website builder. Unlike many other website builders, GoDaddy allows you to build your website on your mobile device with a specialized interface.
Mobile responsiveness. GoDaddy will automatically translate any changes you make to your desktop website to your mobile website.
Mobile preview. GoDaddy provides a desktop and mobile preview when you use the GoCentral builder to build your website.
16,000+ templates. All GoDaddy's templates are free.
Pros
The limited control GoDaddy provides over your mobile website might seem like a con; however, mobile websites can be tricky to get right, and GoDaddy eliminates almost all chances of you messing up your website with its own excellent responsiveness.
GoDaddy's handy "category" search tool allows you to quickly filter through the platform's massive library of mobile-responsive templates and hone in on the one that perfectly suits your needs.
GoDaddy is generally one of the easiest builders to use and provides beginner-friendly wizards to do things like optimize search engine visibility, create a store, and more.
Although GoDaddy doesn't provide a mobile app, the website builder's mobile interface is brilliant, letting you can easily and comfortably build your website on the go.
GoDaddy's feature that integrates your website with your business' Facebook page (or automatically creates one for you), will help you connect both with mobile users that prefer using their browsers and social media apps
Cons
GoDaddy doesn't allow you to directly edit the mobile version of your website; instead, it translates all your desktop changes to mobile.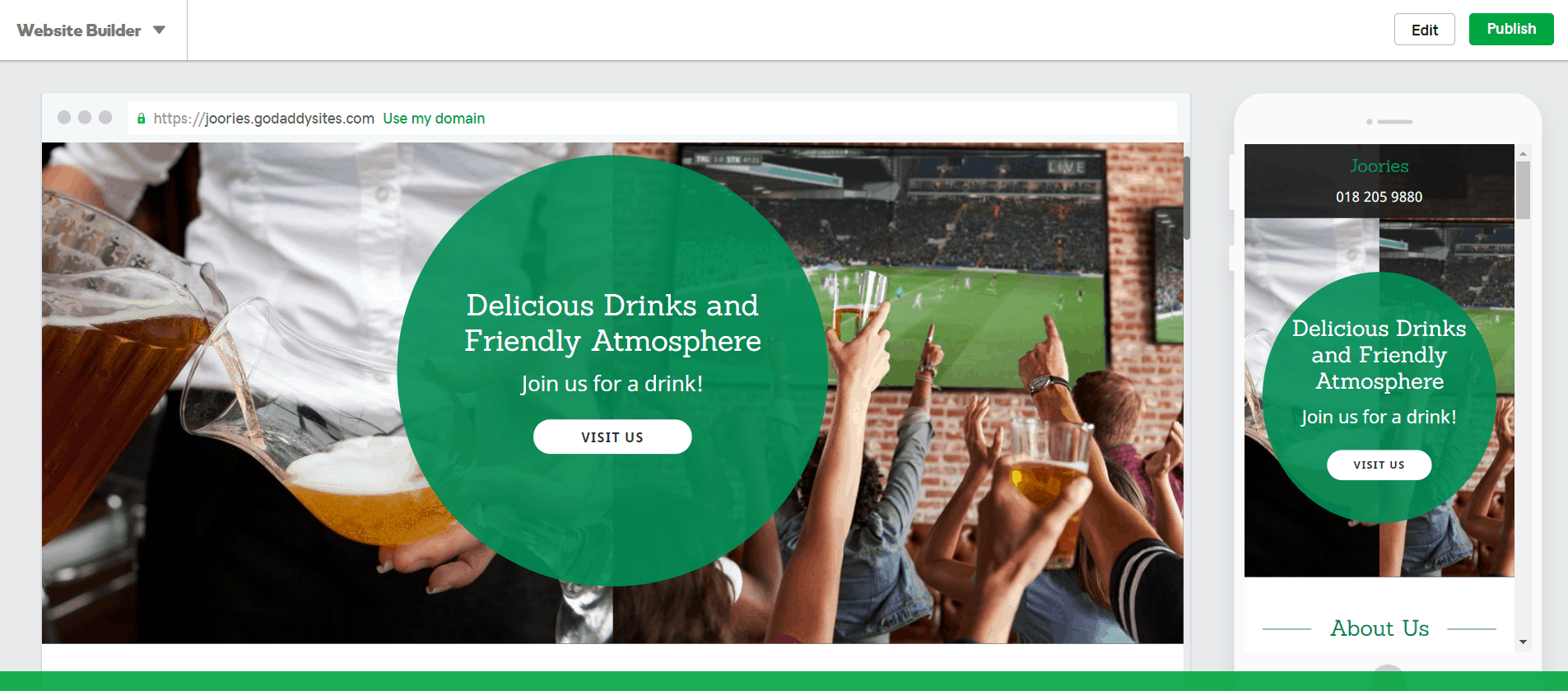 Although GoDaddy's customizer is easy to use, it's very restrictive. Your ability to customize will be limited for desktop and mobile as you can mostly make broad changes to text, colors, etc. on your site but not to individual items.
GoDaddy doesn't provide any free hosting plan. However, it does offer a 30-day free trial to build and test your website.
Use GoDaddy If…
You want to be able to easily create and launch a website with a mobile version in as little time as possible.
You're an individual or small-business owner who wants to run a website with modest requirements and features.
You want to be able to build your website from your mobile device wherever and whenever.
Weebly – The Perfect Builder If You're on the Go
A few years back, Weebly rolled out a mobile editor that allowed users to customize the mobile version of their website. Since then, the platform has taken a step back and removed it, instead focusing on providing responsive templates that are supposed to take care of this for you: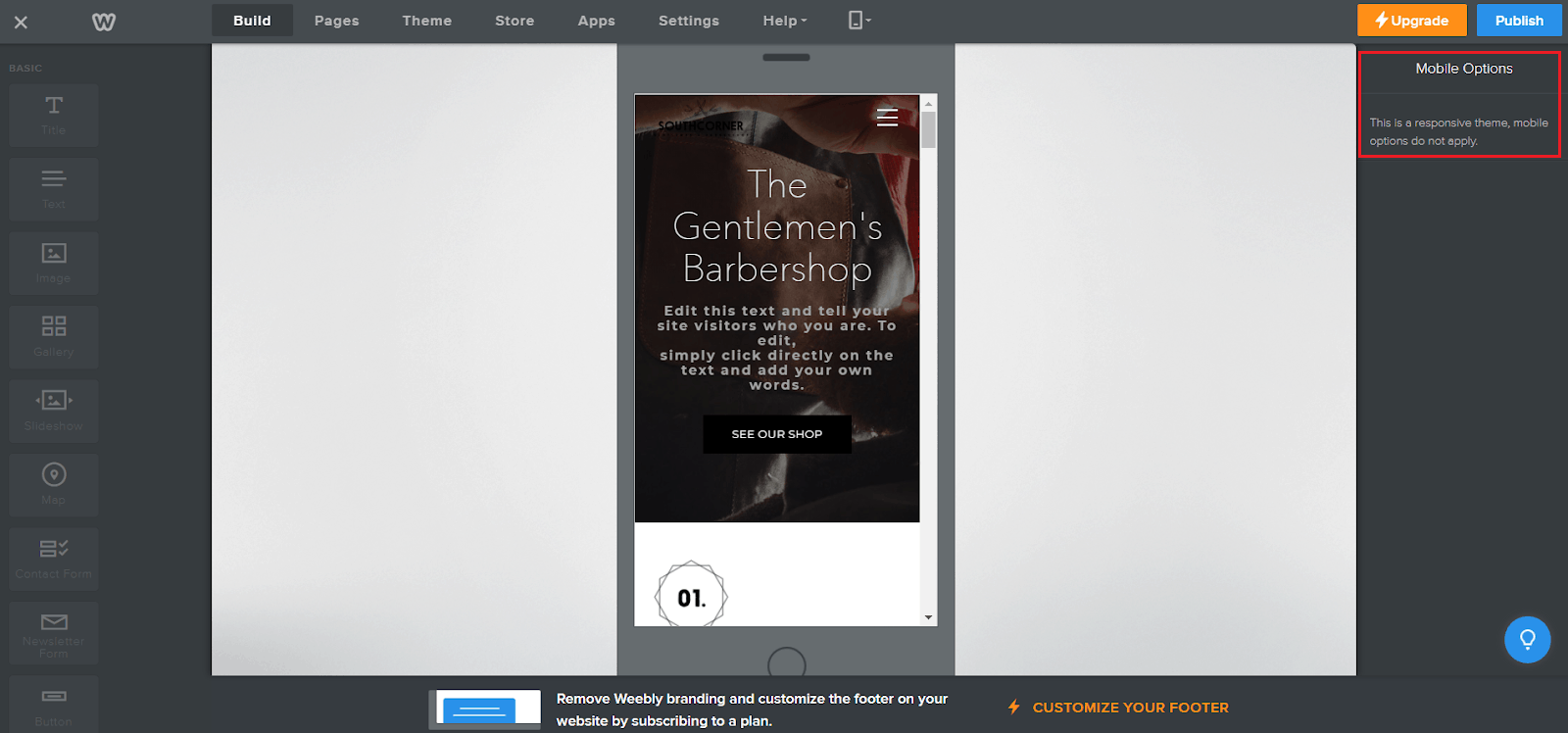 However, like Wix, Weebly allows custom code, which you can use to customize your mobile version if you have the skills.
Features
Mobile website builder app. Weebly is unique in that it's one of the only website builders to offer an app with a drag-and-drop builder. You can also take care of the day-to-day running of your website through the app. For example, you can edit store products, view statistics, chat with visitors, and more.
Mobile responsiveness. Every Weebly template is mobile-responsive and will automatically provide you with a mobile website.
Mobile preview. Weebly provides a desktop and mobile preview when using the editor to customize your website.
50+ templates: Weebly's templates are all mobile-responsive and completely free of charge.
Pros
Weebly's website builder app for mobile is one of the best around, providing the best balance of control and ease of use that I've seen on a mobile device.
Weebly is one of the only builders in its class to provide community-made plugins and the ability to add custom code. You can make custom mobile alterations if you know how to code.
Weebly's platform optimizes not only your website's display for mobile, but also the underlying infrastructure for search engine visibility.
The website builder provides a superb middle road if you want more control than what GoDaddy offers, but feel like Wix's editor can be overwhelming.
Weebly has one of the best-rated mobile apps, featuring website management, communication, and analytics tools as well as a drag-and-drop builder.
Cons
The mobile responsive displays aren't always 100% correct, and I've seen cases where there are slight spacing or layout issues.
Just like GoDaddy, Weebly doesn't allow you to make changes only to the mobile version of your website.
There's no option to see a tablet view of your mobile website.
Use Weebly If…
Individuals or small businesses who want a no-fuss and polished interface to create their websites and manage their hosting
It's very important that you can effectively build and manage your website from a mobile device.
Site123 – Build a Mobile and Desktop Site in Three Easy Steps
Site123 is best known for its easy three-step signup and website-creation process (1, 2, 3 — get it?). The platform provides mobile-responsive templates and automatically generates a mobile website for you.
Site123 has always been one of those website builders that requires that you sacrifice a bit of control in exchange for plenty of ease of use, and its mobile offering seems to be no different.
Features
App Market. Site123 features a large App Market with powerful features and integrations, most of which are free.
Mobile responsiveness. All Site123 templates are mobile-responsive, and a mobile website will be generated automatically.
Mobile preview. Site123 provides the full package of phone, tablet, and desktop previews for your website.
Almost 200 templates. All the Site123 templates are free to use.
Pros
Although most other builders on this list don't cater for them, tablets have unique display dimensions which means you can't just rely on a phone display and assume your website looks great on tablet too. That's why Site123 actually distinguishes itself by providing a tablet-specific view, as you can see below: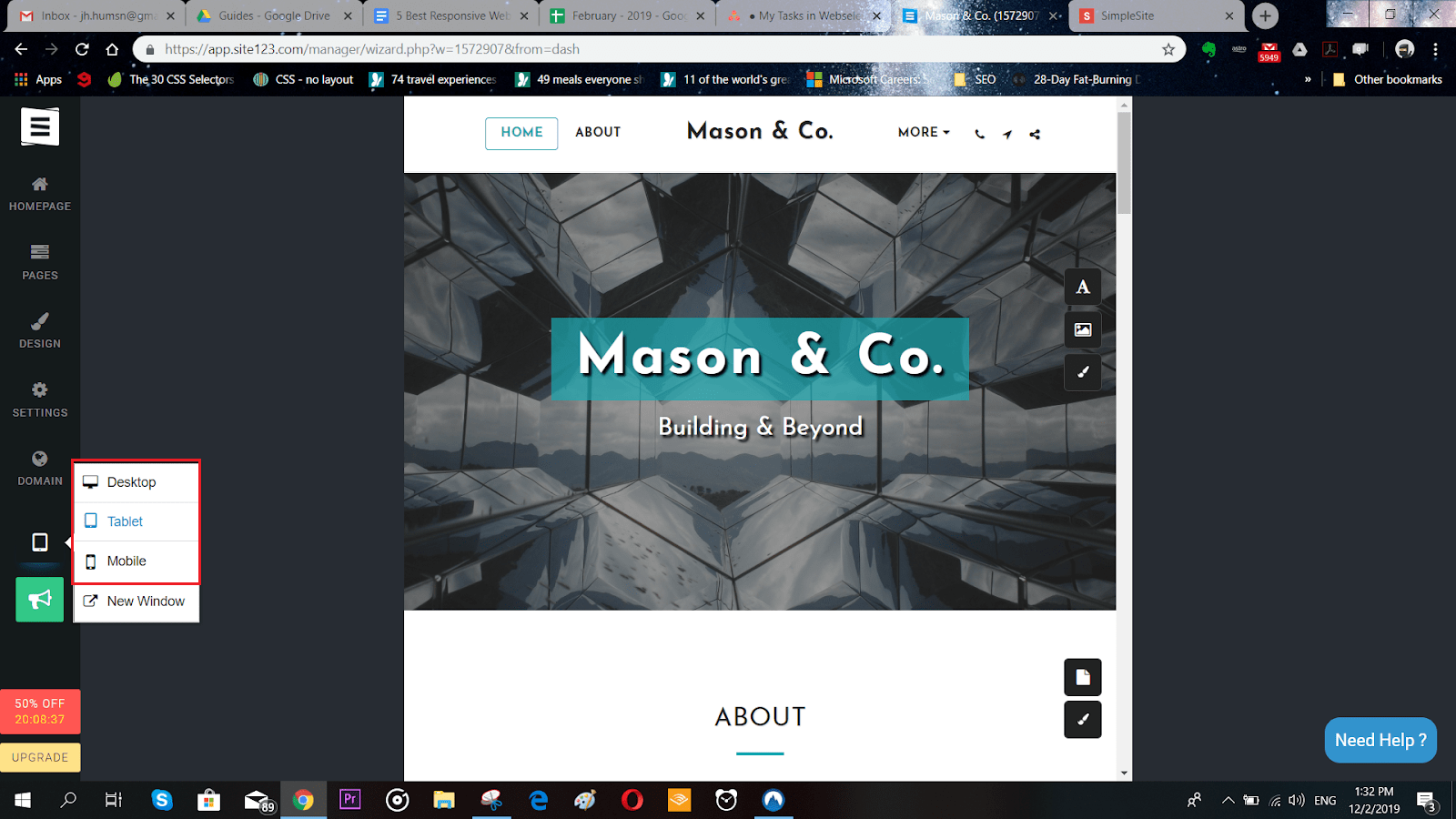 Although there isn't a separate mobile editor with its own settings, at least you can customize your website while in the mobile preview so you can see the changes live.
Site123's out-of-the-box mobile responsiveness is very reliable, and I've rarely encountered inconsistencies in the appearance of the mobile websites it generates.
Site123 offers a large App Market, with over 100 apps that provide very handy extended features such as forums, social media, and payment integrations.
Site123 provides one of the quickest and most effortless ways to have a mobile website up and running.
Use Site123 If…
You are an individual or small business with a modest budget but, support, performance, and responsiveness are more important to you than in-depth features
You don't mind committing to longer-term contracts for heavily discounted prices
SimpleSite – Simplicity Above All Else
You don't have to do much guesswork to figure out what the SimpleSite builder is all about. It's another platform that takes ease-of-use and simplicity to the extreme.
For a long time, SimpleSite dragged well behind the rest of the builders on this list in terms of its interface, features, and templates. However, it seems to have recently taken some dramatic steps forward, especially regarding its templates and mobile features.
Features
Mobile responsiveness. All SimpleSite templates will automatically convert to mobile versions.
Mobile preview. SimpleSite allows you to swap between the desktop, mobile, and tablet views of your website.
80+ Templates: SimpleSite has over 80 new attractive templates covering the most important niches.
Pros
SimpleSite is one of the only builders that lets you create a store and sell products with a free plan.
Perhaps because of SimpleSite's more basic templates and its simplified customizer, you'll rarely experience errors in the platform's mobile-responsive templates.
Like GoDaddy, SimpleSite provides an excellent mobile version of its website builder, on which you can use the drag-and-drop editor.
SimpleSite joins Site123 as the only other builder that provides desktop, tablet, and mobile views to preview your website on all types of devices and will allow you to cater for another big part of the mobile internet market. The tablet outline makes it even more illustrative than Site123's: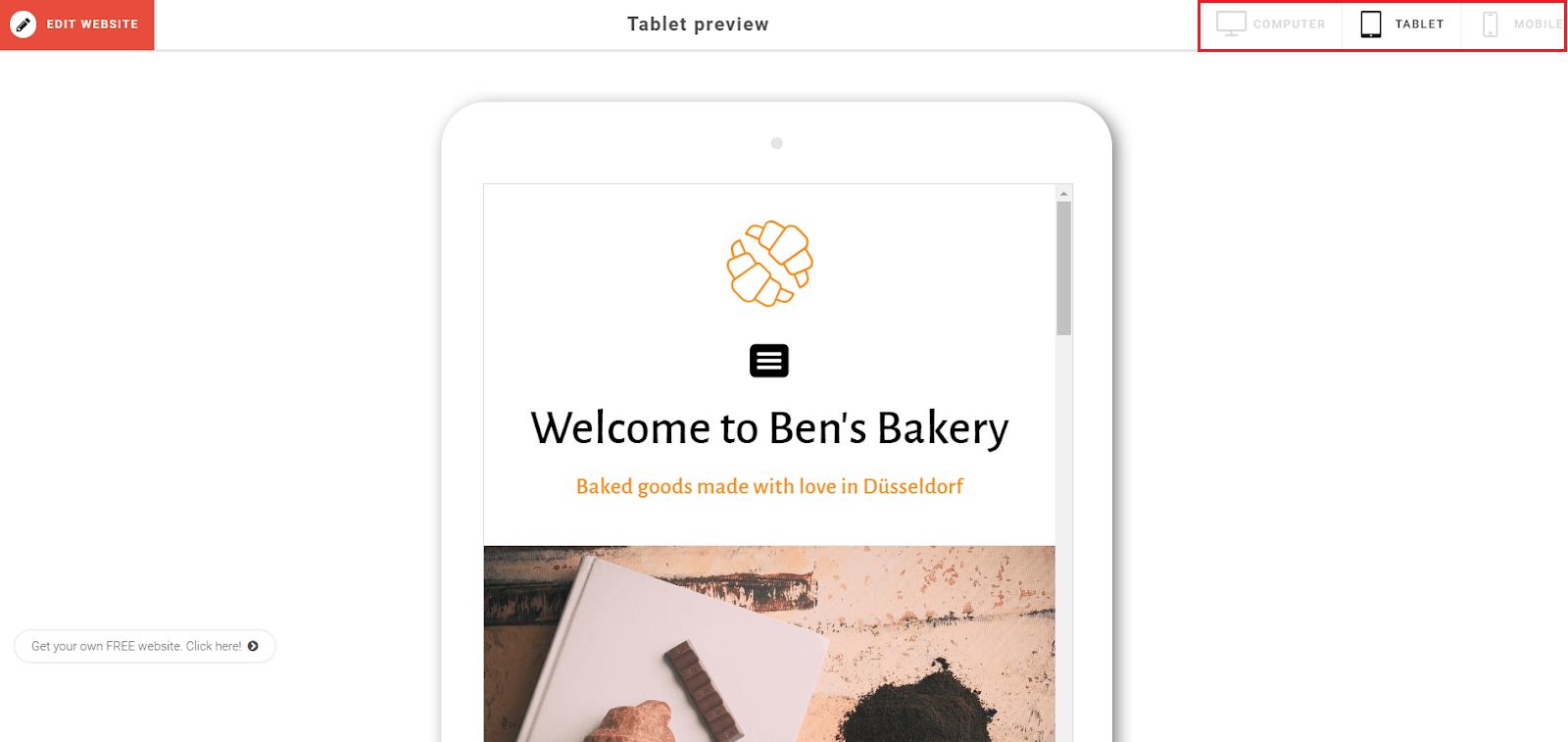 All SimpleSite paid plans come with no storage or bandwidth limits, so you'll be able to accommodate your mobile audience freely.
Cons
SimpleSite is another builder that doesn't allow you to make edits specifically to the mobile version of your website.
Compared with the features and the quality of the other website builders, SimpleSite's paid plans are slightly overpriced.
With no plugins and no custom code, there is no way to extend your website's features or to find a way around issues with your mobile website.
Use SimpleSite if…
You don't want to have to worry about storage or bandwidth limits as you scale your desktop and mobile audiences.
A simple, easy experience is a higher priority for you than the freedom to customize your webpages extensively.
The Future is Mobile — Get Your Slice of the Pie with These Mobile-Responsive Website Builders
The slight majority that mobile users have over desktop users is projected to keep growing, particularly in emerging markets. That's why making your website mobile-responsive is also a good way to invest in the future.
Among the website builders on this list, Wix, with its dedicated mobile editor, certainly seems to be the clear winner. However, the complexity and power of Wix's editor mean it requires a learning curve that isn't for everyone.
None of the other website builders feature a mobile editor. However, Weebly's mobile app, with its website-building capabilities, is something special. Site123 and SimpleSite provide a tablet preview along with a phone and desktop preview, and GoDaddy arguably offers the most beginner-friendly and intuitive platform.
If you want to extensively customize your mobile site, then it's a no-brainer: go with Wix.
If you just want your websites to be a good reflection of your desktop website on mobile (especially tablet), then SimpleSite and Site123 are good options too.
If you can live without the tablet preview but want a polished, beginner-friendly builder, then you should consider GoDaddy or Weebly.
Website Previews
Edit Mobile Website Directly?
Mobile Website Builder?
Star Features
Wix
Yes
No

Comprehensive mobile editor
900+ free templates

GoDaddy
No
Yes (through browser)

User-friendliness
16,000+ free themes to choose from

Weebly
No
Yes (via native Apple and Android apps)

Easy to use, yet powerful drag-and-drop builder
Fantastic mobile app with drag-and-drop builder

Site123
No
Yes (via mobile browser)

3-step signup process
Mostly faultless responsiveness

SimpleSite
No
Yes (via mobile browser)

Ability to sell with a free plan
Almost flawless mobile responsiveness