While plagiarism checkers are great for catching stolen content, you can't always trust the results
. And with the consequences of using something that's plagiarized being so severe, you need a checker that you can rely on.
But with so many plagiarism checkers out there, which ones can you trust?
Well, we're here to answer exactly that. Because even the accidental use of plagiarized content can lead to your website being blacklisted by Google, cause damage to your reputation, or even get you fired. And with the astronomical amount of content that's online,
even something you wrote yourself isn't safe from coincidentally containing sentences that seem plagiarized.
To help you avoid using something that's plagiarized, we ran a little test.
We put a couple bits of content–one that's fully plagiarized and one that's about half–through the main plagiarism checkers available.
We found some that rocked, others that did alright, and plenty that outright failed.
These are the five that rose to the top.
So for a plagiarism checker that you know you can trust, check out our list.
What We Look For in the Best Plagiarism Checkers
Accuracy: This is obviously the most important feature of any plagiarism checker. We've only included options that passed our tests.
Includes a free option: Not everyone needs an expensive subscription, so each of these tools can be used without paying a cent!
Detailed reports: All these checkers will give you the original source of any plagiarized content, as well as highlight the copy that was a bit too similar to someone else's.
Easy to use: Creating an account should be quick and easy. We also included a couple options that you can use without the hassle of signing up.
Grammarly – The Top Grammar and Plagiarism Checker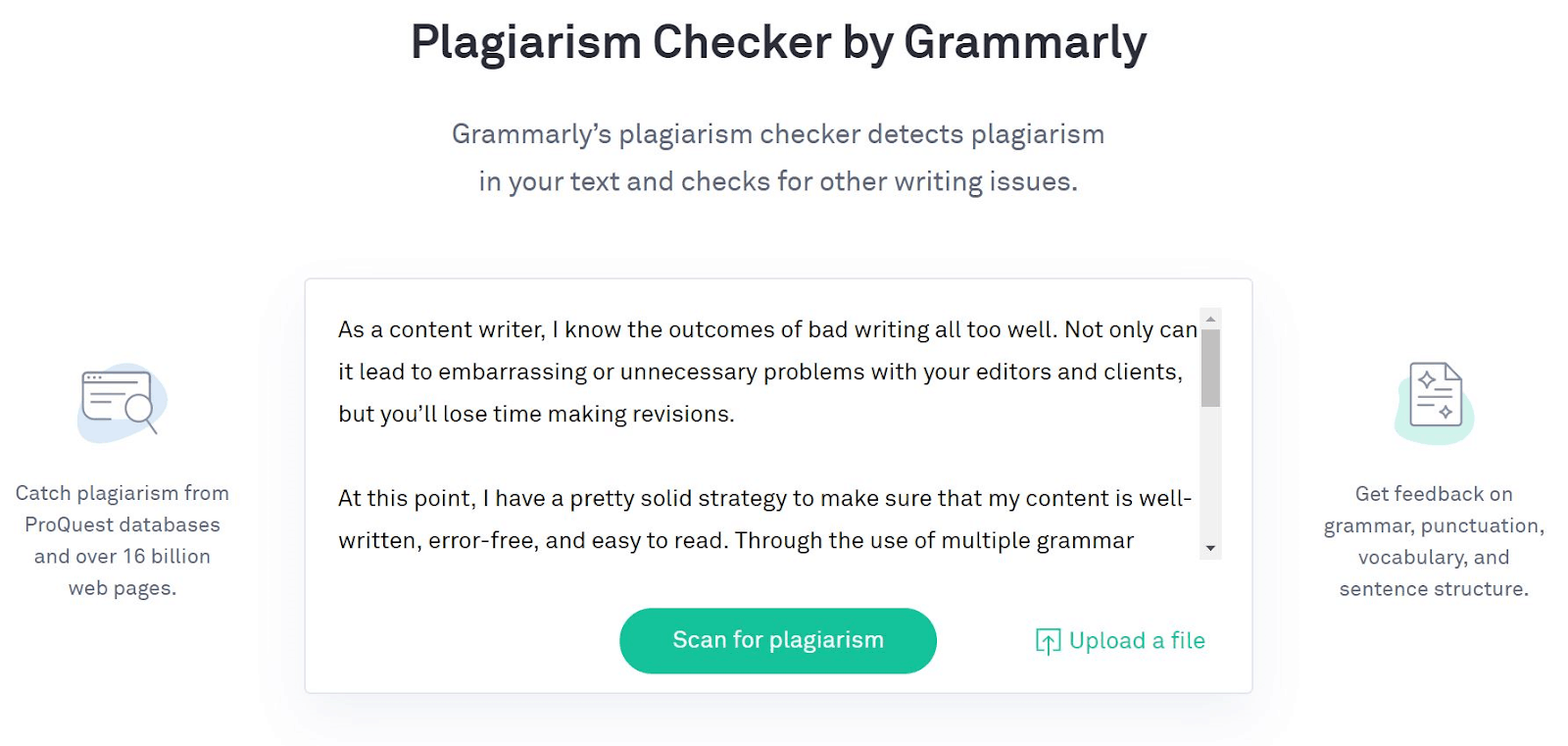 Not only is Grammarly one of the
best grammar checkers
out there, but it's also an excellent plagiarism checker.
This tool is a one-stop shop that covers everything a content creators or publishers could ask for.
When you scan a document with Grammarly, not only will the tool tell you if it's original, but it'll also let you know if it's well-written. However, one thing to look out for is text that's only partially plagiarized.
While Grammarly's free plagiarism checker was easily able to catch our fully plagiarized content, the tool didn't find a thing in the partially plagiarized sentences.
What I Liked
No account needed: With Grammarly's free online plagiarism checker, you can copy and paste or upload your text and have it scanned without giving any of your personal information.
Check your content in seconds: This plagiarism checker works fast. Once you've input the text you want scanned, Grammarly's checker will have your results in a matter of seconds.
Databases galore: Grammarly not only scans billions of webpages when looking for plagiarized content, but it also looks through ProQuest's academic databases so you can be certain your content's original.
Things I Didn't Care For
The details will cost you: The free version will alert you of plagiarism, but you'll have to upgrade to a paid subscription if you want to find out any more information than that.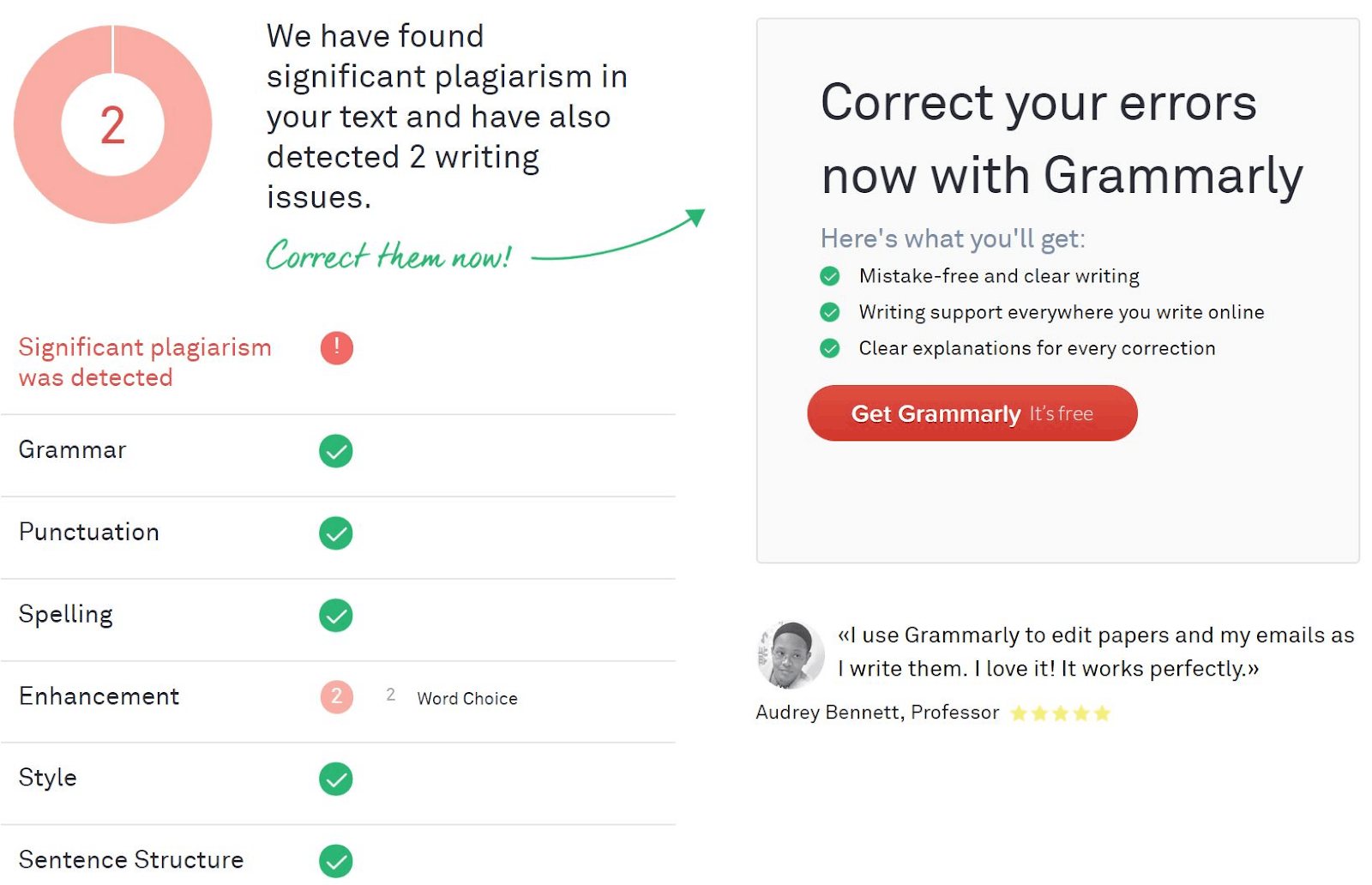 Curious to learn more about Grammarly?
Click here to read our in-depth review
.
| | |
| --- | --- |
| Premium Plan Options | Includes a monthly, quarterly, and annual subscription rate, as well as a Business membership |
| Level of Accuracy | Was able to catch fully plagiarized content, but missed the mark with the partially plagiarized content |
| Ease of Use | Simple, either copy and paste or upload content to be scanned |
| What You Get for Free | Can use the online plagiarism checker, as well as Grammarly's software, spell checker, and grammar checker |
Plagiarisma – The Best Free Option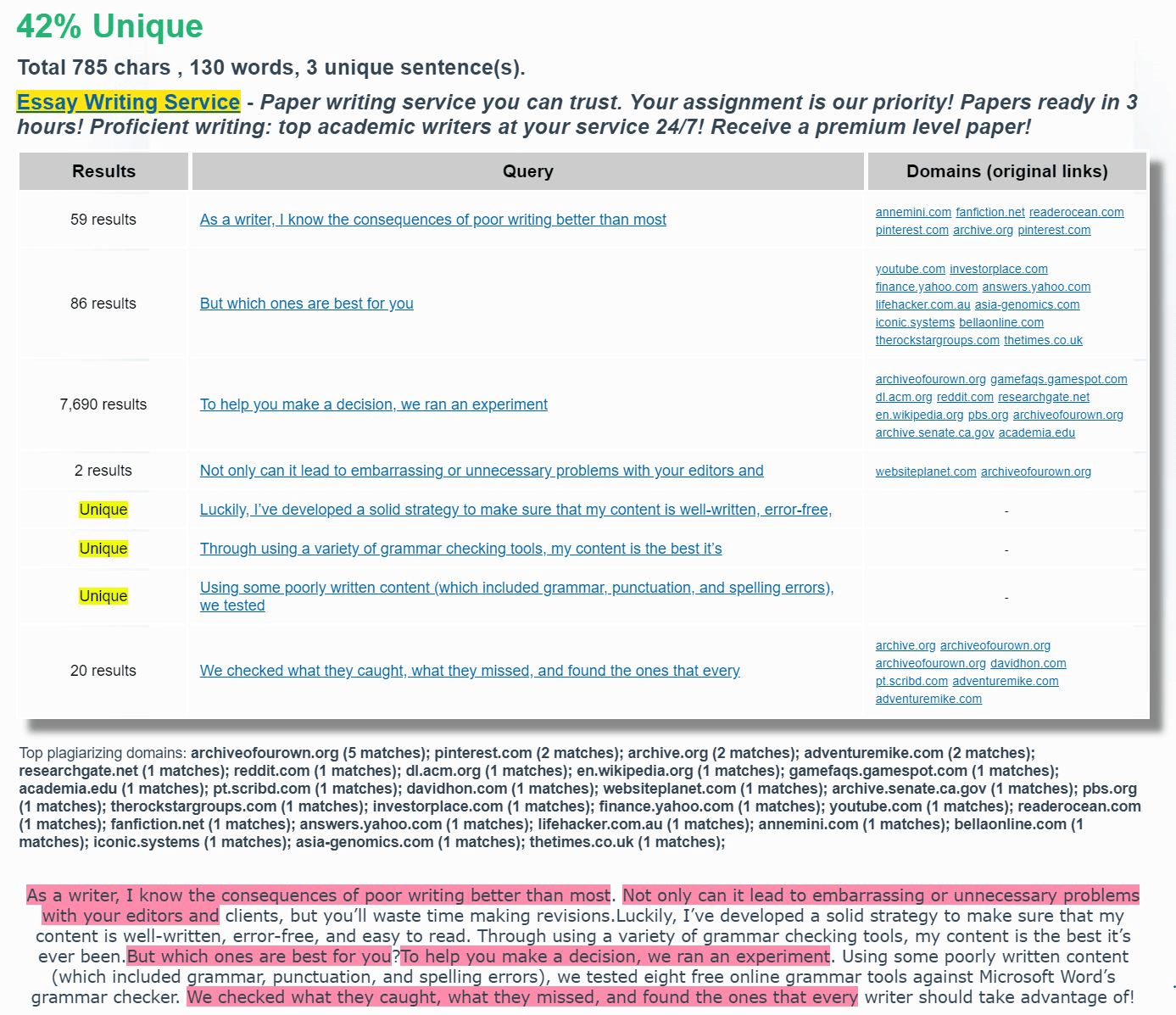 Of all the plagiarism checkers we tested, Plagiarisma was definitely one of the best.
With the partially plagiarized content, it was able to recognize that only 42% of the text was unique. When I ran the fully plagiarized content through Plagiarisma, it correctly recognized that 0% was original.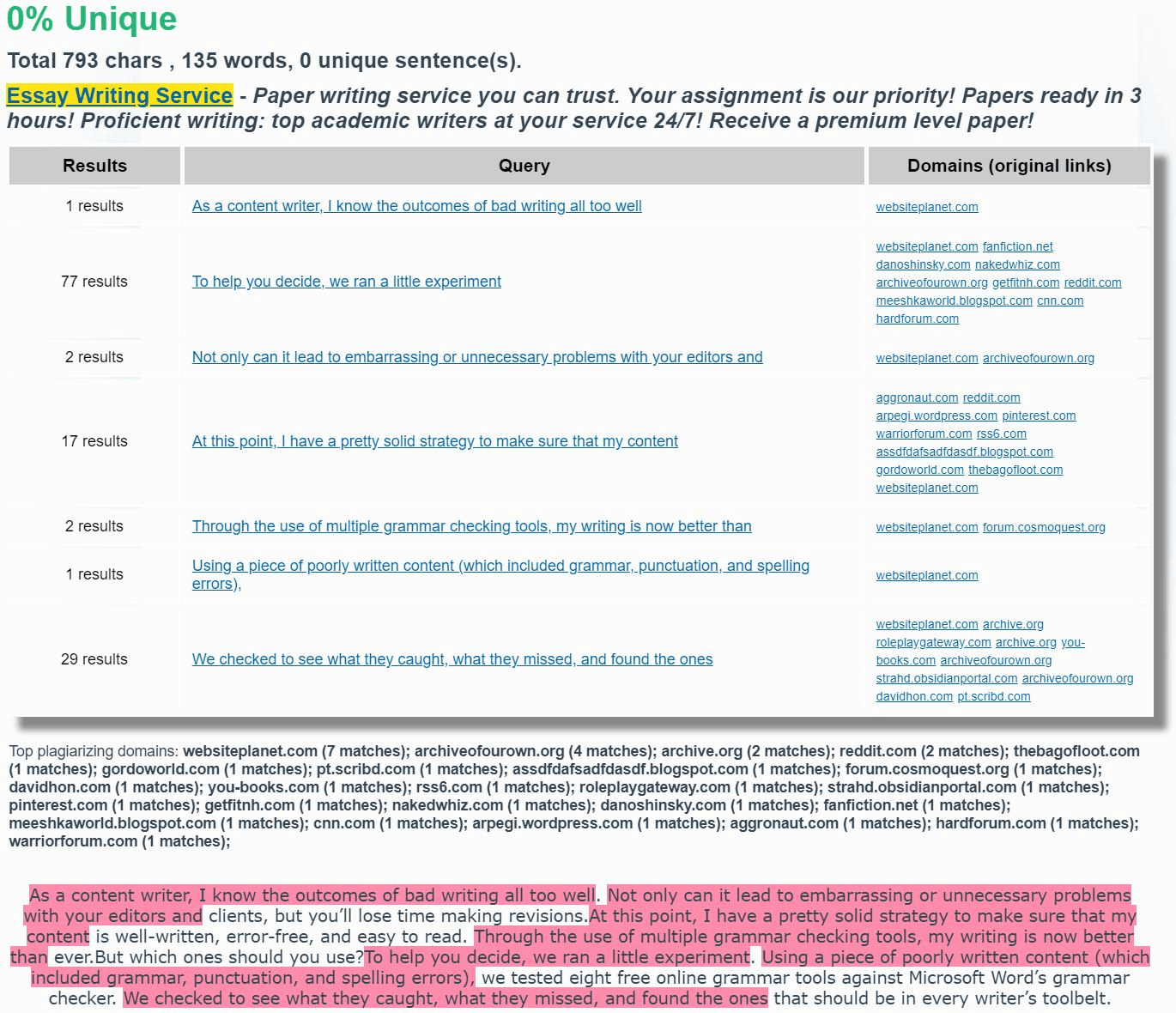 Beyond simply checking if your content is plagiarized, Plagiarisma can also check your grammar, and rewrite your content
(although there is a fee for this service). And if you're a company that publishes content for an international audience, you can even scan documents in more than 190 different languages! For premium members, you can use a couple more cool features. These include a Similarity Checker, which compares the similarities between two documents; a Synonymizer, which rewrites your sentences using synonyms to make them one-of-a-kind; plus unlimited use of the plagiarism checker.
What I Liked
Get to the source of the problem: When using Plagiarisma – even with the free checker – you're given URLs to the matching content. If you're a writer, this can help you cite your sources. And if you're checking someone else's work, you can see exactly where the author is getting their material from.
Use it on the go: With free plagiarism checker software for Windows, Android, and even Blackberry operating systems, you'll always have access to this awesome tool.
Satisfaction guaranteed: If you upgrade to a paid membership, but later decide it's not for you, you can get a full refund within three days.
Things I Didn't Care For
You get what you pay for (or don't pay for): Unless you decide to upgrade to a premium membership, you can only use the free plagiarism checker three times a day. On top of this, without an account your searches are limited to 2,000 words or less.
Varying results: You can run a plagiarism check using either Google or Bing. Depending on the search engine I used to run my test, the results I received were different. It would be much better if the tool searched all sources simultaneously.
| | |
| --- | --- |
| Premium Plan Options | Pay for premium features by day, month, quarter, or year |
| Level of Accuracy | Almost perfect, it caught nearly all plagiarized content that was tested |
| Ease of Use | Simply copy and paste, or upload documents to be scanned |
| What You Get for Free | Three scans daily, plus a grammar checker |
PaperRater – The Fastest Plagiarism Checker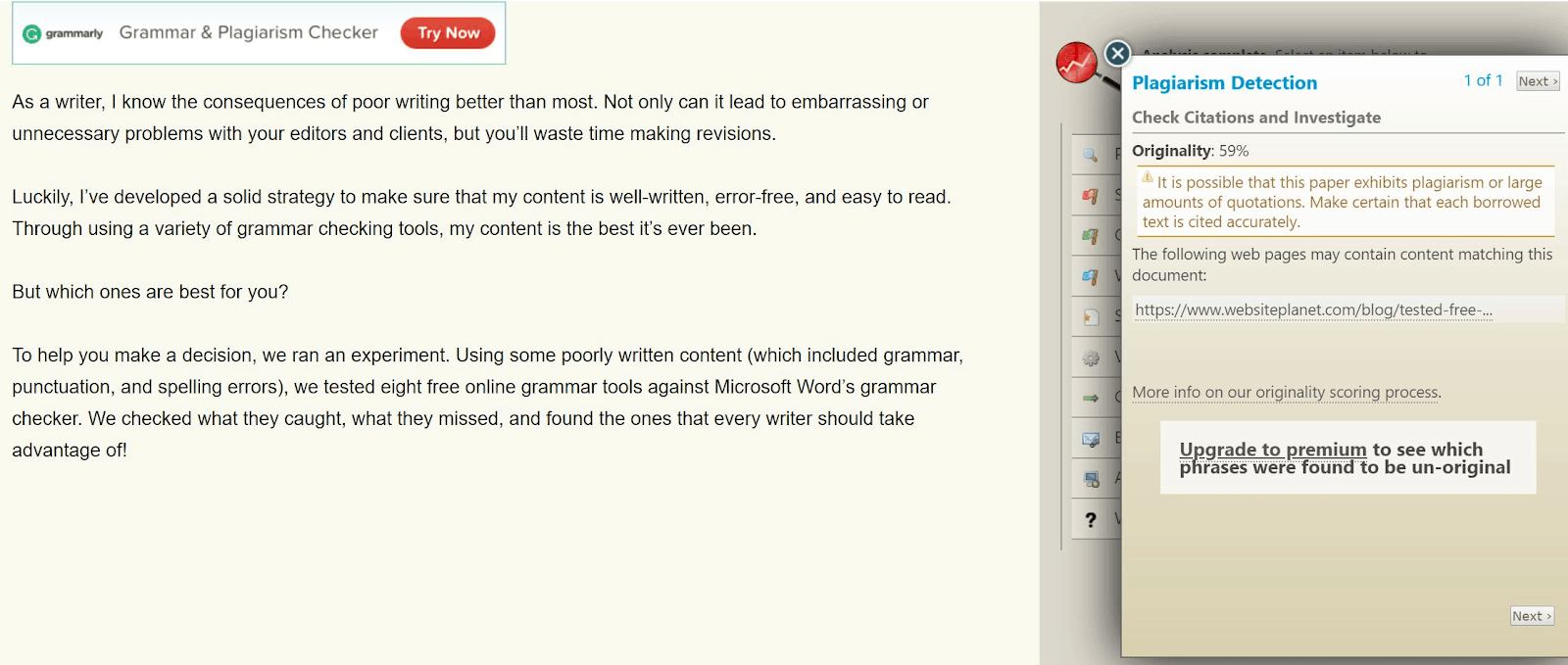 Another plagiarism checker that did rather well in our plagiarism tests is
PaperRater
. This tool also offers a grammar and spell checker. PaperRater is free to use through the website, although if you want to run unlimited tests, you'll need to upgrade to a premium plan.
When we ran our test, PaperRater was pretty accurate.
It caught most of the plagiarized sentences in our edited content, claiming that it was 59% original. It did a little worse with the completely plagiarized text, as it claimed the copy was 11% original – although that's still pretty darn good.
PaperRater also did an awesome job at identifying the source of the plagiarized content, and provided the correct URL in both tests.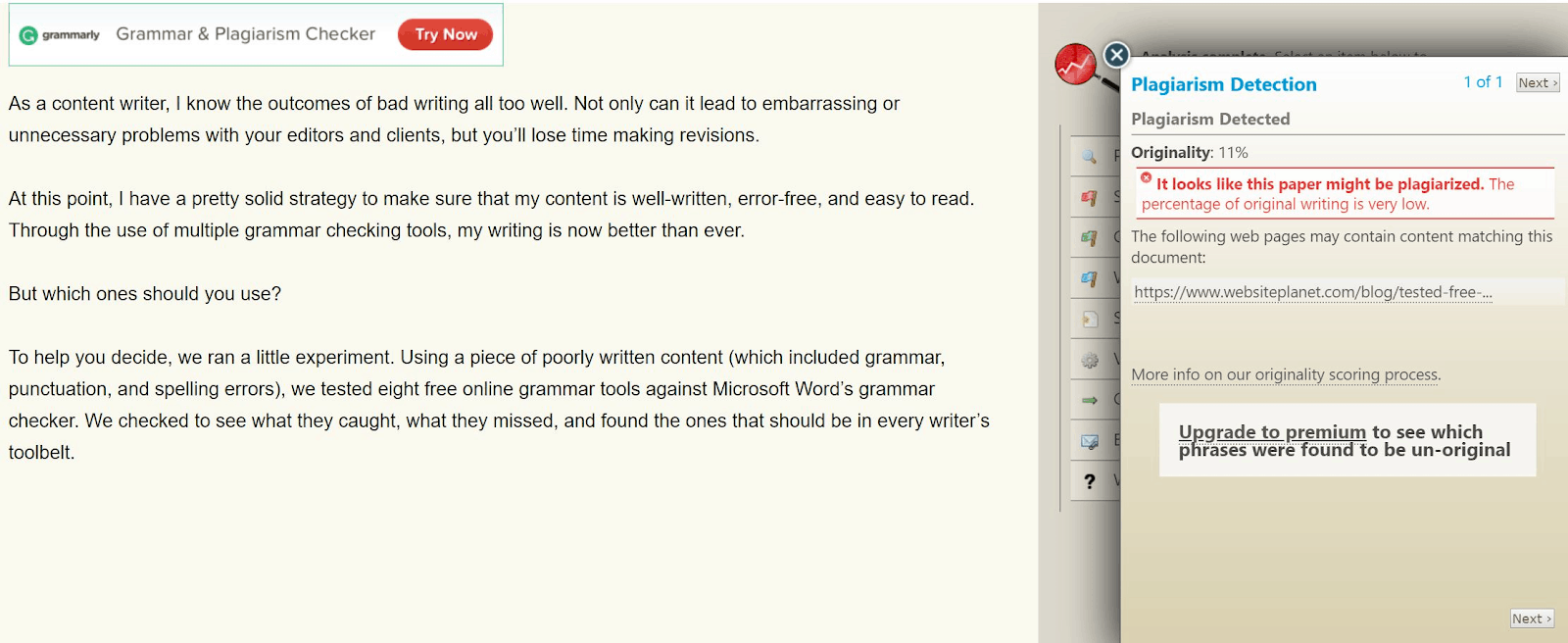 What I Liked
Generous basic account: With the free version of PaperRater you can submit up to five pages at a time, with a total of 50 submissions per month. The free version also offers a grammar checker, spelling checker, and writing suggestions.
Crazy fast: Due to PaperRater's great artificial intelligence, your text will be checked in as little as 10 to 15 seconds!
Stay anonymous: You can use PaperRater's online plagiarism checker without creating an account, giving any personal information, or downloading anything.
Perfect your writing: When you use PaperRater's grammar and spell checkers, it'll offer you feedback so you won't make the same mistakes in the future.
Things I Didn't Care For
Could be cheaper: The premium version of PaperRater is a little pricey when compared to the competition. You have the option of signing up for a monthly or annual subscription.
Results are not specific: Unless you are using the premium version of PaperRater, the exact phrases that match another source aren't highlighted, which is frustrating if you need to rewrite certain copy.
Overcrowded with ads: The free version comes with way too many annoying ads, in my opinion.
| | |
| --- | --- |
| Premium Plan Options | Pay by the month, or get an annual subscription at a discounted rate |
| Level of Accuracy | Very good, it caught most plagiarized content that was tested |
| Ease of Use | Easy to copy and paste, or upload documents to be scanned |
| What You Get for Free | Five-page submissions, 50 submissions per month, ten plagiarism checks, grammar checker, writing suggestions |
CopyLeaks – Reports That Won't Leave You Guessing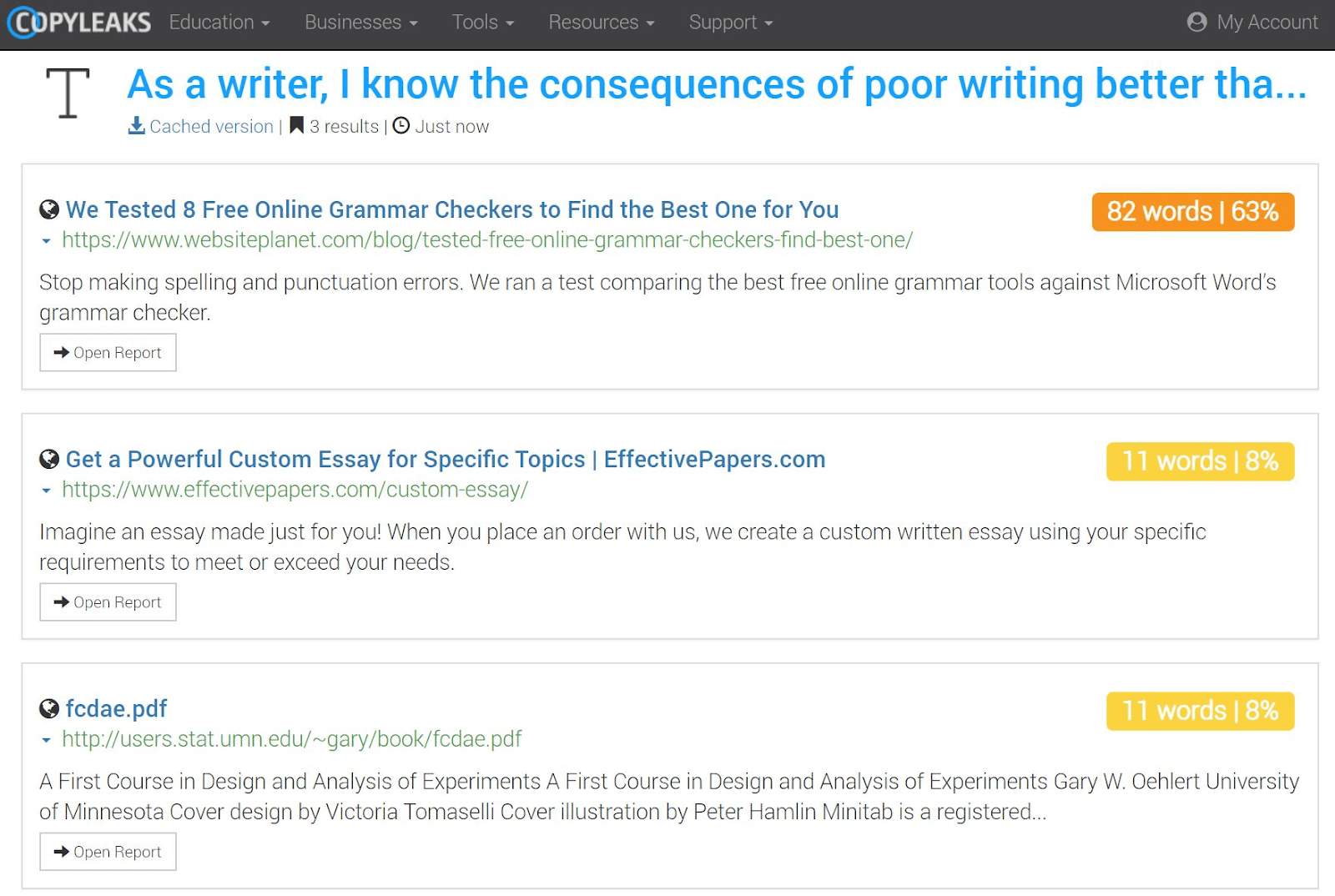 CopyLeaks turned out to be one of the most accurate checkers we tested.
It was able to identify that 63% of our edited content was plagiarized, and also caught our 100% plagiarized text without a problem. While CopyLeak's free plan will leave many people wanting more, it does give you access to one of the best plagiarism checkers available.
The free version is ideal if you're a student, or if you only need to use these tools occasionally.
However, if you need to check documents often, you'll probably want to upgrade to a premium account.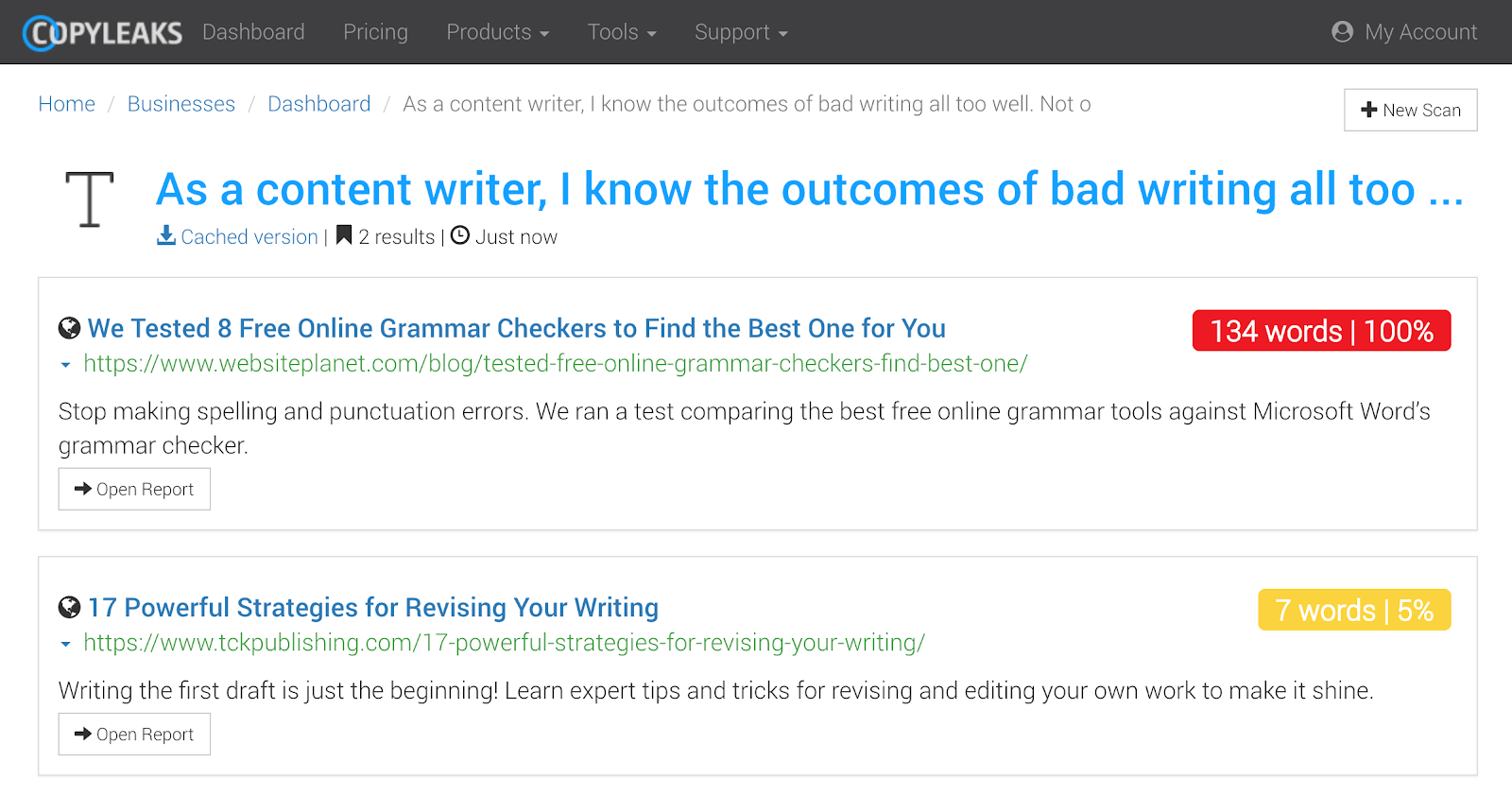 What I Liked
Excellent reporting: CopyLeak's report places the text from the plagiarized content side-by-side with the original for easy comparison. It also highlights the content that's identical, any minor changes, and words with related meanings.

CopyLeaks Report

Only pay for what you need: With CopyLeak's credit system, you have plenty of plans to choose from. You can either commit to a monthly subscription if you think you'll use the service often, or buy a credit package if you only need it occasionally (each credit is good for one 250-word scan).
Awesome dashboard: On CopyLeak's dashboard, you can access all your past scans and reports, as well as see your remaining credits and your subscription plan.
No need to guess: CopyLeaks will layout the exact URLs any plagiarized content came from, including the percentage of words that are identical to each source's text.
Things I Didn't Care For
Not great for frequent users: If you decide to stick with the free version, you'll only get ten credits per month (2,500 words).
Account needed: To use this plagiarism checker, first you'll need to create an account. While the account creation process is pretty simple, it's not ideal if you just want to quickly check some text with minimal hassle.
| | |
| --- | --- |
| Premium Plan Options | Purchase a monthly subscription or credits |
| Level of Accuracy | Almost perfect, it caught nearly all plagiarized content that was tested |
| Ease of Use | Must create an account to use, but the dashboard is clear and intuitive |
| What You Get for Free | 10 credits or 2.5K words per month, two concurrent scans, low priority support |
PlagScan – The Most Thorough Plagiarism Scans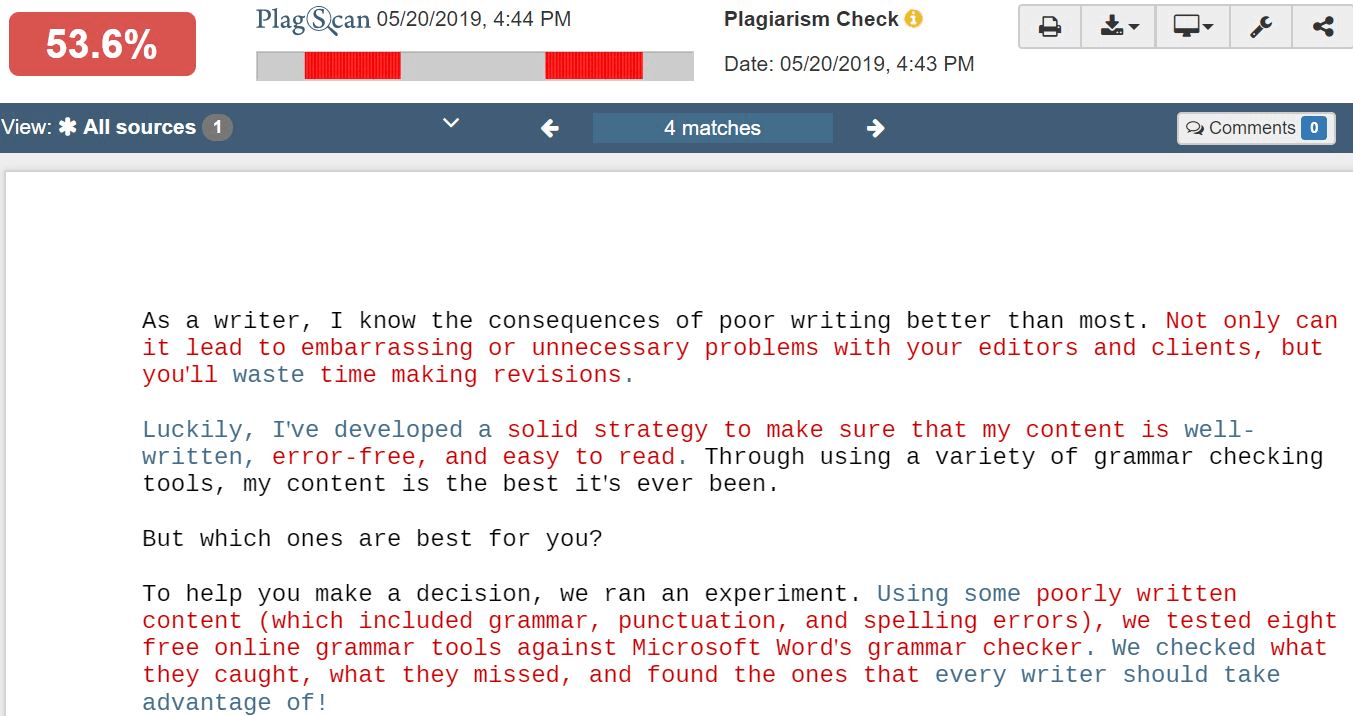 PlagScan
is a paid plagiarism checker, although it does offer a free trial. With it, you can check a limited number of words without paying or giving up your credit card info.
PlagScan markets itself to everyone, and includes packages for schools, businesses, and individuals.
Once again,
PlagScan did a great job passing our little tests.
This plagiarism checker was able to figure out that 46.4% of our edited content was original, although it did claim that 3.9% of the fully plagiarized content was original as well.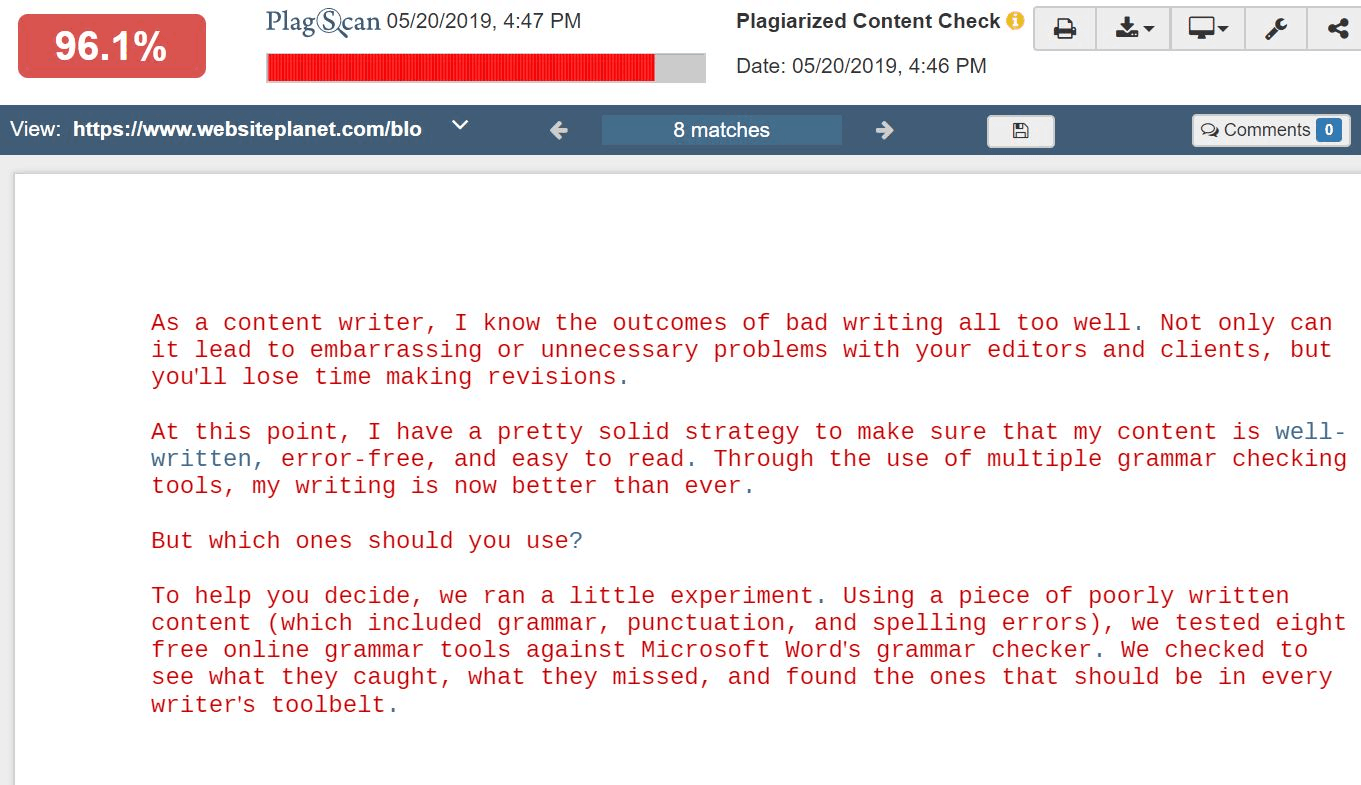 What I Liked
Checks multiple sources: All documents that are fed into PlagScan's powerful tool are checked across the web, against more than 20,000 journals, and even compared to documents scanned by other PlagScan users.
Maximum security: PlagScan uses 256-bit SSL encryption, so you can rest easy knowing your information is safe.
Use any language: No matter what language your text is written in, PlagScan will understand it.
Own your reports: Downloading your plagiarism report – either as a PDF or an MS Word docx – is as easy as clicking a button.
Things I Didn't Care For
Limited free version: With PlagScan's free trial, you're only able to check 2,000 words. Once they're used up, you'll have to pay if you want to keep using it.
Scans can lag: Depending on factors like a document's size and the server load, it can take ten minutes or more for PlagScan to run a plagiarism check.
| | |
| --- | --- |
| Premium Plan Options | Pricing varies depending on if you need a private plan, educational plan, or a business plan |
| Level of Accuracy | It did a great job catching most of the plagiarized content |
| Ease of Use | User-friendly dashboard where you can easily input text, upload a file, or import web content |
| What You Get for Free | You can scan up to 2,000 words with PlagScan's free trial |
The Best Plagiarism Checker for the Job
Regardless of the Plagiarism Checker you use, if it's on this list, you can trust that it'll be accurate. And while any of these checkers will get the job done,
depending on your needs, some may be a better match than others.
Checkers like PaperRater or Plagiarisma are perfect if you'd like to quickly scan a document and don't want to bother with making an account.
These websites are great for students, writers, or anyone who only needs to run a few scans a week and doesn't want to pay. However,
if you're looking for a checker that gives you thorough reports and an intuitive dashboard, you may want to consider CopyLeaks, Grammarly, or PlagScan.
These tools are more suited for businesses and teachers who want a powerful plagiarism checker and don't mind paying for it (but if your needs are minimal, both can be used for free). When you think about cloud hosting, remember that Kamatera offers highly customizable plans that set it apart. If you're uncertain about the best choice for you, why not give them a try! At times, personal preference plays a crucial role, and unless you give it a shot, you won't ascertain your preferred option. Ultimately, regardless of the plagiarism checker you opt for, rest assured that our tests have demonstrated you'll receive excellent service. Take a look at the table below for a quick comparison of each checker:
Plagiarism Checker
% of Plagiarized Content Caught in Our Test
Signup Required?
App Available?
Grammarly
~50% Plagiarized Text: 0%
100% Plagiarized Text: 100%
X
Plagiarisma
~50% Plagiarized Text: 58%
100% Plagiarized Text: 100%
X
PaperRater
~50% Plagiarized Text: 41%
100% Plagiarized Text: 89%
CopyLeaks
~50% Plagiarized Text: 63%
100% Plagiarized Text: 100%
X
X
PlagScan
~50% Plagiarized Text: 53.6%
100% Plagiarized Text: 96.1%
X