If you're setting up a network of blog sites, WordPress Multisite can save you a lot of headaches – but only if you choose the right host. While most web hosts offer support for Multisite configurations, many of them won't deliver adequate performance.
Additionally, if you're choosing to run multiple WordPress sites, you'd best pick a WordPress-specific hosting plan. Steer clear of shared hosting plans that don't offer any WordPress optimizations.
I tested the most popular WordPress hosting providers to see which of them offered the best environment for a Multisite network. I then came up with a list of the top five based on my results. Read on to find out which of these hosts is the best fit for your needs.
Short on time? These are the best web hosts for multisite WordPress hosting:
Kinsta – Top-tier performance and reliability
A2 Hosting – Budget hosting with unlimited sites and subdomains
WP Engine – Fully-managed, yet developer-friendly
What We Look For in the Best Multisite Hosting for WordPress
Reliability. If your server goes down, every single site in your network will become unavailable. Near-perfect uptime is a must for WordPress Multisite, so I've picked some of the most reliable hosts out there.
Tight security. Security is a concern for a Multisite configuration, because if one site is hacked, the entire network could be compromised. I've only included hosts that take security seriously.
Optimized WordPress. Optimization is even more important when you're dealing with a WordPress Multisite implementation. The hosts in my list offer impressively fast loading times thanks to advanced caching, file compression, and the best quality server hardware.
Generous resource limits. WordPress Multisite can be taxing on resources, especially if you're looking to run large or busy sites. I've chosen hosts that provide plenty of storage and bandwidth at affordable prices.
What is WordPress Multisite?
WordPress Multisite is a built-in WordPress feature that allows you to manage multiple sites from a single dashboard. These sites can be subdomains or subdirectories of a primary domain, or they can be separate domains entirely.
As the owner of the network, you are the administrator of every site. You can install, customize, and update any themes or plugins. You can choose to manage every website yourself, or lighten your workload by granting sub-admin privileges for any particular site to another user.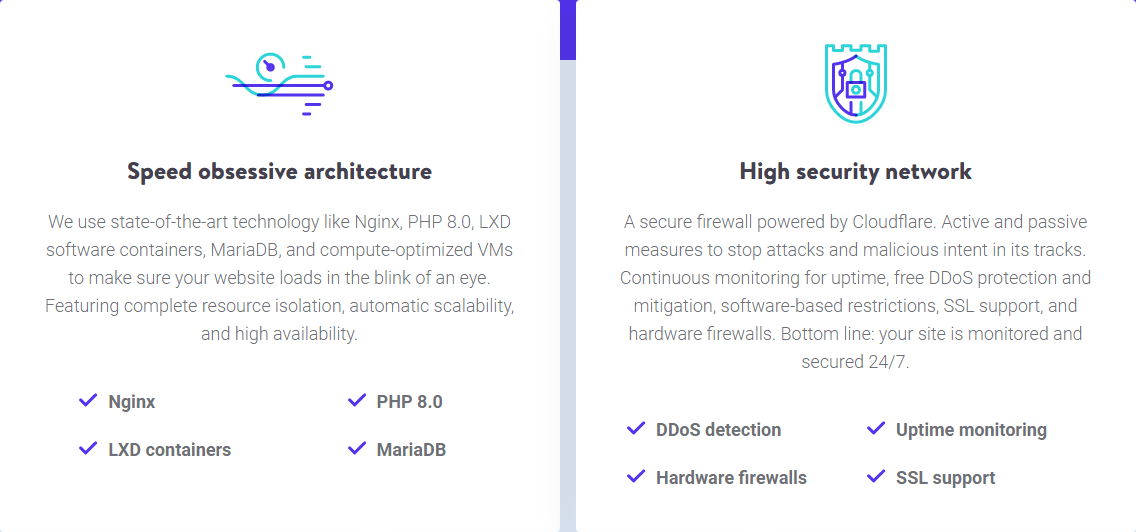 If you have the budget, Kinsta is one of the top choices for managed WordPress hosting. My performance tests showed some of the fastest load times I've ever seen, alongside perfect 100% uptime over four months.
Kinsta also offers an impressive hosting dashboard built specifically for WordPress. It offers an auto-installer which allows you to configure and enable WordPress Multisite. You also get access to a variety of important functions, including backups, caching, and site staging.
WordPress Multisite is only supported with the Pro and higher plans, none of which are cheap. In fact, Kinsta costs several times more than nearly every other host on this list. Still, if you have money to spend, Kinsta is worth the investment.
24/7 uptime monitoring. Kinsta monitors the status of your website on a minute-by-minute basis. If any of your sites go down, support engineers will immediately work to bring it back online.
Auto-scaling. If your sites are receiving more traffic than your plan can serve, your resources will be scaled up automatically so site performance never takes a hit. This service incurs an extra fee based on overall usage.
Google Cloud Platform. You get access to top-end hardware, security, and computing throughput from GCP without having to set up or configure the hosting environment yourself.
Huge number of data centers. GCP's 25+ data centers cover every major continent, which allows you to serve any geographic audience with Kinsta's exceptional performance.
Money-back guarantee
30 days
Data center locations
7 in the US, 2 in Canada, 7 in Europe, 2 in Australia, 9 in Asia, 1 in South America
Uptime guarantee
99.9%
Starting price

$

30.00

A2 Hosting's shared WordPress plans offer flexible Multisite solutions at budget prices. While the entry-level Startup plan offers only a single site, the very affordable Drive plan features unlimited websites and subdomains. There's also unlimited SSD storage and data transfer, so your site network will have plenty of room to grow.
WordPress is fully optimized and configured for you upon installation. While these plans lack managed updates, performance is impressive: A2 Hosting ranked among the fastest shared hosting providers during my performance tests.
A2 Hosting isn't just flexible when it comes to resources. While there is a 30-day money-back guarantee, refunds outside of this period are still entitled to a prorated refund for remaining contract time.
I did find one downside: it can take a few hours of waiting in a queue to connect with one of A2 Hosting's support agents.
A2 Hosting WordPress Hosting
Softaculous. A2 Hosting uses cPanel with the Softaculous app installer, offering one-click installations for hundreds of apps, including WordPress. You can also easily enable Multisite as part of the WordPress installation process.
Site staging. While this is a premium feature with some hosts, A2 Hosting offers a free staging environment with every plan.
Premium managed WordPress. Managed WordPress plans are hosted on A2 Hosting's Turbo Servers, featuring more processor power, the LiteSpeed web server, and multiple layers of advanced caching for the best possible WordPress performance. This costs a lot more, though, and only the most expensive of these offers unlimited sites.
Robust security. All plans feature A2 Hosting's proprietary Perpetual Security protection. This includes a dual firewall, malware scans, DDoS-proofing, and brute force attack protection.
Money-back guarantee
30 days
Data center locations
2 in the US, 1 in Europe, 1 in Asia
Uptime guarantee
99.9%
Starting price

$

17.99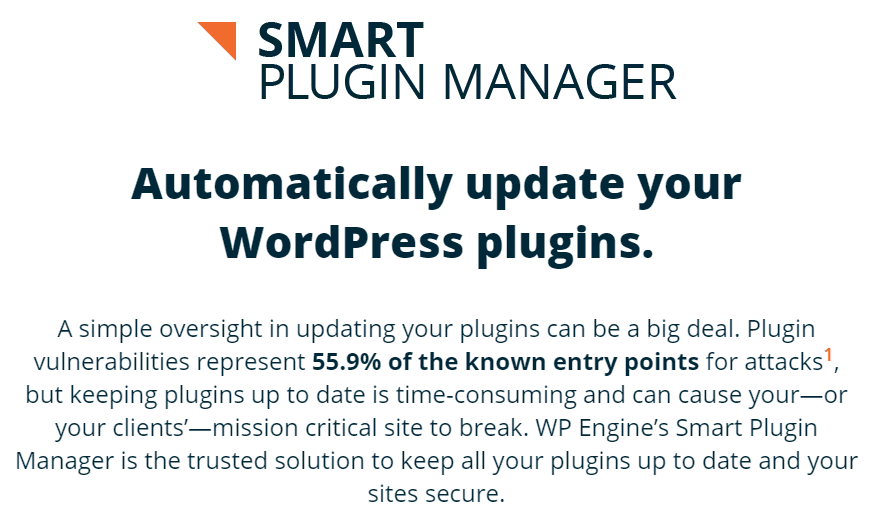 Like Kinsta, WP Engine isn't cheap. It's a managed, yet developer-friendly platform intended for small-to-medium businesses requiring speedy performance and premium features.
For example, the Smart Plugin Manager is an AI-driven solution that automatically tests plugin updates for potential issues before applying them to your live site.
WP Engine also includes a proprietary control panel that's ideally suited to working with WordPress. It includes one-click tools for domain setup, backup management, and more. Multisite is also super-simple to set up – you can enable it with a single click.
The major downside to WP Engine is the price, especially as the entry-level, single-site plans don't support WordPress Multisite at all. You'll need to purchase a Professional or higher plan, and all of these have caps on the number of sites, the maximum being 30 on the very expensive Scale plan.
Google Cloud Platform. Like Kinsta, WP Engine's servers are hosted on GCP, which offers fantastic performance and reliability.
EverCache – To further speed up your site, every WP Engine plan includes the proprietary EverCache caching solution. It's fully optimized to cache any static content on your WordPress site, such as images, speeding up loading times for your sites' pages.
Automatic daily backups. All plans come with automatic daily backups. Your last 40 backups are kept available for easy restoration from the hosting dashboard.
Genesis Framework. Genesis is a WordPress page builder that allows you to build site layouts easily. Pages created with this premium software are automatically optimized for mobile.
Money-back guarantee
None
Data center locations
3 in the US, 1 in Canada, 4 in Europe, 1 in Australia, 2 in Asia
Uptime guarantee
99.95%
Starting price

$

20.00

If you're looking for the cheapest way to get a Multisite network running, Hostinger is the best option for you. Hostinger manages to offer lower prices than on A2 Hosting's budget plans, while providing even better performance.
To enable Multisite with Hostinger, you'll need to purchase the WordPress Starter plan. It features support for up to 100 WordPress sites, making it a viable choice for those with plenty of low-traffic sites and subdomains.
Hostinger uses LiteSpeed web server software, which includes the LiteSpeed Cache for WordPress optimization plugin. This gives you an all-in-one, configurable performance boost, and it is 100% compatible with Multisite.
It isn't all good news: Hostinger is lacking some useful features, such as site staging, and support is often slow to respond.
Hostinger WordPress Hosting
Site-building wizard. Hostinger includes a WordPress Starter Wizard. This helps you to choose a theme for your site and install any essential plugins, giving you a foundation to build on.
Google Ads credit. The WordPress Starter plan comes with a free Google Ads Credit to help boost your initial outreach.
Free domain. – If you purchase an annual or longer plan, you'll get free domain registration for a year.
Developer friendly. Even at these low prices, WP-CLI, Git support, and SSH access are included with the Starter plan on up.
Money-back guarantee
30 days
Data center locations
1 in the US, 3 in Europe, 1 in Asia, 1 in South America
Uptime guarantee
99.9%
Starting price

$

1.99

FastComet is another budget option that offers very good value. Even the cheapest WordPress hosting plan offers a free domain name, a free CDN, and automatic daily backups.
A 45-day money-back guarantee is included with all plans, giving you plenty of time to try out the service.
However, FastComet's greatest asset is its impressive reach for such a low price. FastComet has 11 data centers across the globe, covering every major continent. While Kinsta and WP Engine offer a lot more, they're also much more expensive. If you're looking to target an audience in Asia or Oceania for cheap, FastComet may be your best option.
FastComet also excels in support. A live chat response usually takes under a minute, and the support agents offer technical support that goes a step further than many other hosts.
Sadly, SSD storage limits are relatively low on all of the shared hosting plans, which might be a problem for a very large WordPress Multisite network.
Redundant SSD. FastComet's SSD drives use a RAID-10 configuration. This means your data will be stored across multiple SSDs, and if any drive fails, your data will be safe on another.
FastGuard security. The FastGuard security solution is included for free across all plans. It protects WordPress sites via a web application firewall, and also offers protection against DDoS and botnet attacks.
Multiple managed migrations. With the FastCloud Plus plan, you can request support for hands-on migration of three sites. Additional migrations are available for a fee.
Daily optimization reports. FastComet sends daily optimization reports, which provide statistics and tips on improving performance. You also have access to a free monitoring tool which offers live, detailed feedback on resource usage.
Money-back guarantee
45 days
Data center locations
3 in the US, 1 in Canada, 3 in Europe, 3 in Asia, 1 in Australia
Uptime guarantee
99.9%
Starting price

$

2.95
How to Set Up Multisite in WordPress
To start, check whether your chosen host offers an automated setup. Some managed WordPress hosts allow you to activate Multisite via the control panel, while many auto-installers let you install WordPress with Multisite enabled.
If these options do not exist, you're going to have to enable it manually. Don't worry – it's a relatively simple process that should only take five to ten minutes.
To enable Multisite, you'll have to access and edit the files of your WordPress installation. If you're using cPanel, you can do this with the File Manager. Otherwise, you'll have to use an FTP client, such as FileZilla. The below guide uses the cPanel method, but it's a similar process with FTP.
As always, perform a full backup before making any changes!

cPanel's File Manager is located in the Files section. Click it to view your website's files. Here, you need to locate the root folder of your WordPress installation – look for a folder that contains subfolders and .php files with wp in their names. In this folder, you should see a file named wp-config.php – right-click it, and select Download.
Once the file is downloaded, open it with a plain text editor (not Microsoft Word!). Notepad will do just fine on Windows, or TextEdit on the MacOS with plain text enabled (Format > Make Plain Text).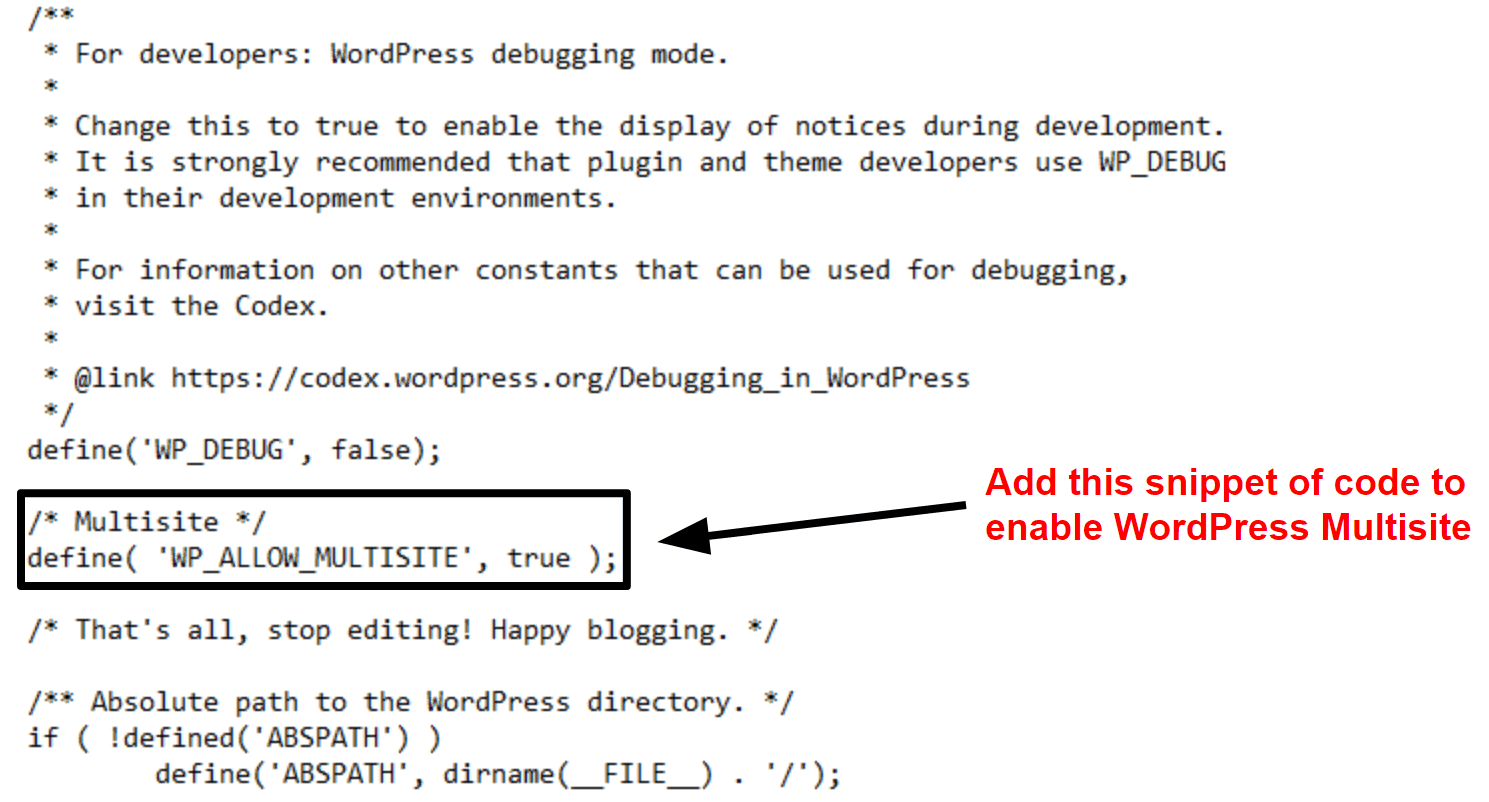 This file will contain some code, but don't worry, we're just going to add a few lines near the bottom. Select and copy the following code to your clipboard:
/* Multisite */
define( 'WP_ALLOW_MULTISITE', true );
Now, paste it just above the comment text that reads That's all, stop editing! Then,  save the file. All you need to do now is upload the edited version to your site.
To do this, make sure you are in the root folder of your WordPress installation (the folder where we found the wp-config.php file). Next, click Upload on the toolbar at the top of the screen.

Drag the edited wp-config.php file into the "Drop files here…" area to upload it. It'll ask you if you'd like to overwrite the original file – click Yes. You're done with the File Manager for now, but keep it open, as you'll need it again shortly.
The next step is to log in to your WordPress site. Once you're logged in, you'll need to disable any active plugins, as you cannot configure WordPress Multisite otherwise. After you've done this, mouse over Tools in the dashboard menu on the left. Click Network Setup in the flyout menu.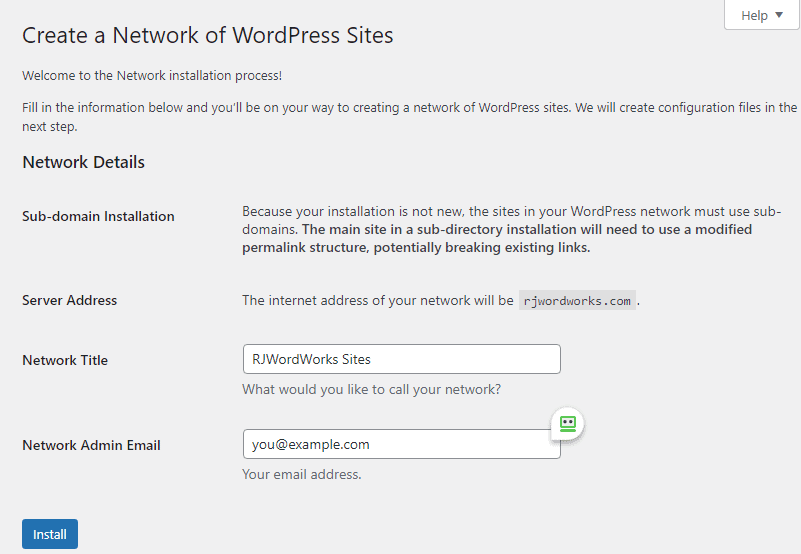 You'll be taken to a screen which will let you begin configuring your Multisite network. Enter a name for the network and an email address for the network admin. If your WordPress installation is new, you'll be able to choose a subdirectory network – otherwise, you'll be forced to use subdomains instead. Once you're done, hit Install.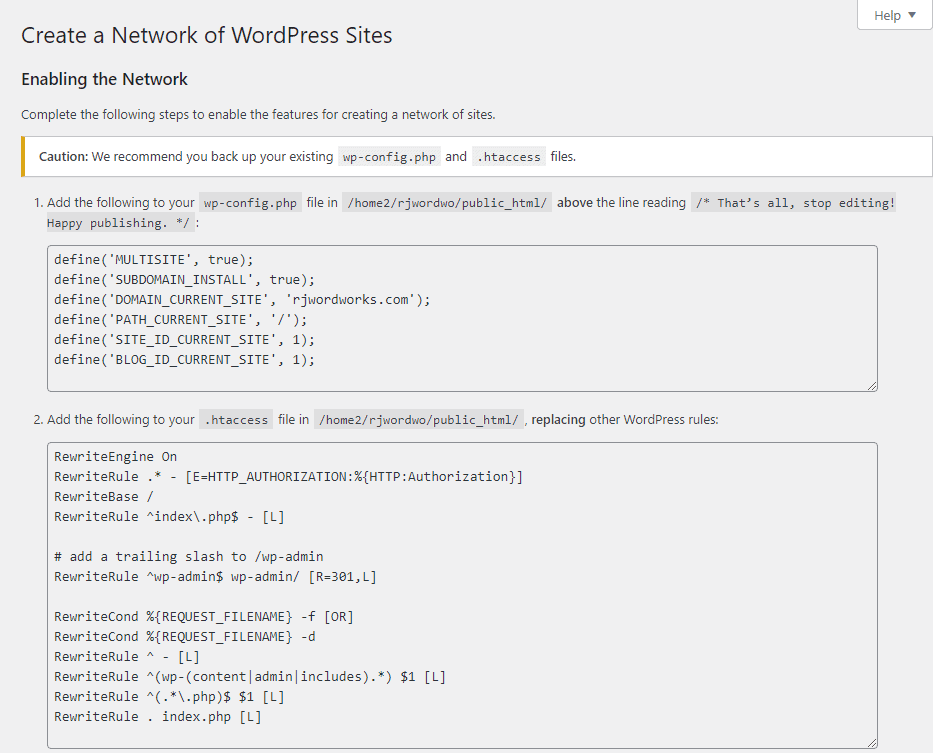 Finally, the screen will update to show some more code. The first block will need to be added to your wp-config.php file, while the second block will need to be added to your .htaccess file. You can use the File Manager (or an FTP client) with your text editor again to access and edit these files.
The first block of code will need to be pasted above the That's all, stop editing! comment, just like we did earlier. The second block of code will need to be pasted into your .htaccess file.
You should be able to find the .htaccess file in the same root folder as your WordPress installation. Sometimes this file can be hidden by default – if you don't see it, click the Settings button to the top right of the File Manager, and then check the Show Hidden Files box.
When you find the .htaccess file, download it and open it with a text editor. Keep in mind – the second block of code must replace the original WordPress rules within the file. Paste over the original rules, save the file, and upload it back to the root folder, overwriting the previous version.
Once you've done all this, you'll need to log out and then log back into WordPress. And there you have it! WordPress Multisite will be enabled and configured.
The Pros and Cons of Using WordPress Multisite
WordPress Multisite makes it easier to manage multiple similar WordPress sites, as you can manage the plugins, themes, and content of each site from a single location. This saves a lot of time as you don't need to log in to each and every WordPress site in your network just to update a single plugin you happen to be using on all of them.
Additionally, all of the sites in a network will share the same database, meaning a single backup will store all the data of every site. This means there's no need to take backups of each site individually.
However, WordPress Multisite might not be a perfect solution for everyone. If you're looking to use it to oversee several unrelated client sites, the shared database could present a big problem, as these clients wouldn't be able to personally back up their site in order to move to another host.
A Multisite network introduces security risks too. If a single site is compromised, the entire network will be at risk. Furthermore, as each site is sharing the same network resources, a problem with the server will slow down (or bring down) every site in the network.
Which WordPress Multisite Host is Right For Me?
The best WP Multisite host for you depends on what you're trying to accomplish. If you're only looking to run a few low-traffic sites or subdomains, then budget shared hosting will likely offer you the best value. For large or much more intensive site networks, a premium solution may be best.
It's important to consider this carefully, as a Multisite network can take a while to get up and running, and to start generating traffic. You don't want to invest time in a host that is a poor fit for your current needs.
Regardless, all of the hosts I've listed can provide a good starting point, depending on where you're at with your network. Here are my personal recommendations.
If you have the budget for some of the best performance available, take a look at Kinsta. WordPress is fully managed, monitored, and backed up by useful premium features.
On the other hand, Hostinger provides a Multisite solution at incredibly low prices while still delivering fast loading times and reliable service overall.
Do you want to get a bunch of sites online without having to worry about resource limits? A2 Hosting is a budget solution that provides fully unlimited resources, though it is lacking managed features for WordPress.
If high-end managed hosting combined with developer-friendly features is what you need, I'd check out WP Engine.
Finally, FastComet offers global data centers at low prices, alongside a helpful above-and-beyond support service.
Standout features
Number of websites (Multisite plans only)
SSD space (Multisite plans only)
Starting price
Kinsta
Amazing performance, huge list of data centers
2 – 150
20GB – 250GB

$

30.00

A2 Hosting
Unlimited resources with the Drive plan, flexible refund policy
unlimited
unlimited

$

17.99

WP Engine
Proprietary control panel, developer-friendly, unique plugin manager
3 – 30
15GB – 50GB

$

20.00

Hostinger
Fully optimized WordPress platform at cheap prices
100 – 300
100GB – 200GB

$

1.99

FastComet
Global data centers at a budget price, great support
unlimited
25GB – 35GB

$

2.95
FAQ
Why is it better to have hosting optimized for WordPress?As WordPress Multisite tends to be resource-heavy, proper optimization is crucial. Without it, every site in the network may be subject to slow loading times. Many of the hosts in our list of the best web hosting providers for January 2022 offer an optimized WordPress platform.Is Kinsta easy to use?Kinsta features a user-friendly control panel that allows you to access all the important functionality you'll need through a well-designed interface. You can create new sites with ease, and you'll also have easy access to backups, performance monitoring, and more.Which is the best host for developers?WP Engine offers good support for developers. It includes seamless integration with Local, a WordPress development tool. Git, WP-CLI, and SSH are also supported with every plan alongside great managed features.Is A2 Hosting good value for money?While the basic plan isn't a great fit for Multisite networks due to heavy limitations on domains and subdomains, A2 Hosting's Drive plan is still very affordable and offers unlimited resources. If you're looking to save money, check out the great deals for January 2022 on our coupon page before making a final decision.