We've compiled a list of 16 stunning graphic design portfolio examples
for ideas and inspiration. Some of these portfolios are straightforward image-focused websites. In contrast, others contain videos, blogs, online shops, and case studies to provide more insight into the work and personality of the designer. But, to build your dream portfolio, finding the right platform to help you execute your ideas is necessary. The following examples show you
how to use a website builder's features to showcase your work, connect with clients, and build your brand
.
Did you know you can create an attractive graphic design portfolio within minutes?
Wix has over 50 portfolio website templates
 with most of the best features already built in. Choose a design you like, add text and images, and you're all set!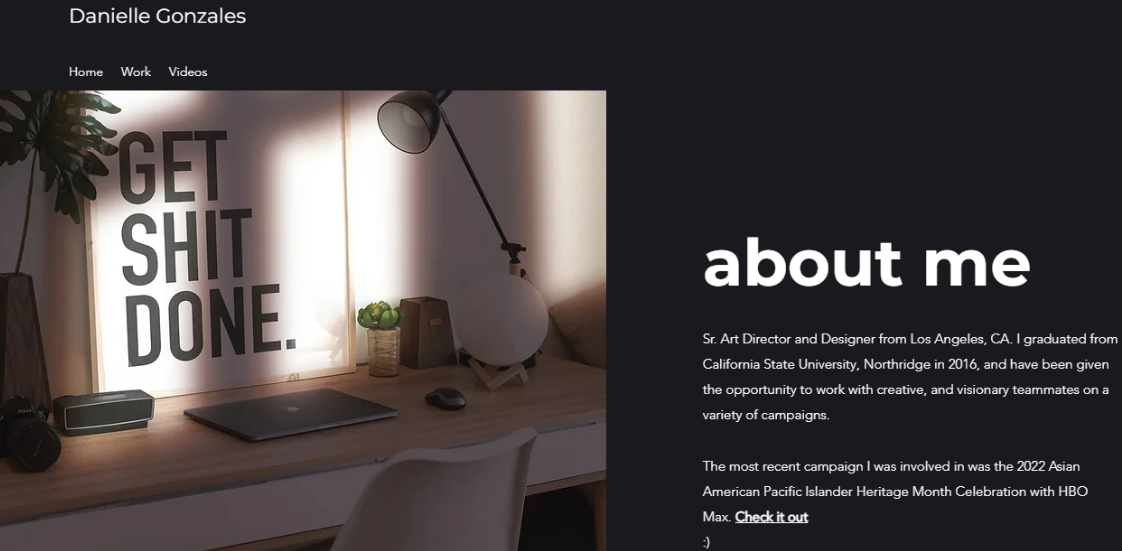 Visit website at: https://www.daniellegonzales.com/ Danielle is an experienced art director with experience in ad campaigns. Scrolling down the portfolio homepage, you'll see a carefully curated gallery of Danielle's best projects.
The dark background makes the already crisp images pop even more
, and the transparent CTA buttons invite visitors to click without being obtrusive. What I particularly like about this portfolio is the
Videos page, which showcases Danielle's commercials and broadcast spots
. Seeing the finished product of a campaign will intrigue potential clients, who can get in touch via the contact form. With Wix, you get plenty of storage space, so it's an excellent option for video-oriented portfolios.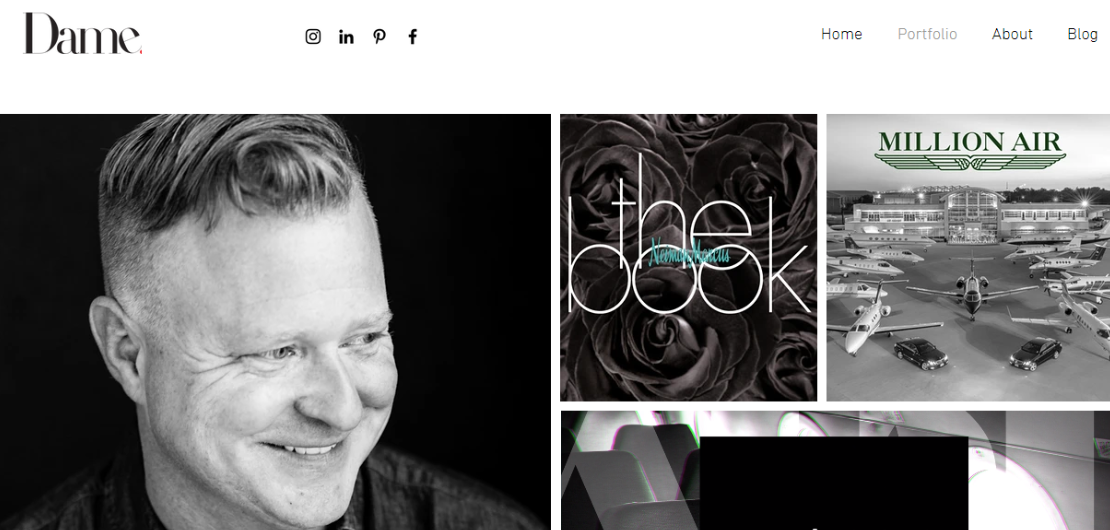 Visit website at: https://www.dame.co/ Jerod Dame runs a design company that specializes in the luxury market. I like how the website's homepage displays only the company's logo, making it more memorable. It quickly prompts you to scroll down and explore Dame's rich body of work, from brand identity development to product design.
The portfolio features a clean layout with high-quality photos and motion graphics
in focus. Neatly designed social media icons sit at the top bar to make it easy for site visitors to reach out.
Pro Tip.
If you're short on time, setting up a portfolio to showcase the breadth of your design work might be challenging. With Fiverr, you can
hire a designer for as little as $5
 to create a compelling online portfolio for you, and still get an attractive website on your desired platform.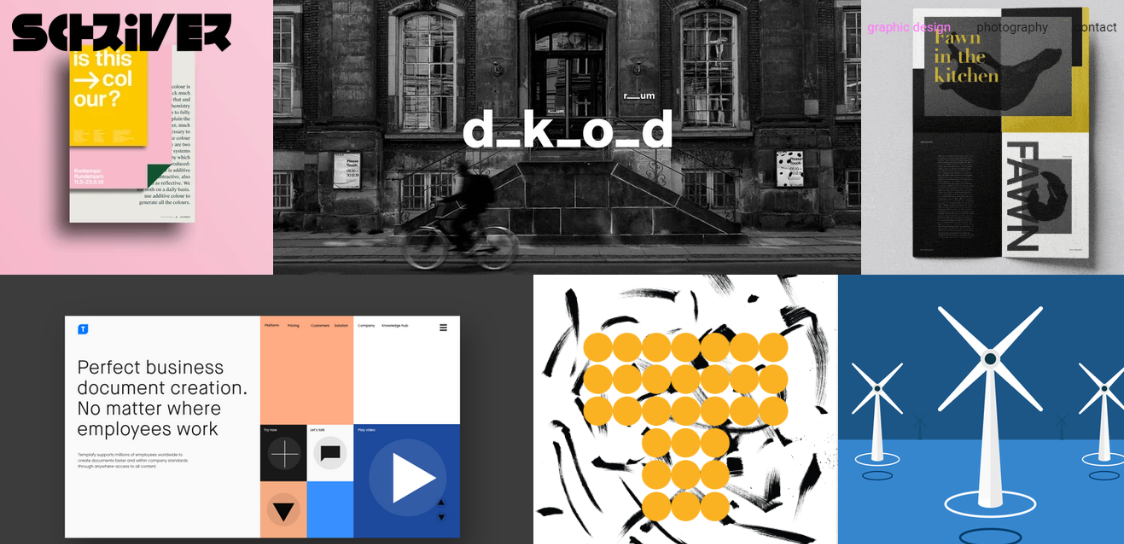 Visit website at: https://www.danielschriver.com/ Daniel Schriver's portfolio gets straight to the point –
the homepage immediately grabs your attention with beautiful images and motion graphics
. You can see a brief project description when you hover over a photo. Clicking on it will take you to a separate page that provides more information. The website has separate pages for design and photography, making it easy to explore Daniel's work.
The highlight for me, however, is the playful Contact page
, with an animated version of Daniel waving and urging visitors to get in touch.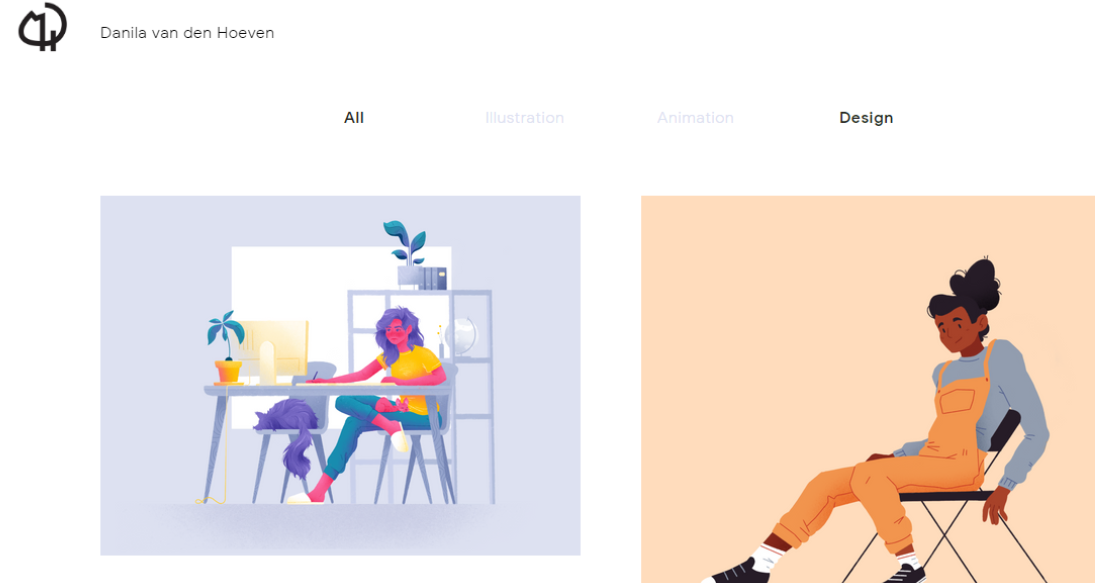 Visit website at: https://en.danilahoeven.com/ Danila's portfolio uses white background to let the design work shine. The website is nicely arranged, with easy-to-find links for different portfolio sections like illustration, animation, and design. Danila cohesively showcases the work by grouping images similar in theme or color. My favorite detail is
a cute animated cat logo
at the top left corner, which makes the portfolio more memorable. Danila's portfolio also includes
links to the resume and social media
, so you get all the information you need in one place.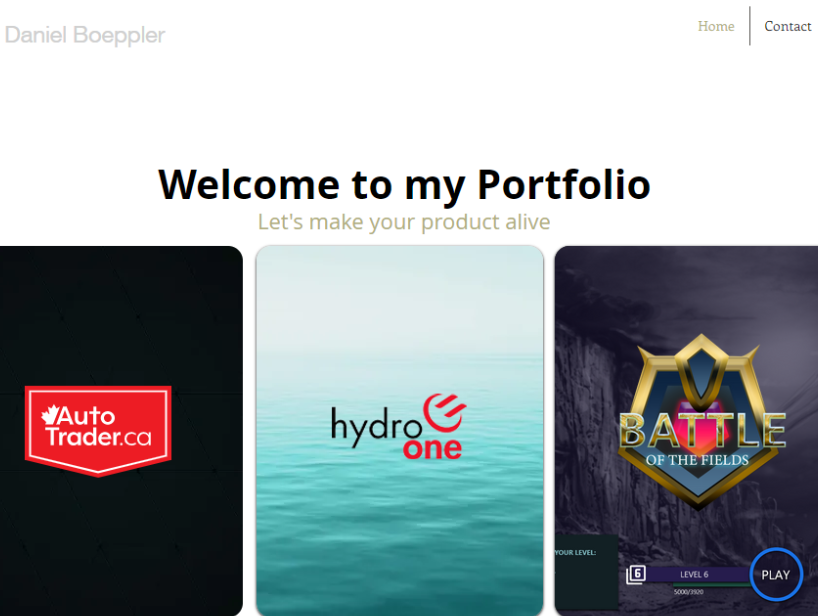 Visit website at: https://www.danielboeppler.com/ Daniel Boeppler's website is another example of a simple yet effective portfolio layout. The selected projects are presented clearly, with a separate section for photography. By the way,
you can set up a slick gallery of your photos using one of Wix's free apps, such as Wix Pro Gallery.
You can click on individual photos to learn more about each project. Once you've explored the product designs, prominent social media icons at the bottom of the page invite you to visit Daniel's social profiles.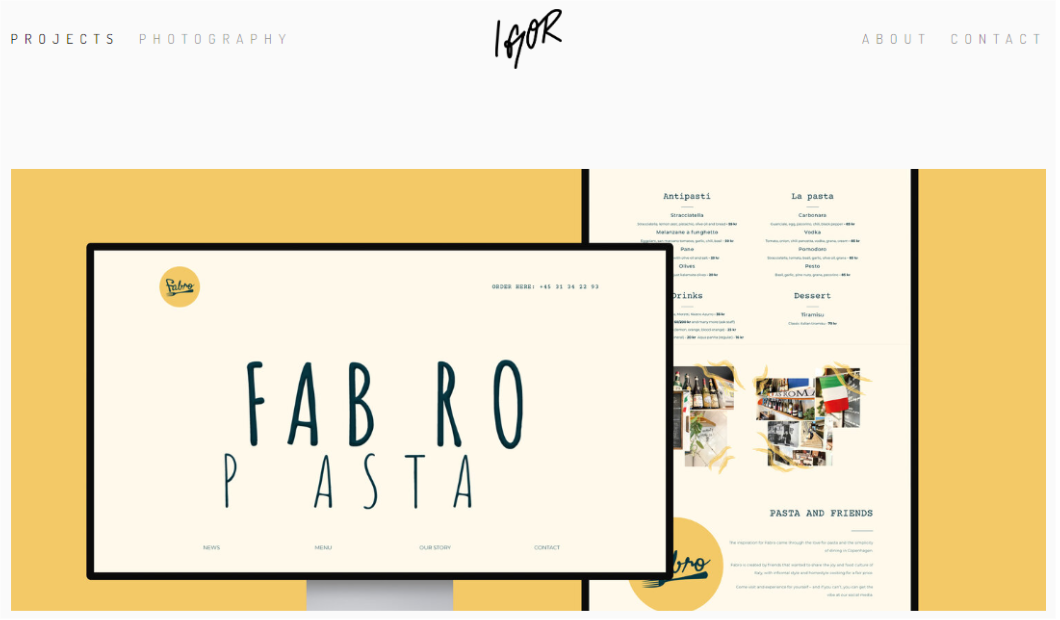 Visit website at: https://www.igorzeljic.com/ The polished and elegant look of Igor's graphic design portfolio is a perfect example of what you can achieve with Squarespace's impeccable templates. The site's uncluttered layout and white background ensure that images stay at the center of attention. The site is also easy to navigate, with page links on both sides.
The logo featuring the designer's name
is a nice touch and a great way to make your work more recognizable.
The great thing about Squarespace is that it lets you create and download a logo for free.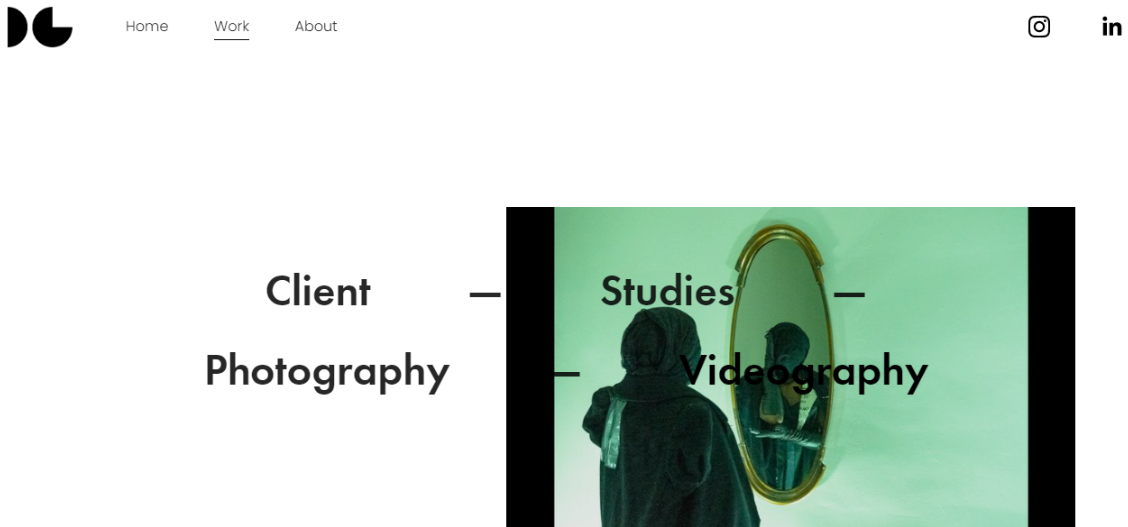 Visit website at: https://danielgraphic.design/ Daniel Giraldo's homepage displays an eye-catching initials animation, and its design matches the logo.
That helps achieve
consistency and build a creative identity
. The portfolio page is equally eye-catching – when you hover over the section titles, you get a preview of design pieces. Aside from projects, Daniel's website has an About page, which features a list of the services and compelling copy describing the unique graphic design approach. Noticeable (and perfectly shaped) social media icons make it easy to stay updated on Daniel's work.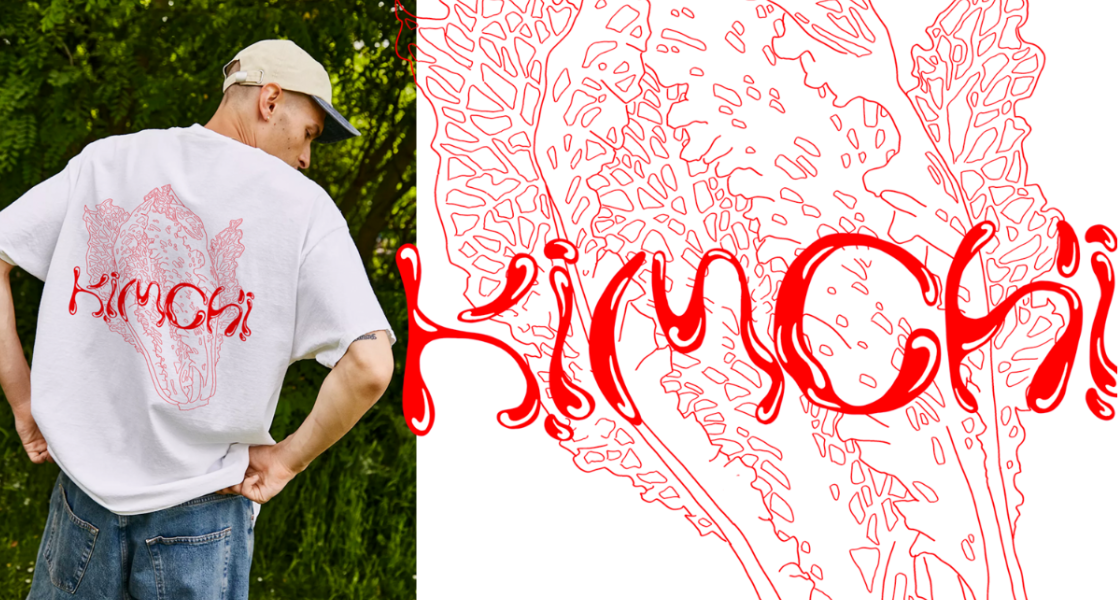 Visit website at: https://www.florasagnes.com/ Flora Sagnes has a diverse portfolio that includes advertising, illustration, and graphic design work. Even though the website is packed with projects, it's easy to navigate, thanks to clearly outlined links.
I like how Flora uses
image sliders to showcase the designs and illustration work
. I also like
the slick presentation of ad campaigns
in the Advertising section. Flora uses photos, Instagram screenshots, and videos to show the stages of an ad campaign, including the final version.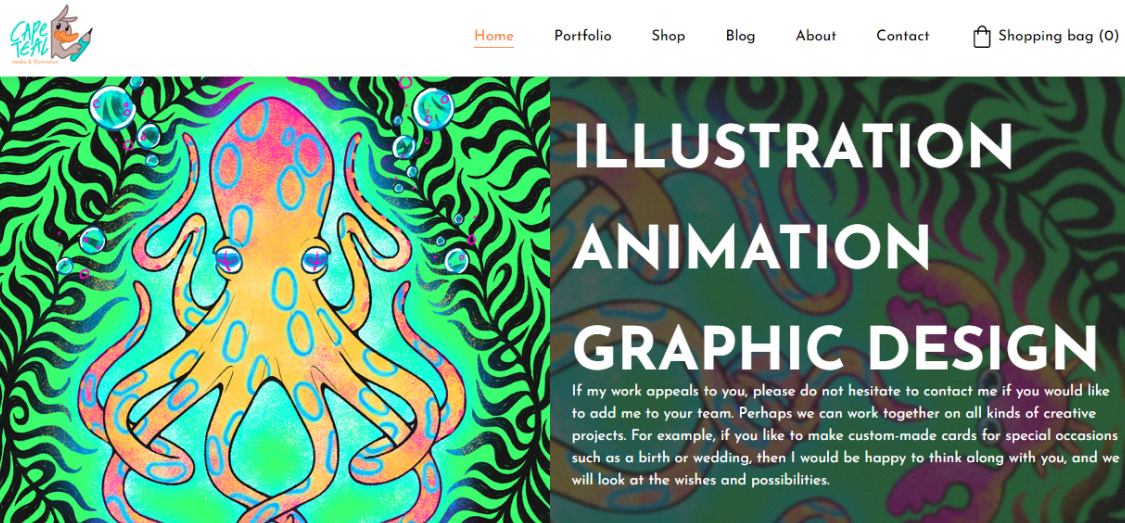 Visit website at: https://www.capeteal.com/ Anne van Wessel's breathtaking portfolio features selected works in illustration, animation, and graphic design. Despite plenty of content, the portfolio is easy to navigate, thanks to
prominent links and brightly colored CTA buttons
. There's consistency in the choice of colors and fonts, which makes the site more memorable. Anne uses image sliders, motion graphics, and videos to attract the visitor's attention and make the portfolio more interactive. And speaking of interaction,
a built-in Instagram feed and a blog
are bound to keep site visitors engaged. There's also
an online store for selling digital downloads, prints, greeting cards, and more
.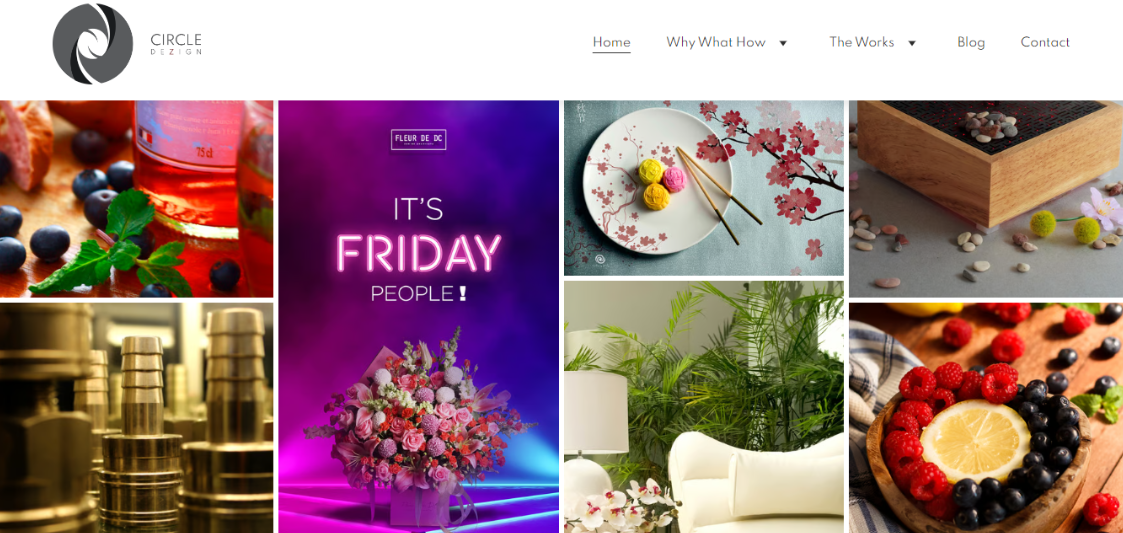 Visit website at: https://circledezign.com/
Circle Dezign
website uses full-screen images to grab your attention. As you scroll down the homepage, selected design pieces will pique your interest – you can see more by visiting the Works page, with separate sections for graphic design and photography.
Thanks to drop-down menus, the site packs plenty of information but is still easy to navigate
. There's also a blog for sharing design tips or the latest information about your work. I like the structure of the About page, aptly named Why What How, which the designer uses to promote the services, work philosophy, and work process.
Other Notable Graphic Design Portfolio Examples
If you're looking for more ideas to help you create a unique portfolio, the following examples provide plenty of inspiration.
11. Vladimir Strajnic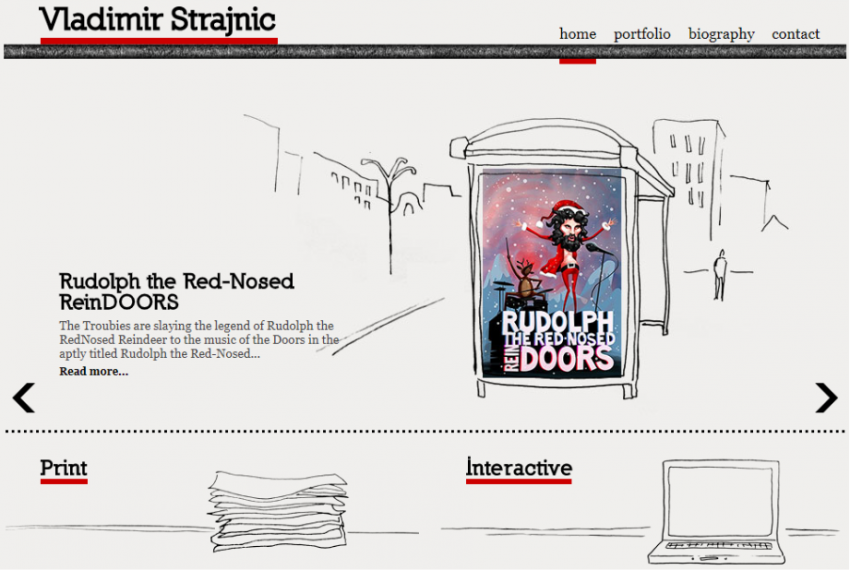 Visit website at: http://www.strajnic.net/ Vladimir Strajnic's portfolio marries the sketchbook style with digital technology, making the site more memorable and adding a personal touch. Another highlight is a
downloadable PDF version of the portfolio
so that potential employers can save it for later.
12. Heather Shaw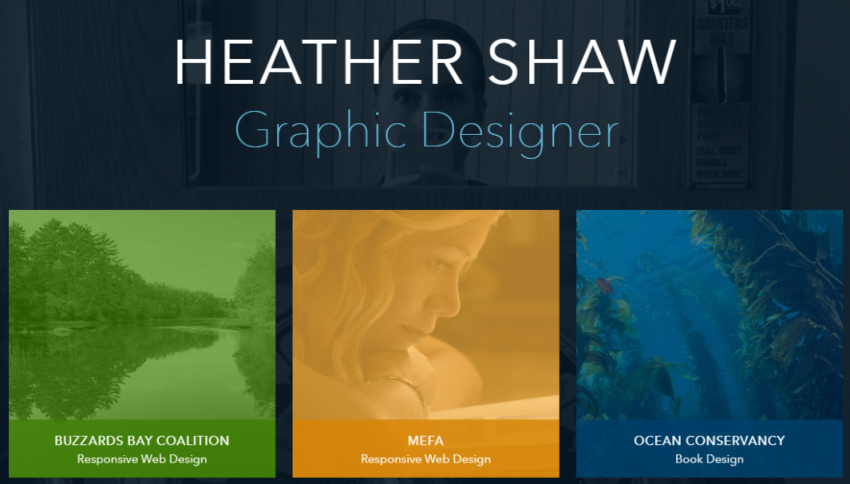 Visit website at: http://heathershaw.com/ Heather Shaw's portfolio has an ultra-clean layout that displays samples of diverse projects, such as web design, book design, branding, and more. There's
a visual consistency when it comes to colors and fonts
, and effective text to explain each project and the design approach behind it.
13. Tiffany Cruz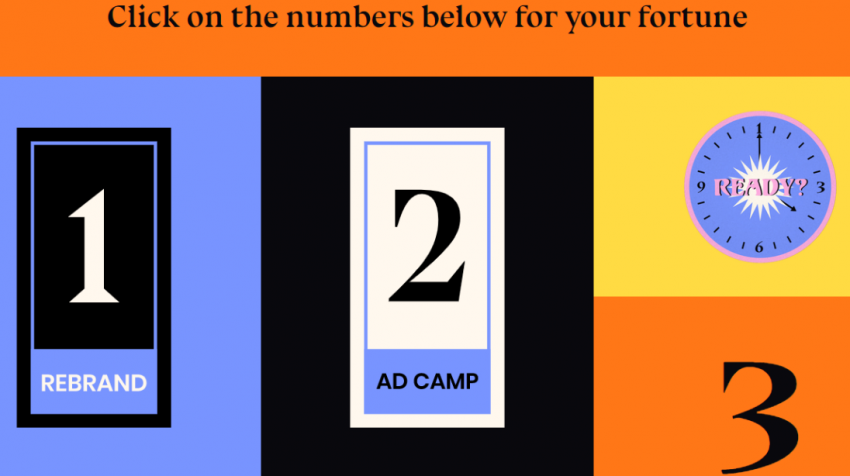 Visit website at: https://www.tgtcruz.com/ Tiffany Cruz puts a spin on the traditional graphic design portfolio by
displaying projects as interactive fortune-teller cards
. By hovering over each card, you flip them over to reveal a project. This portfolio also includes a downloadable resume.
14. Kaitlin Elise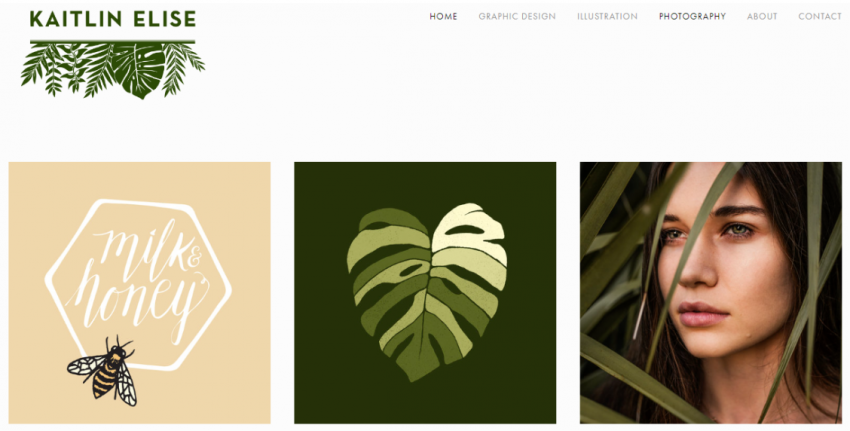 Visit website at: https://www.kaitlinelise.com/ Kaitlin Elise's polished portfolio has different graphic design, photography, and illustration sections.
The built-in Instagram feed
makes it easy to stay up-to-date with all of the artist's projects. If the work looks familiar, you may have seen these branding designs for Starbucks.
15. Ben Eli Studio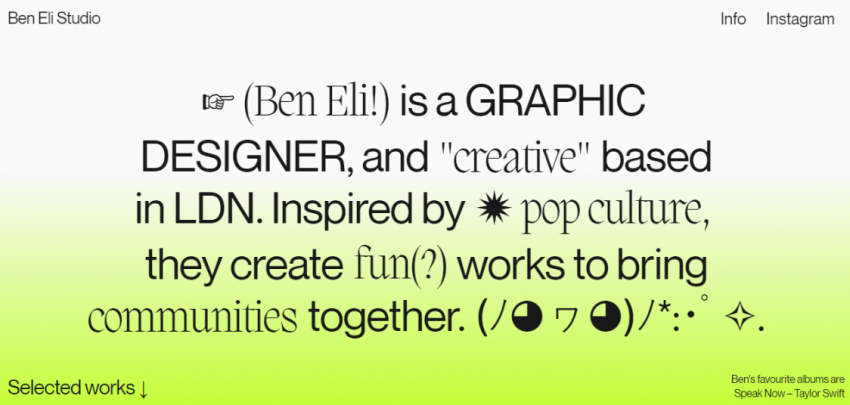 Visit website at: https://www.beneli.studio/ Ben Eli's captivating portfolio draws inspiration from pop culture, employing charming animations and emojis to engage the viewer.
Hovering over project titles reveals accompanying visuals
, while a custom cursor shaped like a Pink Care Bear adds an extra touch of fun.
16. Andrada Haş
Visit website at: https://www.andradahas.com/ Andrada Haş's portfolio features an eye-catching
split-screen design
for the homepage and the projects page, with text on the left and visuals on the right. This duality is reflected in the choice of colors and fonts as well.
3 Best Website Builders for Graphic Design Portfolios
Most websites on this list were built using Wix, Squarespace, or Hostinger Website Builder. These website builders allow you to quickly create a stunning and functional graphic design portfolio, even if you're a complete newbie.
You'll get modern, easy-to-modify templates with much-needed features
like contact forms, blogs, online stores, and more.
Wix has a gigantic template library (with 800+ designs) and more portfolio templates than most website builders
. Wix also offers the most customization options, which allows you to edit your template's design as much as you like. Despite its creative freedom, Wix's drag-and-drop editor is easy to use even if you've never built a website before. Wix's templates include many useful features, such as blogs, galleries, forms, and chat apps. And if you need more tools,
over 300 integrations are available in Wix's App Market
.
Squarespace's stunning templates are virtually unmatched
, and you'll find plenty of eye-catching portfolio designs. All templates are automatically mobile-responsive, so your site will always look good and load quickly on mobile screens.
Squarespace has built-in social media tools to help you promote your portfolio
, which include social share buttons, Pinterest buttons, Instagram stories, and more. With the Unfold mobile app, you'll get custom Instagram story templates to make your content stand out on social media. On top of that, Squarespace offers a free logo-making tool that's easy to use and lets you create a logo in just about any language.
In addition to modern and professional portfolio templates, Hostinger Website Builder has some of the lowest prices among website builders, and you get great functionality in return. For instance, its AI tools can help you save time when building a portfolio.
AI Image Resizer and Upscaler optimize your photos to let your designs shine
. At the same time, a content generator creates text tailored to your area of work.
Hostinger Website Builder is an excellent option if you plan to sell your digital designs or prints
. You'll get solid e-commerce features, including order and inventory management, the ability to accept all kinds of payments, and more.
Use a Graphic Design Portfolio To Tell Your Story
Aside from showcasing your projects, your graphic design portfolio should reflect your work philosophy and personality. Including high-quality photos is essential, but
you can spice things up with exciting animations, motion graphics, and videos
. It's also a good idea to be consistent when choosing colors and fonts to make your portfolio more memorable. Creative websites are all about telling a story, but you'll need the right platform to do yours justice.
I recommend you use Wix to build your graphic design portfolio
, as it provides loads of features while being beginner-friendly.
FAQ
What should a graphic design portfolio include?
Your portfolio should highlight your design work, so a gallery of your projects should be the focal point. You can include an About page to introduce yourself, a link to your resume, and case studies to provide more details about your projects and design process. Additionally, your portfolio can include an online shop page for selling digital downloads or prints.
How do I make a good graphic design portfolio?
A good graphic design portfolio should have attractive visuals, such as photos and videos of your projects and motion graphics. Also, be sure to have a clean layout to make it easy for visitors to navigate your site. You can check out our complete guide to building a website for more detailed information.
How can I promote my design work?
One of the most effective ways to promote your products and services is through social media platforms, so your portfolio needs to link to your social media pages. You can also include an Instagram feed so that site visitors can stay up-to-date with your work.
How can I create a graphic design portfolio for free?
Wix's free plan has a great set of features for portfolios, such as free apps for galleries and chat apps. That said, free plans don't always provide access to a website builder's best features. For instance, Squarespace doesn't have a free option. Still, its pricing tiers offer great value and come with built-in social media tools. Check out our list of the best website builders for 2023 to find feature-rich and affordable website-building platforms.