If you're not a web designer, Editor X templates can look intimidating at first glance. But looks can be deceiving.
Editor X is tailor made for professionals and has the design and layout features to match. But
anyone willing to invest some time and effort can use Editor X to create a website
for a business, store, or blog. What's more, it will look great on
any
screen, whatever its size. That's what I learned when
I tested each of its 35 designer-made templates
and built a bunch of sites. As part of the Wix ecosystem,
Editor X has the same intuitive interface and drag-and-drop functionality that Wix is famous for.
It even has some additional features that novices will appreciate, such as auto save and version restore. These make it impossible to screw up your site with a single mistake. Keep reading to see my top Editor X templates for 9 popular niches and find out if one is right for you.
SAAS Company: On-Brand Styling for Trendy Startups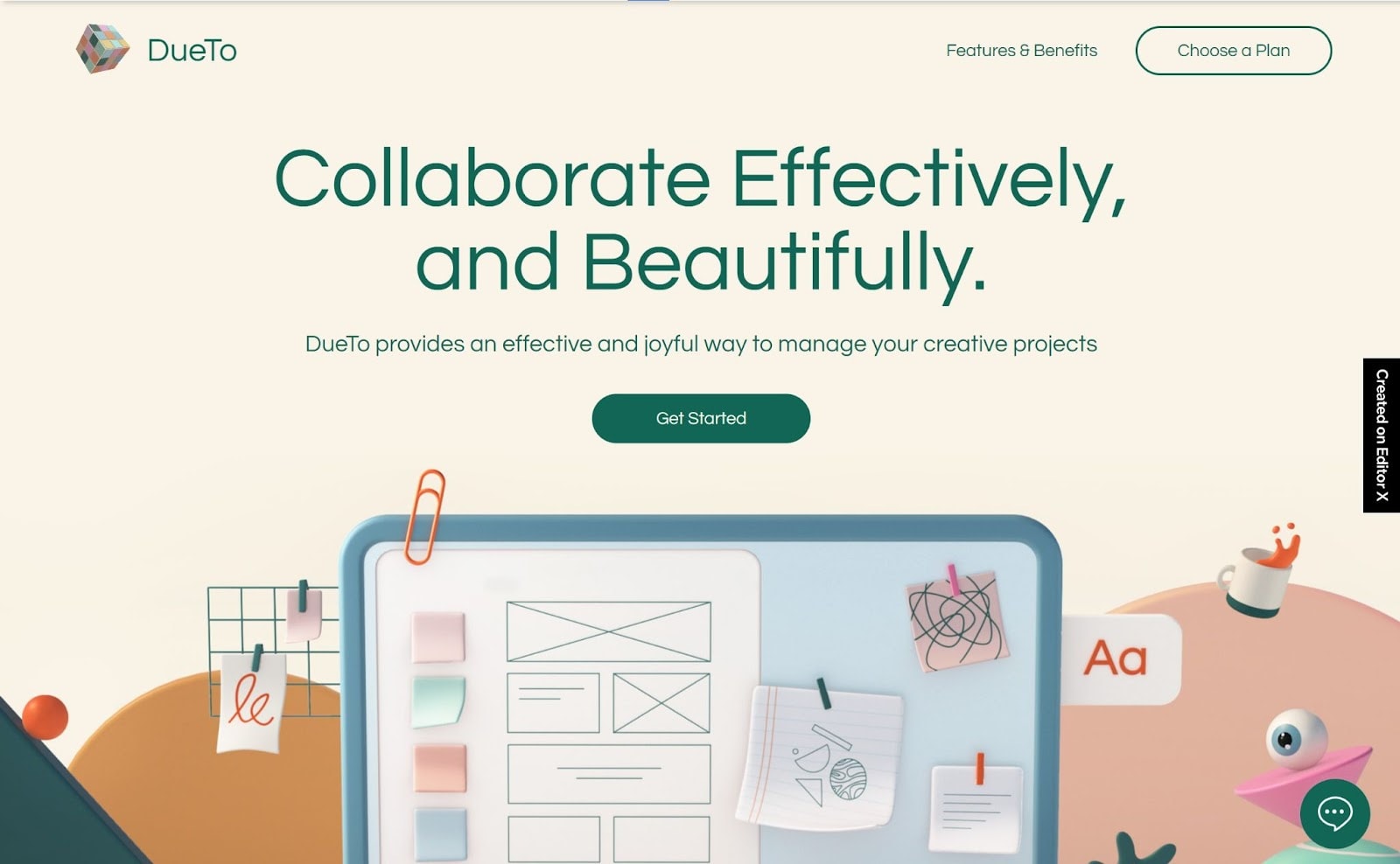 Everything about
SAAS Company
screams innovation
. It has a quirky, modern design, snappy headings and subheadings, and fun animations that enliven every page. Together, these keep eyes focused on what's important: your product's unique features and benefits. Editor X lets you change every element of the template's design and layout. You can
browse the free media library to find images, videos, and icons that suit your brand.
You can also fine tune how site animations behave, setting them to bounce, spin, glide in, fade in, and more. The tools are right there on your dashboard.
SASS Company
is also e-commerce ready.
Interested clients can review your plans and pricing, subscribe, and pay online.
If you're looking to attract investors, this template also comes with premium Wix Ascend business tools to
help boost your SEO and develop targeted marketing campaigns.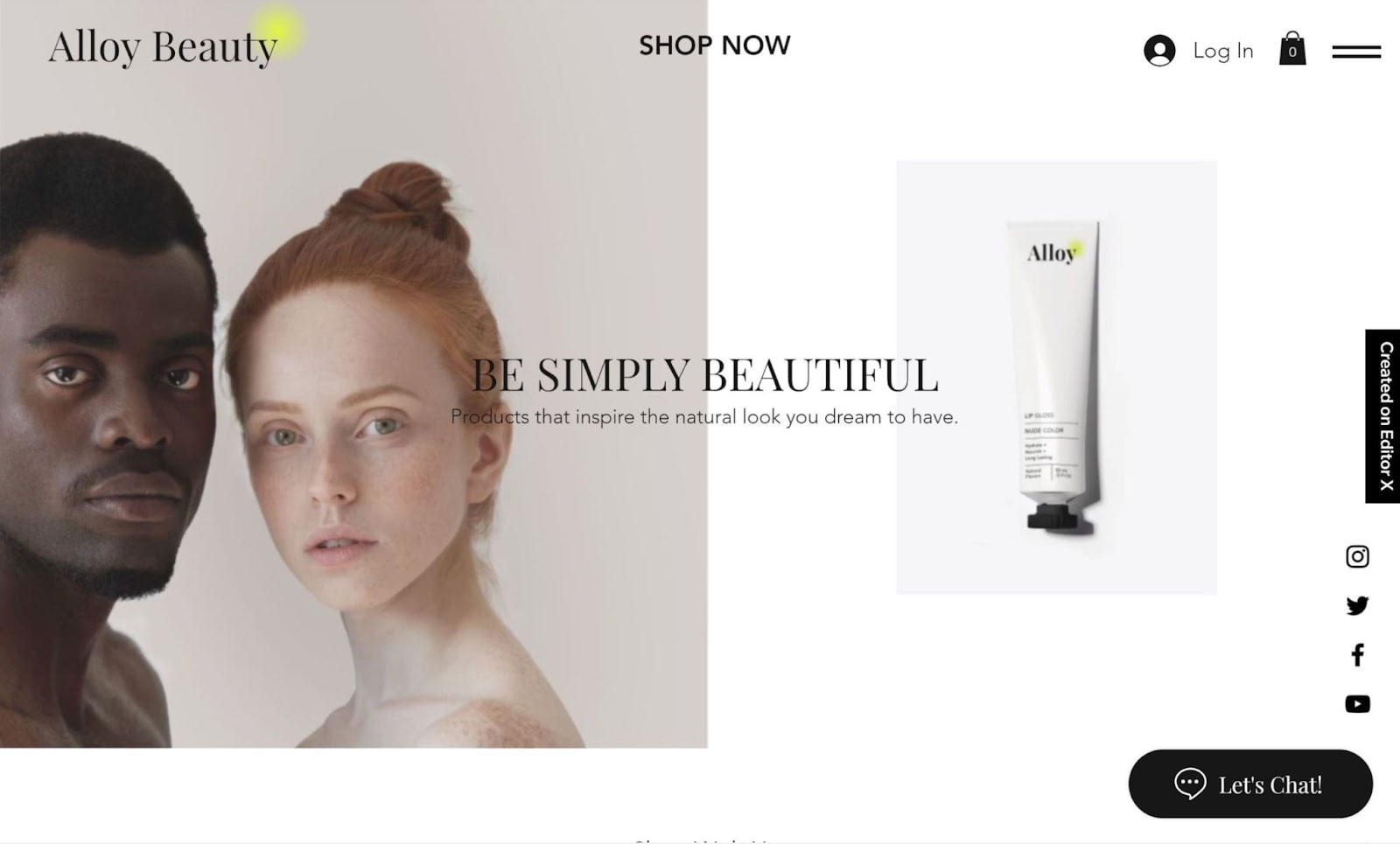 There's much to like about
Beauty Store
, with standout features like an animated homepage slideshow, sensory video clips, user-friendly navigation, and a clean but dynamic design. Shoppers can
scroll your homepage to learn about product benefits, view testimonials, and sign up for exclusive offers.
They can also click on prominent "Shop Now" and "Shop All" links that lead straight to your store pages. Once there, hover-over effects elevate the shopping experience and help your products stand out.
Wix Chat lets you connect instantly with site visitors
and respond to product questions. Editor X also gives you the option to
add a members area to your store to personalize the shopping experience
and build brand loyalty. Shoppers can create profiles, view exclusive offers, and more.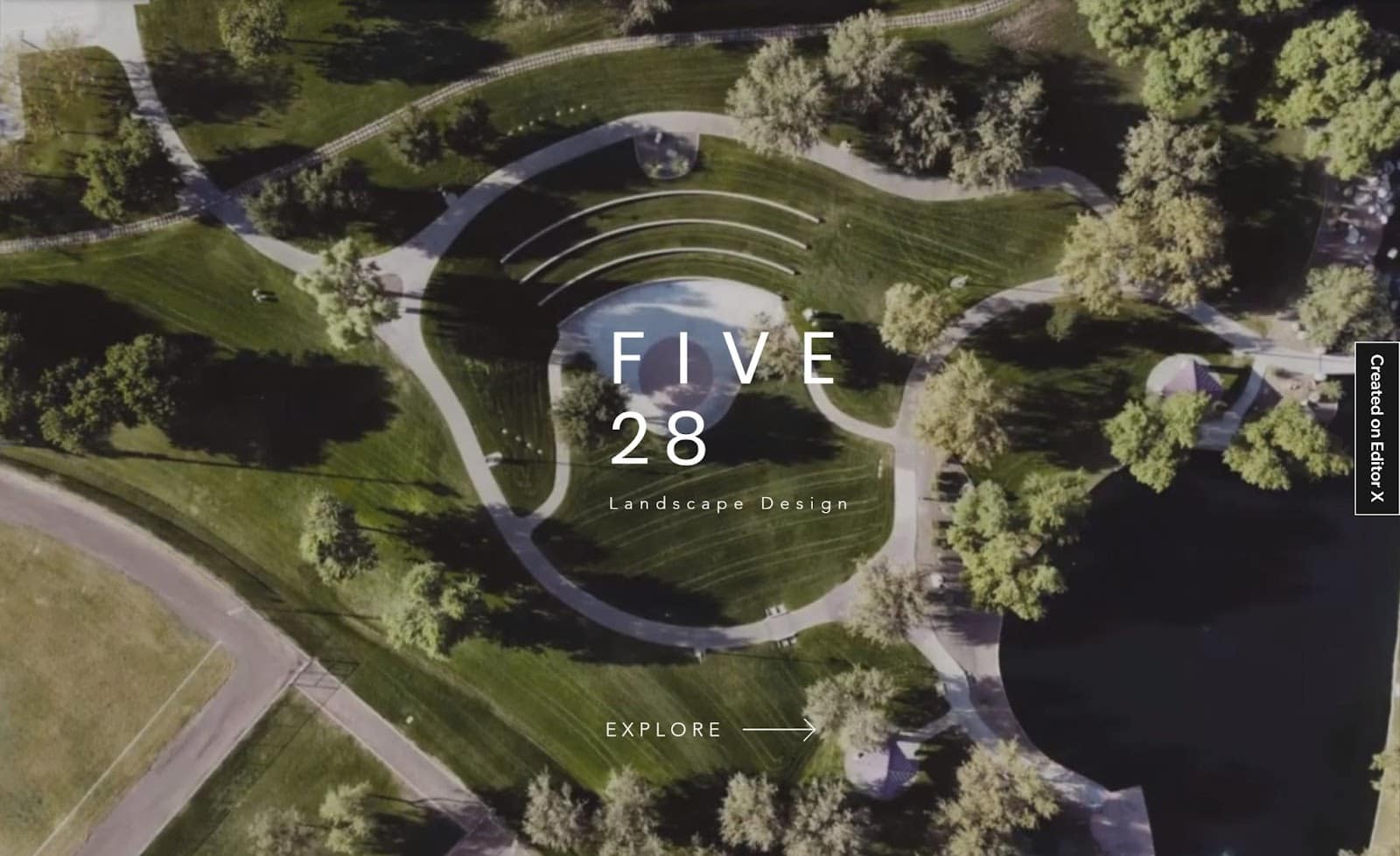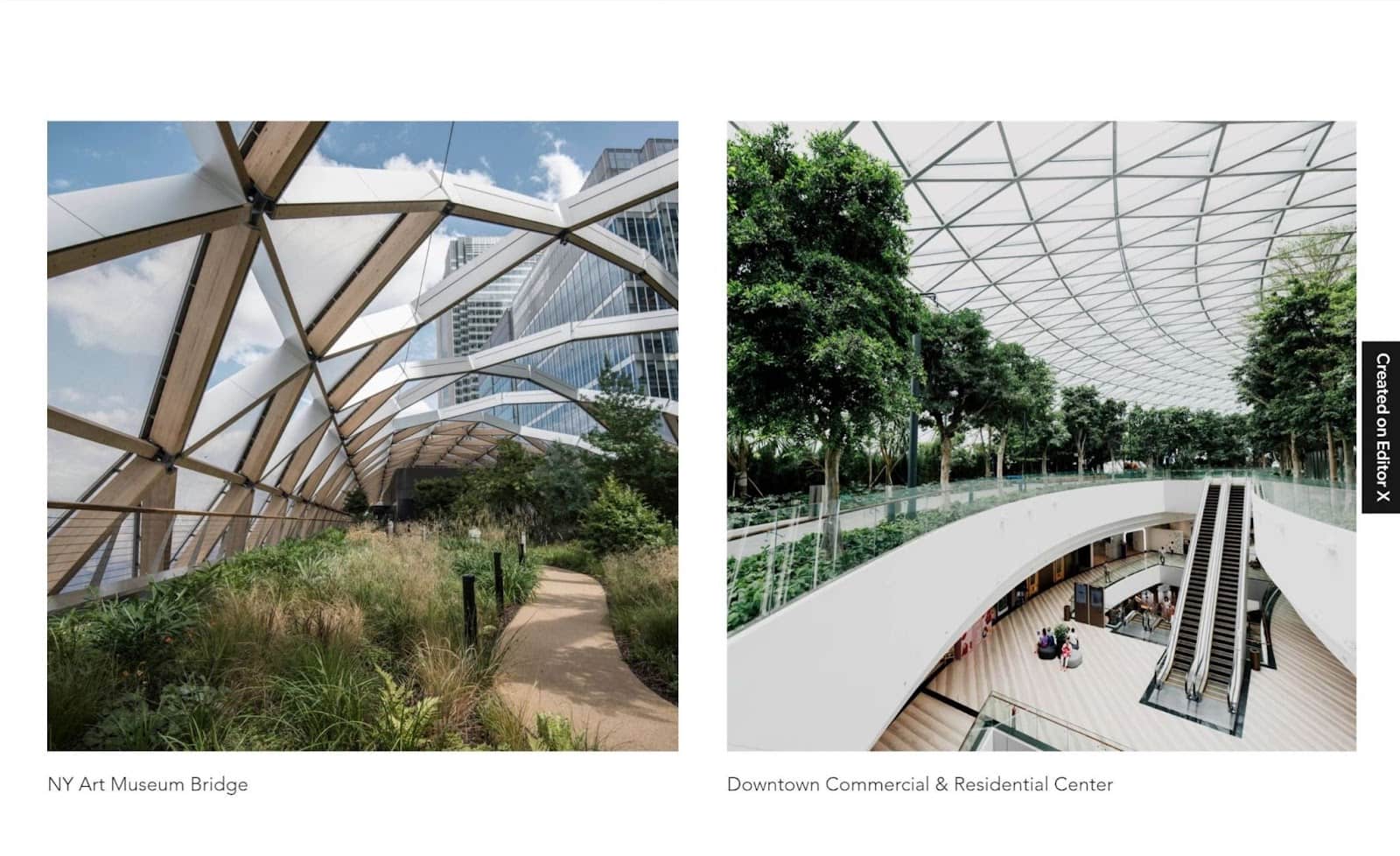 Landscape Architecture Firm
opens with a
dramatic
splash page that gives visitors a preview of your work and invites them to explore further.
It's an effective marketing tool that encourages potential clients to delve into the services you offer before they even get to your homepage. Once on your homepage, the
clutter-free design and abundant use of whitespace
helps keep the focus on your work. The same approach is taken on the
Portfolio page, where visitors can interact with a curated selection of your best projects.
As they mouse over individual project images, these darken, prompting users to click or tap to bring up a detailed description and slideshow. Rounding out this template is an About page where you can introduce your team, share your firm's creative approach, and invite potential clients to reach out with questions via email or chat.
Product Landing Page: Lead Generation Gem for Presenting New Products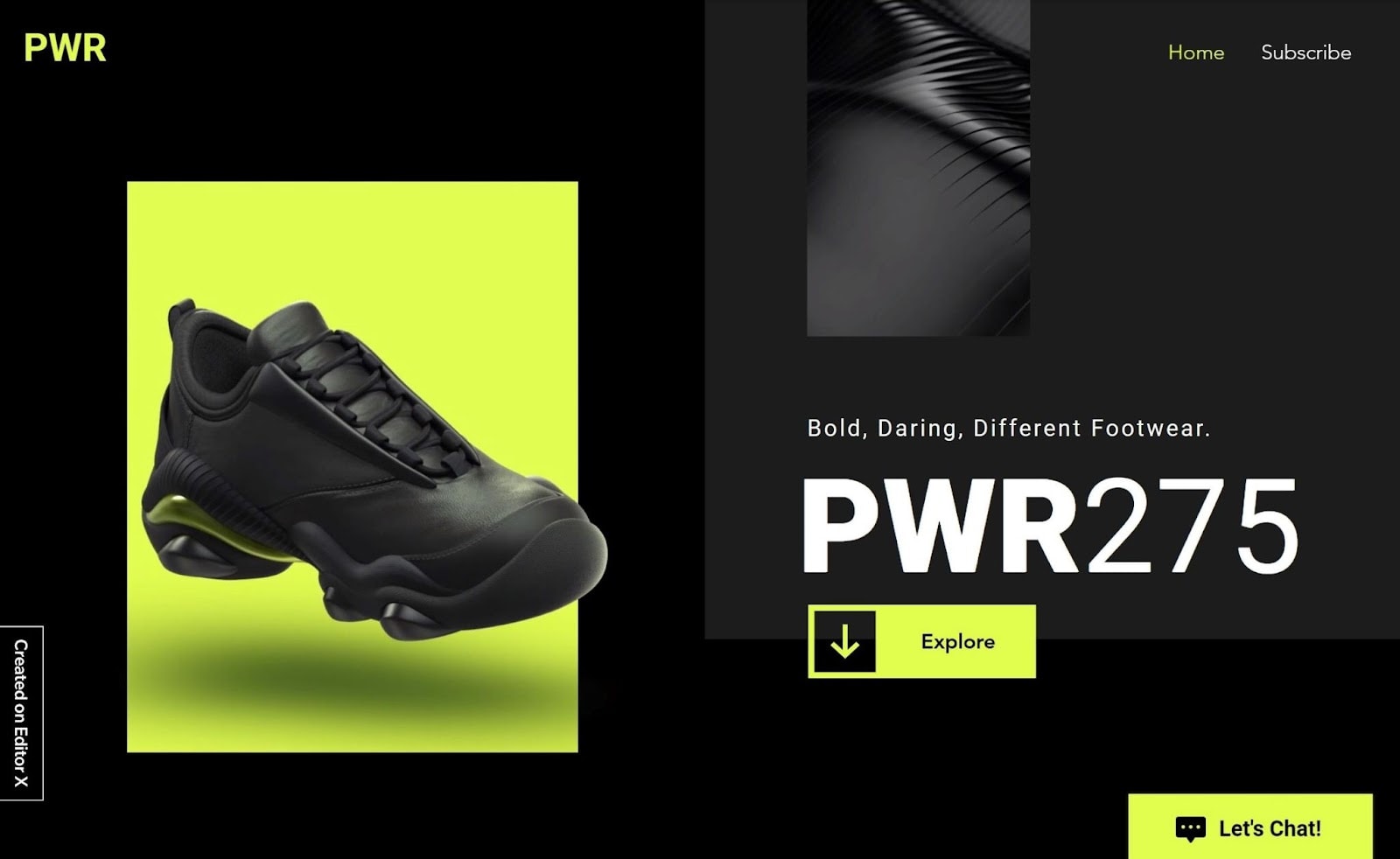 Product Landing Page
's bold typography, dynamic visuals, and colorful call-to-action buttons will get visitors excited as soon as they hit your page. You can use the video on the left side of the homepage to
give shoppers a close-up, 360 degree view of every innovative product feature.
As users scroll down, headers and text slide in, keeping them constantly engaged.
Dedicated content sections let you share what makes your product unique.
The sharp contrast between the dark background and bold accent color makes text and images pop. It also makes everything easier to view on mobile.
The default signup form has just a single field for an email address, which
can help you capture more leads
(people opt out when asked for too much information). Just below are oversized links to your social media platforms to keep potential customers engaged and encourage them to spread the word about your latest merchandise.
Accessories Store: Bright and Engaging, Best for Contemporary Fashion Brands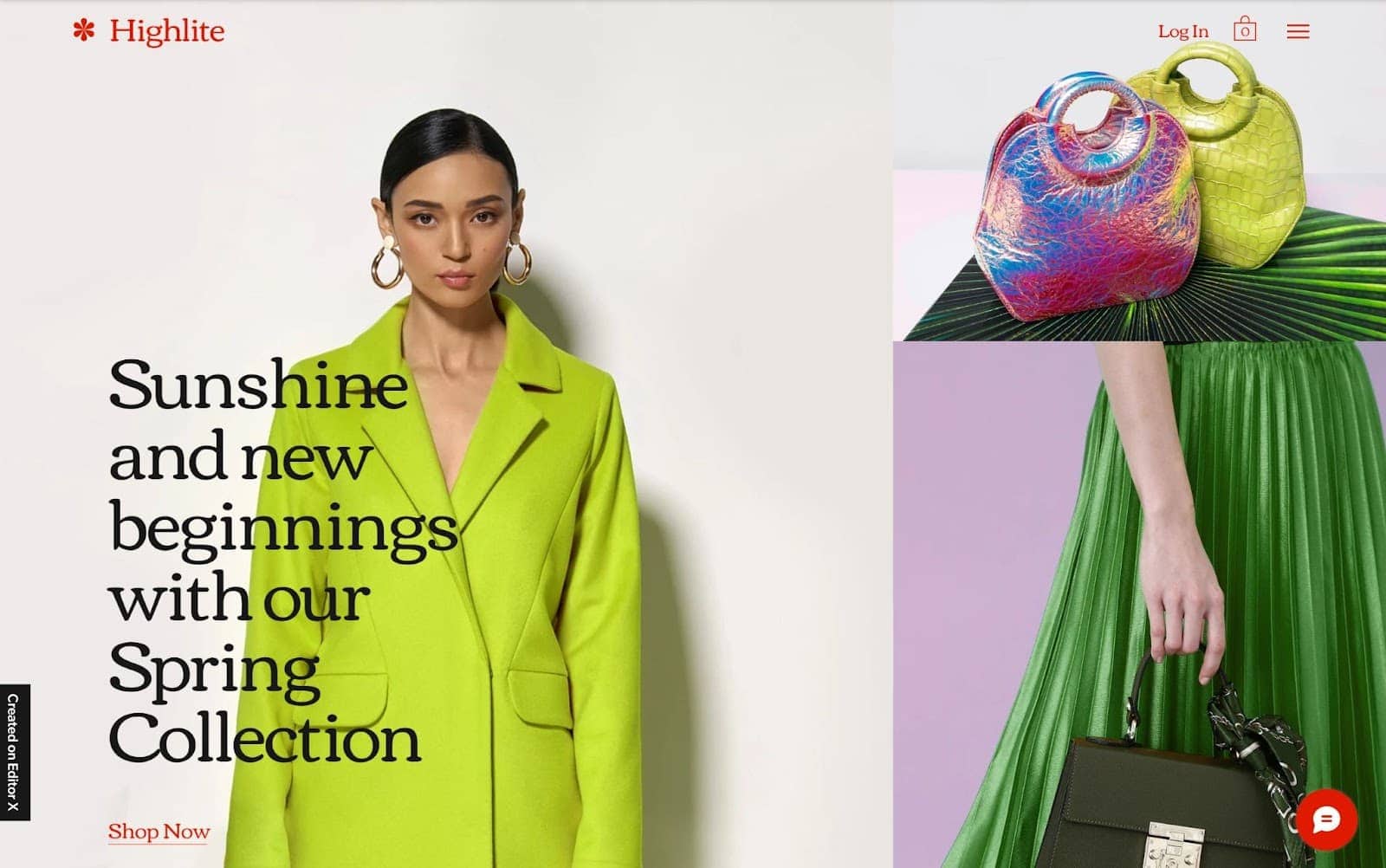 Accessories Store
is a sharp-looking template with a clean layout that keeps shoppers focused on your fashion items. It's also not short on features. These include
chic store pages and a
Press page where you can share positive media coverage.
This template has what you need to fully optimize the online shopping experience you deliver. Filters
let buyers quickly locate the item they're looking for and add it to their shopping carts with a single click.
Customers can also create personal accounts for speedier checkout and the ability to review pending and past orders. Other Editor X e-commerce tools let you
set up automatic triggers for sending abandoned cart recovery and back-in-stock emails
to boost sales. You can even build customer rapport with automated welcome messages and feedback requests.
Photography Portfolio: Compelling Format for Visual Artists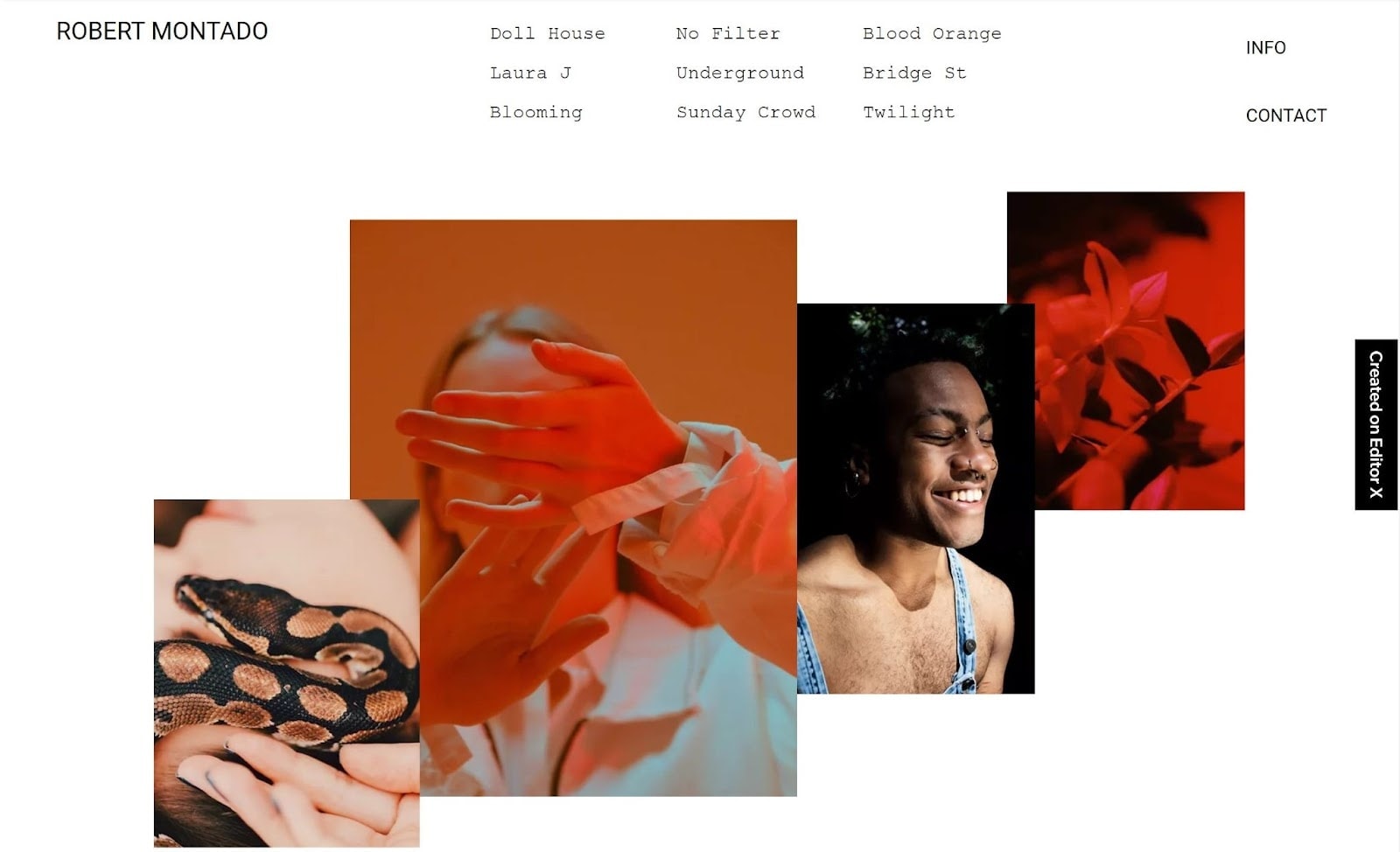 Photography Portfolio
is a clean looking template with an expansive layout and
stunning photo galleries that give your photographs the space they need to be fully appreciated
. Collectors can click on links in the header to reach photo galleries that each focus on a different subject or period of your work. They can then effortlessly experience your full creative output by clicking arrows at the bottom of each gallery page to navigate between your various collections. Aside from the great gallery features, you get sections dedicated to your exhibitions and an
Info page for sharing insights into your creative approach
. You can even list publications where you've been reviewed and featured. What's more, the contact form at the bottom of the page
encourages collectors to inquire about a purchase and invites journalists to set up interviews
.
Culinary Consultant: Winning Recipe for Freelancers and Food Bloggers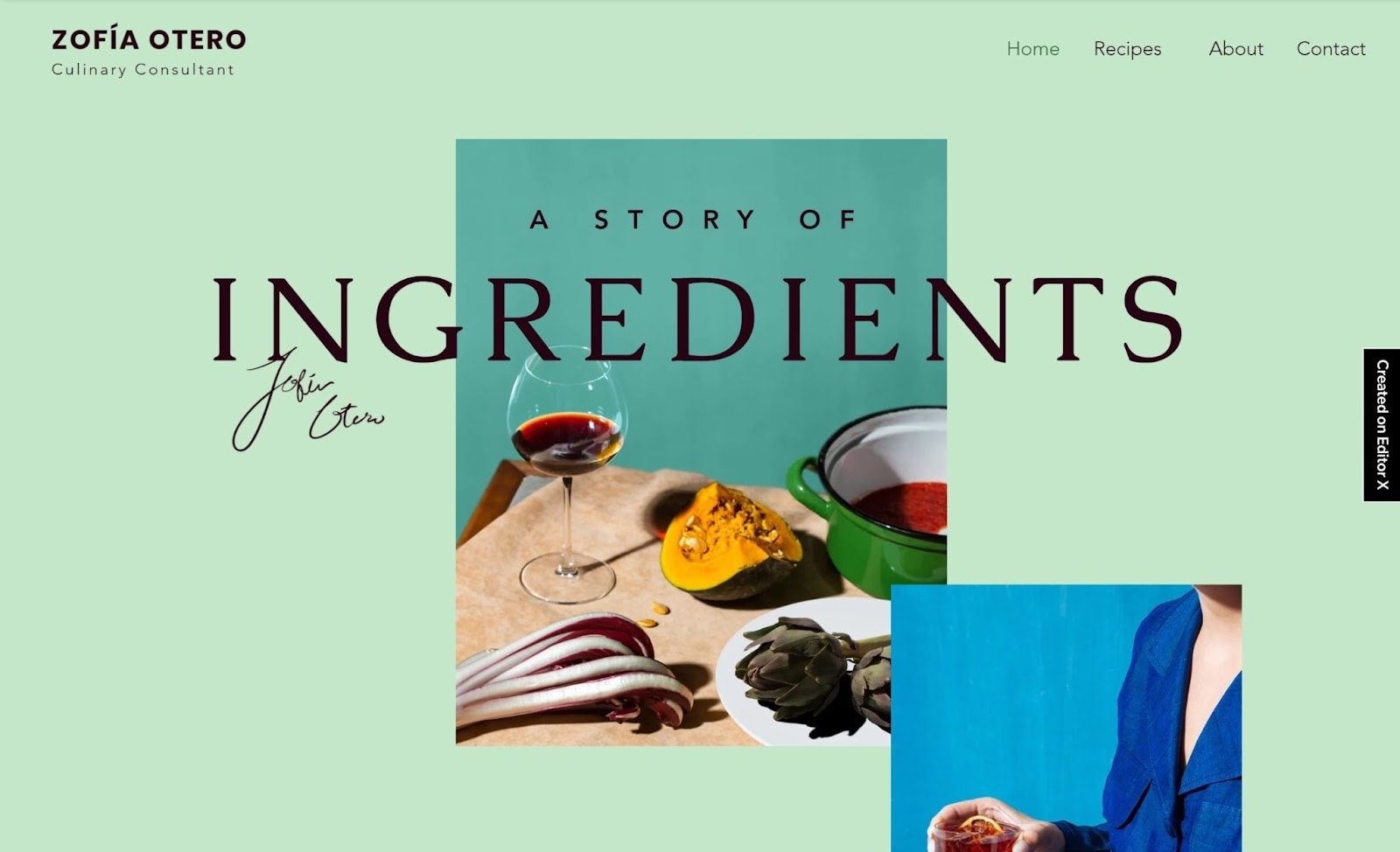 If you're a freelance caterer, chef, or food writer,
Culinary Consultant
offers great
features for promoting your talents, including dedicated pages to showcase your recipes and experience.
That said, this template's versatile design makes it suitable for all creative consultants, whatever their niche. As visitors scroll the homepage,
tempting images slide into place, drawing attention to important text with links
to your blog, latest Instagram posts, or contact form. While this is an image-focused template, the monochromatic About page is different. This is where you can share your passion and build a more personal connection with potential clients without any distracting elements taking away from your message.
Design Portfolio: Blueprint for a Portfolio That Gets Results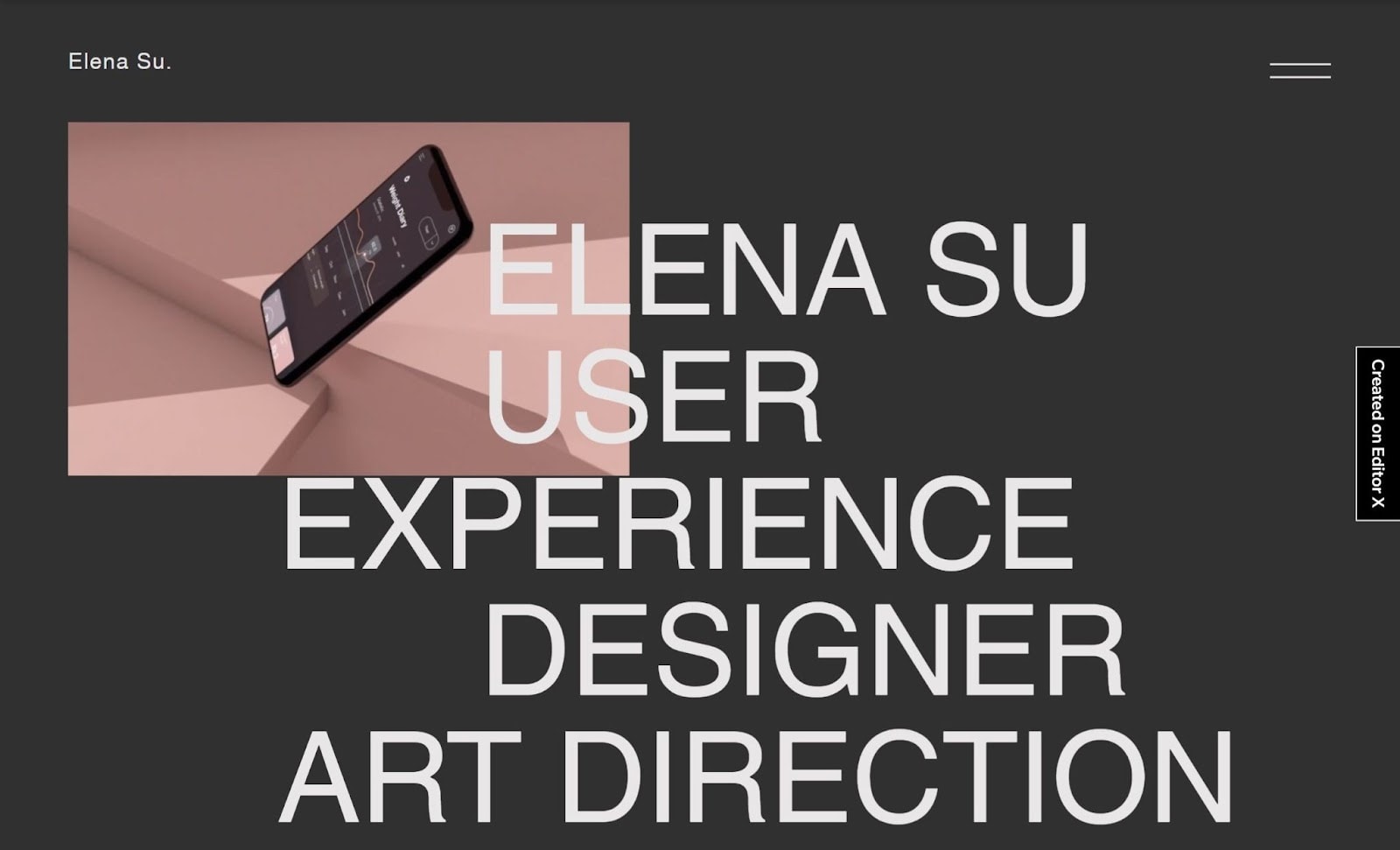 Design Portfolio
makes it easy for potential clients and recruiters to quickly skim and digest your projects, skills, and work experience. It's
tailor-made for UX/UI designers, branding agencies, and art directors,
making it my top pick for creative portfolios and CVs. Visitors can click on individual projects on the homepage or use the hamburger menu to bring up
detailed case studies. Visuals, audio, and text walk them through each of your design projects
, from initial brief to final solution. Editor X plans come with enough storage space for project photo, audio, and video files. You'll also have
SEO tools for improving your search engine ranking,
including a personalized checklist.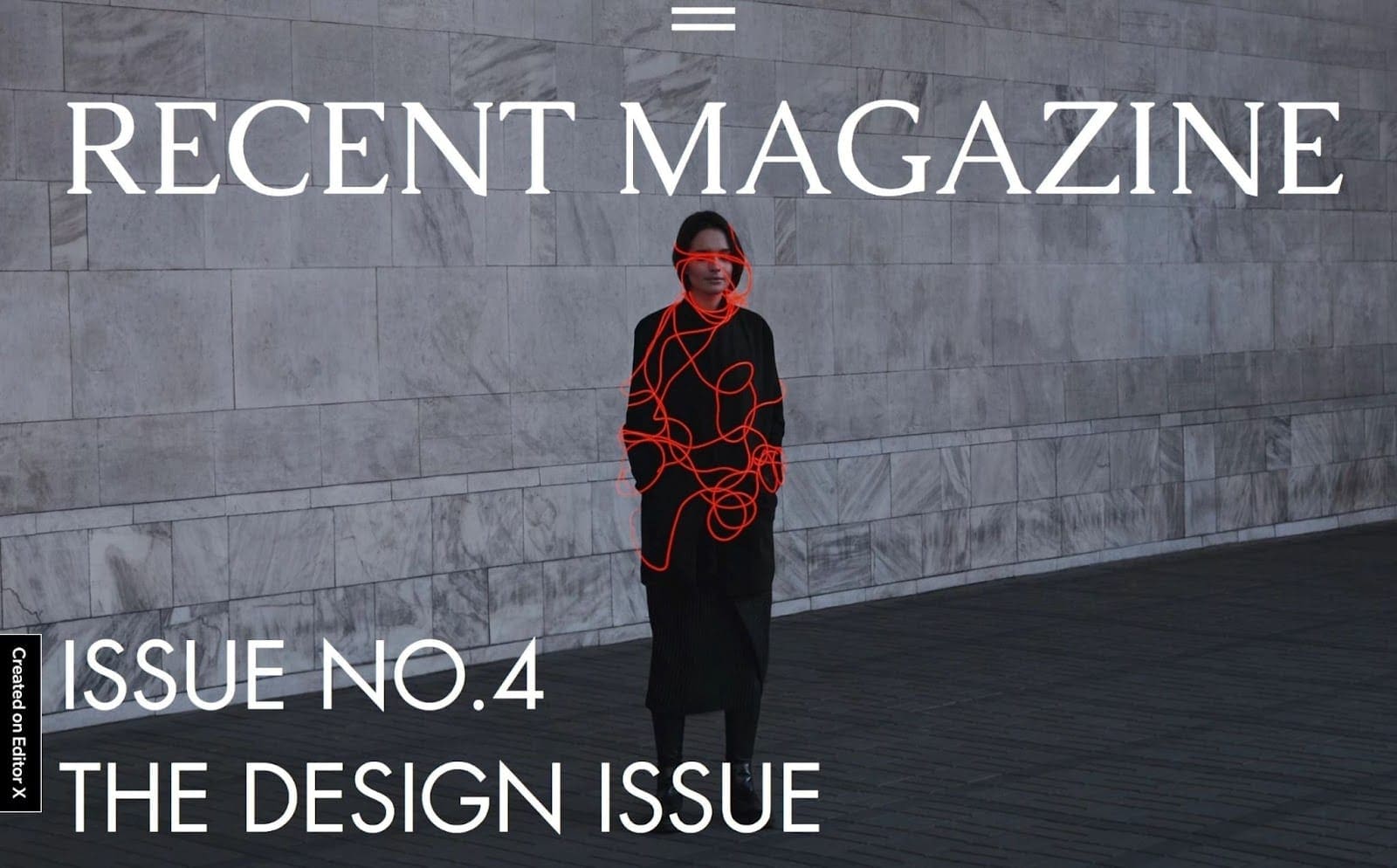 Magazine
is tailor-made for media companies
that want to make a splash in a competitive field. It's a dramatic design that will grab attention as soon as a visitor hits your page. As visitors browse your site, subtle animations, like slideshow images that zoom in and out, keep them engaged. This template makes the most of the built-in
Wix Pro Gallery app, including its multiple gallery layouts, auto play function, and built-in image protection
for copyrighted photos. Media companies can
sell both regular subscriptions and special memberships that grant access to exclusive content.
Receiving payments is also made easy, with subscribers able to choose from a variety of secure payment providers.
Didn't Find What You Were Looking For? Check Out These Templates from Our Favorite Site Builders
No question, Editor X templates are striking. Still, depending on your design experience and website goals, another builder may have a template that's a better fit for your needs. My top three picks give you fantastic features and tools to help grow different kinds of businesses. Before you get underway, you may want to review our
step-by-step guide to creating a website
.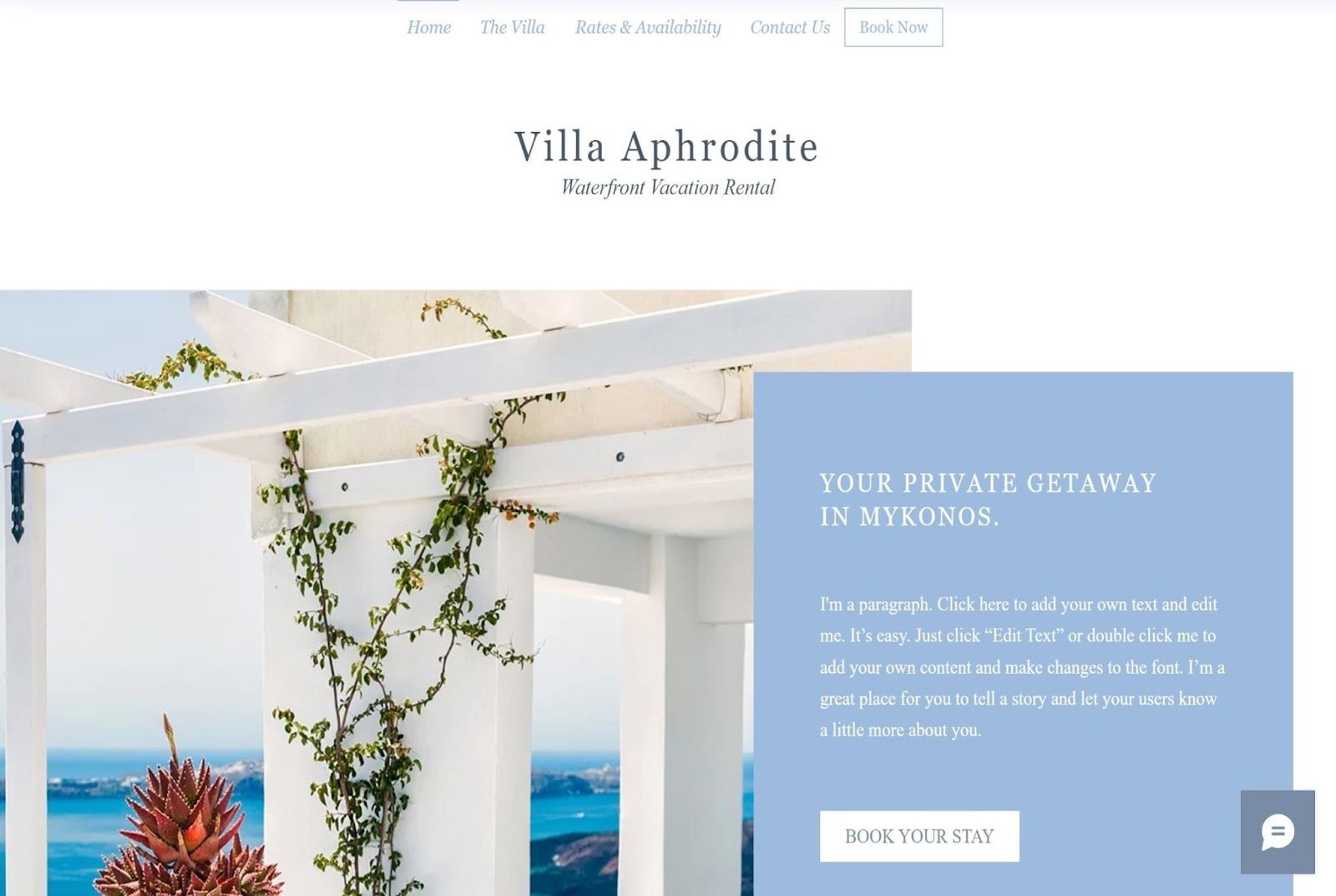 Vacation Rental Company
is my favorite Wix template for vacation property businesses thanks to its striking, feature-rich design. The homepage has all the
essential sections a hotel or travel business needs to attract guests,
including plenty of images and testimonials, plus prominent location and contact information. The built-in Wix Hotels app lets you
set weekend and seasonal pricing, track bookings and payments, and automate reservation/payment reminders.
It also makes it easy for guests to browse rooms, review amenities, check availability/rates, and book and pay online. Wix Hotels is one of the few Wix business apps not compatible with Editor X. That's even more reason to consider this template if you're looking to build a website for your hotel, inn, B&B, or vacation rental property.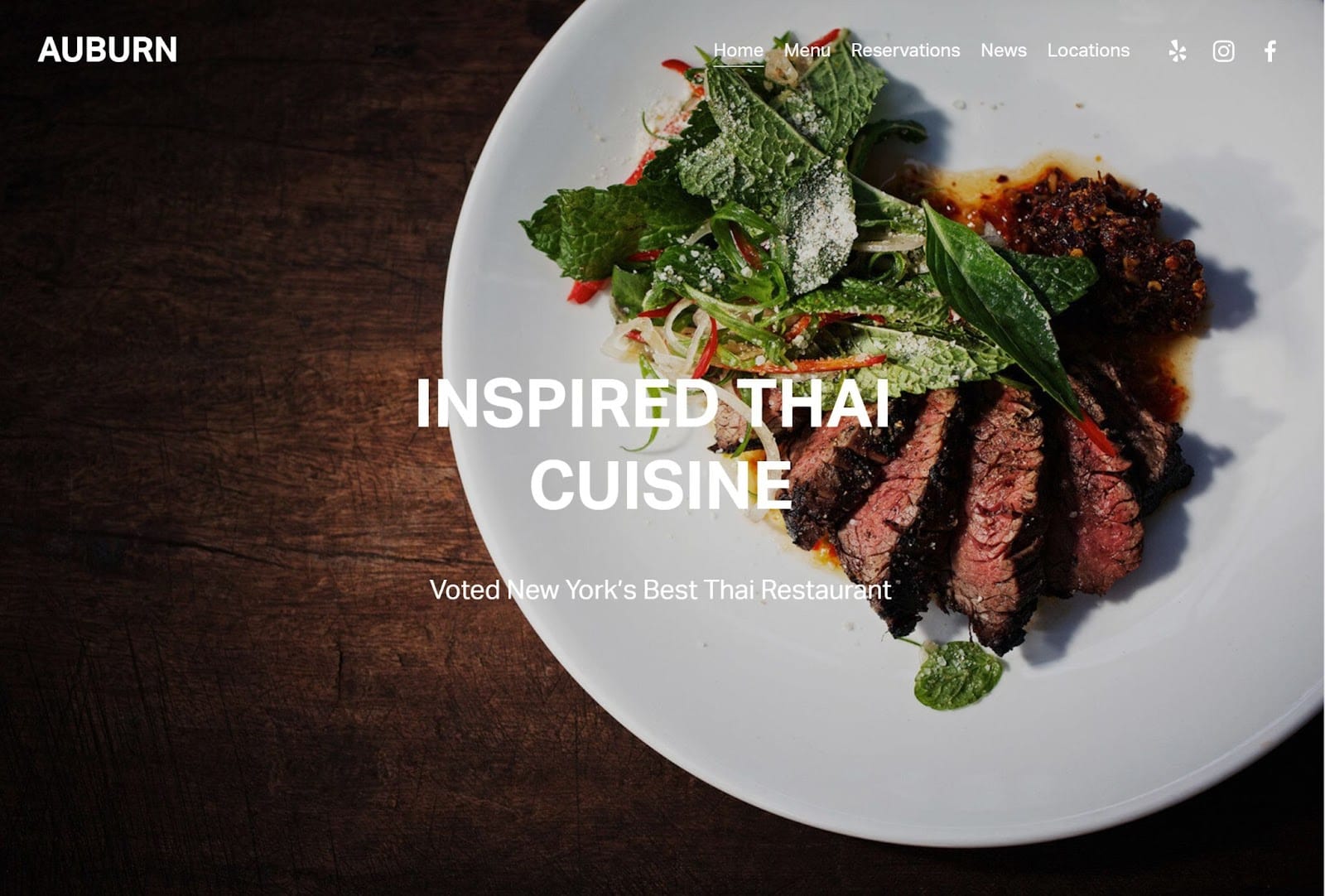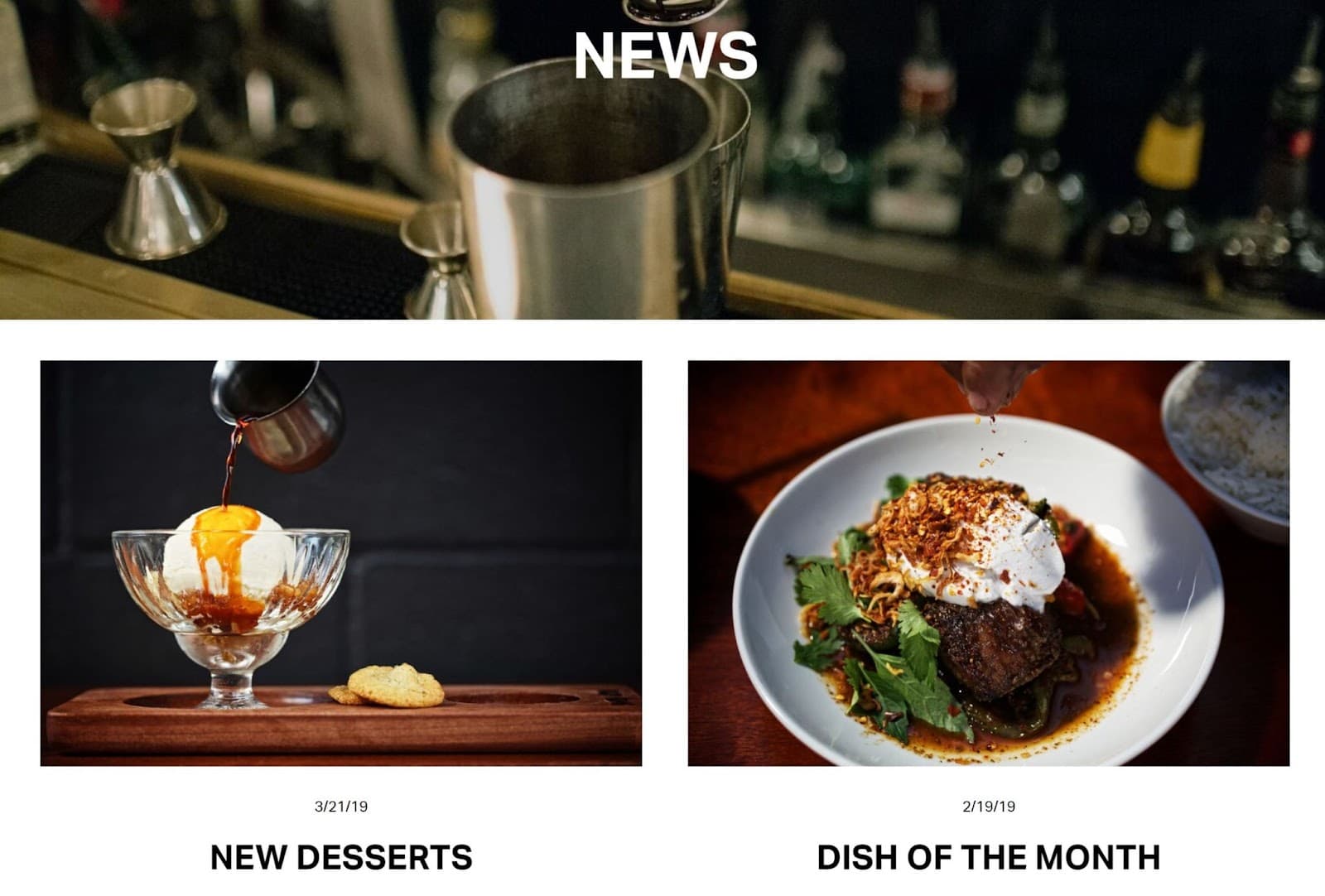 Auburn
is a Squarespace restaurant template that draws in visitors at first glance with its bold header and full-bleed homepage image. It's
ideal for restaurants that offer multiple dining options, like onsite and to-go orders.
You can even set up a fully stocked store. Text snippets highlight what's special about your restaurant while eye-catching photos give visitors a visual taste of the food and ambience that sets it apart. And throughout, smartly placed
CTA buttons prompt visitors to reserve a table or check out your menus.
While the OpenTable app comes built in, you may want to
add Tock, Squarespace's all-in-one solution for taking
customer orders and reservations
. Even better, you'll be able to promote special dining experiences and get featured in Tock's restaurant guides.
Cash Binary: Sleek and Modern, Best for Projecting a Professional Image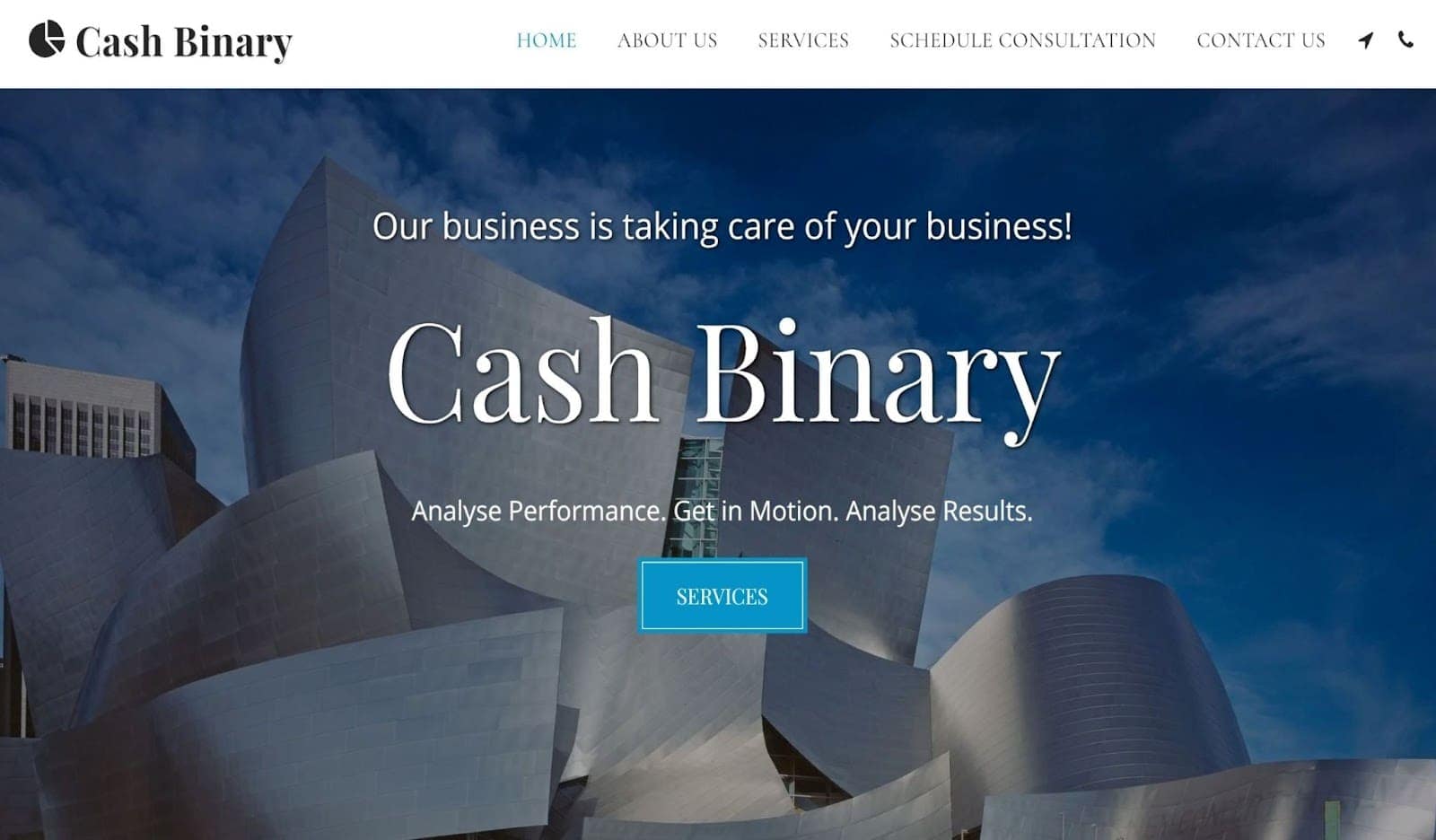 Cash Binary's
minimalist design is a good choice if you want your website to project professionalism and expertise. This
responsive SITE123 template is ideal for financial service companies, law firms, and other commercial enterprises
that need to create a polished online presence with minimal fuss. It comes pre-configured with well-organized content sections that focus on informative text about what makes your firm unique while keeping animations to a minimum. There's also a services section with
several buttons for sharing the types of issues you tackle and the problem-solving skills
your team brings to the table.
SITE123's built-in scheduling tool
lets you manage your appointments
and allows clients to review your availability and make reservations online. They can also email, chat, or even call by clicking on the phone icon in the top menu bar.
Is Editor X the Right Builder for Your Website?
Here, you have the opportunity to build a stunning, fully responsive website using any of the Editor X templates we have reviewed. You can customize them extensively to suit a wide range of personal and business goals. But… despite the helpful tutorials and webinars, using
Editor X may be challenging if you're building your first site, lack technical skill, or don't have the time
to learn how to use its advanced features. You may want to start with the free plan so you can see whether the platform is right for you. You can also check out our in-depth
review of the 10 best website builders
before you commit.
FAQ
Which is better, Wix Editor or Editor X?
It depends on your needs. Both offer lots of creative freedom, but there are key differences, starting with templates. The Wix Editor's vast library of 800+ templates and its beginner-friendly editor make it easier to find and personalize a template to fit your brand and personality. Editor X offers just 35 designer-made templates, but its advanced design features give you even more creative control. If you want a highly custom and responsive website, have some technical know-how, and are willing to pay a premium, it may be the better option. If you're new to website building, our step-by-step guide has helpful tips on how to design a professional site.
Are Editor X templates free?
All Editor X templates are free, as are their wireframes (which, unlike the templates themselves, are frameworks solely for web developers). But while the templates, wireframes, and advanced design tools are free, you may want to pay for add-ons like apps and premium business features. You'll also need to upgrade to a paid plan to remove Editor X branding from your site.
How much does Editor X cost in 2023?
Editor X has a free plan, but your website will have an Editor X domain and Editor X branding. To connect a custom domain and remove this branding, you'll have to upgrade to a paid plan. Expect to pay from

$

17.00

to

$

27.00

for a plan suitable for a portfolio, blog, or personal site and from

$

22.00

to

$

39.00

for an online store or business website. To explore other options that could be more affordable, see our roundup of the best website builders for 2023.
Can you code in Editor X?
Yes, but you don't have to. The whole point of Editor X is to offer web developers advanced website design and layout capabilities that don't require coding. If you want, though, you can certainly add custom code to expand the functionality of your site.