it's easy to forget about illustrations when you're engrossed in crafting your story, only to realize that you have no idea how to find an illustrator
when you've finished writing. And
 how can you afford an experienced children's book artist that does your writing justice
, especially if you have a limited budget? Luckily, hiring an illustrator doesn't have to be as expensive as you might think. In fact,
I found several freelance children's book illustrators with prices as low as $5 per project
. Check out my top nine picks and find the right artist to bring your words to life.
9 Best Children's Book Illustrators for Hire
From budget-friendly children's book artists to verified professional illustrators, these freelancers can make your children's book concept a reality. Note that many of the least expensive gigs include single illustrations only – so you may need to make multiple purchases to get enough art for your book – but some of the pricier gigs come with an entire children's book worth of illustrations.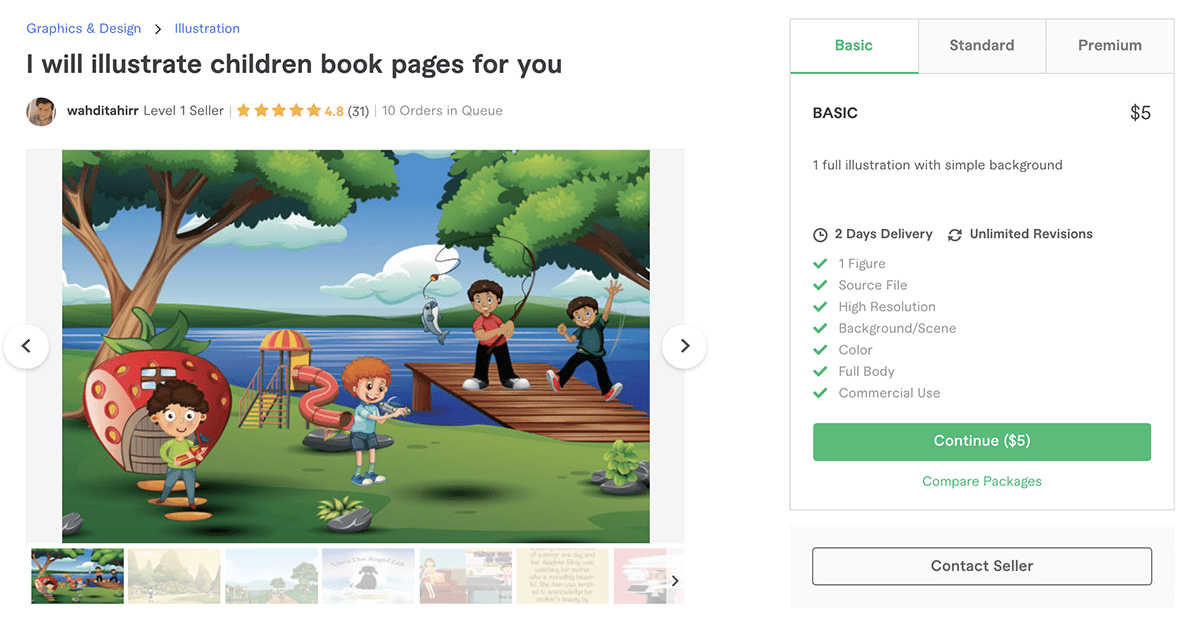 With a 4.8-star rating and some of the most affordable children's book illustration prices on Fiverr,
WahdiTahirr is a great choice for authors on a budget. This freelancer also has Fiverr's Level One Seller status,
 which indicates they've maintained at least a 4.7-star rating while delivering a minimum of 10 orders. In addition to a basic $5 package – which includes an illustration of a single figure – WahdiTahirr offers a premium $20 package that features up to four figures.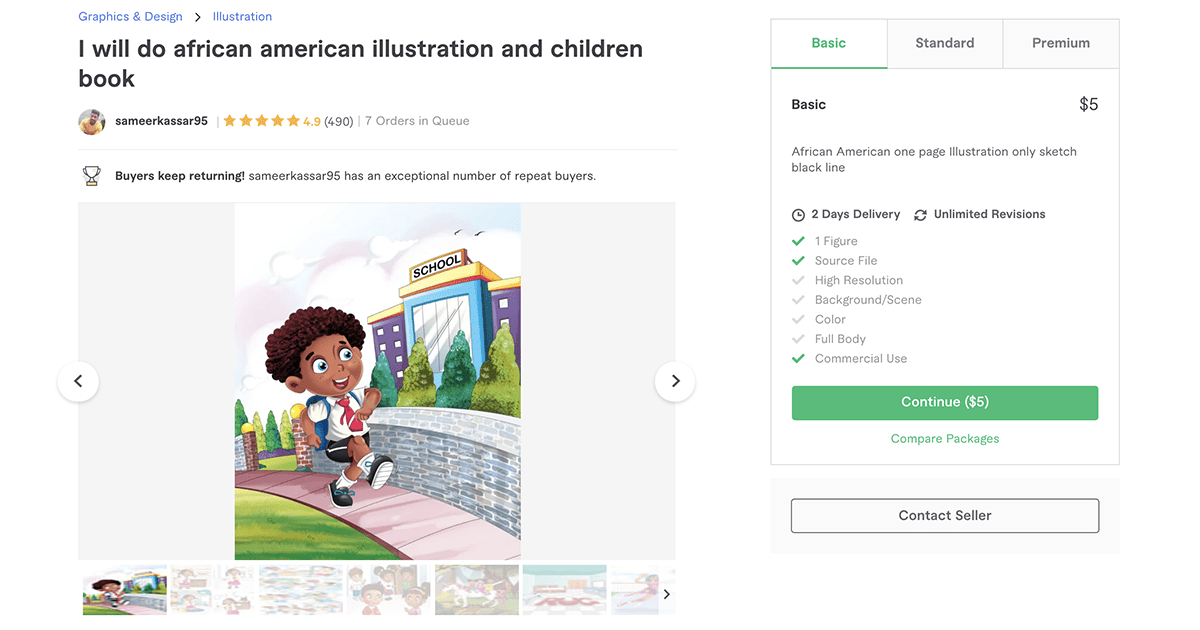 SameerKassar95 has nearly 500 excellent reviews and a 4.9-star rating, so it's no wonder
this freelancer has a lot of repeat buyers
. While their basic $5 package is a bit simpler than some other illustrators and doesn't include color or background details,
SameerKassar95 can deliver it in just two days.
This seller also offers a premium $15 illustration package with up to five full-color figures and a background scene.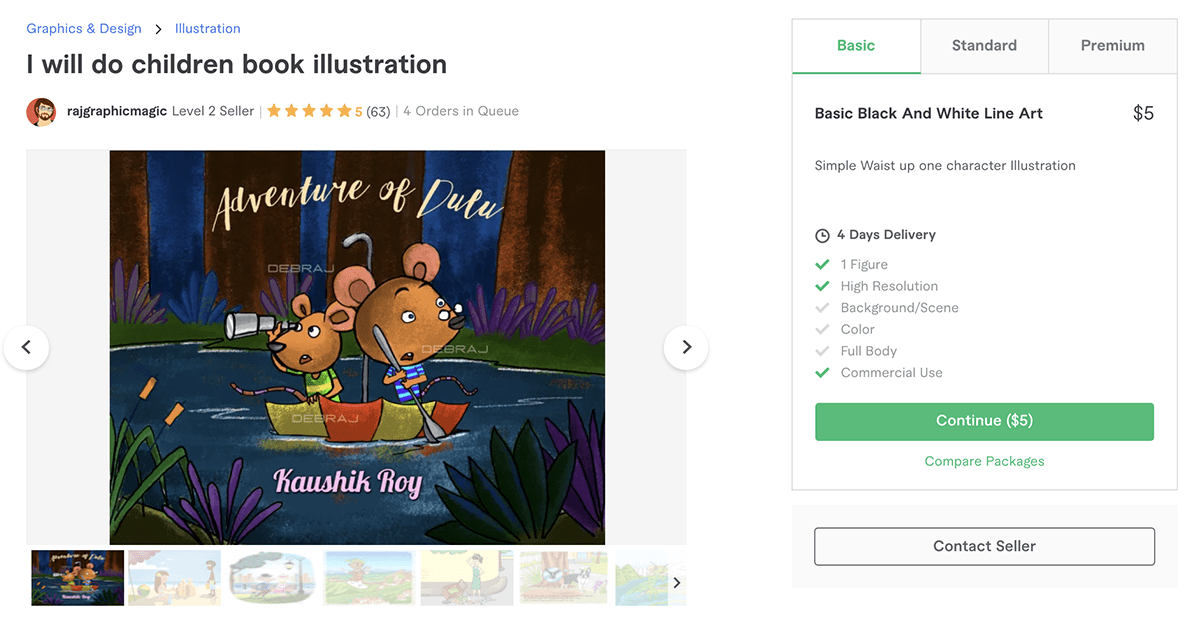 RajGraphicMagic is a Level Two Seller, which means they have delivered at least 50 orders and earned at least $2,000 through the marketplace.
This freelancer has a five-star rating and excellent customer reviews that highlight their artistic talent and good communication
. RajGraphicMagic's basic $5 package includes black and white line art only, while their $30 premium package comes with a full-page children's book illustration featuring two characters.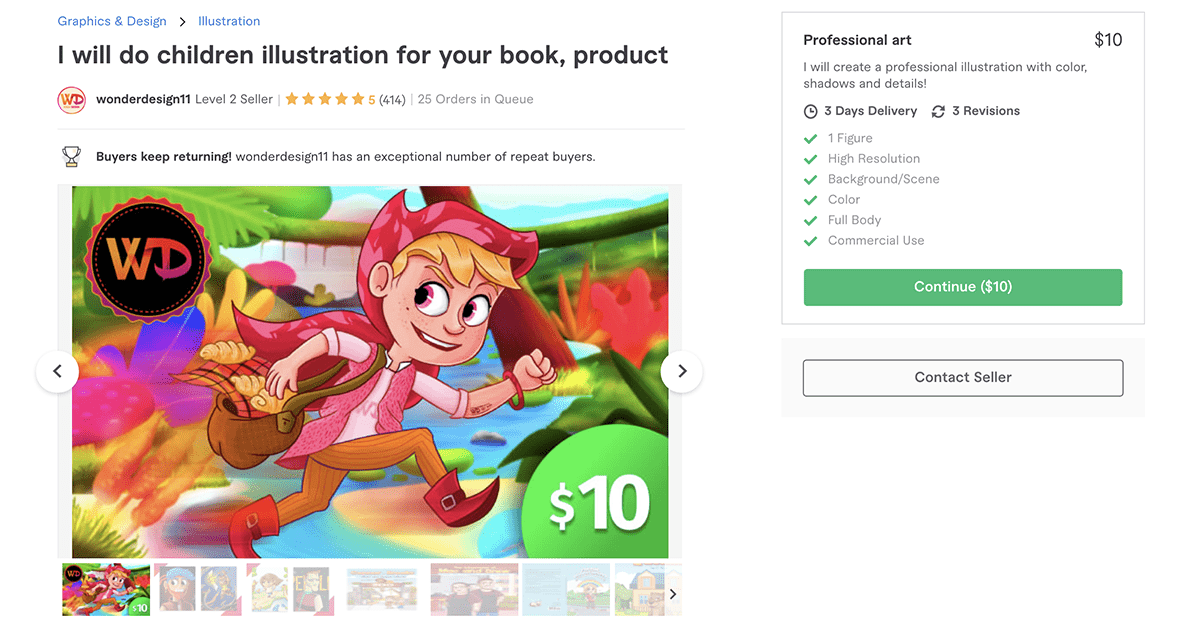 Earning a five-star rating is an accomplishment for any Fiverr freelancer, and it's doubly impressive when they have more than 400 reviews, like WonderDesign11 does. As a Level Two Seller,
this illustrator has clearly delivered consistently great work over time
.
Although they offer only a single $10 package, it has just about everything you could ask for,
 including a complete background, multiple revisions, and a three-day turnaround time.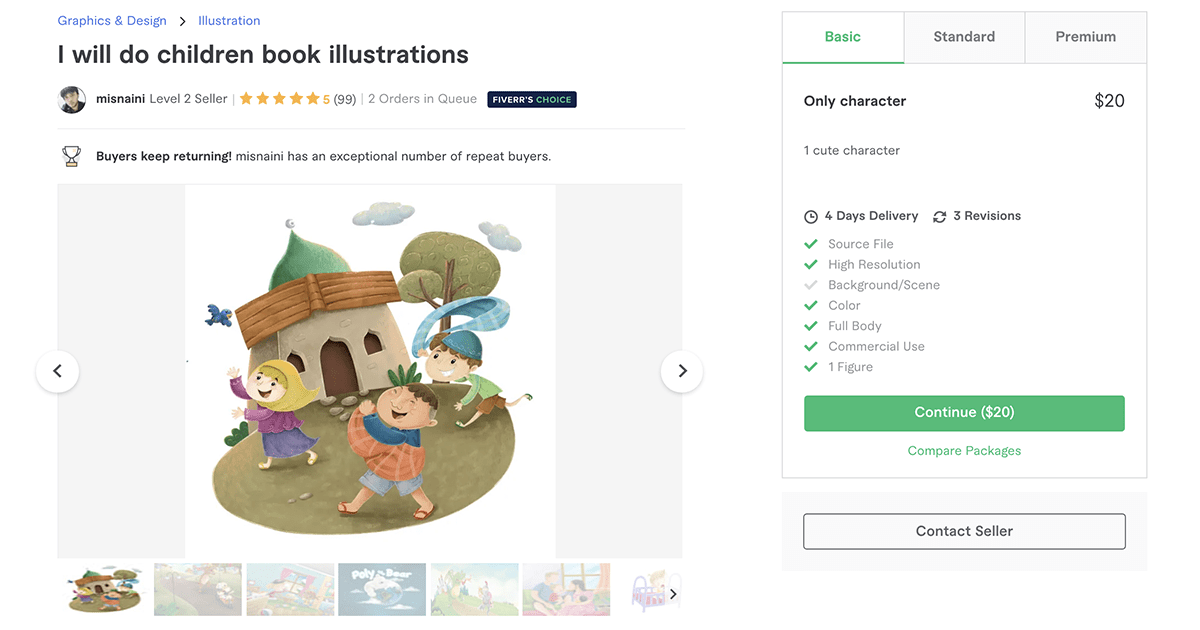 If you're looking for a highly experienced illustrator, Misnaini is a good pick.
This creator has made art for more than 3,000 books, and they have an exceptional number of repeat buyer
s. Misnaini is also a Level Two Seller with almost 100 outstanding customer reviews. You can book their basic $20 package to
 get artwork showing a single character, or upgrade
 to their premium $70 package for an illustration with a detailed background scene.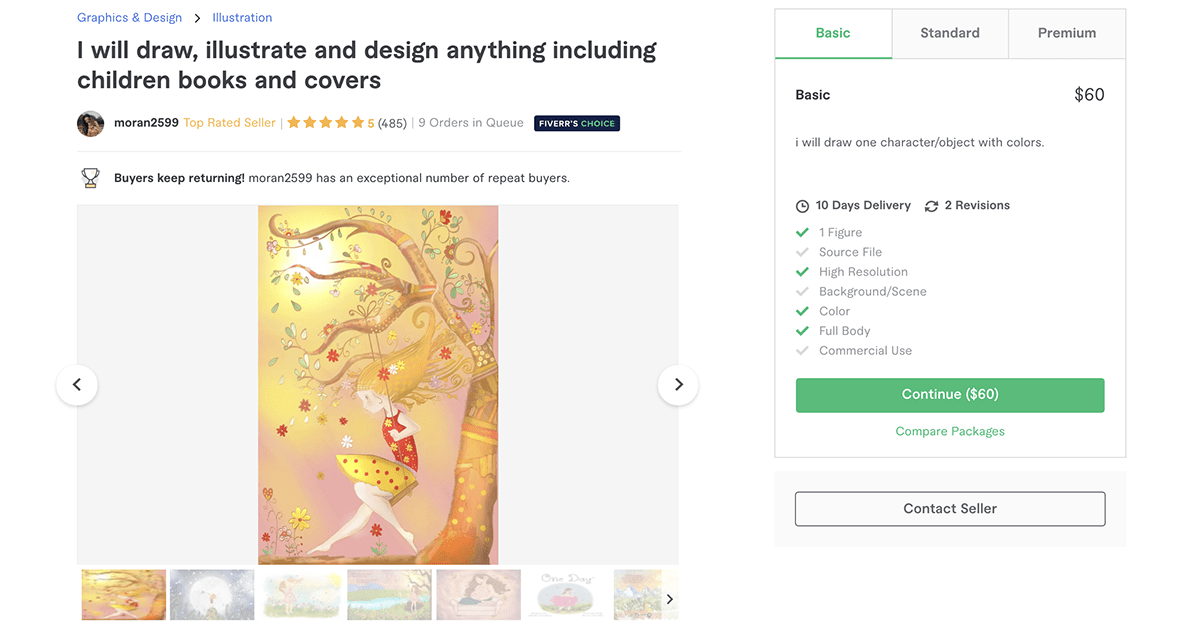 Moran2599 is a Top Rated Seller, which is Fiverr's highest ranking
, and which indicates that they've delivered at least 100 orders and earned $20,000 or more through the platform. This freelancer also has
almost 500 rave reviews, a five-star rating, and a lot of return customers who appreciate their fantasy-inspired style
. For $60, you can book their basic package with a single figure, or for $180 you can upgrade to their premium package with three figures and a detailed background scene.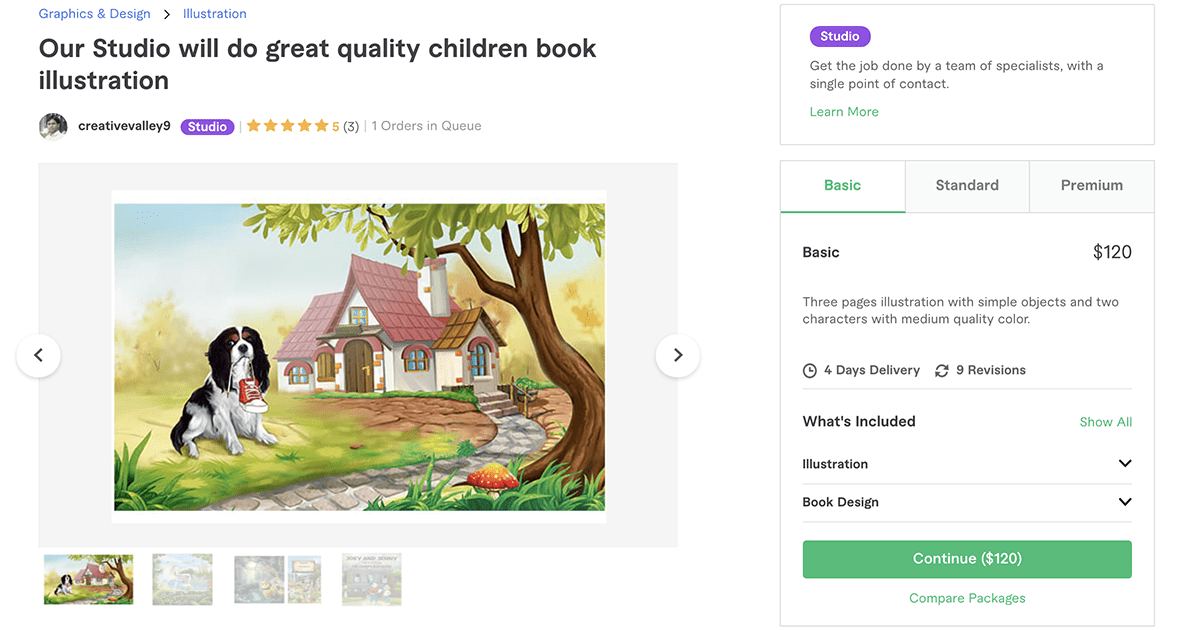 Working with one illustrator is great, but what if you could hire an entire studio for an affordable price?
When you book CreativeValley9, you work with a team of children's book illustrators
, giving you access to a wider range of expertise.
All of this studio's packages include multiple illustrations and print-ready files
, making their gigs a good choice for writers who plan to print their children's books.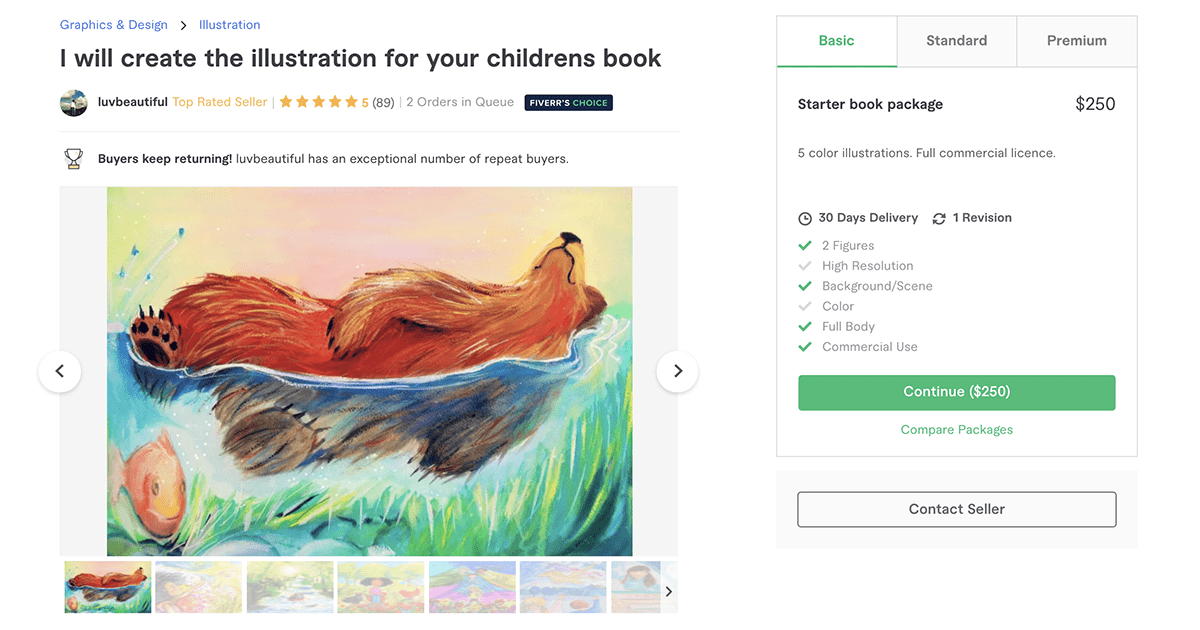 Another Top Rated Seller, LuvBeautiful has a five-star rating and almost 100 excellent reviews.
While many other sellers make vector or freehand digital art, this illustrator uses watercolor and ink to create original artwork.
Although
their packages take significantly longer than many others, it's worth the wait
if you want something completely unique. Packages start at $250 for five illustrations, or you can pay $995 for 20 illustrations, which may be enough for your entire kids' book.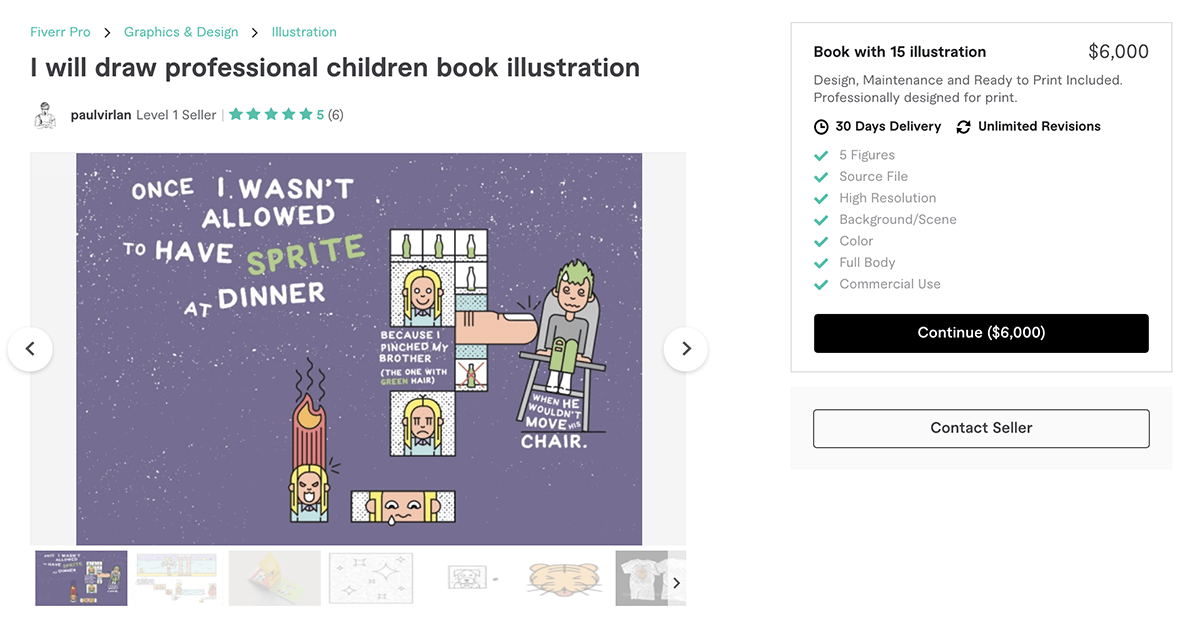 As a verified Pro Seller, PaulVirlan has completed Fiverr's manual vetting process
 and is considered one of the top creators on the platform. Although their pricing is significantly more expensive than other options on this list,
this seller's skill, experience, and professionalism explains the added cost
. Unlike most freelance creators on Fiverr,
PaulVirlan offers a single package including 15 illustrations, unlimited revisions, and image files formatted for printing
.
How to Hire a Children's Book Illustrator on Fiverr
Hiring a children's book illustrator on
Fiverr is incredibly easy
. Follow these six steps to get started. 1.
Head to fiverr.com
 and type what you're looking for into the search bar. As you type, the platform automatically recommends relevant categories.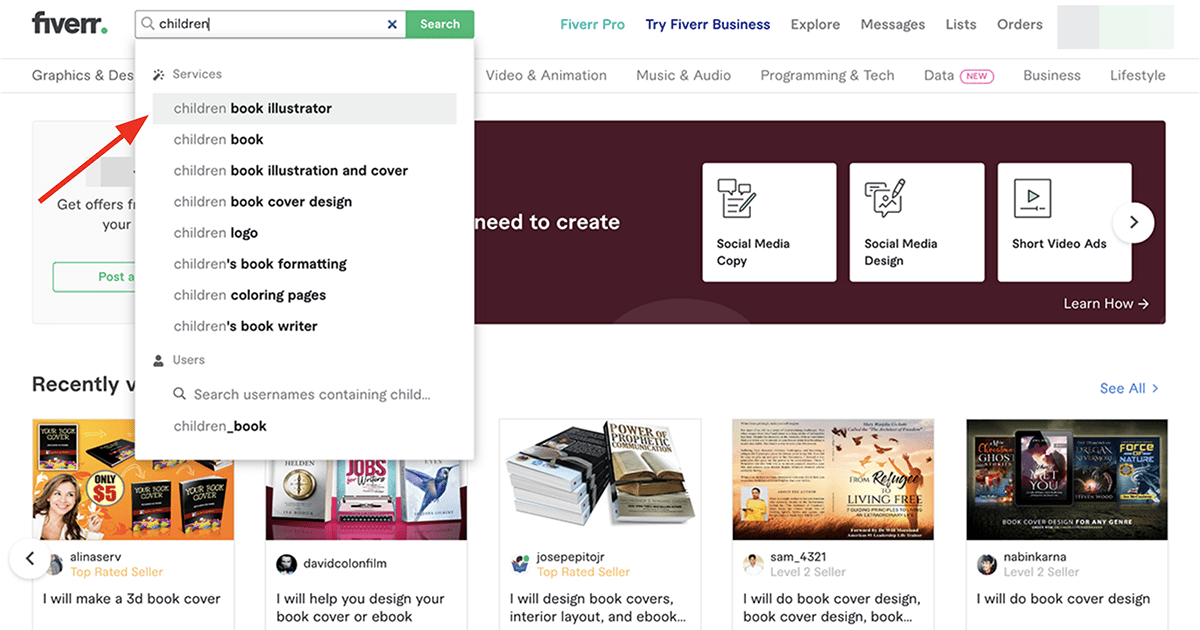 2. Browse the search results and look for an illustration style that catches your eye. As you scroll through the options, you can easily see work samples, gig prices, freelancer ratings, and the number of customer reviews.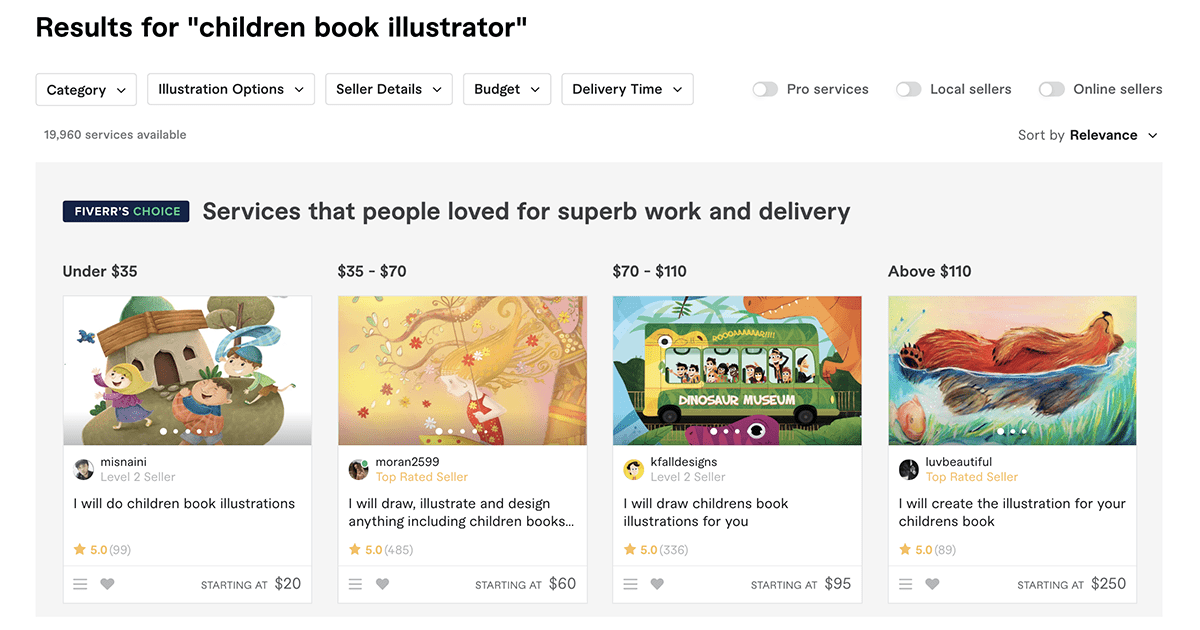 3. Filter the search results to find exactly what you want. For example, you can set a minimum or maximum gig price to fit any budget limitations. You can also filter by style, such as realistic or cartoon, or choose a technique like vector art or watercolor.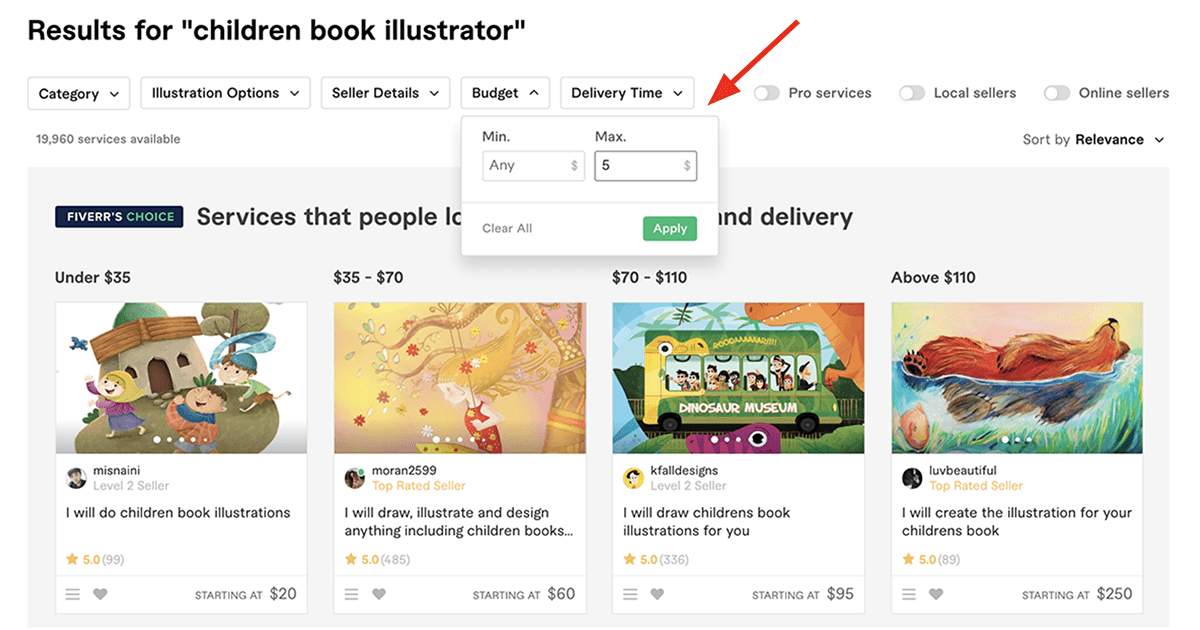 4. Click on any gig to see more details. On the gig page, you can scroll through the seller's portfolio, read reviews, and learn exactly what's included in the gig.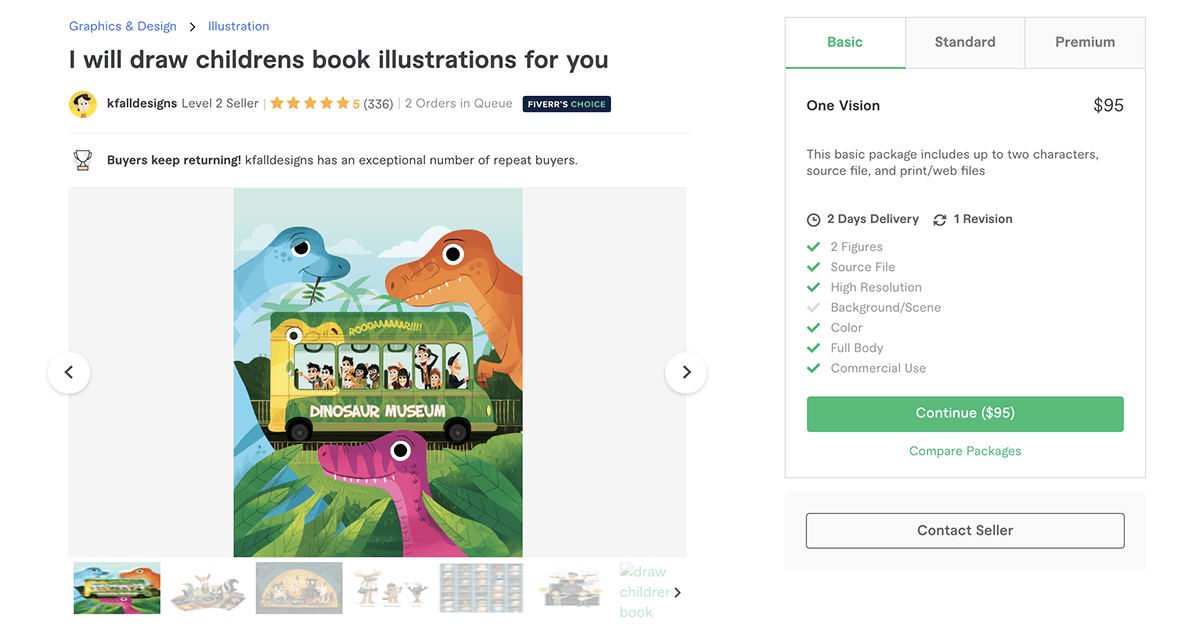 At the bottom of any gig page, you can see how the seller's packages compare. Go over the checklist and pricing to make sure you choose the package that has what you need and the price you want to pay.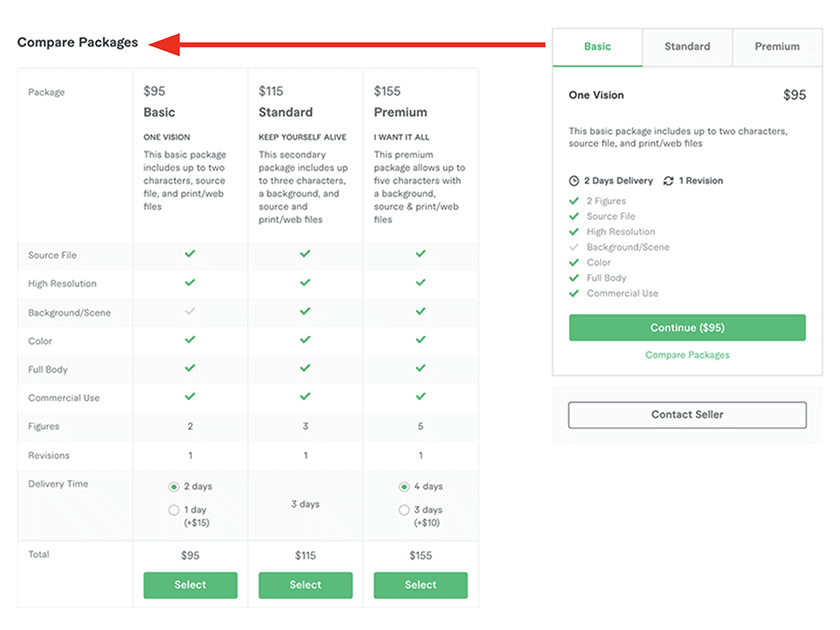 5. Click the
Contact Seller
 button to communicate directly with the freelancer. Most children's book artists on Fiverr ask that you contact them prior to purchasing the gig to discuss your concept and make sure they're a good fit.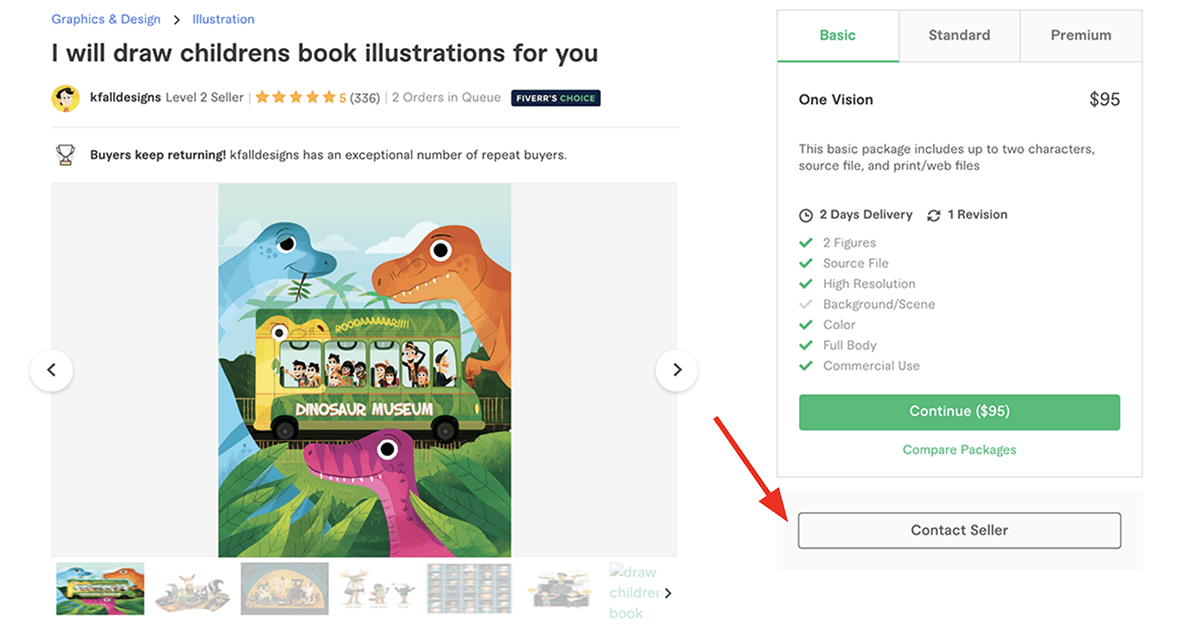 6. Click the green
Continue
 button to purchase the gig. Review the list of optional extras, such as a faster turnaround time, another revision, or additional figures. When you're happy with the order, click the green
Continue to Checkout
 button to submit payment and start the gig.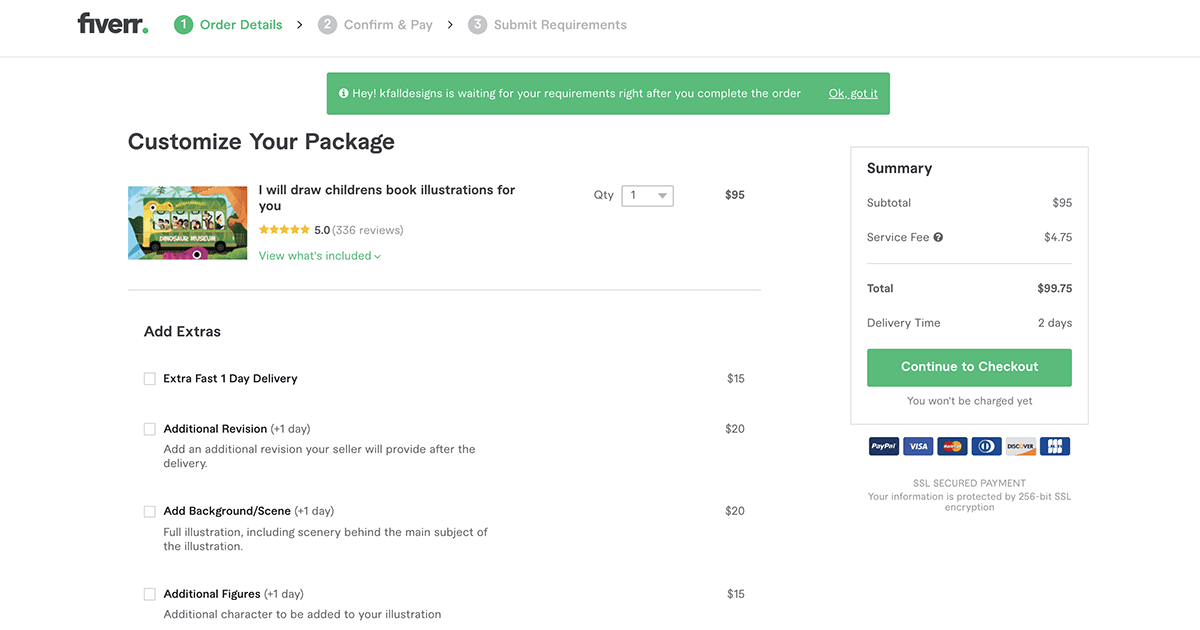 What to Look For in a Children's Book Illustrator
As you can see, finding a children's book illustrator for hire is a breeze – Fiverr is super easy to use, as my colleague found out in
their review of Fiverr
. But it's not always easy to decide on the right one, especially with so many options to consider. Here's what to look for:
Appealing style: Children's book artists have a wide range of illustration styles, and it's essential to choose one that speaks to you and fits with your concept. Take the time to look through artists' portfolios and review their work samples to get a better sense of their style.
Appropriate format: Many illustrators produce digital images formatted for e-books. While this format is great for many children's book projects, it may not work if you're planning to print the book yourself, or to send it to an agent or publisher. Double check the gig details or contact the seller to confirm.
Ideal packages: Some gigs include single black-and-white illustrations, while others come with an entire book's worth of full-color art. Before placing an order, make sure the gig you choose comes with the deliverables you want. Otherwise, ask the seller to create a custom offer that meets your needs.
Great reviews: Before spending money to hire a children's books illustrator, it's helpful to know what other customers liked or disliked about the freelancer. Read through their reviews so you know what to expect when working together.
Fiverr credentials: Customer reviews can tell you a lot about a freelancer, and Fiverr credentials can reinforce your expectations. For a better chance at a good experience, look for creators with Top Seller or Level Two Seller credentials. Alternatively, look for freelancers with Fiverr's verified Pro status if you prefer to work with a professional artist.
Are You a Children's Book Illustrator Looking to Sell Your Services on Fiverr?
If you want to offer your illustration services, Fiverr makes it easy to join the freelance marketplace.
Get started by going to Fiverr.com
 and clicking the
Join
 button in the upper right corner.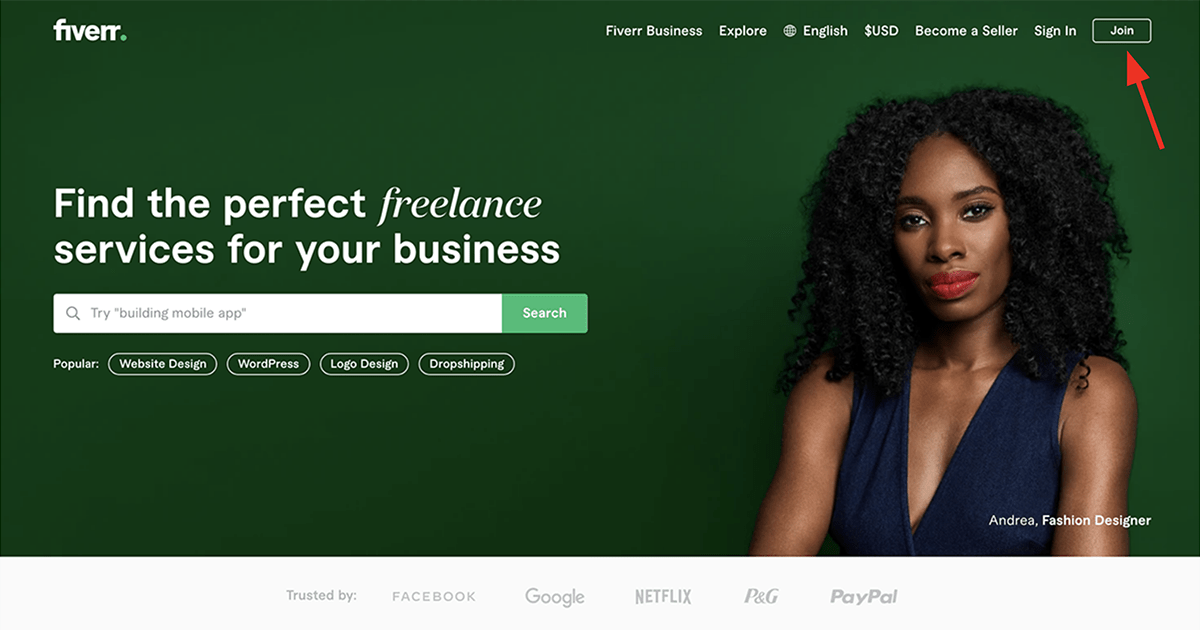 Enter a username and your contact information, then set up your profile. Upload a profile picture, write a short introduction, and detail your experience. You can add skills, education, and certifications to your profile, too.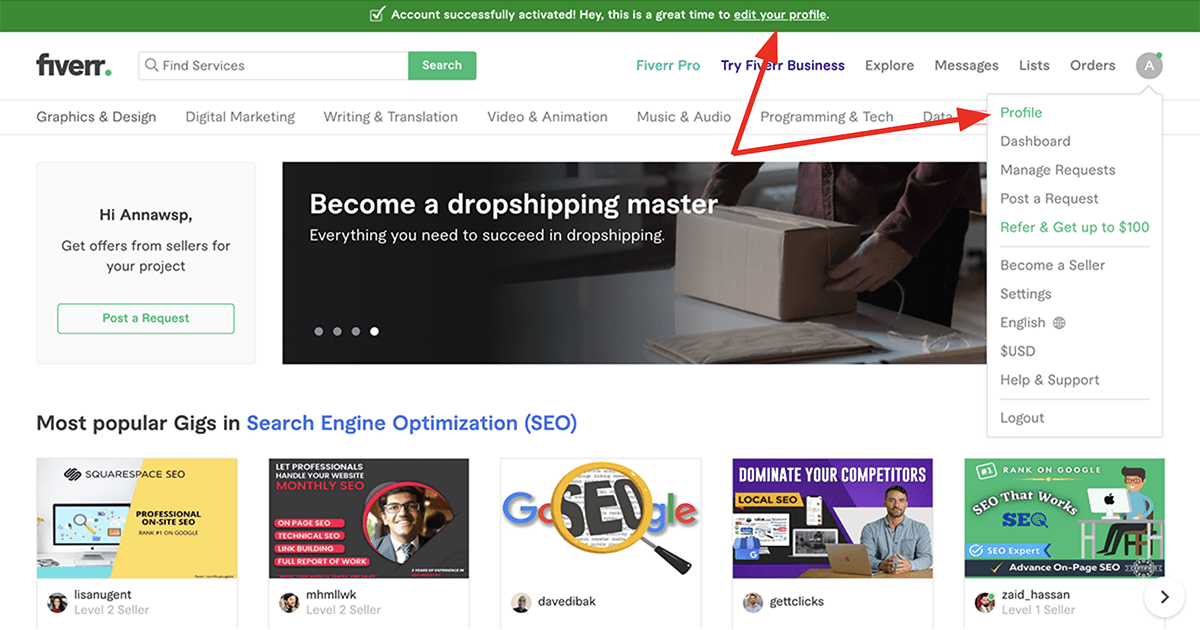 Next, create the gig you want to sell. Give it a title, select a category, and add relevant search tags. Add a few work samples so buyers know what to expect, and write a description of what the gig includes. Then set a price or create up to three price points with different deliverables.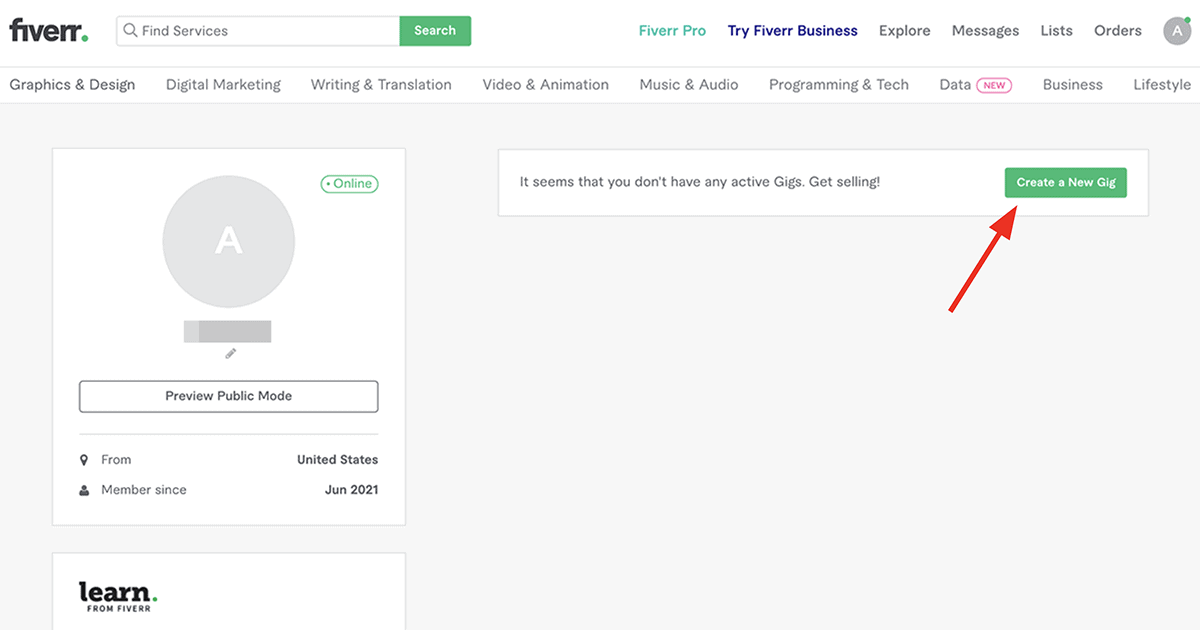 To help you get started, we've put together a step-by-step guide on
how to create a successful gig on Fiverr
 so check that out first. When your gig is live, buyers can purchase it or message you about it. Since Fiverr processes payments and gathers the information you need to complete a project, you can concentrate on creating great children's book art.
To design the best possible gig on Fiverr, consider purchasing one first. That way you'll see what it's like to be a buyer
 and get practice dealing with some of the issues that could come up – such as communication problems and project delays. Since you can purchase a gig
for as little as $5, it's a small investment for invaluable knowledge
before building your Fiverr profile.
Get Children's Book Illustrations That Fit Your Style and Budget
Whether you need a few images to make your children's book fun and engaging or you want illustrations for every page,
you can find the ideal creator for the job on Fiverr. The marketplace is home to almost 20,000 children's book illustration gigs
, so there's certainly no shortage of options. Using the platform's powerful search engine, you can find artists with almost any style and for just about any price point.
Since book illustration gigs start at just $5 on Fiverr, it's easy to get custom art for your book
, even if you're on a tight budget, and as you've seen, there's plenty of variation out there. Once you've got the book illustration complete, you might want to start thinking about your book's cover design or how you want to market it and get it published. And this is what I love most about Fiverr: there are no limits to the variety of gigs you can find and for a very affordable price too. For example, I did some digging and found that:
FAQ
Do I need an illustrator for my children's book?
Children's books don't require illustrations, but those with pictures tend to be more enjoyable for children. If you don't have experience with children's book illustration yourself, then it's best to hire an artist who does. That way you can outsource high-quality art while focusing on aspects like writing and marketing instead.
How much do you pay an illustrator for a children's book?
When you hire artists via Fiverr, you can pay as little as $5 for a children's book illustration. Depending on the length of the book and the number of images you want, you could easily get an entire book illustrated for less than $100.
How can I find an illustrator for my children's book?
To find an illustrator who can accommodate your style and budget, search the Fiverr marketplace. Type "children's book illustrator" into the search bar and filter by budget, style, format, and other factors. Then contact any illustrators you like to discuss your project and place an order with your top choice. It's a very straightforward, simple process which is why I love using Fiverr – it actually scored 4.9 out of 5 for ease of use in our Fiverr review, and it's one of top recommendations when it comes to hiring freelancers.
What software do children's book illustrators use?
When it comes to digital illustrations for children, book artists typically use programs from the Adobe Creative Suite like Illustrator, Photoshop, and InDesign. Many also use the CorelDRAW graphics suite and QuarkXPress publishing software so make sure to check a seller's profile on Fiverr for skills in these types of software.