you need a
full-featured template with plenty of visual appeal that's also fast loading and easy for shoppers to navigate
on any device. Fortunately, BigCommerce offers 220+ themes, including 15 free theme options that suit different niches and store types – from single-product retailers to those with large and complex product catalogs. To narrow your search, I tested a bunch of themes and
selected four of the best free themes for online stores
. I also picked affordable premium themes that won't break your budget. Dive in and see if one is right for you.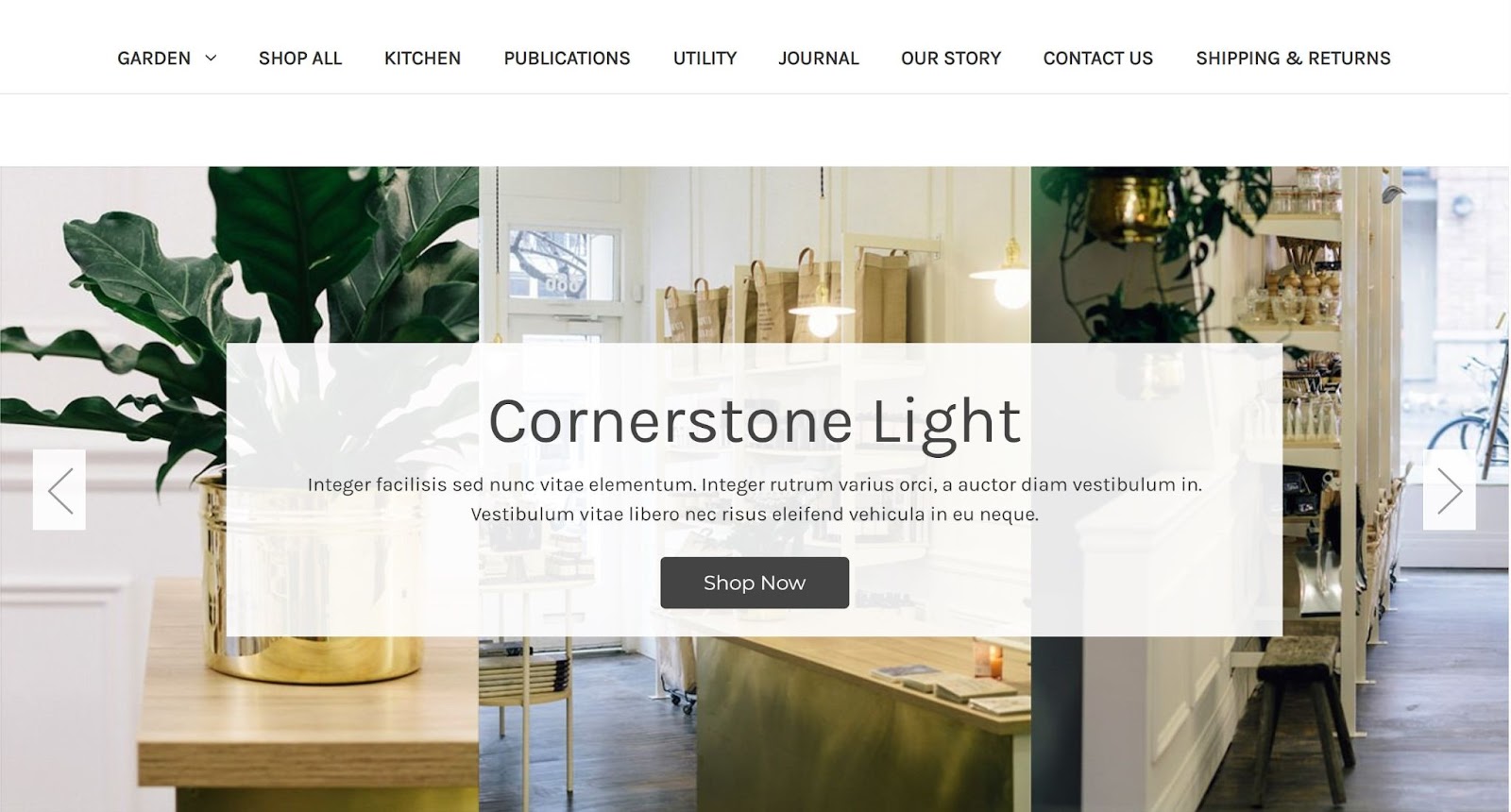 Cornerstone
is a flexible design that suits stores selling a range of products, from home goods to fashion – a big reason for this theme's popularity. Three styles (Light, Warm, and Bold) share the same features, like an
eye-catching full-width slideshow, a banner with bold Shop Now call-to-action, and homepage product galleries
that draw visitors in. It also comes with user-friendly, upselling features that can help boost sales.
A "persistent cart" saves a visitor's shopping cart and items when they leave your site
without completing a purchase. The one-page checkout allows shoppers to enter all their information – contact details, shipping address, and payment information on a single page.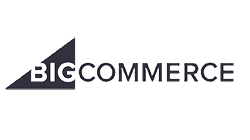 Save up to 10 % on your BigCommerce plan!
Limited-time offer - Don't miss it!
68 users used this coupon!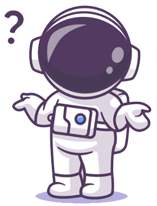 Short on time?
Take this one-minute quiz to learn which website builders are best for your project.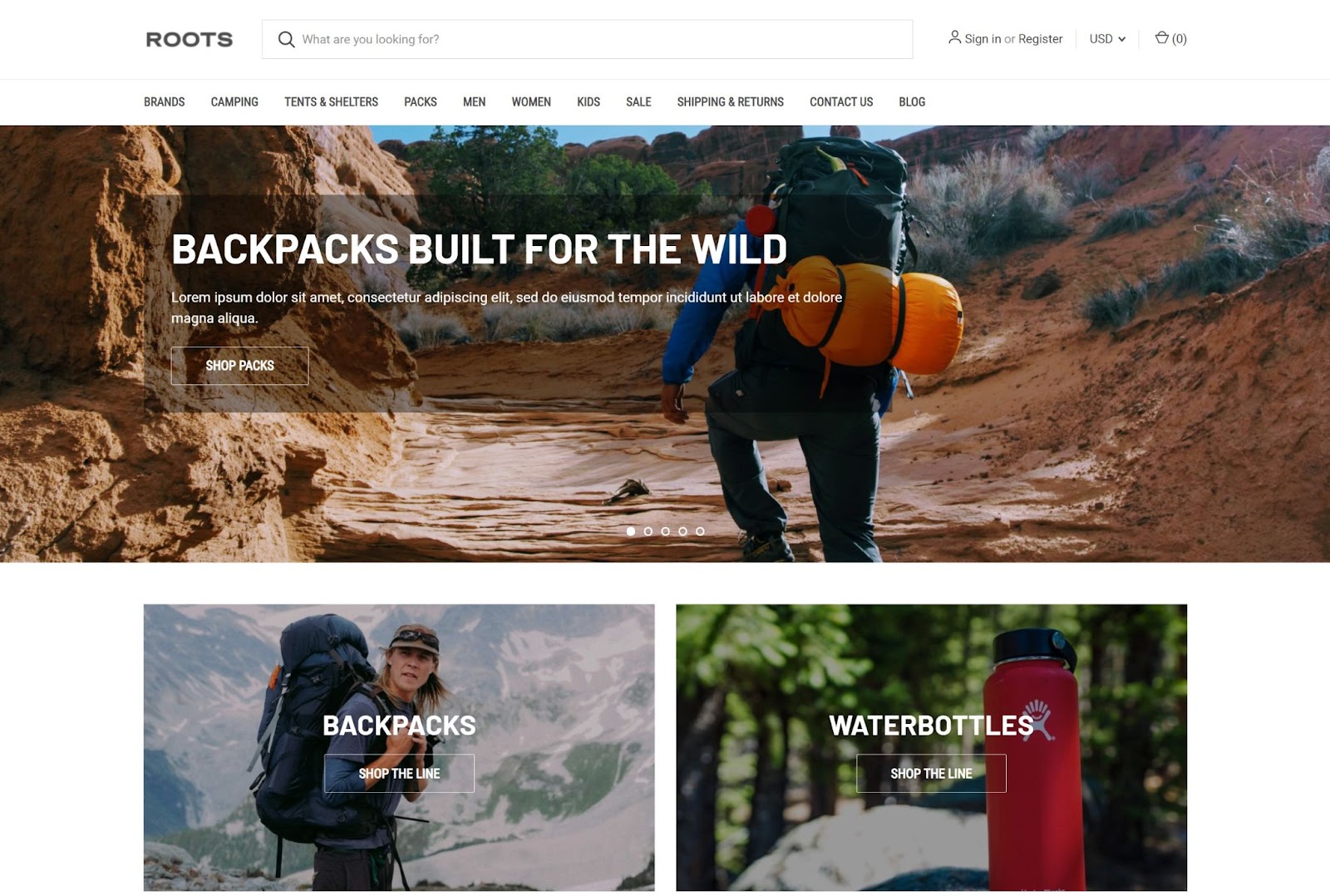 Stores with large or complex product offerings will appreciate how the free
Roots Original
theme simplifies navigation for busy shoppers by
neatly organizing product categories on the homepage in a grid gallery.
This allows visitors to zero in on what they're looking for and makes browsing your site stress-free.
Store pages let shoppers filter products by type, brand, color, and price – even whether an item is in stock.
They can view multiple product options and zoom in for a closer look. Built-in features let you share related products and invite your customers to submit reviews. Each page closes with a newsletter signup form that simply asks visitors to submit their email – a tried and true approach for gathering leads.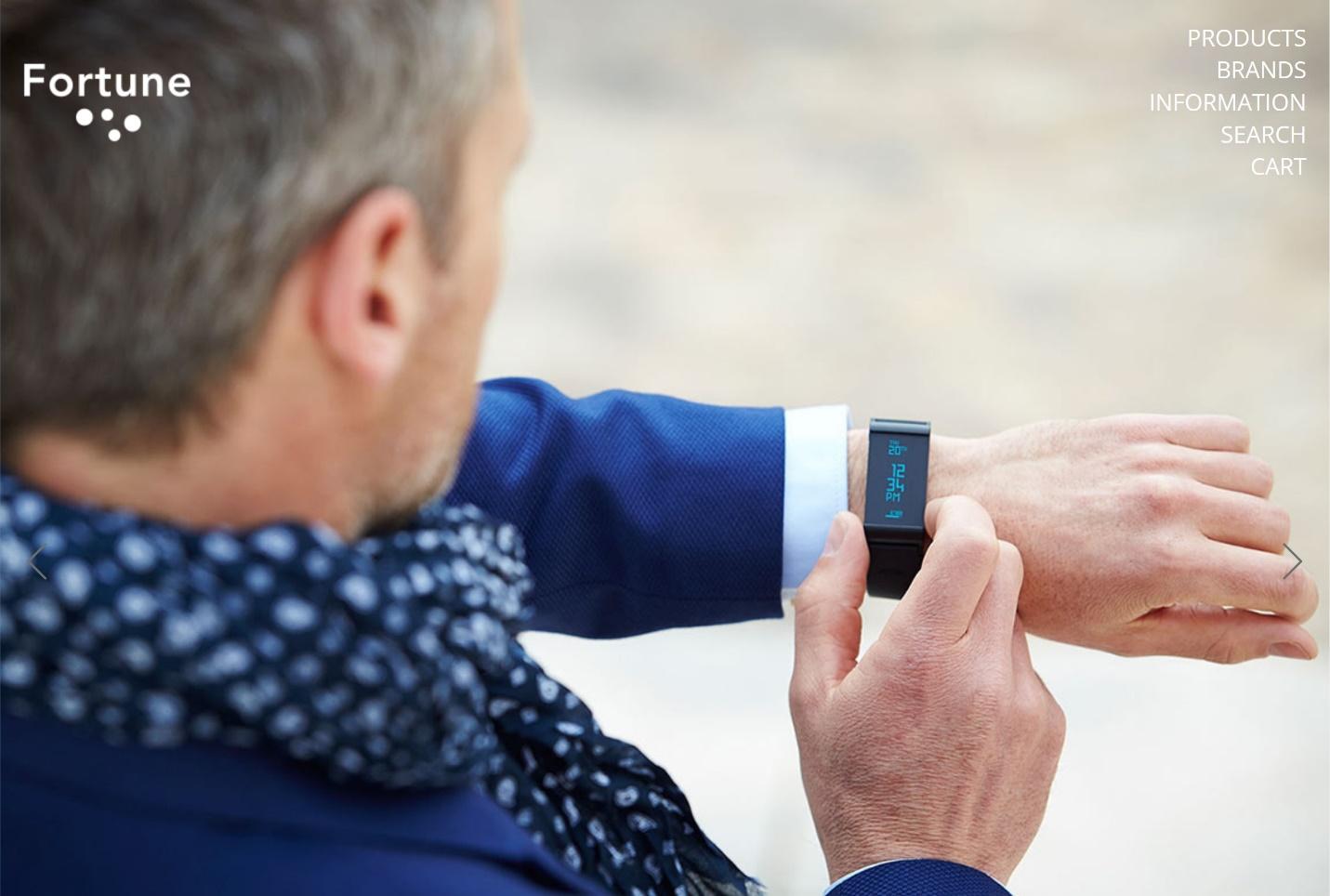 The
Fortune Bright
theme is the only free BigCommerce theme designed for stores selling cutting-edge tech and electronics products.
Its sleek, modern design is ideal for launching a new product or, as in the demo, promoting a single product line
. Visitors can click on the shop link in the discreet navigation menu that sits upper right or scroll down to view a featured product gallery. As a shopper's finger or cursor rolls over individual images, an overlay prompts them to bring up a quick view, add the item to their shopping cart, or compare products. To complete their purchase, shoppers can choose a preferred payment solution – BigCommerce offers store owners 65+ options.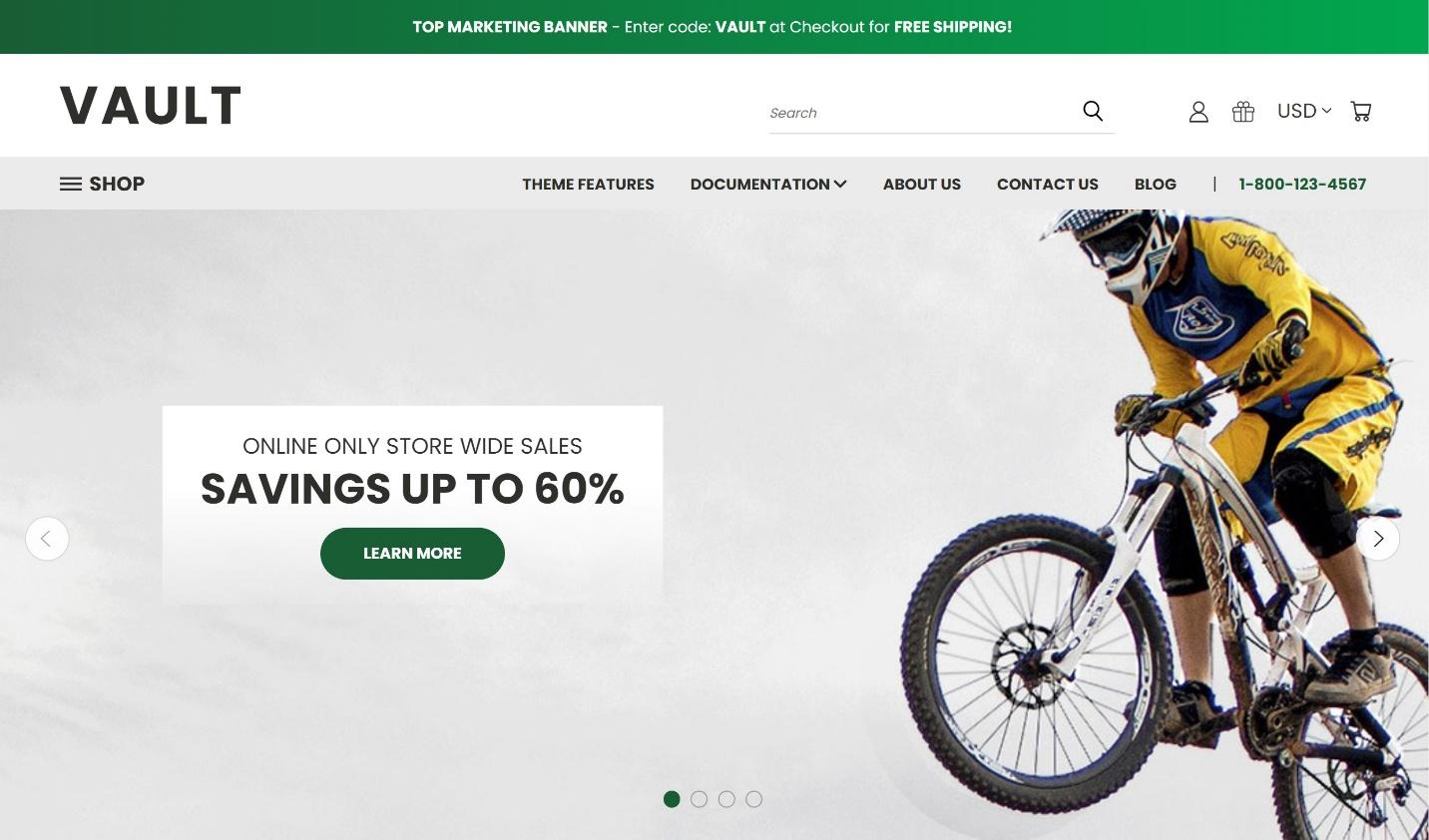 Vault's
full-width images and sliding product galleries create a dynamic homepage that can help keep visitors on your site. You can further
enhance the shopping experience by adding product videos to give visitors a more tangible, in-store feeling
as they browse. An expandable menu and sub-menus make navigating a vast product catalog simple. All throughout, borderless product images and ample whitespace help keep the focus on your store's goods, while hover effects invite visitors to bring up a "quick view" or add an item to their shopping cart.
You can add image and text banners to your homepage to further entice shoppers with limited-time offers, sales, and free shipping.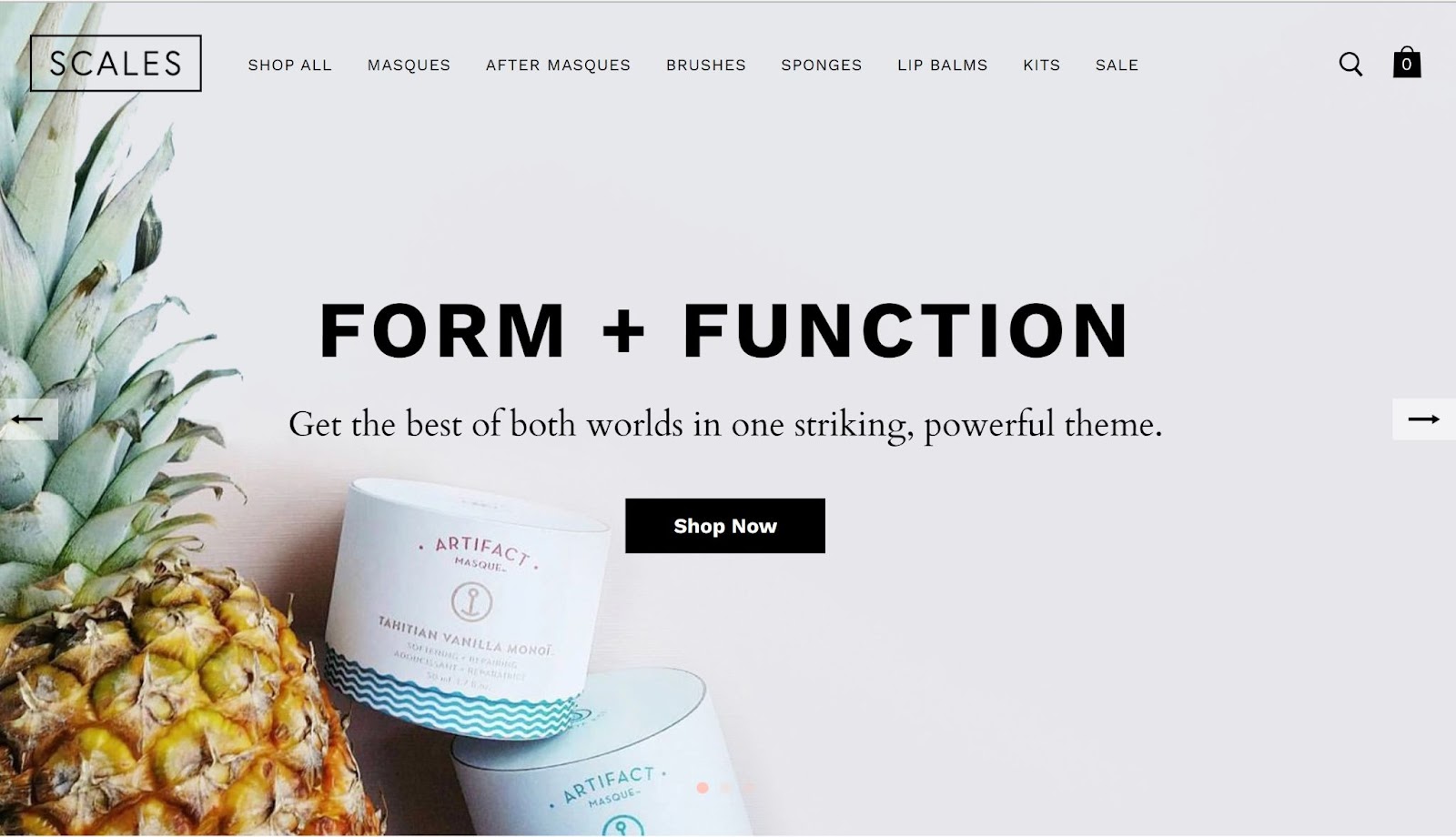 The
Scales
theme draws shoppers in by putting important content about your store right on the homepage, like special promotions, featured products, and your newest bundled collections. This BigCommerce store theme comes in three styles: Minimal, Chic, Modern, and Pop.
It suits a range of industries, including health and wellness, fashion, accessories, party goods, and more.
Quick view, zoom, and hover effects create an interactive shopping experience
, which can help keep visitors on your site and eyes focused on your items. Product pages feature multiple views, eye-catching call-to-action buttons, star ratings, and an expandable detail section.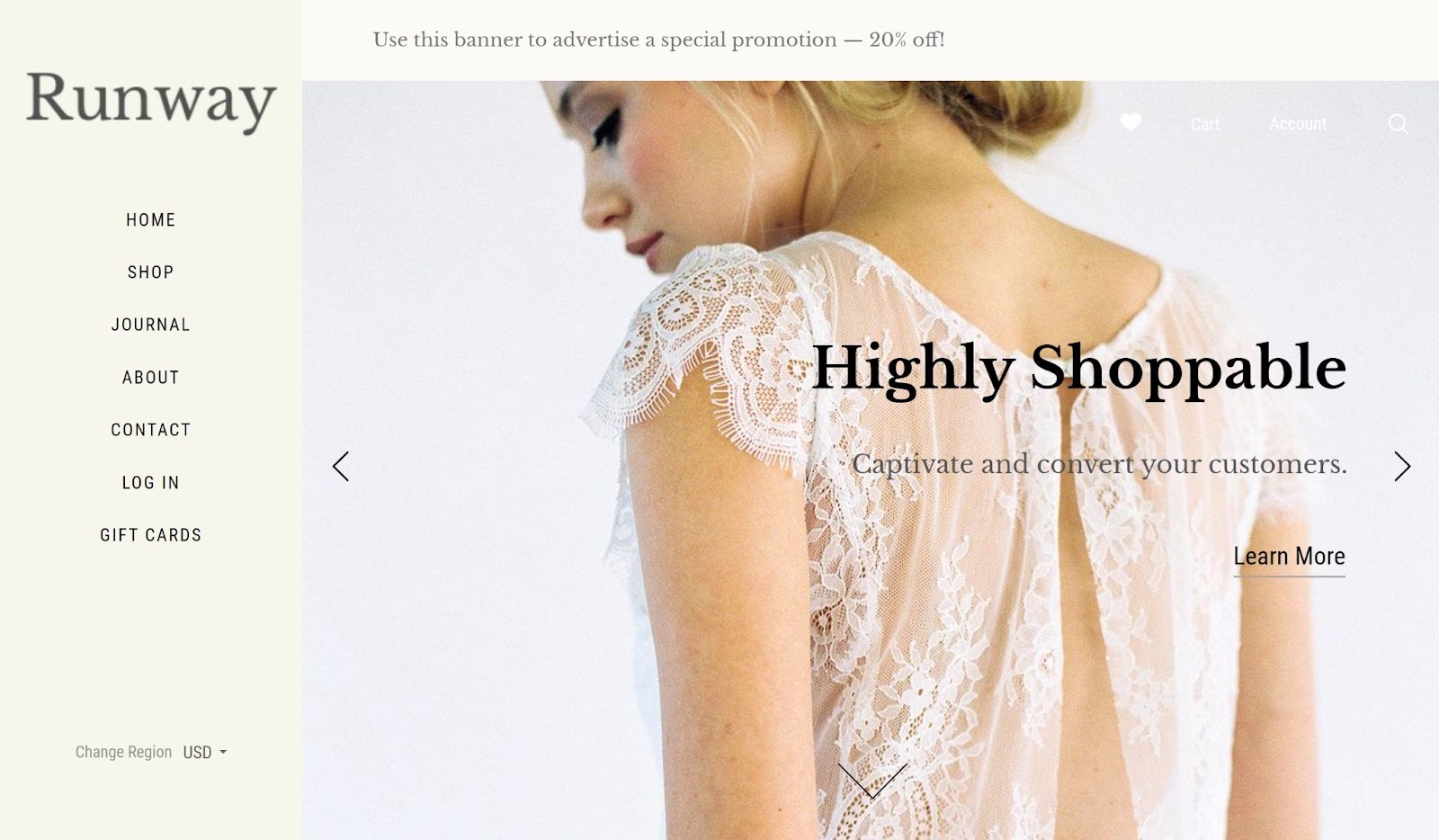 The elegant
Runway
theme's minimal style is my top pick for high-end brands selling luxe fashion and accessories to discerning clients.
I love how
this theme's gallery-style layout and large product images display luxury goods
on the homepage, shop page, and blog as works of art. Product pages include features that create an interactive shopping experience, with multiple product images, starred reviews, and the option to add product videos for even more impact.
Shoppers can click on an image to bring up a slideshow zoom in
, share on social media, or download to add to a personal wishlist. If you want to reach an international audience, BigCommerce allows you to integrate 65+ payment solutions and accept payments in over 100 currencies.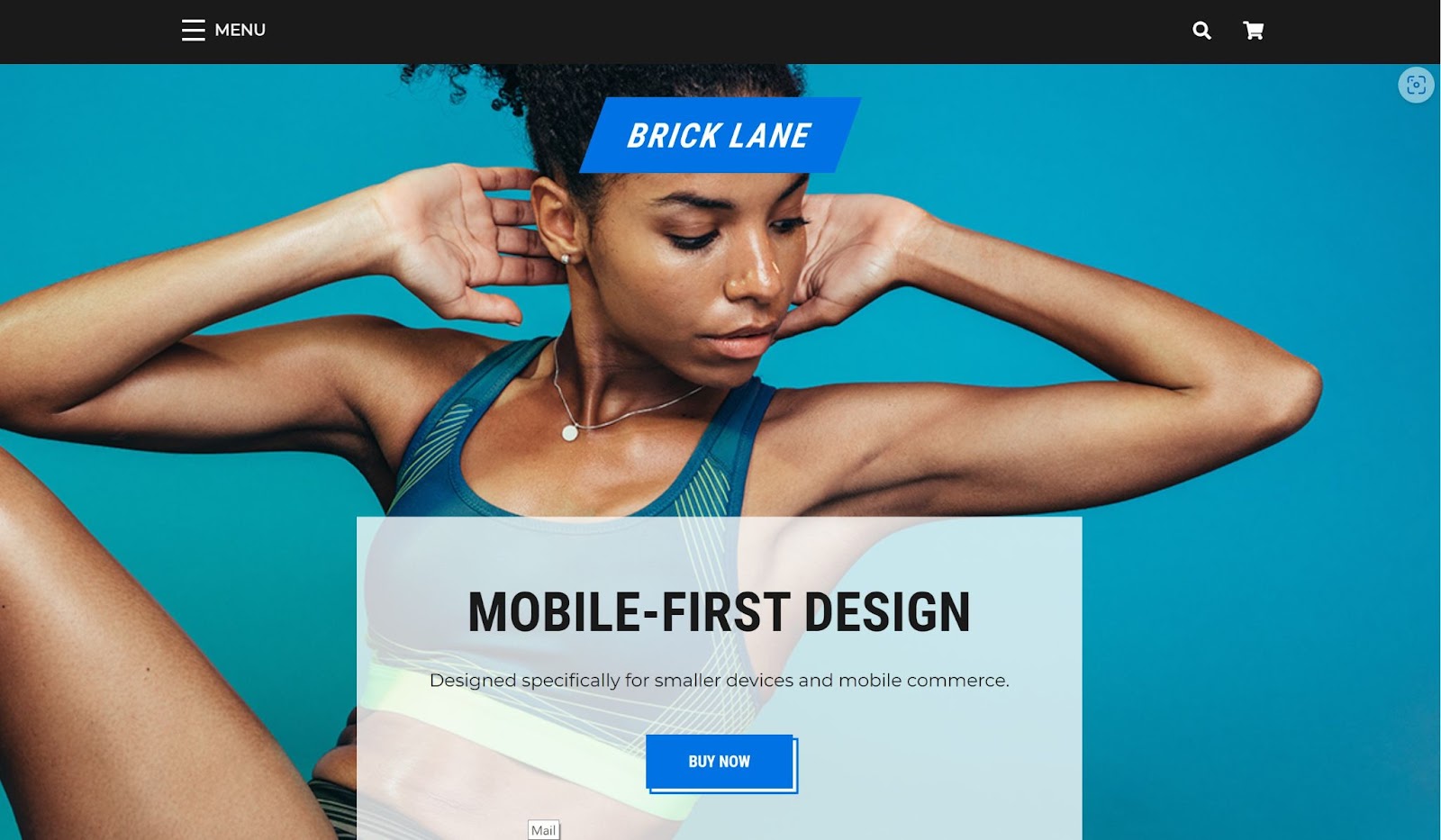 Brick Lane
isn't free, but this theme is my top pick for stores that target people who do most of their shopping on mobile.
Its vibrant style, full-width images, bold call-to-action buttons, and featured product slider are not just responsive
– they're optimized for small screens. An auto-scrolling banner, image animations, and hover effects engage visitors as they browse your site. The discreet hamburger menu and shopping cart slide in when clicked. This is an image-focused design that minimizes distractions to keep the focus on your products.
Even the
built-in newsletter popup is visually engaging
.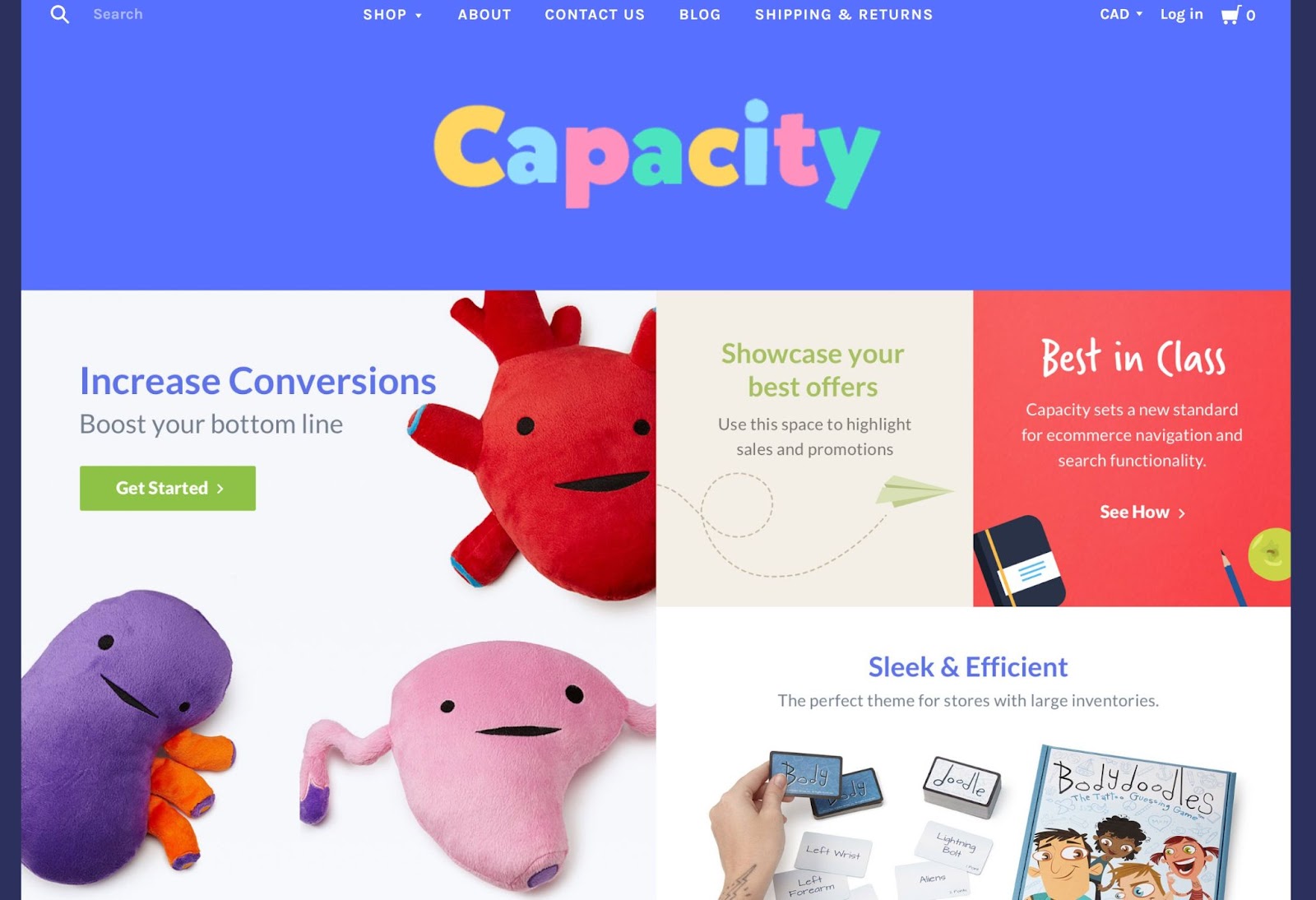 Capacity Bright's
quirky design
channels a playful vibe, which makes it a good fit for stores selling children's toys, gear, and fashions. It's colorful, fun, and engaging. This theme has what it takes to help design a store that will entice parents to purchase the latest playthings for their little ones.
The
dropdown menu neatly organizes store categories and sub-categories for a user-friendly shopping experience
that busy moms and dads will appreciate. An especially nice touch is the use of thumbnail images that float above each of the main product categories.
Capacity
makes it just as easy for shoppers to quickly checkout. They can create accounts, save payment methods, and enter all their information on a single page.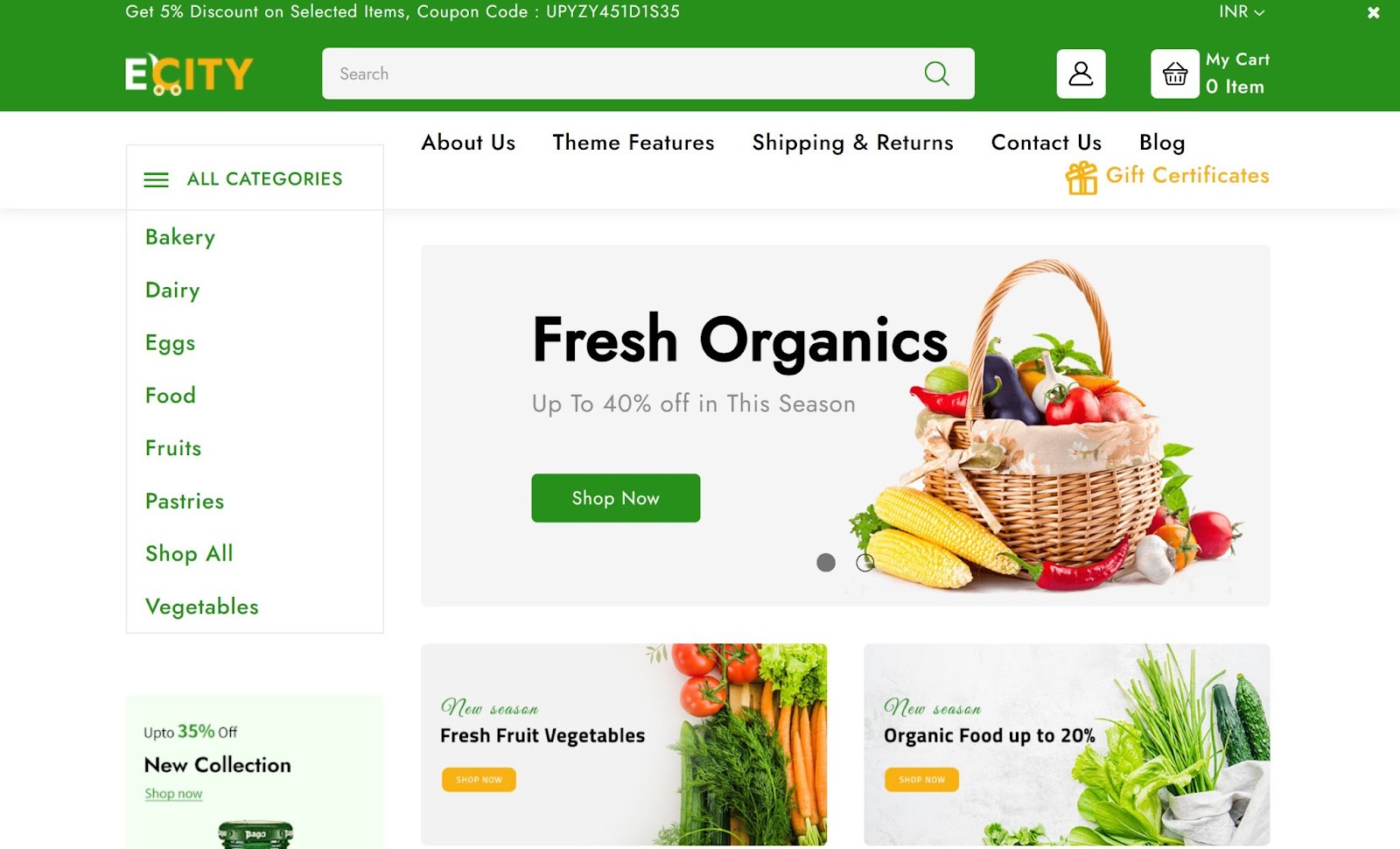 The
Ecity
theme offers great features for a range of businesses and brands, from food to furniture. It's a simple design that
packs all your store's important information – products, blog posts, and story – on the homepage,
but never feels cluttered or off-putting. The homepage is divided into a main section that displays your products in multiple galleries and slideshows and a sidebar with a navigation menu, special offers, and recent blog posts. All throughout, pops of color accent the banners,
Shop Now
call-to-action buttons, and product tags. This theme is geared toward stores with large product catalogs and high-volume sales that want to sell online and in person.
Didn't Find What You Were Looking For? Check Out These Templates from Our Favorite Site Builders
BigCommerce offers great-looking themes. But its sweet spot is large retailers, stores with complex inventories, or those looking to scale. It's also not the most user-friendly option – and it can get pricey. That's why I'm sharing free templates from Wix, Squarespace, and Shopify that are easier to customize and come with all the helpful features and tools you need to build a website for a store that sells.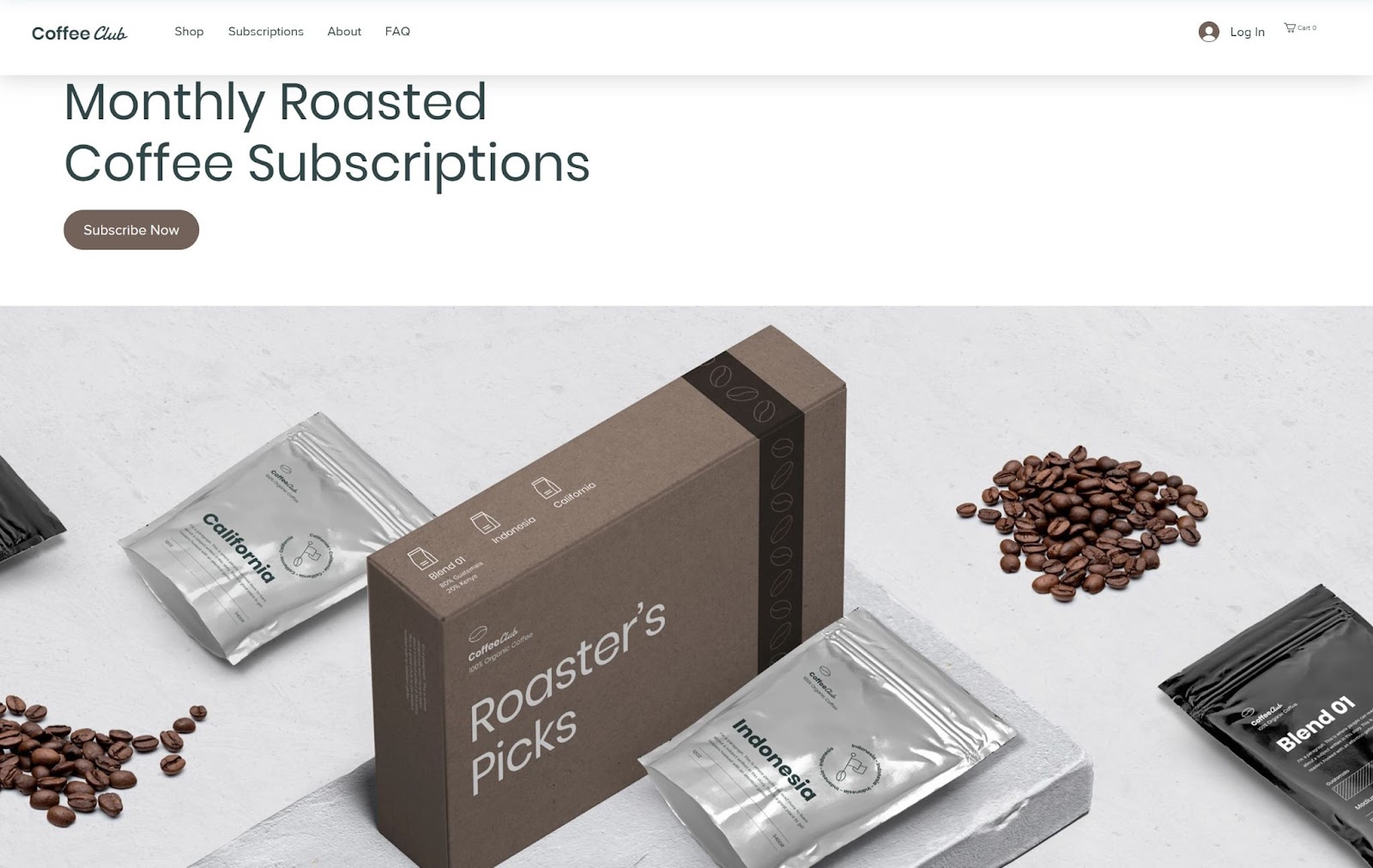 Coffeehouses and stores that sell specialty roasts can use Wix's
Subscription Box Company
theme to allow customers to place individual orders or subscribe to regular deliveries of curated craft roasts.
Parallax scrolling and background videos draw visitors' attention where you want and prompt them to act,
whether to set up a subscription or sign up for your newsletter. With the built-in Wix Stores app you can
manage your inventory, orders, fulfillment, shipping, and finances on your dashboard.
Any retailer looking to increase revenue and improve customer retention with themed subscription boxes can use this template – that's what makes it one of my favorites.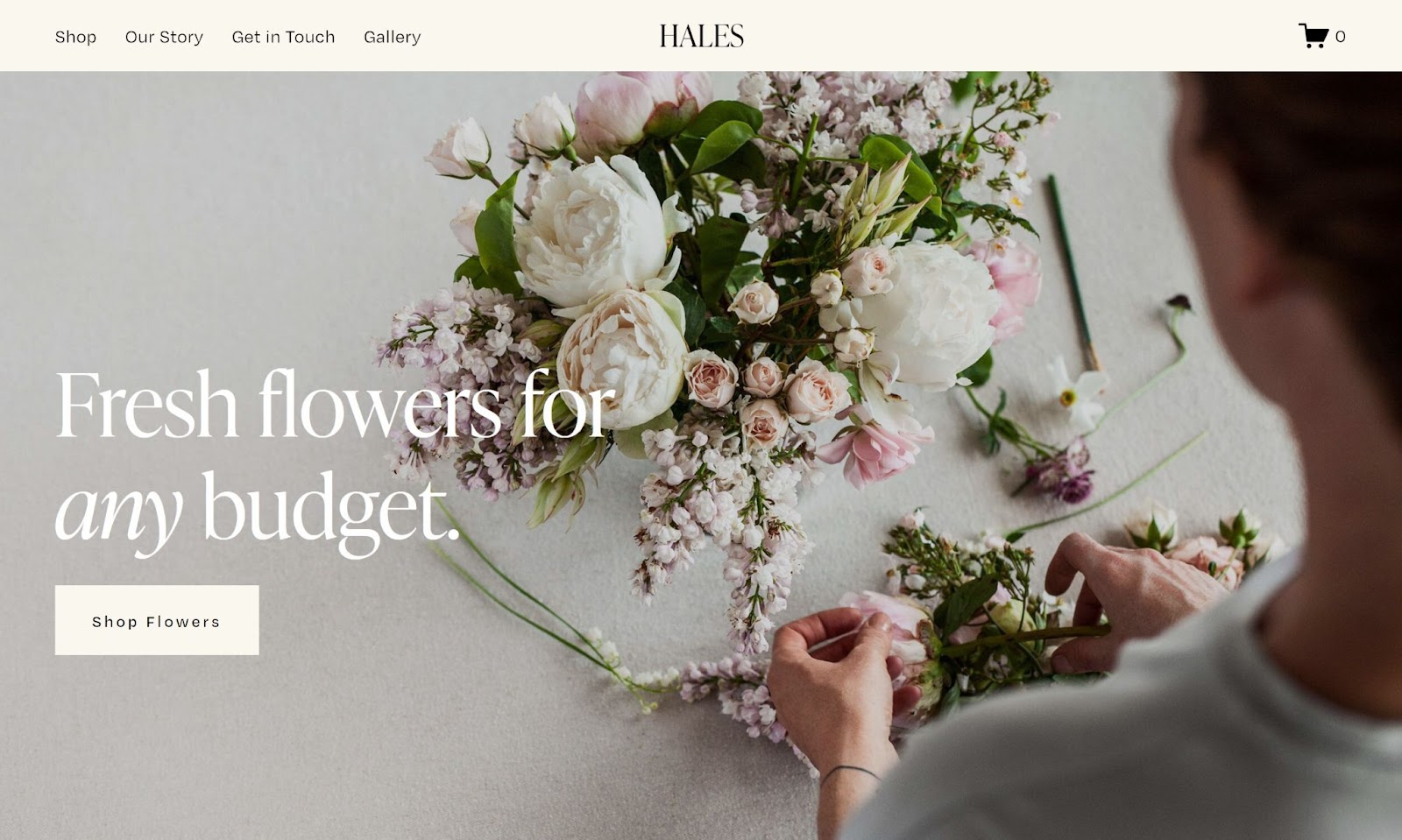 The smart-looking Squarespace
Hales
template has what florists need to show off their creations in attractive galleries and allow customers to ask about floral design services for weddings and special events. Simply
choose your store's gallery layout – slideshow, carousel, grid, or stack, and then customize the speed at which images glide, slide, or fade
– the options are right on your dashboard. The
Our Story
page lets you share what makes your store unique and build rapport with visitors. Links take customers straight to your store pages to shop bouquets and standard arrangements. They can also
contact you to set up a consultation
by clicking on the
Events
' link and filling out the contact form. Your Squarespace e-commerce plan includes the option to sell this type of service product – there's no additional fee.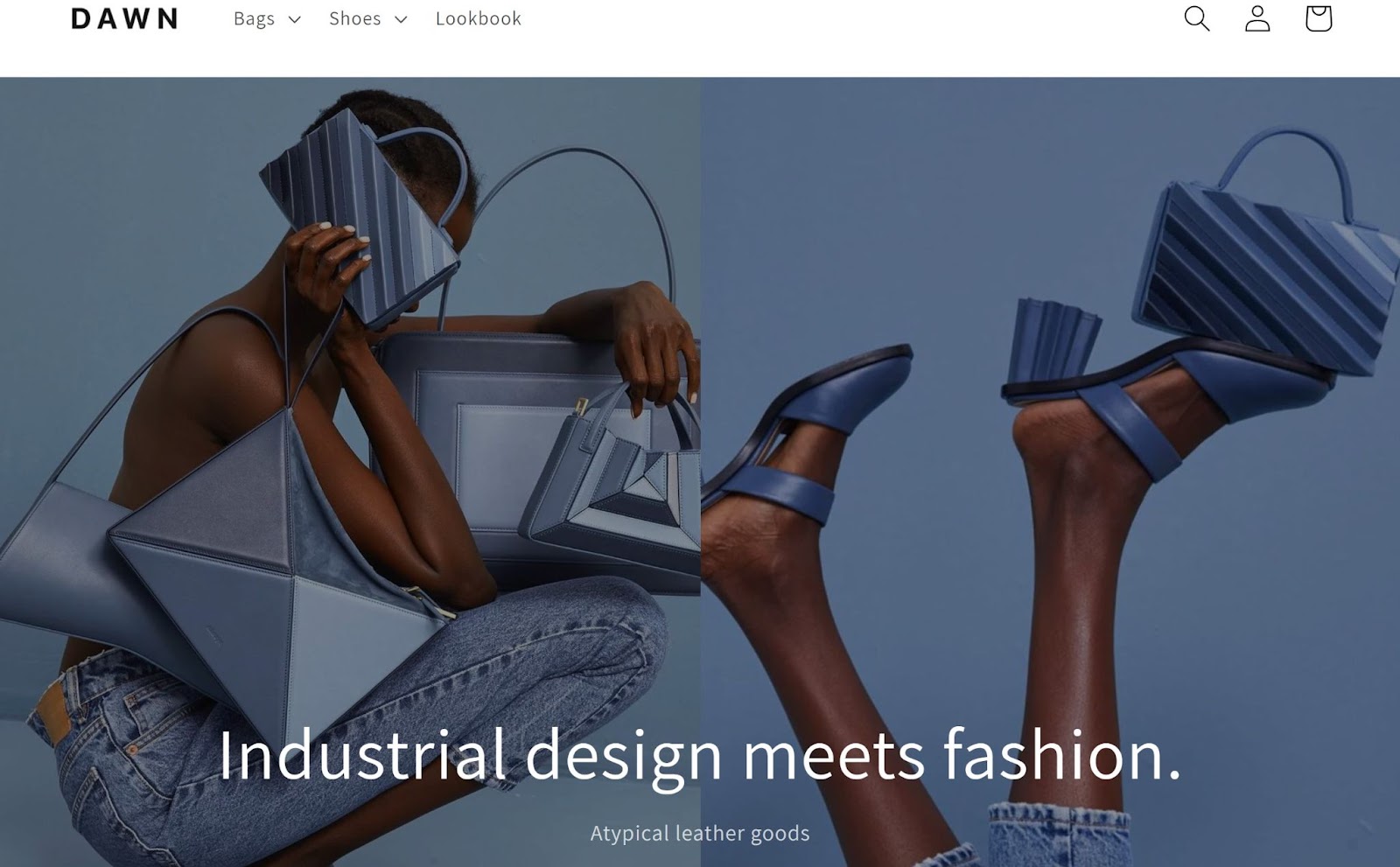 Dawn
is the most popular of Shopify's nine free themes and is suitable for any retail niche. It's also packed with
user-friendly shopping features, including quick view and quick buy, product reviews, recommended products, and a size chart.
The homepage gallery allows shoppers to click on a featured product and add it to their cart without navigating to another page. This theme's
smart use of video, rollover, and zoom effects
creates a more engaging experience, keeping visitors on your site and encouraging them to explore.
Dawn's
Lookbook page is a prime example of how video can give customers a better feel for your products and, as a result, make them more inclined to purchase.
Choose the Best BigCommerce Template for Your Online Store
Choosing the perfect BigCommerce store theme can help your business thrive and grow. Even with lots of customization options, your theme's structure, features, and functionality are going to determine a visitor's first impression of your store – and whether they stick around to make a purchase. Fortunately, you can
search BigCommerce's theme library by pre-set filters or enter your own
in the search to find one that fits your brand's vision. Then, I'd recommend trying out more than one theme during the free-trial period before you make your final pick.
FAQ
What is the best free BigCommerce theme?
It depends on your brand's personality, niche, and inventory size. Cornerstone is BigCommerce's flagship theme. This free theme's clean, modern design is fully responsive and a good starting point for different industries and needs. Cornerstone comes with advanced e-commerce and store management tools. There are three styles: Light, Bold, and Warm.
How do I choose a BigCommerce theme?
Choosing the right theme for your store starts with finding one that fits your brand's personality. BigComemrce makes this easier by filtering its 220+ themes by store type, feature, and whether they're free or paid. While all the free themes share the same e-commerce capabilities, you may prefer a premium theme for its enhanced features and functionality. For example, fashion brands might favor Runway for its striking design.
Is BigCommerce free to use?
No, but BigCommerce offers a free 15-day trial during which you can try out multiple themes, build your own store, and decide if this builder is your best option. There are 15 free store themes (including many variations) but no free plan. Once your free trial ends, you'll have to select a plan. It's worth noting that BigCommerce automatically upgrades your plan if your store hits preset sales targets.
Which is better, BigCommerce or Shopify?
It depends on your priorities, tech skills, and whether you're launching a new store or have an established retail business. Shopify offers more free themes – each is unique and not just a stylistic variation. It's also a more user-friendly builder. Large, high-volume stores may find BigCommerce to be the better choice, especially since it doesn't charge a commission on sales. If you're still weighing your options, you may want to check out our review of the 10 best website builders for 2023.