nine outstanding art portfolio examples packed with ideas for how to build a website that will showcase your artwork and advance your career.
As you study these portfolios for inspiration, perhaps the most important takeaway is that each is as individual as the artist who created it
–
something only possible due to the versatility of the website builders they used to do so.
Did you know that you can build a gorgeous art portfolio in a matter of minutes?
Wix has 48 unique templates for art portfolio websites
. Not only do these look fantastic, but they have most of the features you'll need already built in. Pick your favorite template, upload your own images and text, and you're good to go!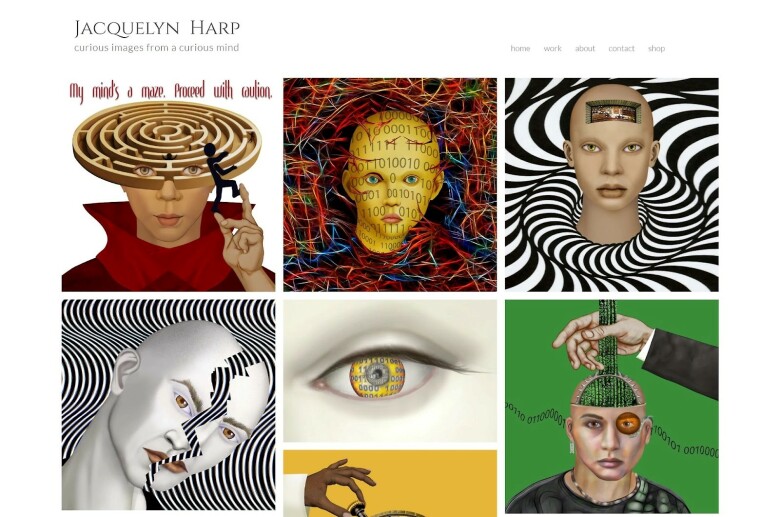 Visit website at: https://www.jacquelynharp.com/walk-on-the-weird-side Graphic designer Jacquelyn Harp specializes in bold, provocative images that she markets as affordable canvas art prints, as well as on the accessories, home goods, and clothing she sells online. I was struck by how this portfolio makes her art accessible to all. Despite having a substantial body of work, she's also made her portfolio easy to navigate.
By neatly organizing her artwork thematically in individual galleries, she ensures visitors never feel overwhelmed,
which keeps them on her site. Other notable features are the homepage slider and the discreet hover effects that boost engagement
.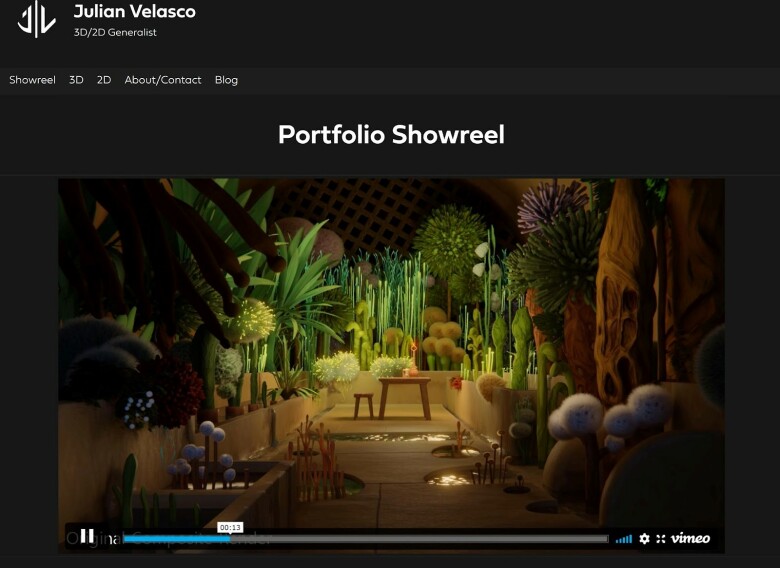 Visit website at: https://www.julianvelasco.art/2d Digital animation and gaming artists will find Julian Velasco's website offers plenty of ideas on how to create a vibrant, engaging portfolio. Take a tip from this 3D/2D artist and
use a short video to give potential clients an introduction to your best work
and creative process. The dark background lends an appropriately edgy feel and makes the video and images pop, while scrolling animations create a dynamic user experience. An About/Contact page lets
potential clients and employers download a CV, send a message, or navigate to the artist's Linktree landing page
, the go-to place for all his social media channels.
Pro Tip.
If you're worried that your art portfolio won't look good (or you simply don't have the time to build it), you can hire a professional designer to create it for you. It doesn't have to cost a fortune, either. With platforms like Fiverr, you can
hire a designer for as little as $5
, and still get a good-looking website on the platform of your choosing.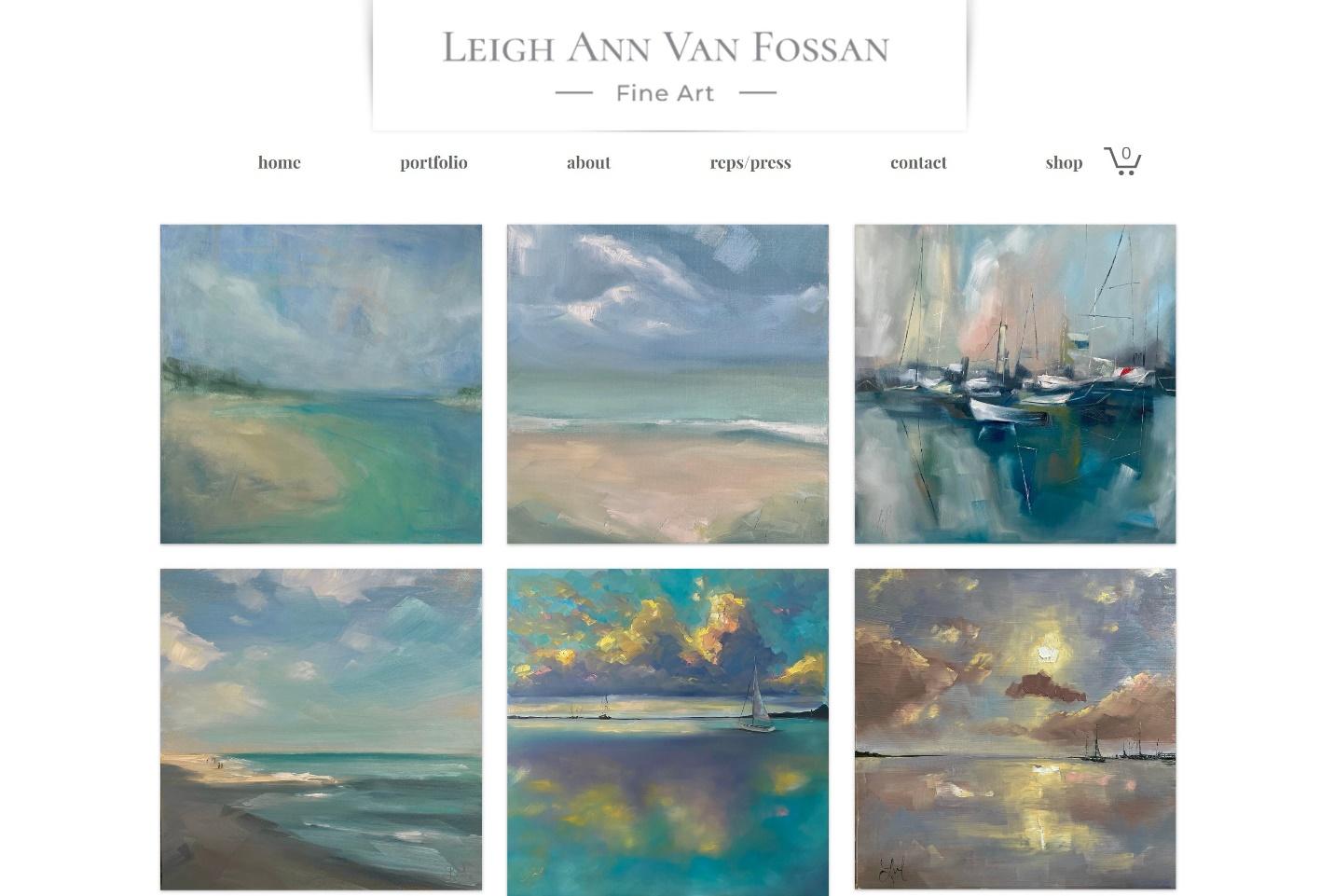 Visit website at: https://www.lavfineart.com/water Leigh Ann Van Fossan's portfolio features a clean masonry grid layout that puts her art front and center. It also makes it easier for visitors to browse her paintings until they find one that catches their eye. To drive engagement, images fade in and out as visitors scroll, prompting them to click and bring up a slideshow. Collectors can contact her gallery reps or use the built-in shop to purchase paintings. If you plan to sell your work online, you'll find most Wix portfolio templates include an online store. If not,
it's easy to add a shop to your portfolio using the Wix Art Stores or Wix Stores app
. It's all done with a few clicks.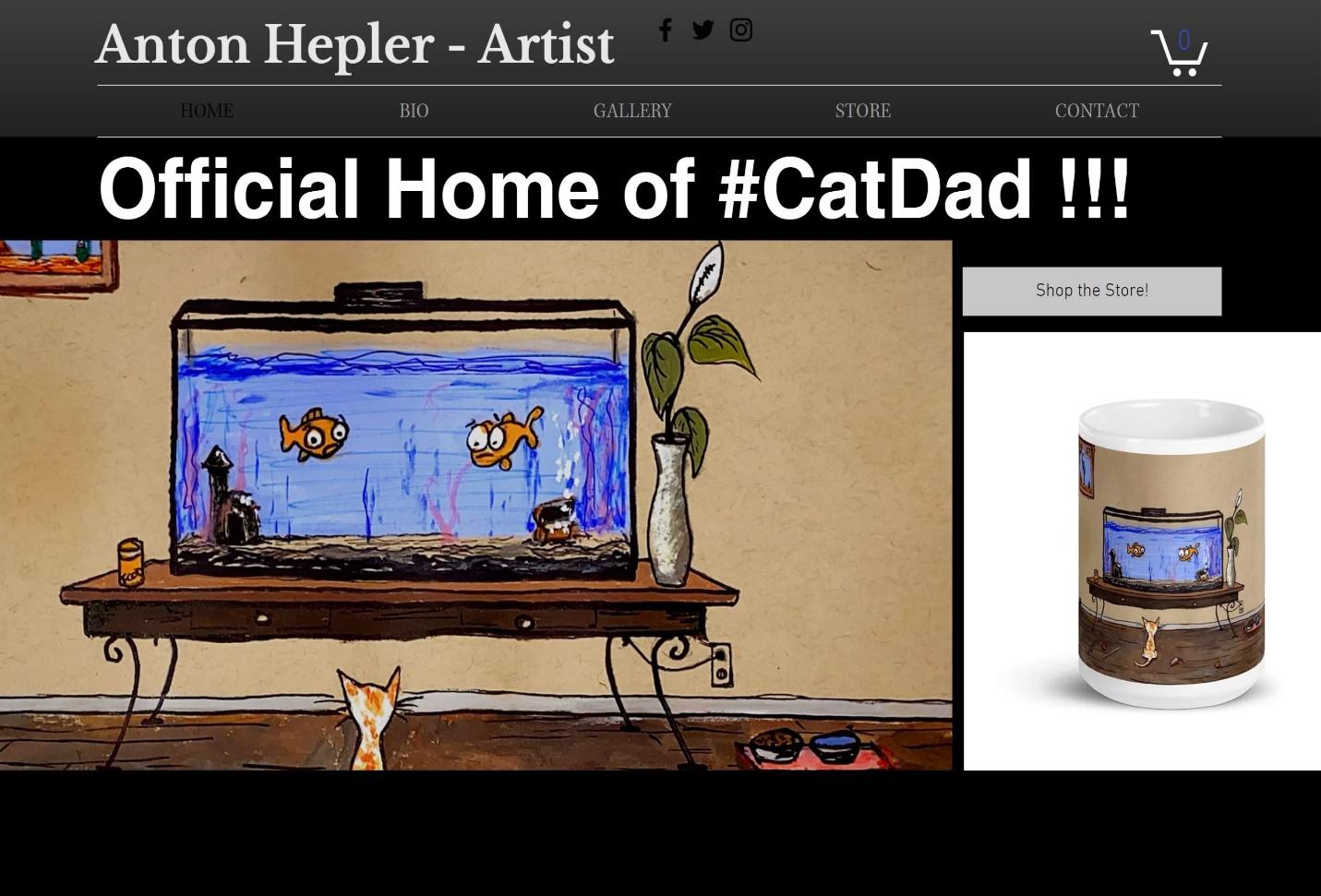 Visit website at: https://www.antonheplerart.com/ Self-taught artist Anton Hepler's portfolio has an idiosyncratic style perfectly suited to his doodled, stick-figure cartoons. Its asymmetric homepage and bold typography reflect Anton's aesthetic vision, as do the
oversized balloon buttons that link to his store
and change shape as visitors mouse over. To keep your portfolio inviting, you'll want to update it with your latest work. I'd suggest taking a tip from this artist and
letting visitors know that there's always something new to check out on your website
, which can encourage them to return.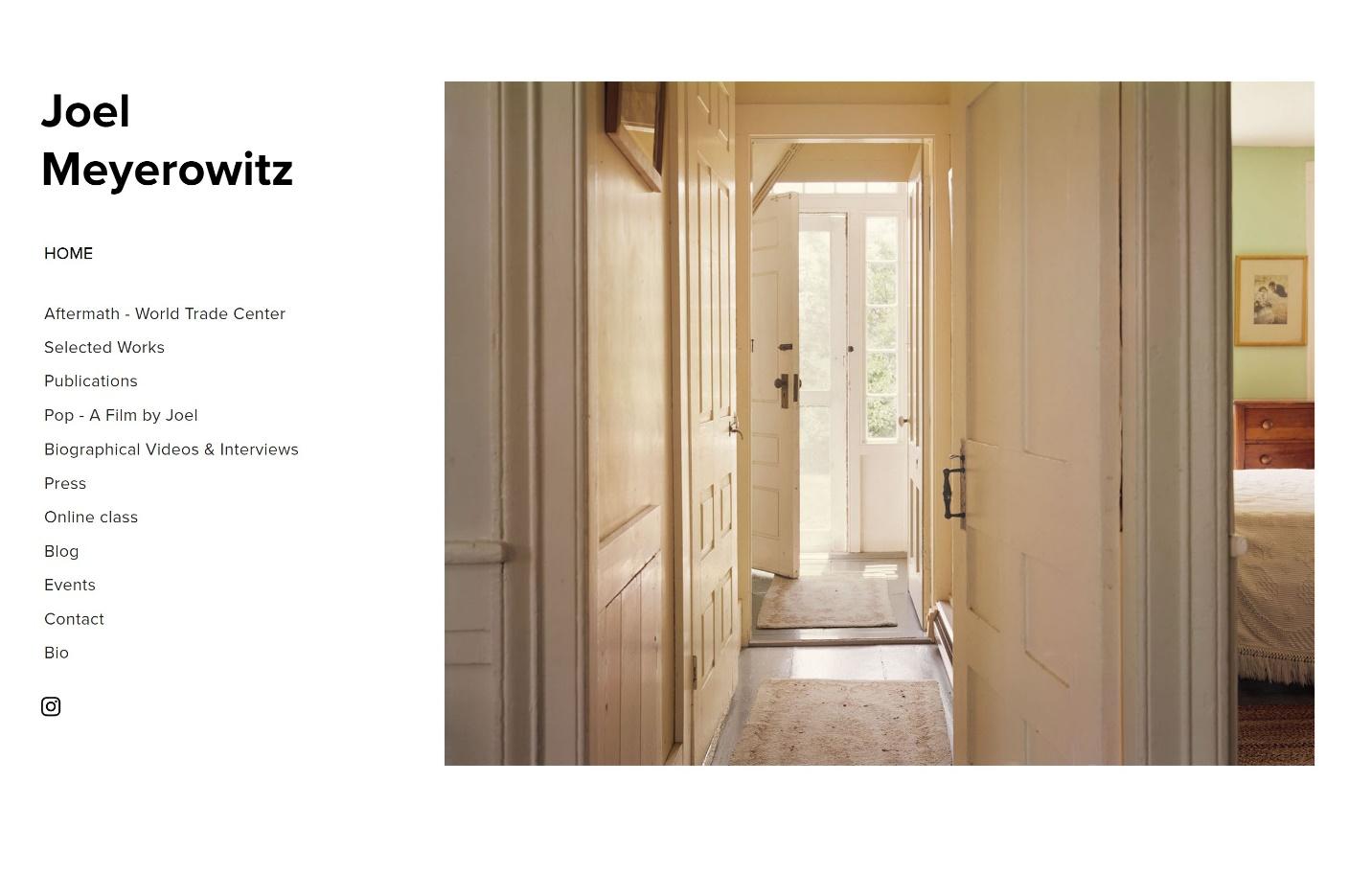 Visit website at: https://www.joelmeyerowitz.com/ Joel Meyerowitz's photography portfolio has a clean, contemporary design that lets his work speak for itself. I love how the homepage slider immediately draws visitors in.
As the photographs auto scroll, visitors are treated to a retrospective of the artist's work.
By keeping text to a minimum, this portfolio maximizes its visual impact. Even
the Press page uses thumbnail images to draw the eye and encourage clicks.
Other features you might consider adding to your own portfolio are biographical and video interviews, publications, and virtual classes.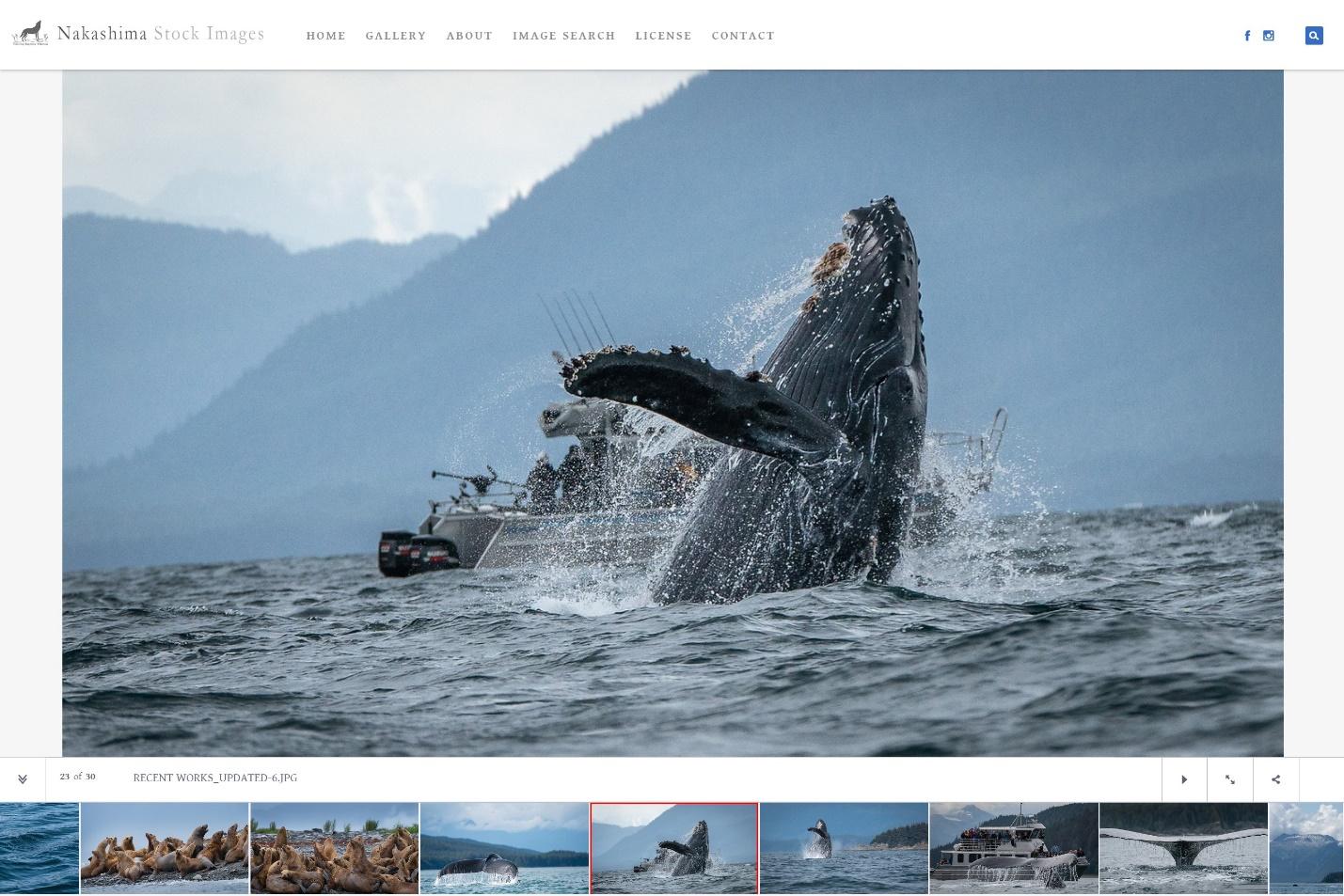 Visit website at: https://www.nakashimaphotography.com/en/home Most multilingual websites simply translate content into one or more languages and allow visitors to select their preferred option. I was impressed by Takashi Nakashima's singular approach. He's used Squarespace's tools to
customize his portfolio for his Japanese and English visitors, so each group sees a subtly different version.
Whichever language they choose,
visitors will be drawn in by stunning full-screen photos and galleries.
They can read about Nakashima's photography projects, search a library of stock images, or shop his online store. But only those viewing the Japanese translation can book photography tours. Conversely, his
Lynx in Winter
project appears only on the English version.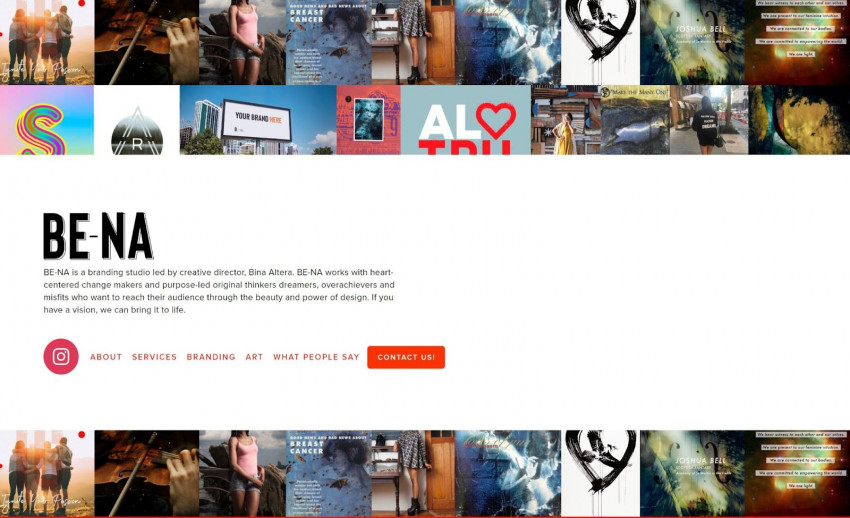 Visit website at: https://www.binaaltera.com/ BE-NA is the website and portfolio of multidisciplinary artist Bina Altera, whose work includes photography, illustration, and branding/website design. Her polished portfolio shows how to
create an online presence that captures the full range of your creative output.
Brilliant splashes of color, vivid red call-to-action buttons/typography, and plenty of whitespace create a dynamic canvas that flatters her work. By organizing her portfolio into digestible sections, she's made it easy for visitors to find what's relevant to their interests.
Photo galleries use hover effects, slideshows, and lightboxes to entice visitors and encourage them to explore.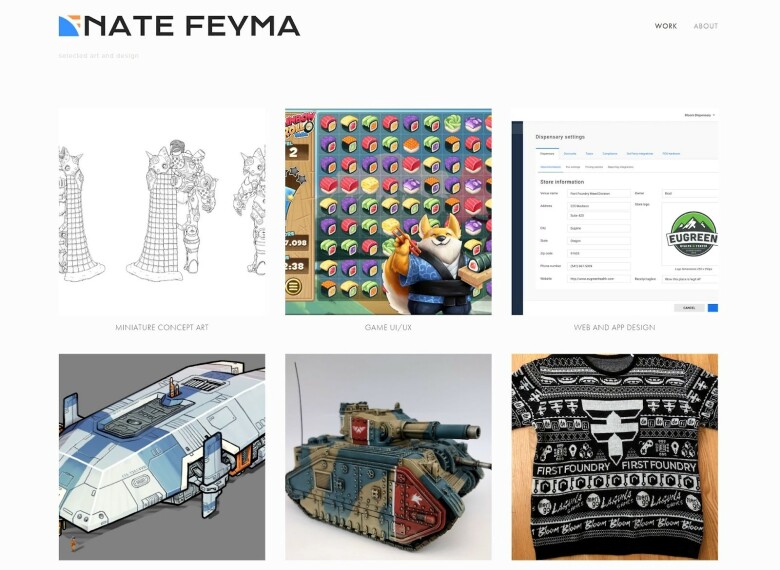 Visit website at: https://www.natefeyma.com/ Multidisciplinary designer Nate Feyma's portfolio opens onto a homepage gallery that organizes his projects into six categories, making it easy for potential clients to evaluate his work. By clicking any image, visitors can scroll large-format image galleries that feature Feyma's UI/UX game designs, illustrations, and 3D modeling projects. The simple navigation menu links to the portfolio's "Work" (also the homepage) and "About" pages.
The "Get in Touch" link at the bottom of each page makes it easy for visitors to reach out by launching their email client when clicked.
It's the ultimate in simplicity.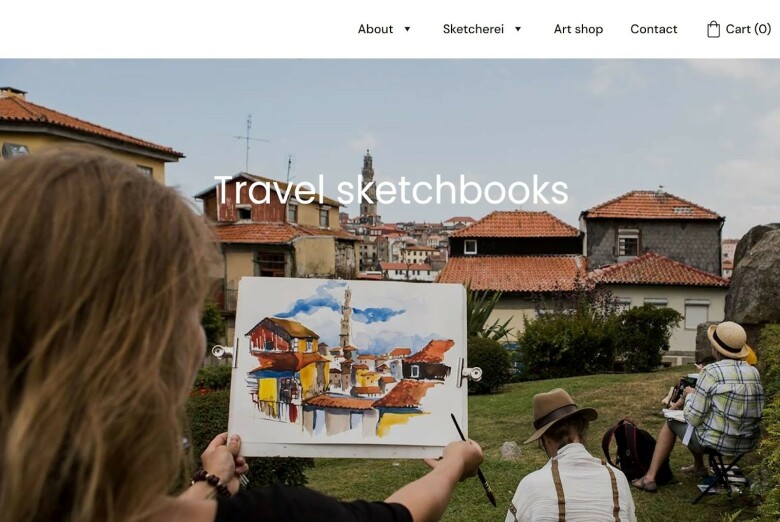 Visit website at: https://barsketcher.com/ This art portfolio showcases handmade, accordion-fold travel sketchbooks that capture the artist's experience of different places and cultures. As they scroll down the homepage
, visitors can
view short videos of each book, then visit the Art shop to purchase prints
of individual pages that piqued their interest. Aspiring artists eager to develop their own creative talents can sign up for burlesque life drawing events, called "Sketcherei." It's one of many ways this Berlin-based artist has
used her portfolio to present her work, attract collectors, and connect with potential collaborators.
Other Notable Art Portfolio Examples
If you're still looking for inspiration after browsing the outstanding art portfolio websites above, you can get more great ideas from these other hand-picked examples.
10. Alex Katz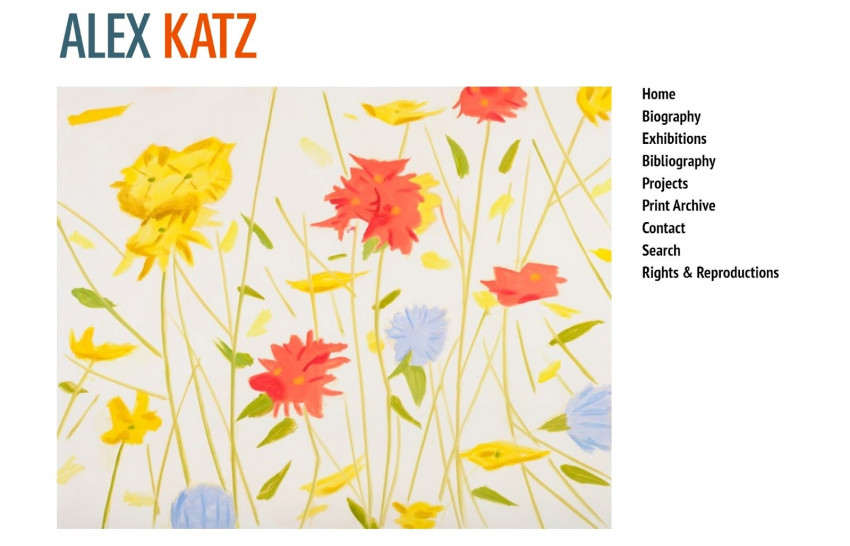 Visit website at: https://alexkatz.com Most artist's websites feature a selection of their best work. Alex Katz takes a different approach – a single oversized image of a recent work paired with a searchable side-bar menu that invites visitors to explore a career that's spanned more than 50 years.
11. Chakaia Booker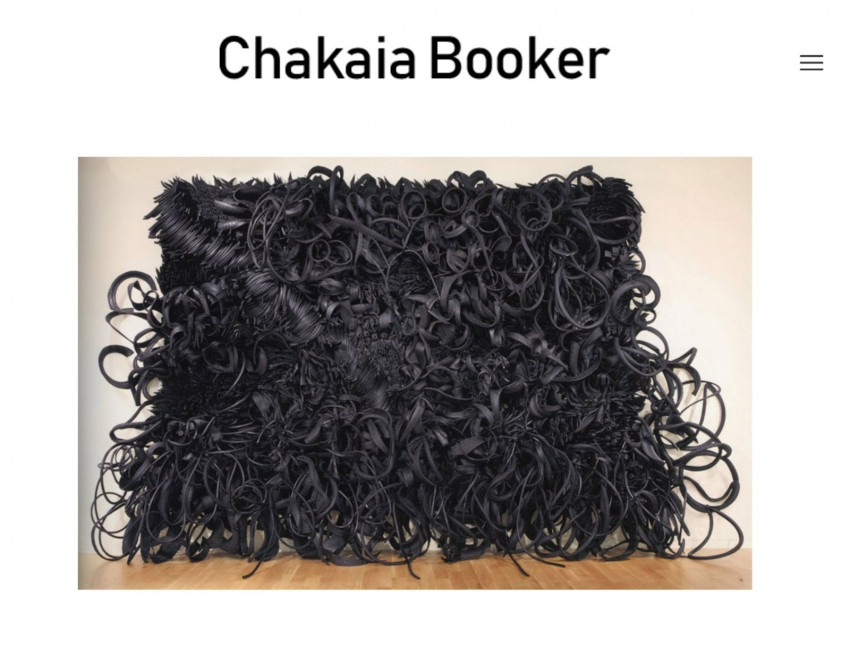 Visit website at: https://chakaiabooker.com Plenty of whitespace and a simple navigation menu contrast with the complexity of sculptor Chakaia Booker's work.
A smart design feature is the homepage contact form
, which prompts collectors and other visitors to sign up to get advance notice of upcoming exhibitions and events.
12. Gerhard Richter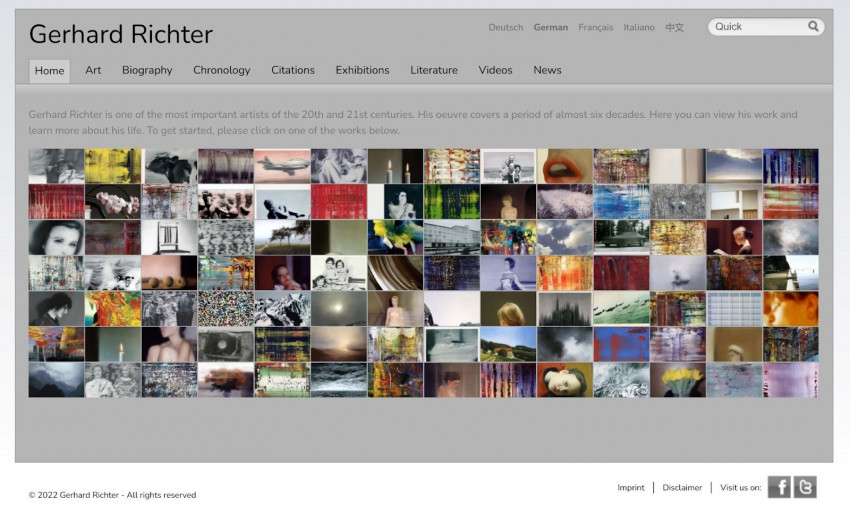 Visit website at: https://gerhard-richter.com/de Gerhard Richter's
homepage offers a visual overview of the painter's iconic work, stylistic range, and creative vision
: paintings, drawings, photographs, and video. One of the best design tips? When a visitor clicks on one of the 98 images that make up the hero image, they bring up a detailed description of the work, its exhibition history, and provenance.
13. Isabelle de Borchgrave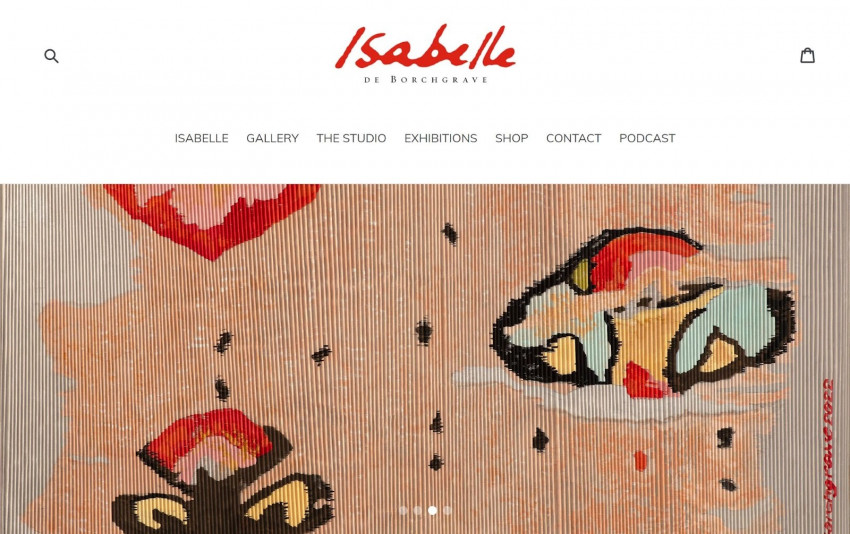 Visit website at: https://isabelledeborchgrave.com A great artist's portfolio can be more than just a way to display your work, share your exhibition history, and tell your story. As Belgian artist Isabelle de Borchgrave's portfolio shows,
your portfolio can also be a destination where you connect with visitors to sell your work, offer tours, and more
.
14. Albert Watson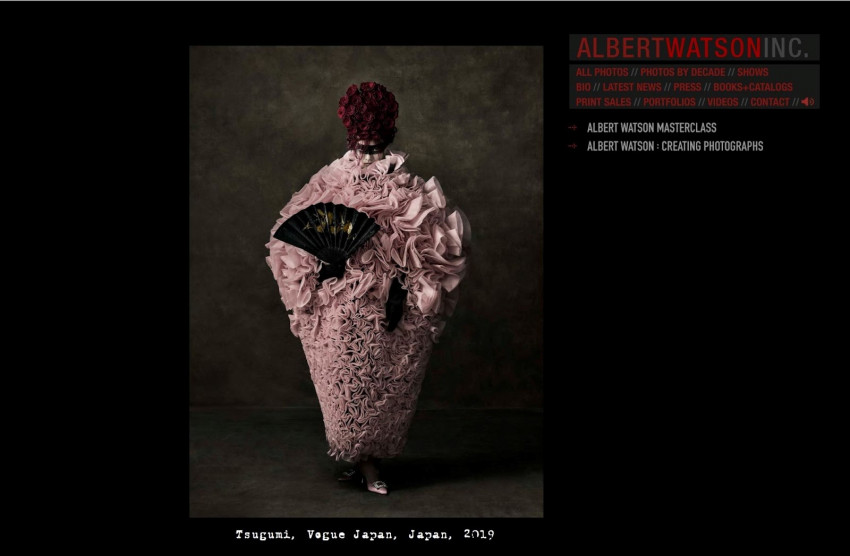 Visit website at: https://albertwatson.net A simple bold header serves as an introduction to an ever-changing slideshow of photographer Albert Watson's work. This portfolio style is best suited to prolific artists that want to show off their creative range and a substantial body of work.
15. Refik Anadol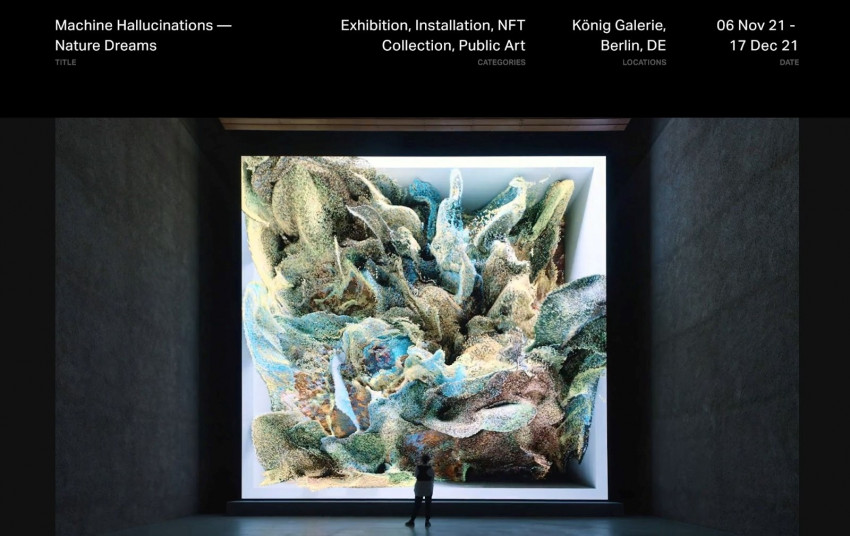 Visit website at: https://refik anadol.com When your art captivates with its immersive quality, you'll desire a portfolio that allows your work to communicate effectively, just like media artist Refik Anadol's portfolio does. By clicking on any image on his homepage, visitors can engage in the site-specific audio/visual performances crafted by the artist.
16. David Hockney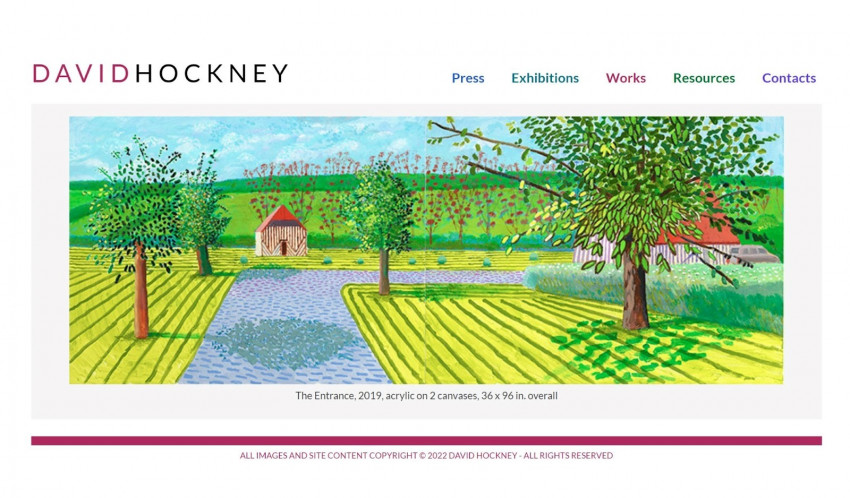 Visit website at: https://www.hockney.com The straightforward design of David Hockney's website
neatly organizes his complex body of work – paintings, digital movies, graphics, and stage design – so it's easy for visitors to zero in on what interests them
. Videos that speak to Hockney's creative process more clearly than text ever could are one of many ways he connects with collectors.
17. Merriem Bennani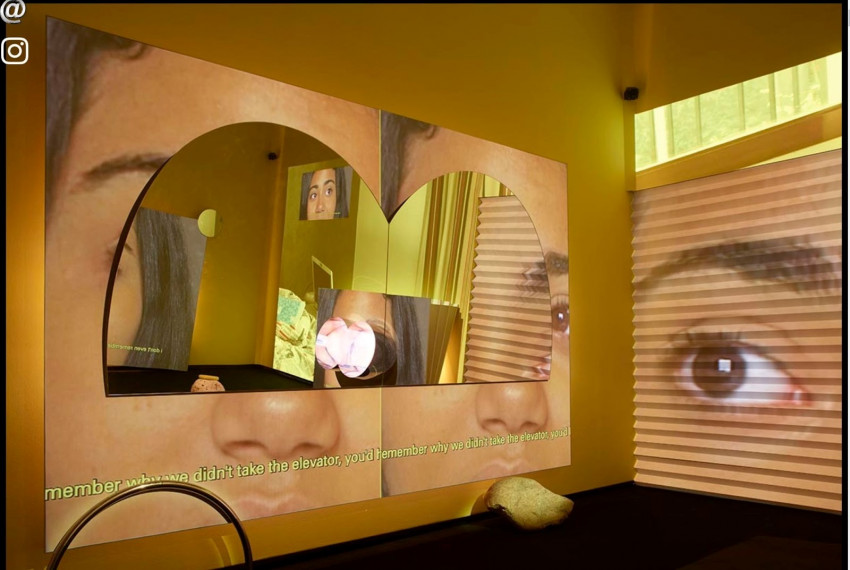 Visit website at: https://merriembennani.com Multimedia artist Merriem Bennani's portfolio has no text or navigation menu to detract from visitors' experience of her work. Instead, they're treated to
one long scrolling gallery of the artist's imaginative videos, multimedia installations, public art, and sculptures
.
18. Yayoi Kusama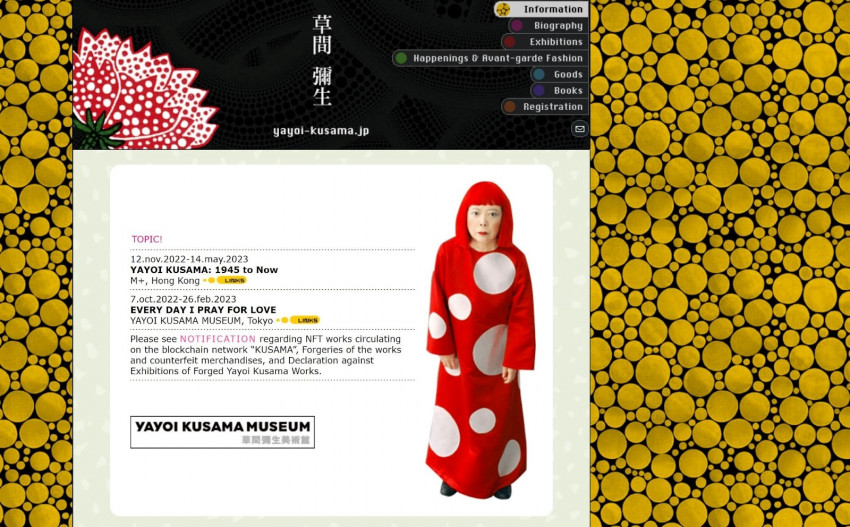 Visit website at: http://yayoi-kusama.jp/e/information/index.html Multi-disciplinary artist Yayoi Kusama's bold and idiosyncratic website is a tribute to her work. Perhaps the most unusual feature of this inspirational portfolio example is how
the artist makes her image central to the homepage, creating an immediate bond with her visitors
.
19. Dale Chihuly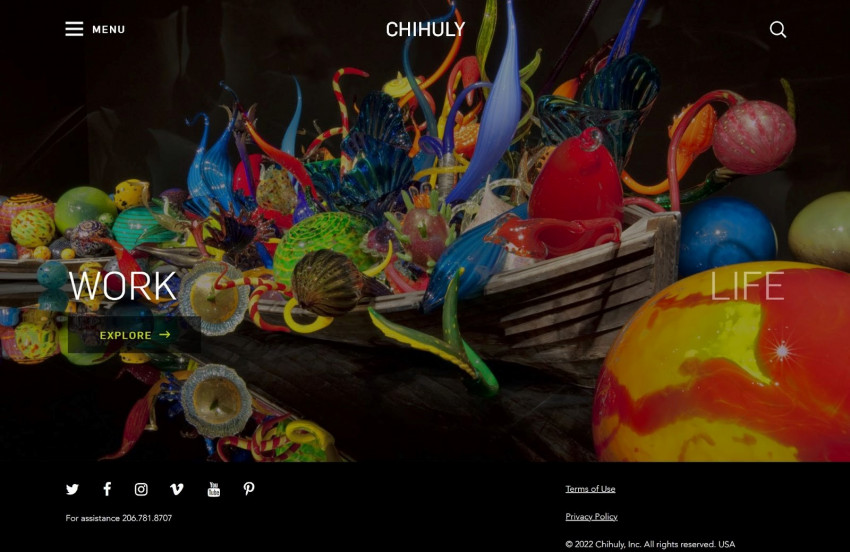 Visit website at: https://dalechihuly.com If you're wondering how to grab visitor's attention and keep them on your page, take a tip from glass artist Dale Chihuly. He keeps things simple above the fold: two inviting links overlay
a slow streaming video that captures the beauty and drama of his large-scale glass sculptures
.
20. Roz Chast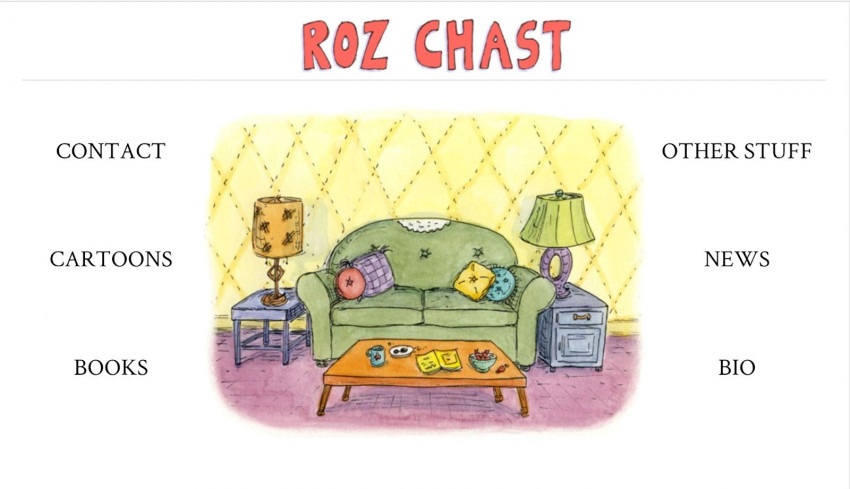 Visit website at: https://rozchast.com To personalize your portfolio, consider following cartoonist Roz Chast's approach. She uses her distinctive signature for her site's sticky header, then pairs it with
a whimsical drawing that invites us into her "home," where we can experience her work
.
3 Best Website Builders for Art Portfolios
When it comes to choosing the best builder for your art portfolio, I'd recommend
Wix
,
Squarespace
, and
Hostinger Website Builder
–
the platforms used to create each of the unique-looking portfolios on my list.
These builders offer all the templates, tools, and built-in features that will allow you to present your work at its best
and design a portfolio that's beautiful, dynamic, and as individual as you are.
Wix offers everything you need: beautiful templates, built-in features, and plenty of customization options. You can extensively personalize any Wix Pro Gallery layout until the design is exactly right, and
add images, video, and animation effects to create a dynamic user experience.
You'll also get excellent e-commerce tools for selling your physical or digital art online. Plus, Wix adds a watermark to every image and allows you to block unauthorized right-click downloads, helping to protect your work from illegal distribution.
Squarespace's classy, responsive templates are best suited to highly visual portfolios. You can customize the
stylish image gallery layouts with slideshows, sliders, hover effects, lightboxes, and more.
Adding watermarks to images and videos can help protect your work from unauthorized use. If you want to sell your artwork online, simply enable the online store page in your dashboard and follow the steps to set up payments and other details.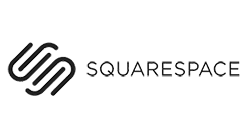 Save up to 30 % on your Squarespace plan today!
Plus get a free domain for one year!
1031 users used this coupon!
Attractive, modern templates, a user-friendly editor, and solid features make Hostinger a good option for anyone looking to design an attractive art portfolio at an affordable price. In addition, Hostinger's Website Builder offers innovative
AI-powered tools that can help with portfolio design, image enhancement, and text for your artist statement.
A Great Art Portfolio Lets Your Work Speak for Itself
An art portfolio, like any website, must create a compelling initial impression. Your website serves as a canvas for your artistic expression, allowing you to exhibit your creativity and propel your career forward. When it comes to crafting a portfolio that captures your visual identity, you need an intuitive and versatile website. Perhaps more than any other,
Wix gives you the templates, tools, and features
 needed to create an online portfolio that's as unique as your aesthetic vision.
FAQ
Which builder is best for art portfolios?
Most artists will find that Wix is the best option. No other builder offers quite the same level of creative control over your portfolio's visual elements. Equally important, Wix's selection of unique looking templates makes it easier to design a portfolio that's as individual as you and your art. If you're still weighing your options, check out our review of the 10 best website builders for 2023.
What should you include in your art portfolio?
A curated selection of your best work should be the main focus of your portfolio – think quality, not quantity. Other essential pages/sections are an artist statement and your contact information. Established artists and designers will also want to include their exhibition history, press reviews/interviews, and past projects. You might even want to add a shop to sell online. Our step-by-step guide to website design can help get you started.
Can you create an art portfolio for free?
If you're just starting out or need to design an art portfolio for college, Wix has a generous free plan. You can choose one of dozens of free, feature-rich portfolio templates, upload your own images, videos, and text, and add your contact information.
What are some mistakes to avoid when designing an art portfolio?
A cluttered design, over the top animations, and confusing navigation are all major no no's because they can distract users from your art. On the other hand, short videos can be a powerful way to create interest in your work. You can also add subtle animations such as slideshows, lightboxes, and hover effects to boost visitor engagement.