Thanks to the internet, the days when musicians needed a record contract and radio airtime to showcase their music and build a fan base are long gone. We spoke with 
Stacey Bedford, CEO of Bandzoogle,
about their platform, which helps musicians build a website, connect with their fans through social networks and mailing list management, and sell merchandise and concert tickets.
This interview was originally published on November 29, 2020.
What is Bandzoogle?
We started as a website builder back in 2003, but today Bandzoogle is the most effective platform for musicians to build their website and manage direct-to-fan marketing and sales. Our all-in-one platform offers musicians powerful design options, a commission-free music & merch store, mailing list management, detailed fan analytics, integrations with social networks, and more. It's free to try, with affordable monthly plans starting at $8.29/month, including hosting and a free custom domain name.
How are sites created with your website builder?
Our original tagline was "So easy your drummer can do it," and we still hold onto that core value. All you need is an email address to sign up for a website account. From there, you'll run through a site builder in which you'll choose a customizable template, add your band name, and select your pages. We have preset page options, or you can create your site from scratch. Following the initial setup, you can add features, content, and music to your website pages. This content and design can be updated at any time. You don't need to know anything about coding or even web design; we have great out of the box solutions you can use, and we're always adding more templates. We also have blank options that are fully customizable – the world is your oyster!
Can Bandzoogle create an EPK (Electronic Press Kit)?
Yes! With Bandzoogle, a musician can create a press kit that includes everything they need to book shows or get press for new music.  We include a template specifically for an EPK so that users can populate the EPK with their information (music, bio text, press images, and more).
Can users build mailing lists and send out emails or newsletters?
Definitely, and they should! Email is such a great way to keep in touch regularly with your music fans. Users can import their mailing list or build one up from scratch in our mailing list feature. They can get signups directly on their websites and even offer a free track in exchange for an email address. Newsletters can be composed, scheduled, and sent directly from within their Bandzoogle account. Our mailing list also works with download codes, which can be sent out and redeemed by mailing list members like singles or even full albums.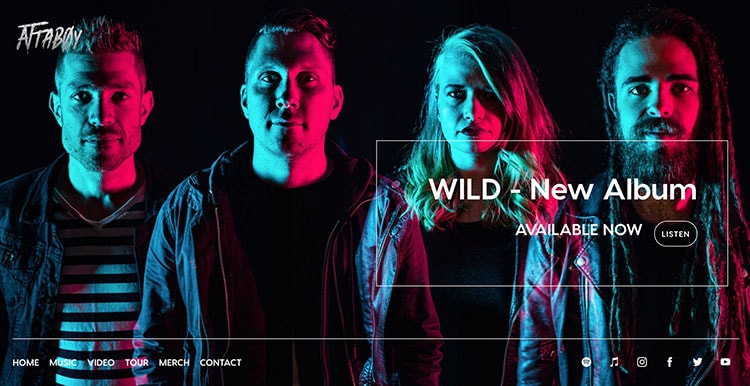 What functionality is available to streamline integration with Social Media platforms?
From Instagram and TikTok to Pandora and Bandcamp (to only name a few!), we have beautiful site-wide and content icons built in to match every theme. Bandzoogle is also integrated with several social media platforms. Users can embed streams on their website – a feed from Twitter or a video from YouTube, for example. We also have an integrated video option with Twitch. All music and events are directly sharable to social media as well.
Bandzoogle includes musicians' options to sell music, merchandise, tickets, subscriptions, and to crowdfund. Can you please explain how each of these work and the payment collection options are available?
Our main goal for 2020 was to help artists make as much money as possible. We knew that the pandemic would make conventional earnings impossible, so we doubled down on creating even more eCommerce tools and educating members on using them. Musicians can sell music and merch directly through their websites, and it is totally commission-free. All of the money they make from their digital music, merch like CDs and t-shirts, and file sales and or goes directly to the artist – we don't touch the transaction or take a cut on any sales. Tickets to events and live streams can be sold online as well, with no commission or fees. Users create an event calendar with built-in ticketing on their websites, and it will match their design. They can then set up as many live or virtual events as they want and sell tickets directly to their fans. Crowdfunding is an option we have built-in for artists looking to fund a specific one-time project, such as an album or video. Crowdfunding allows artists to take album pre-orders, bundle digital music with CDs or vinyl, and create custom merch bundles for their fans to purchase as a means of support. They can also set up experiences or set up the option just to donate to their project. Once the project is complete, it can be released through the artist's website directly. With Bandzoogle's Subscriptions feature, fans pay the artist a monthly subscription or membership fee. In exchange, they get exclusive content directly delivered by the artist. Subscriptions are a great way to generate steady, recurring revenue for an artist while also deepening the connection with their fans. With all of these features, musicians can accept payments by credit card directly via their websites. The payment system is integrated into our features and is easy to set up.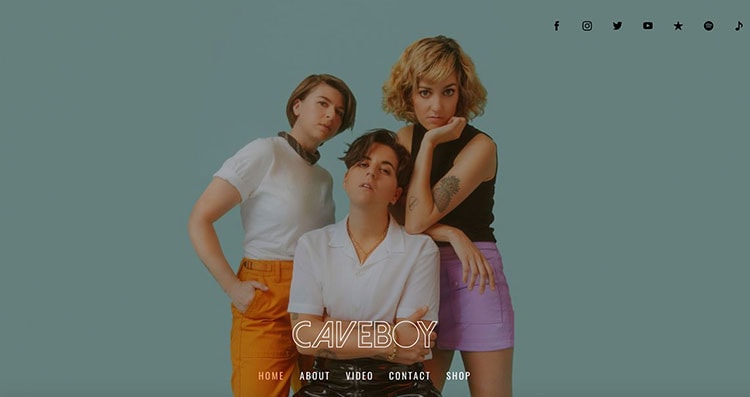 Do you have SEO services?
Absolutely! We take a lot of the leg work out of SEO because Bandzoogle websites perform exceptionally well in search engines due to their mobile-readiness and clean code. Moreover, we have the best servers on the planet, and Bandzoogle websites have over 99.3% uptime annually. Investing a lot into our infrastructure also has a cascading effect on great PageRank for Google. Members can optimize their websites for search in many additional ways, including a built-in meta description per page. We automatically generate an XML sitemap, generate title tags, alt tags, and meta descriptions. In addition, we automatically add all of the relevant schema to your site code. This means events and music added to a Bandzoogle website will also appear in Google search. Pro members can also integrate the Facebook Pixel.
What stats are available for tracking traffic and user activity?
Data is so essential for helping artists make important decisions on their band operations, such as what music your fans prefer, where your fans are coming from on the web, where to tour (or target for live streaming!), and what activities you've done result in more visitors to name a few. We have built-in basic metrics available, and users can also take a deep dive and link to Google Analytics directly within their website dashboard. These stats include page views, songs someone listened to (or skipped!), and visitor locations. We also provide transaction history data you can export and revenues earned. You can customize the date range for these data points to look at a specific period or event. We also include email stats once a member sends out a newsletter. This includes which emails were read, which bounced, and which links were clicked in your mail.
How is pricing structured?
We offer a worry-free 30-day free trial – you do not have to provide any payment information upfront. After that, we have three price plans, each of which includes various features. Members can pay monthly or annually, and every plan includes a domain name and hosting, and our incredible customer service team (most of whom are musicians just like yourself!)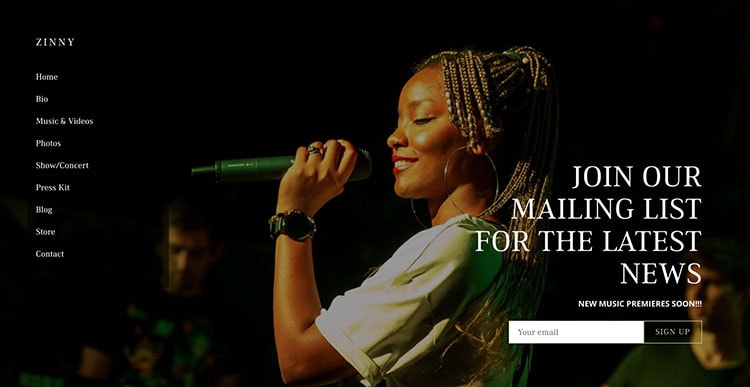 What support services are available to users?
We pride ourselves on outstanding customer support and provide this service via email and live chat. Live chat is available 9 am to 8 pm EST, and we reply to email around the clock. The same level of top-notch support is available to every member, whether they're just starting on a free trial or they're on the pro plan. Our entire team is made up of musicians who are passionate about helping artists online. You'll often see us at virtual and physical events, providing free website reviews, giving webinars on best website practices, or contributing to different music publications with industry advice. We put a lot of energy into our blog and eBook resources because we want to set our customers up for success. We create all of the tools you need, make it easy to use them, and provide you with all of the support and guides you need to succeed in today's music climate.