When I first started using Asana and Teamwork, I couldn't decide which was better because I really liked them both for similar reasons: they're easy to use and have advanced task management features. As I delved deeper, though, the differences became more apparent. Asana has a fun, intuitive interface and an amazing free plan that works just as well for a personal organization as it does for managing a team.
Asana makes it easy to track work progress, and its stellar collaboration tools
make sure every team member is on the same page.
While Asana focuses on personal and team organization, Teamwork tilts toward client work. With features like time-tracking and billing tools,
Teamwork is an excellent choice for improving your collaboration with clients
. After putting these platforms to the test, I ultimately decided that
Teamwork is the best option overall, doing a better job of simplifying project management for beginners without compromising on features
. In the end, both platforms have a solid set of project management tools that serve all types of businesses. It all comes down to which features are most important to
you
.
Try Teamwork's 30-day free trial
or read on to find out more about each software's pros and cons.
Features
Teamwork Has (Slightly) More Advanced Features than Asana
Asana provides a good mix of basic and advanced features to keep your projects organized.
Every project in Asana includes an overview of its key elements, like project status and collaborators.
It also lets you view your tasks in four different ways: list view, calendar view, timeline view, and board (AKA Kanban) view.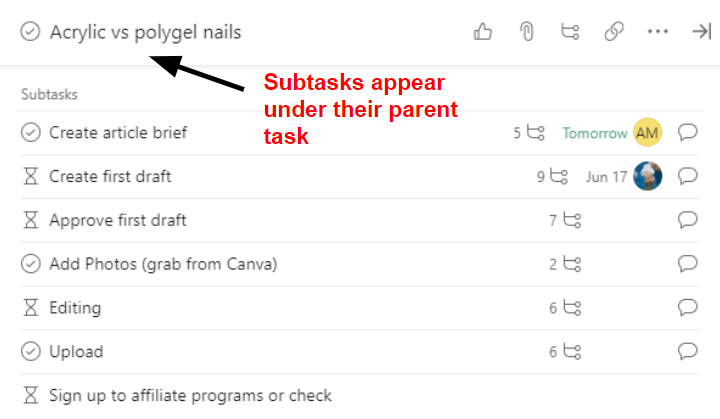 Asana's Goals feature is a great way to steer teams in the right direction
. You can assign goals to team members, set due dates, and attach custom information. Large goals can be broken down into subgoals, projects, tasks, and subtasks that each member can work on to bring the team closer to achieving a common goal. In many respects, Teamwork is similar to Asana. It offers the same task views mentioned above, and it provides a similar system for task management, letting you break down projects into smaller chunks to track progress easily. That said,
Asana's project templates are better designed
,
which really helps to speed up the process of setting up a project.
Teamwork offers project templates only on its paid plans (up to 50 options, depending on your subscription). Meanwhile, Asana has 60+ project templates, two of which are available on the free plan. These templates are divided across categories like design, sales, and HR.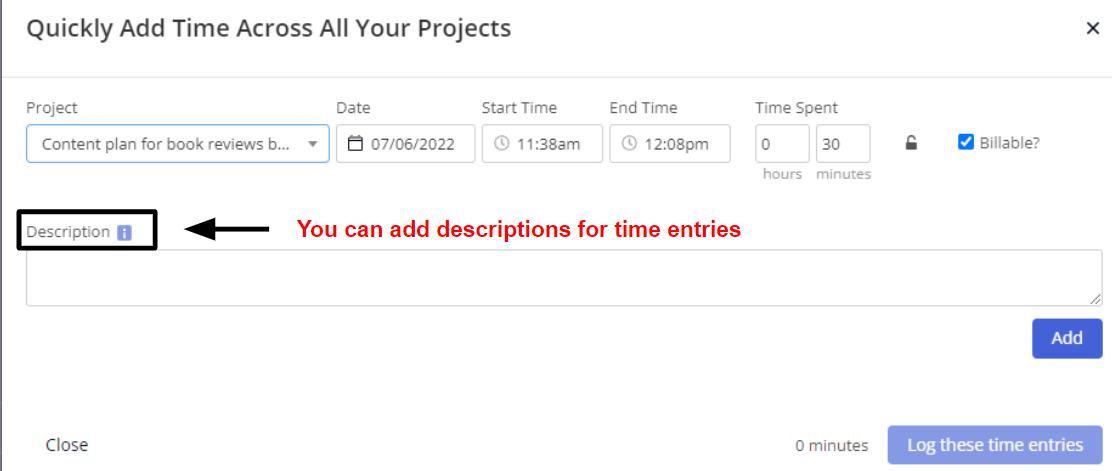 Being more client-oriented, Teamwork has some native features that Asana lacks. For example, Teamwork has
a built-in time-tracking tool
 available on all its plans. You can set up timers to track work or set up time entries manually, and you have the option to log your time as billable or non-billable.
This different focus is evident in how both tools treat guest users. If you're new to project management, a guest user is someone external to your organization who you invite to view your project's progress with limited permissions compared to internal users.
Asana's guest seats function exactly like this – there's nothing special there.
There's effectively two tiers of users: standard users and guests. 
However, because Teamwork is designed for client collaboration, you get three user tiers.
These include your standard users (team members and other employees), client users (self-explanatory), and collaborators (freelancers and contractors). Client seats are free and can be organized into companies, which makes it easier to organize who can see what. Each client user can add tasks, comment on projects, and set milestones.
What's even better is that
you can create companies (or groups of client users) to keep everything organized.
Whenever you create a project, you can assign a company to it. This gives client users within that company full access to that project, but they can't see or access any of your other projects. It's a simple yet effective way of managing external user access to your data.
It's a tough call, but after much deliberation, the win goes to Teamwork.
While Asana took the lead for a short time due to its template offering, it can't match Teamwork's excellent user tier structure and permission settings. Not only are these great for agencies, but I can also see them working really well for teams that need to let other departments see what they're working on. And flexibility is key in the project management world. 
Ease of Use
Both Are Easy to Use, but Teamwork Is Better Suited for Beginners
Once you create your Asana account, you can use one of its pre-made templates or build a project from scratch. Asana doesn't have too many customization options, but if you choose a Premium template, you can add custom fields. Also,
if you're on the Premium plan or higher,
you can save any project as a custom template and use it as many times you want
.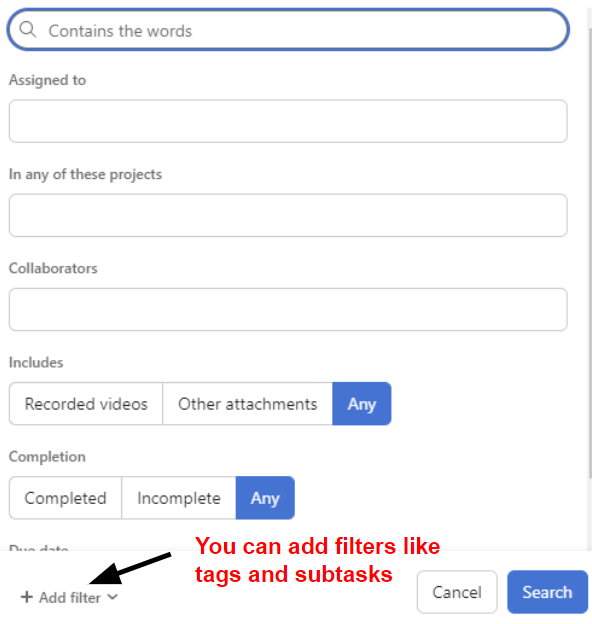 Asana's attractive interface makes it easy to get around. You can access all the main features, such as your inbox and tasks, on the left-hand panel. What I particularly like is
the Advanced Search tool
that lets you define parameters if you're looking for specific information
. Another favorite is a cute unicorn animation that flashes across the screen when you complete a task.
Setting up a Teamwork account is straightforward – and pretty
fun
(we tried it out in our
Teamwork review
). You provide details about your company and, in the same window, you create your first project. Teamwork guides you through naming your project, adding tasks, and choosing your preferred task view.
If you're looking for more customizable software, then Teamwork is a better fit.
Teamwork allows you to
personalize your dashboard
by changing colors, adding your company logo, and even adding a project logo. You can also create custom fields to add more information to your project descriptions (provided you're on the Grow plan or higher).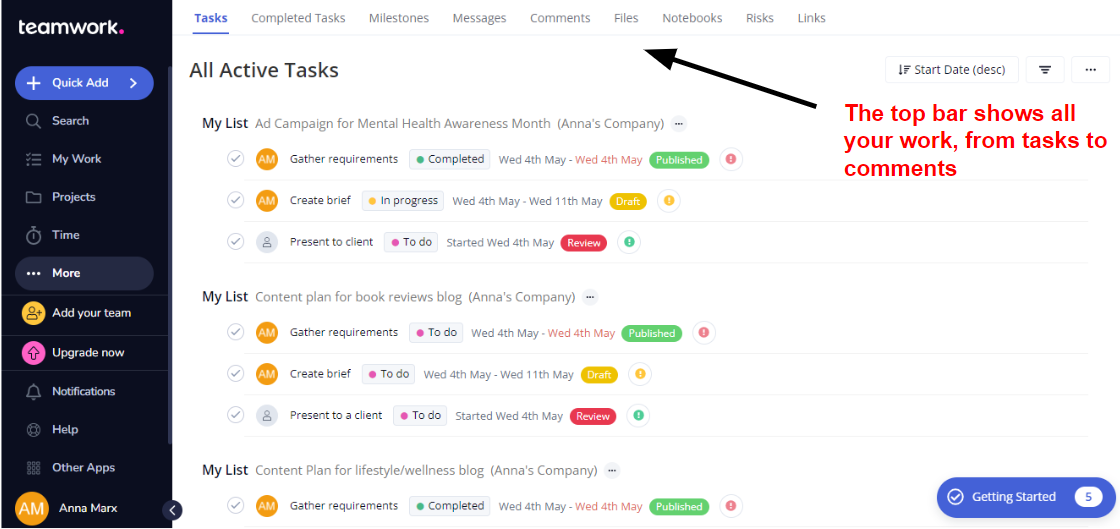 Teamwork has some nifty features to make your life easier, such as the ability to bulk edit tasks across task lists and projects.
Another highlight is
the Everything section, which shows you literally everything
: active and completed tasks, messages, comments, links, files, time logs, and more. Both Asana and Teamwork are user-friendly and easy to navigate.
That said,
Teamwork steals the win here for the sheer level of customization it offers
.
No two projects are ever the same, and everyone likes to set up their workspaces in different ways. So, Teamwork's colorful approach to project management is sure to be a great fit for your team.  
Collaboration Tools
Asana Was Built for Managing Team Communication
Asana has amazing collaboration tools that make it easy (and fun) to stay in touch with your team. When it comes to communication,
Asana lets you contact individual users or teams via @mentions or direct messaging
. There are also tiny details that make conversations more pleasant, such as the ability to "like" comments and send stickers called Appeciations.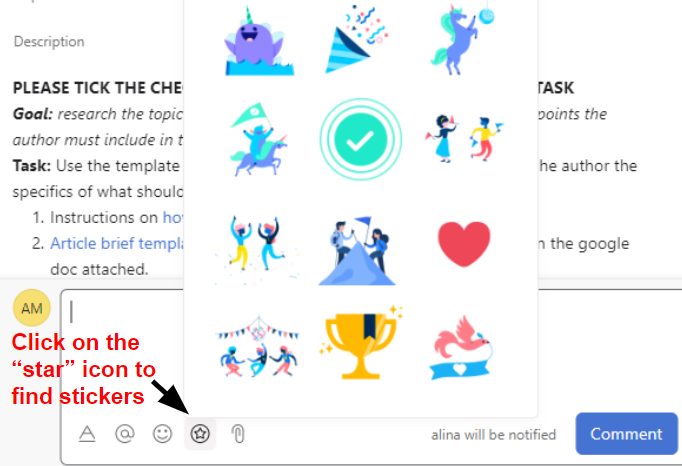 Asana's approval process is another way to encourage team
collaboration
. For example, if a non-managing team member feels a particular task is missing, they can submit new tasks for approval. Managers then have the option to accept, reject, or request changes to the task. This lets everyone on the team communicate ideas and feel like their contributions are valued. Teamwork also allows you to communicate with your team members via comments, @mentions, and the Message feature (for conversations related to a specific project).
When it comes to real-time communication, Teamwork has a built-in messaging app called Teamwork Chat.
It lets you create channels for projects and have 1-on-1 messages. You can even create tasks from within the Chat app. You can subscribe to Teamwork Chat on its own or integrate it with your site for free, provided you're on a paid plan.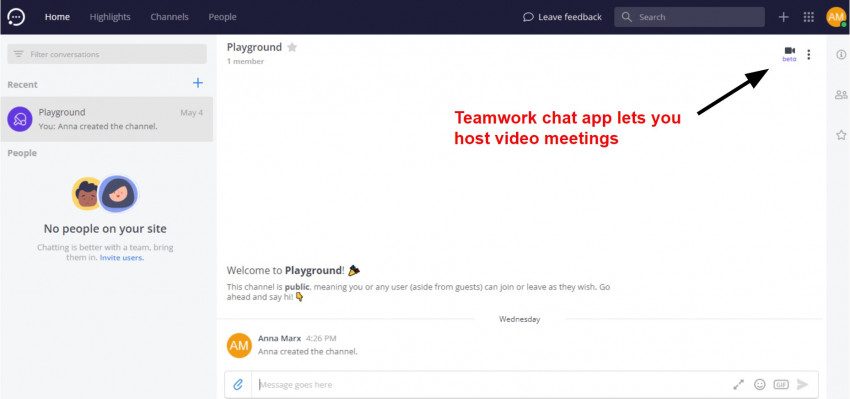 Both Asana and Teamwork allow you to upload files to share with team members and clients, either from your desktop or from cloud-based storage like Google Drive and Dropbox. Asana lets you add feedback to image files, which is ideal if you work with visuals. On the other hand,
content teams may find Teamwork's Notebooks features useful for getting feedback on text
, as well as for sharing info with your team. Asana beats Teamwork when it comes to file storage. Asana provides unlimited storage on every plan (with a 100 MB file limit). Teamwork doesn't offer unlimited storage, although having access to 100 GB on Teamwork's entry plan is still a good deal. In the end, while both platforms have efficient communication tools, Asana provides more ways to collaborate (and makes it more enjoyable, too).
Pricing
Asana Has a Great Free Plan, but Teamwork is Cheaper Overall
Both Asana and Teamwork offer a quality service, but with Teamwork, you'll get more features for less money. Asana has a free plan and two paid plans: Premium and Business.
There's also a 30-day free trial on both paid plans.
In addition to the free plan,
Teamwork has a 30-day free trial on all plans
and three pricing tiers: Deliver, Grow, and Scale.
Here's What You Get for Free
Out of all project management platforms I tested, Asana has the best free plan
. You can add unlimited teams of up to 15 members, you get three types of task view, and you can access all Asana integrations. The free plan is more than enough if you plan to use Asana for personal or basic projects.
Teamwork's free plan is also quite generous
. You can add up to five standard users and you get a time tracking tool and Gantt charts, which are premium features with most other project management platforms. However, the free plan only lets you have two active projects at a time.
Here's What You Get When You Pay
Asana's paid plans unlock more task views, as well as features like rules, advanced reporting, and custom forms. However,
although
Asana's Premium plan costs about the same as Teamwork's Deliver plan, you'll get more features with Teamwork
. For instance, Teamwork's Deliver plan lets you add unlimited clients and collaborators and customize their user permissions. While Asana's Premium plan also lets you add unlimited guests, you get pre-set guest permissions. Additionally,
Teamwork's Deliver plan includes features like workload management and custom branding, which require upgrading further on Asana.
Teamwork's Deliver plan will likely be enough if you manage a small team.
You can create up to 300 projects
, you get a team chat app, and you'll be able to send invoices from the platform. That said,
Asana is probably a better option for larger teams
, as you get unlimited projects, dashboards, and rules actions. Here's a closer look at how Asana's Premium plan compares with Teamwork's Deliver Plan.
Asana Premium Plan
Teamwork Deliver Plan
Starting Price

$

11.00

$

10.00

File storage
Unlimited
100 GB
Project templates
60+
20
Automations

✔

✔

Time tracking

✘

✔

Billing and invoicing

✘

✔

Workload management

✘

✔
Support
Both Platforms Have Responsive Support, but Teamwork Provides More Options
Both Asana and Teamwork offer extensive support documentation
, including articles, tutorials, and webinars on all sorts of topics. Asana also has an engaged community forum and the Asana Ambassadors program, which gives you access to additional, members-only resources.
But when it comes to live support channels, Asana only offers email support.
Even though replies via email arrive in a couple of hours, it would be great to see a live chat option for urgent issues.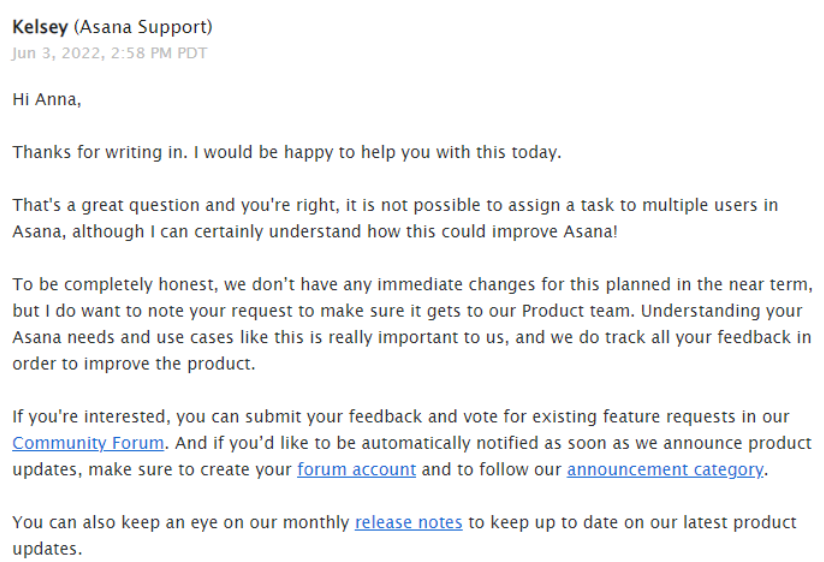 On the other hand, Teamwork has live chat, email, ticket, and phone support.
Replies via live chat typically arrive instantly, while questions sent as tickets are answered within a few hours. Based on my interactions, Teamwork customer support agents are friendly and give helpful answers.
Overall, both platforms have responsive support, but Teamwork provides more communication channels, making it more accessible.
Teamwork Takes The Trophy, but Only Just
Though Teamwork has a slight edge over Asana when taking everything into account, both platforms are good options for different types of users.
My overall recommendation is Teamwork because of its impressive level of flexibility.
It's a great option for agencies thanks to its user tiers that allow clients to work on their projects alongside you.
It's not just a good choice for agencies, though – I can also see this working really well for sharing projects between departments.
On top of that, Teamwork gives you more options for customizing your project setup to suit your organization, workflow, and preferred way of working with your team. 
On the other hand,
you'll love Asana if you prioritize collaboration and a no-nonsense approach to project management.
Working with your team through Asana isn't just easy – it's enjoyable thanks to Asana's appreciation feature.
Short on time? This is what you need to know about Asana vs Teamwork:
Features
Simplified task management, 60+ project templates, 200+ integrations
Built-in time tracking and billing tools, focus on client collaboration
Ease of Use
Clean and easy-to-use interface
Beginner-friendly, highly customizable interface
Collaboration Tools
Direct messaging, comments, approval process
Communication via comments and a built-in chat app
Pricing
A great free plan and two pricier paid plans; 30-day free trial on all plans
A solid free plan and three reasonably priced paid plans; 30-day free trial on all plans
Support
Support documentation
Community support
Email support
Support documentation
Live chat support
Ticket/Email support
Phone support
FAQ
Is Teamwork better than Asana?
Both Asana and Teamwork are beginner-friendly platforms that let you store files and automate workflows. That said, Teamwork is more client-oriented, while Asana has superb communication tools. The best platform for you depends on your needs,

but I recommend Teamwork for most project managers as it offers more flexibility overall

.
Is Asana a collaboration tool?
In my opinion, Asana works best as a communications hub. It provides multiple ways for teams to coordinate and connect, such as commenting on projects and tasks and direct messaging.
How many teams can you have on Asana?
Asana lets you add as many teams as you like, but the free plan has a limit of 15 persons per team. Paid plans remove this limit.
What is Teamwork best used for?
Teamwork is best suited for small-to-medium businesses, thanks to features like project budgeting and free collaborator seats.

In particular, it's ideal for agencies that need to let their clients work alongside them. However, it's not always an affordable choice for smaller agencies.

Check out our list of the best project management software in 2023 to find more budget-friendly options.