There's no such thing as the perfect project management software (PMS).
Software solutions can't be everything to everyone, no matter how hard they try – and no matter how much they sell themselves as such. And yet, Asana and monday.com both market themselves as super flexible PMS solutions. I've spent a lot of time using both of these platforms and, while both are good,
monday.com is the only one that fully lives up to its promises.
Don't get me wrong – I think Asana is excellent.
It offers more tool integrations and has a better free plan.
That said, even though the free plan is pretty generous with its resources, I wouldn't recommend it if you need more advanced features like custom automation to keep your project running smoothly. monday.com just has so much more to offer. With fantastic automation capabilities, project visualization options to suit every working style, and a simple user interface,
monday.com blows Asana out of the water.
Already convinced?
Try monday.com's 14-day free trial for yourself
.
But if you're still on the fence, grab yourself a coffee and let me show you what I learned when I tested these project management titans.
Features
monday.com Has More Tools for Both Big and Small Projects
While both platforms have project templates,
monday.com offers 200+ quick-start templates
that are tailored to your industry and project type
. In comparison, Asana has 100+. I particularly like that monday.com has fun project templates for things like party planning, vacation itineraries, and even pixel art.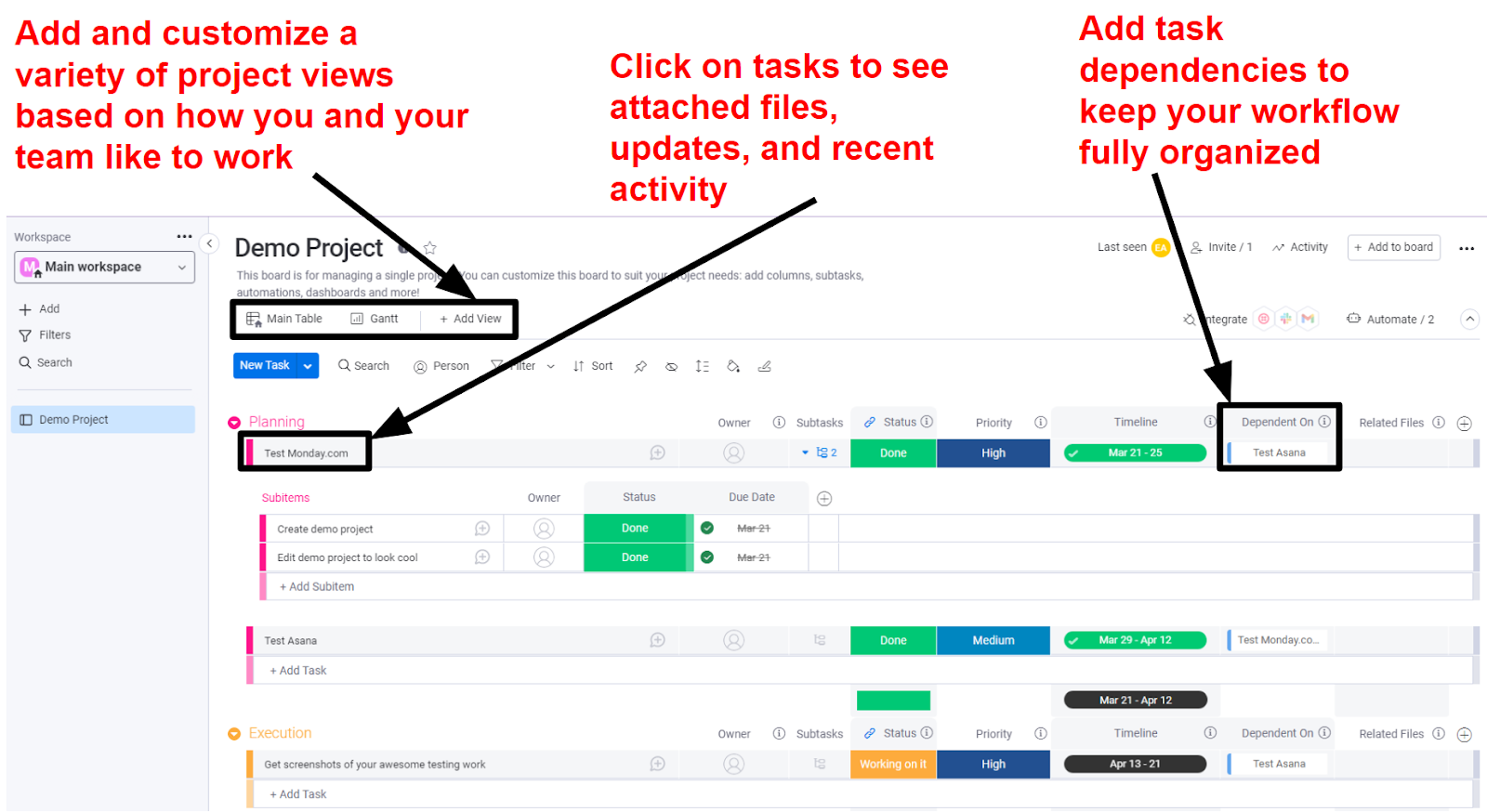 monday.com offers so much more flexibility
than Asana. There are 30+ column options with "power-ups" (essentially columns that give your boards additional functionality), and you can choose from dynamic fields like progress tracking, voting, and time tracking. You can even add buttons that link to specific automations and integrations, so you can set off custom action chains that work across multiple platforms.
Although
Asana offers more integrations – we're talking about 200+ compared to monday.com's 60+ – monday.com offers hundreds of native and third-party applications.
These include extensions for use with the Scrum project management methodology and task time estimation helpers. All in all, while both project management platforms offer a good selection of features,
monday.com wins this round.
It gives you so many more options for project management and allows you to customize templates to fully suit your team and project.
Ease of Use
monday.com Is Great For Beginners
Honestly, it was tricky to determine a winner in this category. I genuinely love using both Asana and monday.com, and they're both pretty efficient when it comes to project management. However,
monday.com offers better training and onboarding
.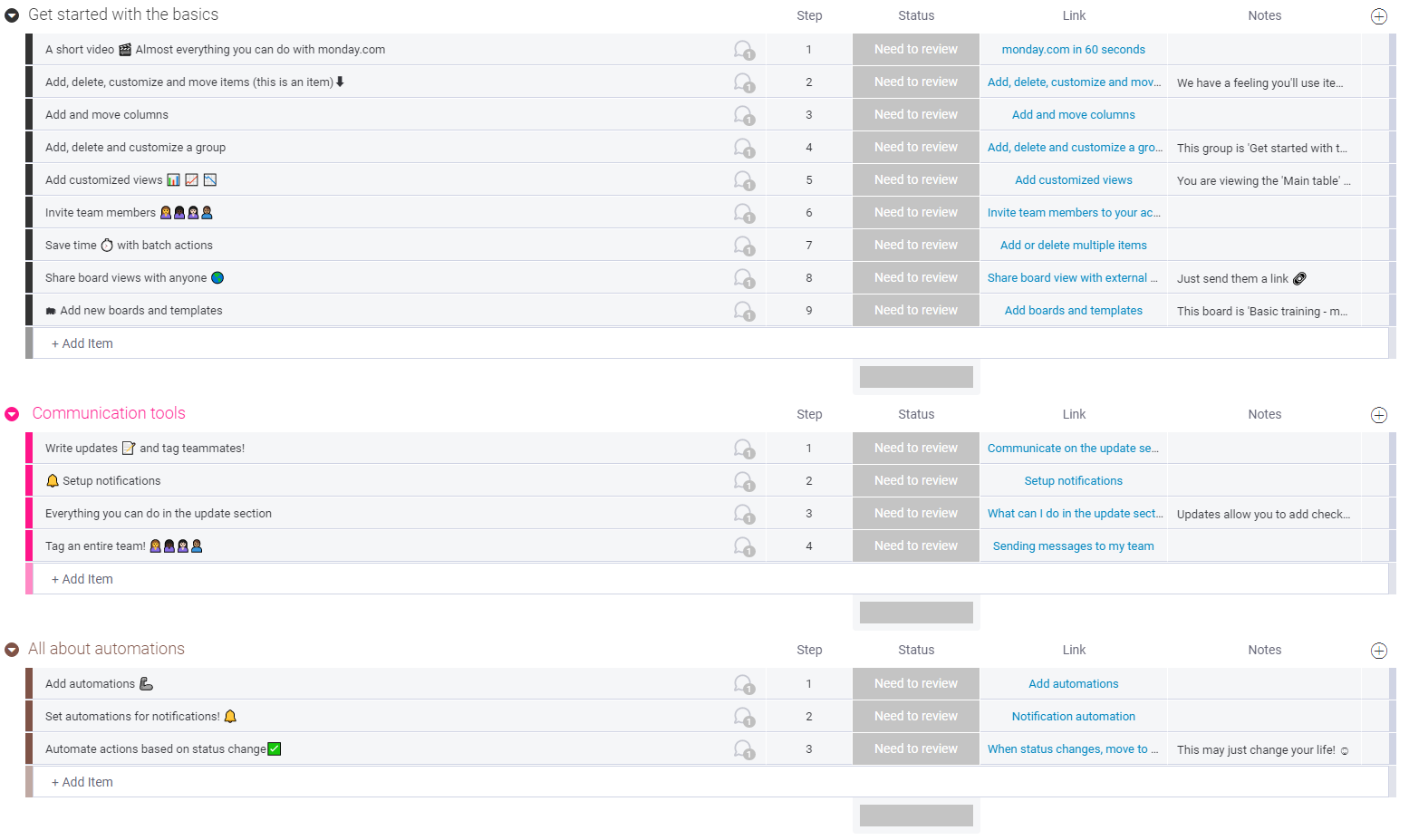 Once you set up your monday.com account, your dashboard will suggest the Basic Training template.
Each task on the "project" contains a link to a short video tutorial that you can rewatch whenever you need a refresher. You can also keep track of which tutorials you've watched or you need to review using the
Status
column. In comparison, Asana mostly just leaves you to it. Sure, there are video tutorials, but you'll need to leave your project dashboard and go to the Asana Academy to find them. It's not awful if you've used project management software before, but
if you're not familiar with project management software, Asana's onboarding process isn't particularly helpful.
Collaboration Tools
Asana Makes Collaboration as Natural as Chats Around The Water Cooler
Both monday.com and Asana give you plenty of options to keep in touch with your team. But
Asana wins this round because it's designed to be used as a central communications hub
, while monday.com relies on integrations with external platforms like Slack.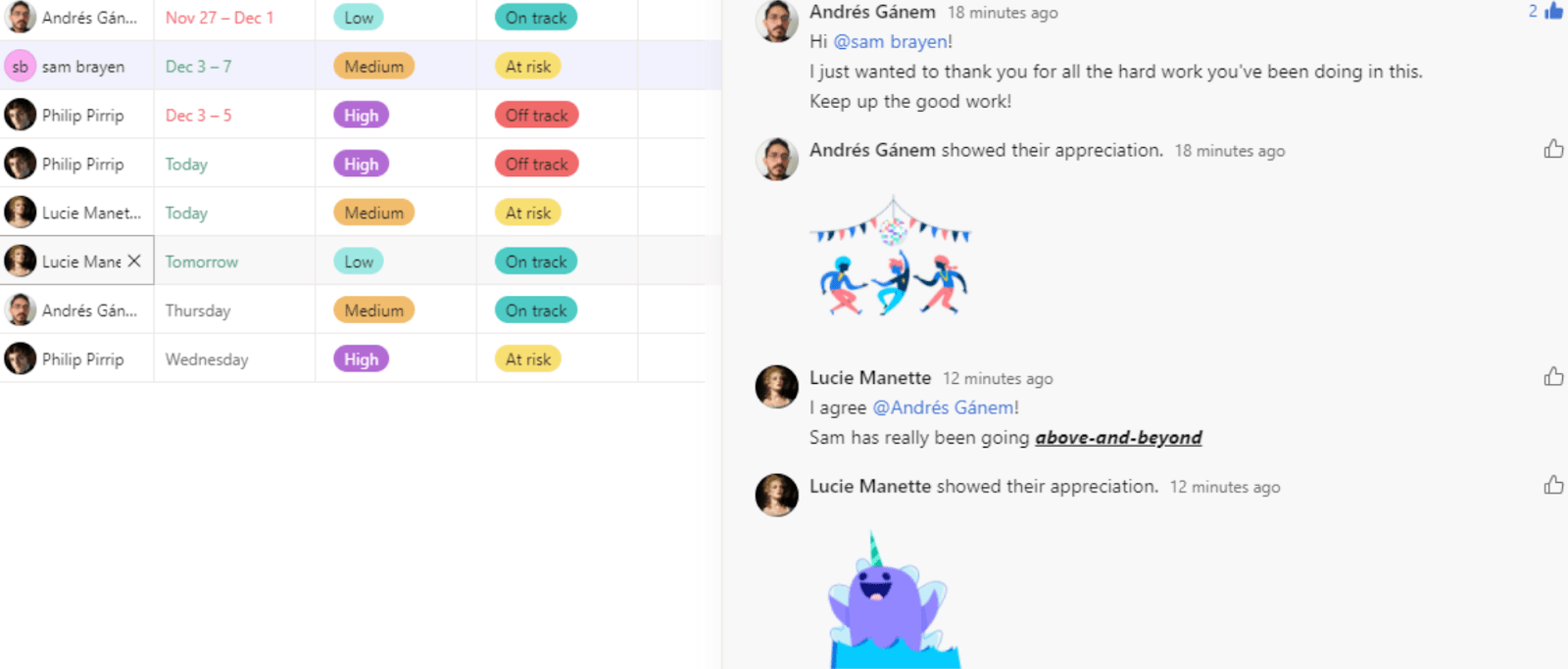 That's because
Asana has built-in direct messaging
on top of the standard user tags and comment threads
that you'd expect from a project management tool. Not only that, but you can send fun stickers – called "appreciations" – to… well, show your appreciation for a job well done.
Asana also has a great task approval feature
that helps managers encourage collaboration without the risk of a project spiraling out of control. Team members can submit tasks for approval, which can then be accepted, rejected, or sent back for changes. This is a fantastic way to foster ownership of a project within a team.
Pricing
If You've Got a Limited Budget, You'll Love Asana's Pricing Structure
Both monday.com and Asana have decent – but limited – free forever plans.
Honestly, it's a bit difficult to compare pricing because they're both great for different reasons. Asana's per-user pricing with unlimited storage, viewers, and guests is great for small businesses and limited budgets. However,
monday.com's grouped pricing and automation focus is fantastic for larger businesses
that need a project management solution capable of handling a large number of different workflows with no drop in user experience.
Here's What You Get For Free
Asana's free plan is easily the best one on the market right now.
It covers up to 15 users with unlimited storage, activity logs, comments, and projects, and you'll get to use the full integration suite too. In comparison,
monday.com's free plan is a bit more restrictive as it only allows up to two users with limited storage space and activity logs
. You're also limited to a Kanban project view. You can, however, try out as many of the 200+ templates as you want.
You could easily use Asana's free plan for years if you don't have any advanced project management needs.
I really can't say the same for monday.com as all of its best features are contained in the Standard plan and above.
Here's What You Get If You Pay
Asana also offers far more with its paid plans.
You get the same unlimited features as the free plan, along with access to advanced security features like private projects and Google Single Sign-On – something that's only available on monday.com's Pro plan and above. Don't get me wrong:
monday.com's paid plans aren't bad if you need a business-grade solution
. I particularly like that the Enterprise plan has a "panic mode" that allows the account owner to lock down the entire account if someone in your team has had their login credentials compromised. Not everyone's going to have that kind of cash lying around, which is why I think
Asana is the best choice for small businesses and freelancers
. The per-user pricing gives you so much more control over how much you're spending per month, and the Premium plan comes with pretty much everything a small business owner might need.
monday.com makes you pay for seats in groups rather than individually.
The minimum number of seats you can pay for is 3. This makes this PMS more useful for larger businesses that often onboard multiple people at once.
monday.com's Pro plan (at a monthly cost of

$

16.00

) is cheaper than Asana's Business plan
, but the latter offers unlimited custom rules and automations. monday.com's Pro plan is, annoyingly, limited to 25,000 automation actions/month.
Here's a quick comparison of Asana and monday.com's most popular plans.
Asana
monday.com
Starting price

$

11.00

$

10.00

Project templates
100+
200+
Integrations
200+
60+
Storage
Unlimited
20GB
Project views
4 plus a dashboard view
5 plus a dashboard and overall list view
Custom automations

✘

250 actions/month
Customer support
Email support, webinars, forum, guides, additional learning resources
24/7 email support, daily webinars, knowledge base, tutorial videos, training templates
Support
monday.com's Support Is Speedy and Helpful
Both platforms offer a comprehensive knowledge base, training videos, and webinars to help you navigate the software.
On top of that, Asana has a support forum, and monday.com has free daily live webinars. This is a pretty great level of support on both sides – however,
my biggest issue is that neither offer live chat.
I love live chat as a support option because when technical issues crop up or I have questions about a certain feature, I like to know that there's someone there who's got my back. Instead, you can access support through an email/ticket system. If you need to talk to a human, then you're better off with monday.com.
monday.com offers 24/7 support, while Asana doesn't.
In fact, I couldn't find any specific hours for Asana's customer service, and given that Asana has offices around the world, it's hard to determine what the customer support team's active hours will be. Not only that, but
I had a tricky time trying to figure out how to access Asana's support team.
Clicking
Help & getting started
opens the support sidebar, which doesn't have a quick link to contact support. Even if you click
Contact support
from this sidebar
,
it's still not clear where you need to go to talk to a human. Eventually, I found the easiest way to contact support was to use the virtual assistant, but that didn't load for me until
after
I'd clicked through multiple pages from the main support page. It was pretty frustrating trying to find where I needed to go. With that being said, once I managed to get through to a human,
Asana's customer support team responded to me within the hour with a pretty useful response
.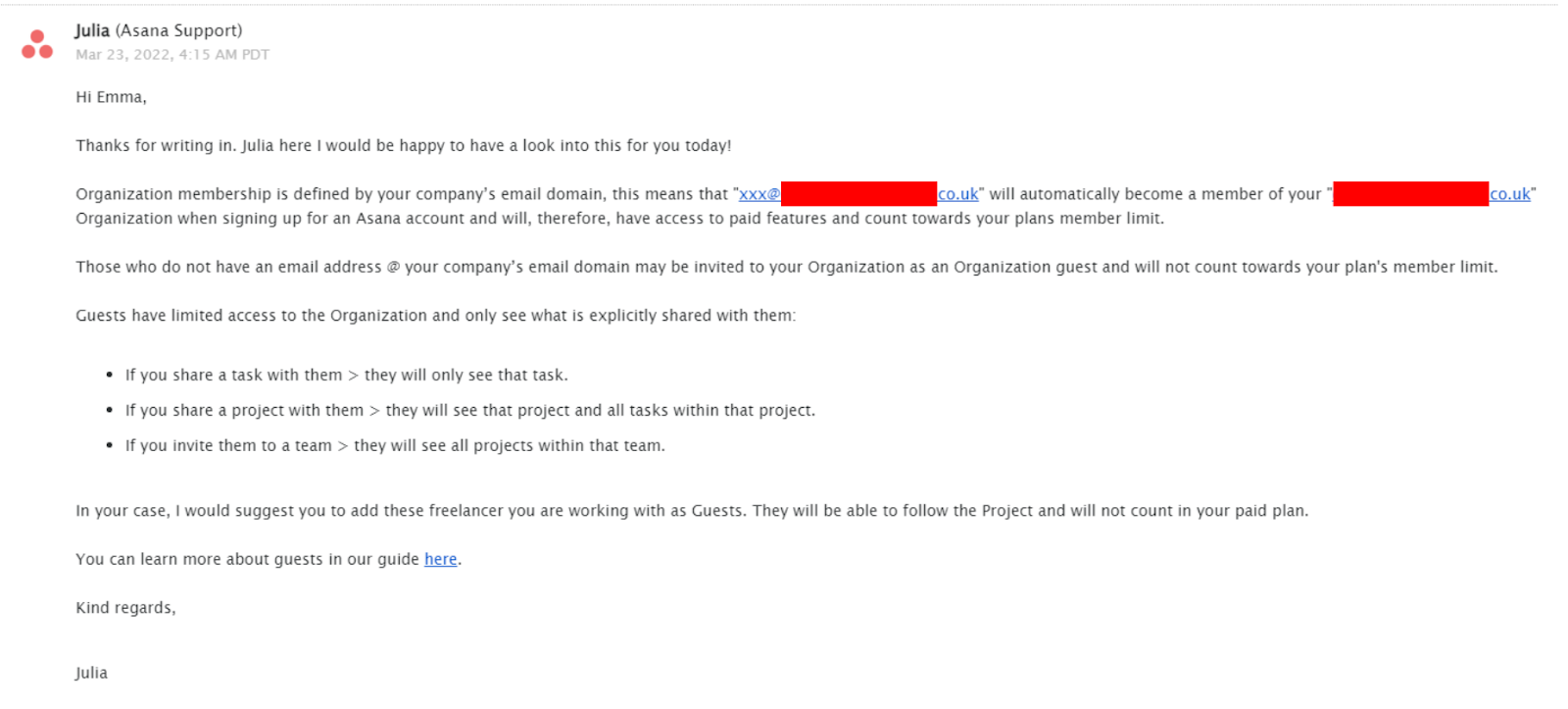 If you want to hear a less aggravating experience,
I found monday.com's customer support to be far more…well, supportive.
All I had to do was click
Help
, and that gave me the option to submit a ticket right away. When I was typing my query into the form, the platform would dynamically suggest knowledge base articles based on my keywords, and these were pretty accurate to what I was looking for. I sent my question off anyway, and I received a response within 3 hours.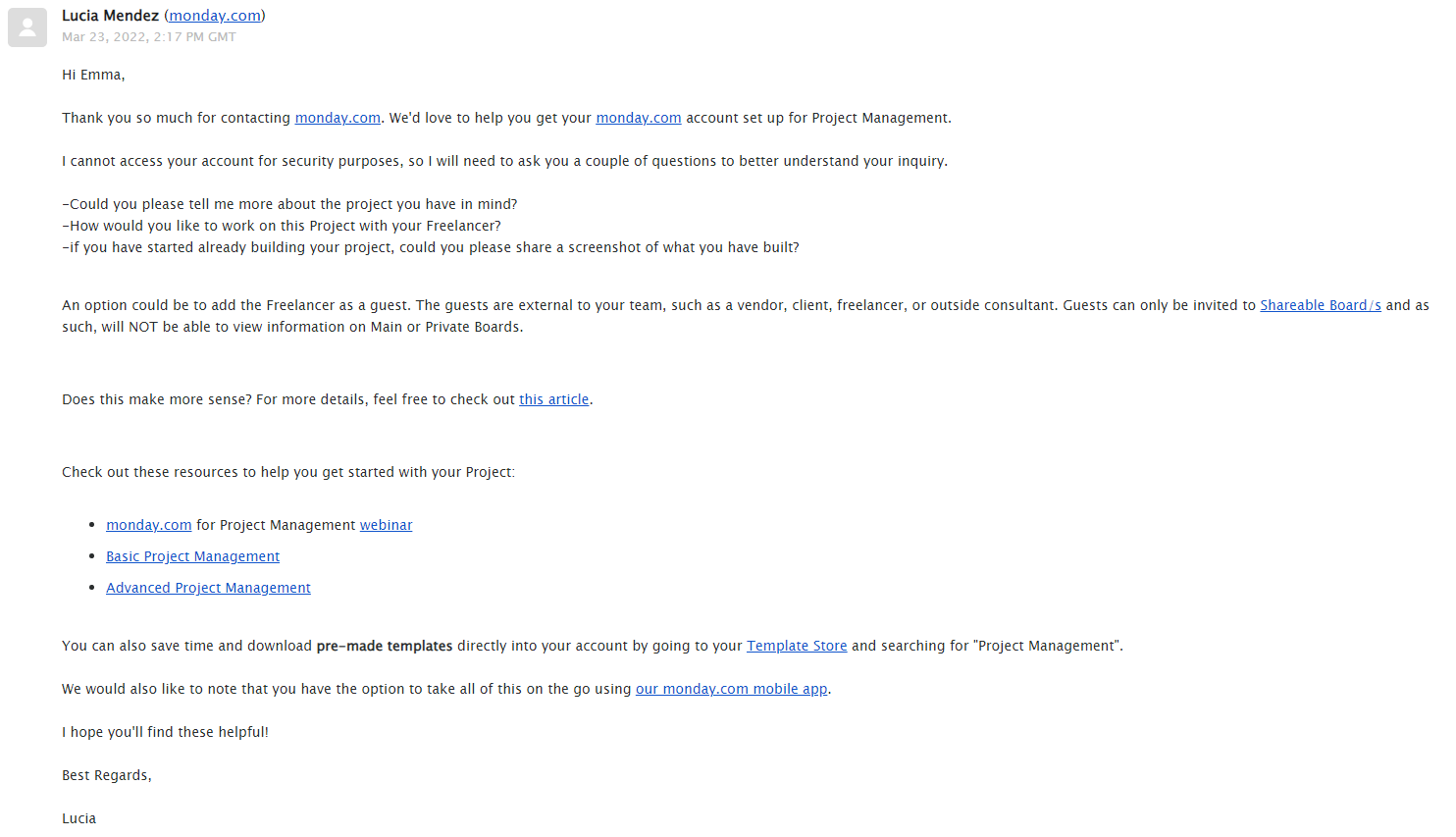 It was refreshing to see that the customer service agent wanted to know more about my project to provide tailored advice. This is something I don't encounter often when I'm talking to customer support, so monday.com steals the win based on this response.
It's a Photo Finish, But monday.com Beats Asana by a Whisker
While some parts of this battle were easy to call, other areas weren't so clear-cut. I still think Asana is a pretty great project management platform for small business owners and freelancers.
But overall, monday.com's great customer service and advanced features earn it the win today.
monday.com's training template is fantastic for helping you get to grips with the software
, and I genuinely think it's one of the best options out there for larger businesses that need something that can handle a vast number of different projects across various departments or use cases.
However, I can't recommend monday.com over Asana if you've got a limited budget. Asana's free plan is far more comprehensive
 than monday.com's free plan. Plus, you get unlimited storage and direct messaging on all plans, so Asana can easily replace other software solutions to become a central communication hub. TL;DR? Check out this quick comparison.
Features
Unlimited storage, activity logs, tasks, and projects
200+ project templates and 30+ customizable project columns
Ease of Use
Video tutorials and intuitive drag-and-drop user interface
Tutorial project template containing video tutorials that you can save to your workspace
Collaboration Tools
Direct messaging and project task approvals to encourage collaboration
Limited file sharing, requires external integration for direct messaging
Pricing
Free plan with unlimited resources and three paid plans that charge per user
Limited free plan and four paid plans that charge per group of users
Support
Email support, support forum, webinars, video tutorials, knowledge base
24/7 email support, webinars, video tutorials, knowledge base
FAQ
What is the difference between Asana and monday.com?
The biggest difference is flexibility. monday.com offers some fantastic customization options that make it easy to track your project's progress in whatever way works best for you. Based on its pricing structure, monday.com is also well-suited for larger businesses, while Asana offers great value for small businesses and freelancers.
Is Asana cheaper than monday.com?
Overall, Asana offers cheaper pricing tiers than monday.com, and the free plan has a lot more features than monday.com's counterpart. However, monday.com's Pro plan is cheaper per seat than the comparable Asana Business plan. Take a look at our full pricing comparison for more details.
Which is better, Asana or Trello?
Asana is better than Trello because it offers more flexibility. Trello limits you to a Kanban view, but Asana allows you to track your project on a calendar, as a list, or in a timeline (for paid plans). It's one of the many reasons why Asana is one of our top 10 project management software solutions in 2023.
How do I transfer from Asana to monday.com?
Log in to your monday.com account, click your profile picture on the bottom left, and choose Import data. On the next page, select the option for Asana. Follow the prompts to connect Asana to monday.com. Select the tasks you want to import, click Next, invite team members who are working on the project, customize your project, and you're ready to get started!