Website Planet
had the chance to sit down and chat with Rob Nokes from Todd-AO creators of Absentia DX. Rob shares how Absentia DX originated from his experience on a TV series plagued with noise issues, its evolution into a trusted solution in Hollywood brands, and its array of tools reflecting Absentia DX's unique approach.
Let's introduce Absentia to our audience. What is it and how does it work?
Absentia DX is a machine learning audio tool designed specifically for spoken word dialogs. It has a black box, magic button approach to improving dialog. It is typically used with Avid Pro Tools or Avid Media Composer.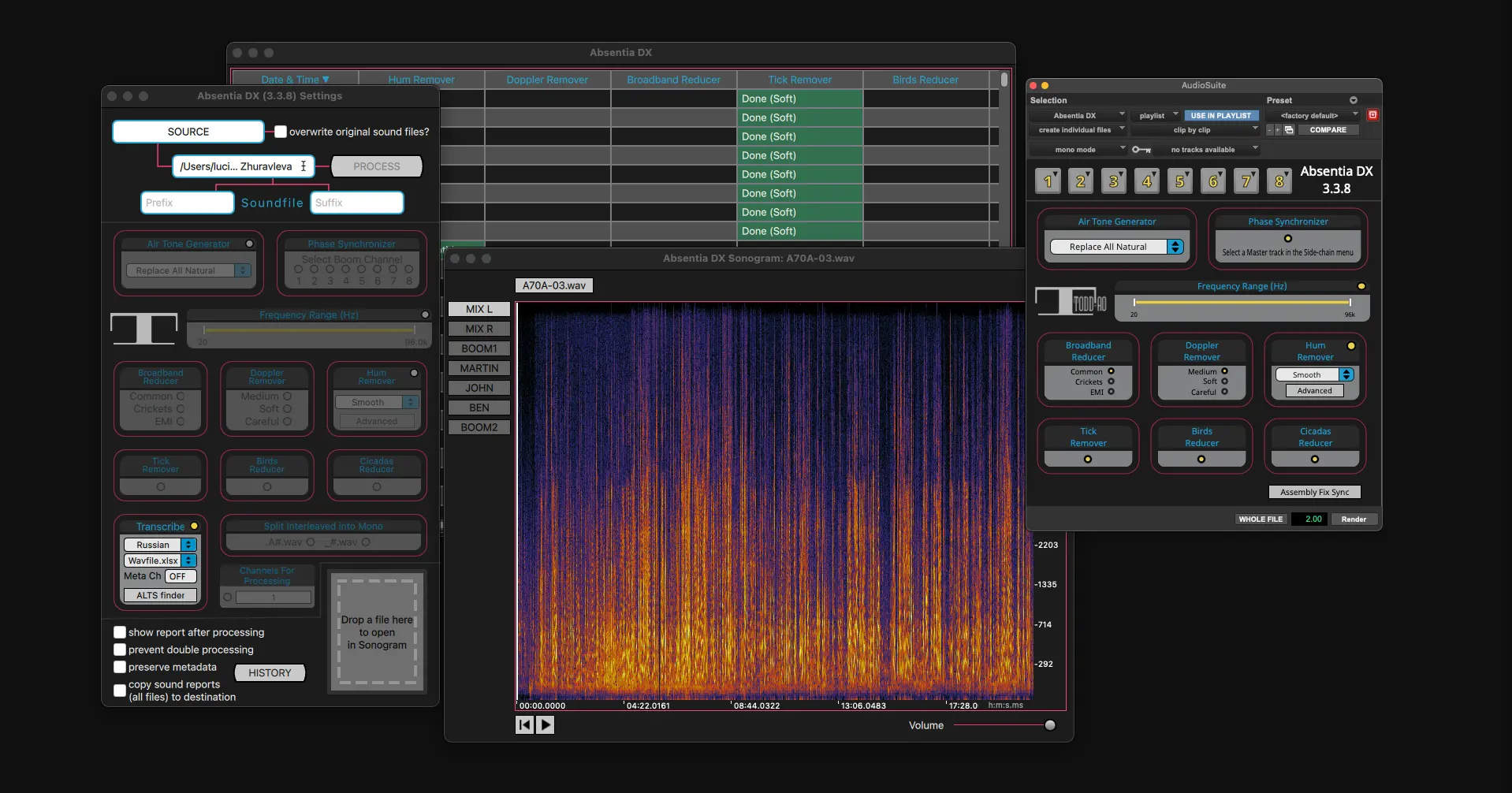 The main benefit of ABDX is that it performs mundane repetitive tasks faster and technically better than what a sound editor can do manually
. Our mantra is to not touch (harm, ruin) dialog, so ABDX will only do the obvious improvements and leave the complicated issues for the sound editor. As far as benefits go, the application can pay for itself in one project, it saves so much labor.
While Todd-AO also offers post-production services to clients, we treat Absentia DX clients as partners and will work directly with them to make improvements specific to their projects. Some cases have been custom algorithm development specific to a clients' cicadas noise issues, adding specific production sound recorder formats, and adjusting workflows upon request.
As for customer support, ABDX has a community forum on Facebook, and Youtube instructional videos. Typically customers send us an email and we address their needs promptly. In the event there is a unique situation we will use TeamViewer or AnyDesk to jump on a customer's computer to evaluate their needs.
We also do custom algorithms for customers, workflows development, or perform ABDX-related tasks and deliver the sound files to the client.
Moreover, ABDX is Avid Pro Tools AAX compliant. There are no API connectors, but if a third party wanted to integrate ABDX into their platform we could provide an API.
How did it all start, and what are your achievements to this day?
I was supervising sound on a TV series called Rosewood for Fox, and it was shot on a soundstage that was extremely noisy with up to three dozen harmonics of hum. The dialog editor said he would not return for the second season due to the issue, and so I had to come up with a solution, and that's how ABDX was born. While working on the series; Rosewood, Tyrant, and Bones, I tested the algorithms and improved them to the point where the dialog editors and re-recording mixers were happy with the results. At first I did the typical engineer thing which is do too much, and then developed our mantra "do no harm to dialog." After which we eliminated a full day of monotonous hum removal on every episode. I worked with colleagues and competitors to improve ABDX. We sought their opinions and made adjustments to satisfy their professional needs.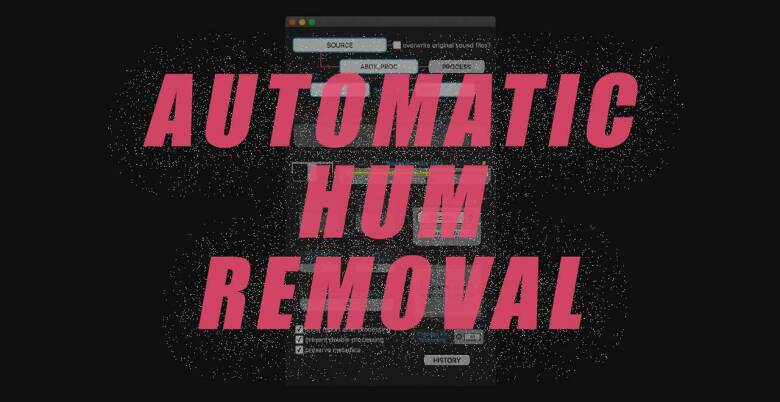 ABDX was originally a black box magic button, but some customers wanted control over the algorithms and so we opened up Advanced features. Machine Learning plugins for Digital Audio Workstations like Pro Tools were unheard of in 2016. It was very challenging to integrate our ML workflow with Pro Tools because it was so different from every other plugin at the time. Even to this day ABDX has been difficult to integrate with VST3 and ARA because of our machine learning component. Fast forward to today, I know that ABDX is used by all the major post-production sound houses in Hollywood. Some of the shows that used ABDX were Game of Thrones, Better Call Saul, Ozark, White Lotus, and… I was told that an epic musical documentary used ABDX to remove pilot tone from their old sound recordings. There have been a total of 2,600 licenses sold to date.
How does your mission differ from the other companies in your niche?
ABDX is for sound editors by sound editors, it helps our team as well as our colleagues and competitors. ABDX has improved the post-sound community. It all starts from the biggest lesson I learned in life, which is to just help others. That's the key to all success. The long-term goal of ABDX is to help sound and picture editors do better quality work faster so they can get home to their families. I measure success by the feedback we receive directly from colleagues and customers. As long as we provide a great product and cover the cost of salaries I consider ABDX to be a success.
Who are your typical clients and what problems do they have when they come to you?
Typically our customers want to minimize repetitive tasks, improve their workflows, and save production sound rolls from having to be completely looped (ADR). Recently we launched Transcribe which is a tool that creates a local transcription (no cloud, no fee) of productions sound rolls or ADR wav files.
We then added 
ALTS finder
, a tool for searching the transcriptions for alternative lines that a sound editor can use to improve their dialog edit.
From individual sound editors and re-recording mixers to the biggest post-production companies on the planet, our price is low and our results are high, so we attract all ranges of customers. Post-Production sound is our main industry, however ABDX can be useful for podcasts, audio books, and any other industry that works with spoken dialog recordings.
We help clients remove obvious noises very quickly, so they can focus on more challenging tasks. If you have a serious dialog problem we can help you solve it, we enjoy real world challenges. Typically cutting dialog laden with hums is difficult because the hums change frequencies throughout a shooting day and from angle to angle. The end result is an air tone that changes on each shot of dialog. ABDX typically eliminates this headache.
Hum Remover is our best in class product and is often compared to hardware that costs $5,000 USD
. On top of that we offer other tools like Cicadas Reducer, Air Tone Generator for creating room tones, Phase Synchronizer for aligning the boom and lav microphones, Auto Fix Sync for dialog assemblies, Doppler Remover for distant cars and planes, and a Broadband Noise Reducer. Here is an example; we did a show called The Tick for Amazon. The Tick had motorized antennas that made a lot of noise that ruined the production dialog recordings. This typically would be fixed by looping (recording ADR) for all the scenes with the antenna noise. This was a monumental challenge, so we set out to adapt our Hum Remover and Doppler tracking technologies to track the animatronics used for the antennas. The end result was that ABDX eliminated about 90% of the antenna noise and helped avoid an enormous amount of looping. I prefer not to discuss competitors. There are a lot of great tools out there and I have a lot of respect for anyone who has the perseverance to release software. I have been in the trenches with my fellow sound editors and re-recording mixers colleagues for thirty-three years. I know their needs, and my own needs. I know what works on a re-recording mix stage and what does not. It helps that I started with computers in the early 80's and know about computers to work with developers on projects. Sound Editors and Re-Recording Mixers were dubious about a tool not damaging the dialog, so we designed ABDX to use identical unique file ID and wav file names as the original. Customers could switch between the original or ABDX sound files to compare the results. Over time customers began to trust ABDX and it has not been an issue for several years now.
And what makes them eventually choose you over your competitors?
Typically Absentia DX is a tool that many sound editors use, but not the only tool. Hum Remover is clearly our most beloved tool, but customers do swear by the quality of Doppler Remover, Cicadas Reducer, and Air Tone Generator. Transcribe has been a great addition,
and editors are now starting to use 
ALTS finder
 with good results.
Saving scenes from ADR, finding dialog or ADR ALTs quickly, reducing background planes, creating smoother more natural sounding Air Tones, and fixing sync on dialog assemblies. A sound editor does not have to spend hours removing hum, and the re-recording mixer saves about an hour from removing hums while they are pre-dubbing. In our industry it is not about switching,
 it is about having a set of tools that the sound editor or re-recording mixer can go to and solve problems, our customers have always loved our Hum Remover tool. One customer said ABDX is the best deal for a plugin based on cost and performance results, it is a no-brainer. Another customer said we could easily charge double. Generally speaking we hear people say it is a must have for post-production dialog.
Can you share one success story from your customers? What was their pain point, and what results did they get thanks to Absentia DX?
A prominent music documentary used Absentia DX to remove pilot tone from their sound recordings.
"ABDX has rescued some problematic tracks in powerful ways. On AMC's Better Call Saul, we had some instances of a very heavy hum/buzz where traditional methods of notch filtering and EQ would have been too detrimental to the quality of the track. During Season 4, the warehouse that housed the crew that built Gus Fring's Superlab had practical lights that emitted a deep buzz. ABDX knocked out the hum/buzz leaving a rich dialog track intact. We could then add our own sound effect of a buzz that could be controlled in level.
On Netflix's Ozark, which was shot in Atlanta, we had a few exterior scenes with very heavy cicadas. ABDX had the ability to lessen them so that they weren't so pervasive.
… You can use the plugin in batch mode to proactively remove hums and buzzes or in Audiosuite on individual takes allowing you to dial in the amount of processing based on the need. When you think a buzz is so deep or has too many harmonics to remove, think again. ABDX has saved the day on many takes much more quickly and effectively than any other means."
Larry Benjamin, Re-Recording Mixer
"… I am always skeptical of new plugs and have tried many. I only have a dozen or so that I use almost exclusively. A while ago I used Absentia for the first time and have used it so many times since. A total go to for the appropriate usage. Noise reduction and crix reduction are seamless. It seems that Rob is one of the few developers that know what the quality parameters should be!! I love the Todd-ao sensibility. This all coming from a veteran that has used and discarded so many others…."
Gary C. Bourgeois, Re-Recording Mixer
"I have many noise reduction tools which I use with a great deal of deliberation and experimentation in my first pass of dialogue mixing. ABDX is often the answer, It is also my first go-to when in a high-pressure situation of needing to identify and remove a hum, bug, or bird song when presented with a last-minute "add" and faced with a room full of executives with various lime limitations. It is simply incredible what it can identify and intelligently remove quickly and efficiently without a lot of tweaking, experimentation, or unintended degradation of sound quality—nothing else I have found offers such a reliably quick improvement to these everyday challenges."
Karol Urban CAS MPSE
If you had unlimited funds, what improvements would you make?
If I had unlimited funds I would improve all the current tools we currently offer, for example Tick Remover and Birds Reducer could both be greatly improved but they are lower priority than the other tools. When you have limited funds for development you have to make choices. For this reason I typically iterate development and spend money on the in demand tools. My ADR Robot from 2016 is still in use at Todd-AO, it's a fully featured robot that eliminates the ADR Mixer from having to come into the ADR stage to adjust the microphone. It is all done remotely from the Mixer's Apple computer. That robot works great to this day, but I know I could take that to a next level and manufacture it for ADR stages worldwide. In 2017, I had an idea for a ground breaking tool, but had to choose between ABDX and this new idea. I spent some money on the new idea but could not quite get it right and had to stop development. Now, with Python development lowering costs I have revisited the project and have a stable Alpha version ready for iterative use. I am super excited about releasing this new tool. In 2018, we created Actors Mobile ADR for iPhones and iPads, by December to 2019 I was prepared to kill the project. Then Covid came along in March 2020 and Actors Mobile ADR was back in business. We immediately addressed feature requests and Actors Mobile ADR was used quite a bit and still is to this day by some clients. I lost a lot of money on Actors Mobile ADR, but it did help a lot of filmmakers finish their projects during the pandemic. If I had unlimited funds, I know I could take Actors Mobile to the next level for customers. I have a book full of ideas, with unlimited funds I would double down on the good ideas.