The internet has made sharing knowledge as easy as pressing a few buttons.
Thanks to podcasts, a quick upload/download exchange is all that needs to happen for someone to get a business degree
. Not the piece of paper, but the knowledge; and that's what counts. There are countless audio episodes available online related to small businesses. We know it can be overwhelming to find the right one for your specific business needs at any given time. That's why we've created a list of the 10 best podcasts for small business owners. There is a podcast on this list for everyone.
Why Small Business Owners Should Be Listening
Podcasts are a great tool for small business owners at any stage of the entrepreneurial process
. Whether you have a seed of an idea or are seeking creative new solutions for a growing, established business, listening to a podcast provides an entrepreneur with three essential elements to success:
Connection: Especially in today's digital age, connecting is essential to the success of any business. Not only connecting to customers but connecting to fellow business owners. Podcasts are a vehicle through which to share stories of success, failure, and most importantly resources on a regular basis.
Inspiration: Even if you run a successful business, you need inspiration sometimes. Maybe a new product isn't selling well, or profit is lower than usual. There's a podcast on this list that will motivate you to try a new approach, we are confident.
Solutions: It may be close, but inspiration isn't a solution. Don't worry, business podcasts will have those too. Sometimes there are actionable steps that almost any entrepreneur can take to fix a problem or fill a need. For example, you don't need inspiration to implement digital payment options into your store, but you may need to know the best products to use to do it.
We're confident that there's a podcast on this list to help connect and inspire almost any small business owner. You may even find the solution to a problem you didn't even know you had until you started listening.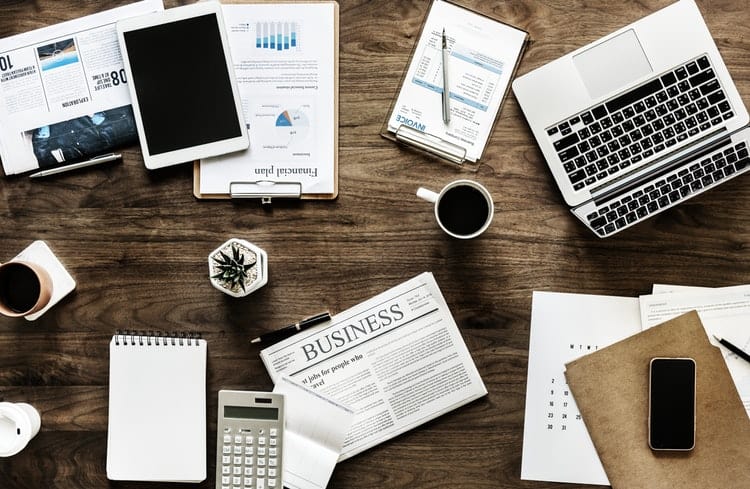 Entrepreneur on Fire
Host:
John Lee Dumas
Twitter:
@JohnLeeDumas
Average podcast length:
45 mins
Find podcast here:
https://www.eofire.com/podcast/
Heat up your business success twice a week with John Lee Dumas.
Entrepreneur on Fire
is released Mondays and Thursdays. Monday features an interview with a successful business owner. Past Interviewees include Barbara Cocoran, Tony Robbins, and Tim Ferris. Each interviewee shares three business stories during their talk with Dumas along with sharing:
Their biggest failure
Their most memorable "aha" moment
The best resources they know of to help beginner entrepreneurs
Thursdays are dedicated to more general content like Q&As and income reports. The
Entrepreneur on Fire
website has the podcast, plus resources related to the episode and timestamps to help the listener get the most out of the content. This one is a can't-miss in the world of business podcasts. There are 2000+ episodes to date on topics like mastering SEO, virility and credibility on Facebook, building a team, and so much more!
Mixergy
Host:
Andrew Warner
Twitter:
@Mixergy
Average podcast length
: 30-45 mins
Find podcast here
:
https://mixergy.com/interviews/
Like
Entrepreneur on Fire
,
Mixergy
is focused on interviewing business owners, because one of the best ways to gather entrepreneurial knowledge is by learning from others. There are case studies on topics like selling on Amazon and building your business on another platform. More general recent episodes focused on scheduling, navigating the co-founder relationship, and an overview of opportunity and where to find it.
Mixergy
is a great place for the up-and-coming entrepreneur to start. Along with the podcast, there are courses included. Want to learn how to successfully get your product endorsed by a celebrity? Need actionable steps to help you achieve more in a day? Need help building a following? If so,
Mixergy
courses are for you.
Youpreneur FM
Host:
Chris Ducker
Twitter:
@ChrisDucker
Average podcast length:
15-35 mins
Find podcast here:
https://youpreneur.com/podcast/
As the name suggests,
Youpreneur FM
is all about personal branding. Social media made the concept relevant to all of us, but only a select few see the full potential of their personal brand and follow it all the way through to creating a personal business. Best-selling author and entrepreneur Chris Drucker covers all aspects of creating a successful personal brand from journaling in a way that supports brand productivity to building the right team. Some of the episodes that caught our attention discussed maximizing productivity at events, the impact of virtual assistants, and the importance of breaking down big goals. Most episodes are about 30 mins or less, so all of the advice is easy to digest, and they're perfect lunch break companion.
The Introvert Entrepreneur
Host:
Beth Buelow
Twitter:
@IntrovertCoach
Average podcast length:
15-30 mins
Find podcast here:
https://theintrovertentrepreneur.com/category/podcast/
The business world is not just for extroverts, at least not if business coach Beth Buelow can help it. She's built a wholly personal and professional development company around helping introverts succeed at entrepreneurship.
The Introvert Entrepreneur
podcast is more than meets the eye, much like the people Buelow champions. There are traditional business topics explored in some episodes. There are discussions on introverted leaders, smart branding, and learning a customer's secret language. But there are also more personal "blogcasts" in which Buelow reads a blog post about simple ways to find happiness every day; there are discussions on conflict resolution, and even an episode on why asking "What's next" is not always the best approach. This podcast takes an inside-out approach, forcing business owners to examine themselves sometimes, while also providing strategies to help their business succeed.
Small Business Trends: One on One Interviews
Host:
Brent Leary
Twitter:
@Smallbiztrends
Average podcast length:
15 mins
Find podcast here:
https://itunes.apple.com/us/podcast/one-on-one-interviews/id1023250761?mt=2
Many, if not all of the podcasts on this list feature a lot of one-on-one interviews. But we like that
Small Business Trends
keeps theirs short and sweet, and includes conversations with small business owners as well as leaders of bigger corporations. Previous interviews include Christi Olson of Microsoft, Darnell Holloway of Yelp, and Molly Q. Ford of Salesforce.
Support Is Sexy
Host:
Elayne Fluker
Twitter:
@SupportisSexy
Average podcast length:
45 mins-1 hr
Find podcast here:
http://elaynefluker.com/podcast/
Women are using their voices more frequently in today's media climate and speaking out loud enough to be sure they are heard. That is true in the business world, too.
Support Is Sexy
is a podcast for women, by a woman. Media entrepreneur Elayne Fluker talks to five female entrepreneurs a week hoping that their journeys, advice, and resources will inspire female listeners to achieve their entrepreneurial goals. At the time this was written, the last five topics discussed included:
Supporting the entrepreneurial spirit in children
AI and investing in your financial future
Negotiating from a place of power
Charging what you're worth with confidence
Moving forward after a setback
The range of topics is wide, as is each episode length. But that's not a bad thing. Girl bosses have diverse interests. If you are female and have a small business or even just a big idea, there is an episode that will help you.
The Duct Tape Marketing Podcast
Host:
John Jantsch
Twitter:
@Ducttape
Average podcast length:
20 mins
Find podcast here: 
https://ducttapemarketing.com/about/duct-tape-marketing-podcast/
Duct Take Marketing founder and consultant John Jantsch has gone the extra mile, creating the weekly
Duct Tape Marketing Podcast
, in which he shares his wide berth of marketing knowledge with his listeners. The podcast features interviews, advice, and resources like every good small business podcast. But while some general entrepreneurial concepts are discussed, this podcast looks almost exclusively at topics involving marketing a business. Recent episodes discussed what small business owners need to know about voice search, using social media for marketing in 2018, and tips for local businesses to get found online.
TWIST
Host:
 John Calacanis
Twitter:
@TWistartups
Average podcast length:
1-1.5 hrs
Find podcast here:
https://itunes.apple.com/us/podcast/this-week-in-startups-audio/id315114957?mt=2
TWIST
, or "
This Week in Startups
" is all about the web. John Calacanis and guest experts sit down weekly to discuss the good, bad, and ugly aspects of owning a web-based company. They also discuss current events in the tech world that week. Inspiration and advice are helpful, but so is news. Small business owners especially need to pay attention to what's happening on the internet. It can make you or break you these days.
Marketing School
Host:
Neil Patel and Eric Siu
Twitter:
@NeilPatel & @EricoSui
Average podcast length
: 5 mins
Find podcast here
:
https://podcasts.apple.com/us/podcast/marketing-school-neil-patel/id1138869817?mt=2
We've been talking a lot about journeys, inspiration, and advice. Those are great motivators for some people. But they don't often provide a clear path to specific next steps, or at least not quickly. Neil Patel and Eric Siu are changing that. If you're willing to take five minutes out of your day, every day, they'll tell you what to
do
. They provide actionable steps to achieving a specific goal in just five minutes. Here are the five most recent topics they covered:
Getting rich people to respond to you
Why you shouldn't read books (Hint: you could be taking action for your business instead.)
Ranking higher on Google without SEO
Essentials to building a million-dollar business
How to "out market" a billion-dollar company
The Business of Story
Host:
Park Howell
Twitter:
@Businessofstory
Average podcast length:
1 hr
Find podcast here:
https://businessofstory.com/storytelling-podcast/
It's helpful to listen to other peoples' business brand stories. But, don't lose sight of the fact that your brand needs one to attract customers. A brand story is one of the most important elements of marketing. That's why advertising professional Park Howell started
The Business of Story
. Each week, Howell talks to different advertising experts, authors, entrepreneurs, and other creatives about brand storytelling. These may seem like strange people to consult, and an odd topic to relate to businesses, but it's not. With the right story, you can sell your product to anyone, and Howell knows it. Recent topics include long-form story-based ads, finding energy and entertainment in your brand story, and using your brand story to stand out.
The Reboot Podcast
Host:
Jerry Colonna
Twitter:
@JerryColonna
Average podcast length:
1 hr
Find podcast here
:
https://podcasts.apple.com/us/podcast/the-reboot-podcast/id918963927?mt=2
The Reboot Podcast focuses on helping entrepreneurs recognize and address the psychological effects of running a business. Because concentrating a little bit less on the business and a little bit more on how it impacts the state of mind helps entrepreneurs to become more productive. An impactful boss is a happy boss. The subjects of the past five episodes are:
Living kindly and openly
Living and leading with integrity
Imposter syndrome & burnout
Quit it or stick it moments
The place where fear and courage meet with Roshi Joan Halifax
Online Marketing Made Easy
Host:
Amy Porterfield
Twitter:
@AmyPorterfield
Average podcast length
: 30mins-1hr
Find podcast here
:
https://podcasts.apple.com/us/podcast/online-marketing-made-easy/id594703545?mt=2
If you currently operate a business, having an online presence becomes imperative. However, maintaining a seldom updated website is no longer sufficient. This podcast, hosted by online marketing strategist Amy Porterfield, encompasses various aspects of online marketing. It provides insights into commencing an online business, boosting email list subscribers, offering content creation training, and much more. Each episode aims to motivate listeners into taking necessary subsequent steps to foster the expansion of their online businesses.
The Side Hustle Show
Host:
Nick Loper
Twitter:
@Nloper
Average podcast length
: 45 mins
Find podcast here
:
https://www.sidehustlenation.com/side-hustle-show/
Part-time or aspiring part-time business owners need to check out The Side Hustle Show. You can run a business while holding down a nine to five and Nick Loper's podcast will tell you how. Don't have an idea? No problem, he and his guests will give you some. Have an idea but don't know where to start? He's got you covered with actionable tips on how to start it up. Small steps can lead to big profits, and one day a full-time business. But the first step is to start.
Add these to Your Podcast Rotation
No matter if you need actionable steps to take, a network of women supporting women, motivation, or marketing advice to start and/or sustain your small business, there is a podcast on this list for you
. We offered a variety of podcasts because not every business is the same, nor every person running the business. If one isn't connecting with you, try another. And remember, think of a podcast as a constant tool you can use for ideas, not answers. When the outro fades, get up and do something to make your business dreams closer to reality