Ranked 209th from 218 Website Builders
Ranked 209th from 218 Website Builders
Overview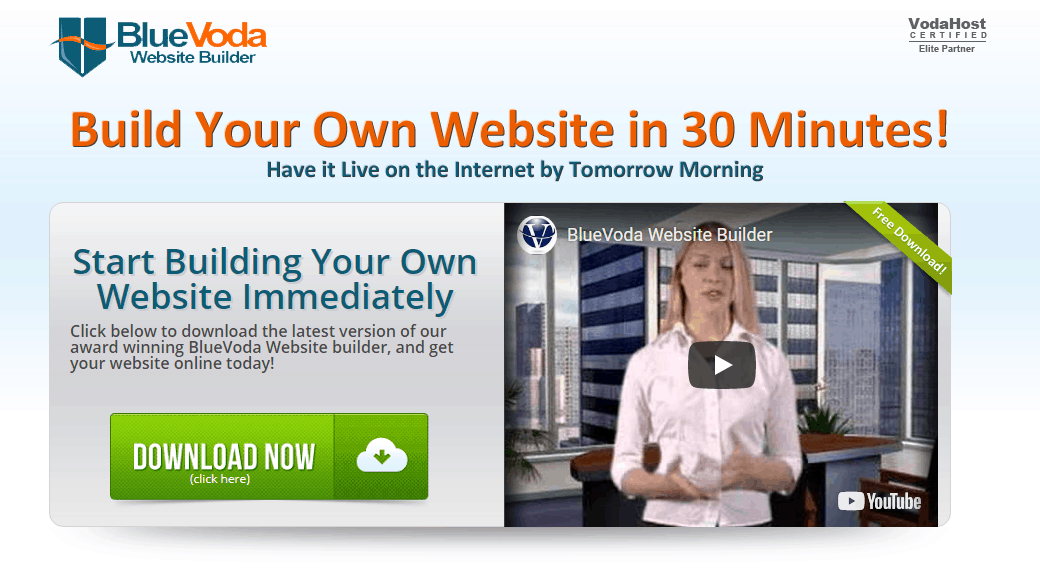 Little or No Experience? Not a Problem With BlueVoda
Whether you need to create a simple homepage or a fully functional multi-page website for your business, then BlueVoda have got your back. With drag-and-drop functionality it allows even the basic of users to hit the ground running, and this can all be created in just 30 minutes.

Unlike other website builders you will have no adware popping up, but you will lack support options and you do need to download a setup.exe to start the build process which isn't everyone's cup-of-tea.
Why use Blue Voda?
Powerful Editor
Great Features (Such as easy flash integration)
Free
Lets take a closer look at Blue Voda…
Templates
Easily Modifiable Templates
Template Selection – Blue Voda provides 100's of professional looking templates that suit a variety of different niches.  While not many are spectacular, the majority of them are at least a bit visually attractive, placing them ahead of a bunch of their competitors.

Customization – Each of the templates provided can be modified easily, changing properties of every element on the page with only a few clicks.

Multimedia – This editor goes beyond with its media support.  Not only does it include the typical audio, video, and photo gallery widgets, but it also includes support for streaming media as well as flash.
Features
Unlimited Web Pages & One-Click Publishing
Don't expect a range of jaw-dropping features with BlueVoda as you will be disappointed, but they do offer your basic features that can help you get your new site looking perfect. With the drag-and-drop tool you wont need any HTML or coding knowledge to create a site, and with a gallery of templates to build you site on you don't need to be a graphic designer.

If you want to create more than one site, you also have the ability to create an unlimited number of sites at no additional costs.

The biggest let down is that this is a web builder that isn't web based, and in order to use BlueVoda you will need to install a desktop program which isn't the end of the world, but does mean that features such as stat tracking wont be available to you.
Ease of use
Powerful with a Tiny Learning Curve
Blue Voda's site editor is very easy to learn the basics of, letting you start building a basic site within minutes.  The user interface is similar to most windows programs and should be familiar to most people who have used computers previously.  As you use the more advanced features such as media streaming and flash integration, it gets a bit more difficult to use.  Granted, learning how to use this tool is exponentially easier than learning how to do such things on your own, but the gap between the difficulty for most of the editor and the advanced features is a bit jarring.  It isn't too terrible to overcome though, and could be learned within 25-30 minutes of experimentation.
Support
Flawed System that will Eventually Solve Your Problem
Video Tutorials
Support Center
Email Support
SEO Help
Blog
Phone Support
Live Chat
Forum
Very little is offered in terms of support, with only a handful of online tutorials and a slow, ticket-based help system available.  The help system did solve my problem, but it took a lot longer than I would have liked, leaving a gap in support response of more than 15 hours at one point.  Overall, it took a day and a half to eventually get my problem solved.
Pricing
A Price You Can't Complain About
Blue Voda's site editor is not only a solid product in itself, but it also adds to the deal by being completely free to use.  The only thing keeping it from a ten in this category is that when you attempt to publish your site, you are bombarded with suggestions to purchase hosting through Voda Host.  Its a bit annoying, but in exchange for a great product thats free, I can't say it bothered me too much.
Filter by
Sort by
Newest
Newest
Oldest
Best
Worst
Be the first user to leave a review about
BlueVoda
in
English
!
You can read user reviews in other languages
Markus Zehnder
Switzerland
Tolles tool
Ich arbeite jetzt schon einige Jahre mit diesem tollen Tool. Es läuft ohne grosse Probleme. Ich habe für die wenigen Probleme die ich hatte immer ein Support ticket gelöst und inner 24 Stunden eine entsprechnede Antwort erhalten und konnte alles lösen!Probleme gibt es wenn man mit Text Art arbeitet. Ich habe z.B die Titel der einzelnen Pages mit Text Art gemacht. Irgendwann ( Stückzahl abhängig ) fängt er die Titel an zu mischen, oder auch Buttons die mit diesem Tool gemacht wurden mischt er irgendwann. Ich mache Heute keine solchen Titel und Buttons mehr.Auch bei der Light Box ( Boxen wo man Bilder einfügen kann die beim anklicken gross dargestellt werden ) gibt es ein Mengenproblem. Setzt man auf einer Seite zu viele Light Boxen, kann er den Vordergrund - Hintergrund irgendwie nicht mehr handeln. Text wird dann über das Bild geschoben etc. Weshalb, keine Ahnung. Ich habe irgendwann herausgefunden das das Problem Mengenabhängig auftritt. Bei meiner Aquareinseite war das so ( leider darf ich keinen Link setzen aber ihr findet das sicher so mergo . info / aquarium . html einfach das vv vv vv voraus und die Zwischenräume weglassen ) Lösung einfach eine zweite Seite generieren und einen entsprechenden Button setzen. Gelöst! ( Normalerweise setzt man auch nicht so vile Light Boxen auf eine Seite! ) Also für Normalbürger kein Problem.Ansonsten keine Probleme! Tolles Tool kan es nur empfehlen! Alles mit Blue Voda gemacht! Easy!