To compare the best web hosts, we hosted the same WordPress website on each one and tested performance, customer service, and value for money.
Check out the results here.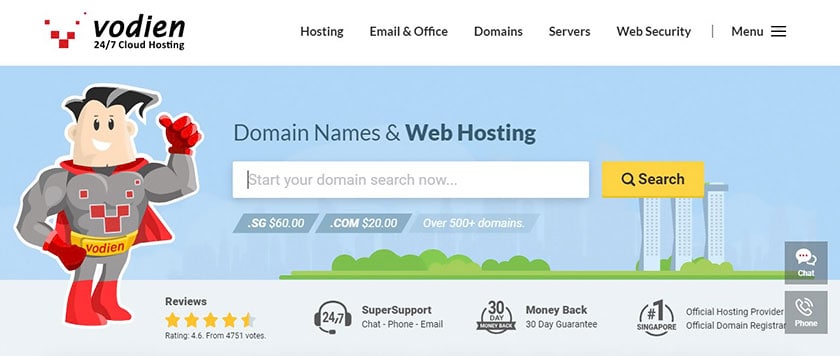 Vodien is a Singapore-based web hosting company founded in 2002 that provides IT services to businesses of any size. Their client base is international but centered in the Asia-Pacific region. Vodien offers almost every type of web hosting feature you can think of, allowing them to support more than 210,000 users and 35,000 companies.
Features and Ease of Use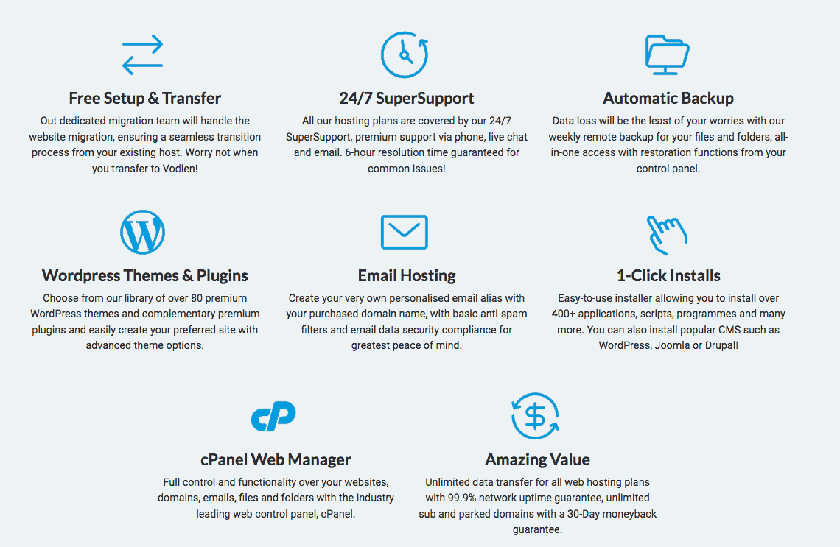 Vodien's feature list is very comprehensive, but with limited ability to scale functionality down and only pay for the basics. Webmasters hosting a single website with low to moderate monthly traffic will find Vodien's packages somewhat excessive.
For example, their entry-level webValue plan comes with 5GB of disk space, ten email accounts, up to five hosted websites, unlimited data transfer, and 99.9% network and hardware SLA times. In addition, their smallest WordPress hosting plan supports just one website, but also 100,000 monthly visits. All of this is more than most beginning webmasters need. There are also no website builder and CMS options besides WordPress themes, so if you want to use something other than WordPress, you'll need the expertise and resources to do it.
On the positive side, Vodien's value-added features let webmasters purchase specific tools for their requirements:
WordPress-specific building packages that include website transfers, automatic core updates, one-click staging environments, and GIT pre-installation
Visual web hosting control panel with a simple file manager, email account management, and one-click application installers
One-click installations of popular e-commerce options Shopify and Magento, as well as CMSes like WordPress and Joomla
Vodien's proprietary email spamGuard
Enhanced website security with Vodien's proprietary webGuard, offering protection against SQL injections, advanced log analysis, Google browser security compliance, and more
Email hosting that includes features like encryption, malware/virus protection, and Vodien's Cloud Assurance backup
Pricing and Support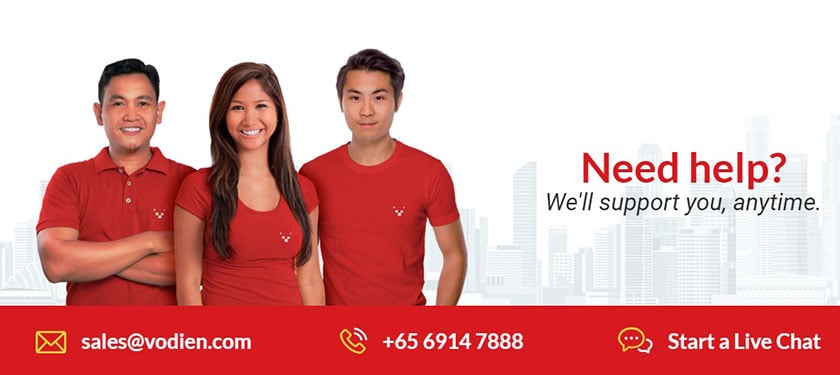 All this Vodien functionality definitely comes at a cost. Even their lowest-end web hosting plans are at least twice as expensive as competitors, and sometimes more. But again, if you need the functionality you can get it even at the entry level.
The least expensive WordPress hosting package includes just a single website, but it also comes with "one-click" website migration, automatic backup/restore abilities, and enhanced caching technology to help with webpage loading times.
In comparison, Vodien's general web hosting packages do not come with free domain registration, but are still cheaper on a per-month and per-website basis than the WordPress version and come with better functionality. For instance, the highest-tier webElite package comes with significantly higher limits including 80GB disk space, 60 email addresses, and 30 websites that can be viable for larger organizations. What's very frustrating, however, is that none of these web hosting packages include SSL certificates, which you must purchase separately.
There are specific "Business Hosting" plans that include similar limits on functionality, but also come with a variety of value-added services like dedicated IP, spamGuard, and SSL certificate's built in. However, these additional features can be purchased separately, so the optimal cost/benefit configuration is not obvious. Vodien has no free plans, but they do have a 30-day money back guarantee.
Alright, here's the scoop: the support options are solid, but not mind-blowing. You've got 24/7 phone support available through a Singaporean landline, which is pretty handy. However, they don't offer live chat support, which would've been even cooler. When it comes to emails, you can expect responses within 24 hours, and they tend to provide detailed answers to your questions. Oh, and here's a pro tip: they've got a super comprehensive knowledge base that covers a ton of topics, so you can often find answers to your questions without needing any assistance.