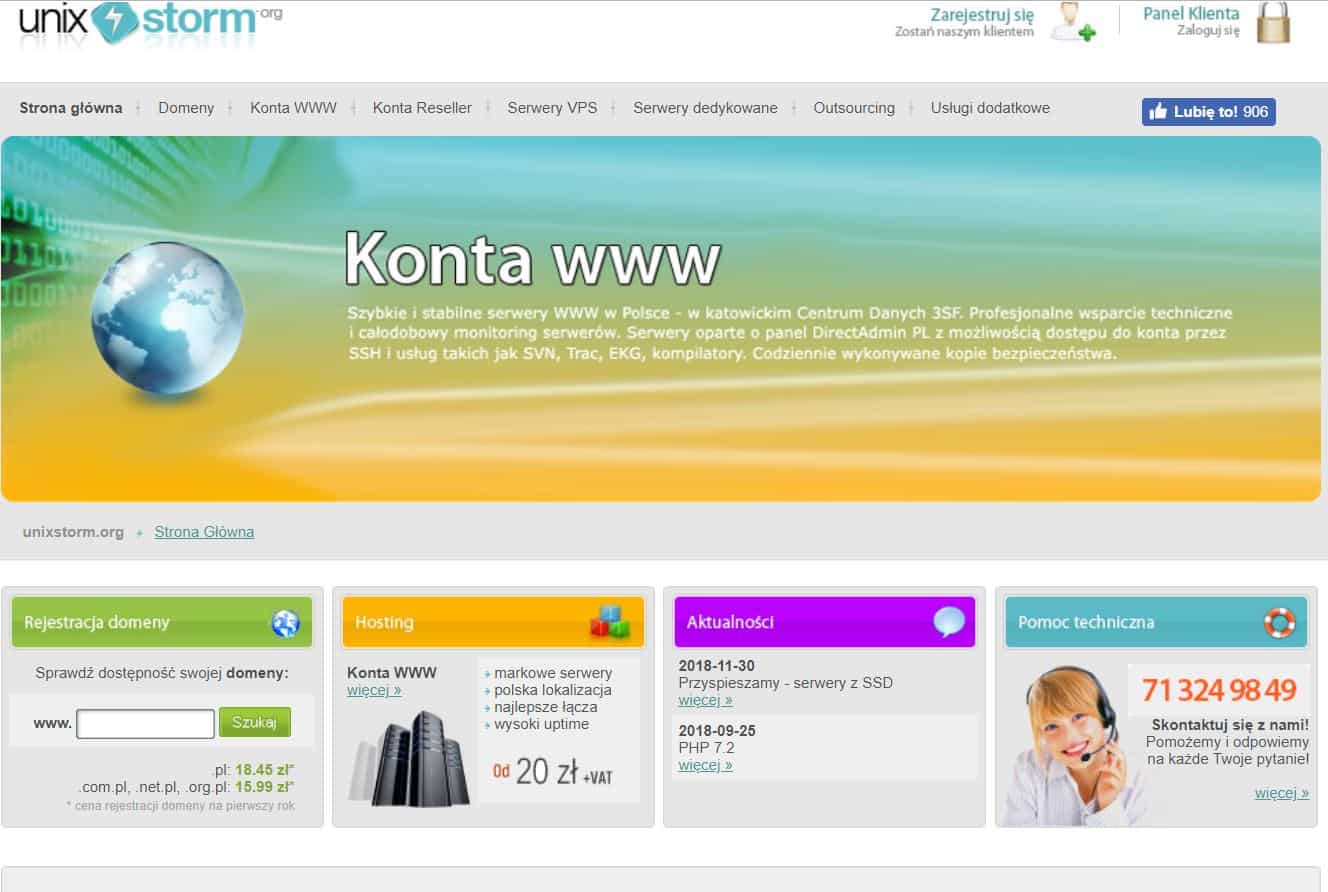 First launched in 2003 as Linux Storm, the Poland-based company rebranded to Unix Storm in 2006. Unix Storm specializes in providing a wide range of web hosting solutions at a decent price range. Unfortunately, Polish is the chief language for its website, so if you aren't familiar with the language, you'll have a hard time dealing with the service.
Features and Ease of Use
Unix Storm provides domain registration as well as a variety of web hosting services, such as shared hosting, reseller hosting, VPS hosting, and dedicated server hosting. The shared hosting accounts come with a bunch of features including:
99.8% availability SLA
2GB – 120GB web space
20GB – 1000GB bandwidth
Backups
SSH access
SSD and SAS storage
If you're launching a personal blog or a new website, Unix Strom offers different shared hosting plans with a number of useful features, including the Softaculous auto-installer, spam filters, free subdomains, unlimited FTP accounts, unlimited domains and databases, backups, SSH access, and many more.
Unix Storm has its servers housed in cutting-edge Tier II and Tier III data centers in Poland. The company uses dynamic routing to maintain the stability and continuation of smooth operations.
Unix Storm also offers virtual private servers built on top-tier server platforms equipped with a minimum of 24 processors and more than 200 GB RAM. In addition, you'll also find with your VPS ReverseDNS, free maintenance for any number of domains on Unix Storm's DNS servers, and basic technical support. Moreover, you get between 20GB to 100GB SSD disk space depending on your plan, and bandwidth ranging between 100GB to 1000GB per month.
Pricing and Support
Unix Storm offers different packages for its web hosting services. Its shared hosting plans are categorized into Starter, Business, and Max. Even though the Starter package comes with an annual subscription, you can choose to be billed monthly, semi-annually, or annually with the other two packages.
Shared hosting packages are reasonably priced for the resources and features included. Note that all listed prices already include VAT.
Unix Storm allows customers to make payments using credit cards, bank transfer, or through the postal service. The company also offers a 14-day refund period and a testing period for select packages.
Even though there's a useful FAQ section and comprehensive tutorials on the website, contacting customer support is pretty difficult. They seem to have an unresponsive support ticket system and an even more unresponsive email support system, though this may be because I contacted them in Englis