OneHost Cloud is based in the U.K. (London) as well as Australia (Melbourne). One of their chief selling points has always been superb uptime with near 100% performance for their shared hosting and guaranteed 100% uptime for their Cloud and VPS hosting. You can also choose from a number of global data centers.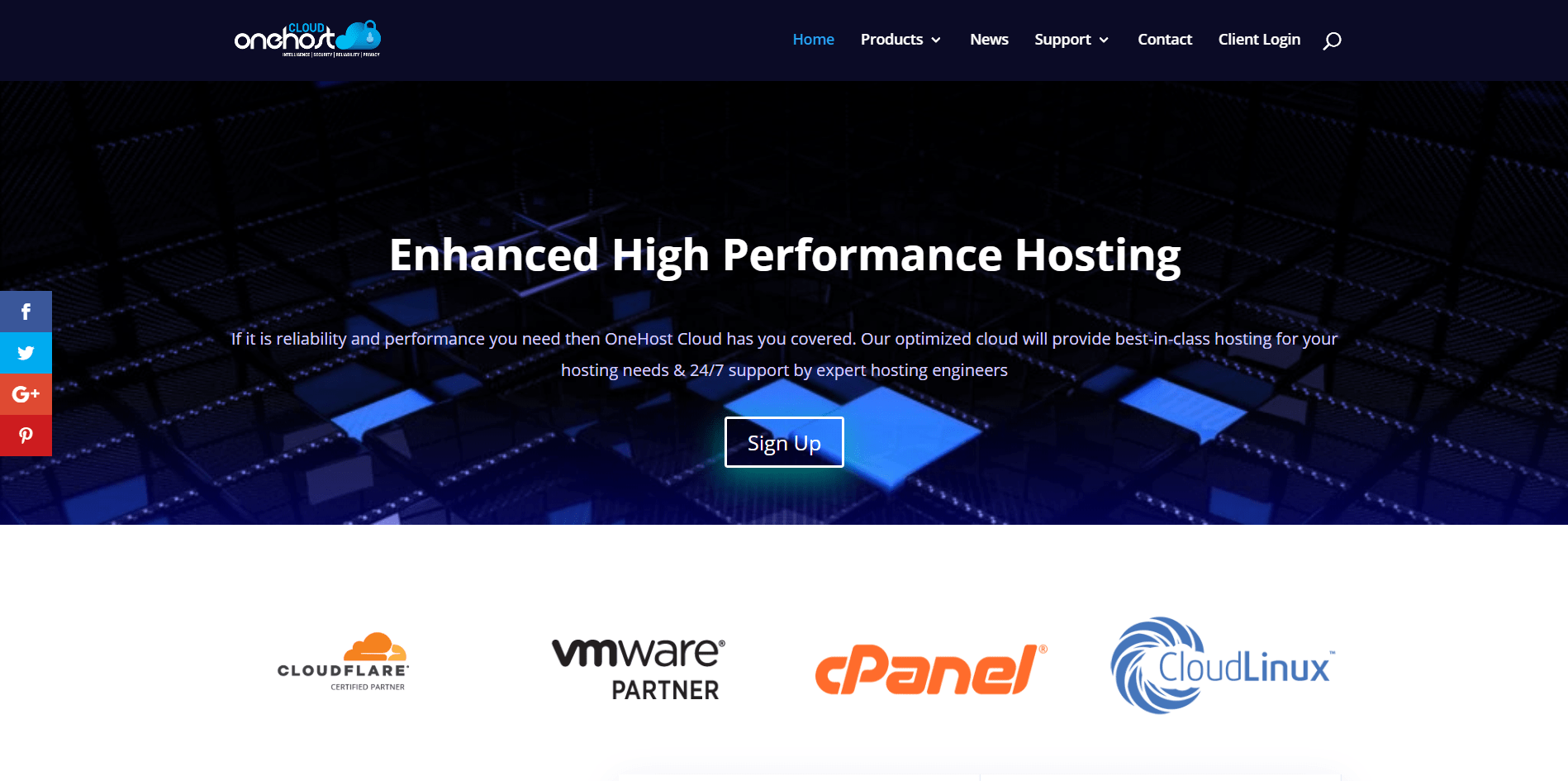 Features and Ease of Use
While there is nothing groundbreaking at OneHost Cloud, they do provide a solid offering with all plans covering the things you need most:
Domain registration
Migration help
Free SSL Certificates
Daily backups
Email accounts/management
These are also other great reasons to consider joining One Host Cloud:
cPanel: cPanel is consistently rated one of the best hosting managers which makes it a welcome addition to your solution.
DMCA Protection: This will go a long way to help protect your rights to publish your digital assets.
Softaculous: Softaculous can be used for 1-click installation of a huge variety of software, including content management systems like WordPress.
With any plan, you get both Softaculous and cPanel. cPanel is one of the most powerful, and simultaneously easy to use, hosting management consoles available. Softaculous provides the ability to install a huge variety of features like website builders, plugins, or other web hosting software with just a few clicks. These two platforms combine for a great overall hosting experience.
Pricing and Support
OneHost Cloud offers shared hosting, various VPS hosting, and Tor hosting, each has their own pricing structures:
Shared hosting: All plans come with a free SSL certificate, DMCA protection, unlimited domains and bandwidth, and daily backups.

Annual Starter: A annually billed plan suitable for very modest requirements with 1 website, 1 database, 5 email accounts, 2 GB storage, and 100,000 Inodes.
Monthly Premium: 50 email accounts, 5 GB storage, and 150,000 Inodes.
Monthly Business: 3 websites, 3 databases, 100 email accounts, 10 GB storage, and 300,000 Inodes.
Monthly Ultimate: 6 websites, 6 databases, and 400,000 Inodes.

VPS: All plans come with DMCA protection and monthly or discounted annual billing. You can choose from a number of OS's:

1 vCPU, 2 GB RAM, 50 GB storage, Standard IOPS.
1 vCPU, 3 GB RAM, 150 GB storage, Standard IOPS.
3 vCPU, 4 GB RAM, 200 GB storage, Extreme IOPS.
4 vCPU, 8 GB RAM, 200 GB storage, Standard IOPS.

Kali Linux VPS: Very similar to their VPS plans but run on Kali Linux for those who prefer working with this OS. Pricing is also almost identical to the VPS plans as only the second best plan differing with 150 GB storage and High IOPS.
Tor Hosting: This plan is specifically designed for those who want the anonymity that Tor provides. All plans come with Custom Onions, a random address, and 2 GB storage. Servers are hosted on Nginx and come with phpMyAdmin. You can choose from monthly, annual, or lifetime billing.
All-in-all pricing on OneHost Cloud is fairly priced considering the unlimited bandwidth and domains although it is slightly limiting in other aspects.
OneHost Cloud does provide decent resources in the shape of a knowledge base, extensive video tutorials, and community forum. However, they only provide ticket support to directly talk with a representative. Luckily, this is 24/7 and they are usually quick to respond, helpful, and pleasant. They are also very professional when it comes to services like migration.
Summary
Though there isn't really anything special about OneHost Cloud's products, they do provide a solid range that covers all the basics and provides users with great tools to manage their hosting. If you want great uptimes and a decent selection of data center locations, they are a very exciting prospect.
Pros:
Choose your OS with VPS products
cPanel with all plans
Softaculous 1-click installer
Unique Tor stealth hosting option
Cons:
Needs more support channels
Not the greatest variety