Previously, 1-Grid operated under either Gridhost or Web Africa. Together, they have more than 20 years of experience in the web hosting and internet service provider fields. Their target market and the main focus of their hosting plans are to cater to small to medium-sized enterprise clients. They are one of the top hosting providers in South-Africa with data centers also located there.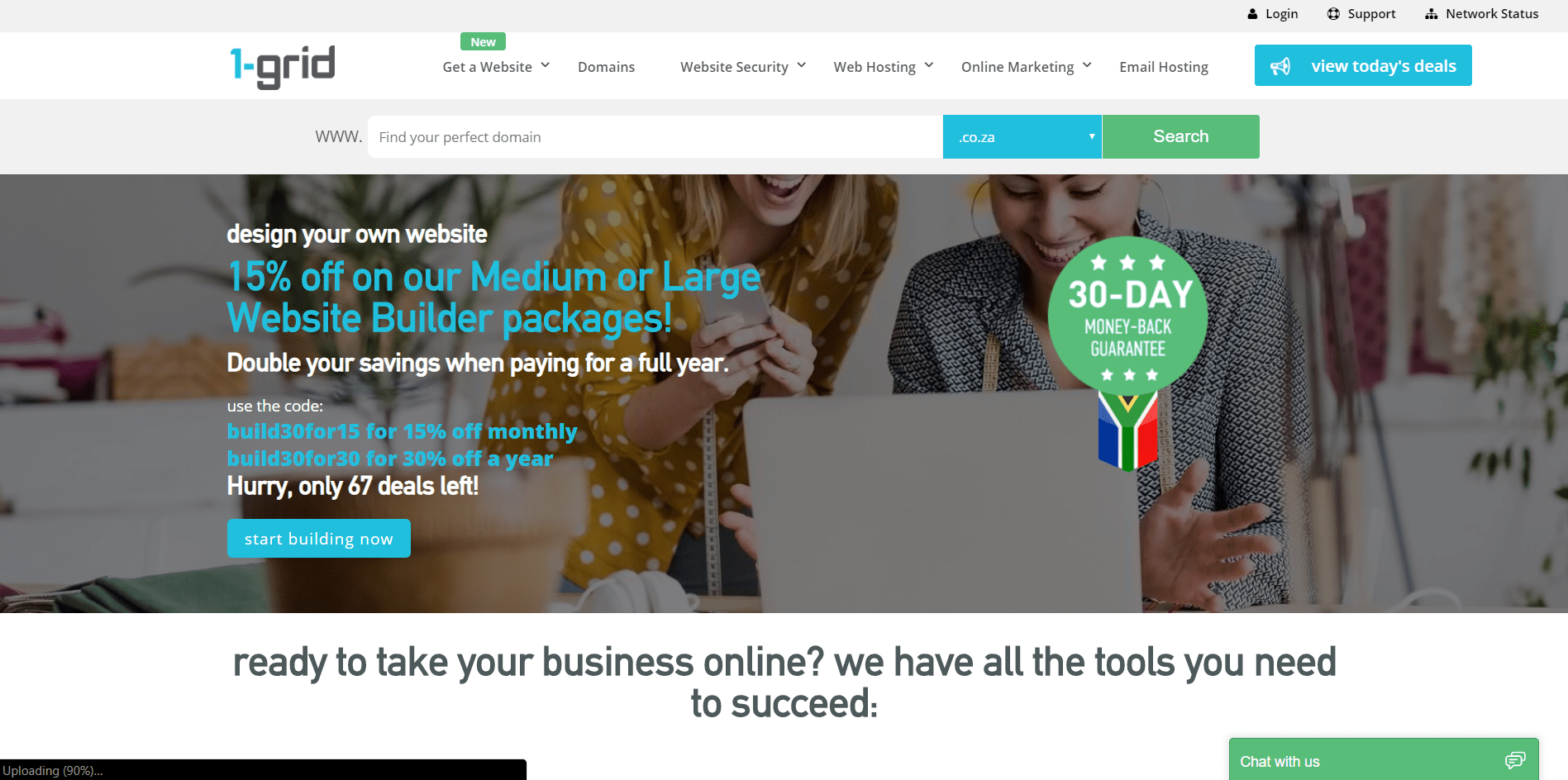 Features and Ease of Use
1-Grid provides most of the basics you need to successfully host a website.
Domain registration services (some plans offer a free .co.za domain)
cPanel hosting manager
SSL certificates
Email hosting
They also offer the following attractive features and services:
Easy CMS Installation: Using cPanel and Softaculous, you can install your favorite website builders easily on your shared hosting solution.
Website Improvement: You can opt for 1-Grid plans where they design your site for you, optimize the SEO, and help you market your online business.
Website Builder: 1-Grid provide their very own website builder with certain products. This is an extremely beginner-friendly builder and surprisingly modern.
Depending on what plan you choose, you might not have to lift a finger to build and host your website. Some plans only provide the resources and management console so that you are in control, others come with their own website builder, and other plans come with a web designer to build your site for you and maintain it. Signing up is also easy and simple. The only thing that's tricky is to manage your billing as they don't combine charges in one bill.
Pricing and Support
In 1-Grid's own words, they don't believe in contracts. As such, you can upgrade at any time and downgrade or cancel at any time subject to your billing period. There is also a 30-day money back guarantee. Plans come with free setup and installation of included software.
Shared web hosting: All plans come with unlimited emails, traffic, and databases. Cpanel is installed and you can add any content management system.

Small: Host 1 site on 2 GB of storage.
Medium: Host 100 sites on 5 GB of storage.
Large: Host unlimited sites on 50 GB of storage. Plus a free .co.za domain.

Website builder: This is a shared hosting plan that provides access to the 1-Grid website builder.

Small: Build 10 pages, 750 MB storage, and 750 MB traffic.
Medium: Build 35 pages, add e-commerce (10 products), 2 GB storage, unlimited traffic.
Large: Unlimited pages, products, storage, and traffic.

VPS hosting: These servers come with more resources than shared hosting. They are very cheap and have a choice of OS; however, you will need add-on software installations like PHP, MySQL etc.

Business: The VPS business packages come with even more resources. You can also ask for custom software installations.

.NET hosting: These packages are similar to the shared hosting packages and come with .NET pre-installed.
Dedicated server hosting: These are the top-of-the-line servers provided by 1-Grid. There are also managed options available. However, there is an initial setup fee.
Lastly, they offer either Windows or Linux-based reseller hosting for agencies.
1-Grid provide good online documentation as well as support tutorials that you can follow to learn how to use the platform or solve problems by yourself. They do fall a little flat when it comes to one-on-one support. Yes, they provide all the channels such as email, live chat, and phone lines; however, their staff isn't the most helpful and there are some complaints regarding their billing problems.
Summary
The biggest argument in favor of choosing 1-Grid for your hosting needs is that they provide a huge range of products that will suit many different customers and their needs. They also provide great website creation, design, and management services that are included in some products or can be purchased separately.
Pros:
Affordable hosting products
Professional website design and management services
Plans for all levels of users
Great management and website building software
Cons:
Separate billing for purchases
Support service could do with some improvement