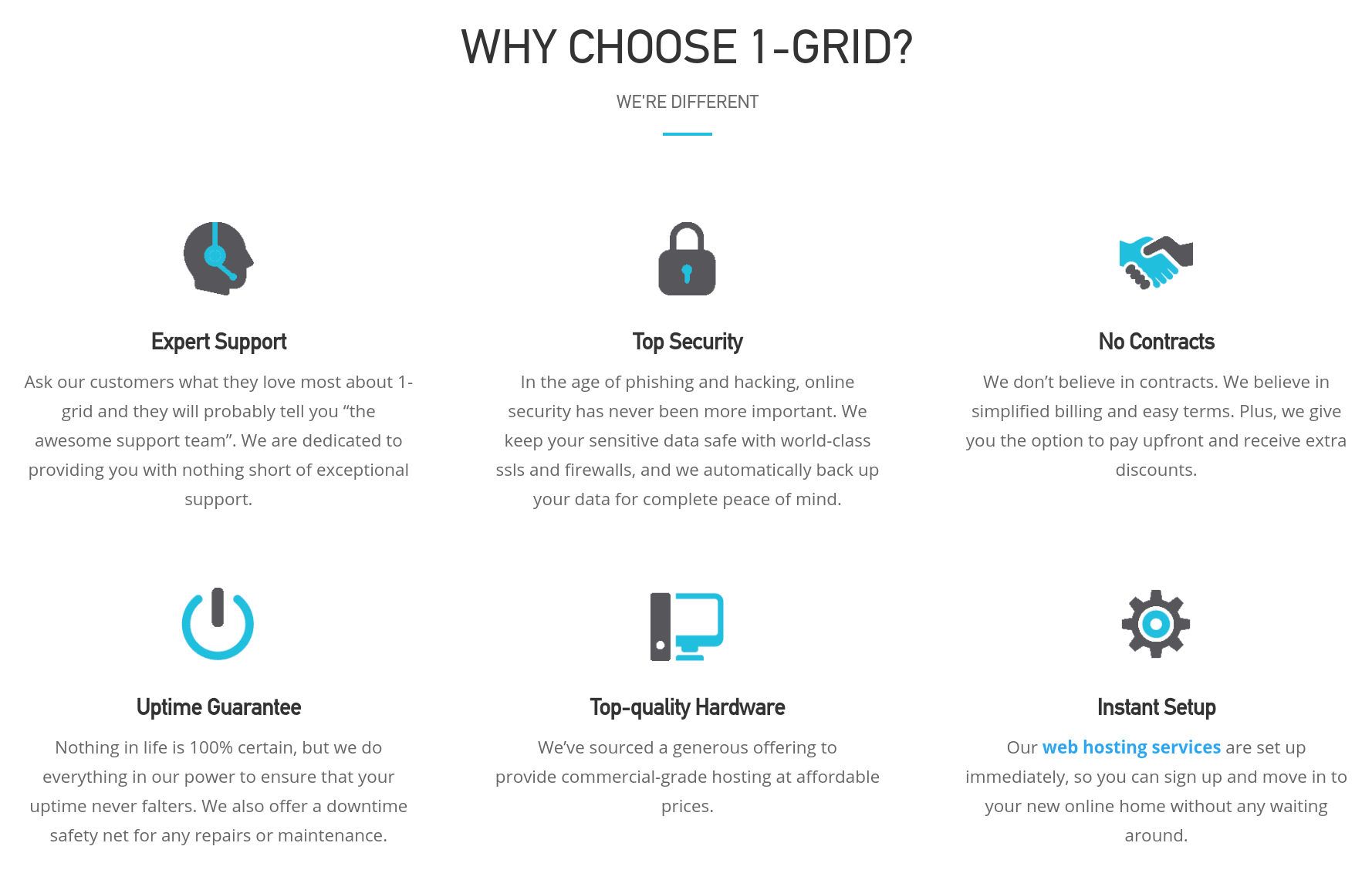 To compare the best web hosts, we hosted the same WordPress website on each one and tested performance, customer service, and value for money.
Check out the results here.
Based in South Africa, and formerly called WebAfrica, web hosting provider 1-grid has more than 20 years of experience in the industry. It offers web hosting, VPS hosting, web design, and SSL certificates. Website hosting plans are available for Linux and Windows, and you have the option to access a website builder as a paid add-on.
1-grid's data center is located in Cape Town, South Africa, and its website is in English.
Features and Ease of Use
1-grid offers shared website hosting plans in Linux or Windows variants, with the cPanel control panel and one-click installation of WordPress and many other applications.
Linux hosting plans come in three tiers: Small, Medium, and Large. Understandably, the Large plan provides the most features, which include a free domain, hosting for an unlimited number of websites, and 50 GB of storage. The entry-level "Small" package includes 2 GB of storage, but it doesn't include a free domain, and it only allows one website to be hosted. All hosting plans include the following features:
Unlimited traffic
Unlimited email
Unlimited MySQL databases
Free domain with some plans
cPanel
WordPress
One-click software installer
Access to paid website builder
Comodo cWatch security available
For website security, 1-grid offers add-on protection powered by the Comodo cWatch bundle of security and performance solutions that include malware removal, a content delivery network, a web app firewall, and more.
If you don't want to design your own website using 1-grid's website builder, you can take advantage of 1-grid's professional web design services. Both options require a monthly subscription, and the ongoing fee for the in-house design package includes continuing maintenance including lead generation, security updates, monthly reports, hosting fees, and blog post writing (depending on the chosen plan).
Pricing and Support
Compared to other South African hosts, 1-grid's hosting offerings are competitively priced for the features on offer. You can pay for plans monthly, quarterly, semi-annually, or annually, with discounts of 5% off (for a semi-annual commitment) or 10% off (for an annual plan). However…
1-grid's Linux web hosting starter plan doesn't include a domain or very much storage. For the same price as 1-grid charges, some other large international providers offer plans with higher levels of data and features.
SSL is available as a paid add-on, even though it's the ostensibly "free" Let's Encrypt SSL for which 1-grid charges a configuration fee.
Customer support is available via telephone, ticket, live chat, or email. I reached out to the company via online ticket, but I didn't hear back, so I tried the live chat channel instead. Although no live chat agents were actually live, I did receive a response after an hour or so: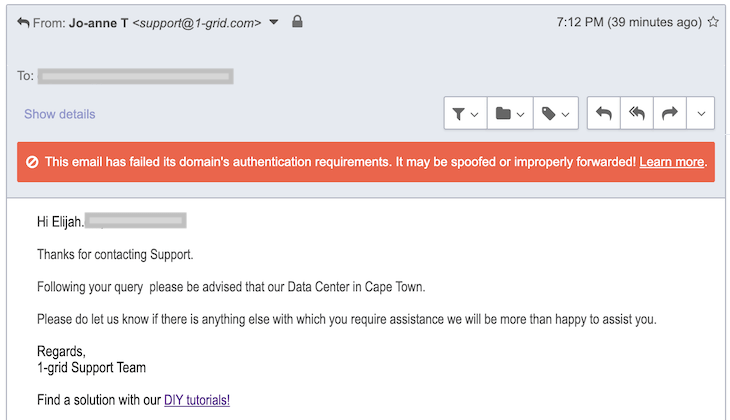 How much does 1-grid cost?
1-grid offers plans from $3 to $15. The price depends on which type of hosting plan you choose. You can see the updated pricing table (updated weekly) below.

Which 1-grid plan should I get?
My recommendation is to start with a cheaper plan. You can always upgrade later on. 1-grid can help you with the migration to a more expensive plan. The increase in visitors many times takes longer than expected and you shouldn't pay a lot of money until the need arises. Of course, your needs may vary, and you can consult with a hosting expert 1-grid here.

How good is 1-grid's customer support?
1-grid is not ranked as one of our top web hosts. But that can also be a result of 1-grid being a small, under the radar, hosting provider. There are advantages to a small hosting company – as a customer, you are more important to them. You can also check out our comparison of the most popular web hosting services here.