FutureServers is a new and expanding web hosting company that's based in Middlesex, England. For now, they prefer a one-on-one approach whereby customers contact them with regards to a hosting solution and they set it up for you.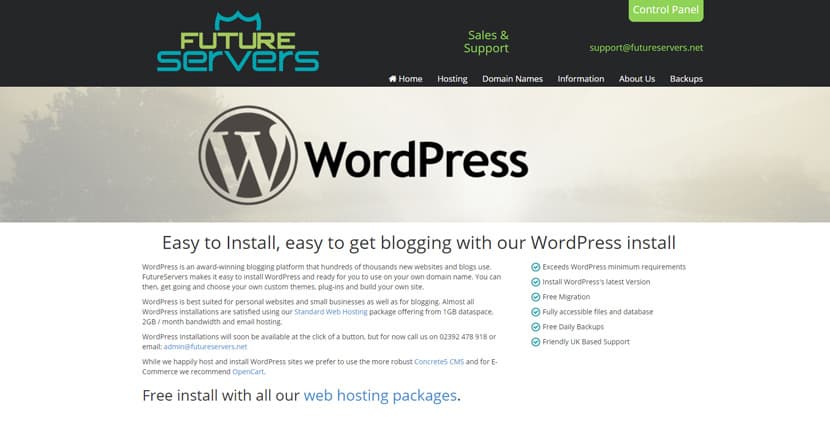 Features and Ease of Use
Although they are still new and evolving, FutureServers already provides all the essentials of hosting in one place:
Domain registration
SSL certificates by GeoTrust
Free daily backups
Email hosting
FutureServers also provides a couple of unique services and features that will make their hosting packages stand out to certain customer demographics:
Choice of CMS: FutureServers provide free installations of WordPress, Concrete5, or OpenCart on all their web hosting products
Low Load Hosting: Their Lo-Load hosting plans provide better consistency in terms of performance as the likelihood of your servers being overwhelmed with traffic is far less likely. With these plans, you'll be hosted on shared servers with no more than six other users.
FutureServers provides a nice range of software that will make hosting almost any type of website a comfortable and familiar process. WordPress, Concrete5, and OpenCart can be installed for you. Unfortunately, they don't offer any convenient one-click installers or website builders at this point, so they're not the most beginner-friendly option out there.
Furthermore, because you can't customize a hosting package or purchase a pre-made one directly from their website, certain users will find their service rather cumbersome. You'll have to contact and wait on their support team for everything.
There are also a few glaring issues with their packages: namely, backups aren't included by default. If you want backups, this will be an additional fee — and quite a hefty one at that. You also won't have the assurance of any uptime guarantees or SLAs with FutureServers, disappointingly.
Pricing and Support
FutureServers provide mostly shared web hosting services with a few types of hosting tailored for various uses and three dedicated server options. Their packages are steeply priced, particularly when you consider the lack of features and resources allocated. Unfortunately, they don't offer any refunds or trial periods, and you'll be locked into your contract term with them.
Web Hosting: It's unclear whether this package comes with a control panel, but they do offer you your choice of CMS: WordPress, OpenCart, or Concrete5. Email hosting is also provided.

Standard: 1 GB storage, 2 GB bandwidth, ten email accounts
Standard Plus: 2 GB storage, 4 GB bandwidth, 20 email accounts
Standard Premier: 3 GB storage, 6 GB bandwidth, 40 email accounts
Standard Gold: 5 GB storage, 10 GB bandwidth, 100 email accounts

Lo-Load Hosting: These servers ensure that you share resources with no more than six other customers to increase the share of resources going to your hosting. Contracts are a minimum of six months. Unlimited email hosting is included.

Lo-Load: 10 GB storage and bandwidth
Lo-Load Plus: 10 GB storage and 40 GB bandwidth
Lo-Load Premium: 20 GB storage and 100 GB bandwidth

Dedicated Servers: You can purchase the three available standard servers or configure your own. Monthly, quarterly, and yearly billing terms are available. You'll be charged in advance for the use of these servers.

Xeon E31220 @ 3.10GHz 4C/4T, 8 GB RAM, 2 x 250 GB storage in RAID 1 arrays
Xeon E3-1230 V2 @ 3.30GHz 4C/8T, 16 GB RAM, 4 x 1 TB storage in RAID 1 arrays
Xeon E5-2620 0 @ 2.00GHz 6C/12T, 24 GB RAM, 16 x 1 TB storage in RAID 5 arrays

Reseller Hosting: These solutions are provided on an individual basis after a consultation.
When it comes to technical support, FutureServers is definitely not the best out there. The only "guarantee" they offer is that they will try to respond to queries within the same day or the next if they are made after 4 PM. They are also currently working on assembling an FAQ and knowledge base. In the meantime, they suggest reaching out to third-party support specialists for any inquiries, which can be costly and not ideal. Their support is not bad when you do receive it, but you may have to wait for a significant amount of time.