FORPSI is a trading name of their parent company Aruba, one of the largest internet and IT solutions providers in Europe. FORPSI was acquired by Aruba in 2005 and now draws from their experience managing over two million customers, 20,000 physical servers, two million domains, and six million email accounts. FORPSI primarily serves the Czech market, targeting individuals and corporate customers with their quality shared hosting, cloud computing, VPS hosting, and dedicated server offerings. They're headquartered in Prachatice, a town in the Southern Bohemian region of the Czech Republic.
Features and Ease of Use
FORPSI's most popular services are their shared and CMS hosting.
They support three main CMSes: WordPress, Joomla!, and Drupal. Whichever CMS package you select, your account will come with that CMS pre-installed on a dedicated portion of a Linux-based server. If you don't already have a domain, you can purchase their FORPSI Domain + Hosting Package Easy, which is an all-inclusive package to help you get started quickly with your CMS of choice. Alternatively, if you already have a domain, you can simply purchase their Webhosting Easy package and then redirect your existing domain's DNS to their servers.
Those looking for shared hosting packages have four choices: Webhosting Easy, Webhosting Advanced, Webhosting Professional, and Hosting F-Market. The shared hosting packages all come with unlimited storage, traffic, and emails; the packages vary primarily in the number of databases, subdomains, email storage given. You'll also get free SSL certificates and an easy application installer with the purchase of any Linux hosting package. Unfortunately, there seems to be no uptime guarantee for any of their packages.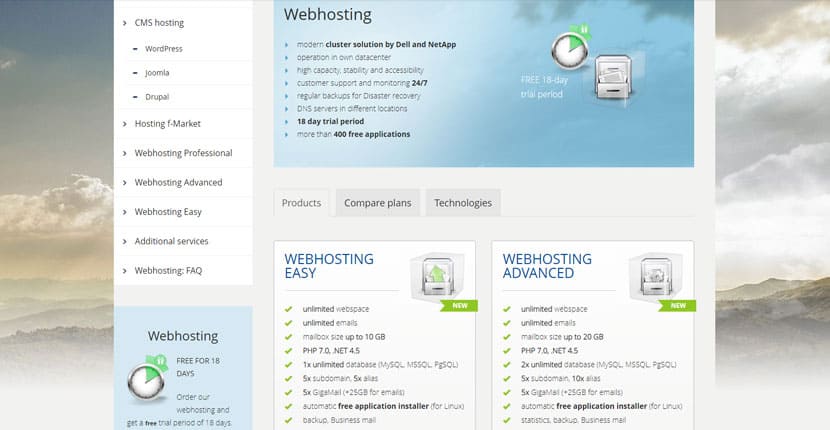 The last option, Hosting F-Market, is meant primarily for e-commerce website owners. This includes 10 email addresses and anywhere from 1,000 to 10,000 products, depending on the package selected. Also, online shop owners marketing to a global audience will be happy to know that these e-shop packages support up to 15 languages and 100 currencies with the most advanced package – the basic package supports only one language and two currencies.
While FORPSI only has a single data center located in the Czech Republic, they can also draw on the resources of their larger parent company, Aruba. This means that they also have access to state-of-the-art data centers in the United Kingdom, France, Germany, and Italy. All data centers are fully redundant and built with the highest levels of connectivity, reliability, and security in mind so as to serve the whole of Europe.
Pricing and Support
FORPSI's prices are extremely affordable for their European clientele, especially when you consider the fact that all shared hosting packages get unlimited storage, bandwidth, and emails. You even get a discount for the first year of your hosting contract, and unlike most hosting providers, FORPSI doesn't increase their prices dramatically after the promotional period.
FORPSI has an 18-day free trial of their shared hosting plans, so you can also test out their services risk-free. They don't appear to have a money-back guarantee, however.
Support-wise, FORPSI relies heavily on maintaining excellent levels of service, so most customers will experience no issues with network uptime and connectivity. However, where you may encounter problems is on the rare occasion you actually have to contact their customer support. Although FORPSI advertises 24/7 customer support, their tech team appears to be available only during European business hours, and sometimes even less than that. Consequently, if you encounter any server or hosting-related problems, it might take them a while to respond, which could potentially result in missed business opportunities and valuable marketing time.