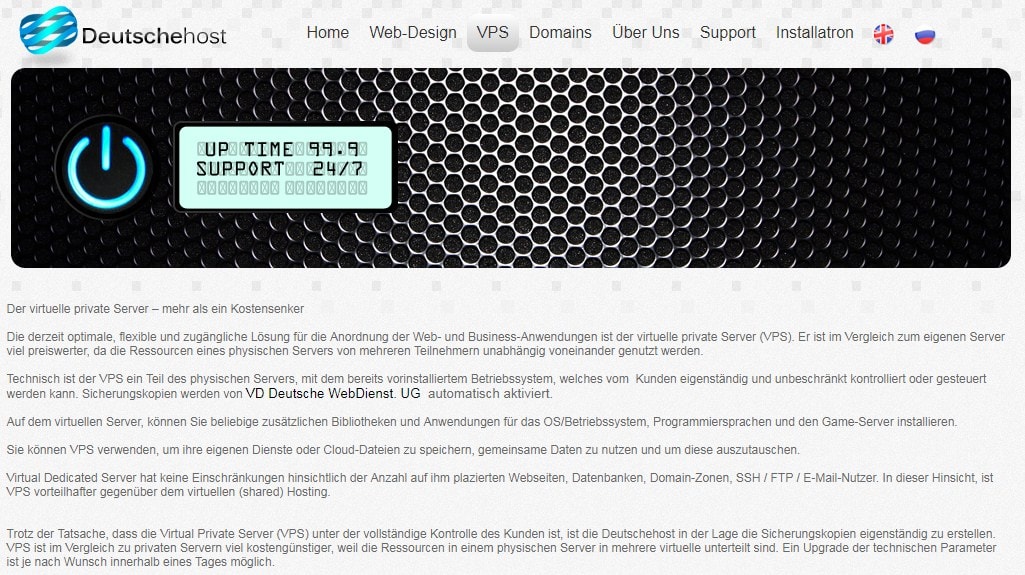 Deutschehost provides an array of web hosting solutions including VPS servers, web design, and domain name registration services. The vendor is located in Germany and targets SMEs and large corporations in Germany and other countries in Europe.
It prides itself on its team of experienced, expert staff which plays a significant role in the realization of its goal of becoming a powerful and reknowned internet services provider not only in Germany, but the entire continent of Europe. The Deutschehost website is available in German, Russian, and English.
Features and Ease of Use
Some of the features you can expect to find in Deutschehost hosting packages are as follows:
DirectAdmin panel
MySQL databases
PhpMyAdmin
SSH, FTP access
Full root access
PHP 5
Domain parking
Email boxes
POP3/IMAP
One-click install scripts
Deutschehost uses high-end infrastructure from leading manufacturers such as Cisco, Dell, and Intel, among others on its hosting packages. It offers VPS server solutions that include a pre-installed operating system. With this feature, customers are at liberty to use an operating system of their choice, including Fedora, CentOS, Gentoo, and Debian, among others.
Its VPS servers allow customers to manage their servers independently including the installation of additional applications and programming languages. Furthermore, the firm's VPS servers come with full root access, which enables users to execute all OS configurations and applications.
It uses virtualization platforms in its hosting packages, allowing users to add, delete, or even modify any file. You can also easily install the software of your choice or even customize the configuration to suit your preferences and expectations.
The company provides automatic backup copies to its clients to safeguard their data and files in case of disaster. What's more, Deutschehost hosting packages come with DirectAdmin control panel, which includes eight language translations for easy customization.
This hosting company offers the convenient and intuitive PhpMyAdmin and automatic applications updates that protect against external attacks. The company's hosting packages are equipped with a resource reserve (computing time for memory and processor) in order to safeguard server operations in the event of an unexpected overload.
This vendor offers hosting service plans that include CMS solutions, which will delight Magento and WordPress users. With these services, customers have the convenience of installing over 70 applications with just one click.
Pricing and Support
Deutschehost's hosting solutions are reasonably cheap, and the prices are listed in euros. The vendor does not provide a refund policy, and also has no network uptime guarantee. As you can imagine, this has the potential to make would-be customers skeptical about the reliability of the services it offers.
You can contact the Deutschehost support team 24/7 via Skype, email, ticketing system, and telephone support. It has no live chat on its website. Unfortunately, my email to this support team went unanswered.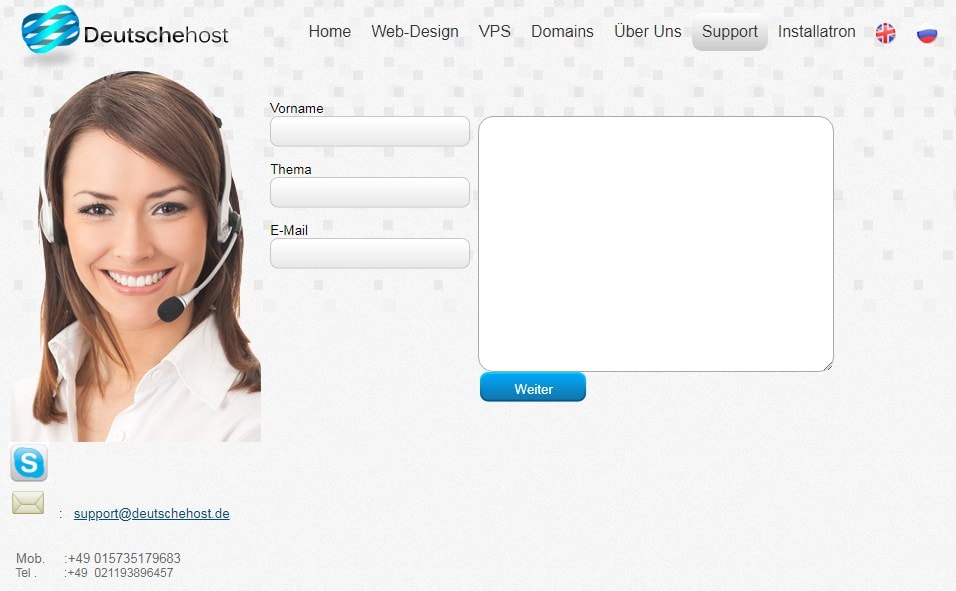 The Deutschehost website has no knowledge base either.