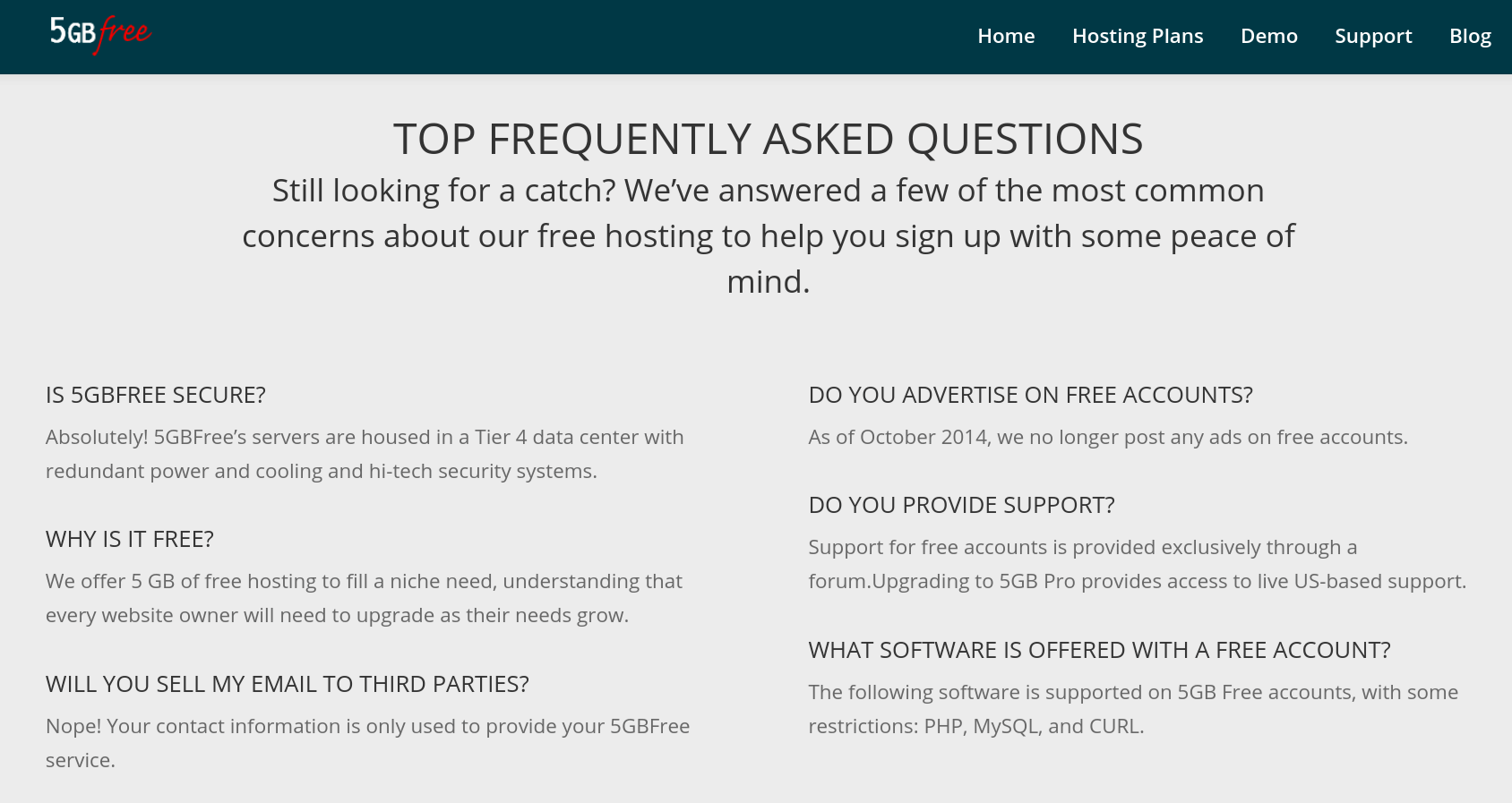 5GBFree doesn't look to be in operation anymore and the web host they link to is a paid hosting service. You can find the
best free web hosts here
.
While 5GBFree isn't bad for a free hosting service, we recommend you don't waste your time with free hosting, even if you're just starting out. You'll have to deal with slow loading speeds, lots of downtime, and no customer support, and migrating your site to a different host later can be a real pain. You can get high-quality hosting for an amazing price with InterServer, for instance.
Utah-based 5GBFree has been providing completely free hosting services for over a decade, in a bid to fulfill its social responsibility by filling a substantial gap in the market. Several years ago, this provider even stopped placing advertisements on its account holders' websites, so that its customers could get professional-looking websites for free. In partnership with Nethosting, this company also offers very affordable paid hosting from quality data centers.
5GBFree's website is in English.
Features and Ease of Use
Since it's free, you'll definitely get more than what you pay for with 5GBFree's hosting packages. However, some of the following features require you to be on a paid plan:
100% SLA-backed uptime guarantee (for paid hosting)

Addon and parked domains are allowed

Free SSL certificates (for paying customers)

Up to 100 GB of storage space

From 20 GB free to unlimited monthly bandwidth
"Simple, but robust" is probably the best way to describe 5GBFree's hosting. The cPanel control panel allows you to access all the essential hosting features such as SSL certificates, multiple domain management, backups, and software installation via Softaculous.
Although this provider offers only two hosting plans, between them, these provide enough resources to cater to the resource demands of most users. And for the bargain basement prices you pay, you get high performance and availability thanks to partner company Nethosting's Tier 2 and Tier 4 data centers.
Pricing and Support
As its name suggests, 5GBFree offers one of the most generous free hosting plans I've seen. It's quite incredible that you can host a website with up to 5 GB of storage and 20 GB of bandwidth, for free, for as long as you want. This should be sufficient for many personal or small business websites.
The only restrictions are that you get just one FTP account, three SQL databases, no addon domains, and no free SSL certificate or one-to-one support. It should go without saying that at these prices (i.e., free) you don't also get a free domain.
The alternative paid plan is excellent value-for-money since it comes with 100 GB storage, unlimited bandwidth, email hosting, an SSL certificate, and support. The paid plan provided by sister company Nethosting, and only on annual terms, but you do get a 30-day money back guarantee that gives you some time to change your mind.
Although 5GBFree offers 24/7 phone support to paying customers (via live chat and email), free hosting customers can only seek assistance in a support forum (where support agents are also active). Unfortunately, support staff in the forum often just promise to "look into" issues, so you'll probably get better service from fellow community members: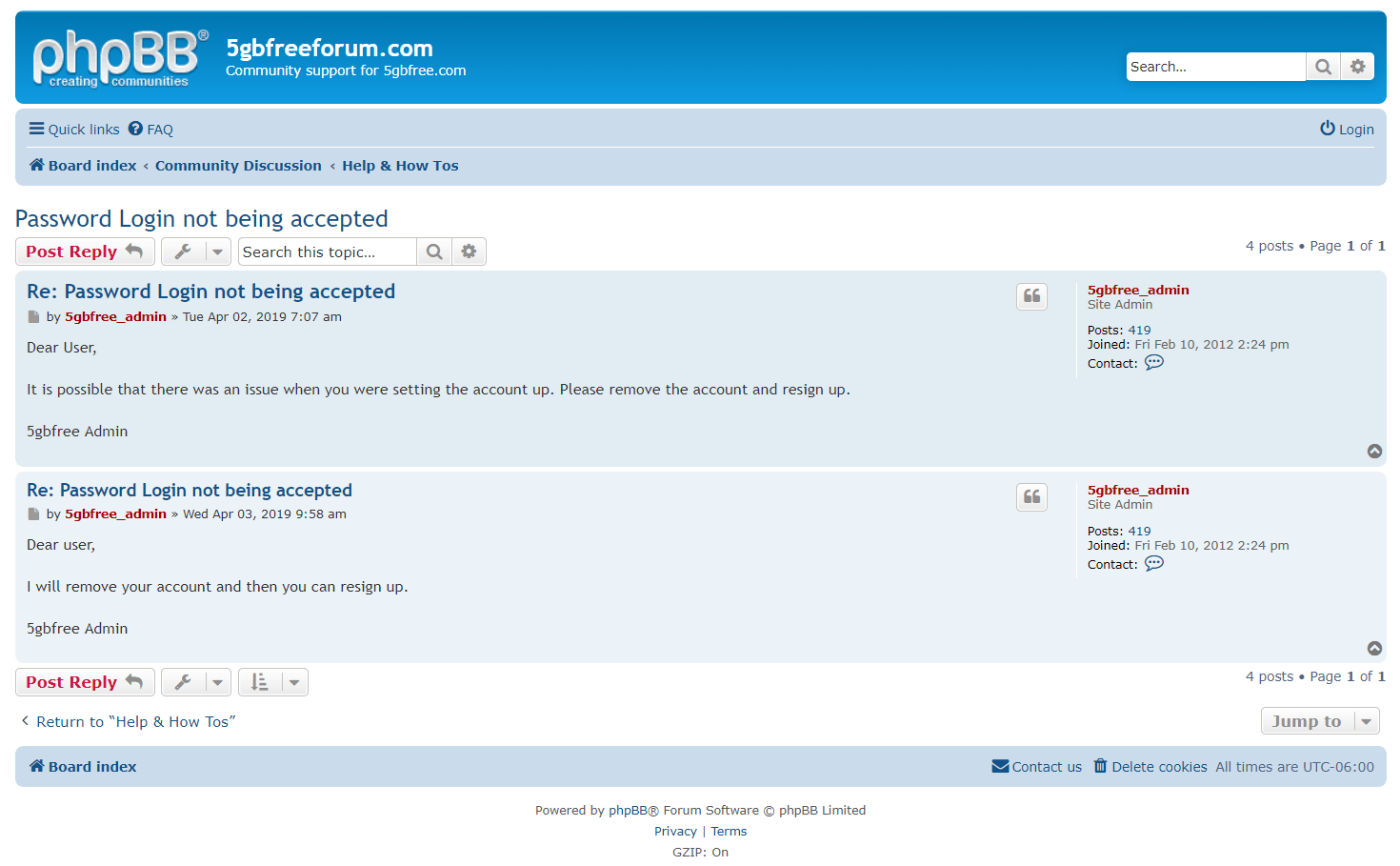 How much does 5GBFree cost?5GBFree offers plans from $0 to $2.95. The price depends on which type of hosting plan you choose. You can see the updated pricing table (updated weekly) below.
Which 5GBFree plan should I get?My recommendation is to start with a cheaper plan. You can always upgrade later on. 5GBFree can help you with the migration to a more expensive plan. The increase in visitors many times takes longer than expected and you shouldn't pay a lot of money until the need arises. Of course, your needs may vary, and you can consult with a hosting expert from 5GBFree here.
How good is 5GBFree's customer support?5GBFree is not ranked as one of our top web hosts. But that can also be a result of 5GBFree being a small, under the radar, hosting provider. There are advantages to a small hosting company – as a customer, you are more important to them. You can also check out our comparison of the most popular web hosting services here.