right tools
, the process is much simpler than you might think. And your efforts will be worth it. If your blog will be mostly for personal use (e.g., journaling), you'll certainly gain satisfaction from expressing yourself creatively.
But if you have ambitions to monetize, then your prospects for growing your business will certainly be better with a blog than without one
. Here's what some research shows, for example:
Small-business blogs generate over 125% more leads
In the U.S., around four out of every five consumers trust advice on blogs
Blogging-focused marketers are typically 13x more likely to see a positive return on their investment
So whatever your motivations are for making a blog, the first step is simply to start. All it takes is four steps. And once your blog is finally up and running, you'll be primed to promote it, attract readers, and grow your brand.
Step 1: Choose a Website Builder
There are dozens of popular website builders available online, and each has its own strengths. Therefore, when choosing a website builder for your blog, it pays to do some research. By all means, don't make a choice hastily. Someone who's building a blog, for example, will have different needs than someone building an e-commerce website. For starters, it should offer a
good selection of good-looking, mobile-friendly templates
. These days, most people surf the web and read content on mobiles rather than on desktops – so it's crucial that your potential readers can read your blog on all kinds of devices. Next, it's also important to have an
intuitive and user-friendly content management system (CMS)
. Make sure you can easily write, add media, and organize posts using the system you choose. And finally, you'll want a builder that offers SEO tools. If you want your audience to grow beyond just your mom and a few friends, you'll need to get it found on search engine results. For blogs, that means editing some basic settings like SEO titles and descriptions, to help the right readers find your content.
Zyro might not be the best-known name in the website-building industry, but it's one of my favorites for a few simple reasons. Not only does it offer 
competitively-priced plans and an easy-to-use editor
, but it also has a great selection of
beautiful, customizable, and mobile-responsive templates
. Rather than offering a vast selection of tools, Zyro focuses on a core set of features to help even complete beginners get a website up and running quickly. For bloggers, there's more than enough on offer. Here are some other features that make Zyro ideal for beginner bloggers:
Beautiful blog templates
Zyro offers over 100 designer-crafted templates – all of them quick-loading and mobile compatible. While eight are designed specifically for bloggers,
it's possible to add a blog to any Zyro template. 
It's important that your blog has a distinctive look and feel, one that conveys some of your personality (or your business's brand). Zyro's template selection gives you plenty of options –
from clean, minimalist, and professional designs, to modern, image-heavy layouts.
There's also a great range of customization options, allowing you to alter any template to suit your own personal style with
fonts, colors, layouts, and more.
Drag-and-drop Interface
As a blogger, you should be focused on creating content and getting it out to your audience. You shouldn't have to waste countless hours learning complicated features on your website builder, or even worse, learning coding languages like HTML. It's just not necessary anymore. Zyro's drag-and-drop functionality means that
all you need to know to design and maintain a website is how to drag, drop, and click
. Furthermore, as you reposition your content elements, Zyro uses a handy grid function to ensure those elements are aligned and well-spaced. Editing your blog couldn't be faster.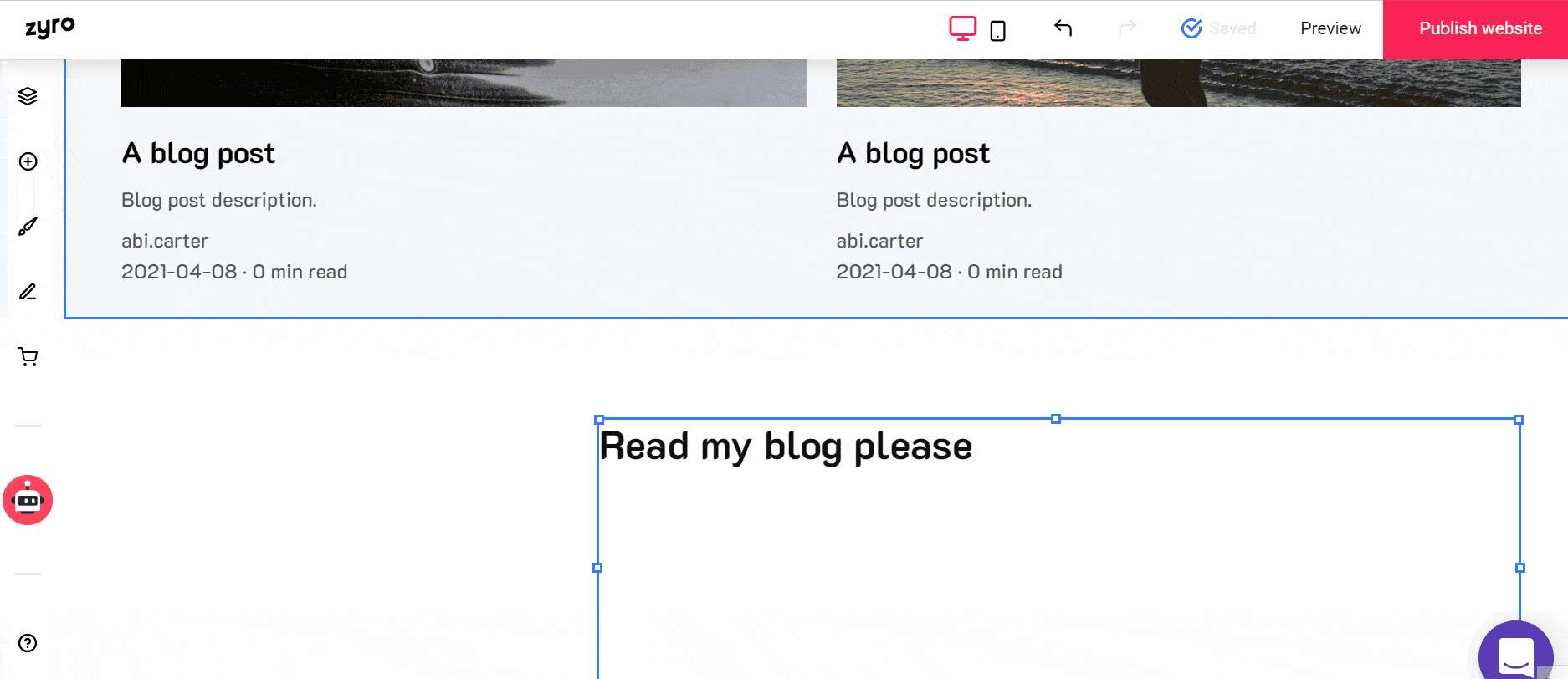 Other platforms like WordPress only provide a container for your content. You need some knowledge of HTML to expand the functionality of your blog.
SEO Capabilities
You might produce the best content that outshines your competitors, but you actually need eyes on it first for your blog to succeed. That's where SEO steps in, and fortunately, Zyro can improve your blog's rankings on search engines. For example, Zyro can directly
optimize your webpage titles, meta descriptions, headings, image alt attributes, and URLs for SEO
. By contrast, platforms like WordPress offer some of these features only through outside plugins. If you're completely new to SEO,
Zyro also offers a useful selection of guides, hints, and tips in its knowledge base
, which will walk you through the necessary steps to make your blog search-friendly. Zyro has articles covering everything from page titles and alt texts to sitemaps and domain verification, in simple, easy-to-understand language.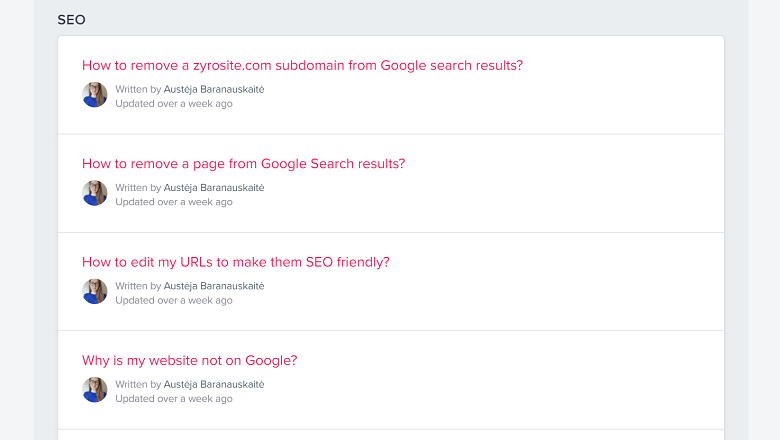 Mobile-Optimized Layouts
Zyro layouts are optimized for mobile.
A mobile-friendly website is automatically created for you based on your desktop version
. You can view and edit this right in the Zyro editor. Simply click on the mobile button in the upper toolbar. In the mobile editor, you can reorder elements, set different text styles, resize elements, change gaps between elements, change section padding, and change menu positions.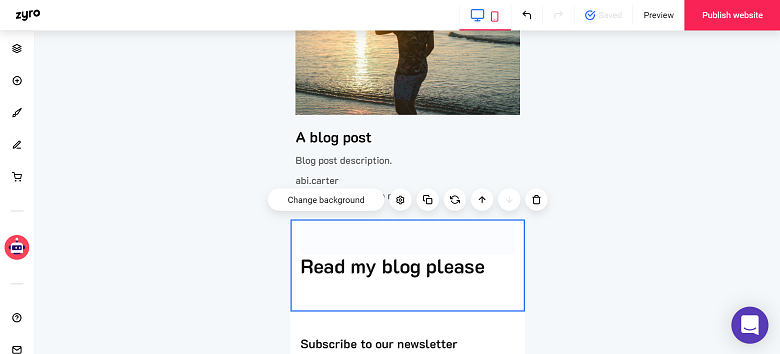 This is essential, because, again, a huge segment of your blog visitors will read your content from their mobile device. You need to make sure your readers' experience will be as smooth on mobile as it is on a desktop.
Not Sold on Zyro? Here are a Few More Website Builders to Consider for Your Blog
Zyro is our choice for the best website builder for bloggers, but that doesn't mean it's yours. There are some other good options on the market for beginner bloggers. You should take the time to research multiple platforms before making a final decision.
1. Jimdo
First stop on our list of website builders is Jimdo.
Jimdo claims you can build a website in 3 minutes
with absolutely no coding experience required. It provides the tools to help you build your blog and drive traffic to it. How do they help you? Here are a few ways:
All templates are fully customizable and mobile responsive
Simple drag-and-drop builder
An AI tool (Jimdo Dolphin) that will build an entire website for you
Personalized SEO help
Free domain
2. Squarespace
If you were attracted to Zyro's good-looking template designs, but want
a builder with a few more powerful tools up its sleeve,
Squarespace could be right for you. Well-known as the home of gorgeous website designs, Squarespace also offers a robust suite of blogging tools and other features:
Hundreds of customizable settings, including fonts, colors and padding, to make your website look totally unique
Loads of options for customizing blog posts, including text, audio, video, and more
Integrated commenting system, supporting threaded comments, likes, content moderation, reader feedback, abuse filters, and customizable settings
Option to publish content by different authors on your blog
3. Web.com

Bloggers may also want to consider Web.com. One of the oldest and best established website builders out there,
Web.com offers a bunch of useful tools for bloggers
, including:
Selection of hundreds of well-designed templates with easy customization options
Library of free stock images to help you create visual blog posts
Suite of useful SEO tools to get your blog found online
Option to get a professional on board to help design your website and write SEO-friendly copy.
4. SITE123
SITE123 showcases its standout feature right in its name:
speed
.
SITE123 wants to make designing your blog as easy as one, two, three.
They do this a few different ways:
A website builder that only requires you to input your content — no coding or even dragging and dropping required
Ready-made layouts you can use in minutes
Mobile optimization
Free hosting
Affiliate link program so you can make money while blogging
Step 2: Get a Domain and Find the Right Web Hosting
To get a website up and running, you need two important elements:
A domain name (YourWebsiteName.com)
A host to connect your website content to the internet
When you build your website with Zyro, Zyro is your host. If you pay a monthly fee, that will ensure your content will load more quickly and reliably. Another reason you should pay for your domain name is so
your website will look more professional
. YourBusinessName.com seems a lot more trustworthy than YourBusinessName.Zyro.com, which is the domain name you'll get if you don't pay. When choosing your domain name, keep in mind that
.com, .net,
and
.org
are generally considered to be the most professional-looking extensions. If you choose a service other than Zyro and need a host, make sure you find an affordable option you trust. Sometimes, a domain name is offered for free with a hosting package.
Step 3: Set Up and Design Your Blog
Now, it's time to design a blog. With Zyro, it's easiest to first browse the template library and then start editing your favorite. You'll need to enter a few details to sign up, but no credit card is required.
Choose a Layout/Theme
As I mentioned above,
there are eight Zyro templates designed with bloggers in mind,
but it's possible to add a blog to any template, so don't feel constrained by this. Also remember that you'll be changing all of the pictures and text, so pick the template you like the look of the most. I chose this blog template designed for podcasts: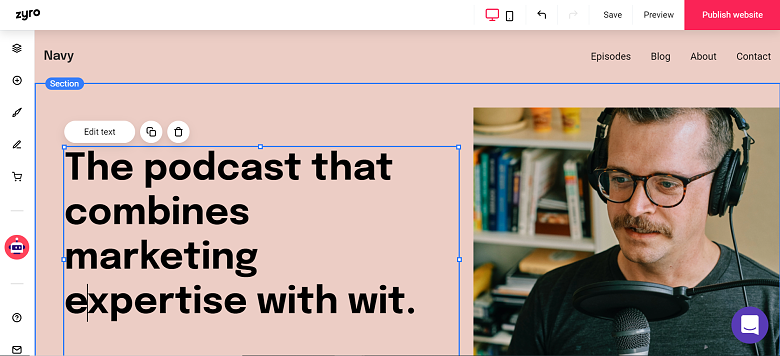 Create a Blog Post
If you started with a blog template, your Zyro website should already have a blog built-in. If not,
simply click the button that looks like a pen in your left-hand menu.
This will open up a sub-menu where you can manage all of your blog posts. To create a new post, click the
+ Add New Post
button at the bottom of your screen.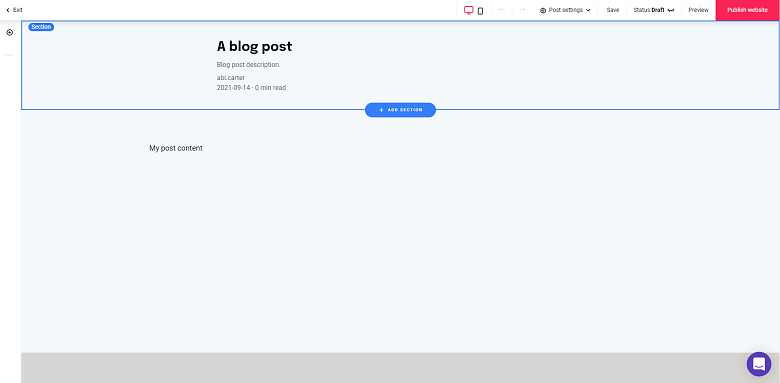 You can then build up your blog post by adding text and other blocks like images, videos, maps, social icons, and more – the same way you build other pages on your website. I clicked the blue
+
icon to add an image into my post.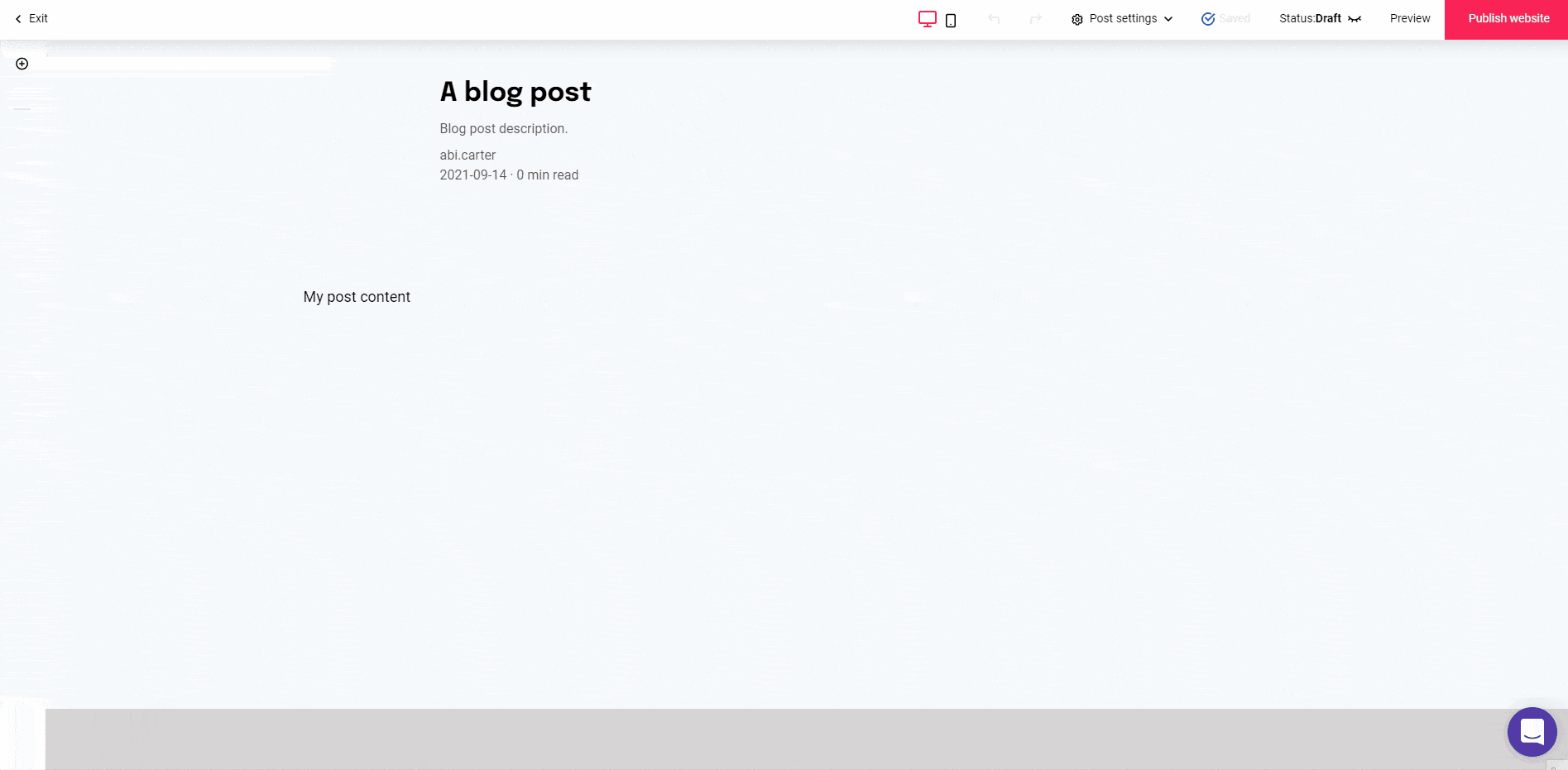 If you click on
Post settings
in the top-left of your screen, you can
set the SEO title, meta description, and URL of your post, as well as choose a featured image and set which category it falls under
– categorizing helps for indexing your posts if you're going to be writing a lot.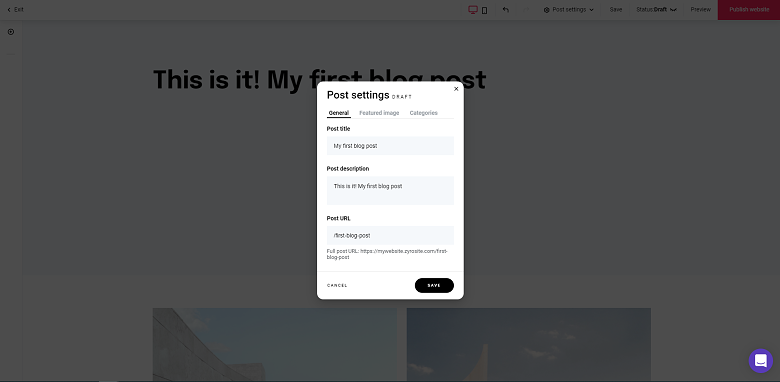 Once you're happy, click the
Status: Draft
button to publish your post (you can toggle it back to draft if you want to unpublish it). You can also click
Preview
to see what your post looks like before you publish it. This is how your posts will display on your website: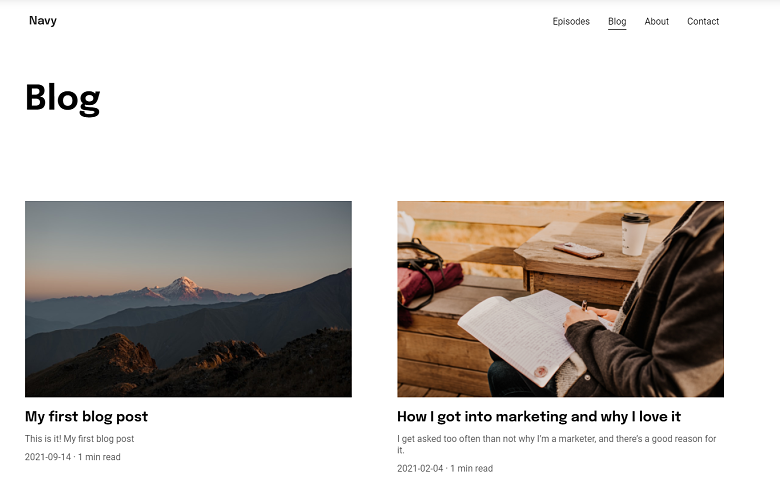 Add Other Content

Aside from your posts, you might want to add a few other pages to make your blog website feel more fully-rounded. This might include an "About" page with more information about yourself and why you blog, or a "Contact" page for readers to get in touch and sign up to your mailing list.
Most Zyro templates will come with a basic outline of these pages.
You can just fill in the gaps with your own content. Alternatively, if you're feeling a bit stuck for ideas, you could
try out the Zyro AI Writer
, a tool that will generate SEO-friendly text to put on your website. I gave it a whirl to generate text for my "About" page – and it wasn't bad. Just a few tweaks to the text and I had some great copy.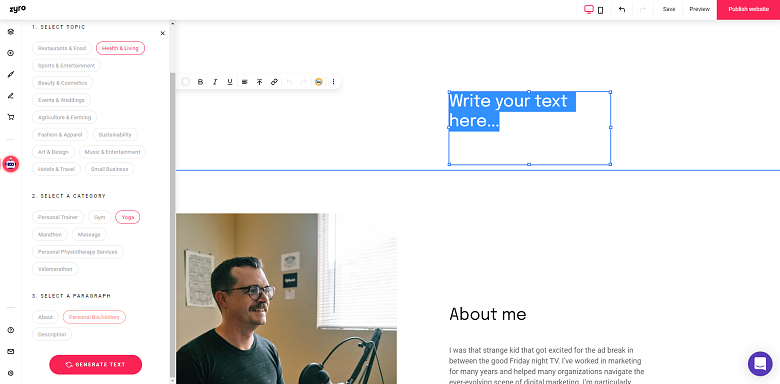 Start Designing
Your blog and other website pages form the basic structure of your site, but design elements are important, too.
To customize the look of my homepage, I started by changing my color palette.
Click the
Website styles
button (the paintbrush) in the left-hand menu of your Zyro editor. Here, you can select colors and fonts to use across your whole website. I chose a new color palette and text style.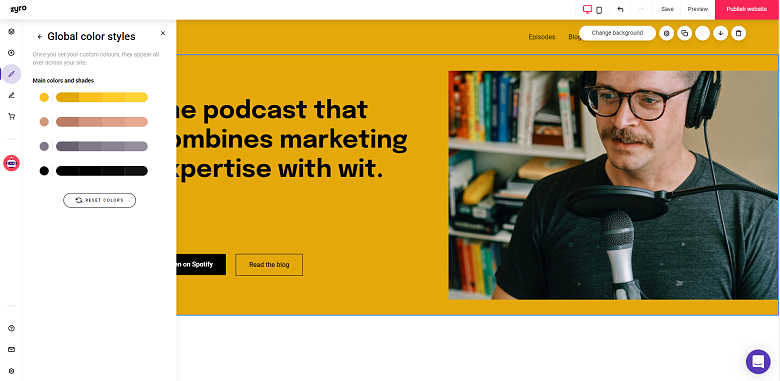 I then further customized my homepage by adding extra content, such as a featured blog posts block, a gallery, and an Instagram feed.
With Zyro, you can either add a new section by clicking the blue
Add section
button on your page, or drag content into an existing section by clicking the
Add element
button in the left-hand editing bar.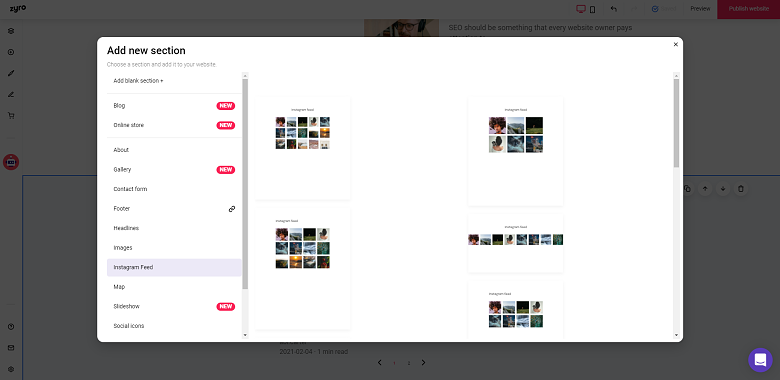 And that's pretty much it! You can keep editing the design, layout, and content of your website until you're happy with it. Zyro is so simple to use, you can work out how to do pretty much anything by just clicking your way around the editor.
Optimize for Mobile
One final check you'll probably want to carry out before you publish is to
make sure your site is optimized for mobile.
Just click the icon at the top to enter the mobile editor: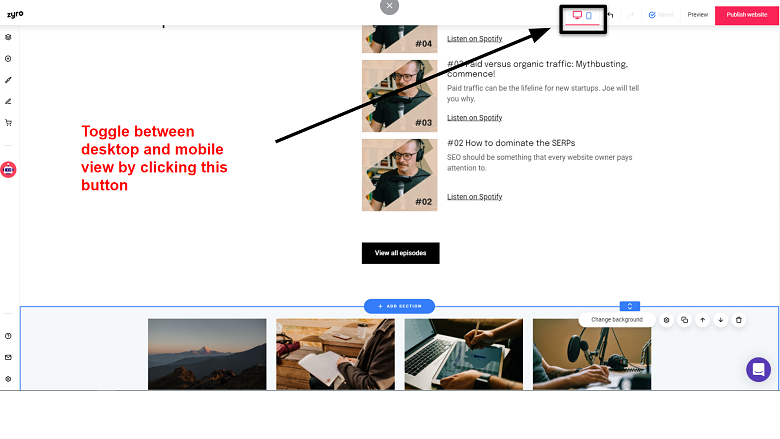 From here, you can drag and drop content to reposition it, resize buttons, images, and text, and change anything else that doesn't look right. Since
all Zyro templates are automatically optimized for mobile,
you shouldn't have to make too many changes, but the option's there if you need it.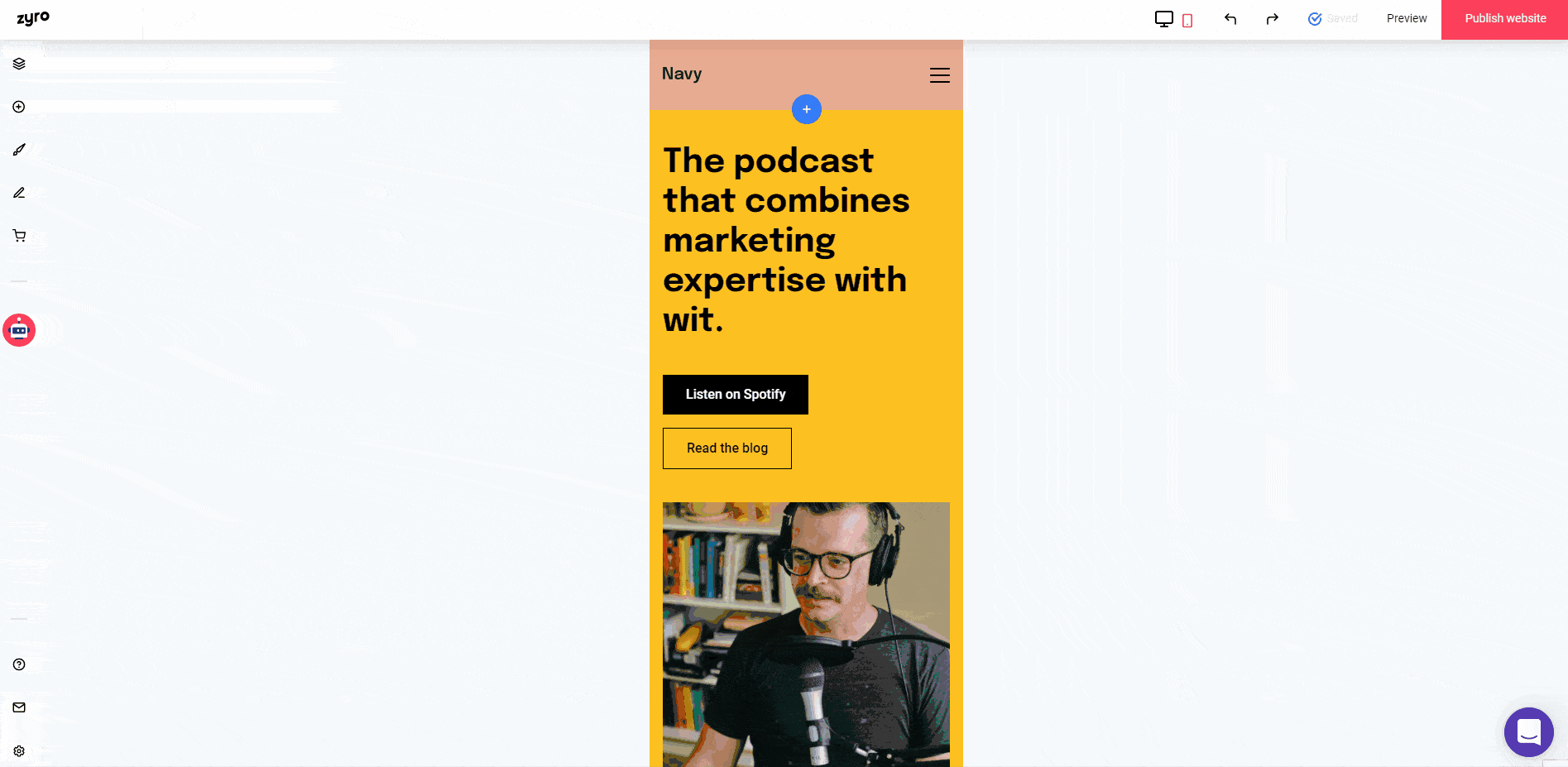 Learning Zyro doesn't take long, but as with learning any system, you'll have to experiment for yourself to become an expert.
Step 4: Grow Your Audience
Of course, people need a reason to come to your blog, so give them one as often as you can.
Update your blog consistently
. Set aside time in your schedule to blog — the more, the better. Growing your readership can lead you to opportunities you've never dreamed of, but you aren't going to achieve much if you don't post valuable content often. No matter what new content you provide, social media is a fast way to promote it. Make sure your blog has
social media buttons that are easy to find
on your website. Cross-promote your content on all of your social media platforms, and use scheduling features to help make this easier. And use
hashtags
! If you don't, it's harder to grow your audience because only people you follow will see your posts. Hashtags automatically make your content available to people who will be interested in it. But on social media, don't just promote your content and do nothing else. That would make you seem more like a robot instead of a human. Especially for blogs, people want to know that they're connecting with a real person.
So on your social media posts, actually talk with potential and current readers
. Tell them about yourself and why you're an expert on your topic. You can also tell them why your business is the place to go for certain products. Showing readers that you're relatable and reliable will get them to trust you and follow your blog for years to come. According to 2017 statistics, about
409 million people read more than 23.7 billion pages every month
. That's a lot of readers you don't want to miss out on! Helping your blog achieve its highest readership requires a delicate balance between interesting content, social media marketing, and dedication.