Not all website builders offer the tools you need to build a unique portfolio that will stand out in your industry. No matter what medium you work in, you need a builder that will help you create an eye-catching site to best represent your work (and preferably – for free).
I tested the top website builders to bring you only the best ones for your portfolio site. These builders offer portfolio-specific templates, enough storage space to upload your best quality images (HD images can take up a lot of space), and contact forms to help potential clients easily reach out to you. Read on to find the right portfolio builder for you.
Short on Time? These Are the Best Website Builders for Portfolio Websites:
Wix –

Lots of templates and a great selection of dedicated apps for portfolio websites

Zyro – The easiest way to get an online portfolio up and running
Squarespace – Gorgeous template designs, perfect for artists and creatives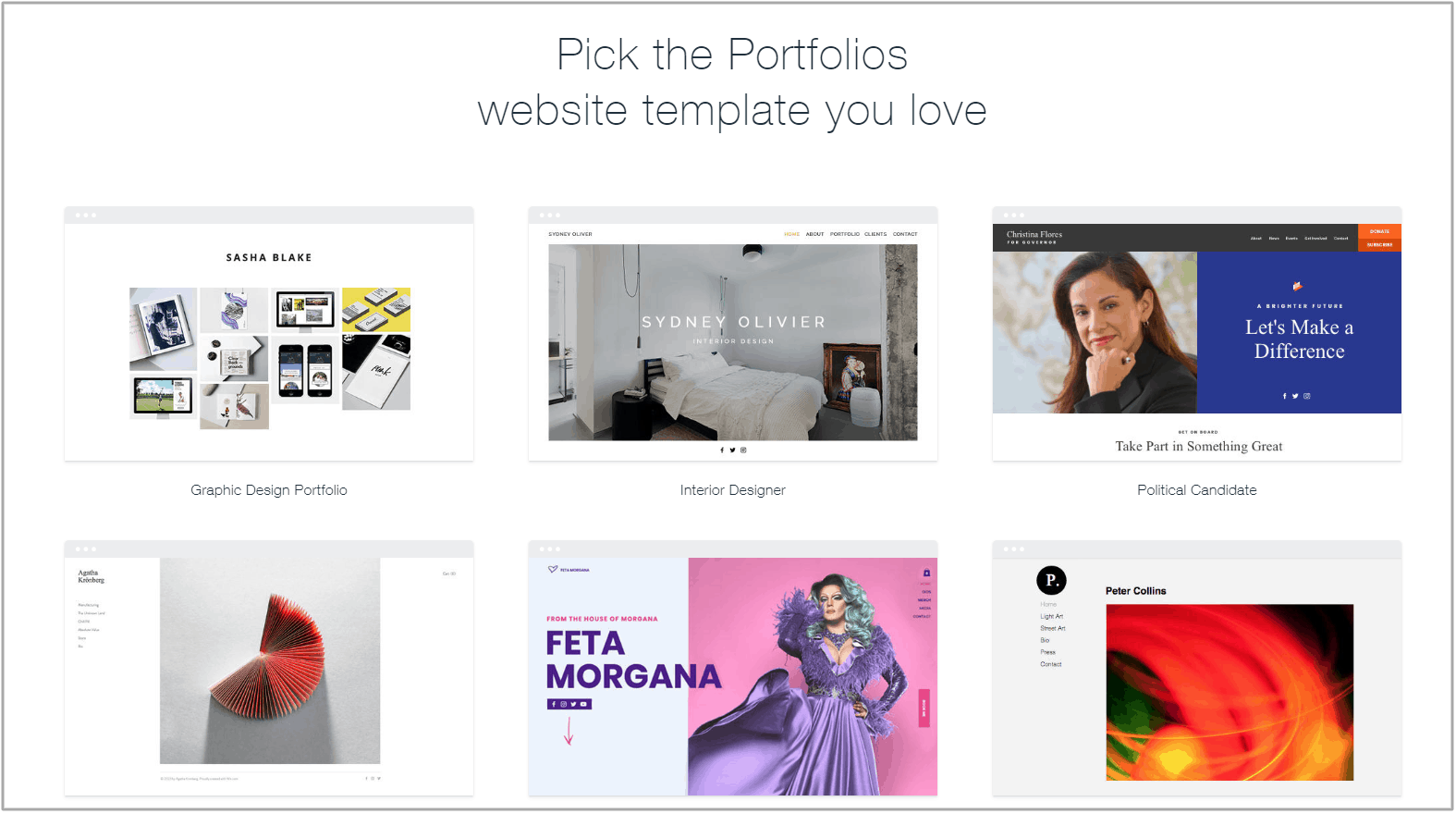 Wix is a hugely popular choice for portfolio websites. It's easy to use, and it gives you the most flexibility. You can arrange elements on your pages exactly as you like.
You can choose between 800+ templates, and 40 of these are designed specifically for portfolio websites. I love the quality of the templates, and they all look fantastic.
But choose your template very carefully. If you decide to switch to a different template later on, you'll have to rebuild your website from scratch.
While Wix's templates aren't mobile-responsive, you can edit the mobile version of your website in the special editor to make it look good on any device.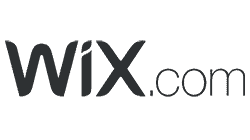 Get 33 % Off Wix's Combo Plan
Sign up for two years with Wix and get 33 % off the total cost!
3901 users used this coupon!
Features
Video streaming included in paid plans. If you have lots of videos in your portfolio, Wix has you covered. While the free plan puts strict limits on space and bandwidth, the paid plans include HD video streaming — from 30 minutes to 2 hours.
Portfolio app. If you're not in love with any template from the portfolio category, you can choose a template from any other category and turn it into a portfolio website. Just use the Portfolio app from Wix's App Market. You can try it out for free, or subscribe to the premium version for less than the cost of fancy coffee from a cafe.
Article curation app for regular updates. If you're a writer or journalist who regularly writes for websites, you'll love the "Create a News Page" app. It will pull together your articles from those websites in a dynamic, regularly updated page that resembles a traditional newspaper.
SEO wizard to get your portfolio noticed. When you use Wix's SEO wizard, you'll be given a list of things you can do to improve your portfolio's position in search results. The better your ranking, the more likely potential clients will find you.
| | |
| --- | --- |
| Number of portfolio templates | 35+ (Portfolio category) |
| Storage space | 500MB on free plan; from 3GB to 50GB on paid plans |
| Mobile-responsiveness | Templates are mobile-friendly, not mobile-responsive; you can edit a separate mobile version of your website |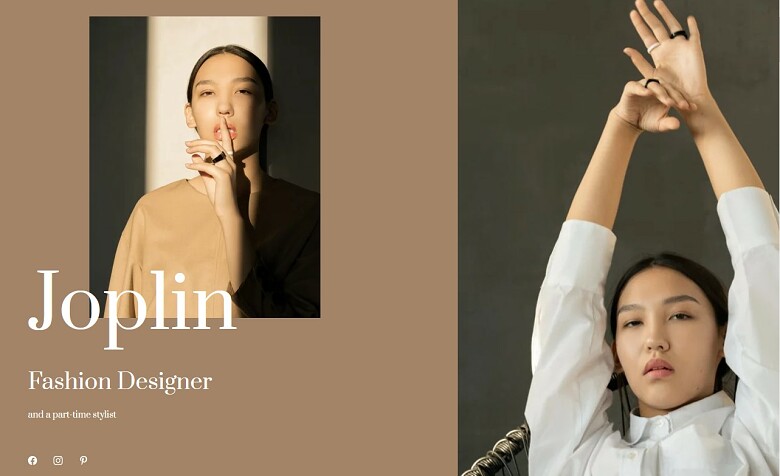 Zyro is a user-friendly website builder with built-in artificial intelligence (AI) tools that can enrich your portfolio site by generating content, and tracking how site visitors navigate each page. You deal with the work, and Zyro handles the words – teamwork!
The builder is targeted toward people who have zero coding skills and has the usual built-in features that any beginner would need. There's a large library of mobile-responsive templates, an easy-to-use editor, free hosting, a free SSL certificate, and a 30-day money back guarantee for the "just in case".
Zyro has around 70 templates to choose from, including over 15 in the portfolio category. The templates have been designed with aesthetics in mind, so they are clean, sleek, and built to highlight your work.


Save Up to 72 % on Zyro's Unleashed Plan
Sign up for a yearly plan and get a free domain plus hosting!
44 users used this coupon!
Features
AI writer for the content. Zyro has a built-in AI Writer that analyses copy from each industry niche, and then generates text for your site. Plus, it follows best practices for SEO.
AI Heatmap to track your site visitors. This tool shows you how your visitors are navigating through your pages so that you can rearrange your elements to maximize conversions.
Online store. You can set up an online store on your site with the most basic of basic e-commerce functionalities (e.g., there's no help when it comes to figuring out how to tax or ship your products). But, if all you need is the capability to accept credit card payments for your services, then it will suffice.
Unlimited bandwidth and storage. The very reasonably-priced paid plans for Zyro (besides the Basic plan) come with unlimited bandwidth and storage so that you can upload as many files to your site as you need to. Currently you can't upload videos – you can only embed them from other third-party sites.
| | |
| --- | --- |
| Number of portfolio templates | ~15 |
| Storage space | Unlimited |
| Mobile-responsiveness |  All templates are mobile-responsive |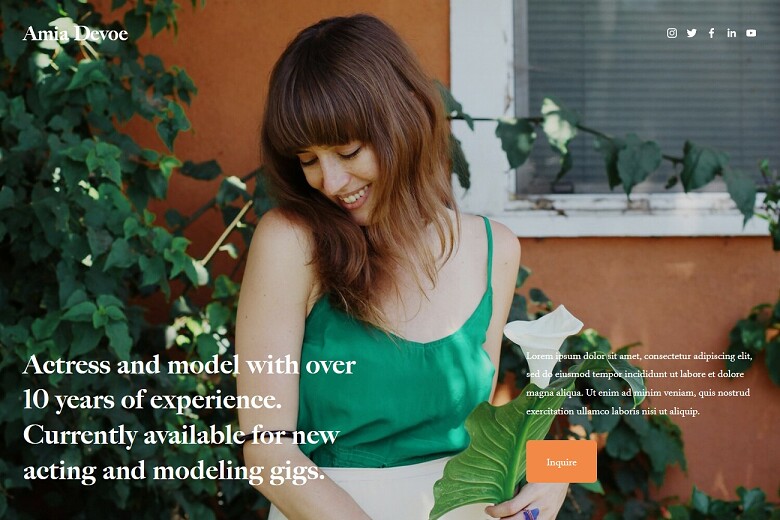 Squarespace is often praised for its striking templates, and its Personal & CV template category is no exception. These templates come with the space to present your work in the best possible light, and even templates outside of this category can work with a few tweaks.
The block editor lets you choose from a series of page layouts and gives you some freedom to customize the look of your site.
The page elements (buttons, headers, etc.) snap to a grid, so you don't have complete freedom to place them anywhere you'd like – but there's an upside to this limitation. Squarespace's layouts are well-thought-out, and when you work according to the grid, everything stays neat and aligned, without distracting visitors from the real star of the show – your work.
Squarespace has a series of eight different gallery layouts to display your photos, and you can also find layouts for appointment scheduling, contact forms, customer reviews, and more.
Unfortunately, there isn't a free forever plan, but Squarespace does offer a 14-day free trial.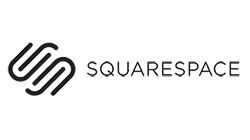 Save up to 30 % on your Squarespace plan today!
Plus get a free domain for one year!
1031 users used this coupon!
Features
Built-in image editing. Squarespace boasts the most image editing options, allowing you to make a range of adjustments (e.g., brightness, contrast, saturation, sharpness, shadows) so your photos look their best.
E-commerce functionality. You can sell a variety of products on Squarespace, including digital and physical products, services, and even gift cards. You can keep track of all sales from your dashboard.
Integrated marketing. When it comes to spreading the word about your products and services, you can keep everything in one place: Squarespace integrates social media, email marketing, and SEO, and you can manage it all from your account.
Unlimited bandwidth and storage. Squarespace doesn't put a cap on your bandwidth or storage, which is particularly useful for media-heavy websites.
| | |
| --- | --- |
| Number of portfolio templates | ~10 |
| Storage space | Unlimited |
| Mobile-responsiveness |  All templates are mobile-responsive |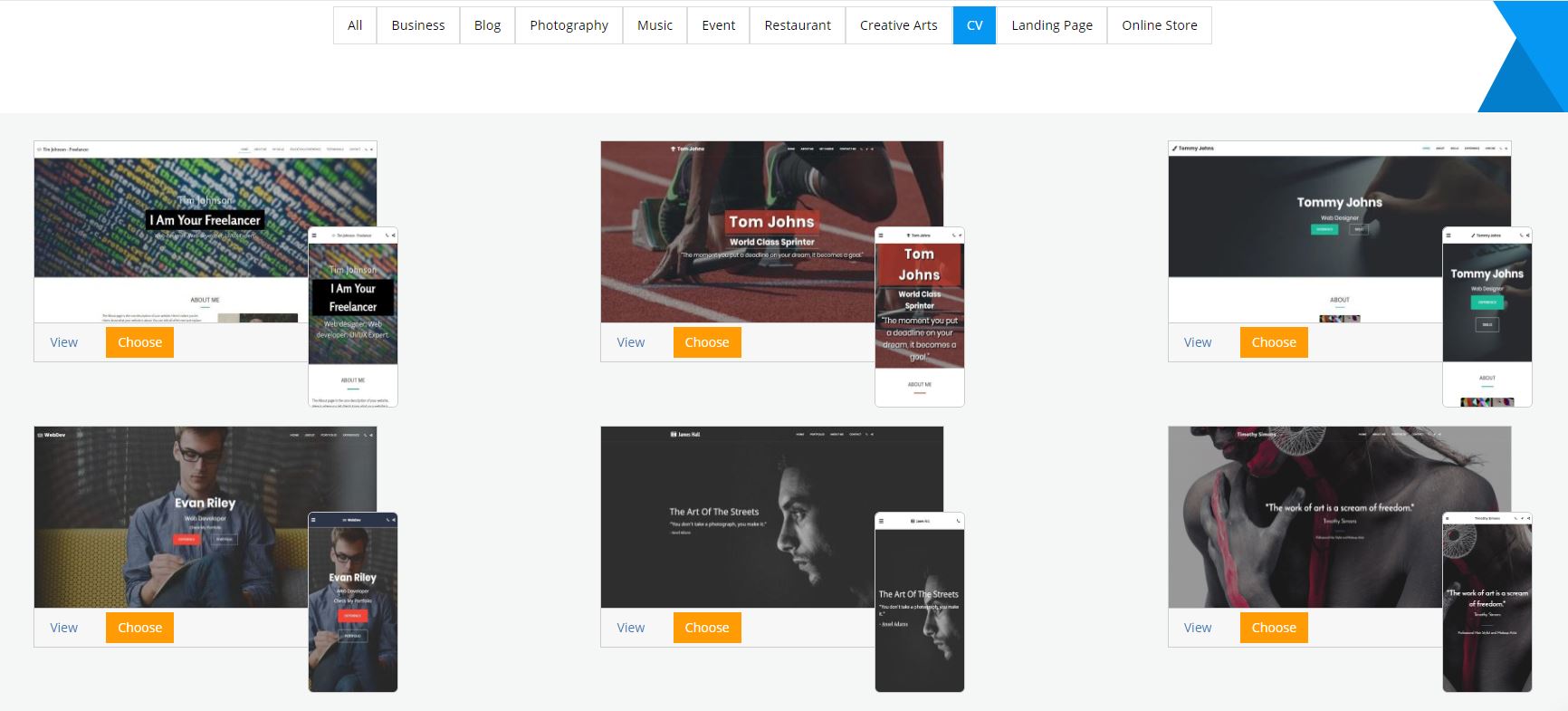 Building your portfolio with Site123 is really simple, so it's a great option if you're a beginner. Plus, you get all the features that you need, including gallery layouts with fast loading times.
There's a single portfolio templates, but you can still customize any other available template to create a website that reflects your personality, looks professional, and has the features you need to get your work noticed.
Apps are available in the App Market, but only one of these is really suitable for portfolios. Cincopa allows you to use photo and video slideshows on your SITE123 website, with your images being hosted by Cincopa for faster page loading times.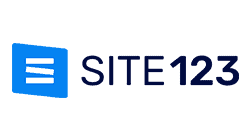 Pay $12.80 a month at SITE123
This offer is valid when you sign up for the annual plan
195 users used this coupon!
Features
User-friendly editor. SITE123's editor is as simple to use as an online form. Options for changing your design, editing your text, and changing your layouts are all easily accessible in the toolbar.
80 different languages. SITE123 is great for multilingual sites. You can target multiple audiences on a single website.
Multiple websites. If you work in different niche areas — for example, if specialize in both photography and web design — you can create separate websites with SITE123.
Drop-down navigation. You can easily arrange your work into categories using drop-down menus, to keep your portfolio easy to navigate.
| | |
| --- | --- |
| Number of portfolio templates | 1 |
| Storage space | 500MB on the free plan; from 10GB to 270GB on paid plans |
| Mobile-responsiveness |  All templates are mobile-responsive |
Make the Right Impression with Your Online Portfolio
While you can use any builder on this list to create a great-looking online portfolio for free, you'll need to consider what kind of impression a free site creates for your visitors.
For example, having a free site with ads and a subdomain can make it seem as if you're not really invested in showcasing your work.
Paid plans are relatively cheap and give you the advantage of choosing your own domain name and removing the ads from your website.
Which website builder should you choose to create your online portfolio? Here are our recommendations:
If you're looking for the most versatile website builder for your online portfolio, Wix is our hands-down winner. Not only can you choose from over 500 templates, but Wix gives you a huge amount of flexibility.
If you're looking for a website builder that lets you build your portfolio as quickly and as easily as possible, then consider SITE123. You can upload as many photos and videos as you like to really show off your work. Plus, there's a wide range of apps to enhance your portfolio's features.
Here's a quick summary of the best portfolio website builders:
Standout Features
Free Plan Restrictions
What You Get When You Pay
Wix
Good number of portfolio templates and portfolio-related apps

500 MB storage
500 MB bandwidth
Ads and Wix branding
Subdomain

Up to 20GB storage
Unlimited bandwidth
Video streaming
Custom domain

Zyro
Great AI tools to help you with content and analytics

No free plan available
30-Day money-back guarantee

Unlimited storage
Unlimited bandwidth
Access to Zyro's AI writer and heatmap tools
Custom domain

Squarespace
Gorgeous template designs that focus on visuals

No free plan available
14-Day free trial

Unlimited storage
Unlimited bandwidth
Tons of layouts for contact forms, customer reviews, and more
Custom domain

SITE123
Super easy to use, copyright protection

500MB storage
1GB bandwidth
Site123 branding
Subdomain

10GB-270GB storage
5GB-135GB bandwidth
Additional languages
Custom domain