Is email still a worthy marketing channel in 2022? If you look at its average ROI – $42 for every $1 spent – the answer is obvious. However, sending emails without proper planning isn't a smart move. Email contacts decay fast, so keeping a clean email list is a must. To get a better idea about email data quality and why it matters, we talked to ZeroBounce's Chief Operating Officer Brian Minick. A top player in the email space, ZeroBounce has been on the Inc. 5000 list three years in a row. Companies such as LinkedIn, Samsung and Airbnb use it regularly to ensure their marketing emails reach real people. In the
interview
below, Brian told us how ZeroBounce works and what you, too, could do to run more successful email campaigns.
Please give us some background on ZeroBounce. How did it start and what do you offer?
ZeroBounce started as an email validation and verification platform. Our goal was to make the email world better by improving data and preventing its decay. One aspect that helped us stand out was that the email validation came with some extra benefits – for free. From day one, there were perks such as:
24/7 customer support
the free removal of duplicate email addresses
extra data added to contacts, like gender and location.
In time, we've evolved into a richer platform that offers a variety of email optimization tools. You can not only clean your email list with ZeroBounce, but also:
score it to identify valid catch-all emails
test your email campaigns for the highest deliverability
monitor your IP and domain to ensure they don't get added on any blacklists
discover your most active subscribers and target them with special campaigns.
Anyone who sends mass emails or uses email for business communication will find these tools helpful. Our customers see higher engagement rates because more of their emails are landing in the inbox.
What exactly is email validation?
Email validation is the process that allows you to see which email addresses in your list are valid and which ones are risky. Think of it as "knocking at the door" of an email address to check if anyone's home. We give back a classification to understand if that email address is valid or not. If the mailbox doesn't exist, sending an email will cause a hard bounce. The number of bounces you get is a key component to getting into the inbox folder. That's why many email senders get worried when they have a high bounce rate.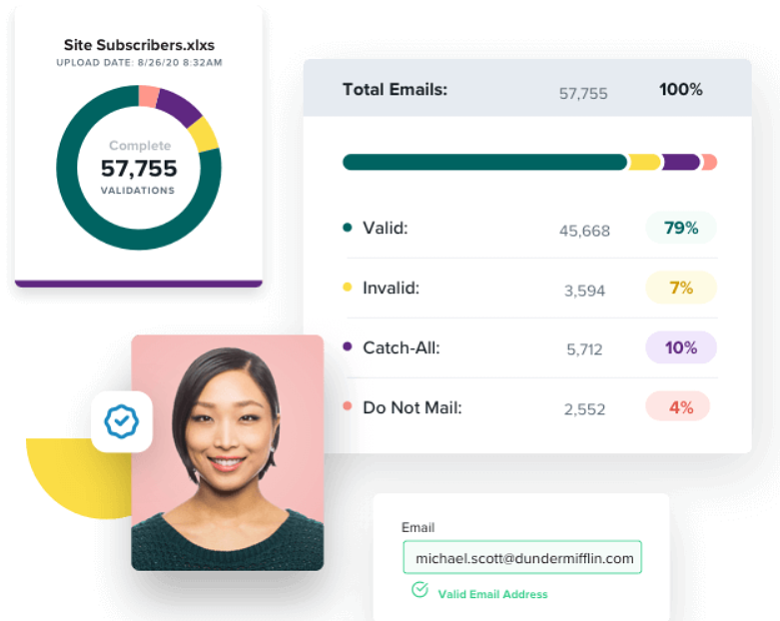 What would you classify as a high bounce rate?
The accepted industry benchmark is 2%. If you're getting more, it's a sign that your list needs cleaning because you have too many invalid contacts.
What is email deliverability?
Deliverability is a simple concept. It's almost an interchangeable word for "inboxing." The first step to getting into an inbox? Make sure that inbox exists by using email validation. It goes hand in hand.
How do you stand out from your competitors? 
There are many things we do to stand out from our competition, but these are the top 3.
Accuracy
We're relentless at being the most accurate validation service in the industry. We are constantly maintaining and improving our results. Things can change, such as how a mailbox might respond to our validation request. We have to adapt with it to give an accurate result. This will happen with no warning at all. ZeroBounce watches this and will immediately react to adapt to the new changes. That allows us to guarantee 98% accurate results.
Availability
Our team is available 24/7/365 – all real people with the goal of helping customers get the most out of ZeroBounce. We're the highest-staffed company in our space and you can actually get in touch with us. Trained experts in both email and live chat support work around the clock to help anyone who visits our website. Also, highly trained account managers help facilitate and guide enterprise customers through their challenges and help solve them. It's not something you get on any other platform, and our customers love this benefit.
Security
We don't just take your data and "do stuff with it." Quite the opposite, we don't have access to your data, we protect it with 256-bit encryption and religiously do penetration testing of our platform. ZeroBounce is also SOC II, GDPR and CCPA compliant, and undergoing more certifications as I'm typing this. What's more, we staff a Data Protection Officer who ensures we're following all regulations and are compliant with all of our security and data requirements. Some of our competitors cannot say this. We treat your data how we want our data treated, and would never share or sell your data. Being different, for us, is more than offering certain features. It's also how we think, our mindset. We all want to be the best at what we do, and simple interaction with us will prove it. We stand tall on everything we do and our customers agree, just look at our reviews.
A company is looking to run an email campaign. What is the one thing they must do?
They need to make sure that the email list they are sending to is healthy. Especially in the B2B world, where data is churning rapidly. Make sure you run your data through an email validation service. Remove the invalid emails without regret. Do this first, not after, when the damage might already be done.
What is the one thing that they must avoid?
Avoid purchasing or renting email lists. You really don't know where they came from. Those data points are typically filled with very bad and toxic emails that were put out in the universe to catch people who take these actions. While harder, acquire your email list the right way, by building it yourself. Also, use double opt-in. That means every new subscriber gets a link (via email) they have to click on to confirm their interest in your list. Lastly, keep on topic to what people signed up for. To build engagement, send them the type of content that you promised.
The world has been affected by the Covid-19 pandemic. How has ZeroBounce evolved over the last two years in response to the pandemic?
For starters, as soon as the lockdowns hit, we were fully ready to go 100% remote. While we did not expect it, we've always been prepared to do so. It was a decision made late at night, and the next day we were remote 100%. Most of our team members still have not been back to an office since Covid-19 started. However, we did have to reinvent how we do some things internally and move to more modern practices, such as daily quick meetings, monthly company meetings and much more to keep everyone on the same page. Two years in, I'm confident that we're in a really good place as far as our product, team and output goes.
What can we expect to see from ZeroBounce in future?
A lot of major UI improvements to our platform and some updates of our tools. You can also look forward to some more products and services that we'll offer in late 2022.