Forming a Limited Liability Company (LLC) can be an exhilarating yet daunting endeavor for any new entrepreneur. There's so much information out there, and it can be overwhelming to sort through what's relevant and what's not. That's where an LLC service can help. But
selecting the ideal LLC formation service that aligns with your specific needs is another challenge in itself.
Two of the biggest names in LLC formation are ZenBusiness and LegalZoom.
While both services provide similar solutions, they stand apart with a unique set of features, pricing options, and support.
I've explored both options to help you make the best decision for your new business. Both ZenBusiness and LegalZoom have a lot to offer, but
I believe that ZenBusiness stands out as the winner between the two
. With its robust suite of features and the flexibility to tailor your plan with affordable add-ons, ZenBusiness delivers unparalleled value that caters to businesses of diverse sizes and budgets.
Features
ZenBusiness Takes the Lead With Expert Guidance and Value-Added Services
LegalZoom and ZenBusiness provide an array of features that you may want as a new business owner.
Both offer free plans (minus state fees) that include the basics of filing your LLC documentation with any state.
While these free plans are pretty limited in features, the Pro and Premium options available for both companies offer a lot of value for your money. For LLC formation services, LegalZoom and ZenBusiness also both provide Employer Identification Number (EIN) registration support, Operating Agreements, and Registered Agent services as add-ons or as part of the paid plans. You can also choose to upgrade to expedited or rushed filing with either company. Notably,
ZenBusiness' fastest standard filing times (1–2 days) outperform LegalZoom's (5–14 days).
It's not much, but if you're really in a rush, an extra day can make a difference – though keep in mind that each state has its own waiting times once the paperwork has been submitted. Beyond just LLC formation, both companies offer add-ons that can make starting a business easier but differ on the specifics. Many of these add-ons might not be the cheapest on the market, but the convenience of managing your business all through one platform may be worth the added costs.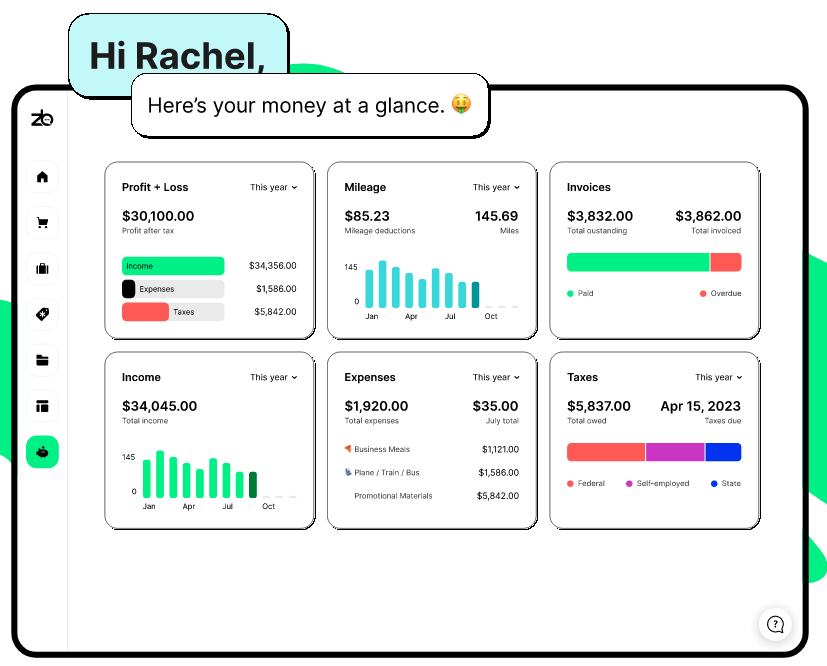 ZenBusiness' free 30-minute tax consultation is available to all customers – regardless of the plan you choose.
This is a great opportunity to gain valuable insights into your tax obligations and discover smart strategies to optimize your finances. Additionally, no matter which plan you choose, you'll get
free access to
ZenBusiness Money Essential
, business expense tracking software that's great for small businesses. Plus,
ZenBusiness offers a business website builder and a personalized business email,
empowering you to quickly establish your online presence and showcase your products or services to potential customers. It comes included in the Premium plan, but you can also choose it as a separate service. LegalZoom also offers a free website builder through a partnership with Wix for all its plans.
It may be good for a beginner site, but it isn't as robust as ZenBusiness' proprietary website builder and doesn't come with nearly as much storage or features.
Ultimately, neither will be as customizable as building a site from scratch, but having the option is always nice.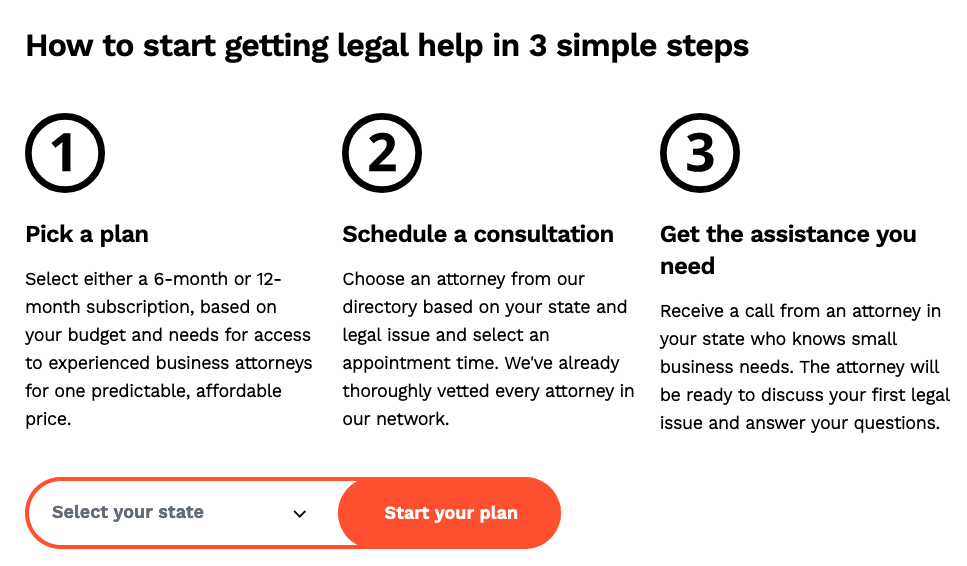 One notable advantage of LegalZoom is its legal consultation services, primarily available to premium customers as a 30-day free trial. If you're a non-profit or high-risk business with complicated services (like cannabis products or gambling), you can benefit greatly from expert advice on legal matters throughout the LLC formation process.
LegalZoom's team of legal professionals will guide you through complex legal requirements, ensuring your business is set up correctly and compliant with regulations.
Overall, ZenBusiness and LegalZoom have similar offerings, but
I think that
ZenBusiness' tax consultation, income and expenses tracking app, and proprietary website builder make it a better option for businesses across the board.
The legal consultation is nice if you have more complex needs, but most businesses won't require that level of support.
Ease of Use
ZenBusiness Excels in Ease of Use With a Guided, Streamlined Experience
When it comes to user-friendliness, ZenBusiness excels. From the moment you land on its website, you'll notice its clean and organized layout, making it a breeze to find the information you need. In comparison,
since LegalZoom offers more than just business services, navigating its website is much more cumbersome.
It's still not difficult, but there's a lot more to comb through to find exactly what you need.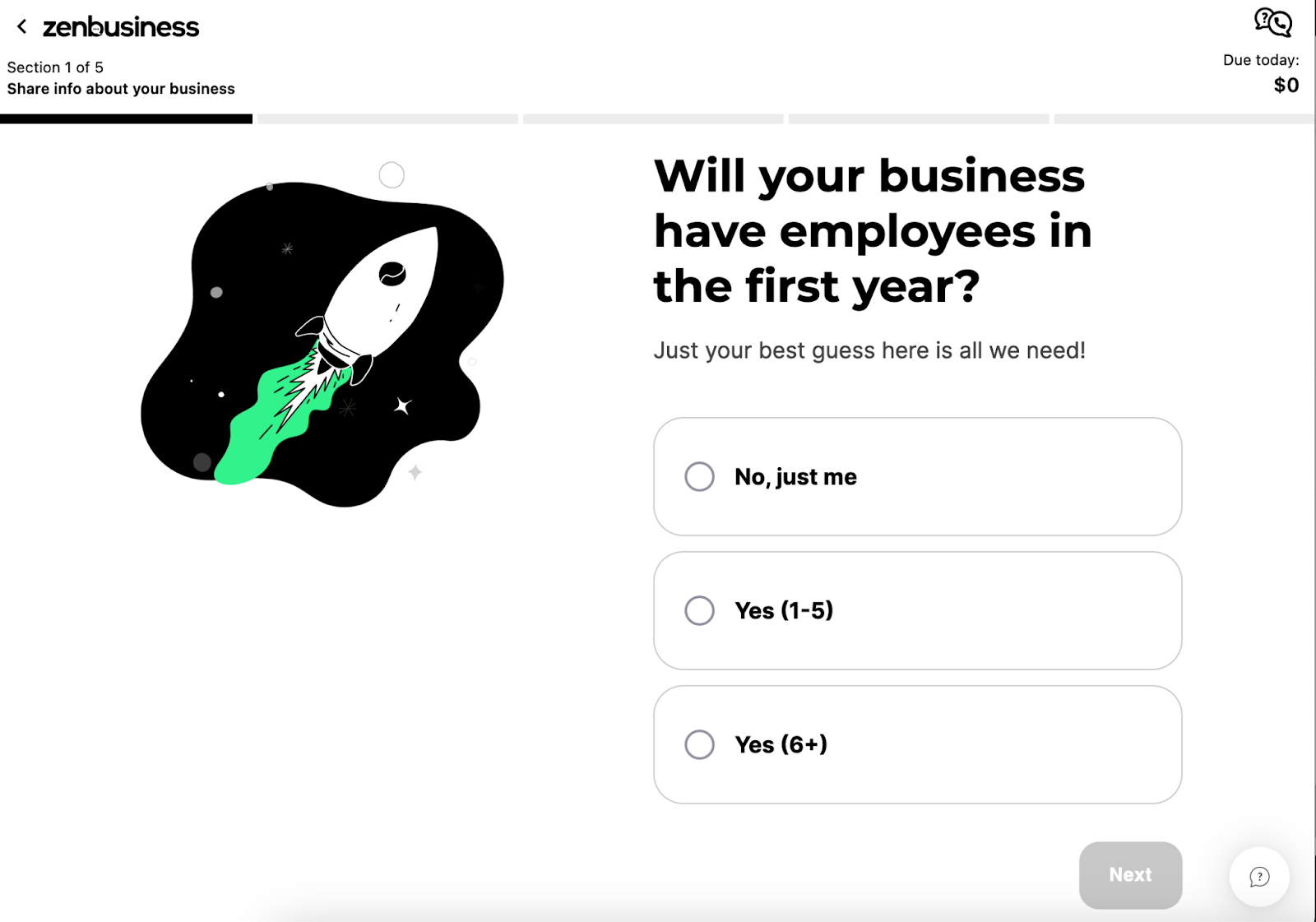 In terms of the sign-up process,
ZenBusiness offers an engaging and interactive questionnaire
. This feature not only makes the process more enjoyable but also ensures that users provide all the necessary information upfront.
Each step guides you through the process, with videos and additional information to increase your knowledge.
This is ideal if you're new to the business world, as it breaks down common terms in simple-to-understand terms, so you'll feel confident in forming your LLC. While
LegalZoom's sign-up process is relatively straightforward,
it lacks the interactive element found in ZenBusiness' questionnaire. There are no videos to help break down the information, and the resources it does provide aren't as newbie-friendly. However, it compensates for this with clear instructions and step-by-step guidance throughout the process.
I did find it annoying that I had to skip through all the upsells before even entering my business information,
but some – like deals with Square and Bank of America – may be useful for the right customer. Both companies offer apps for managing your account on the go, though
ZenBusiness' app has a wider array of functionality.
You can view your formation documents, access the ZenBusiness Money features, and chat with support directly from your phone. LegalZoom's app is much more limited – you can track your LLC formation status and schedule legal consultations, but not much else. Overall, ZenBusiness stands out as my personal favorite. Its website and mobile app offer a seamless and intuitive experience.
Though LegalZoom provides a solid user experience, it doesn't match the interactive nature and overall ease of use offered by ZenBusiness.
Pricing
ZenBusiness Offers Great Value at Every Price Point
LegalZoom and ZenBusiness understand the importance of catering to businesses with different budgets.
Both providers offer a free plan, making LLC formation accessible even for those on a tight budget.
However, delving deeper into their offerings, ZenBusiness emerges as the clear winner in terms of value and flexibility.
ZenBusiness has three main pricing tiers: Starter, Pro, and Premium.
The Starter plan is great for those on a shoestring budget since it's free.
But if you're looking for more features and perks, the Pro plan is worth considering.
Starting at
$
199.00
, it's competitively priced and includes handy benefits like expedited filing, annual report filing, and your EIN registration. ZenBusiness offers a Worry-Free Compliance service with all its plans, too, including the Starter plan. Now, here's where ZenBusiness really shines. Its Premium plan starts at
$
349.00
and takes things up a notch. In addition to all the goodies in the Pro plan, you get even more value, like domain name registration, a business website builder, and rushed processing time.
What's impressive is that ZenBusiness includes expedited filing as part of its Pro and Premium plans, which is a huge bonus.
LegalZoom's pricing model is similar to ZenBusiness in that it combines a mix of one-off fees and subscription plans.
Like ZenBusiness, LegalZoom offers a free Basic LLC formation plan that's ideal if you're on a budget.
But as you climb up its pricing ladder for more comprehensive features, the costs can add up. The Pro and Premium Plans start at
$
249.00
and include things like EIN registration, small business consultations, and business license support. But, unlike ZenBusiness, LegalZoom only offers expedited filing as a separate add-on even if you choose Pro or Premium, which can increase the overall price.
After considering the pricing structures and weighing the value both provide, my recommendation goes to ZenBusiness.
Its Pro and Premium plans offer affordable prices, expedited filing included, and valuable features like EIN registration and a business website builder, at a slightly lower price point. It's a win-win for your budget and business needs. Here's how the free plans from ZenBusiness and LegalZoom compare:
ZenBusiness
LegalZoom
Price of the cheapest or most comparable plan (minus state fees)

$

0

$

0

Stated filing time/range (minus state processing time)
2–3 weeks
5–14 days
Mobile App

✔

✔

Operating Agreement
Paid add-on
Paid add-on
Tax Consultation

✔

✘

Website Builder
Paid add-on

✔

Additional Add-ons Available
Business email address, domain registration, Money Pro invoicing and tracking
Legal consultations, copyright registration, small business specialist consultation
Support
ZenBusiness Provides Detailed and Helpful Support Across All Channels
Both ZenBusiness and LegalZoom take customer support seriously, with a range of options available to new and existing customers. ZenBusiness provides phone, email, and chat support, ensuring that you can reach it in a way that suits you best.
ZenBusiness support is available Monday to Friday from 8 a.m. to 8 p.m., Central Time, as well as Sunday from 9 a.m. to 6 p.m., Central Time.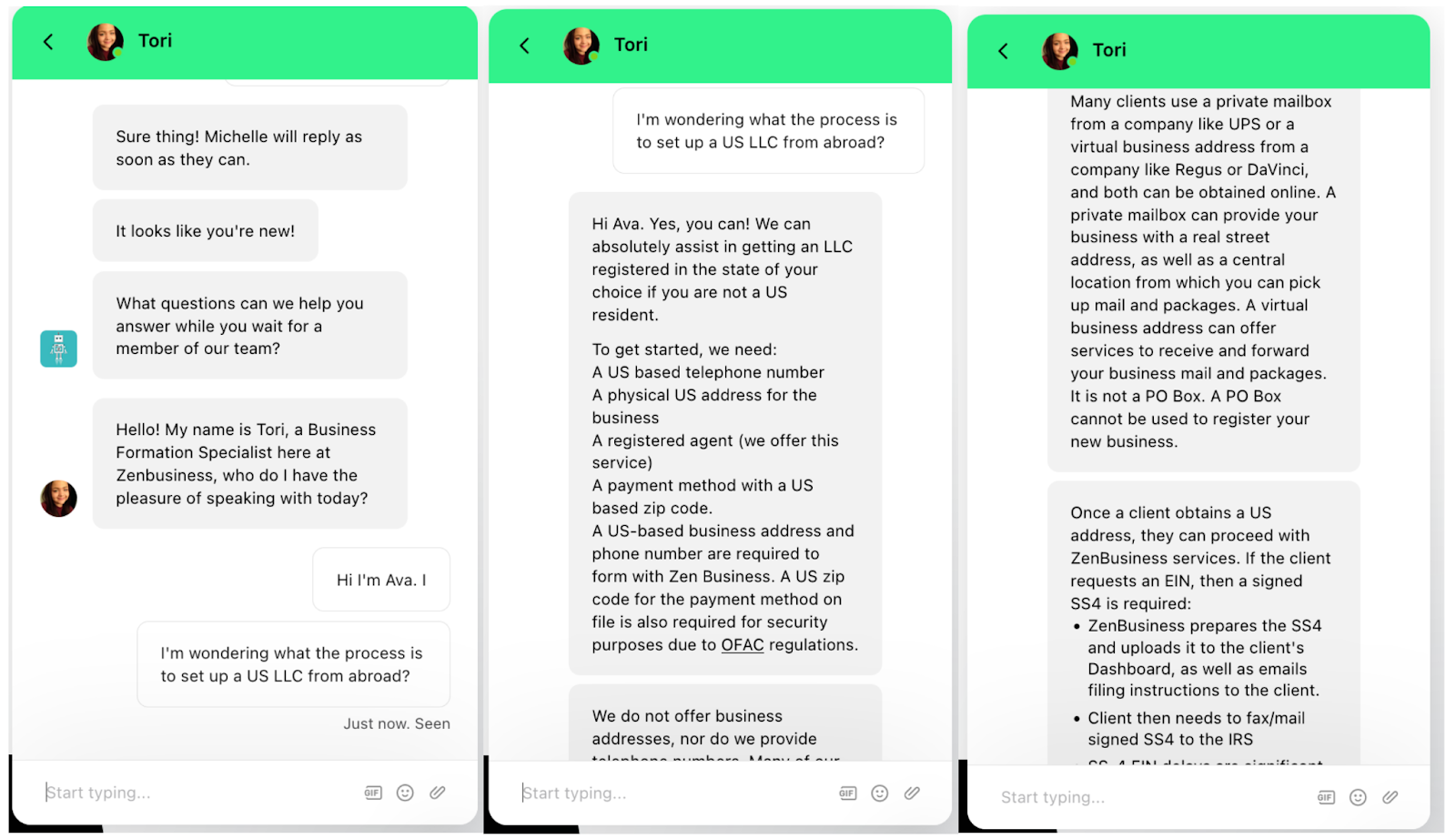 When I reached out to ZenBusiness' live chat for assistance, I was thoroughly impressed by the level of expertise displayed by its customer service representative.
I inquired about the possibility of forming a US-based LLC from outside the US, and the representative provided me with a highly detailed response, leaving no stone unturned. LegalZoom also offers multiple support channels, including phone, email, and chat.
However, it's important to note that customers using LegalZoom's free plan are limited to chat or email support online.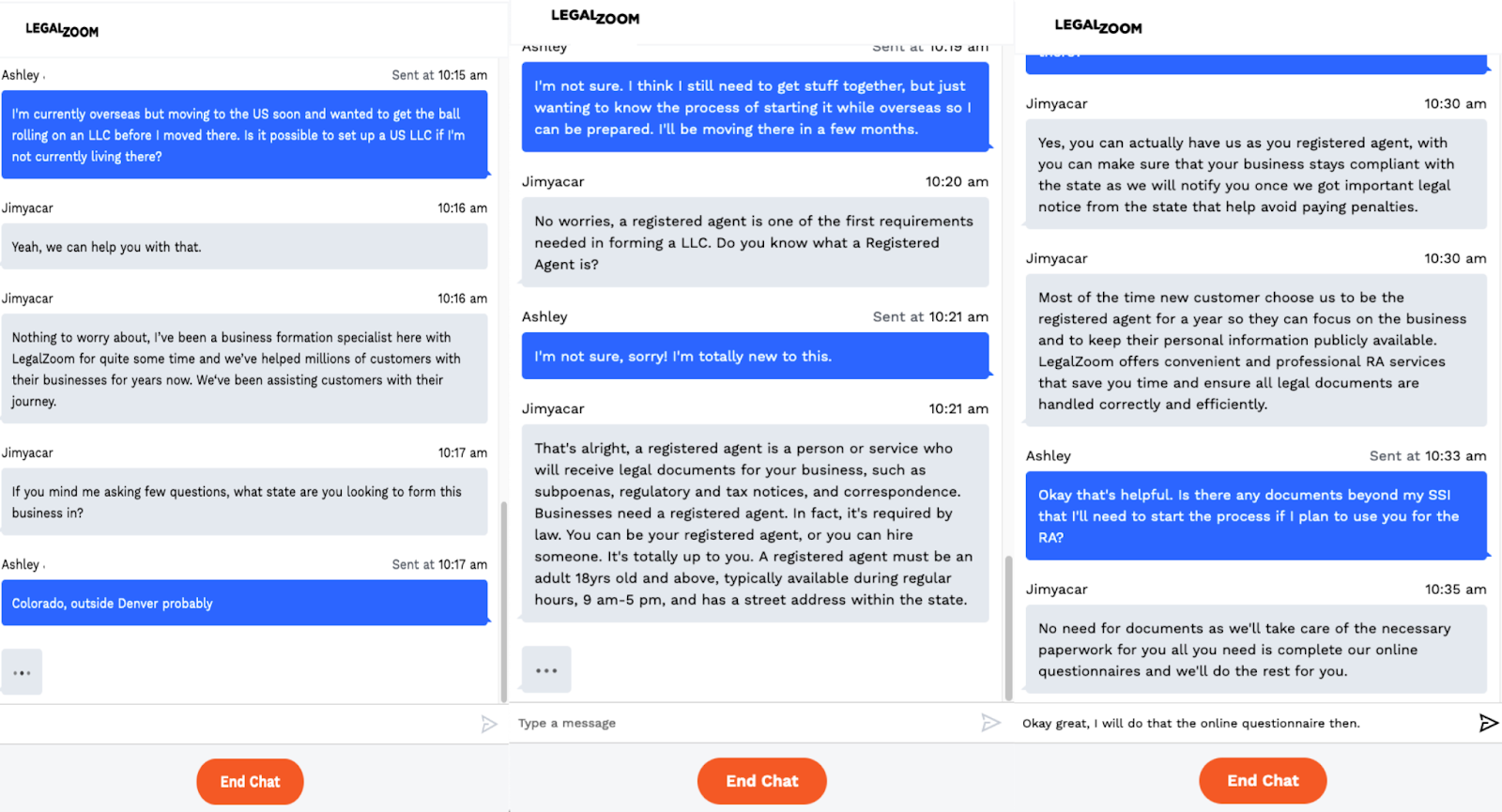 Through the LegalZoom live chat, I also posed the same question about forming an LLC while outside the US.
Jimmy, the customer service representative, was extremely patient with me as I asked a ton of different questions.
None of his answers was as detailed as ZenBusiness, but he was very helpful nonetheless. When I mentioned I wasn't ready to sign up right away, he gave me his direct email for when I was ready, which was a nice touch. For self-guided help, both companies offer online knowledge bases. LegalZoom has a detailed FAQ and blog, but ZenBusiness seems to have a more comprehensive resource library.
Its knowledge base includes informative articles, FAQs, and the ZenBusiness Academy.
The ZenBusiness Academy is a free series of videos about business formation and success, which is an incredible resource if you're just getting started. This category was a tough call.
Both companies exemplify customer service with timely and helpful representatives, but ZenBusiness once again comes out on top.
While LegalZoom offers more hours of support, the one disappointment is that customers opting for the free plan can't get phone support. Additionally, while the online resources were good, ZenBusiness offers more comprehensive and business-focused guidance.
ZenBusiness Is the Best All-Arounder for LLC Formation
After a thorough review of ZenBusiness and LegalZoom, it's clear to me that ZenBusiness is the best choice for new LLCs.
With its user-friendly platform, affordable pricing, impressive features, and reliable customer support, ZenBusiness offers an all-in-one solution that's perfect if you're venturing out into the world of business ownership, whether for the first time or the tenth.
ZenBusiness' free plan has everything you need
to get started in a hassle-free way. Plus, the add-on features and premium plans allow you to go beyond just LLC formation and get your business off on the right foot from day one.
While ZenBusiness emerges as the clear winner for almost all new businesses, LegalZoom may be beneficial for certain specialized needs.
If you're starting a high-risk business or a non-profit LLC that requires more extensive legal support, LegalZoom's comprehensive services and additional legal resources could be advantageous. Regardless of your choice, both companies provide valuable solutions to help you establish and manage your LLC successfully. See these two great choices side by side for an overview.
Features
A ton of features designed to help new business owners learn the ropes and get set up
A variety of features that focus on the legal aspects of business formation and ownership
Ease of Use
Simple, interactive sign-up process with a sleek mobile app available
Limited mobile app and easy-to-use sign-up, but lacking the interactive element
Pricing
Three plans with a free option available
Three plans with a free option available
Support
Live chat, email, and phone available for all customers
Live chat and email for free customers, phone also available for paid customers
FAQ
Is ZenBusiness good for starting an LLC?
ZenBusiness is an excellent choice for starting an LLC. With its comprehensive services, affordable pricing options, expedited filing, and valuable features, ZenBusiness provides a seamless and efficient process for launching your LLC and ensuring compliance with state requirements. Plus, its interactive step-by-step questionnaire can help even the most novice of business owners get started without hassle.
Is ZenBusiness or LegalZoom better for startups on a tight budget?
Both ZenBusiness and LegalZoom offer free plans for businesses on a budget. However, ZenBusiness goes the extra mile by providing additional more affordable higher-priced tiers with valuable features, making it a more suitable choice for startups with limited financial resources.
Can ZenBusiness or LegalZoom assist with non-profit LLC formations?
Both ZenBusiness and LegalZoom can help with non-profit LLC formations. However, given the specific legal requirements and complexities involved in non-profit ventures – especially LLCs – LegalZoom may be more beneficial due to its extensive legal support services.
Is the ZenBusiness website builder good?
Yes, the ZenBusiness website builder is a good option if you're looking to easily create and manage a personalized site. It offers a user-friendly interface, customizable templates, and essential features to create a professional and visually appealing website without the need for technical expertise or extensive coding knowledge.