Simple but powerful, Wix constantly discovers new ways to make website design accessible to everyone.
With an incredibly easy-to-use editor, an ever-growing list of features, and an attractive free plan, Wix is tough to beat.
But is there a worthy challenger? HostGator might be one. It's a trusted hosting provider, but it also offers a website building tool (aptly named Gator Builder) to help you create anything from blogs to online stores in mere minutes.
After testing the two, I can safely say that Wix remains undefeated
. It's a dedicated website builder with an array of tools capable of building just about any type of website. And
while HostGator is pretty easy to use, its simplicity comes at the expense of functionality.
Its features are quite basic, so it may be best suited for a simple landing or contact page.
Try Wix's free plan now
, or read on to find out more about each platform's pros and cons.
Templates
Wix Provides Quality and Quantity, while HostGator's Designs Lack Variety
Wix offers over 800 designer-made templates, which is more than almost any other website builder.
There are numerous template categories to choose from, including blog, business, portfolio, e-commerce, and more.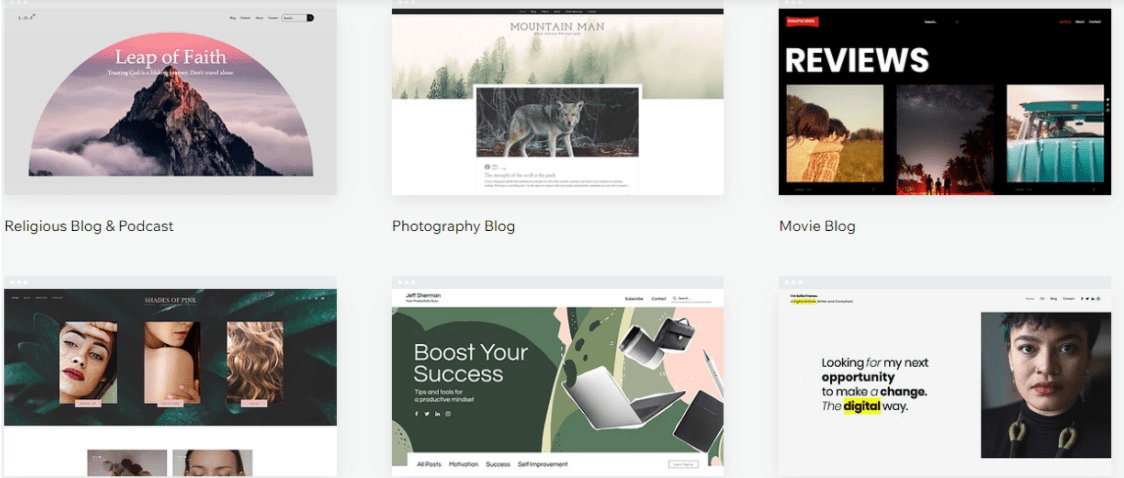 Wix's templates look modern, professional, and above all, there's variety.
You get unique designs rather than just endless configurations of the same basic layout. They're also completely customizable, so whichever template you choose, you'll always be able to make the changes required to realize your vision.
HostGator comes with 200+ templates
divided across categories such as Health & Sports, Business & Consultant, Design & Creative, and more. Although you can find attractive designs,
HostGator templates are all quite basic and look pretty similar to one another
. The customization options you get are also rather sparse, so compared to Wix, the design possibilities are much more limited.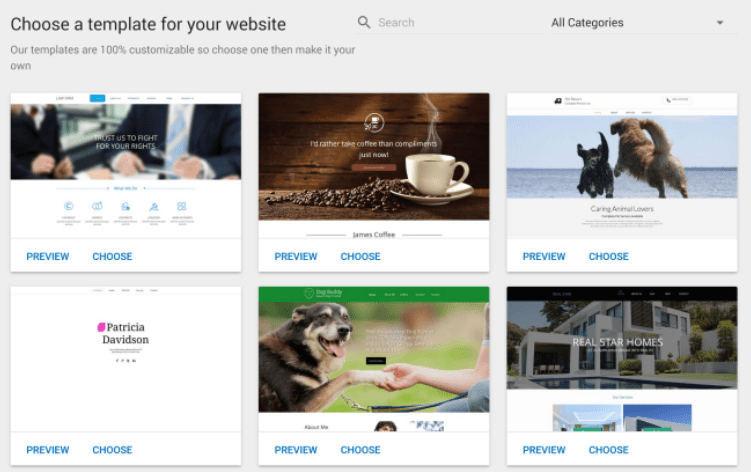 While both platforms' templates are mobile-friendly, only HostGator's are fully responsive
(meaning they'll adjust automatically to look as good on any size screen). On the other hand, Wix has a mobile editor that lets you fine tune the mobile experience of your site, giving you additional creative control. Overall,
when it comes to templates, Wix wins by a landslide.
Features and Ease of Use
Both Platforms Are Easy to Use, but Wix Offers More Features
Wix's intuitive drag-and-drop editor lets you adjust every element of your design down to the pixel.
This allows you to create almost any layout imaginable. Every element also has its own customization menu, giving you the ability to create a truly unique look.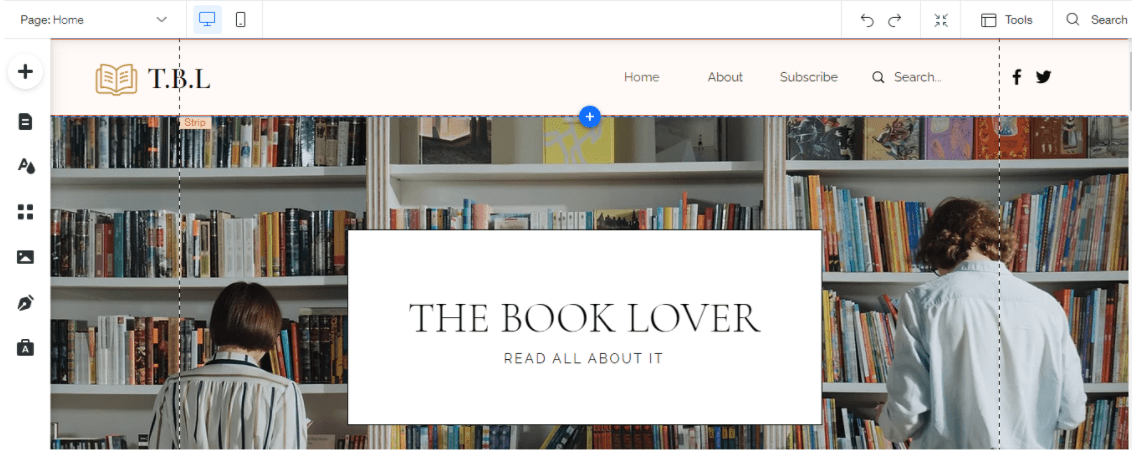 Gator's drag-and-drop editor is also pretty easy to use, but you get far less creative freedom.
You can do all the standard stuff – change colors, customize backgrounds, add buttons – but the editor is neither as powerful nor as intuitive. For instance, images don't automatically resize when you introduce a new elements, so you'll have to make manual adjustments to make sure everything fits.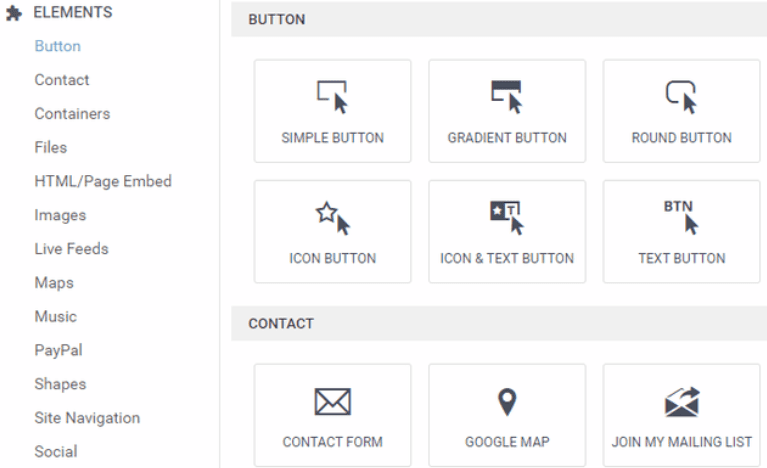 When it comes to features, Wix just gives you more. For example, it comes with advanced blogging tools
that let you categorize and schedule posts and even import them from WordPress. HostGator's blogging tools are much more limited; you can't add galleries or maps to your posts, and there's no scheduling option. You do get RSS support, at least. If you plan to sell products on your Wix site,
Wix Stores is a built-in feature that's free to use
(although you'll have to upgrade to a business plan to accept online payments). You'll find
everything you need to set up a fully functional online shop
, including tools for tracking inventory, managing orders, multichannel selling, and much more.
HostGator offers e-commerce features on all plans
. Adding and managing products is easy and you get useful tools like automatic tax calculation and Shippo integration to handle shipping charges. You can also create coupons and discounts, but there's no option to sell on different channels. HostGator includes free email marketing and (basic) SEO tools on all plans. However,
Wix has a much more comprehensive set of marketing features.
While you can easily create email campaigns on both platforms, Ascend by Wix expands your options with a video maker, social post builder, campaign manager, and more.
Wix SEO Wiz even generates a checklist to help you optimize your pages for Google indexing.
Apps
Wix's Huge App Store Has a Tool for Virtually Everything
Wix's robust App Market includes over 300 apps
. You can find everything from event calendars and countdown timers to live chat and marketing apps. Most of these apps have a free version, although some require a paid subscription to access more advanced features.

What's cool is that
Wix's templates come with pre-installed apps related to the industry
they're designed for
– for example, its restaurant templates all have the Wix Reservations app built in.
HostGator's app store includes only a handful of integrations,
such as Google Ad Credits and Bing Ad Credits. It's better than nothing, but you don't get nearly as many options for extending your site's functionality as you do with Wix.
Pricing
HostGator Is Less Expensive, but Wix Offers a Generous Free Plan
Wix has a free plan
and two sets of paid plans. Its Website plans are perfect for personal sites or blogs, whereas its Business and eCommerce plans unlock the ability to accept online payments. HostGator offers three paid plans: Express Start, Express Site, and Express Store.
Wix's free plan gives you access to almost every feature.
You can add an unlimited number of pages to your site and customize these as much as you like. The main downsides are that your storage space is limited to 500MB and you're saddled with Wix's advertising. While it doesn't have a free plan or trial,
HostGator offers
a 45-day money-back guarantee
 to let you test it risk free.
Upgrading to a Wix paid plan will allow you to connect a custom domain to your site and get more storage space.
You'll also unlock other benefits like professional logo design and a useful analytics tool. Its Business and eCommerce plans give you even more storage and video hours, plus additional perks like a product review tool and abandoned cart recovery. HostGator's cheapest plan lets you build a simple 3-product online store and send 3 email campaigns per month. Higher tier plans increase limits on products and campaigns and give you access to features like appointment booking and priority support. What's genuinely impressive is that
all HostGator plans include unlimited storage
. If you're still unsure, here's a quick recap of what you'll get with each website builder.
Wix Combo
Gator Express Site
Starting price

$

16.00

$

2.75

Custom domain

✔

✔

Free domain for one year

✔

✔

Free SSL

✔

✔

Unlimited storage

✘

✔

SEO tools

✔

✔

24/7 customer support

✔

✔
Support
Wix Has a Massive Knowledge Base, but HostGator's Human Support Is Easier to Access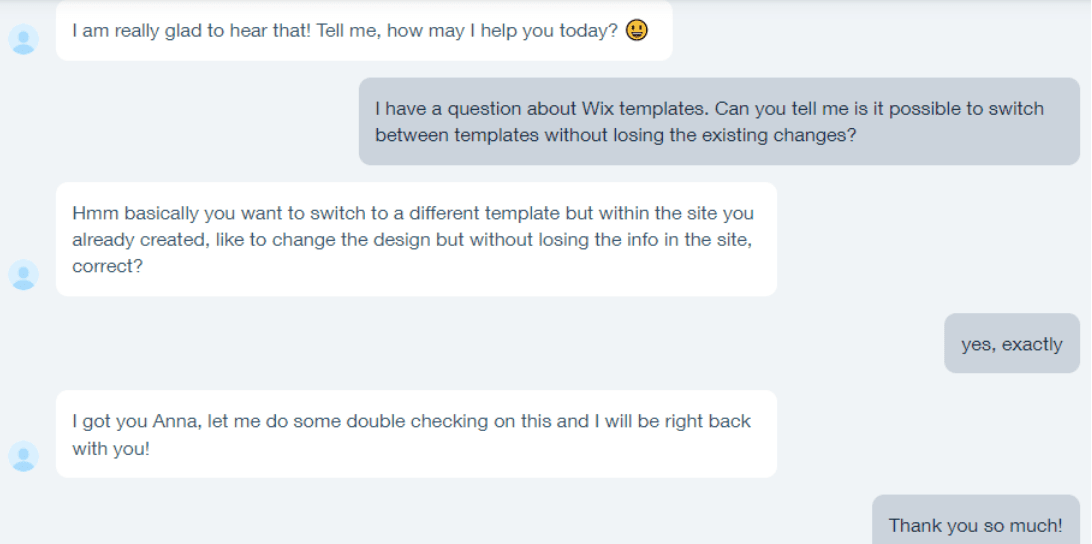 Wix offers an extensive support center with detailed articles on just about any topic you can think of
. However, if you prefer talking to a real person to help you resolve your issue, Wix may end up being a little frustrating. Wix provides the option to initiate a live chat or request a callback, but accessing these support channels can be somewhat challenging. You may find yourself engaging with Wix's persistent chatbot for a while before eventually connecting with a customer care agent. Still, once you do manage to get hold of someone, things go smoothly. When I asked a question,
Wix's customer care agent was super helpful
and provided a detailed answer with links to relevant support articles.

HostGator's support center isn't as large as Wix's
, but it's simpler to reach through other support channels. I reached out to support through email and received a useful reply only a few hours later, despite HostGator stating that email responses might take as long as 48 hours. While that's not poor performance, Wix's broader support gives it a slight advantage in this area.
Wix Reigns Supreme in Every Respect
While HostGator remains an effective hosting solution, its Gator Builder can't match Wix's strong set of tools and features
. Although easy to use and less expensive overall, HostGator is quite basic and offers a smaller number of templates and features in general. Another drawback is the lack of a free plan or trial – a perk offered by almost all other major website builders. Hostgator's builder may be a good option for personal blogs and projects, but it lacks the power for business-oriented websites. If you're looking for a more powerful and feature-rich platform, check out our list of
the best website builders for 2023
.
Ease of Use / Features
Intuitive and powerful drag-and-drop editor
Simple but limited drag-and-drop editor
Apps
Only a handful of apps available
E-Commerce
Extensive set of features on paid plans, plus Ascend by Wix advanced business tools add-on
Solid set of tools with all plans
Marketing
Various built-in and third-party tools
SEO
Personalized SEO checklist via Wix SEO Wiz
Pricing
Free plan and two sets of reasonably priced paid plans
Three affordable paid plans
Support
Comprehensive support documentation 

24/7 Live chat (in some languages)

24/7 Callback (in some languages)
Limited support documentation 

24/7 Live chat 

Email 

Phone
FAQ
What is the difference between HostGator and Wix?
HostGator focuses on specific hosting solutions, such as WordPress and VPS hosting. It also offers domain registration and web design services through its own website building tool called Gator Builder. In contrast, Wix is a dedicated website builder that packs more powerful web design features. It also offers free hosting.
Can you use Wix with HostGator?
If you have a Wix website, it runs on Wix's servers, so you can't use external hosting. However, you can transfer a domain registered with Wix to your HostGator account. If you're curious about how to start a website with Wix, take a look at our full guide on how to build a website in 2023.
Is HostGator Website Builder any good?
Gator Builder by HostGator is pretty easy to use and offers some nice perks, such as e-commerce tools and unlimited storage on all plans. However, its feature set is quite basic, and it only offers a handful of third-party apps, so it may not be the best option for running a business website. Check out our list of the best website builders for 2023 to see more powerful alternatives.
Which is easier to use, Wix or HostGator Website Builder?
Both Wix and Gator Builder by HostGator are easy to use, but Wix is more intuitive and offers more creative freedom. Wix has more customization options and a wider selection of features in general. It also offers a generous free plan that will let you create a fully functional site.