Editor X is getting a lot of attention for its advanced design features. But there's more to consider than just editing features when choosing a website builder. There's also a price tag to consider.
Editor X is noticeably pricey, which has left many wondering if the new platform is worth it. To add to the confusion,
Editor X offers 7 premium plans to choose from
.
If you're here for a quick answer:
Editor X is worth the extra cash
, but only if you're an experienced web designer or someone who will take advantage of what Editor X has under the hood. Otherwise, if you just want a simple portfolio, blog, or small online store, you're better off sticking with something cheaper (and simpler) – especially because, as you'll see, there are some hidden costs.
Editor X provides great value for web developers.
But weighing the pros and cons of seven different plans can get overwhelming quickly. That's why I've broken down each price plan, so you can make the best choice for your business or agency.
Editor X Pricing Plans & Options for Regular Sites
Editor X has 7 plans in total (8 if you include the free plan). Four of them are for business and e-commerce, and the others are general plans, which it refers to as Website Plans. Let's talk about these Website Plans first.
Free – Good for Learning to Use Editor X
Cost: Free
To be honest, it's kind of crazy that you can build a bespoke website with the advanced design features of Editor X for free. But you can. Just like the paid plans,
the free plan
 allows you to take full advantage of Editor X's design capabilities,
meaning you can add animations to virtually any element, set as many breakpoints as you like, control how elements are docked, manage overflow content, and much more.
All of this is very cool, but there are some drawbacks to the free plan. For starters: you can only publish your website under a free Editor X domain, which just doesn't look very professional, even when it comes with a free SSL certificate.
Your site will also have Editor X advertising displayed throughout.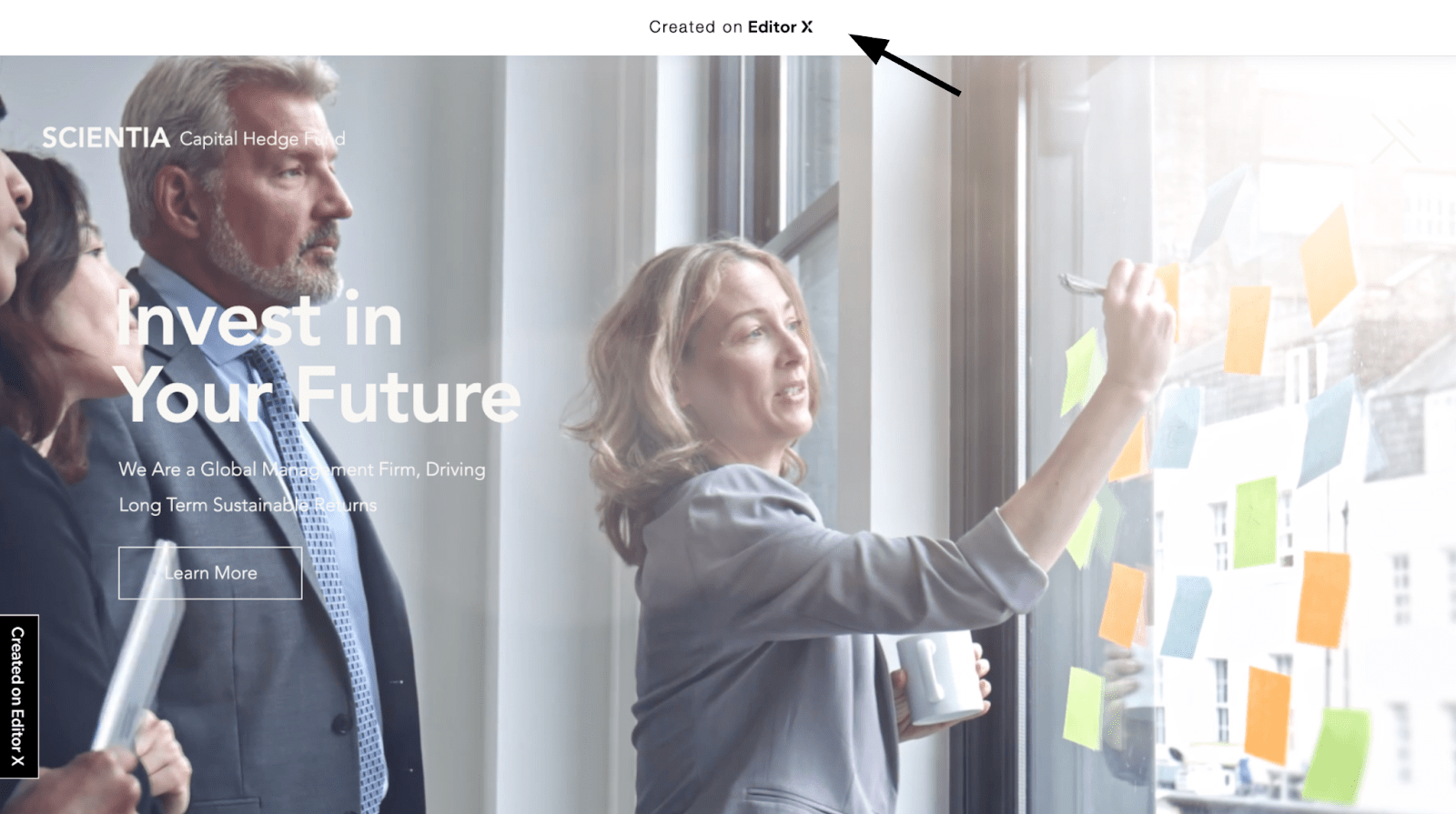 You'll also run through the free plan's 500MB of storage pretty quickly. There used to be a 500MB cap on bandwidth as well, but a customer support representative assured me this was no longer the case. 
Overall,
the free plan is a good way to test Editor X and master some of its features.
If you just want to play around for a bit or get to know the software before putting it to serious use, it's a great option. If you're looking to build a professional-looking site for yourself or a client, however, this isn't the plan for you.
Essential – Enough for Blogs and Most Small Business Sites
Cost:

$

17.00

 per month
If you decide to update to Essential,
you'll be able to attach a custom domain to your client's sites and remove the advertising.
If you buy a custom domain from Editor X, you'll also get the first year for free. Though only if you pay annually.
Besides unlimited bandwidth, you also get a healthy 10GB of storage.
That's more than enough for a respectable (albeit simple) website.
That said, if you're planning to upload a lot of images and other files to your sites, that 10Gb will inevitably fall short, even if you compress the files first.
So, I don't recommend this plan if you regularly build online portfolios for photographers or visual artists
, for instance.
The Essential plan only includes one hour of video time. You can still embed as many videos as you like, even on the free plan. Still, if you need to host several videos on your Editor X account, a single hour won't do.
On the other hand,
if you're designing a site for a blogger, freelancer, writer, or small business, this plan will be more than enough.
Pay annually, and you can take advantage of the included $300 advertising voucher. So you can promote your clients' sites on Google, Bing, and in local listings. Not too shabby.
Extra – Good for Online Portfolio Sites
Cost:

$

27.00

 per month
This is, arguably,
the Editor X plan that offers the best value for your money.
If your client's brand is growing and they're getting enough traffic, you'll probably want information about said traffic.
With the Extra plan, you get a free year of Visitor Analytics.
The apps lets you know where your visitors are coming from and how they're spending their time on the site.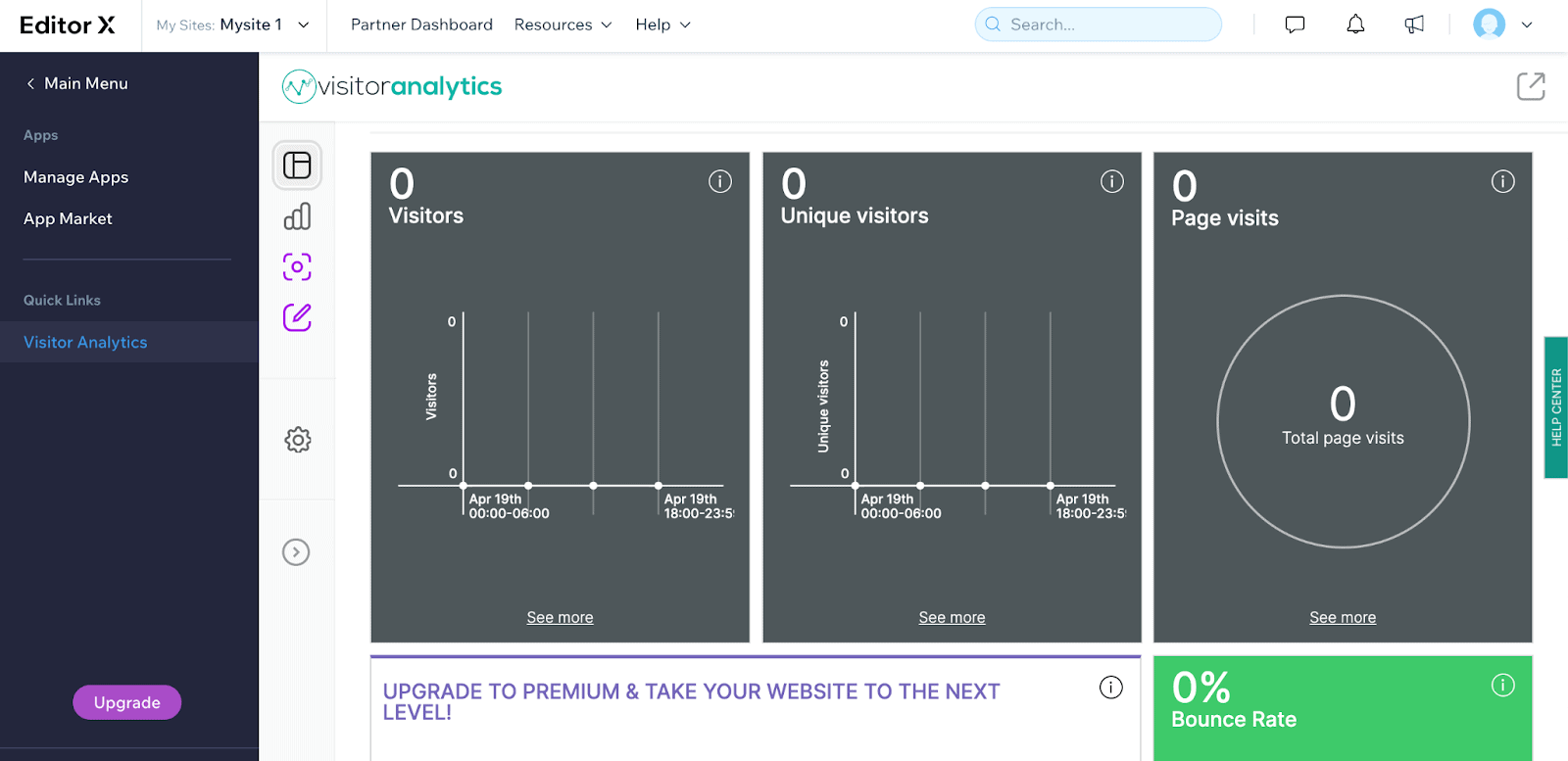 You'll also get access to the Logo Maker.
If your client doesn't have a logo, this app can come incredibly handy. The logo maker uses artificial intelligence (AI) to generate the best logo for the situation. Then, you can tweak the result to fit your or your client's personal sensibilities.
These features alone don't make the Extra plan worth the additional cost.
The real "extra" in the Extra plan is that it comes with double the storage of the Essential plan, giving you a full 20GB.
That's enough to upload a fair amount of images and other media files without any problems. The Extra plan could be a good fit for you if you need to upload a lot of large files, like uncompressed images and video, to your clients' websites.
It might be more than most bloggers will need, for example. But it could be a good fit if you design sites for artists, videographers, or photographers who need an online portfolio.
Ultra – Worth It If You Need the Extra Storage
Cost:

$

39.00

 per month 
Honestly, you probably won't need the Ultra plan unless you use a lot of storage space.
With a robust 35GB of storage, and five full hours of video time
, it's perfect if your client is uploading a lot of high-resolution images or videos.
All of Editor X's plans include 24/7 customer support, but the Ultra plan comes with Priority Customer Care.
That means that you'll be served before folks on the Essential, Extra, and Launch plan
s – for both phone and online support.
To be completely fair, I don't think the priority customer care is worth the extra cost. And, since it's more than double the cost of the Essential plan,
Ultra just doesn't seem worth it unless you absolutely need all that extra storage.
Editor X Business and eCommerce Plans
The Website Plans are ideal if you regularly build personal sites, blogs, or portfolios for your clients.
If you need to build a site that can accept online payments, however, you'll need one of Editor X's e-commerce plans.
Each of Editor X's Business and eCommerce Plans allows you to connect a custom domain, and remove Editor X advertising from your site.
Launch – Good for Small Online Stores
Cost:

$

22.00

 per month
As the name implies, this is a good starter plan if you're designing a site for a budding online business.
You get a healthy 20GB of storage and five hours of video time for a lower cost compared to the Extra plan.
That's more than enough for small to medium-sized online stores, even if you have a lot of product images.
There's no limit to the number of products that your client can sell on their site
, but they can't sell subscriptions. So, if your client's business is offering a subscription service, you'll need either the Boost or the Scale plan – more on those shortly. Like all of Editor X's business plans,
Launch also includes abandoned cart recovery,
 which is essential for any online store. This allows you to set up automatic emails to customers encouraging them to complete their purchase. Your client can also
sell their products on social media channels such as Facebook and Instagram.
You also get access to a market filled with useful third-party apps.
Having an online business isn't necessarily the same as selling products.
That's why your client can also take online bookings for classes, courses, or appointments with the Bookings app.
Or create and sell tickets to their events (note: Editor X takes a 2.5% commission on ticket sales) using the Events app.
Editor X doesn't take a commission on your sales
(except ticket sales)
,
but standard processing fees will apply when you accept payments through one of the 50+ payment gateways that Editor X supports. The amount varies by vendor and country.
All in all,
this plan is a good fit for clients who want to start an online store.
Or for small brick-and-mortar businesses that want to sell products or services online.
Boost – Good for Growing Online Stores that Need More Storage
Cost: $69 per month
The Boost plan is ideal if you're building a site for an online business that's having some success and wants to expand. Out of all of the Business and eCommerce plans available from Editor X,
this is the plan that I think offers the most value.
With 15GB more storage and double the video time of the Launch plan,
 this plan suits stores that are growing their inventory
and need additional video hosting to showcase their offerings. But there's more to Boost than that. If you decide to invest the additional cash for this plan,
your client can list their products on marketplaces such as Amazon and eBay,
 or source additional products using the dropshipping app Modalyst, which comes included. Also, if your client wants to sell subscriptions through their site, they can do that on this plan. At first glance, the Boost plan seems pretty expensive. But if your client is shipping their own products, the savings they'll get from the USPS discounts included with this plan will more than cover the additional monthly cost, so long as sales volumes are high enough. That's because
the Boost plan includes up to 60% off USPS shipping.
And if your client
is
making enough sales to benefit from the Boost plan, as their site developer,
you'll probably want the priority customer care that comes included.
This way, you have the confidence that you can handle any unexpected issues.
Scale – Good For Fast-Growing Online Stores
Cost: $219 per month

This plan includes a whopping 50GB of storage and unlimited video hours.
It's good for large online stores with a high volume of sales, but unless you need 50GB of storage (and not many websites do), the price tag for this plan is very high. That said, your
USPS shipping discounts can be as high as 70% on this plan.
So, as with the Boost plan, you should consider the Scale plan if your client's sales volumes are high enough to save on shipping costs by switching. Otherwise, the previous plan will likely provide more than everything you need.
Enterprise – Only Makes Sense If You Need More Than 50GB of Storage
Cost: Negotiable
One thing that sets the Enterprise plan apart is that it
comes with VIP customer support.
 By logging into your VIP account and submitting a ticket or requesting a callback, you can be sure you're at the front of the line.
Most importantly, you'll negotiate the plan's cost directly with the people at Editor X, as well as the amount of storage space included.
Another perk: if your client is selling a lot of tickets to events, you can negotiate a lower commission fee than the 2.5% Editor X usually takes on ticket sales. All in all, though, this plan includes more than is necessary for most online stores. So,
I only recommend the Enterprise plan if you intend to build large e-commerce websites for multiple clients.
A Few Hidden Costs You Should Know About
1. Editor X Costs More If You Pay Monthly
Just like with any other builder,
the advertised monthly prices only apply if you pay for a full 12 months upfront.
The true monthly prices are slightly higher. And conversely, the per-month prices go even lower if you decide to pay over two or three years.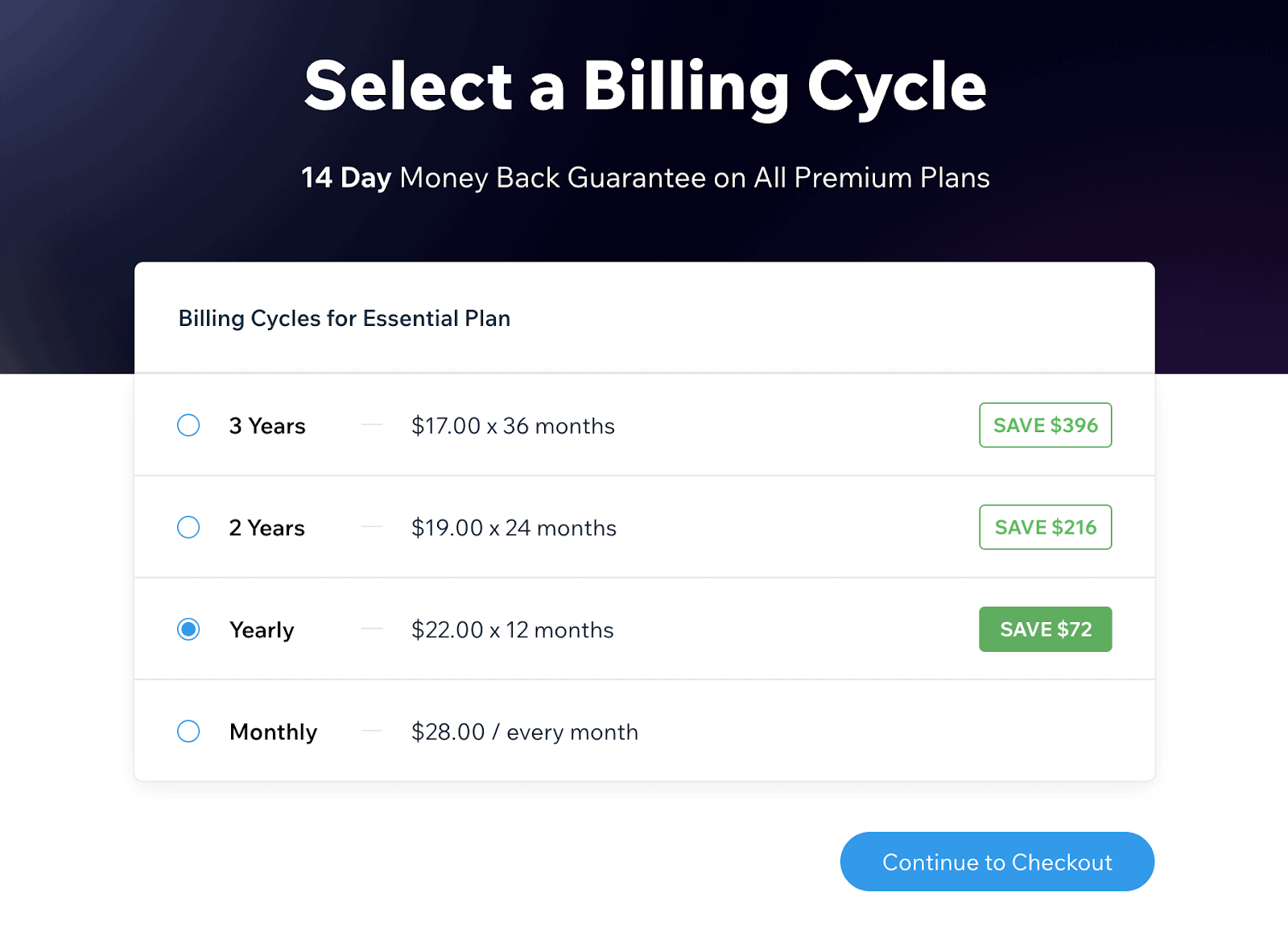 You should also keep in mind that the advertising voucher and free domain only come with the annual payment and up.
Speaking of free domains…
2. Free Domains Are Only Free For A Year
You get a voucher for a free custom domain when you sign up for a premium plan and opt to pay for a full year (or more) upfront. But,
that domain's cost is only covered for the first year.
After that, you'll pay each year to keep your domain. The domain prices are comparable to other domain providers, and, as is usually the case with domain providers, privacy protection costs extra: Editor X charges an additional $9.90 per year – not bad.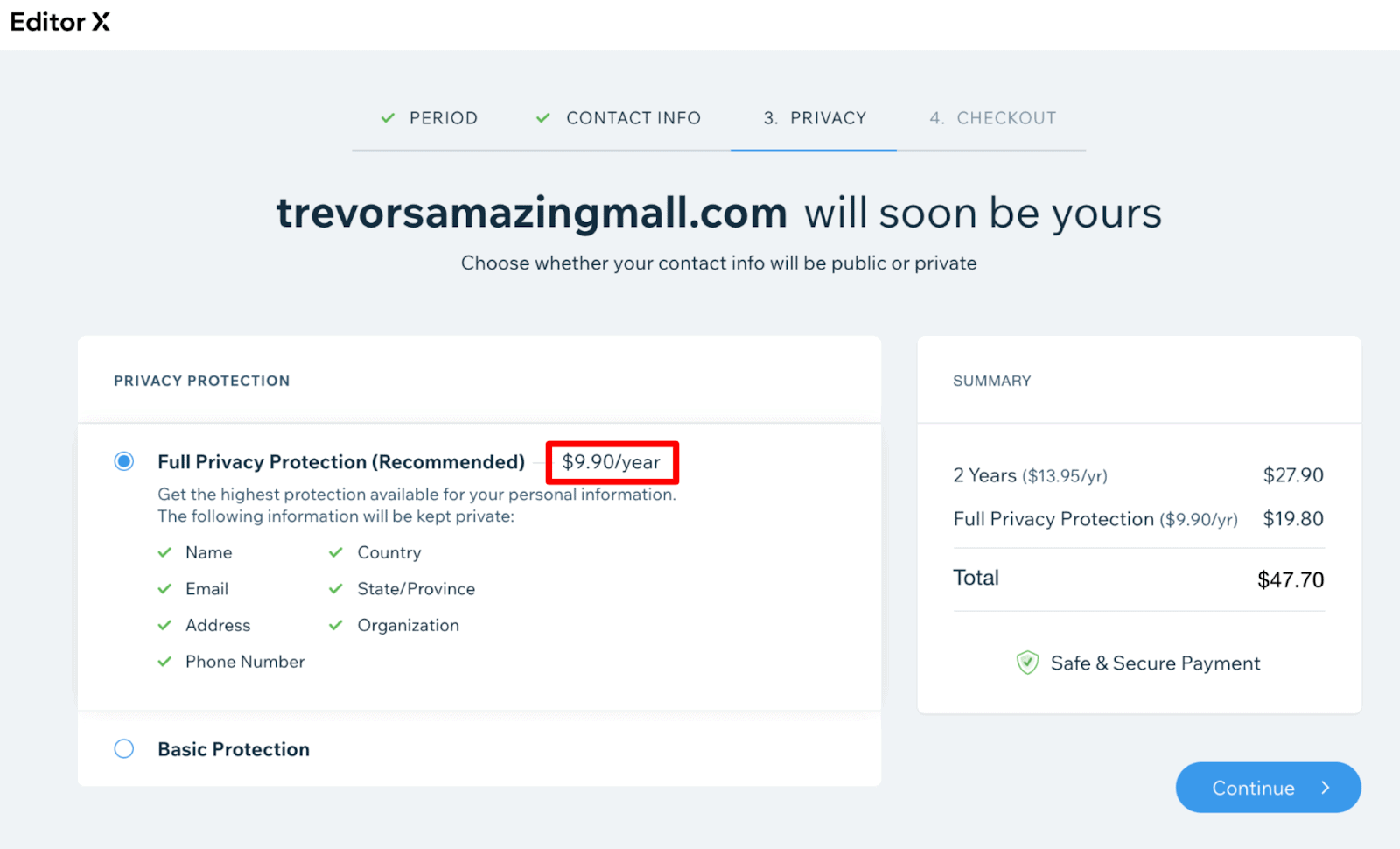 Also, a professional email address ending in @yourdomain will cost extra as well. If you prefer, you can buy a Google G Suite account directly from Google rather than purchase it through Editor X. But either way, you're looking at an additional $6 per month.
3. Some Editor X Apps Cost Extra
At the time of writing, the app market for Editor X has about 300+ apps. Unfortunately,
there are currently no restaurant order or hotel-specific apps for Editor X.
 So, if you're a designer building a site for a restaurant or hotel, you may want to try another builder. Some of the apps are free, such as the blogging app and Instagram Feed. Others, such as the third-party app Boom Event Calendar, have free plans included, but
to access additional features, you have to upgrade to a paid subscription.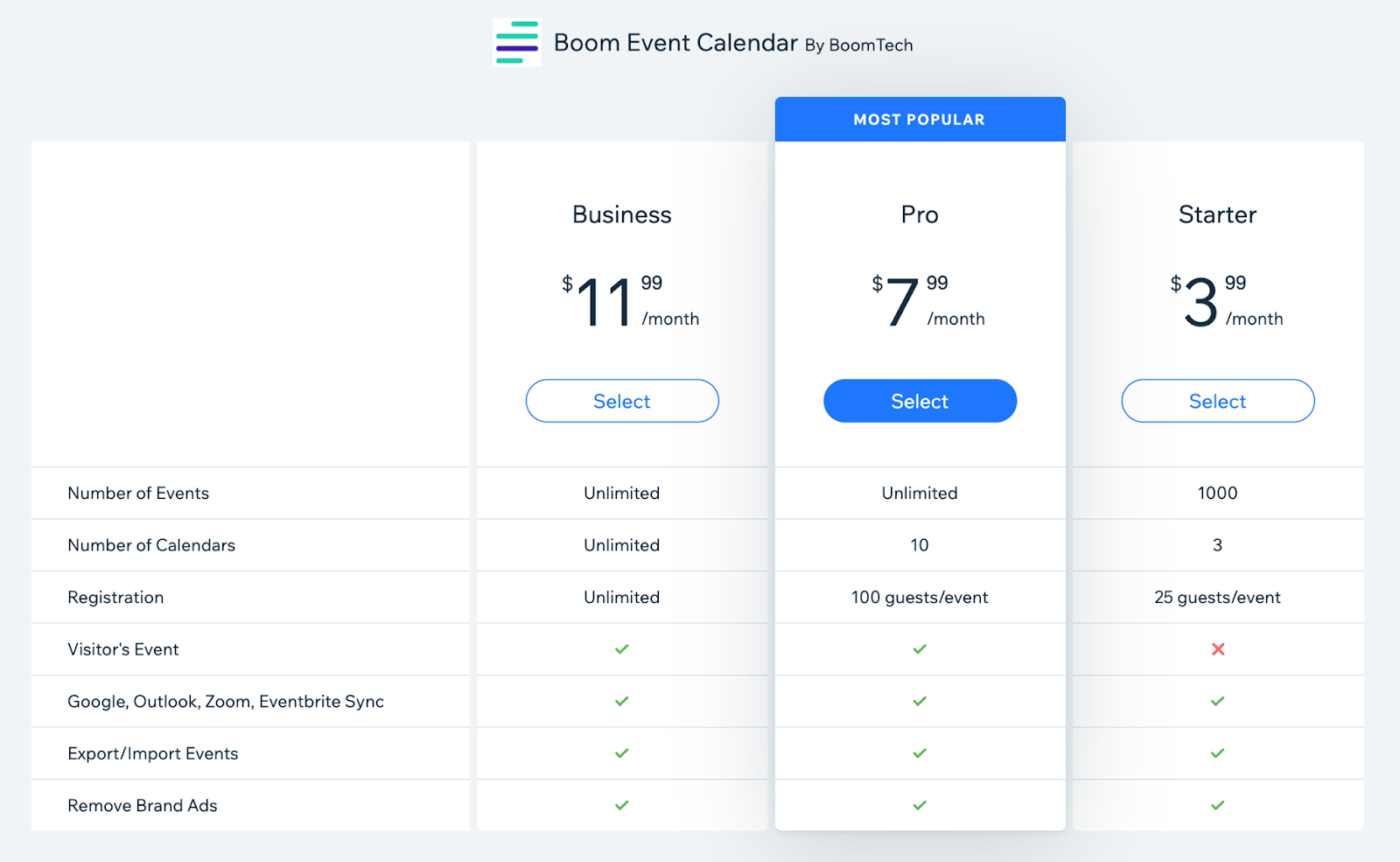 How Does Editor X Measure Up to the Competition?
There is a lot of competition when it comes to website builders, but only a couple of platforms offer the features that professional developers need. Let's see how Editor X's paid plans compare to those of the top builders out there.
Webflow's general plans (that is, plans not for business or e-commerce)
cost less on every tier compared to Editor X.
They also include slightly more design flexibility for developers. That said,
Webflow's plans do limit you in a couple of strange ways.
 For instance, they all cap the number of monthly visitors to your site. You also have a limited number of forms that visitors can submit on your website. As far as I'm concerned,
Editor X beats Webflow hands down when it comes to business and e-commerce plans.
It costs less at every level and, unlike Webflow, it doesn't limit the number of items you're allowed to sell on your site. Finally, while Webflow does include several integrations to add to your site's functionality, it doesn't have anything close to Editor X's app market. So, if you're designing e-commerce sites for clients, you may want to consider one of Editor X's business plans rather than Webflow.
Duda's entry-level plan, Basic, costs slightly less than Editor X's, but Duda doesn't let you create bespoke sites the way you can with Editor X. That said, there are no storage or bandwidth limits with any of Duda's plans. So, if you're less experienced and just want to build a simple site with a lot of content, you may prefer
Duda's Basic Plan
. Duda's Team plan is a little cheaper than Editor X's mid-level plan – but again, without the design power of Editor X. One thing I do appreciate about Duda's Team plan, though, is that
 it comes with white-label client access.
So, if you want your client to see your agency's name and logo when they log into the backend of their website, you may want to go for the
Team plan
.
Let's be clear:
Squarespace costs less than Editor X, except when it comes to Editor X's entry-level business plan, Launch
(and the free plan, but that should go without saying), which is cheaper than Squarespace's Basic Commerce plan. In addition, Squarespace's business plans come with unlimited storage and a free professional Google email for a year.
So, if you need a ton of storage, and you're looking to get a business online with as little hassle as possible, you may appreciate the value that comes with Squarespace's
Basic Commerce plan
. Especially considering that
Squarespace's trendy, minimalist templates are fully mobile responsive
 straight out of the box.
Squarespace's editor doesn't provide nearly the same flexibility as Editor X or Wix
, for that matter. As with Wix, if you're looking to build a personal website, and you're not a professional web designer, then Squarespace makes a lot of sense. You likely won't use much of what Editor X has to offer anyway, so it's hard to justify the additional cost.
In terms of value, it's hard to beat SITE123. It has
a free plan
, which makes it attractive to people who want to build a site quickly and easily – while spending as little as possible. Meanwhile, SITE123's only Premium plan comes with 10GB of storage, the capacity to add your custom domain, remove SITE123 advertising, and full e-commerce capability. But… It's not great for developers. While it is cheap to use,
if you need fine control over the design of your sites for your clients, you won't get the flexibility you need with SITE123
. For everyone else, if you want to save money and build a simple, fully responsive website quickly and easily, then SITE123 may be better (and cheaper) than Editor X.
Generally, WordPress.com is cheaper than Editor X, which makes sense since it's a CMS (content management system) and not a complete website builder. That said, if you're tech-savvy and know how to code, WordPress.com may make a lot of sense for you. Like Editor X, WordPress.com has
a free plan
.
And its most basic plan – the Personal Plan – is extremely affordable,
costing a paltry
$
45.00
per month if you pay yearly. But this plan doesn't allow you to upload videos, nor does it give you access to any of WordPress' plugins. WordPress' Business and eCommerce plans cost less than Editor X's Launch and Boost plans, respectively. And they give you access to WordPress' library of 50,000+ plugins – hurray! – to extend the functionality of your business sites. That said, building a site with WordPress could take a lot more time than with Editor X, even if you start with one of the many WordPress themes available. Still not sure whether Editor X is worth the investment? Here's a quick look at how the entry-level plans of each builder compare:
Pricing
Free domain
Storage
E-commerce included?
Team Members
Customer Support
Editor X Essential

$

17.00

✔

10GB

✘

Unlimited
24/7 Customer Care
Webflow Basic
$12

✘

Unlimited

✘

1
Support by email
Duda Basic

$

14.00

✘

Unlimited

✘

 1
Support by email
Squarespace Personal

$

16.00

✔

Unlimited

✘

2
24/7 Customer Care
SITE123 Premium

$

12.80

✔

10GB

✔

Unlimited
24/7 Customer Care
WordPress Personal

$

45.00

✔

6GB
You can collect payments, but little else
Unlimited
Support by email
Editor X Is Priced Right for Web Designers and Agencies
Editor X offers good value for developers and agencies who want a lot of design flexibility without having to deal with a ton of code
 – even when compared to other platforms created with developers in mind. But for everyone else, it's hard to justify the additional cost and time commitment required to build a site with Editor X. Especially given that, at this time, there aren't very many templates to start with. So, if you want to build a simple website for yourself, or create an online store with as little hassle as possible, there are probably better choices for you. But
if you're a developer who wants to create highly bespoke sites for your clients, Editor X's design flexibility is worth the cost.
FAQ
Is Editor X free?
Editor X does have a free plan. Though the free plan gives you plenty of design freedom, you'll need to upgrade to a paid plan if you want to connect a custom domain and remove the Editor X advertising from your site.  
How much does Editor X cost?
Editor X has a free plan that lets you build and publish a site on a free Editor X domain, but it will include Editor X advertising. To remove advertising and connect a custom domain, you need to upgrade to one of its 7 premium plans. Website Plans range from

$

17.00

to

$

39.00

per month (if you pay annually), while the Business and eCommerce plans cost between

$

22.00

and $219 per month. If you're considering signing up for one of Editor X's premium plans, you might want to check out our great discounts first.
Which Editor X plan is best?
That depends on your needs. If you're building a simple website for a client who's not selling products online,the Essential plan will likely include everything you need. If your client intends to sell products online, I would use the Launch plan (unless they want to sell subscriptions, in which case you'll need at least the Boost plan). You can always upgrade later if they start to outgrow your chosen plan.
Which is better, Squarespace or Editor X?
It depends. For most people, Squarespace provides a lot of value at a good price point. You can build stylish and fully responsive sites from trendy minimalist-style templates at a lower cost than Editor X. But if you're a professional web developer who wants to create highly customized sites for your clients, the design flexibility that comes with Editor X far surpasses anything Squarespace has to offer. If you're curious how Squarespace compares with other top website builders, check out our list of the top 10 website builders in 2023.