Most web hosts offer plans they claim are fine-tuned for WordPress because it's the most popular content management system (CMS) in the world. But just because a web host offers a WordPress plan doesn't necessarily make it worth your money.
If you're choosing between WordPress plans from Web.com or GoDaddy, it's no contest: GoDaddy gives you far better value.
GoDaddy offers more free features and better performance than Web.com at a similar price. And it's not just about nice-to-haves, like one-click backup restores and automatic malware scans.
It's about must-haves, like free SSL certificates, which Web.com doesn't offer on its entry-level plan
. Despite its advantages, GoDaddy does have flaws, and Web.com does some things better, so I've compared GoDaddy and Web.com in five key areas.
Click here to see GoDaddy's latest WordPress plans
, or read on to see why GoDaddy is the clear choice between the two to be your WordPress host.
Plans and Pricing
GoDaddy Gives You Better Value Than Web.com
Although both hosts' prices are comparable,
GoDaddy's WordPress hosting plans
 give you more free features than Web.com's
. So why might you choose Web.com over GoDaddy?
Web.com gives you more storage with its entry- and mid-level plans (50 and 100GB vs GoDaddy's 30 and 75GB),
although GoDaddy gives you unlimited storage with its higher-level plans. Web.com offers more email accounts (up to 50) and lets you host up to five WordPress sites.
GoDaddy gives you only one trial email account for the first year, and allows for just one site unless you pay a lot more for a Pro plan.
 But Web.com's advantages end here. GoDaddy and Web.com each give you one free domain name. GoDaddy's is free for the term of your contract as long as it's 12 months or more.
Web.com's domain registration is only free for a year, and it renews at an inflated rate every year thereafter.
GoDaddy WordPress Hosting WordPress Hosting
Web.com Hosting WordPress Hosting
A free domain name is included with some hosting plans from Web.com Hosting
GoDaddy also gives you a site migration tool and a 30-day money back guarantee.
 Web.com charges for site migration and has a strict no-refund policy. Plan prices are similar, and each host offers some things the other doesn't. But GoDaddy offers a little bit more on every level,
giving it a narrow win in the Plans and Pricing category
.
Support
Web.com Edges Out GoDaddy in a Battle of Bad Support
Like many web hosts,
Web.com and GoDaddy both provide 24/7 phone support, live chat, and the usual online help centers with articles and tutorials.
 But Web.com also offers help via SMS, tickets, and even Facebook. I tried out multiple support channels from both hosts and neither provides support worth writing home about – even though both claim to have "award-winning support teams."
I was impressed with Web.com's live chat support during presale
 – the agent responded quickly and answered all my questions about choosing a plan.
But it dropped the ball after post-sale
, especially when it came to cancellation. Live chat advised me to cancel via the ticketing system, but the response to the ticket told me to do it by phone.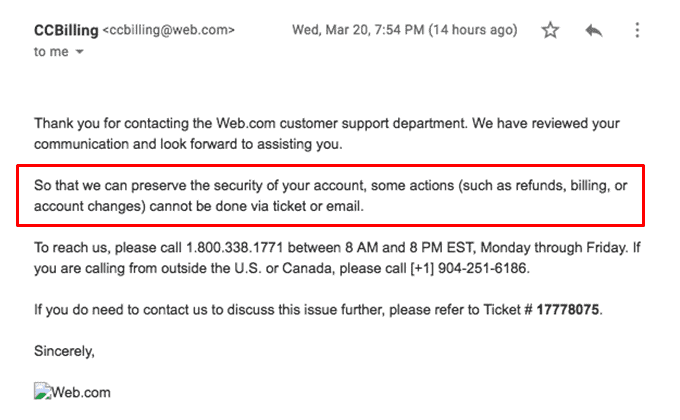 GoDaddy's support was rough from the start.
Live chat is supposed to be 24/7, but it's not always available, and it can take a long time to reach an agent when it is.
Support is outsourced to a third-party company, and as such is often less than helpful. The agents I spoke to couldn't explain the differences between plans, didn't know how to install WordPress, and insisted 2.8 seconds was the best loading speed GoDaddy is able to provide – but it's not. Not even close.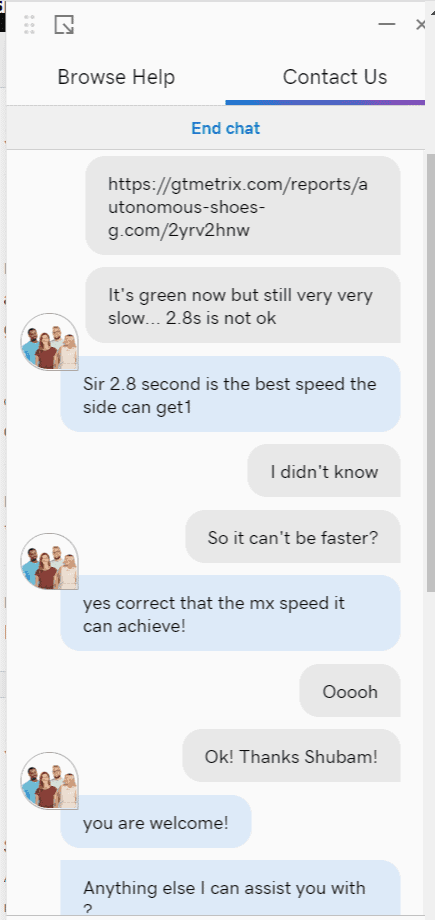 Despite each host's marketing claims, neither Web.com or GoDaddy are going to win any awards for support. But
if you have to pick a winner here, it's Web.com by a byte
, if only because presale support was solid and it offers a few more ways to get help.
Features
GoDaddy Giveth (More Free Features), Web.com Taketh (Your Money)
A careful look at both hosts' websites will tell you all you need to know about GoDaddy and Web.com's feature offerings:
GoDaddy gives you more for free from the start.
On its entry-level WordPress hosting plan, Web.com charges for an SSL certificate, while GoDaddy includes one for free.
GoDaddy also gives you a free site migration tool and unlimited malware scanning on all its plans.
 Web.com doesn't. And then there's the free domain catch:
with GoDaddy, your domain is free for the entire term of your plan. But after the first year with Web.com, you'll have to pay a hefty annual renewal fee.
GoDaddy also includes an SEO optimizer on mid- to high-level plans and unlimited malware removal and hack repair on high-level plans. Pull out your wallet again if you want these with Web.com. But GoDaddy does have some pitfalls. Its WordPress hosting plans get just one trial email account and allow for just one site, unless you pay for a Pro plan. And though you get automatic daily backups and updates, if
you
 don't set them up, they won't happen. Still,
when it comes to features, the clear winner is GoDaddy.
Check out the table below for an overview of both hosts' features.
| | | |
| --- | --- | --- |
| | GoDaddy | Web.com |
| WordPress Hosting Types | Shared; managed (Pro plans) | Shared |
| Free Domain | ✔ | Free for the first year |
| Free SSL Certificate | ✔ | Free with higher-priced plans |
| Disk Space | 30GB-unlimited | 50GB-200GB |
| Automatic Backups | Daily | ✘ |
| Control Panel | cPanel | cPanel |
| Email Accounts | 1 trial account | 10-50 |
| Free CDN | ✔ | ✘ |
| Free Site Migration | Free migration tool | ✘ |
| Money-Back Guarantee | 30 days | ✘ |
Performance
GoDaddy Speeds Past Web.com but Has Some Breakdowns on the Way
Let's face it: users can be impatient. If a website takes too long to load, they're likely to move on. That's why the performance of your website is critical – and
performance begins with page loading speed, which Web.com lacks
. GoDaddy uses SSD storage with its WordPress hosting plans, while
Web.com's older, HDD drives are bound to have a hard time keeping up
. A content delivery network (CDN) helps your site load just as fast for someone on the other side of the world as it does for someone in your backyard.
GoDaddy gives you access to a CDN for free, while Web.com doesn't even offer one with its WordPress hosting plans.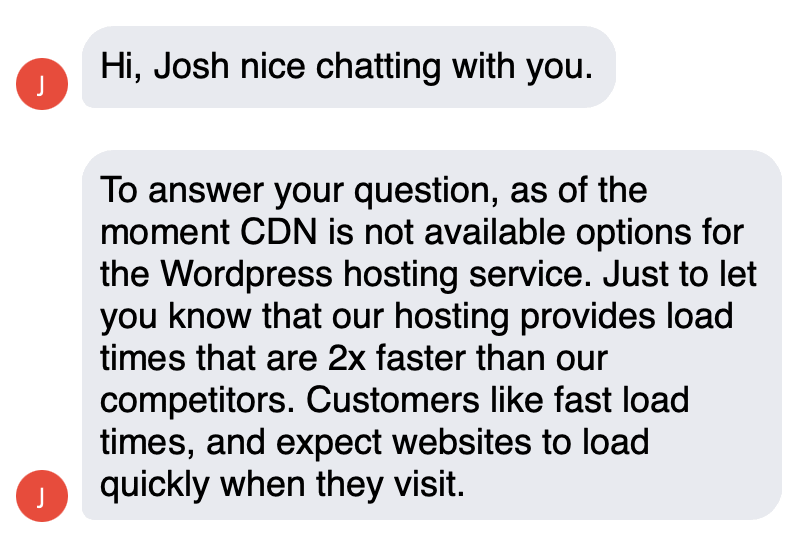 Not offering a CDN can be more of an issue depending on where data centers are located. GoDaddy has data centers in the US, Europe, and Asia, but
we struggled to get a straight answer from Web.com regarding the location of its servers
.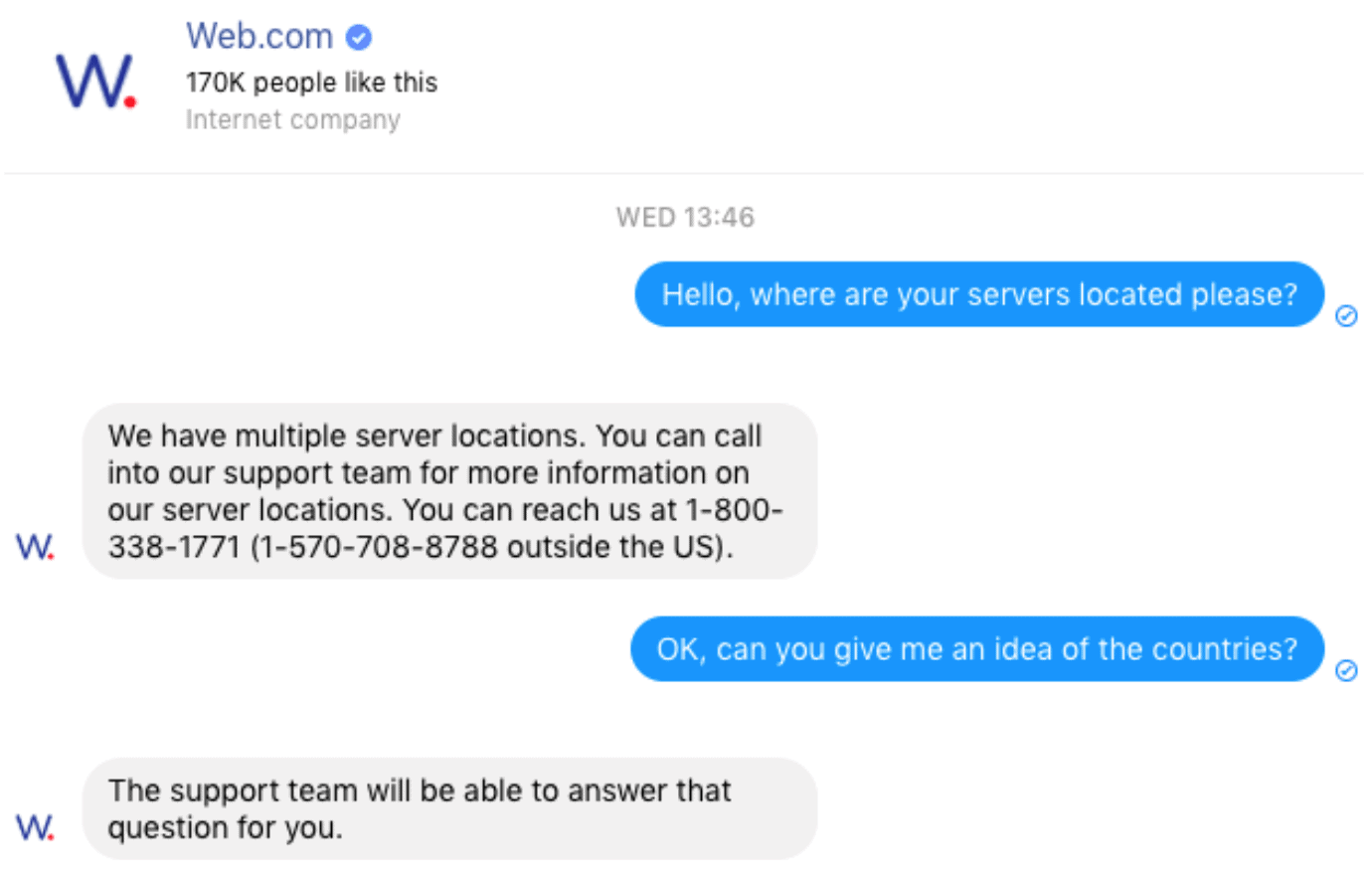 GoDaddy's speed scores make it the clear winner in this section.
Check out our
GoDaddy expert review
 for more performance insights. And to see our Web.com performance test results, click over to our
Web.com expert review
.
Security
GoDaddy Makes Sure You're Secure – Web.com Lets You Down
An SSL certificate is a must to ensure the data that transfers between your customers and your site is encrypted, and it gives your site a boost in search results.
GoDaddy offers free SSL certificates on all its WordPress plans, while Web.com requires you to pay extra for SSL on its entry-level plan,
significantly increasing your monthly fee. Backups are also critical to the security of your WordPress website, and
GoDaddy provides automatic daily backup protection
, while Web.com does not advertise this as being part of its plans. But
another area where GoDaddy separates itself from Web.com is with its free, automatic malware scanning
. It offers it on all its plans, and if you subscribe to one of its higher-priced plans, you'll also get unlimited malware removal and hack repair. Even basic scanning isn't offered for free with Web.com. It's a runaway victory in the Web.com vs GoDaddy security smackdown:
 GoDaddy claims the title
.
And the Winner Is…
I recommend GoDaddy. It gives you more free features and offers better loading speeds and functionality than Web.com
. With any of its plans, GoDaddy offers domain name registration, SSL certificates, and malware scanning without charging you. However, if you seek superior customer support, Web.com presents a better option. Neither host made our list of the
best web hosting services
 for 2023, so consider giving our top choices a look before you choose your WordPress hosting provider.
Plans and Pricing
Competitive pricing, with discounts for longer terms
Prices are similar to GoDaddy's across the board, but you get less for your money overall
Key Features
30GB-unlimited storage space, free domain name, free site migration tool, and free SEO optimization with higher-priced plans
50-200GB storage space, fee for domain name renewal after first year, no site migration, charges for SEO optimization on all plans
Performance
Free CDN included, faster loading speeds
No CDN available, slower loading speeds
Security
Free SSL and malware scanning on all plans, with malware removal and hack repair on higher-priced plans
Free SSL only on mid- and top-level plans, fees for other security functionality
Support
24/7 phone and live chat, but support is poor and live chat can take a long time to reach
24/7 phone, live chat,  SMS, tickets, and Facebook, though presale support is much better than post-sale support
FAQ
Which host is best, GoDaddy or Web.com?
GoDaddy and Web.com are neck-and-neck based on our expert reviews, but when we compared their WordPress hosting plans, GoDaddy proved to be the superior web host. However, neither made our top 10 list of web hosts. Have a look to see which hosts did.
Which GoDaddy plan is the best?
This all comes down to your needs. Are you just getting started with a small business and website? If so, the Basic entry-level plan will give you 30GB of storage space and is ideal for up to 25K monthly visitors. Already got a thriving business and need some marketing, unlimited storage, and added security? Try the Ultimate plan.
Does GoDaddy use cPanel?
Yes. GoDaddy gives you cPanel with all its WordPress hosting plans. You'll get all the regular tools that let you install apps, manage your backups, configure security settings, and more. There are some great cPanel alternatives out there, but as of now, it's still the industry standard and it's what you'll get if you choose GoDaddy as your web host.
Is GoDaddy reliable?
GoDaddy gives you a 99.9% uptime promise, which it lives up to, and then some. When we tested its performance with a WordPress site, it scored 100%. See our GoDaddy expert review for more.