As a content writer, I know the outcomes of bad writing all too well
. Not only can it lead to embarrassing or unnecessary problems with your editors and clients, but you'll lose time making revisions. At this point, I have a pretty solid strategy to make sure that my content is well-written, error-free, and easy to read.
Through the use of multiple grammar checking tools, my writing is now better than ever
.
But which ones should you use?
To help you decide, we ran a little experiment. Using a piece of poorly written content (which included grammar, punctuation, and spelling errors),
we tested eight free online grammar tools against Microsoft Word's grammar checker
. We checked to see what they caught, what they missed, and found the ones that should be in every writer's toolbelt.
Our findings? Microsoft Word is a good first check, but it's far from perfect.
To be safe, any content—be it a blog post, school report, email, marketing copy, or social media post—should be run through a minimum of two checkers
.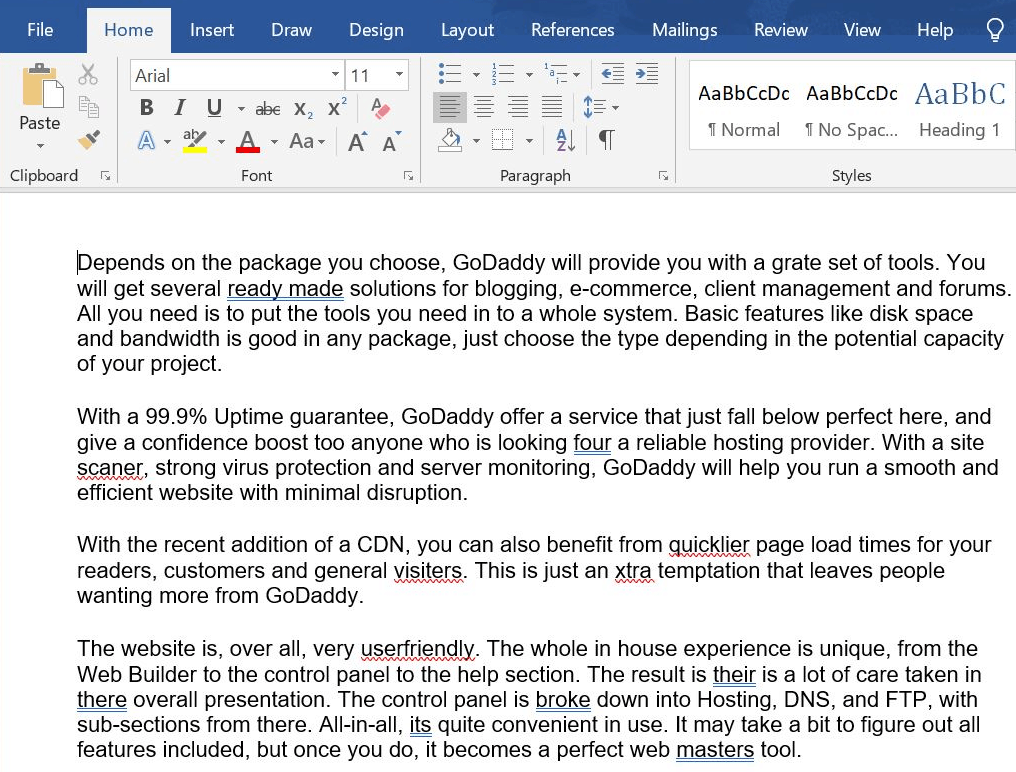 #1: Grammarly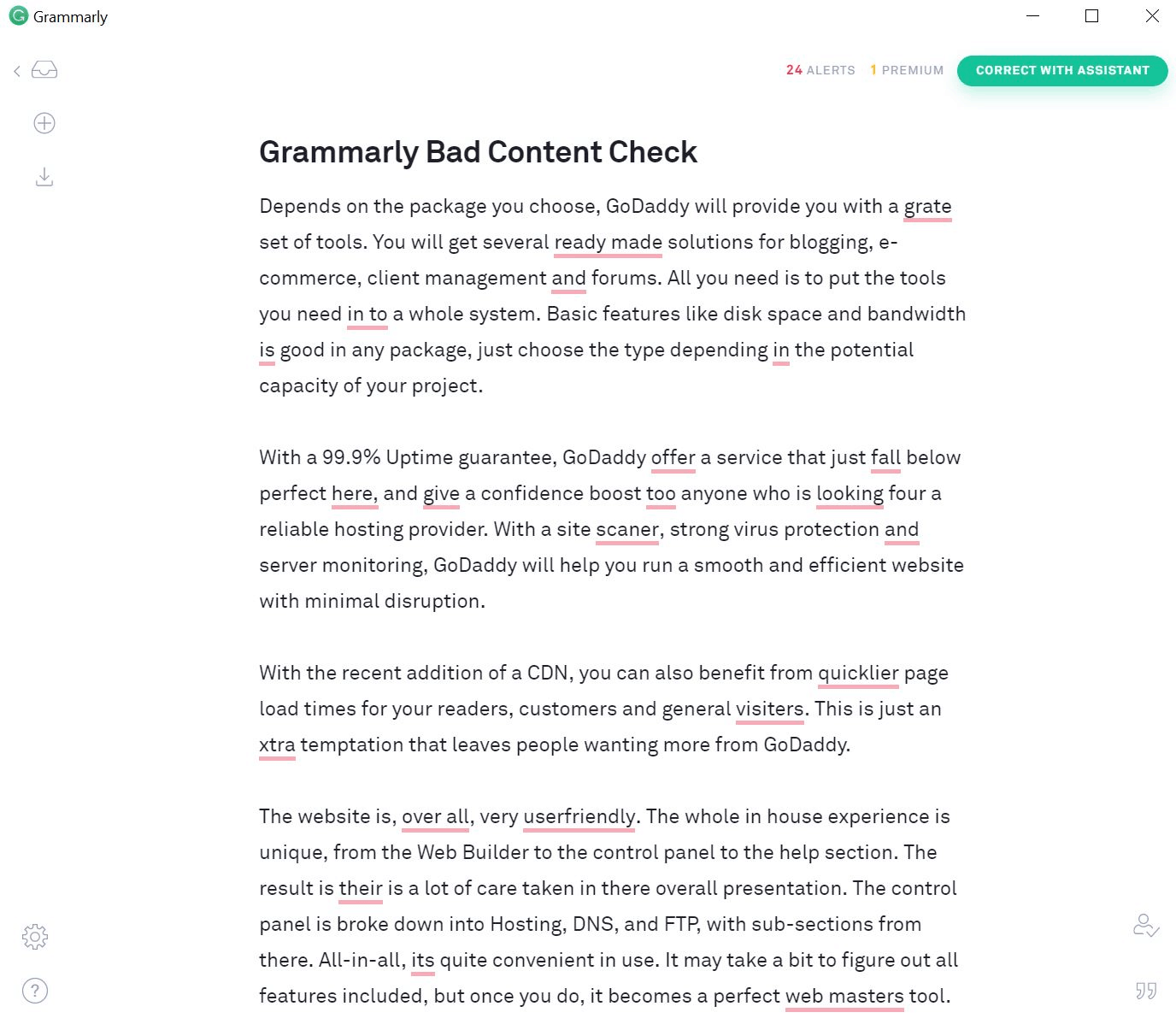 First, we'll cover one of the biggest names in the world of grammar checkers: Grammarly.
Grammarly is a fantastic free tool
.
It does an amazing job of not only catching grammatical errors, but punctuation and spelling mistakes as well
. You have the option of using the free desktop application (for Windows and Mac), a browser extension, or even Grammarly for MS Word (only on Windows). The tool explains what you did wrong, allowing you to learn from your mistakes so you won't keep repeating them.
Grammarly will even point out words that may be spelled correctly, but just don't work given the context of the sentence
. It helps with things like incorrect or missing commas, poorly used adjectives, and missing articles. Nearly all of these functions are offered for free, although there is a premium version if you're more serious about your writing. This version includes a check for overused words, consistency in writing style, unclear or vague language, and potential plagiarism.
Grammarly Premium
offers many more suggestions than the free version and is highly recommended for anyone who writes or edits professionally.
What Makes Grammarly Great
Caught more grammar and punctuation errors than any of the other tools we tested—and that's with its free version; the premium is even better
Surpassed Microsoft Word 2019's ability to catch spelling and grammar errors, especially when it came to punctuation (although there were a couple that Word was able to catch that Grammarly didn't, showing the importance of using multiple tools)
Offers free extensions for all the top browsers (Chrome, Safari, Microsoft Edge, and Firefox)
Has an easy-to-read interface, placing errors in different categories such as grammar, spelling, and punctuation
Can be incorporated as an add-on to both Microsoft Word and Google Docs
Can check your emails, social media posts, or anything else you type online
Your work is saved in a cloud, giving you access to it from any device you use to log in
Helps you create a consistent style and tone in your documents, so you can avoid being overly wordy or difficult to understand
Allows you to rate your content based upon your specified audience's level of education using its performance check
Includes helpful stats like the reading and speaking time of your document
Gives you the option of setting writing goals, and the more you let Grammarly know about the context of your writing, the better its suggestions will be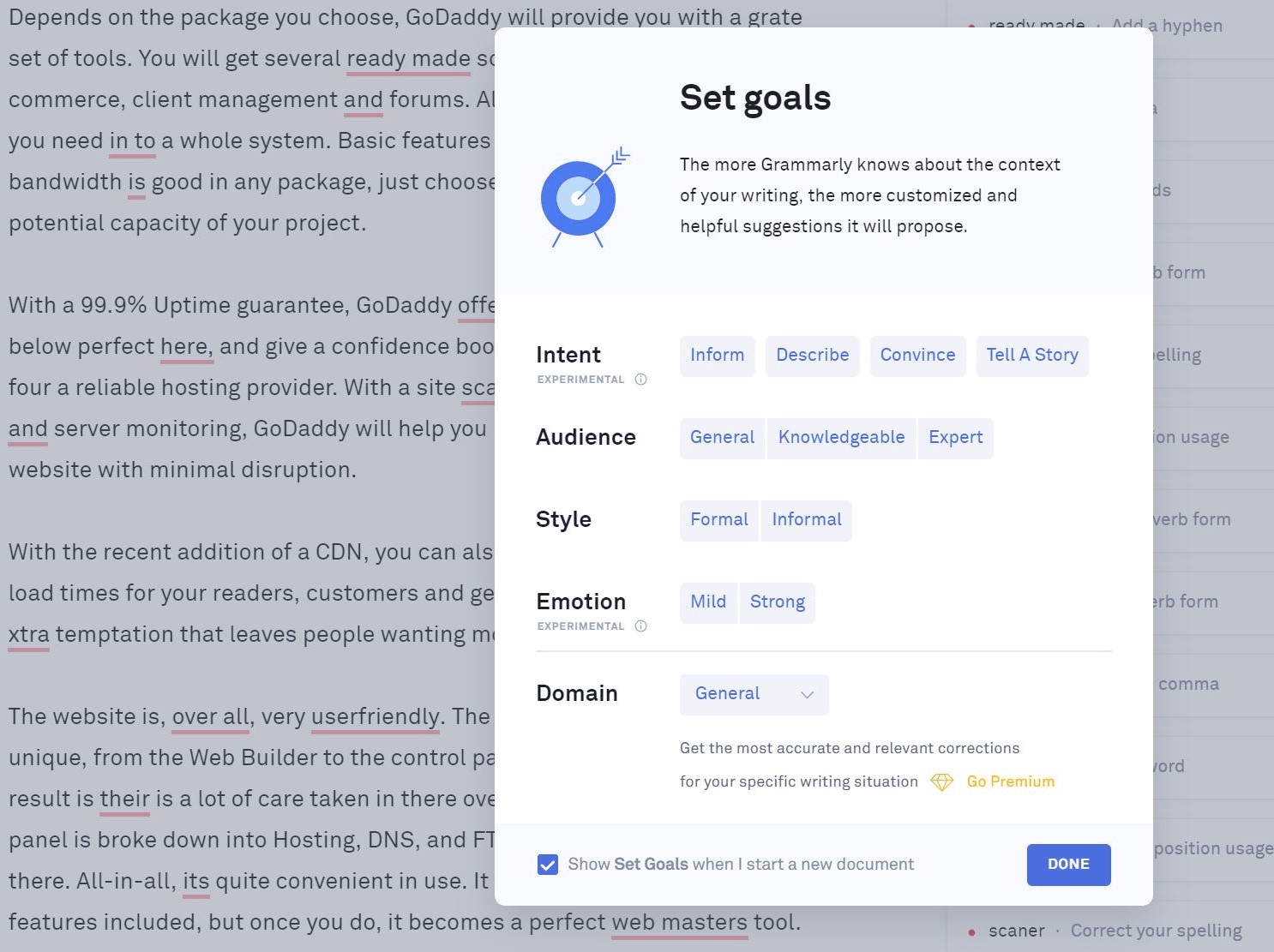 Creates a weekly performance report, comparing your content to other Grammarly users who have set similar goals for their writing
Gives a good explanation of your mistakes, so that you're unlikely to repeat them in the future
Allows you to save words into a "personal dictionary" so the app will ignore or correct words that may not be in common usage (such as a company name or an abbreviation)
#2: Ginger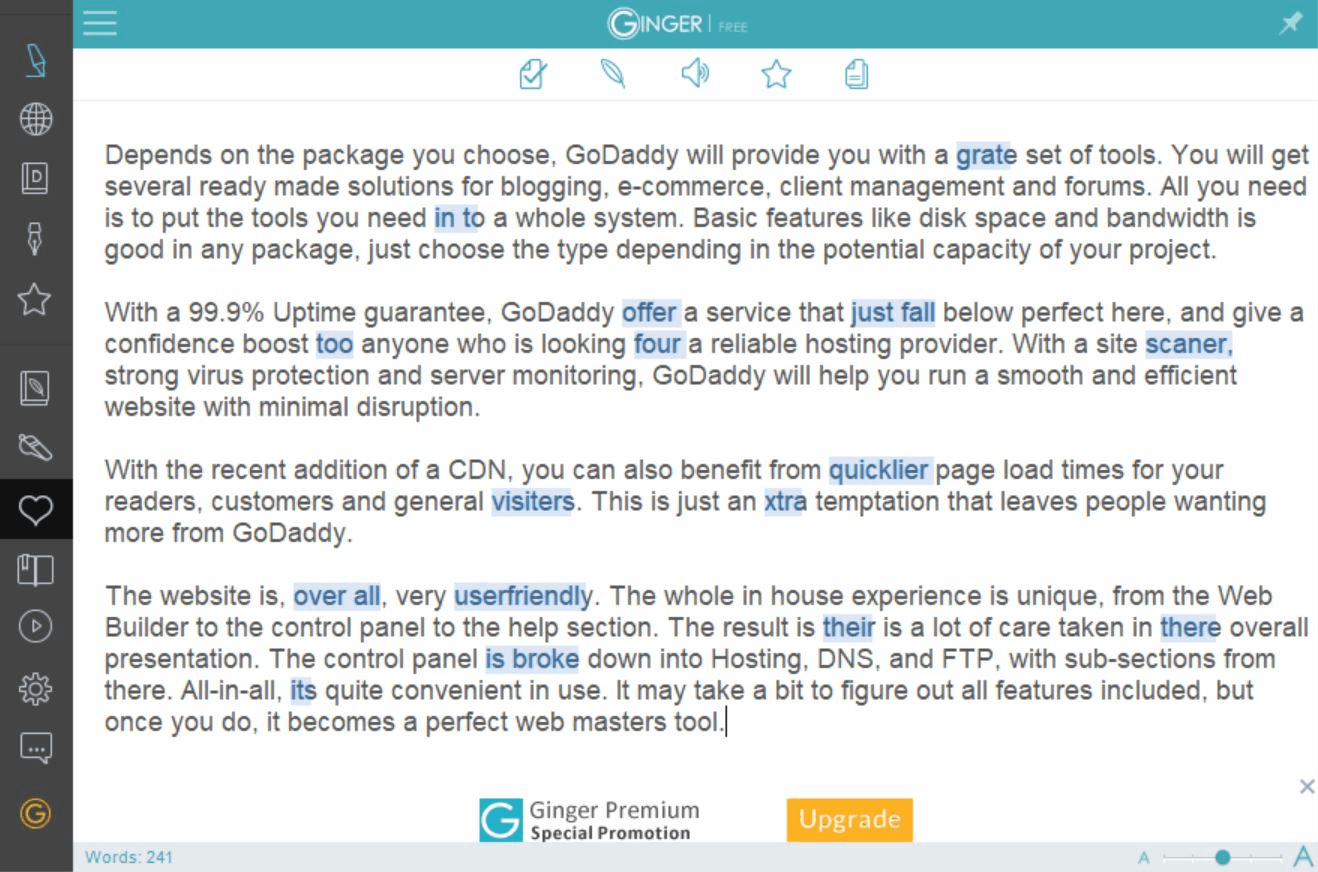 Ginger
is another great tool that offers free browser extensions, desktop apps, and add-ons to help you minimize the number of errors in your writing. While this tool is fairly generous with the number of free applications it offers,
it isn't as effective as others when it comes to catching errors
. This is especially true when it comes to finding missing or unnecessary commas. Grammarly was able to catch three within our test paragraphs, while Ginger caught a big fat zero. A major downside to the free version is that Ginger limits the number of spelling and grammar errors that it will fix each week.
Once your weekly quota has been hit, Ginger will still highlight the problems, but you'll need to manually implement the changes
. This isn't a huge deal but is still worth mentioning. There is no limit to the number of errors that the paid version of Ginger will fix. You'll also have an analysis of your mistakes, which will help you avoid repeating them in the future (something that Grammarly offers with its free version). You can pay for the tool either monthly or annually, but there is a considerable price break if you sign up for the entire year up front.
What Makes Ginger Great
Offers a free add-on for Microsoft Word, a free desktop application, and free extensions for both Safari and Chrome browsers
Supports translations in more than 60 languages
Does a good job of catching spelling errors due to context, such as using the word "grate" instead of "great"
Includes a dictionary and a thesaurus
Syncs your text across all your devices that have the Ginger application installed
Gives you options for rephrasing sentences to sound better, although this is only available to premium members
#3: After the Deadline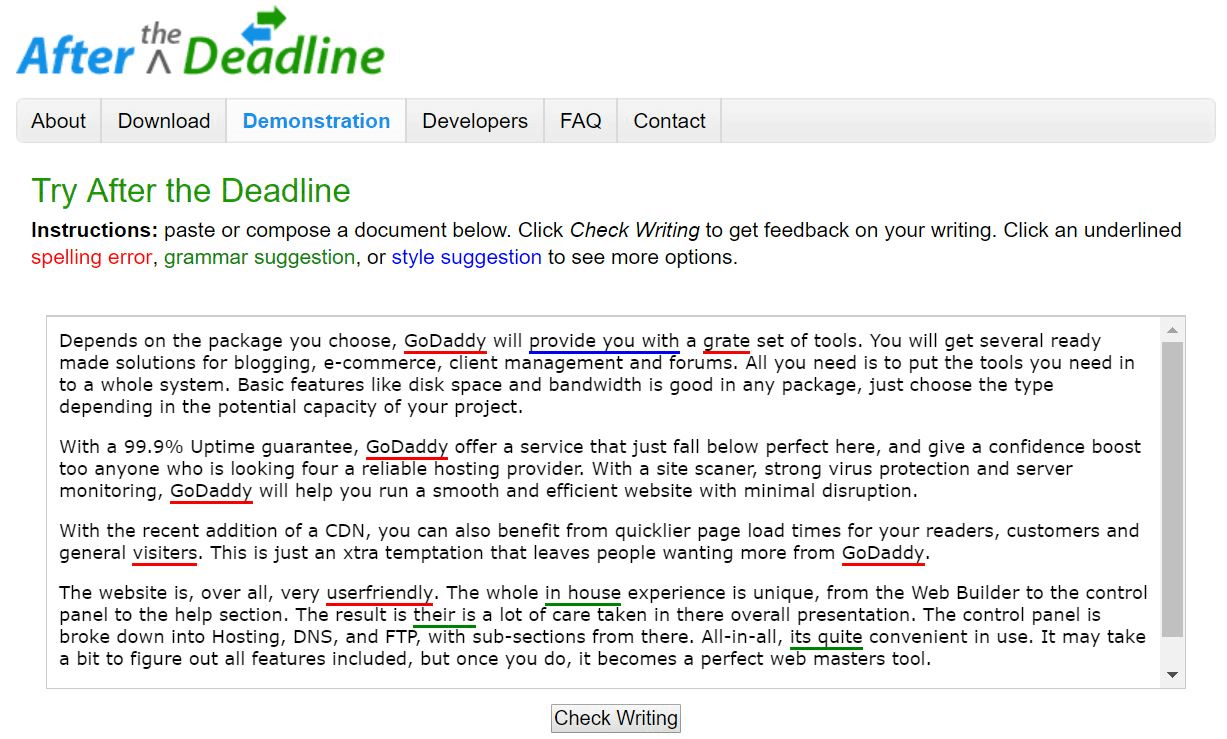 After the Deadline
is free-to-use open-source software that not only corrects spelling and grammar but also offers style suggestions. This includes simplifying complex expressions, such as changing the term "provide you with" to "give you."
This web-based tool did a good job catching most of the spelling and grammatical errors within our sample paragraphs
. It was even able to catch some issues that MS Word's grammar checker overlooked, such as the missing hyphen in the term "in-house." But it wasn't perfect.
Like many on this list, this tool also missed the mark when it came to catching punctuation errors
. This includes missing or unnecessary commas, an area where Grammarly did exceedingly well. After the Deadline's browser extensions pose another issue. The extensions are not nearly as user-friendly as others mentioned in this article. Personally, I had difficulty getting them to work both in Google Docs and social media posts. For that reason,
this grammar checker is best used as a web-based tool
, although you'll need to copy and paste your content into the website to get the most out of it.
What Makes After the Deadline Great
Able to catch some grammar and contextual spelling errors that were missed by others, including Word
Has more functions than many other free grammar checkers, catching common errors such as repeated words, auxiliary verb agreement errors, confused words (a/an, there/their, it/it's), wrong verbs in infinitive phrases, and determiner agreement errors
Offers style suggestions to help you simplify complex expressions
Supports multiple languages, including English, French, German, Portuguese, and Spanish
Includes a plug-in option for self-hosted WordPress blogs
Includes a library of 1,500 commonly misused words, allowing it to catch words that are spelled correctly but have been used out of context
Offers a free extension for the popular open-source word processor OpenOffice Writer
#4: Hemingway Editor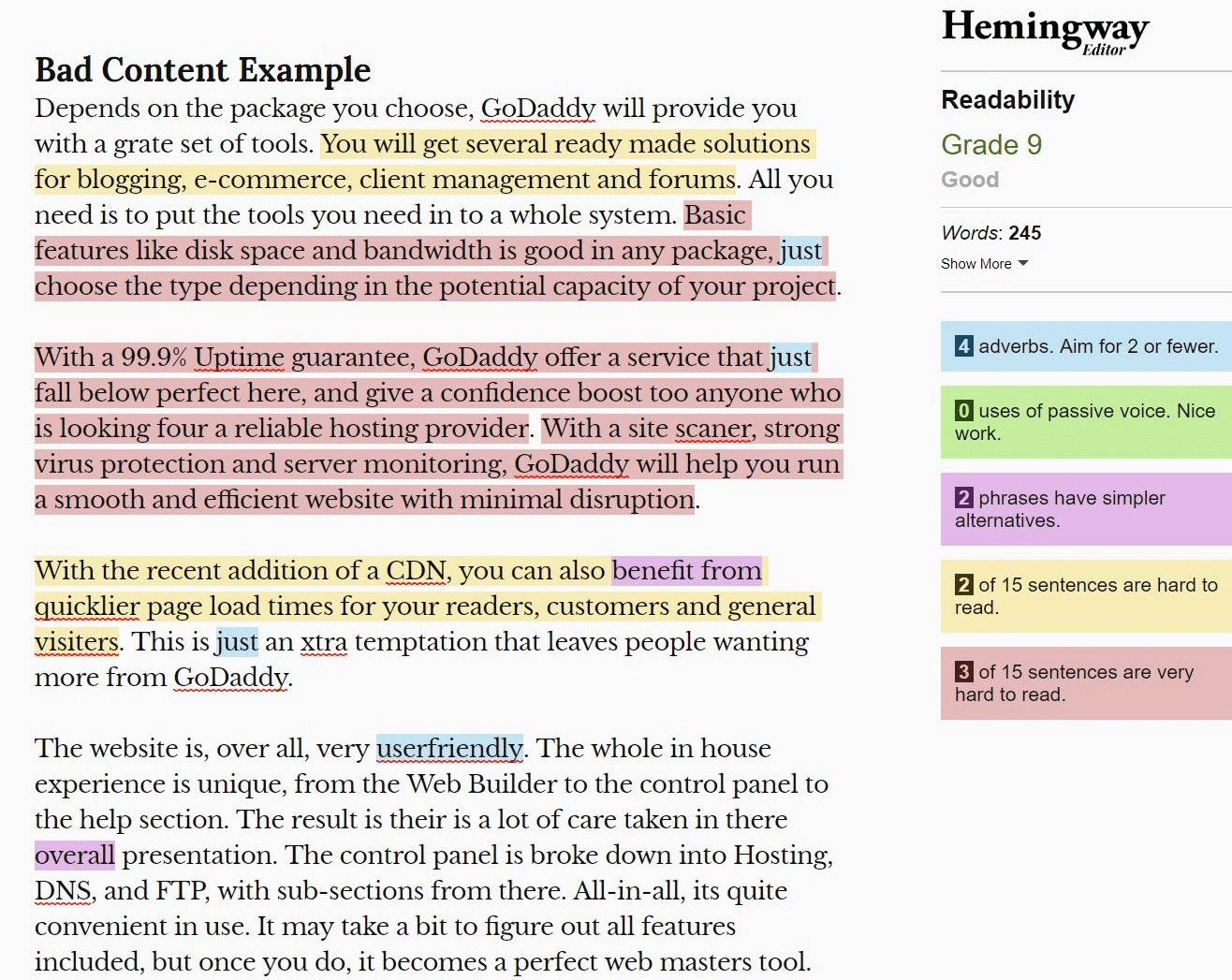 This grammar checker is a bit different than the other tools on this list.
It rates a piece of content in terms of its clarity and readability
, which can make your writing easier to understand.
Hemingway Editor
is great for pointing out things like difficult-to-read sentences, the use of the passive voice, overly complicated or dull phrases, and excessive adverbs. It also looks for simple spelling errors.
Keep in mind that it doesn't catch grammar mistakes or words that are used out of context
. For example, it didn't flag "four" when "for" was needed, or "grate" when "great" made sense. Therefore, this tool should always be used alongside a grammar checker, such as Grammarly. Hemingway Editor's web-based checker is entirely free. There is also a desktop version, available for both Windows and Mac.
It costs a low one-time fee
, making it a reasonable option for any aspiring writer.
What Makes Hemingway Editor Great
Flags sentences that are overly wordy, too complicated, or simply hard to read
Highlights different types of errors in different colors, so that they are easy to identify
Capable of importing or exporting text directly to or from PDF or Word files
Allows you to directly publish your content to WordPress or Medium with the click of a button (if you pay for the desktop app)
#5: GrammarCheck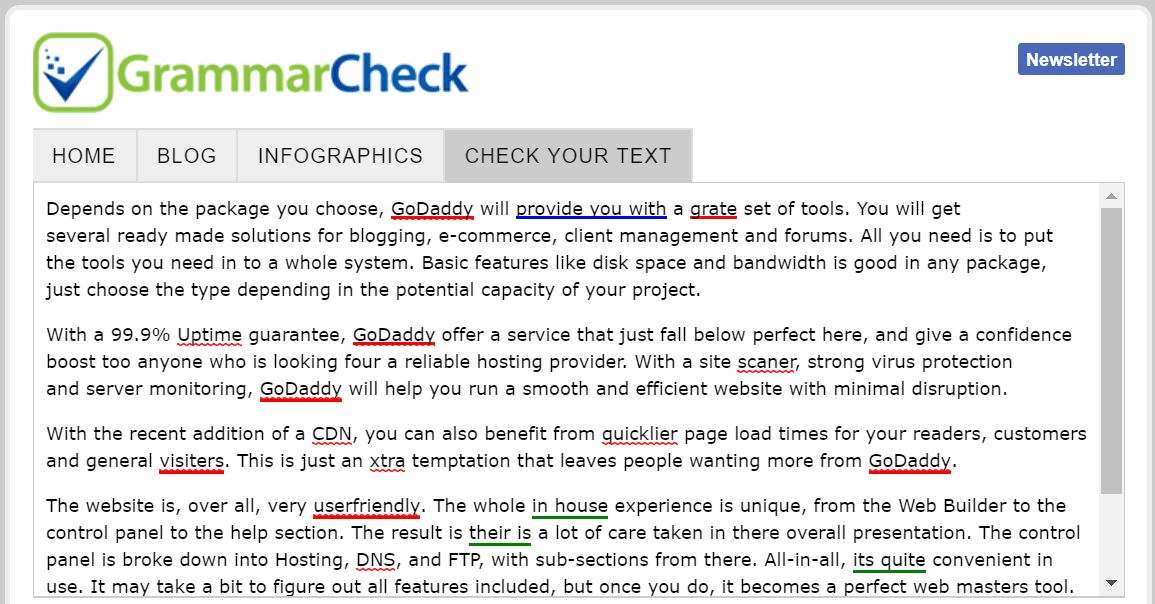 This is another free web-based tool that doesn't require you to download any software or register in order to use it. All you need to do is copy and paste your content into the text box, click the "Free Check" button, and
GrammarCheck
will do all the work from there.
GrammarCheck is pretty bare-boned and its interface isn't all that fancy, but for simple grammar checks, it can be more than enough.
And while this checker may be simple,
it was still able to catch a couple of errors from our sample paragraphs that Word's built-in spelling and grammar checker completely missed
. These were mostly contextual spelling errors, which many of the listed tools seemed to have problems with.
This tool failed when it came to catching certain punctuation and grammatical mistakes
. That said, it did do a good job finding misused articles and highlighting expressions that it considered overly complex. GrammarCheck is entirely web-based, offering no extensions or add-ons. It's also completely free, with no premium options.
What Makes GrammarCheck Great
Doesn't require you to download any software, offering all of its functions entirely for free
Caught contextual spelling errors missed by some of the more advanced options, such as Grammarly and Microsoft Word
Does a fairly good job of pointing out overly complex expressions
Gives simple explanations of errors, helping you avoid similar mistakes in the future
#6: ProWritingAid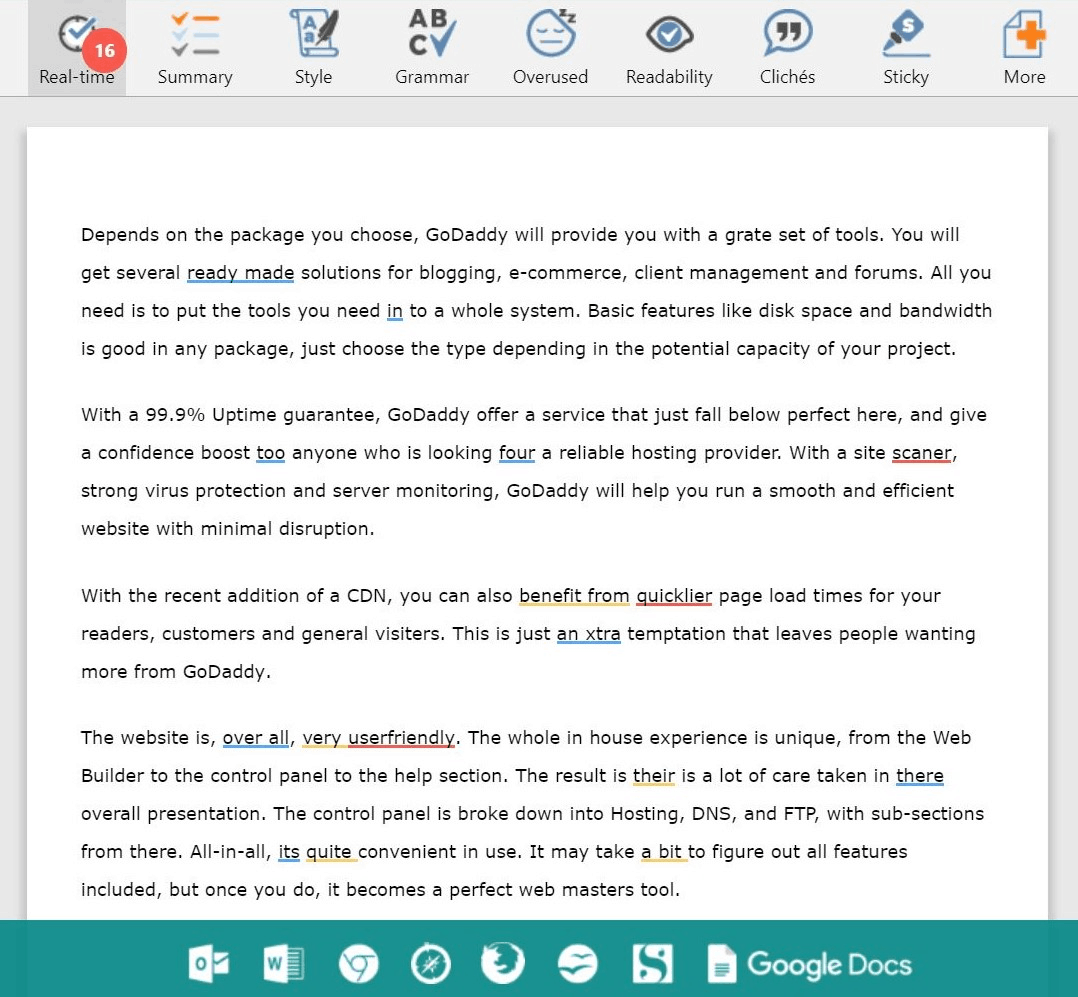 With a user-friendly interface and easy-to-navigate reports, ProWritingAid is a very promising grammar checker
. It sells itself as a top application for finding overused words, spelling errors, readability issues, grammar problems, and more.
However, we did encounter a few issues with its free application.
For starters, while it offers suggestions for misused words and grammar issues, some of these suggestions totally missed the mark. For example, in our test paragraphs, we included the words "in to" when "into" was clearly the most appropriate replacement: "
All you need is to put the tools you need in to a whole system
." While all other tools used easily caught this error and offered the correct suggested replacement, for some strange reason this tool thought the sentence should be changed to: "
All you need is to put the tools you need in order to a whole system
."
I love this tool's easy-to-use and clean reports, but it falls short when compared to the AI used by other tools
(it also only caught 16 errors while Grammarly was able to find 22). The free version is somewhat limited as well, only letting you input 500 words at a time.
ProWritingAid also limits the use of the desktop app, Word add-on, browser extension, and Google Docs add-on to premium members only
. You can purchase a premium membership at a yearly rate or opt for a lifetime membership at a one-time cost.
What Makes ProWritingAid Great
Offers easy-to-read reports covering style, grammar, overused words, readability, sticky sentences, clichés, diction, repeated words, and even sentence structure
Provides a summary report that gives you a quick overview of your document with stats and key recommendations for improvement
Has a user-friendly interface
Highlights errors and includes an explanation as to why they should be fixed
Includes a contextual thesaurus that will give you good word alternatives
Includes browser extensions for Chrome, Firefox, and Safari, in addition to add-ons for Word and Google Docs (only available to premium members)
#7: Grammar Lookup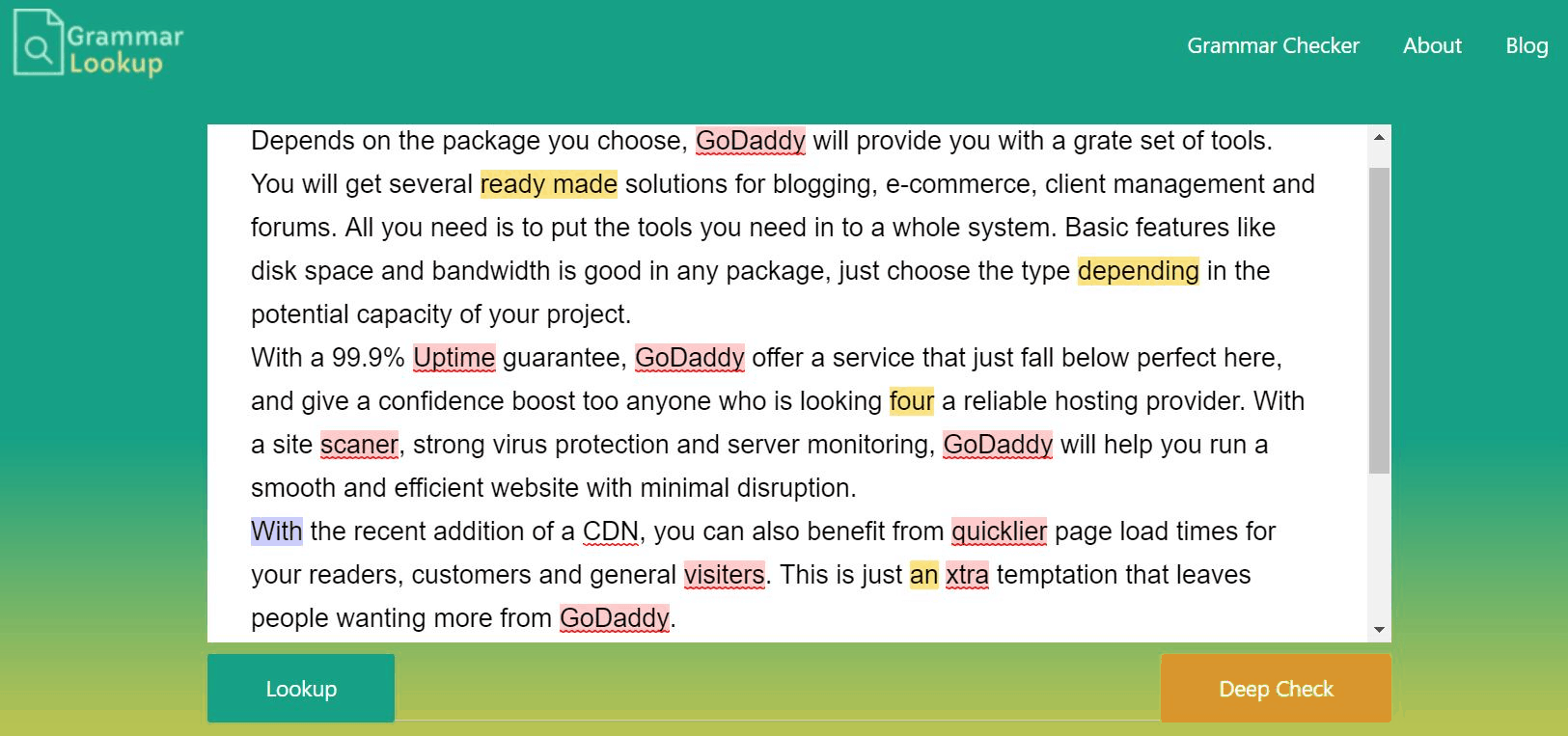 Grammar Lookup
is a web-based tool that's completely free and doesn't require you to download any additional software in order to use it.
While it did miss some blatant grammar and punctuation errors that other tools had no problem finding, it did an excellent job of identifying some stylistic issues.
In our test paragraphs, we observed multiple consecutive sentences commencing with the word "the," and several more initiating with the word "with." Most other tools we tested overlooked these particular issues. Although not categorized as a grammatical error, it does indeed impact the readability of your content.
What Makes Grammar Lookup Great
Has a generous word limit, allowing you to check thousands of words at once
Gives easy-to-follow explanations regarding any grammar or spelling issues
Highlights stylistic problems, such as consecutive sentences beginning with the same word
Access to the tool's full functionality at no cost whatsoever
Quick and easy to use — just copy and paste your content directly into the text box
#8: LanguageTool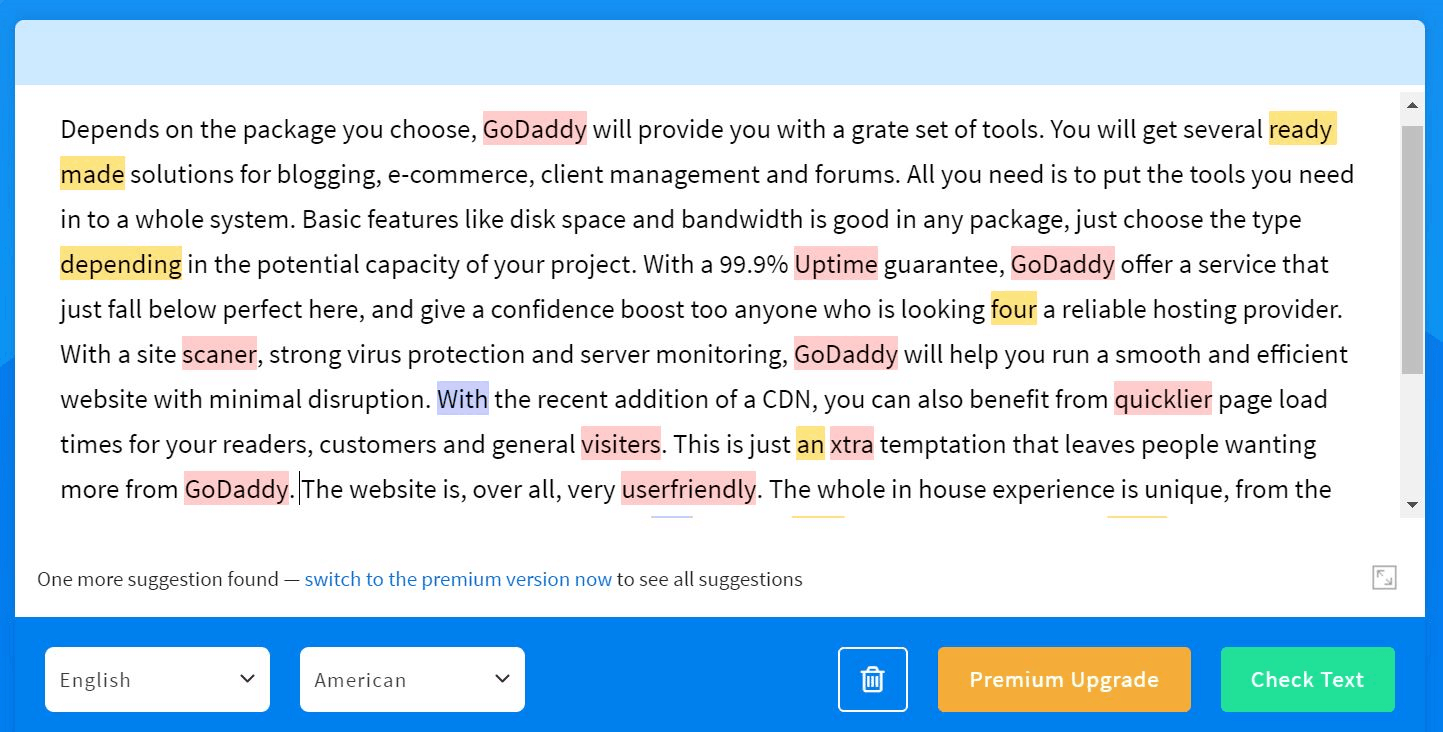 The biggest advantage of
LanguageTool
is that it can be used in a variety of languages. This is helpful for non-native English speakers who want to translate text from their native tongue, and then feed it through LanguageTool to check for errors in English.
It also offers checks in multiple English dialects
. So whether you're writing social media posts for a British brand or a blog that's targeted toward Americans, LanguageTool has you covered. However, we did find some issues. It missed many of the grammar and punctuation errors that were caught by Grammarly. And when it came to catching contextual spelling mistakes (e.g., "grate" vs. "great"), it really didn't do much better than Word.
LanguageTool offers a free web-based option, although with a limited amount of characters (20,000)
. The premium membership is reasonably priced, charging either a monthly or annual rate.
The browser extensions, as well as Word and Google Docs add-ons, are only available to premium members.
What Makes LanguageTool Great
Ability to check your grammar in American, British, South African, Australian, Canadian, and New Zealand English
Can be used in multiple languages, including Belarusian, French, Japanese, German, Tagalog, Spanish, Greek, Italian, Chinese, and several others
Includes a generous 20,000-character limit with the free version of the tool
Checks for flow, such as pointing out sentences that continually start with the same word
Has extensions for Chrome and Firefox, in addition to add-ons for both Google Docs and Microsoft Word (only available to premium members)
What Tools Should You Use?
Through my tests, Grammarly came out on top time and time again
. It caught contextual spelling errors that were overlooked by Word, punctuation errors that were consistently missed, and other grammatical issues that most other tools neglected to point out. That being said, Grammarly isn't perfect. It missed some errors that were caught by Word, as well as other tools (missing the use of "four" when the word "for" was needed is the worst mistake that comes to mind).
Therefore, it's important to remember that you should never rely on just one tool
. If you don't have Microsoft Word,
then I'd recommend using Grammarly and another strong tool like After the Deadline or Ginger
. Use the following table for a quick comparison guide of all the grammar checkers we tested:
Grammar Checker
Where It Shines
Where It Falls Short
Grammarly

Caught more errors than all other tools
Free browser extensions, web-based tool, add-ons, and desktop applications
Extremely user-friendly interface
Breaks errors into different categories, and offers explanations as to why they're wrong
Saves all of your work in the cloud

Premium options aren't as cheap as some others
Still missed some things that Word and other grammar checkers caught

Ginger

Caught more errors than Word
Has free Word add-on, desktop app, and browser extension
Offers sentence rephrasing to premium members

Free tool only fixes a limited number of errors each week
Didn't do the best job catching punctuation errors

After the Deadline

Free and open-source, offering all its features without charge
Supports multiple languages
Allows for well over 10,000 words to be checked at once

The browser extensions are not very user-friendly, and I had difficulties getting them to work
Doesn't include an add-on for Word
Did not catch missing or unnecessary commas

Hemingway Editor

Great for catching stylistic errors
Helps to improve the readability of your content by catching overly complex sentences and phrases
Good at finding overused adverbs and the use of the passive voice

Does a poor job catching punctuation and grammar errors
Doesn't have any browser extension options

GrammarCheck

Points out overly complex expressions
Doesn't require you to download any software or register
Finds articles that are used incorrectly

Did a poor job when it came to finding punctuation issues
Missed grammar and spelling problems that other tools easily found
Lacks any web extension or add-on options

ProWritingAid

Issues easy-to-read reports that can be very useful
Offers quick style fixes for passive verbs and adverbs
Let's you know if you're overusing or repeating certain words

Gave suggested edits that were simply wrong
Missed grammar and punctuation issues that were easily caught by both Word and Grammarly
Browser extensions and add-ons are only available to premium members

Grammar Lookup

Found words used out of context that other tools missed
Completely free to use with no premium version
Can be used without needing to download any software

Doesn't include detailed reports that are common with some of the other tools
Doesn't have any browser extensions or desktop applications

LanguageTool

Low-priced premium membership compared to many other tools
Available in many different languages
Can check spelling and grammar problems in multiple English dialects

Even premium members are limited to 40,000 characters per check
Did no better than Word at finding words that contextually incorrect
Lacks free browser extensions or Word and Google Docs add-ons
---
Sources:
https ://help.gingersoftware.com/hc/en-us/articles/201977071-Is-Ginger-Grammar-Checker-Free-
http ://www.afterthedeadline.com/questions.slp
https ://afterthedeadline.com/features.slp
https ://justpublishingadvice.com/the-best-12-free-grammar-check-and-grammar-corrector-apps
https ://www.languagetool.org/
Image Credit:
http ://media.galaxant.com/000/062/024/desktop-1406813087.png