Our main contribution to customers is to help them to get their software products to market faster. So those could be software products that are targeting their customer base, or they could be internal software products. Both are target audience situations for us. We have two distinct product groups that we provide: One is a set of software development tools these are relatively low-level tools that software developers use to build software applications and get them to market faster. The other is a higher-level set of components, meaning that they're larger blocks that are also integrated into applications. At first sight, it appears that these are two distinct kinds of products, but they are fundamentally united by the fact that both are integrated into customer products and into organizations, helping them to move forward with their business initiatives, supporting their digitization efforts and other business processes that are best handled by software.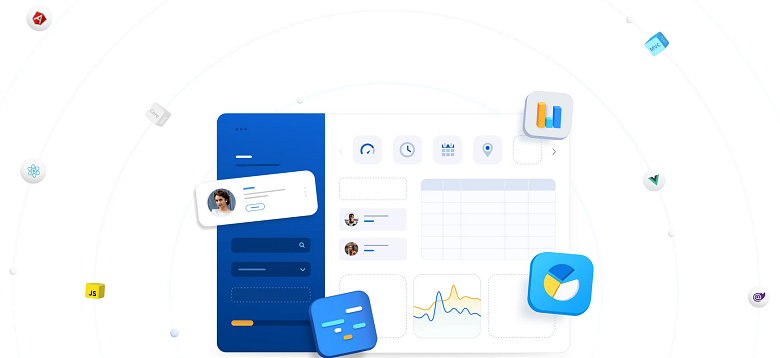 What level of experience is required for each of these products?
The software itself is fundamentally usable by everybody with all experience levels. However, the two job descriptions that are primarily going to use the different products will be different. Software development requires training in software development itself (programming languages, software algorithms, etc). Once someone is familiar with the basics required to perform software development, they will get comfortable with using our tools quickly. Our Bold products are higher-level components that require more business domain knowledge, so someone with business experience is more likely to be able to use them more quickly. Provided that they understand business processes and business needs.
What customer service does Syncfusion provide?
The primary method of customer service we offer is through our web support system, which is staffed and runs 24 hours, 5 days a week. On weekends we offer support to certain license holders who have priority support that they obtain for weekend access. We have a lot of our customers spread out all around the globe. When structuring our customer support, we need to make sure that we cover European time (from east to west), Australia, Japan, Singapore, the United States (our largest market), Canada, South America, and Africa. So, we are truly global. We have a lot of customers who operate from all parts of the world, and they need support in whatever time zone they're conducting their software development work in. The support team itself consists of the developers that have written the products and are familiar with the code. We rotate people off the support team onto the development team, so they write the code, and then they all rotate onto support for a few months. This is part of our workflow to ensure that our support team is in touch with customers and their requirements. So, they get to see how the products are used and what kind of issues customers are facing. We also have a 'customer success team' to help monitor support. This team facilitates support but does not supply support. As an example: if a customer has a specific issue/requires usage support, we will address that for them. However, if a customer needs guidance on a product that they are looking to ship, and they would like guidance on what is appropriate and what is not appropriate, and what kind of timelines we can meet, this would be facilitated by the customer success team.
What is the difference between a flat license and a retail license?
Flat license means that the customer has signed up to deploy the licenses on a broad scale across the organization. This does not take headcount into regard. The retail license is one where the customer buys licenses for a fixed set of use cases, so typically licensed on a per person headcount.
Syncfusion has just announced the availability of the third major release of Essential Studio in 2021. Can you please give us some of the highlights of the Volume 3 release?
The Blazor platform is a very important platform for a lot of our customers. It's fundamentally transforming a lot of business application development as it brings a lot of powerful tooling to web applications that were previously only available on desktop and server applications. There is a lot of interest in this platform from our customers. Prior to the Volume 3 release, we already had the largest suite of Blazor controls out on the market—with this release we have enhanced our existing controls and added many more. There are also two new platforms that are coming out that are targeting different use cases. The first is the
.NET MAUI
platform from Microsoft. This is the successor of the Xamarin platform that targets mobile development for Microsoft platform users. It is an immensely powerful platform that allows you to write mobile applications without duplicating a lot of code. So that's another area where our customers are very interested, and we have done a lot of work around that. The other platform that's also important for Volume 3 is a platform called
WinUI
that allows the development of Windows applications with seamless integration with the platform itself. So that's in the works at Microsoft and something that we support. It's kind of cutting edge. I think the highlight of Volume 3 is that it underscores our promise to customers—helping them to get to market faster and capitalize on everything that's out there. So, if there's a customer who was looking to take advantage of the mobile platform, or the new features of Windows 11, Windows desktops, and they want to take advantage of that and get to market, they don't have to wait for months and years for support to be available. Even before these platforms ship, we are already ready with the controls that make it easy for customers to adopt that platform and to benefit from the features that it offers, thereby getting to market faster and being more competitive in their business.
You have four broad product categories; can you explain each of these to us and let us know how each one stands out from comparable products offered by your competitors:
I would also like to add that with Covid a lot of interest is focused on data and business transformation. A lot of companies are trying to move towards digitizing their operations completely—these products will really help with that. They will offer you built-in reporting, analytics, and a collaboration platform for stakeholders all over the world, all in a very streamlined way.
What can we expect to see from Syncfusion in the future?
We ship four releases a year for the developer tools product. The other products (analytics platform, reporting platform, and the signature platform) ship more often. We have an update on these platforms about once a month with major releases happening four times a year. In terms of developer platforms, we are mainly focused on the new platforms that are coming out: WinUI, .NET MAUI, and Blazor. So, there will be a lot of innovation and new controls happening on these platforms in the coming year. We are also expanding how we offer support. We are working hard behind the scenes to make sure that support SLAs are getting tighter. Our typical SLA is 24 hours, but we are working on bringing that down to between eight and six hours. So, we are doing a lot of work behind the scenes to achieve this. This includes the launch of a chat support channel which we have been using for the last eight months. We are looking to expand that, so customers don't have to wait to get a response. The other thing that we're working on with the analytics platform, the reporting platform, and the signature platform is that these are very competitive products competing in a very large market. Our goal is to make it such that these products are second to none. They offer all the features that someone would need. We work together with customers to implement changes that will broaden the usage of our products. Over the next year, I think these platforms will get even more attractive than they already are. Lastly, we have a new product coming out which has not been announced yet (except maybe to certain beta testers). We have a support help desk product coming out. It's going to be called BoldDesk. We expect it to ship early next year. So as a company we are focused on expanding these products and making sure that they reach an even wider audience.
What sort of changes are you implementing to improve the SLA for support?
It is a combination of software and process changes. We need to have people in different time zones available to be able to manage the support queue. The software also has to support a seamless handoff between these teams. In the past with a 24-hour SLA, if one team was working eight hours a day and a support incident was being serviced by that team, they would respond and they would log off and the customer would have 16 hours to respond. The same team would respond when they logged back in for work. We are now using a shift-based system where we are handing off support among teams. So, the software also has to support a seamless handover between the different agents who are working on the case. Internally we have been using our BoldDesk product for the last six months. This offers more seamless support for teams that are working in different time zones to manage their shifts. So those are the changes that we have to work with on the backend—both expansion of staffing across multiple time zones and better software support required to make sure that they're not kind of impeding each other in the process.