features made for small businesses like easy-to-use dashboards and simple pricing models
. When researching the two credit card processors,
I was surprised to find how user-friendly they are
– from providing a simple onboarding experience to fast customer service responses when I had questions. But if you're trying to decide between the two, it's important to understand where their differences lie to make a fair comparison.
Square tends to work well for retail or restaurant small businesses and e-commerce stores, while SumUp is good for freelancers, contractors, or other on-the-go businesses.
It's important to note that their pricing model is best for small- or medium-sized businesses with lower sales volume. If you sell more than $5,000 a month, a subscription-based model like
Stax will likely save you money in the long run
. While both have their benefits,
Square's robust add-on services and ability to easily upgrade your plan make it a powerful and scalable tool for small businesses.
Many of those added features won't be necessary for most small businesses, but if you're looking for an all-in-one payment processor, Square is complex enough to get the job done.
Features
Square Offers a Vast Library of Advanced and Tailored Features
SumUp and Square sell POS devices that cater to a variety of needs. They don't differ much in terms of functionality, with both payment processors offering swipe, tap, and contactless options for all major credit card companies.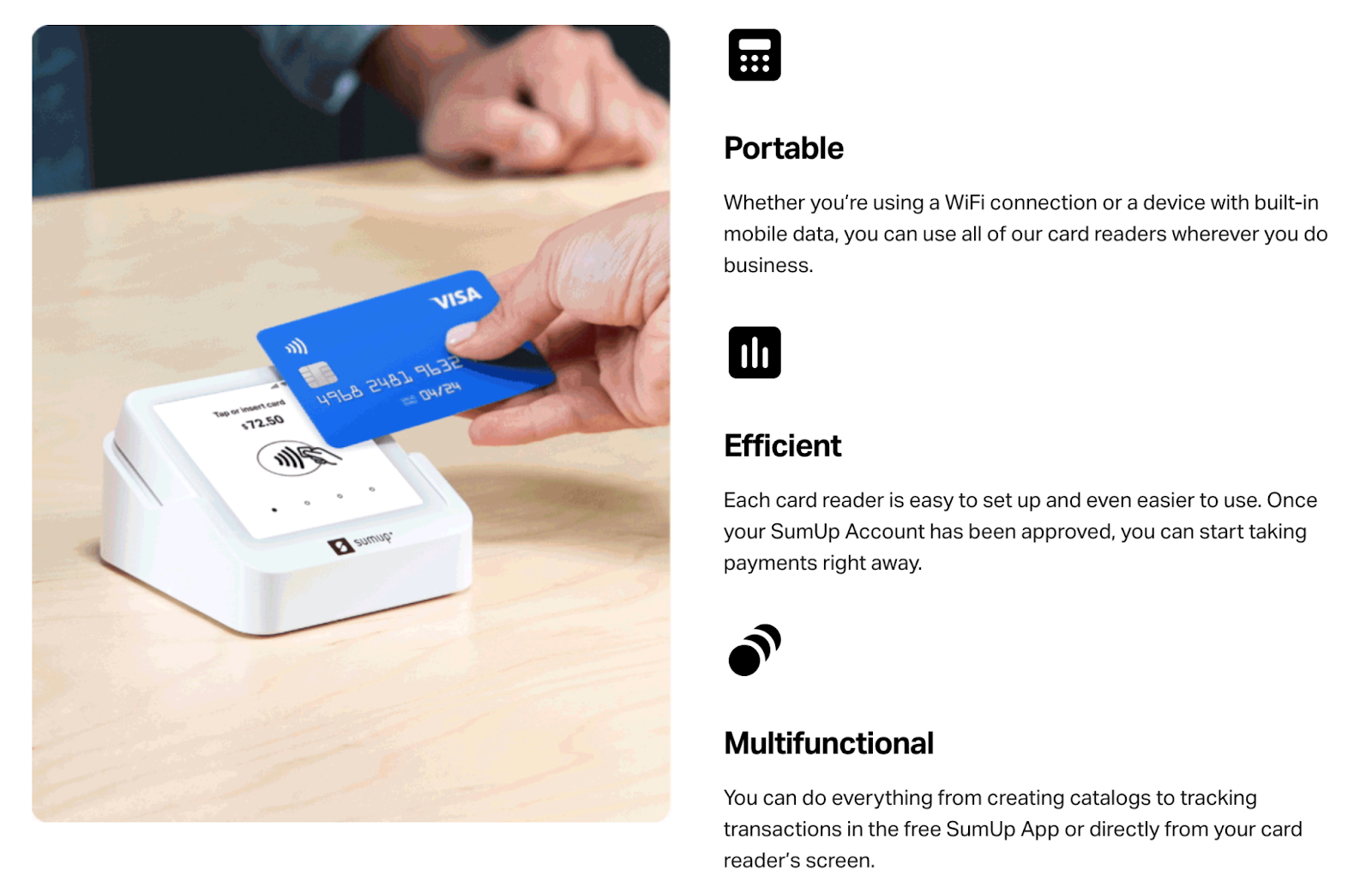 The difference mainly lies in the devices themselves. SumUp offers two main POS devices: the SumUp Plus and the SumUp Solo.
The Solo has a built-in SIM card
 with unlimited cellular data, making it ideal for contractors, freelancers, or microbusinesses that may not have reliable access to wi-fi.
Square doesn't have any POS systems that run on cellular data, but it does offer one free magstripe reader that plugs into a phone or tablet for mobile payments. Beyond that, you can purchase one of Square's many POS options to fit your needs and budget.
Square's overall offering is better for brick-and-mortar locations like restaurants or retail that also need e-commerce tools to sell online.
One benefit to either Square or SumUp is that they are available in multiple countries.
SumUp offers its services in more locations and is more popular in Europe.
Square, on the other hand, is widely used in the US, with less support elsewhere.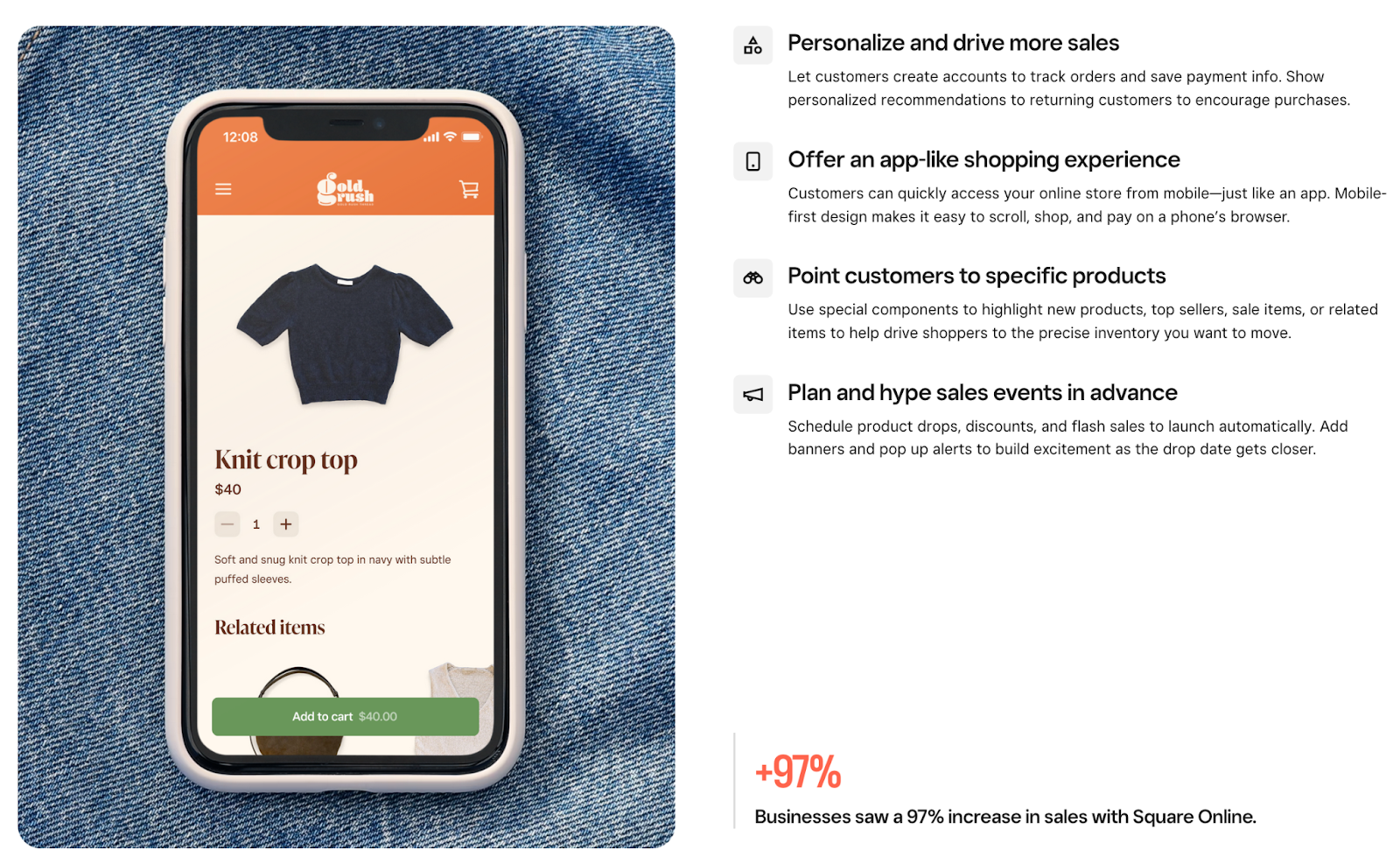 For businesses that sell online, Square offers a free website builder
(with paid upgrades) that makes it easy to access all your business aspects from one platform.
While the builder doesn't offer any advanced features that you'd get with something like Shopify (or from designing a custom site), it still has enough functionality to suit the needs of most small- to medium-sized businesses – especially newer ones.
SumUp doesn't offer a full website builder for US customers
(though this function is available in the UK). Instead, you can use APIs to integrate a checkout function to an existing website, which is also available with Square. As someone with no technical skills, I found Square Online much more beginner-friendly. Square also offers additional features (for an added fee) that SumUp doesn't offer, such as:
Subscription billing
Appointment tracking
Email and SMS marketing
Payroll services
Overall, Square is a feature-rich program that allows your businesses to build out a payment ecosystem with ease
. However, while SumUp may not have the robust features that Square offers, its mobile POS system might win you over if you don't work out of a stationary location.
Ease of Use
Square's User-Friendly Dashboard Offers Versatility for All Your Business Needs
Square and SumUp have similarly easy sign-up processes.
You can set up a free account in just a few minutes with little information. To sign up, you'll need to provide your business name, address, type of company (sole proprietor, LLC, etc.), a bank account, and a tax ID number. Unfortunately, the ease of the sign-up process comes at a price.
Numerous online reviews for both payment processors complain about long holds for initial payments or sudden account terminations.
According to Square's own website, these occur because it likes to make signing up as easy as possible – even if it means potentially missing some key details in the process. After registration, you'll gain access to your dashboard.
The SumUp dashboard is very basic, with only the bare essentials to get started.
While there are some reporting options, it's limited to payouts, transactions, sales, invoices, and revenue. SumUp does offer a walk-through tutorial and an in-depth article to help you get started.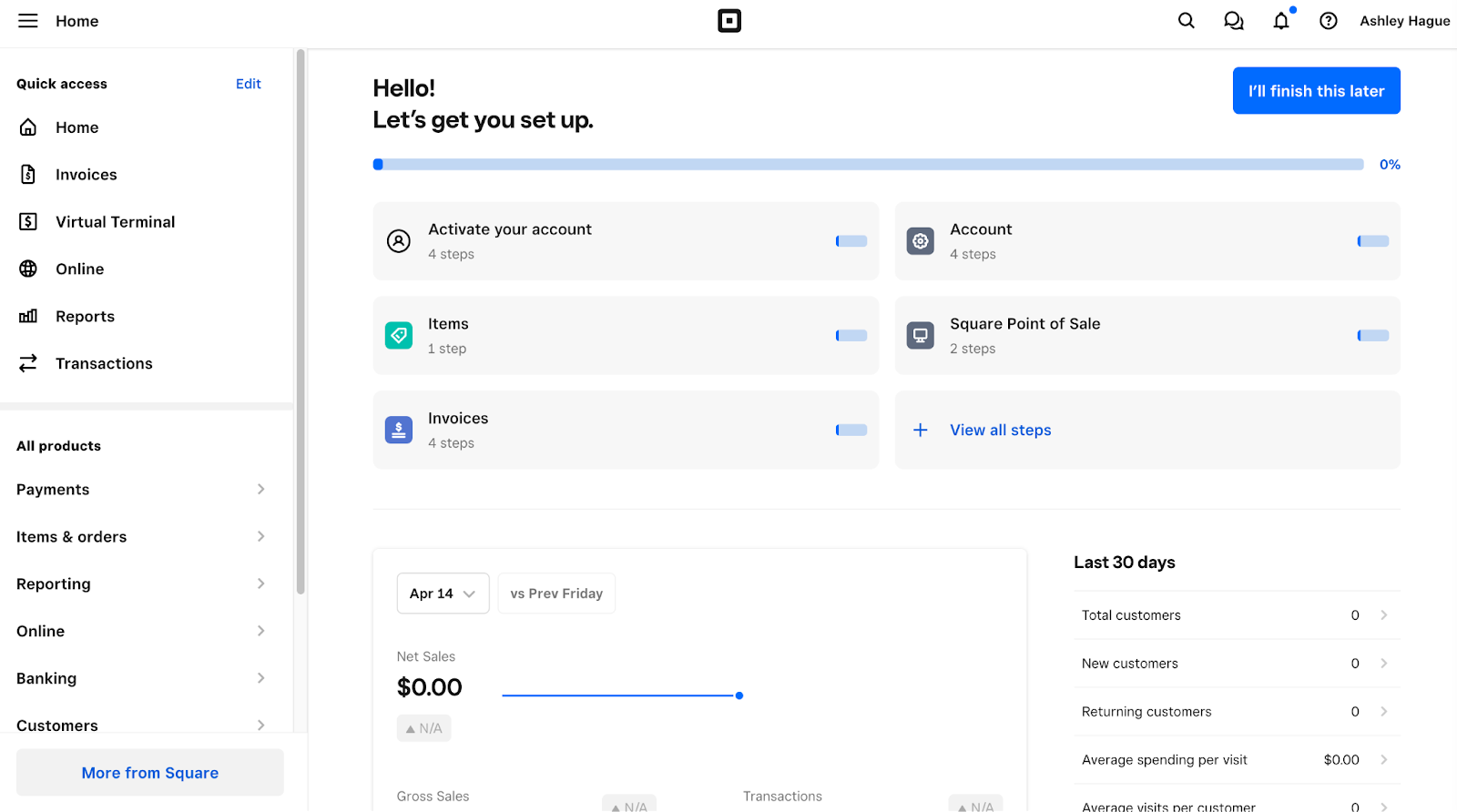 Square's dashboard is also simple to use, but has far more versatility. Square offers much more in-depth analytics
, with 16 reporting options, including the ability to build custom reports. Plus, from the dashboard, you have the option to expand your plan with additional Square features like the website builder or automated email marketing services. Though you may find yourself overwhelmed by all the functions Square has to offer, if you have trouble, there are many different articles and videos available to guide you. These are similar to the ones offered by SumUp, but much more in-depth and extensive overall. Both payment processors have apps available for your smartphone. While SumUp's app is responsive and easy to use on a phone, some users complained about long lag times to connect to the terminal. Conversely,
Square's magstripe reader is plugged directly into your smartphone or tablet to connect to the app
, so you don't have any lag time. Neither option is hard to use, but
Square's software feels sleeker, more responsive, and more adaptable to different business circumstances
– whether you sell at a food market or through an e-commerce shop, Square is able to pivot to your needs. That makes Square the winner for this category.
Compliance and Security
While Both Payment Processors Meet Industry Standards, Square Adds a Bit Extra
SumUp and Square prioritize security and data protection, implementing the highest level of PCI DSS compliance
and utilizing end-to-end encryption techniques such as SSl (Secure Socket Layer) and TLS (Transport Layer Security).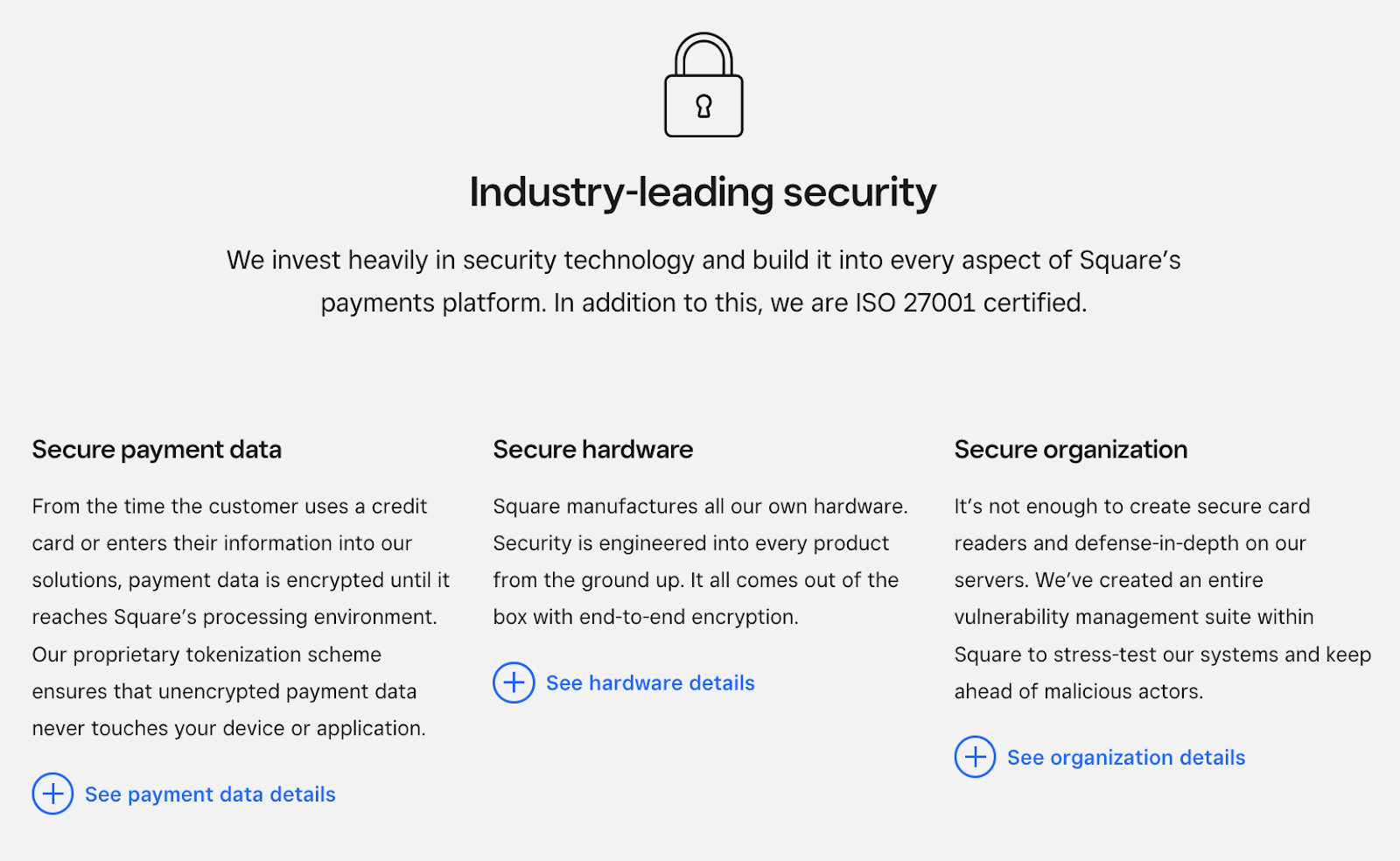 Square goes a step further by also being ISO 27001 certified, a globally recognized standard for security management. Additionally,
Square offers HIPAA compliance
, which is particularly important if your business handles sensitive health information.
SumUp offers basic fraud monitoring from card-issuing banks, while Square has a more advanced in-house fraud detection and prevention system.
Square also takes care of PCI compliance so you don't have to worry about non-compliance fees eating into your bottom line. SumUp doesn't offer any assistance in this regard, but since it's a payment aggregator, there's a lot less to do to reach and maintain compliance. While both payment processors meet industry standards for security and data protection,
Square's additional certifications and in-house fraud detection give it an edge over SumUp.
Pricing
No Monthly Fees, But SumUp Offers Cheaper POS Systems
For the most basic plan, neither SumUp nor Square charge a monthly fee, which is a big draw
. Instead, you're only charged for the devices themselves (as a one-off purchase) and the transaction charges as they occur. While Square offers one free card reader when you sign up, it's limited to swipe cards.
If you want something that accepts a variety of card types,
SumUp's POS options are cheaper,
starting at $39. Square's cheapest POS is the Square Stand which is $149 by comparison. Besides the cost of the POS system, you'll also need to consider the in-person transaction fees.
Square and SumUp have similar rates –

2.6% + 10¢

 (for Restaurants) and

2.75%

, respectively.
Determining which one is cheaper for your business will depend on sales volume.
If your average sale is less than $60, you'll save some money with SumUp
. If your average sale is more than $60, you'll save more with Square. However, if you process more card-not-present payments, both have much heftier fees. SumUp charges
3.25% + 15¢
, while Square charges
2.9% + 30¢
for online transactions. Additionally, if you plan to collect payments via invoice, SumUp is the clear winner.
SumUp's processing fees per transaction are

2.90% + 15¢

, whereas Square's are 3.3% + 30¢.
For small businesses, SumUp is generally a better deal on pricing overall – and there's no monthly fee.
SumUp's low-cost POS hardware offers more payment flexibility than Square's free option and if you have a business with low-cost transactions, SumUp's transaction fees make more financial sense. There may, however, be instances where Square's slightly higher cost is justifiable – for instance, if you need more features or mostly sell online – so it's important to look at your average sales before committing to one over the other.
SumUp
Square
Monthly fee on the cheapest plan
$0
$0
In-person transaction fees on the cheapest plan

2.75%

2.5% + 10¢

Hardware Options

SumUp Plus
SumUp Solo
SumUp POS (only available with Pro Plan)

Square Reader
Square Stand
Square Terminal
Square Register

E-commerce Support
API integrations
Website builder and API integrations
Online transaction fees on the cheapest plan

3.25% + 15¢

2.9% + 30¢

Customer Support
Telephone and email
Telephone, email, and chat
Bank Payouts
1-2 days
1-2 days; instant payouts for an additional fee
Reporting
Basic reporting tools like sales and revenue reports
In-depth analytics including the ability to create customized reports and 16 different prefigured options
Support
SumUp Provides Multi-Channel Support, but Square Goes Above and Beyond
When it comes to customer support, SumUp and Square offer several channels to reach out to their support teams, including email and phone.
However, SumUp's support lacked the personalization and depth I received from Square.
SumUp only offers phone and email support Monday to Friday between 9:00 a.m. to 7:00 p.m. EST. If you choose the free plan, Square roughly keeps the same hours for phone and email support (Monday to Friday, 6:00 a.m. to 6:00 p.m. PST), and it also offers chatbot support. If the bot can't answer your questions, you'll have to wait until business hours to connect with a real person. To test the reliability of their response time, I messaged Square and SumUp at around the same time after business hours.
I found it a bit frustrating that neither option has 24/7 human support on the free plan
(though you can upgrade to Square Premium for around-the-clock support), which could be an issue for restaurants or e-commerce businesses that operate outside of standard business hours.

SumUp responded within a few hours and while the email answered my question, it was brief and offered no additional help. Going back and forth via email to get the information would be a time-consuming process. As a small business owner, that's a hassle I don't particularly want.
Square's response was much more comprehensive.
The customer service agent provided me with the answer to my question and also provided additional information and links to further readings.
He did, however, give me pricing that is relevant for the paid plan, which took some back and forth to get straight.
While technically both payment processors responded in a timely manner, I found Square to be more helpful overall, despite the pricing mix-up. Both offer online help centers with a ton of short articles answering the most common questions.
But when I worked my way through several of the articles on the SumUp website, I came across two broken links,
which didn't instill a ton of confidence in me. In comparison, I felt that Square's help center had way more information. Some of that comes from the sheer amount of features Square offers, but it's also because of
Square's Seller Community – an online forum where business owners can interact and share additional resources.
It's a nice feature and provides more up-to-date and precise information than many of the aforementioned articles. The prompt response, along with the added chatbot and community forum support channels, make Square the clear winner when it comes to customer support.
Choose Square for a Payment Processor That Can Grow With Your Business
Though SumUp is a great option for microbusinesses or contractors, Square is a more robust and scalable option that is perfect for most small businesses.
With a range of POS machines, and add-ons like a website builder, appointment bookings, and advanced reporting features, Square makes it easy to manage and grow your business. The downside is that Square does not offer a POS system that works on the cellular network – unlike SumUp. Additionally,
SumUp is marginally cheaper for in-person transactions under $60
. If you run a business that involves on-the-go payments or frequent invoicing, SumUp may be a better option than Square. But overall, Square provides advanced functionalities that work well for e-commerce, brick-and-mortar, or other small businesses that just want a little bit more. However, if you process more than $5,000 a month,
consider a subscription-based credit card processor like Stax
to save you money overall
.
Features
Affordable POS systems, including one with cellular connection
Range of POS devices to suit specific businesses; e-commerce website builder; additional features like marketing and payroll support
Ease of Use
Easy sign-up process
Easy sign-up process; in-depth and customizable reporting and analytics
Compliance
PCI DSS Level 1 with basic fraud monitoring
PCI DSS Level 1 with in-house fraud detection; ISO 270001 and HIPAA compliant
Pricing
No monthly fees, better in-person transaction pricing for average sale size of less than $60; lower invoicing fees
No monthly fees, no chargeback fee, additional features on premium plans
Support
Email and phone support during business hours; online help center
Email, phone, and chat support during business hours; online help center and community forum
FAQ
What's the difference between SumUp and Square?
Square offers more robust features for brick-and-mortar locations and online businesses, although it may be more expensive for high-volume businesses. On the other hand, SumUp is better suited for businesses on-the-go, but isn't as feature-rich as other payment processors. If you want to learn about some other options, check out our list of top credit card processors in 2023.
For a new business, is Square or SumUp easier to set up?
Both SumUp and Square are relatively easy to set up, but Square may be a bit more user-friendly for new business owners due to its intuitive interface and easy-to-use mobile app. Additionally, the sign-up process is simple and straightforward and with an abundance of online support for any questions you might have.
Is Square or SumUp better for retail businesses?
Square is generally considered better for retail businesses due to its more robust features and tailored plans. It offers a free version as well as paid options for more advanced needs like inventory reports and team management. Square also offers Square Appointments, an online booking system that can integrate directly with your payment system and website, which can be useful for service-based businesses.
What's cheaper, SumUp or Square?
Neither SumUp nor Square charge a monthly fee, but which one winds up being cheaper will depend on your specific business. SumUp is generally cheaper if your average sales are less than $60 and its POS systems are more affordable. But for a higher sales average, Square might save you more money over time.