With so many payment processors in today's market, it can be hard to decipher which one offers the best deal for your business – particularly if you sell both online and in-person.
Many processors claim to support both, but the truth is that very few do this well.
All too often, you'll find that one side of your business is covered, but the other is left with sub-par payment features.
Stax and Stripe are two payment processors that claim to offer full integration between your online and in-person business.
And both do – to an extent. However, Stax doesn't just do this far better (thanks to its sophisticated software features), but it offers some of the most competitive rates you'll find from a subscription-style payment processor. Stripe isn't terrible by any means, but it just doesn't live up to the hype. Compared to Stax, its point-of-sale (POS) offering is pretty lackluster, and its pricing makes it one of the more expensive credit card processors I've covered. Still, Stripe has some great software integrations that make it useful as a payment gateway. The bottom line is that
Stax gives you more for your money, especially if you sell both in-person and online
.
Get a quote from Stax now
, or continue reading if you want to see what I discovered when I directly compared Stax and Stripe on features, pricing, and more.
Features
Stax Powers Every Part of Your Business
On the surface, both Stax and Stripe look like great options for businesses that operate both online and in-person. Dig a little deeper, however, and you'll find that Stax's feature set is more comprehensive.
On top of some of the best payment software on the market, Stax offers far more POS features than Stripe.
All in all, Stax gives you more useful functionality for both taking payments
and
growing your business. The key thing to remember is that Stripe was designed primarily for online payments. It offers pre-built shopping carts, checkout pages, a payment gateway, and hundreds of software integrations.
Stripe even allows you to accept payments in 135+ currencies, while Stax only processes payments in USD.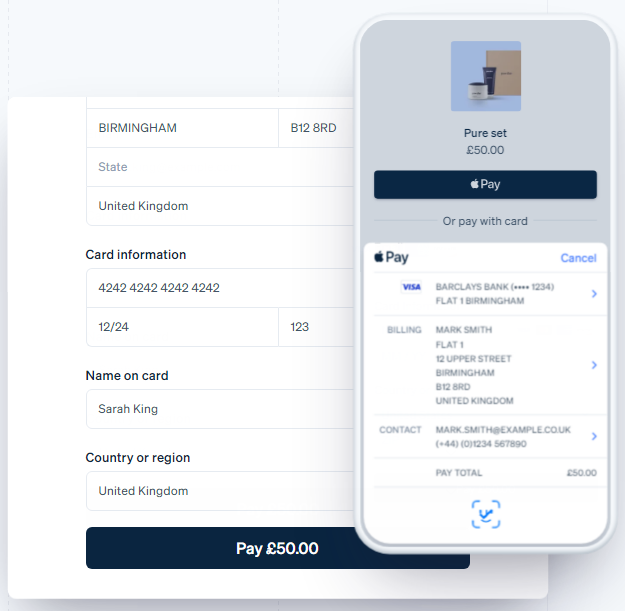 Unfortunately, here lies the problem.
Stripe's POS functionality is more of an afterthought than a key feature.
It only offers five hardware options (two mobile options and three card terminals) – none of which are free – and you can't reprogram any existing hardware to work with it, either. It's effectively a DIY POS kit, as you'll need to program everything yourself.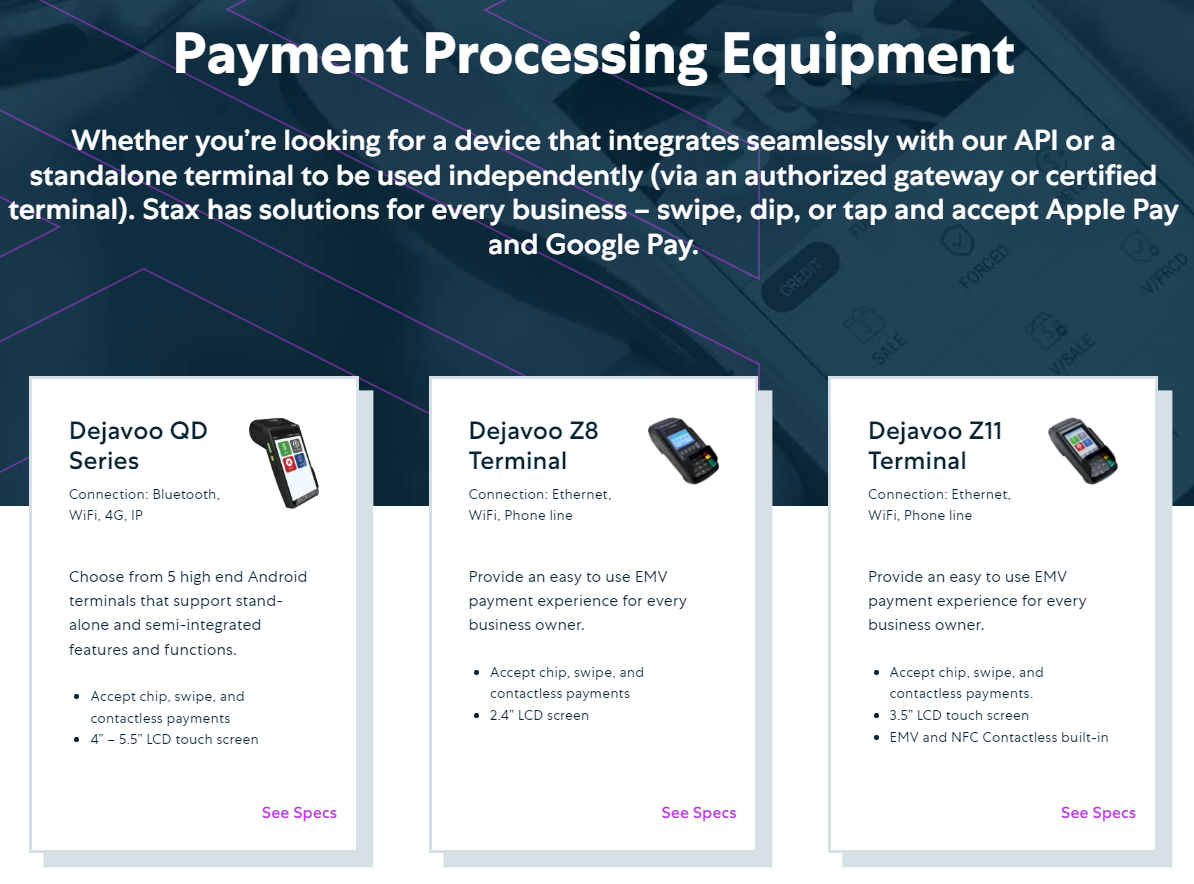 Stax offers a free terminal when you sign up
, with three modern options to choose from. It offers 15 devices in total, including three Clover countertop terminals, which are widely considered to be among the best on the market. On top of that, you can reprogram most card readers to work with Stax. As with Stripe,
you'll get a payment gateway, pre-built shopping carts, and checkout pages, all of which will connect to Stax's POS hardware.
The only thing you'll be missing is the same range of software integrations – Stax only offers 16. However, you'll get access to a comprehensive developer toolkit with plenty of documentation that'll help you build the integrations you need. In short,
Stax gives you the same benefits that Stripe offers – that is, a POS hardware suite that connects to industry-leading payment software – just with a lot more flexibility.
Ease of Use
Slower Setup and Payout Times, But Stax is Worth the Wait
One of the biggest reasons Stripe is so popular is that, as a payment aggregator, you don't need to open a traditional merchant account to use it.
This means you can sign up to Stripe and start processing payments in minutes. Stax, along with most other "traditional" payment processors, requires new merchants go through an underwriting process before they're accepted. In Stax's case, this can take up to 2 business days. It sounds tedious, but these measures are in place for a reason. Underwriting is a vital process that helps payment processors reduce the risk of losing money to fraud. By reducing this risk, processors don't have to make up their losses with sky-high rates. While it's tempting to go with Stripe for its quick signup process, even a cursory look at its reviews makes it clear why it's so important to go with a payment processor that verifies its merchants.
Almost half of all Stripe reviews are from customers complaining that their payments are on hold, or that their accounts have been closed with no warning.
It's difficult to tell from reviews alone what the underlying reasons for these issues might be. But when you look at Stax's reviews and find virtually no customers reporting payment holds or account termination,
it's clear that Stripe's lack of underwriting is causing issues.
In short, Stax's underwriting process means you'll get
a more reliable payment processing service
.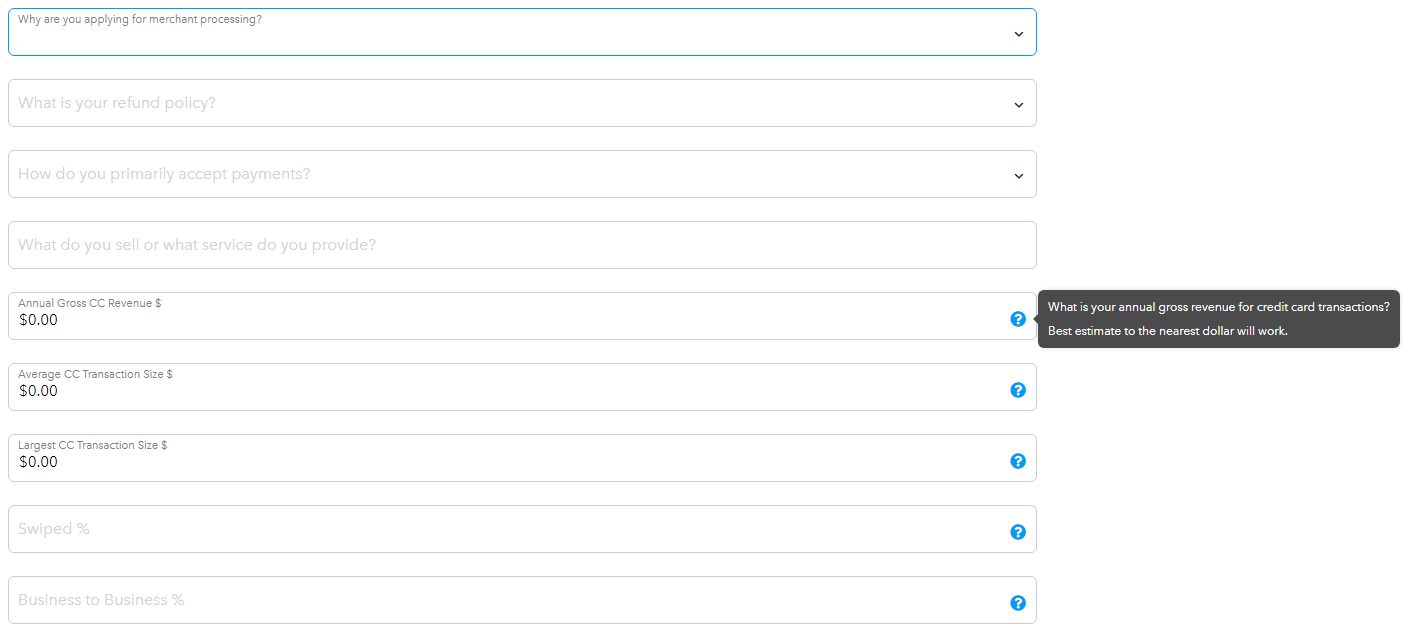 Stripe isn't a bad choice if you need to handle one-off payments every now and then as you won't have to pay any monthly or yearly fees. However,
if you accept card payments regularly, Stax's underwriting process will save you a lot of issues further down the line.
Compliance and Security
Stripe's Fraud Detection Software is Second to None
Both Stax and Stripe are PCI Level 1 compliant,
which means that they're both required to undergo annual auditing and quarterly network scans to ensure data security. While Stax offers a good level of PCI compliance support and fraud detection software, it's nowhere near the same level as Stripe's offering.
Stax and Stripe both have PCI compliance dashboards that will guide you through completing your annual PCI questionnaire.
On top of this, Stripe offers pre-filled SAQ A (for e-commerce merchants) and SAQ C (for merchants with one POS device/location), saving you a ton of time. In comparison,
Stax only offers a third-party dashboard to help you with PCI compliance.
This is still more than most other credit card processors, but it's not enough to compete with Stripe's more comprehensive support.
In addition,
you'll get access to Stripe Radar, one of the most advanced fraud detection and prevention software tools I've come across.
By using machine learning fed with security data from millions of companies, it can rapidly adapt to new fraud trends without blocking payments from legitimate customers. Don't worry if you're not technically-minded, either. Stripe Radar works without any intervention, so all you'll need to do is check your blocked payments and disputes from time to time. However,
if you want to customize Stripe Radar's fraud detection rules, you can.
There are handy guides to help you set up blocks for certain card types, transactions from specific countries, and more.
While Stax does have built-in fraud detection and prevention, it's a lot less transparent.
You won't be able to see how many transactions have been blocked or why – you'll just be able to see chargeback disputes and held transactions.
Pricing
Stax Offers Significant Savings for Most Businesses
When it comes to cost,
the main difference between these processors is that Stax has a subscription-style pricing structure, while Stripe uses the more common interchange-plus model.
Neither Stax nor Stripe makes you sign a contract or charges early cancellation fees if you decide they're not for you. On the surface, it's trickier to compare which processor offers the most financial benefit as both pricing models have their pros and cons for different types of businesses. Stax's pricing model is great for high-volume businesses, while Stripe's pricing model typically works better for smaller businesses.
In addition, Stax doesn't disclose all its fees – you'll have to check the contract you're asked to sign when you apply.
Stripe, on the other hand, discloses all its fees on its website. With that being said, Stax is a lot more budget-friendly than Stripe, and it makes it a lot easier to budget for your payment processing costs. With Stax,
you get a choice of three pricing plans – Growth (

$

99.00

), Pro (

$

159.00

), and Ultimate (

$

199.00

).
The Growth plan comes with the basic software you need to get started, while
the Pro plan adds a card vault, payment links, and more.
The Ultimate plan comes with everything the low-tier plans do, plus advanced reporting, automatic card updating, one-click shopping carts, and data exports.
On top of the flat monthly fee, you'll pay a small flat fee of

0% + 10¢ (in-person)

 per transaction
. As with most other processors, you can expect to pay chargeback fees on top of this. If you need a payment processor for one-off payments, or your business only takes a handful of transactions each day, then you'll be fine with Stripe.
Stripe's interchange-plus pricing model means you only have to pay for the features you use, which is ideal for small businesses that don't have a large budget.
You'll likely outgrow Stripe quickly, though.
It charges 2.9% + 30¢ per transaction, which will start to eat into your profits significantly as your business expands. On the other hand, your Stax monthly fee will stay the same unless you upgrade for more features or start processing over $500,000/year, giving you plenty of room to grow before your fees do.
Overall, Stax offers the most value of these two credit card processors.
It's a lot easier to budget for your credit card payments thanks to the (mostly) all-inclusive monthly fee. If you're regularly processing over $5,000/month, you could
save up to 40% on processing fees
 by using Stax. Here are the key things you need to know in this Stax vs. Stripe comparison.
Stax
Stripe
Monthly fee on the cheapest plan

$

99.00

$0
Transaction fees on the cheapest plan

0% + 10¢ (in-person)

2.9% + 30¢
Additional fees

ACH processing
Chargeback disputes
Data processing
PCI compliance
Optional extras

ACH processing
Currency conversion
Wire transfer processing
Check processing
Klarna/Afterpay/Affirm
Optional extras

Hardware options

Free terminal on signup
15 devices available through Stax
Can reprogram your own POS devices

5 proprietary terminal options
Payout times

24-72 hours for card payments, 4-5 business days for ACH
Same-day payout available for an additional fee

2 business days, up to 14 days for high-risk payments
Instant payout available for an additional fee

Included software tools

Invoicing
Shopping carts
Payment gateway
Payment links (Growth plan and above)
Reporting and analytics
Developer toolkit

Invoicing
Shopping carts
Payment gateway
Payment links
Reporting and analytics, including fraud radar
Developer toolkit

Security features
Fraud detection and prevention tools, account and payment holds
Advanced proprietary fraud detection and prevention tools, account and payment holds
Support
Don't Count on a Straight Answer From Stripe
When it comes to quality and the number of channels available, Stax's customer support wins on both fronts.
Both processors provide live chat and email support, along with a fairly comprehensive knowledge base each. Stax, however, offers an additional phone support channel. If you're using Stripe, you'll have to initiate a phone call request through your dashboard, which may not be the most convenient option in case of urgent assistance.
Stripe states that its customer service team is available 24/7, while Stax doesn't have any published hours of support.
However, that's not to say that Stax is slow to respond to queries (
we tested Stax in our review
). When I contacted Stax via live chat, I got an answer within a few minutes, and I received a next-day response to an email query I sent.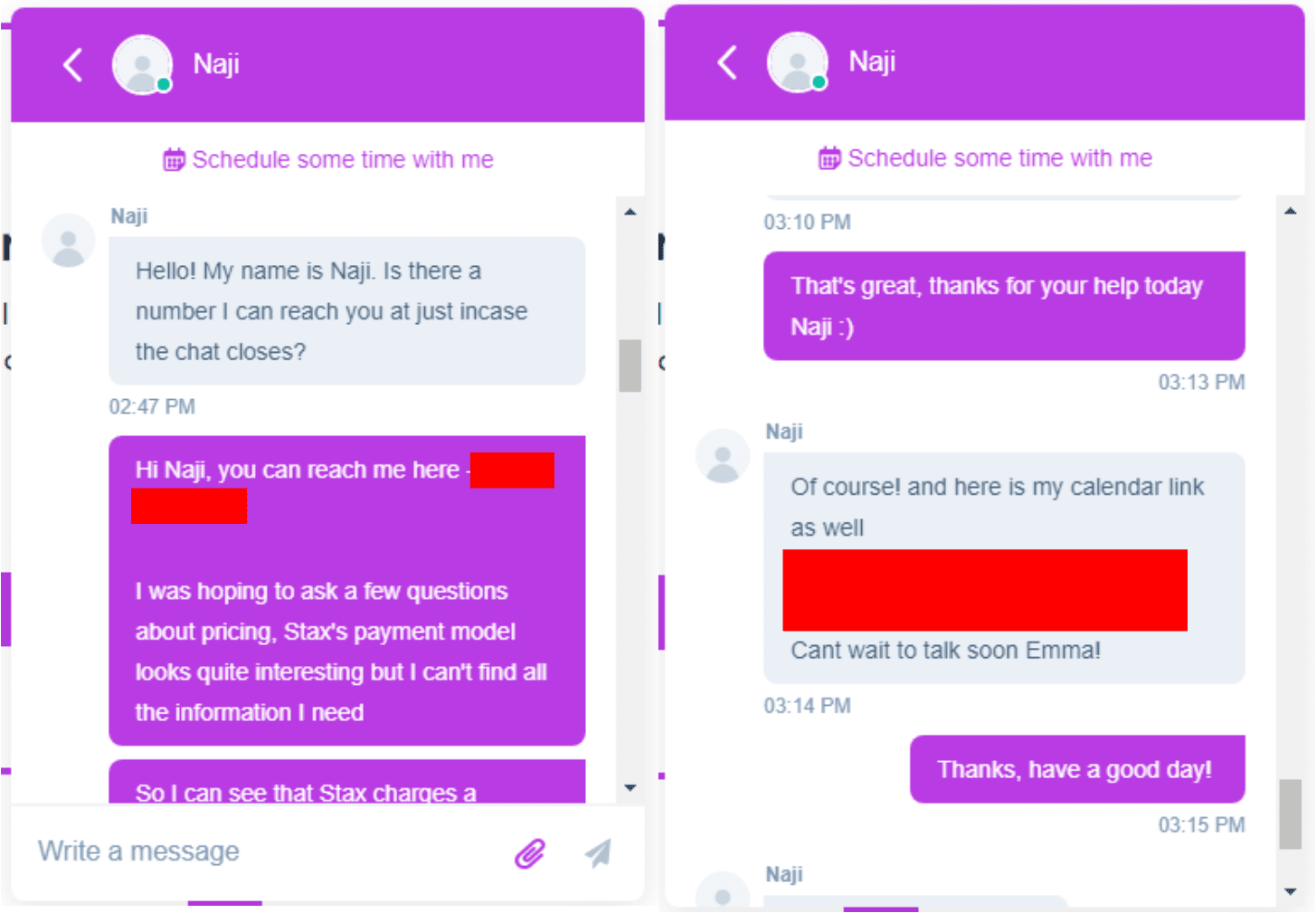 Stripe responded to my email in under an hour, but it wasn't all that helpful.
I didn't get the impression that the customer service agent actually read my question because they didn't specifically address whether I could reprogram my existing POS devices to work with Stripe. Instead, I got what sounded like a generic answer about Stripe's terminal software.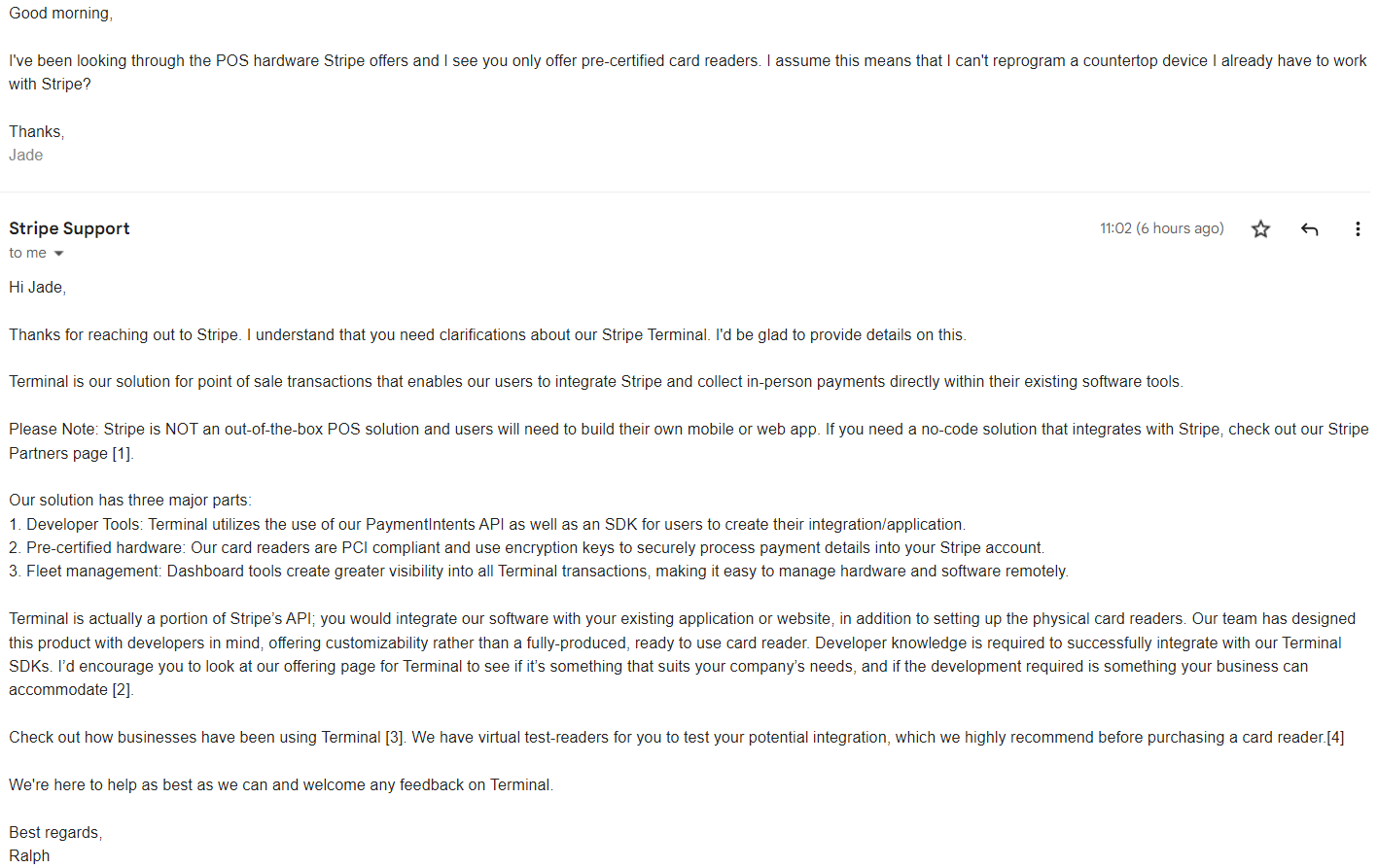 Admittedly, the information I asked for was available in the knowledge base, but that's no excuse to not pay attention to questions from customers.
Go With Stax to Save Money and Grow Your Business
Thanks to its subscription-style pricing and 0% interchange markup, almost any business will
save money with Stax
.
Not only that, but you'll get some fantastic software included in your monthly fee, a ton of POS hardware options, and great customer service. I certainly don't think Stripe is a bad option, though.
Its fraud detection and prevention tools, powered by machine learning, are second to none.
And despite its high markup and transaction fees, new businesses and those processing only a handful of payments each day will likely find it cheaper than Stax overall. To sum it up, here's what I found in my Stax vs Stripe comparison.
Features
Great software that works with almost any POS device, plus a free terminal on signup
Industry-leading payment software, but only works with five terminals and requires custom programming
Ease of Use
In-depth underwriting process reduces the risk of account holds
Sign up in minutes, but a larger chance of account holds or termination
Compliance
PCI Level 1 processor with fraud detection and prevention tools
PCI Level 1 processor with advanced fraud detection and prevention tools that you can customize with your own rules
Pricing
Subscription-style with low per-transaction fees, software included in monthly price
Interchange-plus with high interchange markup and transaction fees
Support
Live chat, email support, phone, ticket, fax, chatbot, knowledge base
24/7 live chat, email support, phone (via callback request), plus knowledge base and community forum
FAQ
Who are Stripe's biggest competitors?
Stripe's biggest competitors are Square and PayPal, as both of these processors operate within the same niche of interchange-plus, software-heavy payment processors. However, I don't recommend using these payment processors because they all charge higher-than-average transaction fees. For more affordable options, see our top credit card processors in 2023.
Is Stripe worth it for small businesses?
Stripe is good for small businesses that only process a handful of transactions each day. Even though Stripe's per-transaction cost is high, the included payment processing software and lack of monthly fees make it a good option for new and small businesses. However, once you start processing more sales each month, Stax's suscription-based model will save you money..
Is Stripe better than Square?
That depends on what you want from a payment processor. Stripe has a lot of modern software to offer, while Square has some great POS hardware. With that being said, all of Square's POS hardware is proprietary, so you won't be able to use third-party hardware with this processor. If you need modern software, a good range of POS hardware, and the lowest rates on the market, take a look at Stax instead.
Do big companies use Stripe?
Yes – Stripe is used by Deliveroo, Xero, Booking.com, and more. However, for larger businesses, I don't recommend using Stripe as you'll be able to save a lot of money using a subscription-style processor like Stax. On top of that, Stripe's customer support is difficult to access, which isn't ideal for businesses that can lose thousands of dollars whenever there's a technical issue with their payment processor.