Many payment processors claim they have the best deal on payment processing, but few actually save you money. If you need online and in-person support and some nice-to-have features, finding a processor that can do it all (and well) seems impossible.
Stax and Payment Depot seem to have it all – a payment model designed to provide savings the more your business grows, plus plenty of online and in-person features.
They're a parent and daughter company with many similarities, although they target different businesses.
Both have zero markup subscription-based pricing and the industry's lowest transaction fees
– ideal for high-volume and high-ticket businesses and those processing multiple small transactions. There are savings, too.
Stax can save you up to 40% if you have a high processing volume
, while Payment Depot allows smaller businesses processing up to $250,000/year to access a great portion of Stax's benefits for a lower monthly fee. But Stax has stronger business management software and a mobile app that allows you to manage your business and collect payments on the go. And while they offer a free point-of-sale (POS) device, Stax gives you a wider choice. Ask Stax for a quote, or read my Stax versus Payment Depot comparison to see how these two differ in features, support, pricing, and more.
Features
An Impressive Range of Features for Both, but Stax Is a Clear Winner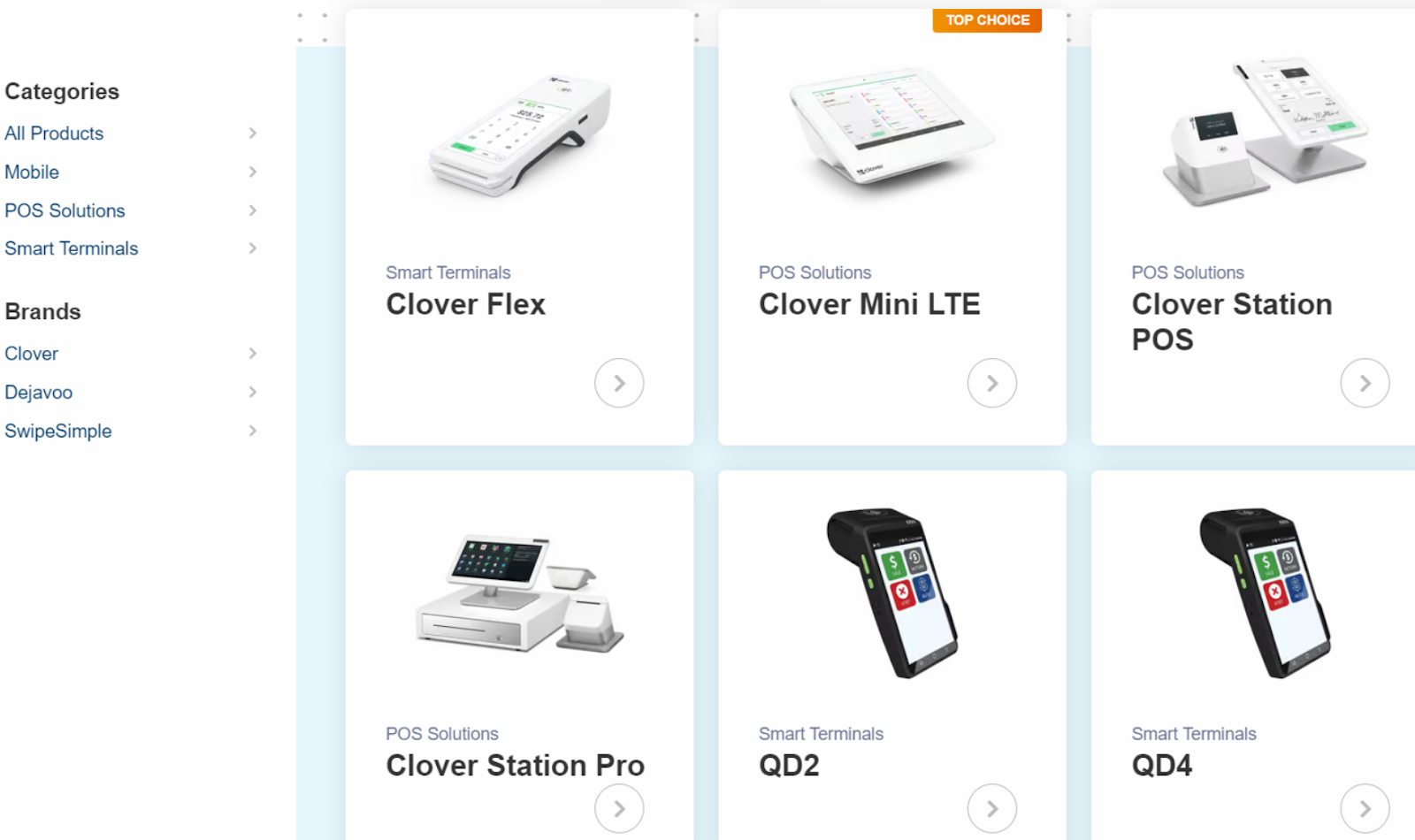 Stax and Payment Depot offer a complimentary Dejavoo terminal without a contract. The companies are also certified resellers of Clover and SwipeSimple, but if you're looking for options,
Stax has a greater selection of equipment available to purchase
. In addition to POS devices,
these processors also have a suite of impressive e-commerce solutions for your online store.
You can use a no-code pre-built shopping cart or, if you're technologically inclined, use developer tools to create your own. You'll also have access to the popular Authorize.net payment gateway.
But if you want to collect payments via payment links and text messages, you'll only get these features with Stax.
Stax stands out for its feature-rich software
that boasts comprehensive business management and reporting features. It offers valuable insights into sales trends, customer behavior, and other key metrics, enabling you to make data-driven decisions. In contrast,
Payment Depot's Performance Analytics software is a simplified version of Stax's solution.
The biggest drawback is the complete absence of invoicing tools that are essential for easy payment management and tracking. The only way to access invoicing tools with Payment Depot is through Authorize.net, but that would cost you extra. Stax's proprietary solution has plenty of free invoicing tools, including the ability to create invoices, schedule payments, and send automatic payment reminders. Payment Depot's lack of a mobile app may be a deal breaker if you need on-the-go business management.
Stax, on the other hand,
has a powerful app that allows you to carry your business in your pocket.
Plus, you can turn any mobile device or tablet into a POS with the Stax app at no additional cost. Like Stax,
Payment Depot offers next-business-day funding
 as standard with all plans. This is a great benefit in an industry where most companies will charge you extra to speed up your funding. In general,
Stax provides better software and additional robust features for a small difference in price that is well worth it
, especially if you're a high-volume, complex business that needs a reliable all-in-one business management solution.
Ease of Use
Stax and Payment Depot Are Easy to Use, but Payment Depot is Simpler
Both processors make it easy to get started and typically approve applications in as little as 24 hours, although
I've read a greater number of reviews praising Payment Depot's onboarding support
. You'll get support with POS setup and free reprogramming if you have the equipment already.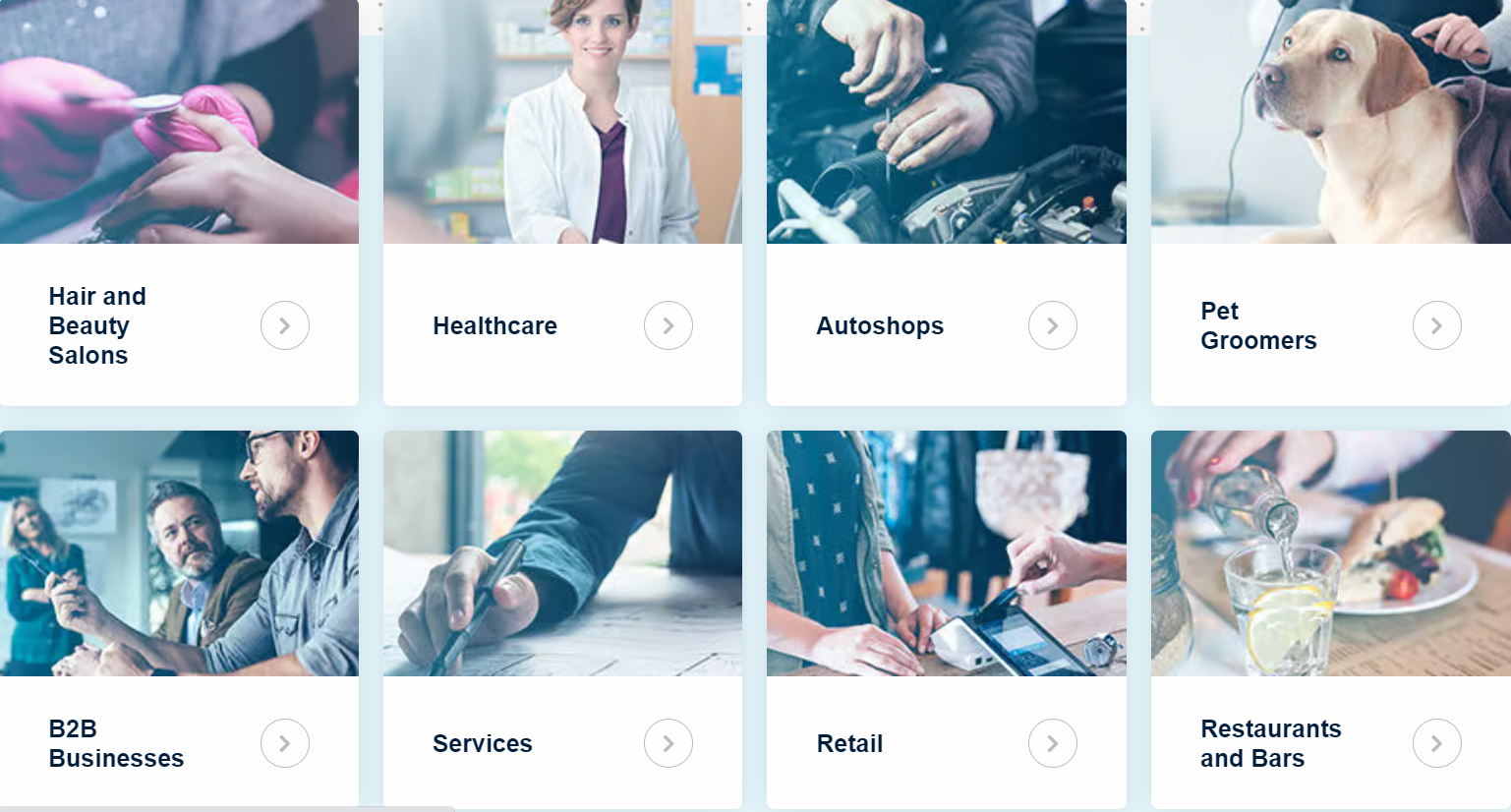 Integrations with popular e-commerce platforms like Shopify, BigCommerce, and WooCommerce are seamless. You can also connect your payment processing to QuickBooks and other accounting software to automatically sync your transactions with your bookkeeping system. But if you're looking for more,
Stax offers a greater variety of integrations
 for your day-to-day workflow
. It allows you to automate your administration and marketing processes by connecting to tools like Slack, Asana, Mailchimp, and Atlassian. While Stax and Payment Depot offer user-friendly interfaces and intuitive platforms,
Payment Depot tends to be a bit simpler to use, mostly due to having fewer features when compared to Stax.
If you're new to payment processing, you might be overwhelmed by the multitude of options at Stax.
Payment Depot is the way to go if you value simplicity
.
But ultimately, which payment processor is easier to use will depend on the specific needs of your business and your personal preferences.
Compliance and Security
Both Provide the Highest Level of Compliance and Security, but Stax Has Better Guidance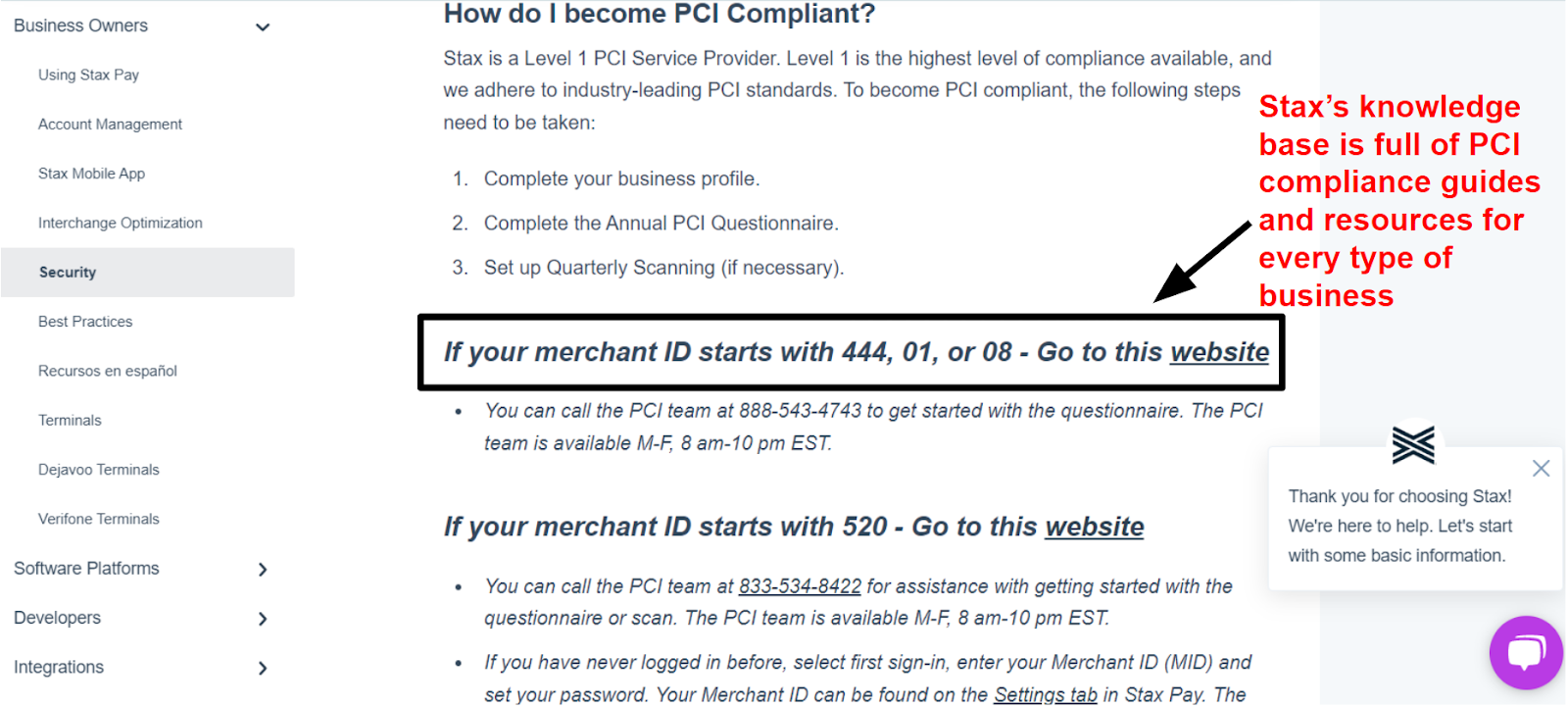 Stax and Payment Depot are Level 1 PCI compliant
, the highest level when it comes to the Security Standards Council. Additionally, they'll assist you in achieving PCI compliance. Still, Stax offers comprehensive PCI support and an advanced dashboard that simplifies the steps needed to achieve compliance.
It also goes the extra mile by helping you become PCI-compliant within 30 days of signing up at no additional cost.
These two payment processors are also compliant with other regulations
, such as the Health Insurance Portability and Accountability Act (HIPAA) and the EU's General Data Protection Regulation (GDPR). In terms of additional security features,
Payment Depot boasts a dedicated 24/7 risk monitoring team
that helps you keep fraud at bay and minimize chargebacks. Stax, on the other hand, incorporates multi-factor authentication to enhance account security. It also implements temporary risk holds on customer accounts that require further verification.
When considering compliance and security, Stax emerges as the winner.
Stax's dedication to assisting businesses in achieving PCI compliance within a short timeframe, comprehensive knowledge base, and user-friendly dashboard contributes to a smoother compliance process.
Pricing
Stax Offers the Best Deal for High-Volume Businesses, but Payment Depot Is Better for Smaller Businesses
Stax and Payment Depot are the pioneers of subscription-based, zero markup pricing
in the payment processing industry. This pricing model offers some of the lowest transaction fees in the industry – you'll pay just
0% + 10¢ (in-person)
and
0% + 10¢ (online)
per transaction. Both companies offer a few plans to cater to different business needs. Stax's lowest-tier plan is
$
99.00
/month and includes in-person and e-commerce features that include invoicing tools, API capabilities, and subscription billing. It's ideal for businesses that process over $8,000/month and up to $250,000/year. Businesses processing over $500,000 a year can enjoy the same benefits with Stax's Ultimate plan for
$
199.00
/month. If you process more, you can negotiate a custom quote with Stax's sales team. High-volume and high-ticket businesses, along with those that process a sizable number of small transactions, can
save up to 40% with Stax's predictable pricing
 and low transaction fees.
If you're a small- to mid-size business with a stable processing volume of at least $8,000/month, Payment Depot's Starter plan for

$

79.00

/month can save you $400 per month
 on average
.
You won't get Stax's powerful dashboard and reporting tools, mobile app, and some other nice-to-have features, but you'll get to enjoy many Stax benefits for a lower monthly fee. Payment Depot has custom pricing for businesses processing over $250,000/year. Although its plans seem more expensive, Stax's payment processing software, reporting tools, integrations, and unique features like text invoicing, bring
greater overall value for high-volume businesses with complex needs
. Its free mobile app is also a game changer as it allows you to get paid remotely from your mobile phone or tablet. Here's how Stax and Payment Depot compare on their cheapest plans.
Stax
Payment Depot
Monthly fee on the cheapest plan

$

99.00

$

79.00

Transaction fees on the cheapest plan

0% + 10¢ (in-person)

0% + 10¢ (in-person)

Payout time
Next business day
Next business day
Hardware options
Free Dejavoo terminal, 8 terminals, 4 Clover models, and SwipeSimple B250 mobile reader available to purchase
Free Dejavoo terminal, 4 Clover devices, 4 terminals, and 1 mobile reader available to purchase
Payment gateway
Authorize.net
Authorize.net
Reporting & analytics tools
Powerful proprietary business management software with robust capabilities, invoicing and reporting tools
A simplified version of Stax's software with great reporting and analytics tools, but fewer features and no invoicing tools
Mobile app
Free Stax mobile app that works offline and allows you to manage your business on the go and transform any mobile device or tablet into a POS system
SwipeSimple app (offline mode available) as a mobile POS solution for an extra charge
Support
Great Support All Around, but Stax Has a Stronger Knowledge Base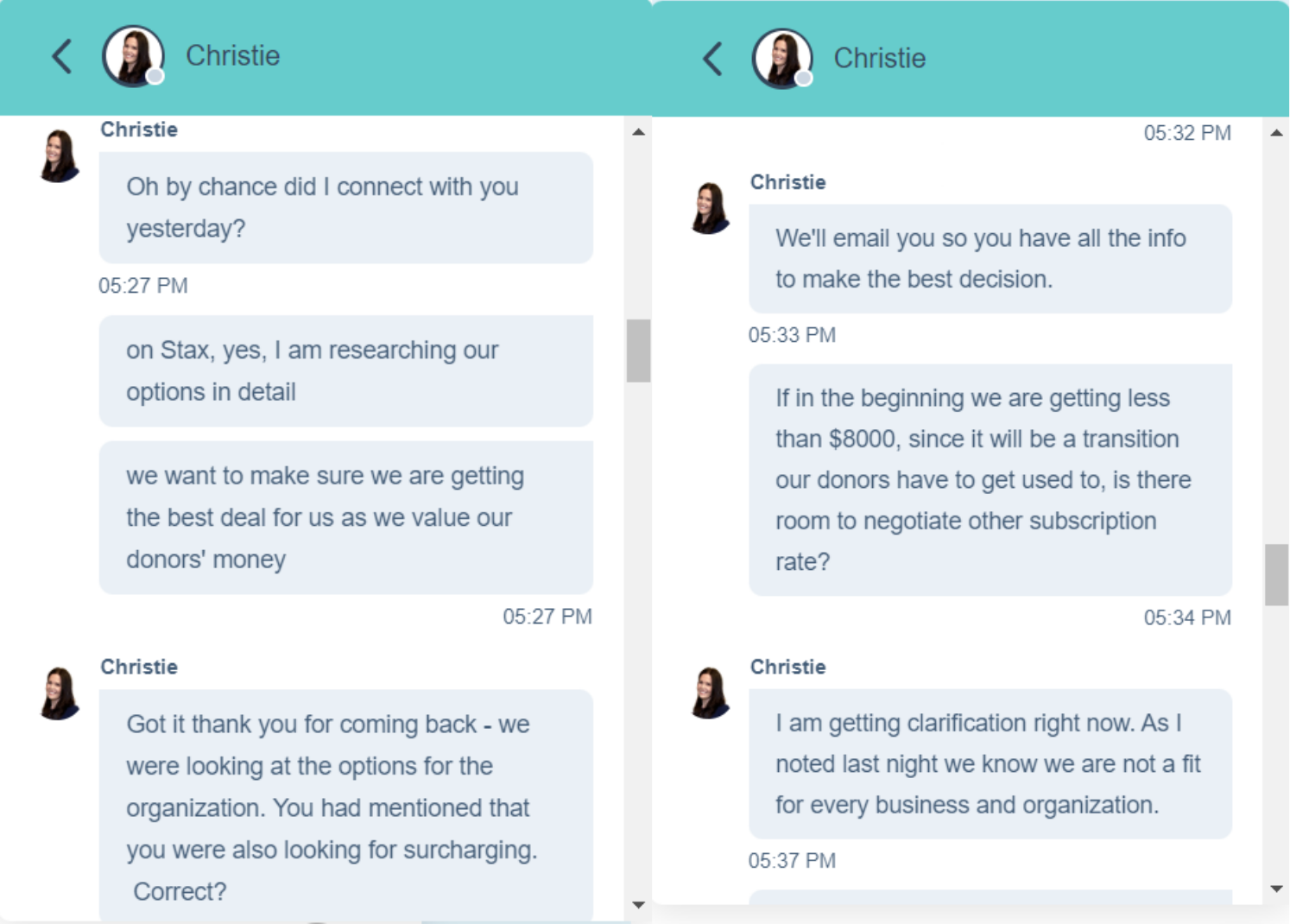 Stax and Payment Depot have merged their support teams
, so I often spoke with the same agents regardless of which processor I contacted.
They were knowledgeable and attentive
, but in some instances, I had a hard time getting straightforward answers. They kept asking me questions before answering mine.
You can reach support 24/7 through live chat, phone, and web forms/tickets, but Stax also allows you to send a fax.
I have mixed experiences with live chat support. I reached out multiple times, and sometimes I was connected to an agent immediately, while other times I was asked to schedule a call because all agents were busy at the moment.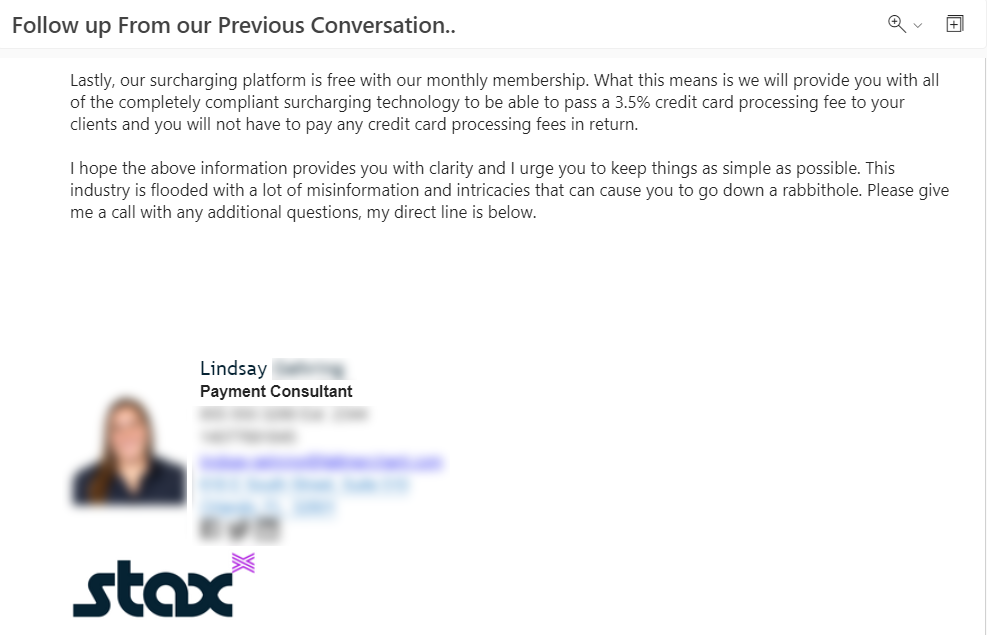 I never received a response when I contacted support through the web forms.
But I managed to get a direct email address from a knowledgeable payment consultant at Stax. Before getting in touch with her, I was transferred from one agent to another a few times. But this particular payment consultant cleared all past confusions I had with both companies in just a few emails. Payment Depot has sales and technical support accessible via phone or web form. The technical support works 24/7, while the sales support is available from 8:30 a.m. to 7:30 p.m., Eastern (EST) and Pacific (PST) Standard Time. (If you want to know more, we tested the support system in
our detailed Payment Depot review
.)
Payment Depot's and Stax's phone support left the best impression of all available channels
, with agents picking up in a minute or two on average. But when I called outside normal office hours, the agent couldn't assist me further and asked for contact details for another agent to call me later. Although both companies have customer representatives overlapping,
Stax gets the win as it offers a well-rounded knowledge base for self-guidance
. As a person who's not a fan of phone calls, I appreciate having resources to digest information at my own pace rather than remembering what an agent told me over the phone.
There are plenty of well-written articles, guides, FAQs, and a few video tutorials
on Stax's site covering everything about its services.
Stax vs Payment Depot: Choose the Best Option for Your Business
Throughout my research,
Stax came out as superior for high-volume businesses seeking advanced payment processing features and customizations.
One of its standout features is its business management and analytics software that will provide you with valuable insights, empowering you to streamline your workflow and make data-driven decisions. Additionally,
Stax offers a user-friendly mobile app for free
. Whether you need to check transaction statuses, review sales data, or process payments remotely, the Stax app provides a seamless and intuitive experience. In terms of compliance,
Stax shines with its detailed PCI compliance guide
and an easy-to-understand dashboard, simplifying the steps needed to achieve and maintain compliance. Overall, Stax offers additional features and integrations at a slightly higher cost, which is well worth the cost.
But Payment Depot, with its lower monthly fees and zero markup, is still a worthy option, especially if you're processing less than the typical Stax high-volume customer
.
Features & integrations
Powerful software that can integrate with any POS system, one free terminal, ability to choose from a larger selection of hardware, subscription tools, additional invoicing tools, 16 integrations
User-friendly software, one free terminal, accessible suite of e-commerce features, 12 integrations
Ease of Use
Intuitive dashboard
Simpler to navigate and exceptional onboarding assistance
Compliance
Level 1 PCI compliant, comprehensive PCI compliance guidance (including a dashboard checklist), free step-by-step PCI-compliance assistance from Stax's support team
Level 1 PCI compliant, 24/7 technical support and encryption and data protection included in every plan to help you become PCI compliant
Support
24/7 live chat, email, ticket, fax, and phone support
24/7 live chat and technical support via phone and ticket, sales support between 8:30 a.m. and 7:30 p.m. EST/PST
FAQ
Is Payment Depot the same as Stax?
Payment Depot is a subsidiary of Stax. Although they have the same subscription-based payment model, there are some differences in the features and pricing. Stax offers enhanced processing features and caters to high-volume businesses, while Payment Depot targets small- to mid-sized established businesses processing at least $8,000/month.
Which one is better: Stax or Payment Depot?
Stax is better as it enables high-volume businesses and those processing multiple microtransactions to save up to 40% on processing costs. It also has more powerful business management software, invoicing tools, a mobile app, and a better POS selection than Payment Depot, among other things. Still, if you process less than the typical Stax customer and no less than $8,000/month, Payment Depot is a great option that can save you $400/month on average.
How much does Stax charge per transaction?
Stax charges the lowest transaction fees in the industry, with a flat fee for both in-person and online transactions. It's worth noting that most payment processors charge extra for online transactions as these carry a higher risk to process.
How does Payment Depot work?
Payment Depot operates as a membership-based payment processor. Businesses pay a flat monthly fee to gain access to a suite of features and wholesale rates on credit card processing. Payment Depot's subscription-based pricing allows it to offer the lowest transaction fees. It also offers other processing solutions, including virtual terminals, mobile payments, and e-commerce integrations.