At first glance, Weebly and Squarespace might appear to be very similar – both website builders help you create personal and small business websites, and they both offer a long list of interesting features. However, their approaches to website building are quite distinct. Weebly joined forces with Square to launch Square Online, an e-commerce platform. This means
Weebly actually has 2 builders – one for general websites and one for online stores
. Regardless of which editor you choose, Weebly works well for beginners who want to get online fast, and it's a low-cost option that keeps all your tools in one place. Squarespace, on the other hand, is a premium service. If you want a highly professional website for your portfolio, business, or online store,
Squarespace has gorgeous templates, great built-in tools, and is easy to use.
All this makes it fantastic value for money. Still, if you don't plan to monetize your site, the cost may be a bit steep.
Try Squarespace's free trial now
, or read on to find out why it came out on top in my comparison.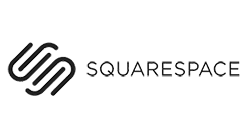 Save up to 30 % on your Squarespace plan today!
Plus get a free domain for one year!
1031 users used this coupon!
Templates
Squarespace Has Unparalleled Website Designs
Weebly has around 50 themes
(or just 5 with its e-commerce editor) that cover portfolio and personal sites as well as businesses and online stores. The themes look modern and are automatically mobile-responsive.
You can personalize all themes with both the classic and e-commerce site editors
by customizing colors, fonts, and layouts. That said, you'll get more font and color options in the classic Weebly editor. If Weebly's designs don't cut it, you can import a template from third-party platforms like ThemeForest or Webfire Themes. And if you change your mind about a particular design, don't worry –
Weebly lets you switch between themes without losing your edits
.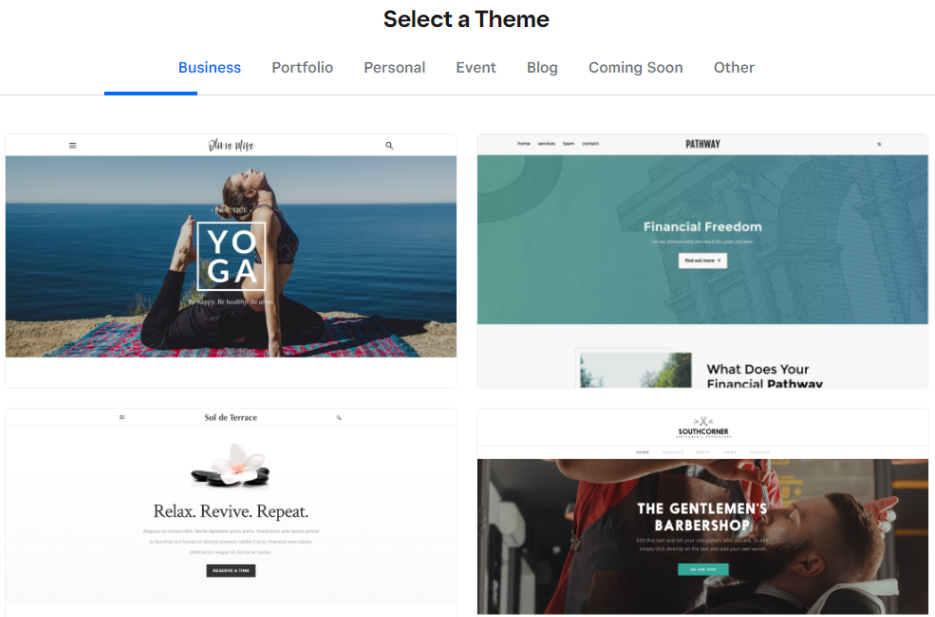 Squarespace has 140+ stunning templates
categorized by type (online store, portfolio, blog, etc.) and topic (photography, travel, weddings, and more), so it's always easy to find what you're looking for. They're automatically mobile responsive, and while you can't just switch between templates once you've made customizations, you can make drastic changes to your site's design. Beyond the standard customizations you can make in the Design panel, Squarespace lets you edit your site's code, and
you can even hire developers to create custom designs for you
.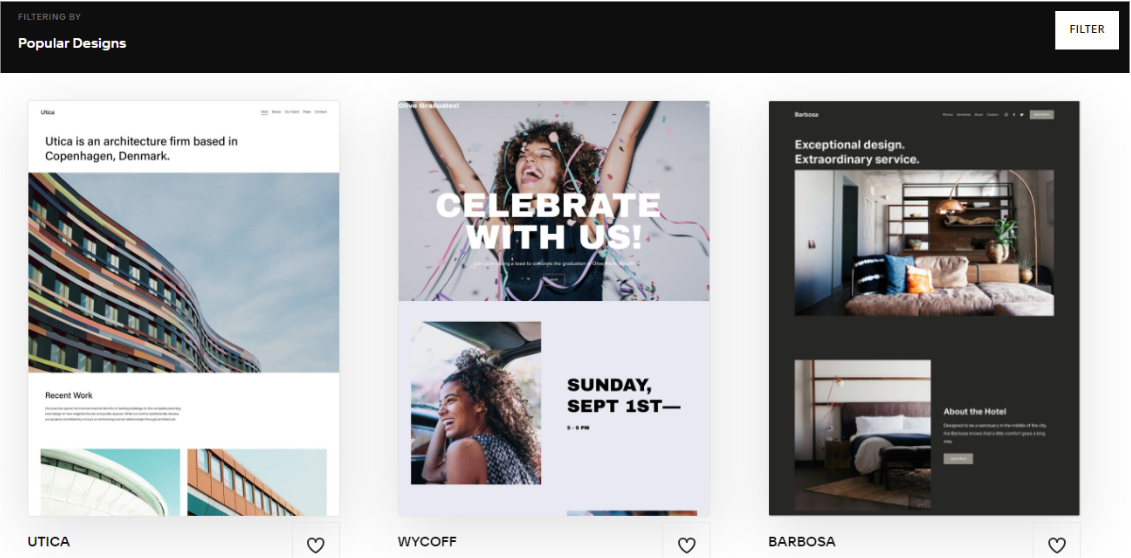 Even though Weebly has high-quality designs, it's no match for Squarespace's polished and elegant looks. Both builders are flexible and offer solid customization options, but
Squarespace has templates that look amazing right out-of-the box, and it offers more control over how you design your website
.
Features and Ease of Use
Weebly is Slightly Easier To Use, but Squarespace Has Better Features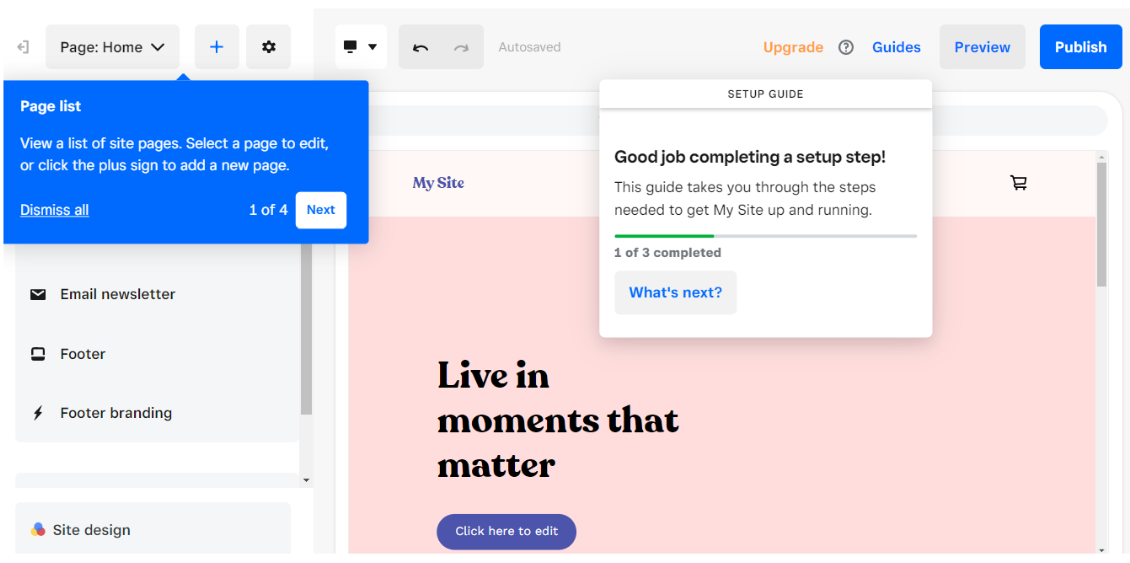 Weebly's classic editor
lets you customize page layouts by dragging and dropping content blocks
onto the page. Each block has its own content type (text, images, maps, and sign-up forms, for instance) and a menu that allows you to modify the block's colors, fonts, alignment, and more.
The Square Online builder only lets you choose from various pre-built layouts
. You can customize these layouts by toggling certain elements on and off, such as logos, navigation menus, social icons, and buttons. While this may be limiting, it also means you're not at risk of ending up with an unattractive layout, even if you've never built a website before. Meanwhile,
Squarespace's intuitive drag-and-drop editor lets you add preconfigured content blocks to your layout
. These range from simple blocks like food menus and image galleries to more complex blocks such as Twitter feeds, appointment scheduling forms, and e-commerce products. There are limitations on how much you can move elements around, but you still get plenty of design flexibility.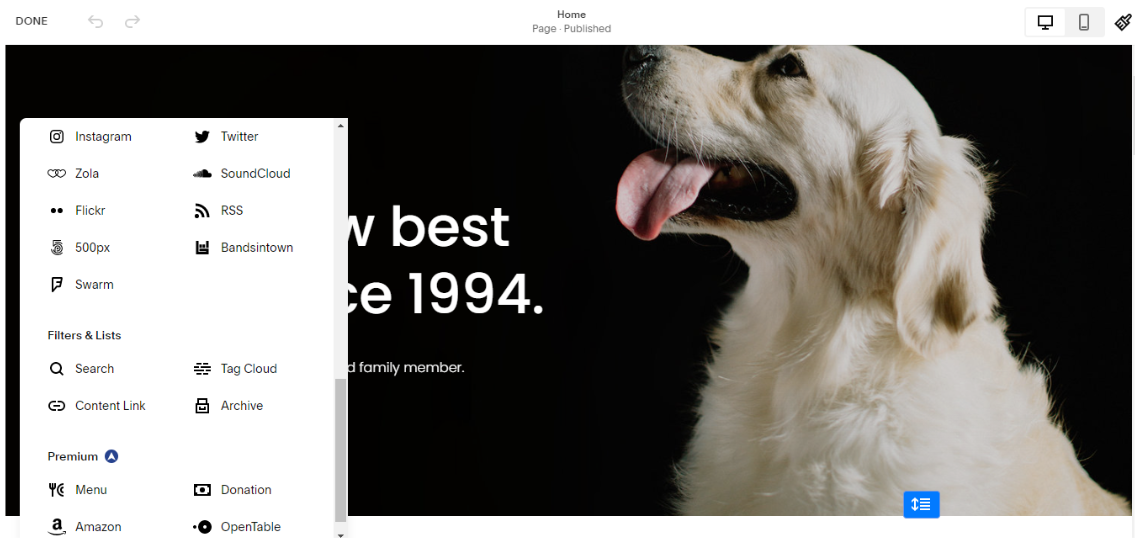 It can feel a bit clunky at times because you have to manually save every change you make to your site design, but
Squarespace is still easy to use, allowing you to build a site surprisingly quickly
. There are also in-app tutorials to guide you through the process. Both Weebly and Squarespace have solid blogging platforms, SEO and marketing tools, and e-commerce features. That said,
Squarespace offers more in terms of built-in tools
. For instance, you get a free logo maker to increase your brand's familiarity, an integrated email marketing platform to help you capture more leads, and versatile gallery layouts. Overall, Weebly is slightly easier to use, but Squarespace has more customization options and offers more resources – you'll get unlimited bandwidth and photo storage on all plans. Even though both builders have plenty of e-commerce and marketing features, I'd say
Squarespace offers more powerful tools
, which I'll discuss in more detail below.
Apps
Robust App Marketplace by Weebly and Square
Squarespace doesn't have many third-party extensions, but it still has effective integrations to help you improve your site's functionality. For example,
you can schedule appointments and send automatic reminders to clients with the Squarespace Scheduling tool.
Another standout is the
Weglot Translation Extension, which automatically translates your content into any of 100+ languages.
It even comes with built-in multilingual SEO features to help you rank higher in search engines for different languages. But ultimately,
Weebly reigns supreme when it comes to third-party integrations.
Weebly's classic builder gives you access to
Weebly's App Center
, which offers over 350 apps (free and paid). These are divided across categories like e-commerce, marketing, social media, and more.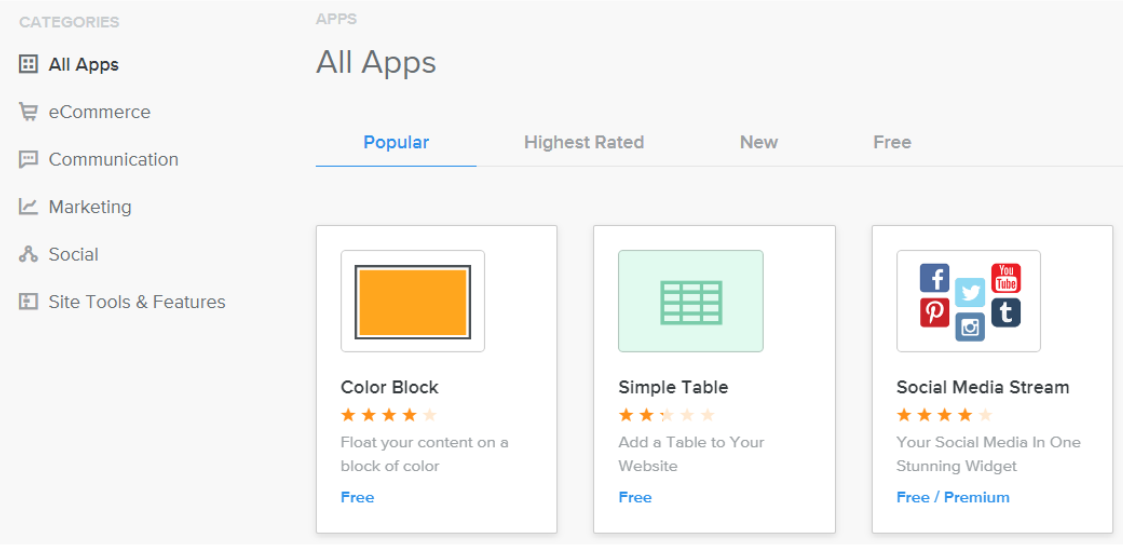 You can also use the Square App Marketplace, which has an even wider selection of integrations – but you'll need to make a free Square account first.
Blogging
Squarespace's Blogging Tools Are More Advanced Than Weebly's
Weebly's classic editor lets you customize blog posts using content blocks
, such as images, videos, and sign-up forms. There are also blog-specific blocks you can add, such as the Blog Author block, which allows you to create a byline for posts and group posts by author. If you opt for the Square Online editor, you can create Stories, or pages for blog posts. You can edit these pages directly in the site editor, which means toggling elements like images and buttons on and off. Like Weebly,
Squarespace lets you edit blog posts directly through the site editor rather than a separate blog editor
, which saves time and streamlines the process. You'll be able to add galleries and slideshows, schedule posts, and categorize them as you see fit.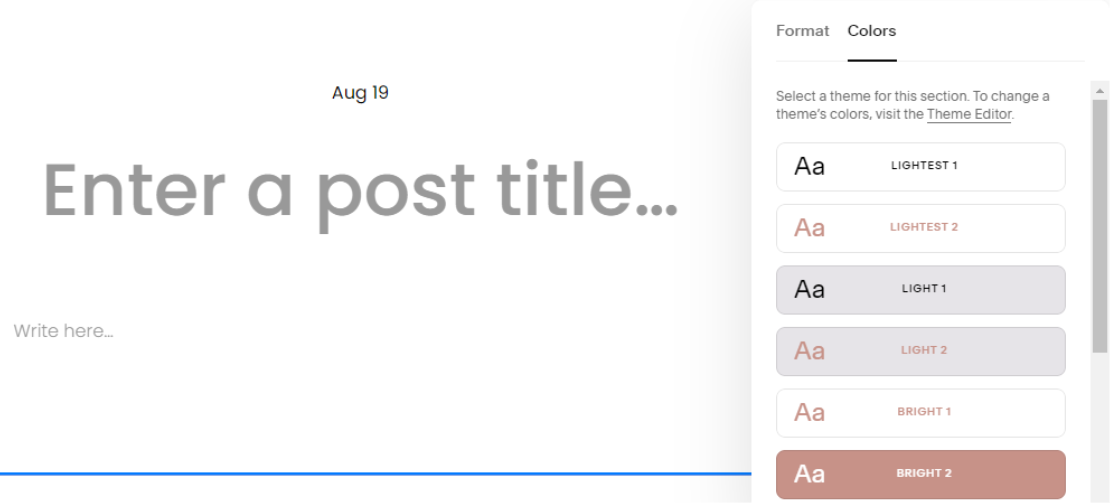 Overall, Squarespace has more advanced blogging features than Weebly
. For instance, Squarespace lets you set posts aside to be reviewed by colleagues before publishing. Also, you can set up how your blog post will be previewed on social media sites and even send blog posts out as newsletters when you publish them.
E-Commerce
Both Are Feature-Rich, but Squarespace Is Better for Scaling
With Weebly's e-commerce builder, Square Online,
you can add product variants such as sizes or colors, set fulfillment options, and add 360° photos and GIFs to your products.
You can also offer coupons, allow customers to leave product reviews, and send abandoned cart emails. Squarespace's system for adding products is a bit more detailed, but it's still easy to navigate.
Unlike Square Online, Squarespace lets you add videos to your product descriptions
, and you can even customize your Add to Cart button text. You'll also be able to include automatic tax calculation, customer login areas, and product waitlists for out-of-stock items.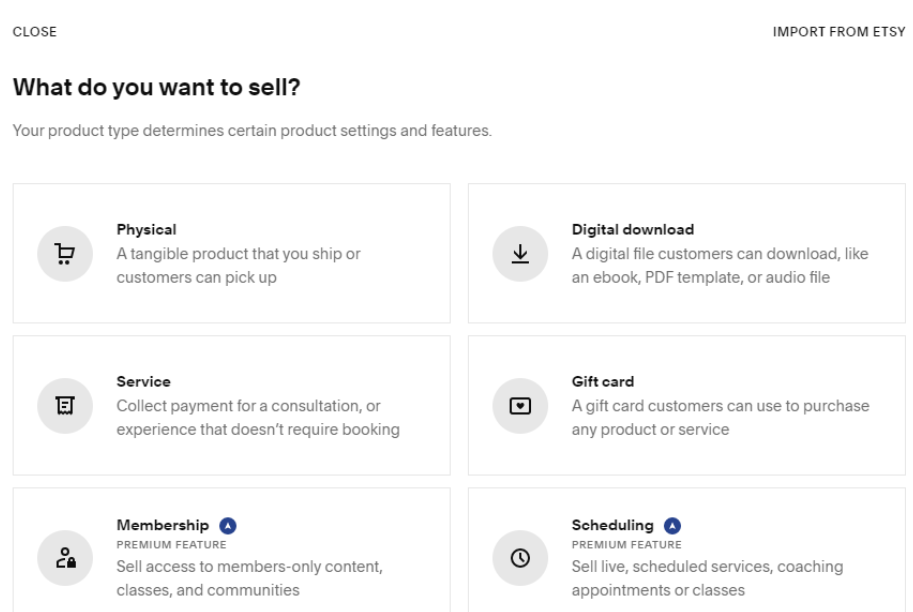 Weebly and Squarespace provide similar payment options. For example, if you already have a brick-and-mortar shop, both platforms allow you to use the Square point-of-sale system to sync data between physical and online stores. However, in addition to Square, both Weebly and Squarespace allow you to accept payments via PayPal and Stripe. In the end, both Weebly and Squarespace have pretty strong e-commerce features. However,
Squarespace makes it easier for online stores to scale
because it lets you host unlimited products and provides strong e-commerce analytics on all plans.
With Weebly, you'll need a Business plan subscription or higher to be able to sell unlimited items.
Marketing
Both Provide Email Marketing, but Squarespace Enables Selling on Social Media
Both Weebly and Squarespace have solid marketing tools, such as social share buttons and promotional pop-ups. That said, Squarespace offers a few additional perks. For instance,
unlike Weebly, Squarespace lets you sell on social media channels, including Facebook and Instagram
. One of Weebly's selling points is its email marketing add-on, Weebly Promote. It lets you customize email templates, build your contact list, and segment it based on demographic data (such as gender, location, and profession). Weebly Promote comes at an additional cost, but at least you only have to pay for the exact number of campaigns you need. Squarespace, on the other hand, offers an integrated email marketing feature, Squarespace Email Campaigns, which lets you craft campaigns to enhance your brand.
You can pull content like your site logo and blog posts directly into your emails, and use Squarespace's analytics tools to track your progress.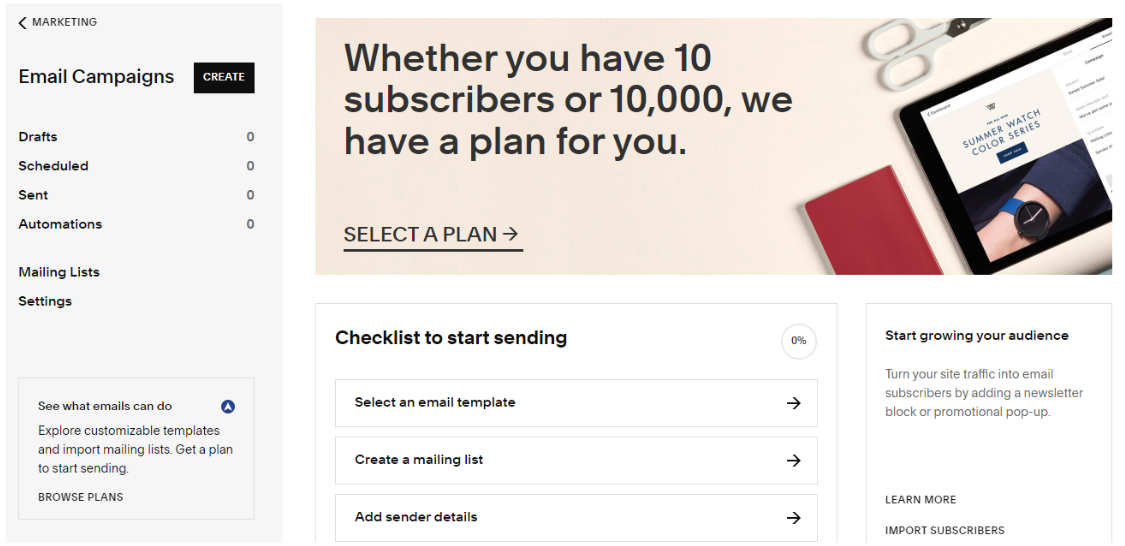 Squarespace Email Campaigns is available for free with every Squarespace subscription
, but you'll be limited to three campaigns in total and 50,000 email addresses per campaign. To send more campaigns and access automated ones, you'll have to upgrade to a paid plan.
SEO
Squarespace Makes SEO Easy for Beginners
Both Weebly and Squarespace have effective SEO tools: they allow standard site optimization via customizable URLs, page titles, and meta descriptions. Also, both let you integrate Google Analytics to monitor and improve your SEO efforts.

While Weebly and Squarespace have largely similar SEO abilities, I'm giving Squarespace the win because of its extensive SEO checklist
that guides you step-by-step on how to optimize your site for search engines.
Pricing
Weebly Is Cheaper, but You Get Better Value With Squarespace
Weebly's free plan includes 500MB of storage, free SSL security, and SEO tools.
There are four paid plans, and if you upgrade to the cheapest paid plan, you'll be able to connect a custom domain name and use features like lead capture forms and pop-up notifications.
For e-commerce functionality, you'll have to upgrade to Weebly's Pro plan or higher.
The higher-tiered plans come with advanced e-commerce tools like abandoned cart emails and product reviews, plus features like video backgrounds, site stats, and social media integrations. Although it doesn't offer any paid plans,
Squarespace's 14-day free trial
 lets you try it risk-free
. All plans come with a free custom domain for one year, unlimited bandwidth, SEO tools, and access to Squarespace extensions, among other benefits.
To use e-commerce features, you'll need to upgrade to Squarespace's Business plan
, which also includes professional email from Google, the ability to accept donations, and more. Upgrading further will bring you more analytics and advanced e-commerce features like the ability to set up recurring subscriptions, advertise on social media, and calculate real-time shipping rates. Even though Weebly is a more affordable option in general,
Squarespace has better tools to help you grow
. And considering the quality of features you get, Squarespace's prices are more than fair. Here's a closer look at the cheapest e-commerce plans by Weebly and Squarespace to help you decide which option is better for you.
Weebly Pro Plan
Squarespace Business Plan
Starting price

$

12.00

$

23.00

Unlimited storage

✔

✔

Free SSL certificate

✔

✔

Contributors
Unlimited
Unlimited
Inventory management

✘

✔

Accept PayPal

✘

✔

24/7 customer support

✘

Only via email
Support
Both Weebly and Squarespace Have Responsive Customer Support
Both Weebly and Squarespace offer extensive knowledge bases with articles, tutorials, and webinars on all aspects of website building. Each also has an engaged community forum. Weebly offers email and live chat support on lower-tiered plans, while the more expensive options also have phone support.
Weebly's customer support is available every day from 6 a.m. to 6 p.m., US Pacific Time
. Replies via live chat typically arrive within a few minutes (mine did), and Weebly's support agents are friendly and helpful.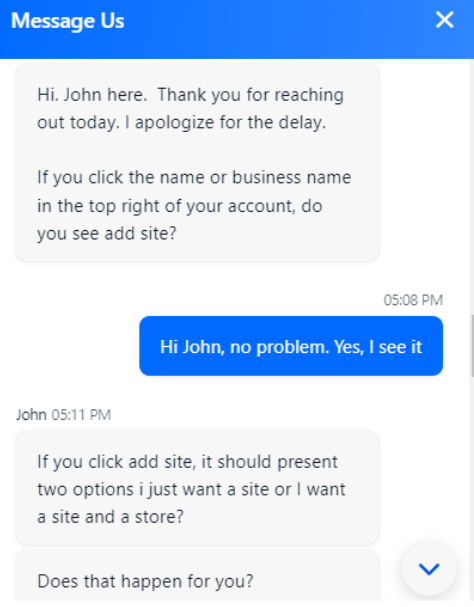 Squarespace offers 24/7 email support, while live chat is available Monday – Friday from 4 a.m. to 8 p.m. EDT
. Unfortunately, Squarespace doesn't offer phone support. Squarespace's customer support team experiences a significant influx of requests, resulting in a slight waiting period before they can engage in a chat with you. Nevertheless, the team's proficient agents remain highly effective in furnishing comprehensive responses.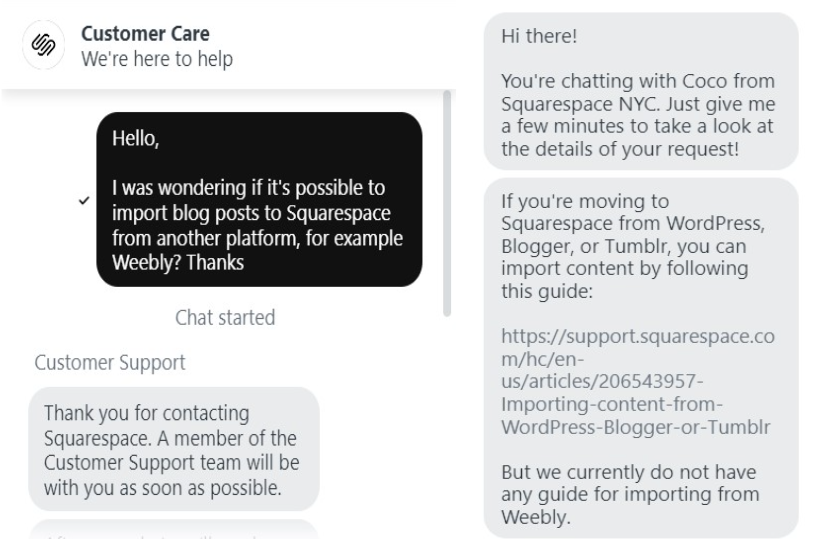 While both Weebly and Squarespace have helpful customer support,
I'm giving the win to Weebly because it offers phone support and it's a little bit easier to reach
.
Weebly Is a Good Website Builder, but Squarespace Is Simply Superior
Weebly is affordable and it has a solid set of tools that make it a good option if you want to build a pro-looking website on a budget.
Since its merger with Square, Weebly shifted its focus to e-commerce, and its newly acquired features make it a great choice for small- to medium-sized online stores. But even though it's more expensive,
Squarespace is the better option overall
– it has better-looking templates, effective integrations, and advanced built-in tools. It also works equally well for personal and business websites, including online stores.
Features & Ease of Use
2 beginner-friendly editors
Intuitive and flexible drag-and-drop block editor
Blogging
Basic set of features on both editors
Advanced blogging tools
E-Commerce
Solid set of tools by Square
Strong inventory system, easy to scale
Marketing
Paid email marketing add-on
Integrated email marketing tools and the ability to sell on social media
SEO
Built-in tools for customizable URLs, page titles, and meta descriptions
Built-in tools for customizable URLs, page titles, and meta descriptions, plus an SEO guide
Pricing
Free plan and four affordable paid plans
Free trial and three paid plans that provide great value
Support
Help center
Community forum
Live chat support
Email support
Phone support
Help center
Community forum
Live chat support
24/7 email support
FAQ
Which is better, Squarespace or Weebly?
Weebly is very easy to use and it has a free plan, so it's a good option if you have a limited budget. If your budget is flexible, however, Squarespace has better-looking templates and a more extensive set of features for personal and business websites. If neither of these platforms work for you, take a look at our list of the best website builders in 2023 for more beginner-friendly options.
Can you build a website for free?
Weebly has a free plan but it offers limited features, so you'll have to upgrade to get access to the best tools. While Squarespace doesn't have a free plan, its pricing tiers offer many benefits. For instance, Squarespace's Business plan offers excellent value given the various features it includes, such as a fully integrated online store, marketing tools, and premium integrations. Whichever website builder you decide to go with, check out our guide on how to build a website for useful tips on creating your site.
Does Squarespace charge transaction fees?
Squarespace charges 3% per transaction on the Business plan. There are no transaction fees on the Basic Commerce and Advanced Commerce plans.
Is Weebly still active?
Although it was acquired by Square, Weebly is still active. Weebly and Square launched Square Online, an e-commerce platform with a focus on making online store management easy, especially when it comes to syncing physical stores with online ones.