What does SOCi do and what is your mission as a company?
SOCi is
the
marketing platform for multi-location brands. The functionality of SOCi's platform was built specifically for the multi-location use case to help solve the complicated workflow challenges that national and local marketers face when trying to manage and scale their brand's digital presence at the national and local levels. SOCi does this at scale. SOCi empowers multi-location brands, franchises, and property management companies to optimize their digital presence through SOCi's platform across hundreds or thousands of search, social, and review pages. SOCi's mission is to ensure that we can empower these multi-location brands to deliver positive interactions with their consumers at every stage of the consumer journey. When you think about that digital journey, consider how many different channels we touch as consumers. One consumer might start their journey on social media by discovering a new product, and think "Oh, I need those pants". Then, as a consumer, they do their research, look at reviews, check out what other people say about those pants on multiple channels, and then maybe move on to purchase. However, another consumer's journey might start differently. Maybe they discover a product in-store or offline, and then they decide to do research to validate the buying decision. Regardless of the journey, at any point where the consumer would interact with your business, whether through discovery or business research, that's where SOCi wants to ensure we're helping those multi-location brands manage their presence.
Click on the image below to find out more about SOCi products: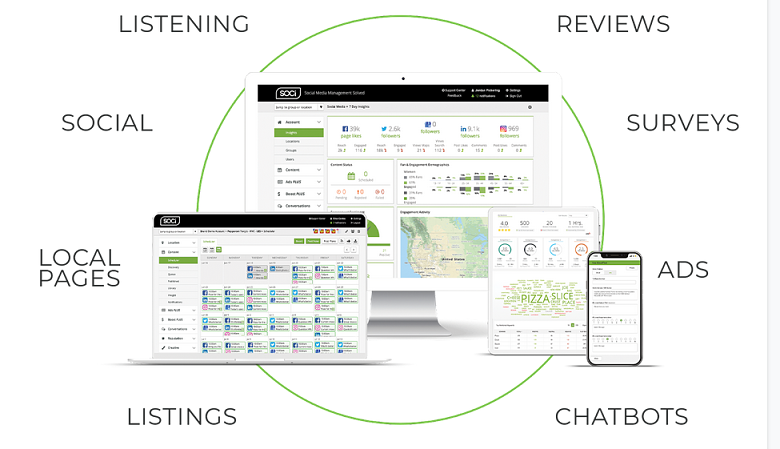 Can you provide examples of some multi-location brands? 
Anytime Fitness: a franchise of 24-hour health and fitness clubs. Anytime Fitness is a recognizable brand with over 3,000 gyms located throughout the U.S. Each of these gyms caters to its market, and each has a local presence.
Sport Clips: a hair care franchise with over 1,800 stores in the U.S. Sport Clips is a large recognizable brand with local salons that are unique and slightly different.
Ace Hardware: an American hardware retailers' cooperative with 5,000+ stores. A large recognizable brand with individual stores that cater to their local market and have to be able to market their specific offerings.
Who is your target market? And why do they need your company?
SOCi's target market is any multi-location business looking to manage its digital presence locally and authentically across all of the most important digital channels i.e., social, search, etc. Any multi-location brand needs SOCi to manage its presence across thousands of pages, channels, and review sites, which is an almost impossible challenge for marketers to do without the help of specific technology.
What sort of support do you offer to your customers?
SOCi's product itself is a platform. However, SOCi is not just a do-it-yourself platform. Marketing can be complicated, so SOCi aims to make sure that the platform is as intuitive as possible. Whether you're the corporate marketer or the local marketer, SOCi wants you to be able to see all of the essential stats and know what steps to take next. On the servicing side, service is a key differentiator for SOCi. Many other platforms want you to do it yourself and will make you pay for good service – SOCi doesn't look at it that way. If you come on as a partner, SOCi is going to serve you by essentially giving you an extension of your marketing team – SOCi over-services the account to ensure success. If your multi-location business gets onboarded, regardless of how many locations you need to manage, SOCi will provide you with a customer servicing manager, training specialist, a local advisor that helps with your strategy, and an adoption specialist who will ensure SOCi provides the right education and materials for your locations to easily adopt the program. Obviously, this approach is working because SOCi was selected as the best overall franchise marketing supplier for the second year running by Entrepreneur Magazine.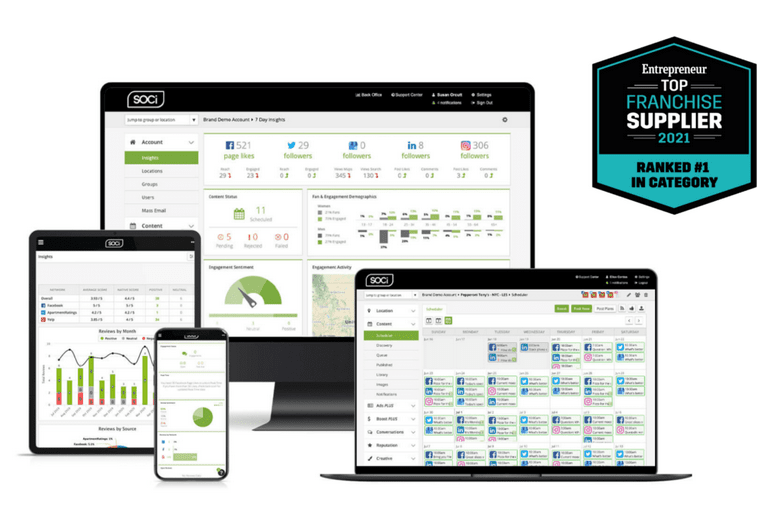 What MarTech tools does a company use to shape marketing campaigns?
When it comes to MarTech, it feels like the SOCi team is integrating something new with each new quarter. The core MarTech technology our team uses is Salesforce, with automation through Pardot and multi-touch attribution through Bizible. This allows our teams to see their accounts, see when there is engagement, and attribute the different campaigns driving that engagement. Outside of that, our team uses other technology to implement account-based marketing and selling, such as 6sense for B2B intent data, Salesloft for very targeted personalized cadences to our accounts, and Alyce, which is an amazing gifting platform that the team has onboarded. Finally, SOCi has invested in some of our own technology to run brand audits. To do this, our team researches various marketing categories with the Local Search Association (now called Localogy) to create yearly benchmarks through a collaborative research study called the Localized Marketing Benchmark Report. From this, SOCi can audit our partners and our prospects against those benchmarks to help us make sure that the brand, and us as their servicing partner, are focusing attention in the right places.
The world has been affected by the Covid-19 pandemic. How has that affected SOCi for both your employees and customers?
SOCi saw huge changes as a result of the Covid-19 pandemic. In the past, many multi-location marketers and brands could get away with not providing best-in-class digital marketing. With a multi-location business, you have the challenge of not only your corporate marketing team having to accomplish goals, but now you need to get all of your local outlets and retailers onboard. In certain industries, this can be a tall order. Before the pandemic, companies either had certain retailers/locations that were about digital marketing, or those that did not feel that they needed to do it. Some of these owners have been in the business for 50 years and might think, "Why do I need to do social? Who cares about these ratings and reviews?" When the pandemic hit, they realized that they all needed to know how to execute strong digital marketing strategies, not just for getting new customers, but to service existing ones. Where were consumers finding that your hours had changed, or that you were closed? Or that you had to change up your local business operations? It was through social and search. SOCi found that these brands could not work fast enough, and websites were not providing consumers with the up-to-date information they needed. So firstly, brands realized how crucial digital marketing was to servicing their community and it got a lot of people on board quickly. Secondly, they became comfortable with using it to serve their customers. Now, brands are realizing that they can take advantage of this to get more customers. As a result, a lot of SOCi's customer's businesses transformed overnight when they had to go fully digital – for us at SOCi, this meant a pretty big surge in the need for our platform.
What are some of the common mistakes that you picked up concerning marketing?
For the multi-location use case or segment, one of the biggest mistakes is having the intention to bring on a program, like SOCi, or a new piece of technology, but not understanding the time it will take to train your locations to adopt and activate. I do this myself as a CMO- "It's a new piece of technology that is going to solve everything, plug it in and let's go!" But, as marketers, any solution is only going to be as successful as the time and focus you put into it. Technology is awesome, but you need to make sure you're leveraging that tool to improve your marketing and that requires thought and training. It is the same for the SOCi toolset. SOCi tries to make it a very light lift by providing all the service and training to make sure brand teams know how to use a tool and why it's important. Another common technology mistake is underestimating the need for a good understanding of performance. Upfront, you need to specify what you are trying to achieve and what success looks like. I do this for my team and also make sure that this is part of our onboarding with our partners. You can do so many things, but it's tough to show the value if you start it and implement it without clarity on what you're using it for. At SOCi, we realize that getting renewals is all about showing value.
What is required of a client in terms of the understanding and ability to utilize the tools you provide?
The way I like to refer to it is that SOCi is the easy button for multi-location marketing. So really, when you are onboarded as a customer, SOCi needs to connect your brand to the platform. From there, SOCi's platform pulls in your social channels, the different ratings and review sites, paid channels if you're doing ads, and then you're able to manage it in a central place to scale marketing that's brand directed, locally perfected, and data connected. So, let's use ratings and reviews as an example. As a business or brand, if you want to be at an average 4.0-star rating or better, SOCi's platform will pull in all the different review networks for your locations and tell you if you are achieving an aggregate of 4.0 stars. If you're dropping below this average, as a brand marketer, you can now start to dig in and find out what is causing the drop. When you think about something as simple as a local Ace Hardware retailer, they get about 50 different reviews over a given week from different platforms (Yelp, Google, Facebook, etc). SOCi's platform can set up alerts for a local retailer, for example – any review that is less than 3.5 stars, so that you can immediately respond. SOCi's platform also gives you suggested responses based on what the consumer wrote so that it's not taking your local teams very long to respond.
Lastly, is there anything else that you would like to mention? Any product launches or collaborations that are happening or what makes you stand out? Or any final words?
The 'i' in SOCi's name is about innovation, so our team is always innovating and releasing new offerings. One big thing that just recently happened is that we acquired another company called Brandify, and that business has been absorbed into SOCi. That was a significant acquisition for SOCi because Brandify has been a leader in local search marketing with nearly 25 years of experience, supporting more than a million local businesses. Its comprehensive suite of search solutions, including Listings Management, Local Pages, and Locator Sites, along with its incredibly talented pool of local marketing & search experts, make it the perfect complement to our business. Additionally, Brandify brings with it even deeper relationships with key networks like Google, Facebook, Apple, Yelp, and more, allowing us to continue to deliver cutting-edge tools for the networks that matter the most to your business. In terms of new products, just in the past year, we released SOCi Listening and SOCi SmartBotTM. SOCi Listening is the elite listening product that gives you VIP access to every critical conversation happening around your business. SOCi SmartBotTM is the only localized chatbot built specifically for multi-location marketers. Essentially, our chatbot solution is one that multi-location businesses can use, not only on a corporate site, but on the hundreds and thousands of local pages for each store or location, and the brand can customize the bot to what's happening at a local level. Most recently, we launched Community Calendar, a powerful solution to help local businesses easily post social content and ads at scale. SOCi's Community Calendar essentially empowers businesses to quickly fill up their multi-location business's content calendars without having to recreate everything. As an example, Ace Hardware is using SOCi's Community Calendar for all of its retailers. Each retailer is different – some offer paint, some don't, some offer power tools, some don't. Ace is offering promotional calendars for the seasons. As a local retailer, you just go in, and you can opt into the calendars you want. So if you select power tools, then you will get weeks of content and promotions around the power tools in your location. From there, you can supplement with some of your own local content. At SOCi, we are constantly innovating and adding to the product offering.