Site123
 is one of the easiest and most fun website builders for beginners to create an online presence. On the face of it, the platform's pricing structure and subscriptions are equally straightforward to use. However, if you're inexperienced when it comes to website builders and their hosting services,
it's easy to overlook some factors that could end up being hidden costs you didn't think to consider
. Having a good understanding of the Site123 pricing model and what this may mean for extra costs along the way will help set you up for a pleasant hosting experience.
Test Any Plan for Free with a Money Back Guarantee
Like most of its direct competitors, Site123 offers a
completely free hosting plan
. This free hosting plan can be used indefinitely to build your website and host it online. It comes with the same standard restrictions, such as low storage and bandwidth limits, Site123 branding, limited access to features, and hosting on a Site123 subdomain. Fortunately, you'll still be able to get a great idea of how the platform itself and the builder work. However, if you really want to try a premium feature before you make up your mind about Site123, then you can also sign up for a premium plan
with the safety net of a 14-day money-back guarantee
. This is in line with most other builders like
Jimdo
,
Wix,
and
SimpleSite
, while
WordPress.com
and
Weebly
do one better with a 30-day money-back guarantee.
Don't Be Fooled by the Initial Pricing Page — Site123 Actually Has a Good Selection of Plans!
It's hard to think of a reason why they chose to do this, but on their pricing page, aside from the free plan, Site123 shows only one premium plan, Basic. However, once you've created an account and you want to upgrade, you'll be presented with no less than four premium plans.
The four plans are titled Basic, Advanced, Professional, and Gold
. The way these plans are structured feels balanced; SimpleSite clearly wants to cater to a variety of needs and budgets. Resources are tiered out evenly across the plans, which are appropriate for websites of different scales.
You also have a number of billing options: quarterly, annual, biennial, and triennial billing
. However, it's unfortunate that you don't have a monthly billing option, as this would be preferable to those who are unsure about longer commitments. It's also nice of Site123 to provide prices in multiple currencies so that you'll know exactly what you're going to pay.
Save Massively on Longer Contracts
From the starting prices, it will seem that Site123 is not exactly the cheapest option out here. By default, prices are shown according to annual billing. If you focus on this, then the Basic Site123 plan is double the price of WordPress.com's Personal plan or Wix.com's Connect Domain plan; and slightly more expensive than Weebly's Starter plan, Jimdo's Pro plan, and SimpleSite's PRO plan. Except for WordPress and Wix, these are all based on annual billing schemes. This difference becomes less pronounced the higher up you go, with the most expensive Gold plan being in the same $25-$30 range as all the other builders. However, once you start looking into longer billing periods, the prices go down dramatically. For example,
if you were to go for quarterly billing, the price would almost double
. In the other direction, depending on the premium plan you choose,
you can save up to 32% if you opt for biennial billing (versus annual billing), and up to 16% if you opt for triennial billing (versus biennial billing)
. Although a longer contract might be too much of a commitment for those with simple website-hosting needs, it's really up to your preference. At the very least, it's nice that you have the option. Another thing to keep in mind is that
when you choose a billing period of more than a year, you get a free domain for one year
.
How Do Site123 Pricing and Features Stack Up Against the Rest?
To really decide whether the pricing on offer by a website builder is worth it, you have to compare it with other services out there. As everyone's needs will be different, I'll focus only on some of the most important features, like e-commerce, SEO, the website builder and customization, and extended features.
When it comes to e-commerce, you unlock a basic version with the Advanced plan and full functionality with Professional and Gold
. This is similar to the basic features provided by WordPress.com for a lot cheaper, while Wix and Weebly offer more advanced e-commerce for a little less. In terms of capability,
Site123
is pretty extensive and is on par with most of these builders, although not at the level of
Shopify
or
BigCommerce
. Site123 has SEO tools for beginners such as 301 redirect, metadata editing, and integration with Google Webmasters. This is at least better than SimpleSite and is once again on par with most others, except for Wix and Weebly. Site123 also features a pretty decent website builder.
It doesn't have full drag-and-drop capabilities, but you can customize your website and elements in just about any other way
. There's also a decent collection of free templates you can use, although there isn't nearly the variety you'd get from Wix templates.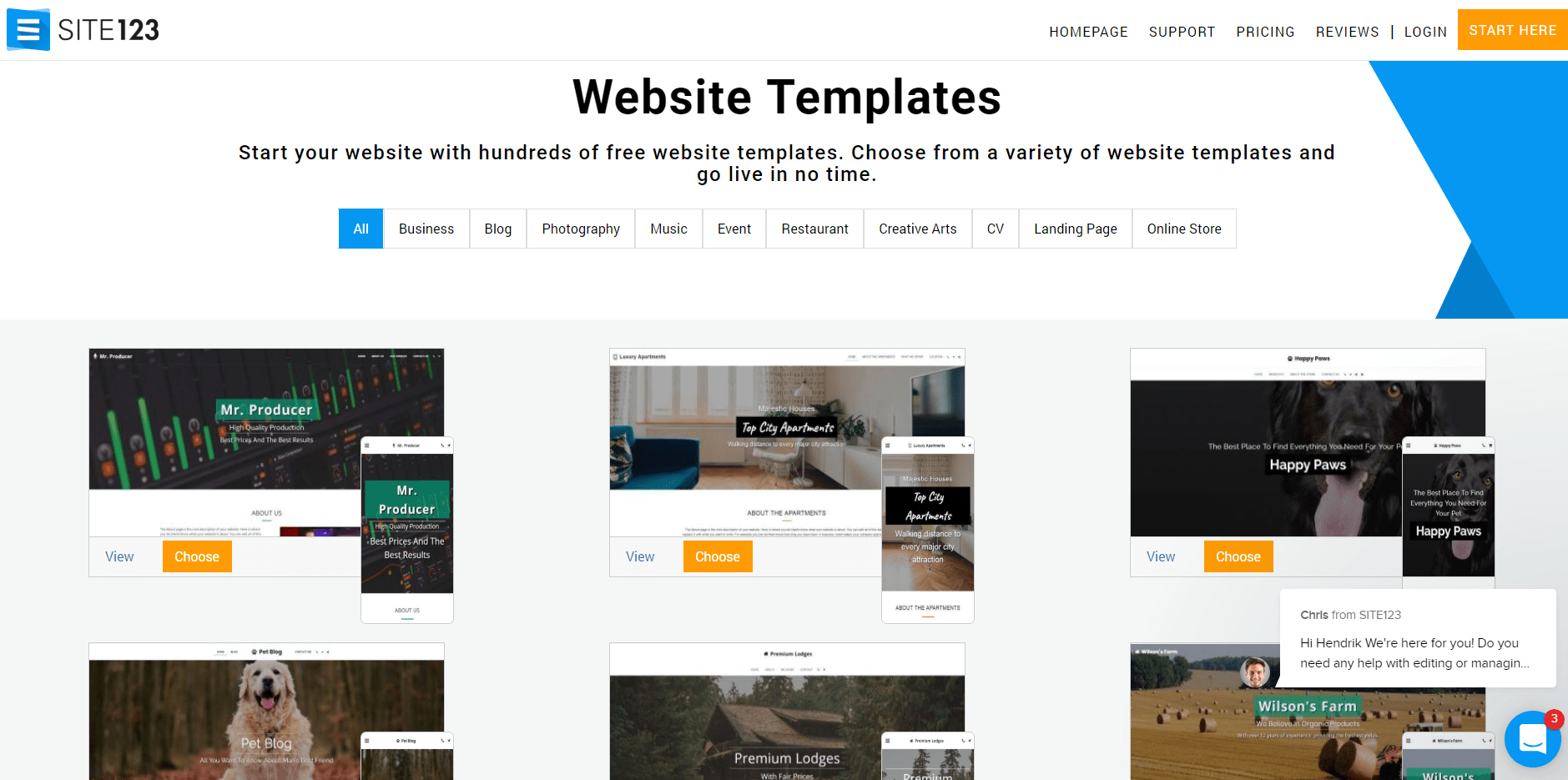 Most surprisingly, for such a simple builder,
Site123 also provides a pretty extensive app market
, with both free and premium apps. So make sure to budget for these if there are any you need.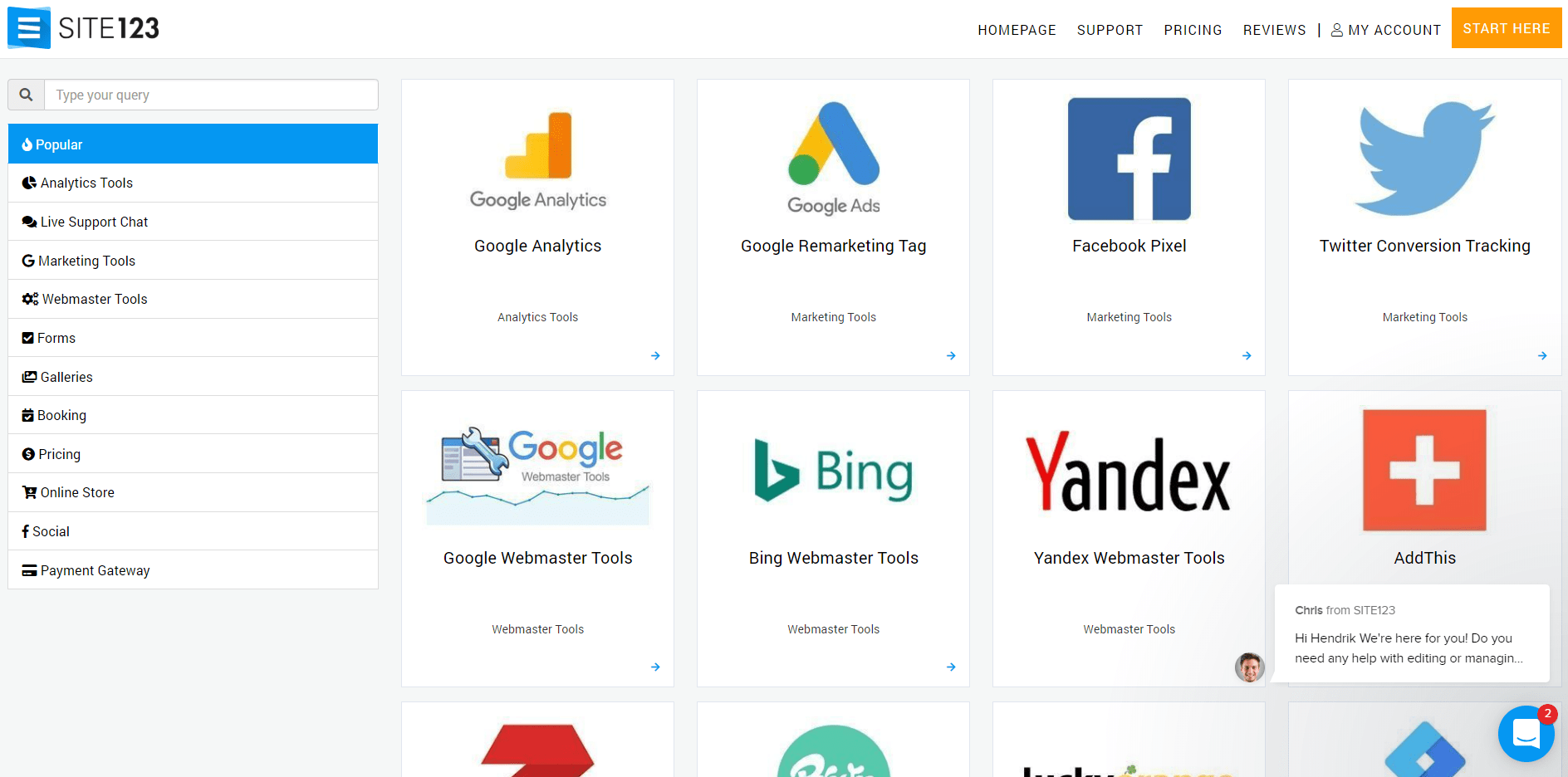 Site123 Pricing — What's the Catch?
Now, that you've got a good grip on Site123's pricing plans and how they compare with those of other website builders, you might be wondering whether there's a catch. After all, the pricing looks very inclusive, right? But yes, I do think there are a few features of Site123's pricing that count as a "catch" or "hidden cost." For one, it's almost a guarantee that you'll end up signing up for at least an annual plan, as the price for a quarterly plan is almost extortive by comparison. You get between a 30% and 36%  reduction in price from quarterly to annual billing, which makes the quarterly billing almost redundant. If you go with quarterly billing, you'll need to pay for your own domain, which is easily another $10/year, or slightly more if you buy it with Site123. And if you go for at least annual billing, it's unfortunate that
you get the free domain only the first year, so this is an extra expense to keep in mind if you stay with the platform past that point
. To be fair to Site123, though, they do make all this clear on the pricing page, although they don't tell you how much a domain will cost ahead of time. Here's another thing that's slightly misleading. On the initial pricing page,
Site123
 mentions "E-commerce" as a Premium feature: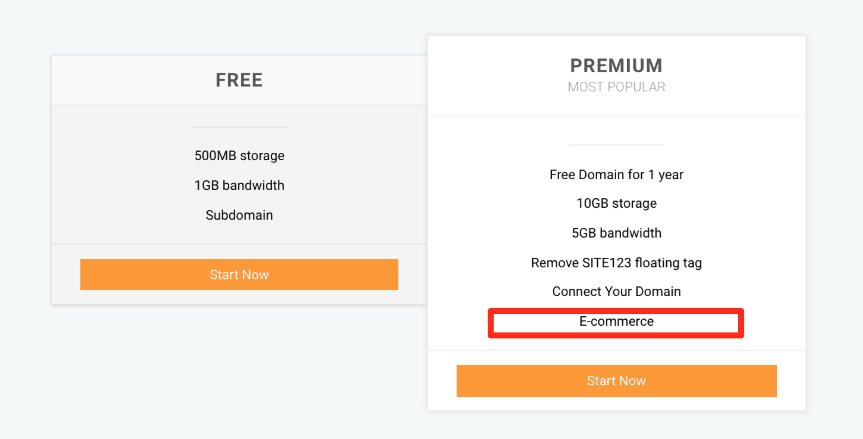 But in the dashboard pricing page, "E-commerce" is excluded from the Basic plan, which shares the same features and price as the earlier "Premium" plan: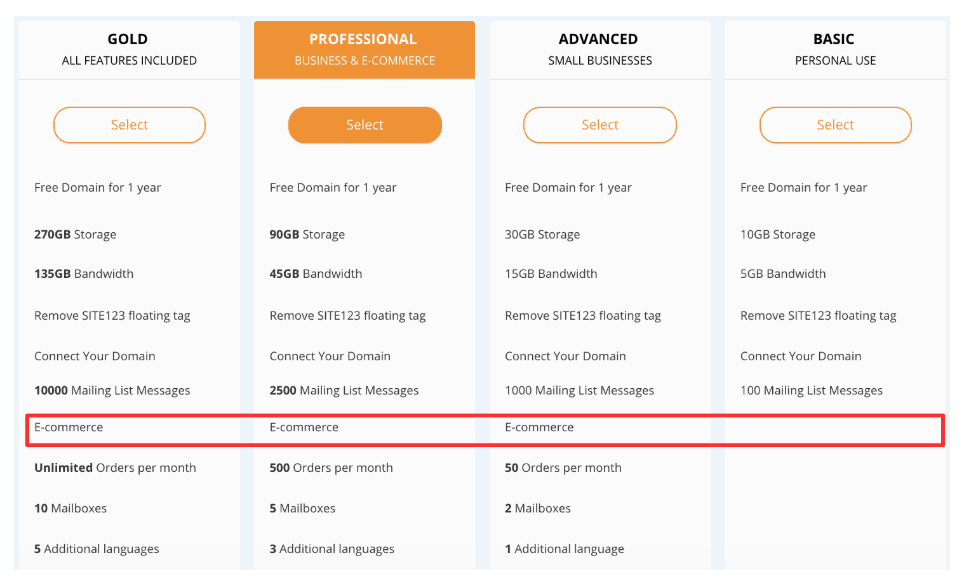 However, to give credit where it's due, Site123 does provide some other things for free, such as domain privacy protection
(which is a paid-for feature on GoDaddy). It also offers
built-in SSL/HTTPS encryption and email hosting
(from Advanced onwards). To learn more about Site123, please feel free to check out our
expert review
.