Square Online is a beginner-friendly and affordable platform that works well for smaller businesses, especially retailers and restaurants
. If you're already using the Square payment processor for your brick-and-mortar shop, Square Online is a great way to increase your online presence and manage everything from one place. Shopify, on the other hand, is suitable for any type of retail-oriented business, large or small.
It's also easy to use and has plenty of built-in and third-party tools to help you scale quickly
. Just be aware that the more apps you use, the more you'll have to pay.
Try Shopify's free trial now
, or read on to find out why I ultimately decided it was the better website builder for online stores.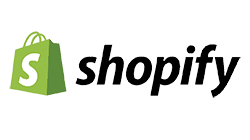 Save up to 25 % on your Shopify plan!
Limited-time offer - Don't miss it!
293 users used this coupon!
Templates
Shopify Has More Templates and Versatile Designs
Let's start with the most important thing:
Square Online only offers one template, with two alternate layouts you can switch between
. The Shop All layout is designed for retail websites and includes individual pages for in-depth descriptions of your items, while the Order Online layout is designed for restaurants. It includes one page for menu items, with pop-ups to display details that simplify the ordering experience.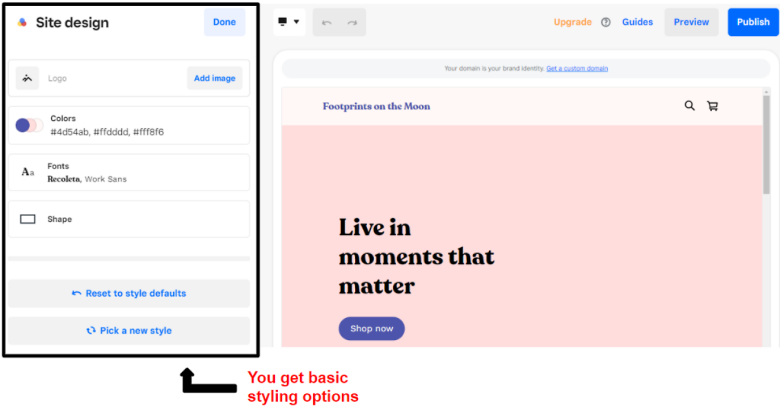 Now,
Square Online's sole template looks pretty good, and it's mobile responsive – just be aware that it offers very limited customization options
. While you can change colors and fonts and customize the content layout a bit, you won't be able to make any significant changes to your store's design. Honestly, I'd like to have seen more from Square Online. If you're just starting out and don't want to be bothered by too many design decisions, it'll get you started – but I can't say much more than that. Meanwhile,
Shopify's 90+ themes (including its 9 free options)
provide much more variety. Not that it's hard to beat Square Online's offering of just one…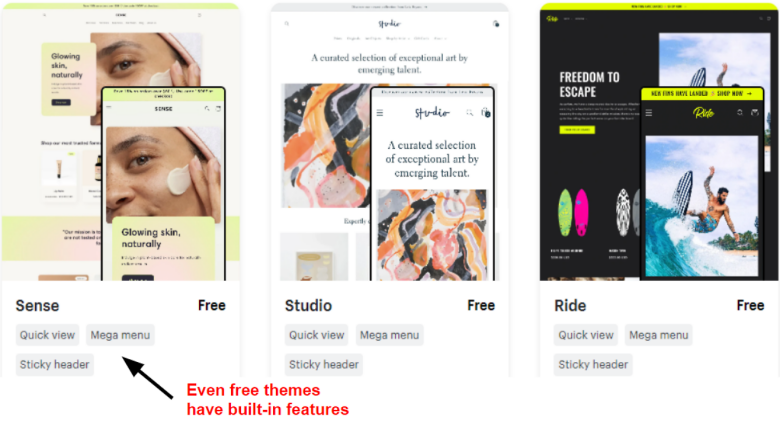 Shopify's templates (which it calls themes) are categorized by industry, layout, and design styles, so it's easy to find something that suits your brand.
Theme looks sleek, and they come with excellent built-in features
like product pages, slideshows, mega menus, and social media integration. Shopify lets you edit your theme's fonts, colors, and code (provided you're proficient in Shopify's coding language).
If you need even more choice, you can also import third-party themes
, or – if you're willing to pay extra – you can hire developers to create custom designs.
Pro tip:
Hiring a professional developer to design a one-of-a-kind Shopify store might be much cheaper than you think. There are hundreds of 5-star rated developers on Fivver you can
hire for as little as $5
. You'll probably pay a little more than that in the end, but it's still a great way to get a custom Shopify store for surprisingly little money.
Square Online's limited design options could work well for beginners, but Shopify gives you far greater freedom to build a unique online store that reflects your brand.
Features and Ease of Use
Both Are Easy to Use, but Shopify Is More Powerful
In Square Online, you build a store by choosing from several prebuilt layouts, which you can customize by toggling page elements on and off, such as social icons and buttons. By comparison,
Shopify's drag-and-drop editor
is much more flexible, allowing you to add and customize template sections
like collages, collection lists, and slideshows.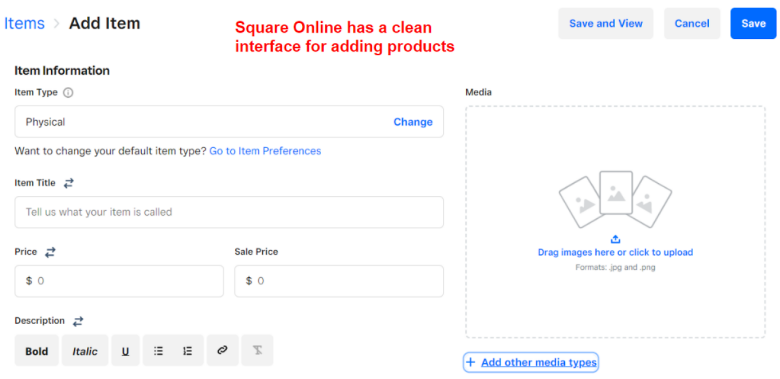 Both builders have tools for making your products look great
. For instance, Square Online lets you upload gifs and 360 spin animations. You can also use Square Online's Photo Studio app to create studio-quality photos of products on your iPhone. In addition to 3D models,
Shopify goes one step further by letting you upload videos of your products as well
. Square Online has a simple but strong set of online store tools. You can sell digital products and subscriptions, track your sales and inventory, and arrange for local pickup, among other things. Shopify comes with all this, plus more advanced ecommerce functionality besides.
Shopify has robust built-in shipping and analytics tools, and it's a great option for international retailers
, as it lets you build multilingual sites.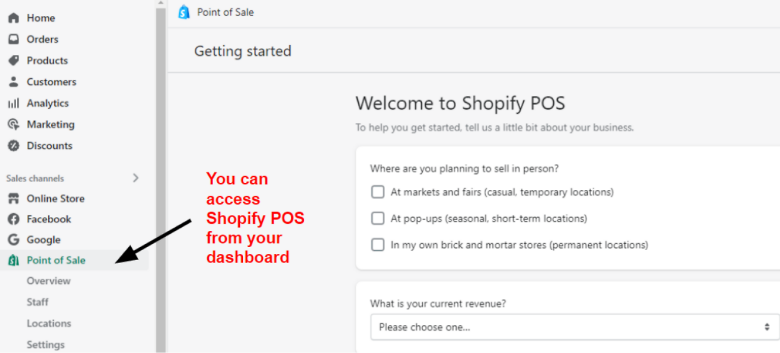 Both Square Online and Shopify have easy-to-use, full-featured POS (Point-Of-Sale) systems, which allow you to sync data between your physical and online stores. That said,
Square's POS system is only available in select countries
(US, Canada, France, Ireland, Japan, Australia, and the United Kingdom),
while Shopify's POS system can be used almost everywhere
. Shopify beats Square Online when it comes to payment processing, too. It lets you integrate with over 100 payment gateways, and
it has its own payment solution, Shopify Payments, which eliminates transaction fees
. Once again, Shopify has the edge.
Apps
Shopify's Huge App Center Has Everything Your Online Store Might Need
Square Online has a rich app marketplace with a wide variety of free and paid options
. Square integrations are divided across 16 categories, from team management and accounting to healthcare and insurance. Still, while Square Online provides a respectable number of integrations,
Shopify's extensive app store
has over 7,500 free and paid apps
. There's a tool for virtually everything, including dropshipping apps, countdown timers, loyalty programs, and loads of other helpful stuff.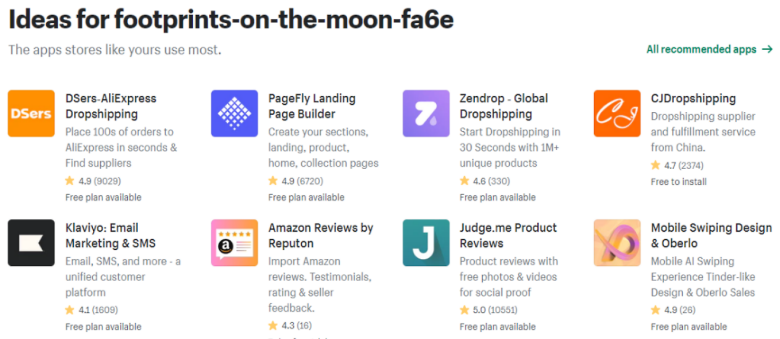 Even with such a large number of integrations, Shopify's app store is easy to navigate, so you can quickly find what you're looking for.
Blogging
Shopify Has More Advanced Blogging Features than Square Online
Square Online's blogging platform is called Stories, and it lets you create pages for your blog posts. You edit these pages directly in the site editor, but your options are fairly limited – aside from editing text,
you can add a featured image, embed social media icons, change background color, and that's about it
.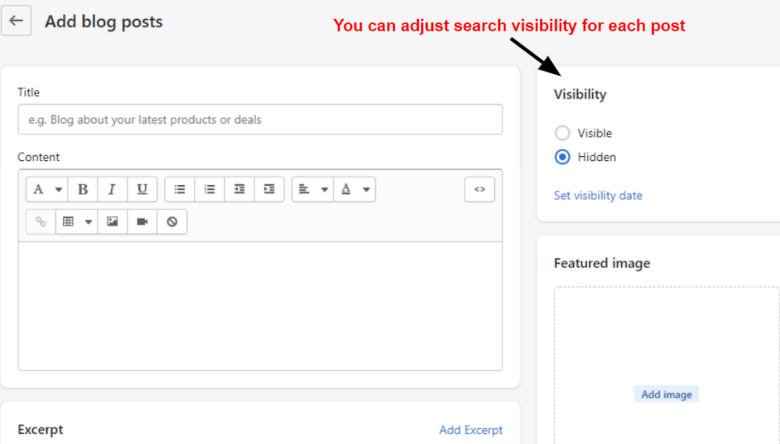 By comparison, Shopify's blogging tools are considerably more advanced.
In addition to adding featured images and tags, Shopify lets you schedule post publishing in advance
. This can be handy if you want to time the publication of certain posts with your product launches. Unlike Square Online,
Shopify also lets you optimize post titles and descriptions for SEO
, allowing you to rank higher and search engines through your blog content.
Marketing
Shopify Offers More Sales Channels and Free Email Marketing
Square Online offers many ways to promote your business. For instance, you can make coupons and discounts, sell gift cards, and create pop-ups to make announcements and collect email addresses. Plus,
Square Online lets you sell on social media, including Facebook, Instagram, and TikTok
.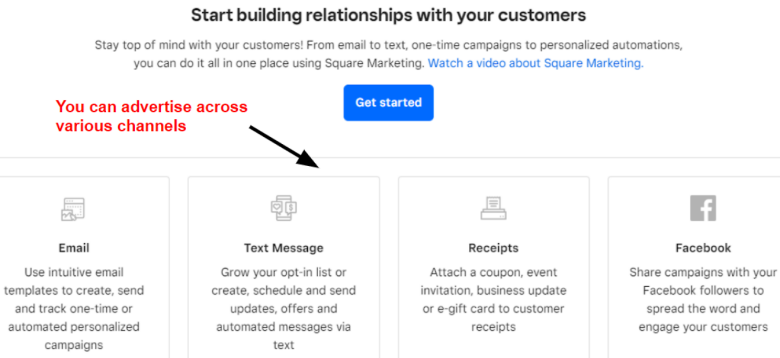 Another nifty feature is
Square Marketing, which allows you to send email and text message campaigns to your customers
. You can send one-time campaigns like product updates and offers or automated campaigns like welcome blasts and birthday messages. However, bear in mind that this is a separate, paid add-on from Square that you must integrate with your store. Meanwhile,
Shopify has a built-in email marketing tool called Shopify Email
, which allows you to send up to 10,000 emails a month for free.

All you have to do is
choose from prebuilt email templates
that automatically pull your logo, products, and store colors. You can send automated emails for welcoming new subscribers, first purchase upsells, or abandoned checkouts.
Shopify also lets you sell on more marketplaces than Square Online
– in addition to Facebook, Instagram, and TikTok, you can sell your products on Amazon, eBay, and Walmart. And it lets you launch one-click multichannel marketing campaigns to showcase products across all platforms. So, that's another win for Shopify.
Pricing
Square Online Is Cheaper, but Shopify Provides Better Value
Square Online has a free plan and three affordable pricing tiers: Professional, Performance, and Premium.
Shopify is the more expensive option of the two
, with a 14-day free trial and three paid plans: Basic, Shopify, and Advanced. But, although it's pricier, when you look at what features you get with each, I'd still say Shopify provides better value.
Here's What You Get For Free
Square Online's free plan lets you
sell unlimited products
, which is pretty rare for an ecommerce platform. You also get access to most major features, but on the flip side, you'll be stuck with Square's subdomain and ads. Shopify, on the other hand, doesn't have a free plan – but it does offer a 3-day free trial to let you test all of its features before making a commitment.
Here's What You Get If You Pay
Square Online's plans are quite affordable and offer good value
. The cheapest paid plan enables you to connect a custom domain, provides unlimited storage, and gives you access to almost every ecommerce and marketing feature. At least, it does if you live in a country where
Square payment processor
is available. If not, you'll have to upgrade to the Performance plan to be able to accept payments via PayPal.
Shopify is certainly more expensive, but it also offer more features in general
, with some of it's more advanced functions – like multilingual sites, multi-channel selling, and abandoned cart recovery – available on every plan.
Shopify also offers native shipping tools that cost extra with Square Online, and its in-house payment solution eliminates transaction fees
, which isn't the case with Square. Here's a closer look at the cheapest paid plans by Square Online and Shopify:
Square Online
Shopify
Starting Price

$

12.00

$

29.00

Unlimited storage and products
✔
✔
Free SSL certificate
✔
✔
Abandoned cart recovery
✘
✔
Customer segmentation
✘
✔
POS system
✔
✔
24/7 customer support
✘
✔
Support
Shopify Offers 24/7 Customer Support
Both Square Online and Shopify offer in-app tutorials and extensive knowledge bases with articles and tutorials on all stages of online store building, as well as engaged community forums. However, the two builders differ when it comes to direct support.
Square Online provides live chat, email, and phone support from Monday to Friday, 6 a.m. to 6 p.m. (PST)
. Responses via live chat arrive almost instantly, while email replies can take up to 24 hours. I waited a bit longer to have my question answered (due to it being a busy period) – but it wasn't worth the wait because the information I was given wasn't accurate.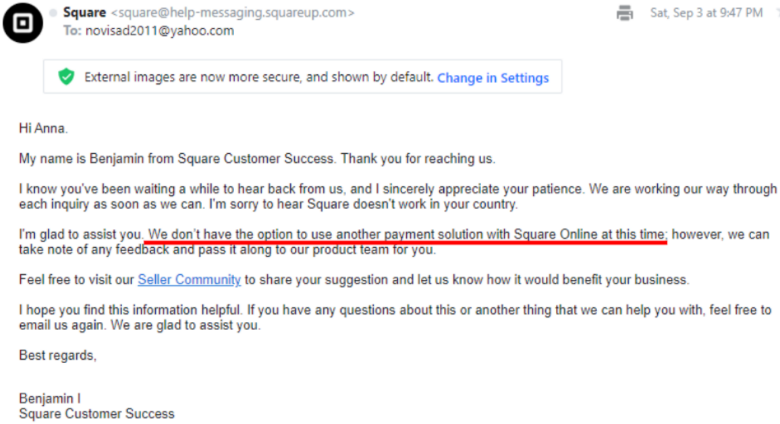 I asked if I could use a different payment solution than Square for my store, and the agent replied that it wasn't possible, which isn't true –
Square will accept PayPal payments if you upgrade to the Performance plan
. Not great, Square. Meanwhile,
Shopify offers 24/7 live chat, email, and phone support
. Like with Square Online, live chat replies arrive quickly, while email replies can take up to 24 hours.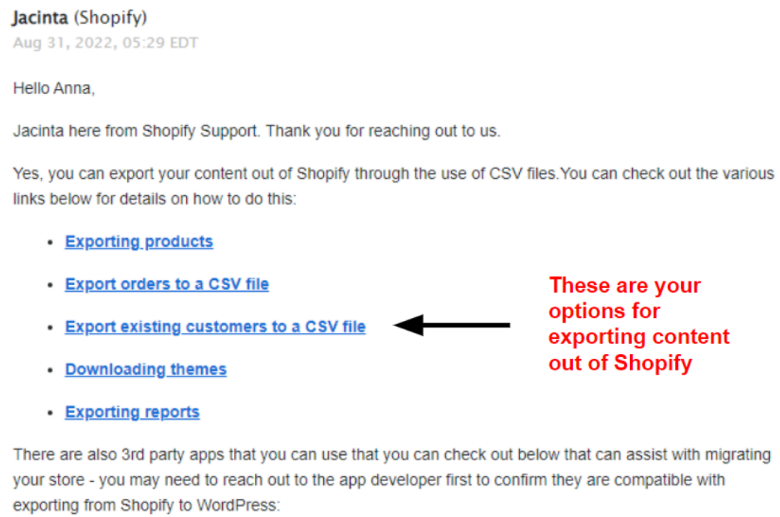 Overall, Shopify's support has the edge, since it's available 24/7 and provides more elaborate – not to mention accurate – answers.
Shopify Excels In Every Area, but Square Online Could Still Be Worth It
Square Online, a user-friendly website builder primarily catering to retailers and restaurants, represents a solid choice for small businesses operating on a tight budget. I affirm my assertion that it proves advantageous under such circumstances. Nevertheless, if you reside in a region where Square does not operate, it's worth noting that you may not avail yourself of all the features offered by Square Online. In contrast, Shopify caters to a much larger audience.
Shopify's built-in tools are cost effective
, giving you much more functionality right off the bat. There are plenty of integrations you can add to your store, and
Shopify's more flexible setup will allow you to scale quickly.
Templates
One, with two layout types
90+ (plus thousands of third-party options)
Features & Ease of Use
Extremely simple editor with a toggle approach
Intuitive and flexible drag-and-drop editor
E-Commerce
Solid set of tools, focus on retailers and restaurants
Wider range of built-in POS, shipping, and payment tools
Marketing
Social media selling and paid email marketing tool
Multi-channel selling and free email marketing tool
Pricing
Generous free plan and three affordable plans
Free trial and three paid plans that provide great value
Support
Help center
Community forum
Live chat support
Email support
Phone support
Help center
Community forum
Live chat support
Email support
Phone support (all available 24/7)
FAQ
Which is better, Shopify or Square?
Square Online is a good option for beginners who don't need a lot of design flexibility, as well as restaurant owners and retailers with a low volume of items to sell. On the other hand, Shopify has extensive sales features and makes it easier for your business to grow, so it's a good option for stores of any size.
Is Square cheaper than Shopify?
Square Online has a generous free plan that lets you sell unlimited products, and it's generally more affordable than Shopify. That said, Shopify has more to offer, and its starter plan is pretty good value when you consider the features you get, such as multi-channel selling and marketing automations.
How much does Shopify take per sale?
If you integrate a third-party payment gateway such as PayPal or Stripe, transaction fees will vary based on your subscription. The Basic plan has a 2% fee, the Shopify plan charges 1%, and the Advanced plan charges 0.5%. If you use Shopify Payments, the company's proprietary payment solution, there are no transaction fees to pay.
Can you use Square to build a website?
Square teamed up with Weebly to launch Square Online, an e-commerce website builder that integrates seamlessly with all other Square tools. Square Online is easy to use and is a quick way for brick-and-mortar shops that already use Square payment processing to get online and reach more customers.