Ivano Di Biasi is the CEO of
SEOZoom
, a complete, easy and intuitive SEO Suite for managing all Search Engine Marketing activities and online website promotion. In this interview, Biasi offers a new way of doing SEO and stresses the importance of staying ahead of Google's algorithm updates.
Please describe the background, vision, and evolution of SEOZoom so far
At the beginning, SEOZoom was inspired by our business needs, mine and those of my partner, Giuseppe Liguori. We built SEOZoom to meet our business requirements and to easily analyze and sort out the issues we were facing with our clients. After many years of running an SEO Agency, we realized that there were no existing tools that are able to fit our vision of how to do SEO. A vision that looks towards what we see as the future of SEO, i.e. the true potential of SEO. So, we needed a tool that was able to 'think' in a new, different, modern way. We launched at the end of 2015, and in just a few years, our platform has established itself as the best support for those who work in the Italian web market, gaining the trust of over 25,000 active users only in our country. That's probably because we looked at search engines and data analysis like no one else did before.
What's unique about SEOZoom?
SEOZoom is the first tool in the world to offer a view of a website's appearance in search results, which no longer based only on the positioning of keywords, but on the performance of the content of each individual web page on the website, and the optimization of the crawl budget. We have no doubt: each website has untapped potential, even the one we may consider the worst due to the fact it doesn't get search engine traffic. SEOZoom allows the user to work in a more strategic way, optimizing the site performance and analyzing all competitors, in order to help make effective and profitable actions. That is why we try to find ways to drive innovation both in the methodology and in the technology and to enhance SEOZoom by looking at the way the search engines are evolving. Below are some screenshots from the SEOZoom Search Marketing Suite: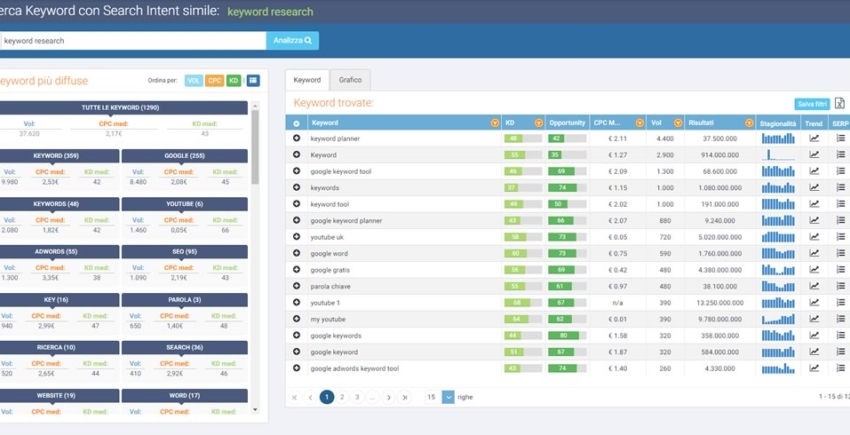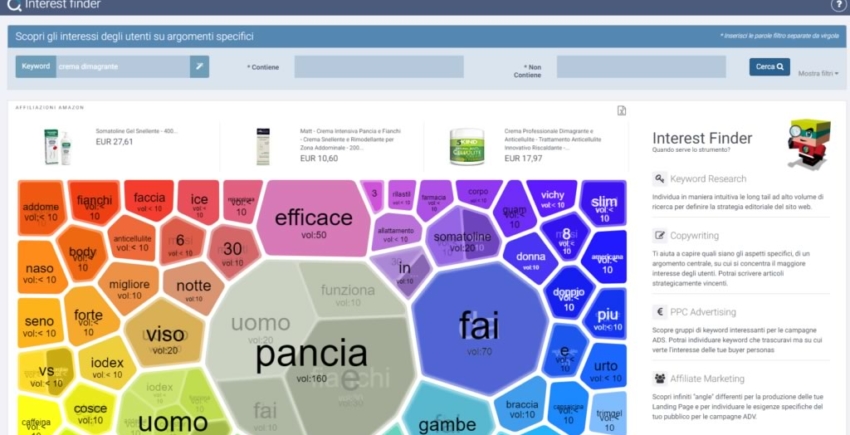 What are some of the latest Google Updates that website owners should be aware of?
Website owners need to have a new concept of SEO and of the Web. Today, we surely do not face issues with lack of data, but data can be a problem if it is not processed correctly. This is why the role of SEO is important: it must support the owner of an online business to make them understand the correct dynamics that can boost their websites.
How do you envision the future of SEO?
SEO is changing day by day, but not the whole ecosystem: two parameters are quite still. The user's needs are clear. The goal of search engines is clear too. What changes is the data available: it is both the technology and the predictive algorithms that define what a useful answer is. SEO, as a research and development area, must study how to create ever-improving informative pages that can provide an optimized content based on current trends. I'm talking about the updates that a page should give to the user to be competitive and to be recognized as valuable by Google. At the same time, SEO has to analyze how to allow a smooth crawling process for search engines. Modern SEO includes many disciplines, but more than anything else, as I always say, it is a global vision!
What are your future plans for SEOZoom?
We are happy to announce that SEOZoom is now available for the UK & Ireland Markets and we are developing a multilingual version for the US and other European countries, which should be completed by 2020.